Top 11 Richest Canadian Female Poker Players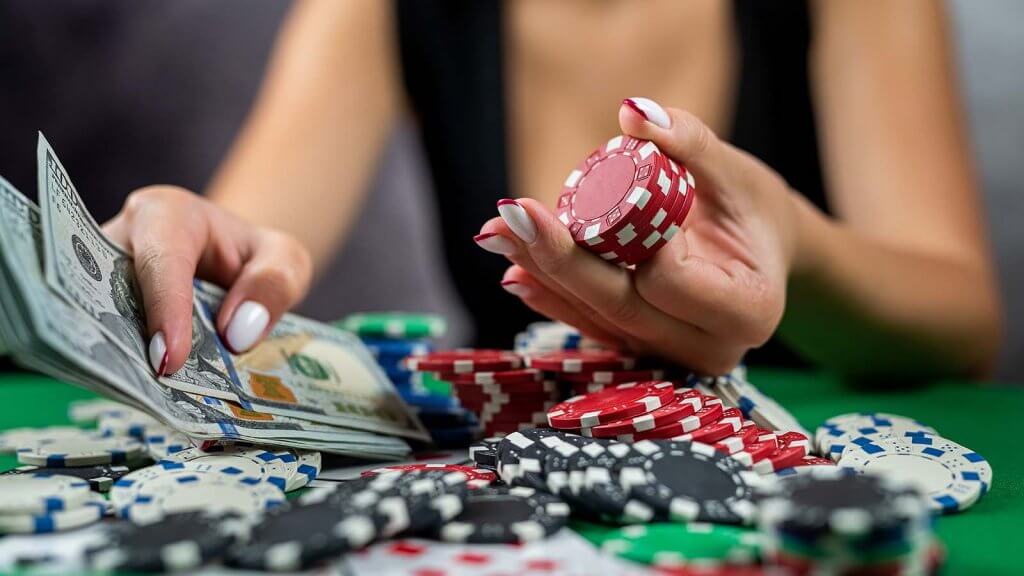 Canada is the 4th nation with the highest number of poker players. Many gained success from it. Here is a list of the richest Canadian female poker players.
Top 11 Canadian Female Poker Players Ranked by Earnings
| Rank | Female Poker Player | Earnings (rounded) | Notable distinctions |
| --- | --- | --- | --- |
| #1 | Kristen Bicknell | $5.5 million | 3x WSOP bracelets |
| #2 | Xuan Liu | $3 million | 1x WPT Fallsview (winner) |
| #3 | Isabelle Mercier | $1.5 million | 1x EPT London (winner) |
| #4 | Vanessa Kade | $1 million | 1x Deepstacks Poker Tour (winner) |
| #5 | Louise Francoeur | $800 thousand | 1x LIPS (2nd place) |
| #6 | Kara Scott | $700 thousand | 1x Tilt Poker Cup (winner) |
| #7 | Carla Sabini | $600 thousand | 1x WPT Montreal (winner) |
| #8 | Cindy Kerslake | $500 thousand | 1x Winter Super Stack (winner) |
| #9 | Evelyn Ng | $400 thousand | WSOP 2005, 2006, 2007, 2008, 2010 participations |
| #10 | Darlene Lee | $300 thousand | 1x DeepStack Poker Tour (winner) |
| #11 | Thi Hoa Nguyen | $300 thousand | 1x Deepstack Extravaganza 3.5 (winner) |
Meet Canada's richest women in poker
Canada is one of the gaming jurisdictions where poker is legal and regulated by an authority, Alcohol and Gaming Commission of Ontario (AGCO). As such, the environment has attracted many card game developers and players.
According to research by World Poker Tour, there are 100 million online poker players worldwide, with a significant number in North America, specifically the United States and Canada.
Several Canadian players have struck it rich while playing this card game. However, on this page, we will reveal the top 11 Canadian female poker players who have continuously received fat paychecks from sitting and mastering the game.
Here, you will see shocking and never-seen-before facts about each player, including their:
All Time Money List Ranking

How they started playing

Their net worth, achievements, relationships, controversies, and more.
So grab your seat belt; it's going to be a rollercoaster!
Kristen Bicknell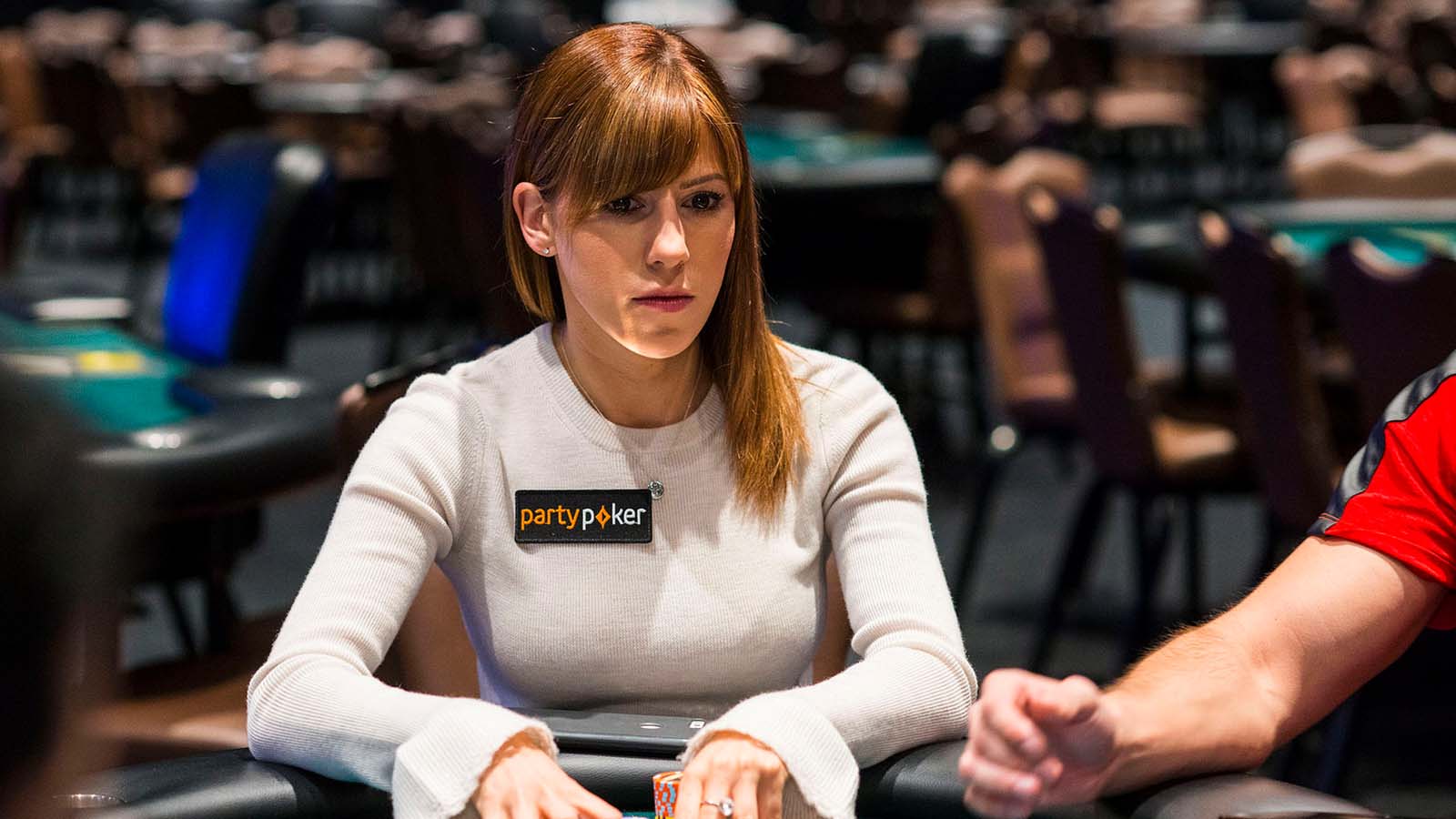 Source: poker.org
Bicknell started playing the game as a freshman in college in 2006. However, her journey to riches and limelight fully began in 2011.
Birthday: December 29, 1986 (35 years)

Place of origin: Ontario

Nickname: krissyb24

Career Span: 2006 – Present

Tournaments attended: 167
Kristen Bicknell's Rise to Poker Success
In 2011 she hit Supernova Elite on Pokerstars, a level that requires her to play about 2.5 million hands per year. She prefers playing at the $1/$2 to $2/$4 tables and prides herself on being the "Ultimate Grinder" because of the volume of hands she stakes on online poker sites.
In 2013 she won the $1,500 No-Limit Hold'Em Bounty event earning $290,768. In 2017 she was the highest ranked live tournament Canadian female poker player with a total GPI points of $2,627.75.
Bicknell's successful tournaments
Bicknell's success continued from 2017 to 2020 as she won several prestigious tournaments earning her six-figure prize year after year, including:
$5,200 No-Limit Hold'Em event in WPT Five Diamond Series at Bellagio; $199,840 earned

APPT National High Roller in Macau; $279,549

$2500 No Limit Hold'Em 6-Handed event in WSOP 2020; $356,412
So far, Bicknell has won three World Series of Poker bracelets and, by March 2021, had amassed over $5,188,000 in these events.
Who is Kristen Bicknell Dating?
Kristen Bicknell isn't just aiming to become a game's world best; being a poker wife is part of her plans too! She is engaged to the fellow professional player and WSOP bracelet holder, Alex Foxen.
Xuan Liu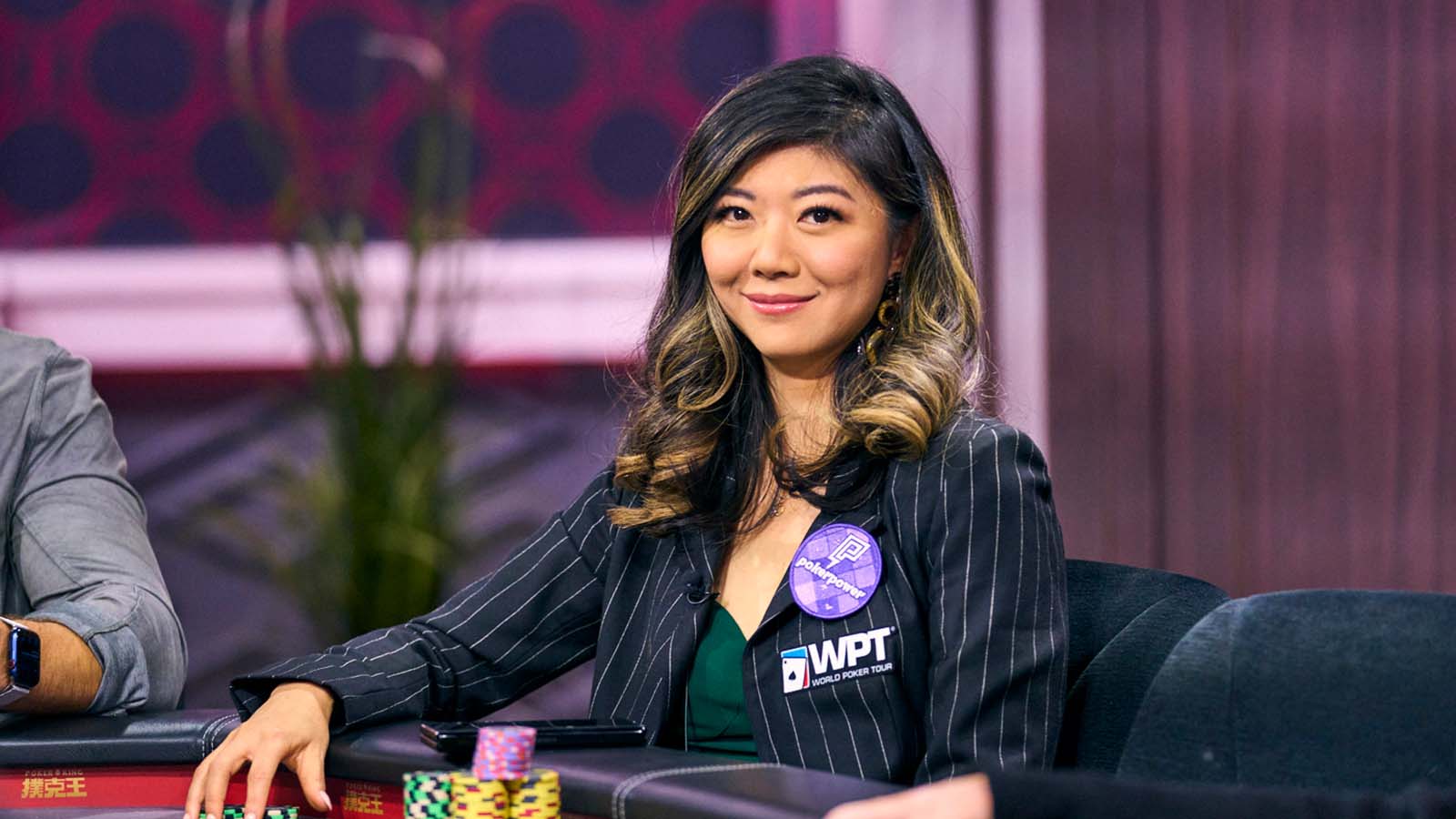 Source: twitter.com
Xuan Liu's love for the game began when she was just seven years old, from watching movies and playing it with her stuffed toys. Her love for games of strategy prompted her to apply to the University of Waterloo in 2006.
Birthday: June 25, 1985, (37 years)

Place of origin: Tian Jin, China

Nickname: xx23xx

Career Span: 2007 – Present

Tournaments attended: 62
Xuan Liu's Career Stats
Her story continues when in 2010, at the expense of her grades, she started getting more immersed into it and started attending more events.
Her first major tournament was the $10,000 World Poker Tour Fallsview event in Niagara, but she bowed out early. In 2011 she attended several events, including the European Poker Tournament San Remo, where she got her first main cash event worth over $500,000.
Between 2010 and 2017, Liu earned over $3 million playing live and online tournaments. She is also the only last woman standing at the PCA main event. Since she began playing it professionally, Liu is one of the top Canadian female poker players because she has competed in over 40 cash games and won 4 titles.
Did Liu Quit the Game in 2017?
The poker community didn't get to see much of Liu after her brief marriage to a fellow player in 2017. When interviewed, Liu credited her absence to taking time off from the mental and physical drain that comes with playing games of chance.
Liu declared that playing poker is like being on a hamster's wheel, and the game is a lot harder to beat than before.
But she didn't entirely quit poker; rather, she served as a live commentator for the game and instructor. In 2019, Xuan Liu returned to her winning ways at the poker tables.
Isabelle Mercier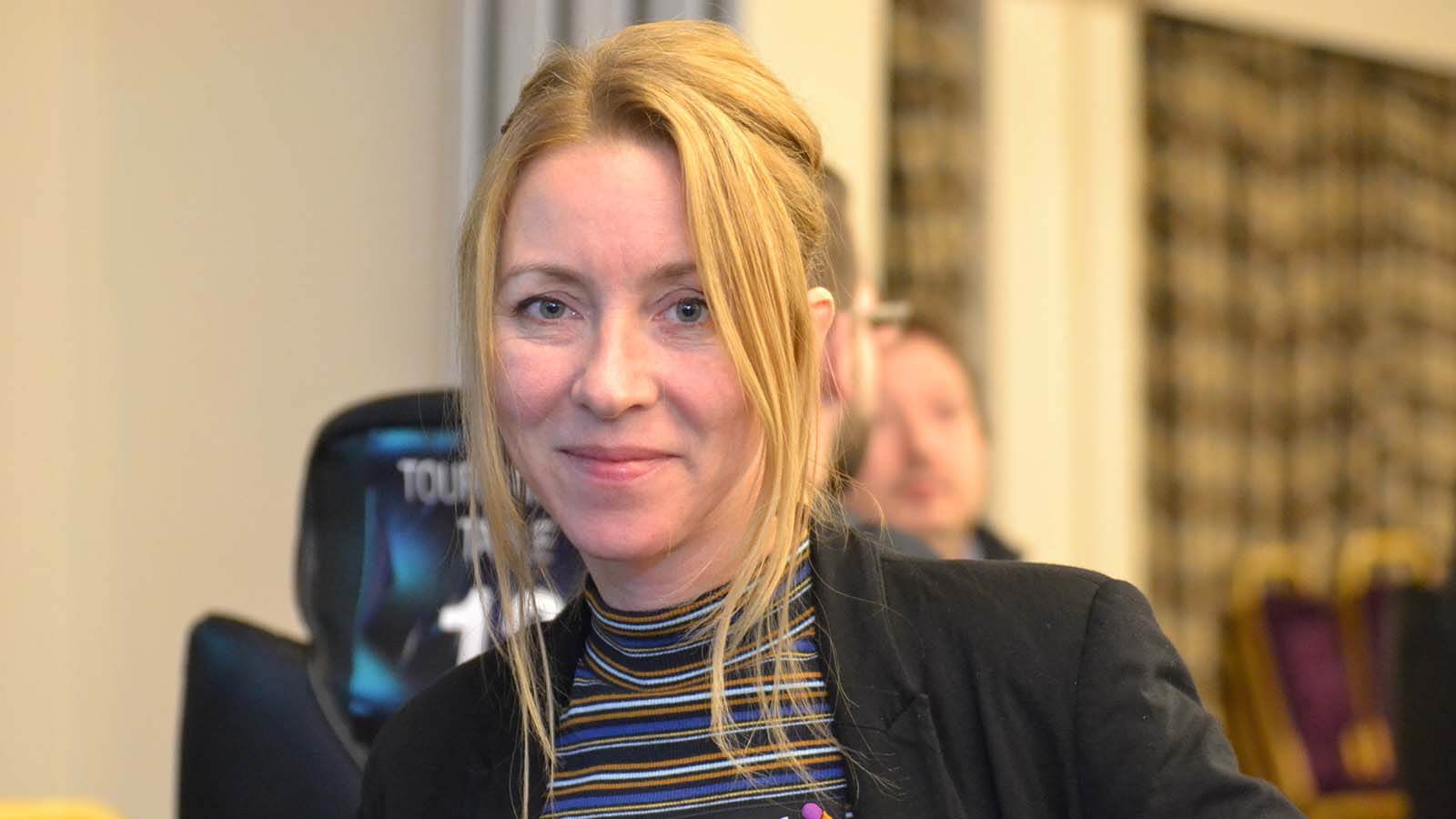 Source: pokernews.com
Like several other players, Mercier learned to play poker as a child. Before her career began, she undertook a law degree at the Université de Montréal and practiced commercial law for six months.
Birthday: August 05, 1975 (47 years)

Place of origin: Quebec

Nickname: No Mercy

Career Span: 2002 – Present

Tournaments attended: 48
From Lawyer to Top Female Poker Player
Her sojourn into pro poker began when she moved to Paris, France, for a master's degree while also working as the poker room manager at the Aviation Club de France.
Her first main tournament win was in the €800 (approximately $790) No Limit Hold 'Em tournament at the Masters Classic of Poker 2002 in Amsterdam, bagging $53,499.
2004 saw her winning the first prize of $25,000 at the World Poker Tour (WPT) Ladies' Night tournament. There, she got the nickname "No Mercy" from Mike Sexton.
Mercier has since won a couple of events
2005, European Poker Tour (EPT) Grand Final in Monte Carlo, (10th €23,090)

2009 The PokerStars' Ante Up for Africa charity tournament in Monte Carlo (ist)

2009 PokerStars Sunday Millions (3rd, $115,000)

By late 2009, she left the Pokerstars pro team and became a consultant for another gambling entity.
What is Isabelle Mercier's net worth?
Mercier's net worth is estimated to be over $2 million. As of 2015, her career live tournament winnings have exceeded $1.2 million.
Vanessa Kade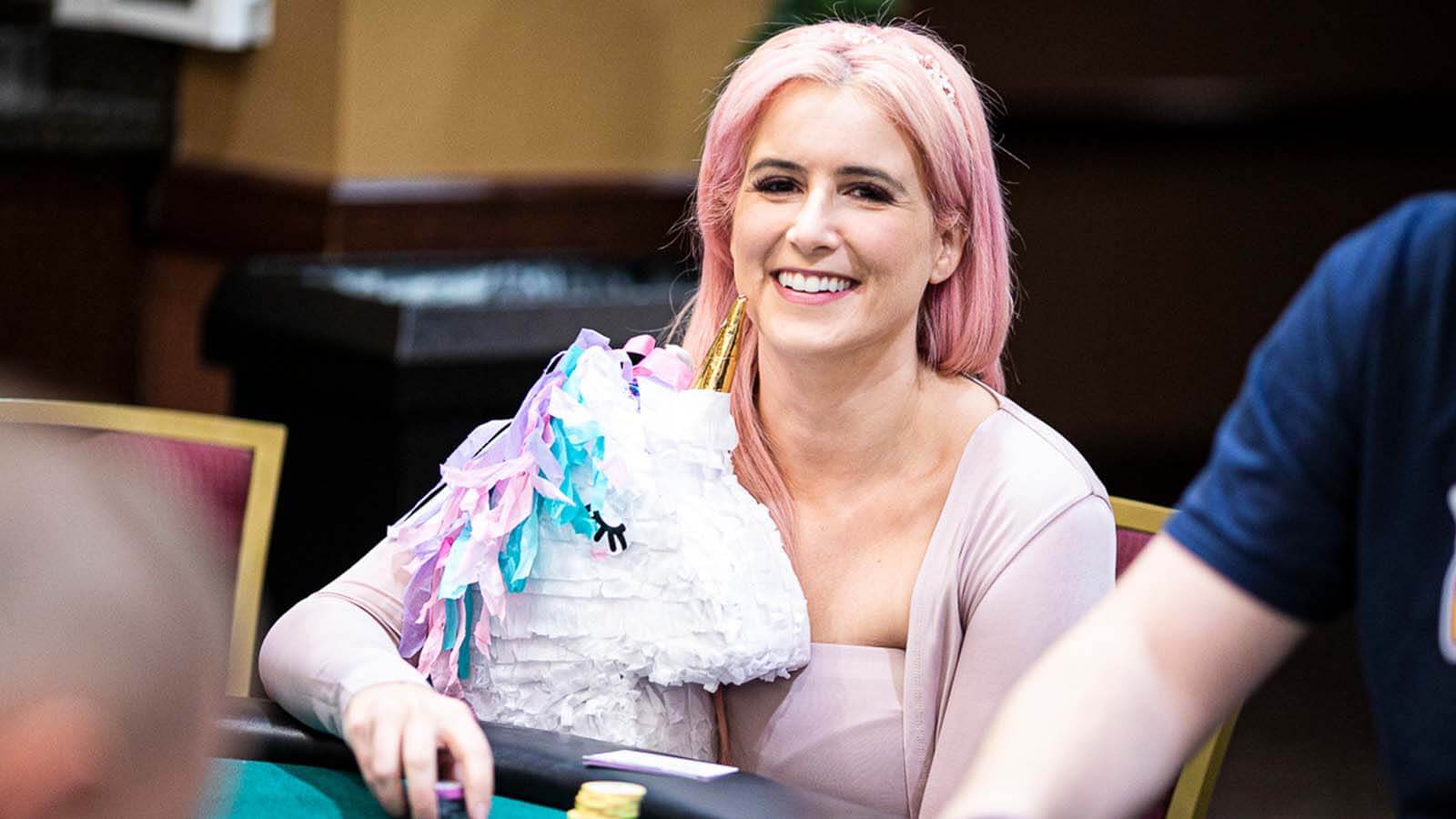 Source: pokernews.com
Number 4 on the top Canadian female poker players is no other than Vanessa Kade. Before rising to fame, Vanessa worked for the video games industry. She was employed by some of the biggest companies like BioWare, Disney, and LucasArts.
Birthday: October 17

Place of origin: Canada

Nickname: Niffler

Career Span: 2012 – Present

Tournaments attended: 83
Quitting a Video Games Developer Job for Poker "Pastures"
It was while she was working at BioWare that she got properly introduced to this card game. Kade started with small stage games and gradually moved on to bigger monthly events.
She won most of these games, and this prompted her to pursue a career in pro poker. In 2014, she quit her job at Disney to have more time for understanding and playing the game.
Kade achieved several wins, but her biggest so far was the Sunday Million event, where she beat a field of 69,876 players to win $1.5 million.
Vanessa Kade Long-Standing Feud with Dan Bilzerian
It is not every time that we see two poker stars engage in a row, and when they even do, some are quick to douse the flames before it becomes public knowledge. But such is not the case with Kade and Bilzerian.
These two personalities have no love lost for each other and are not willing to hide it, even to the point of it slightly affecting their career. Over the years they called each other names and made fools of themselves even on his first day at GG Poker Ambassador.
The quarrel led to GGPoker terminating Kade's affiliate account in 2021 and later ending its partnership with Bilzerian. But even with these losses, the two poker gurus have shown no signs of offering or accepting an olive branch.
Louise Francoeur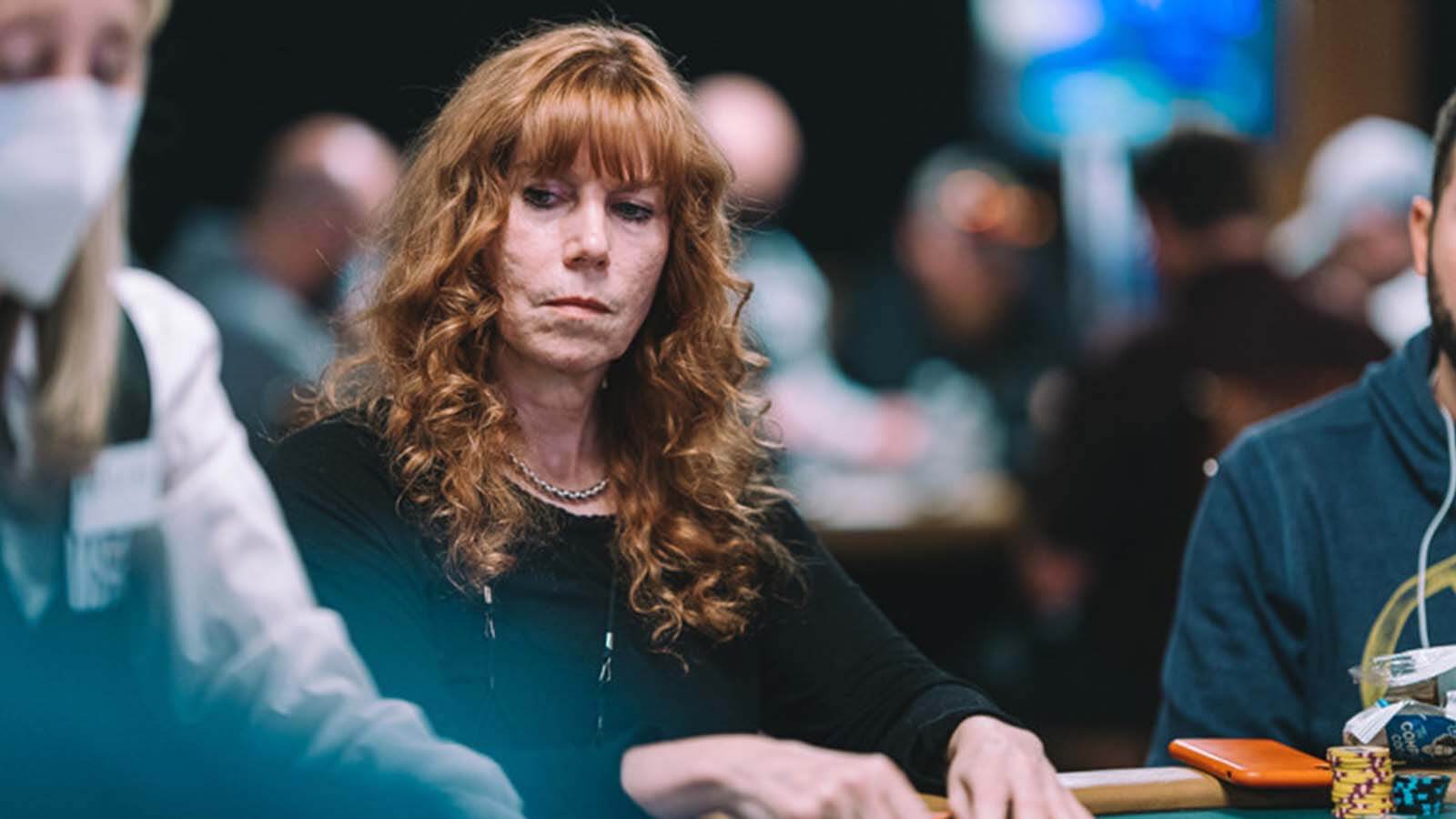 Source: pokernews.com
Louise Francoeur is a mystery. We couldn't find data about her birthday, nickname, or total, and the final number of tournaments won or just participated in.
Birthday: N/A

Place of origin: Montreal

Nickname: N/A

Career Span: N/A

Tournaments attended: above 150
More about Louse Francoeur
Louise Francoeur doesn't appear much in media or on TV, and she rarely grants interviews. As such, the details of her personal life are not well known except that she is one of the best Canadian female poker players from Montreal. As of July 2022, her best live cash was $49,108 at the $10,000 No-Limit Hold 'em Main Event Championship.
She has earned about $800,000 in total from the competitions.
Francoeur First WSOP Final Tables
Although Francoeur had played in WSOP events and cashed 23 times, 2022 WSOP marks the first time she would reach the final tables in Event #41:$1K Super Turbo Bounty. She bowed out at the eighth position earning $21,733. Although Ramsey Stovall won the event, it would always be a game Louise Francoeur remembers.
Kara Scott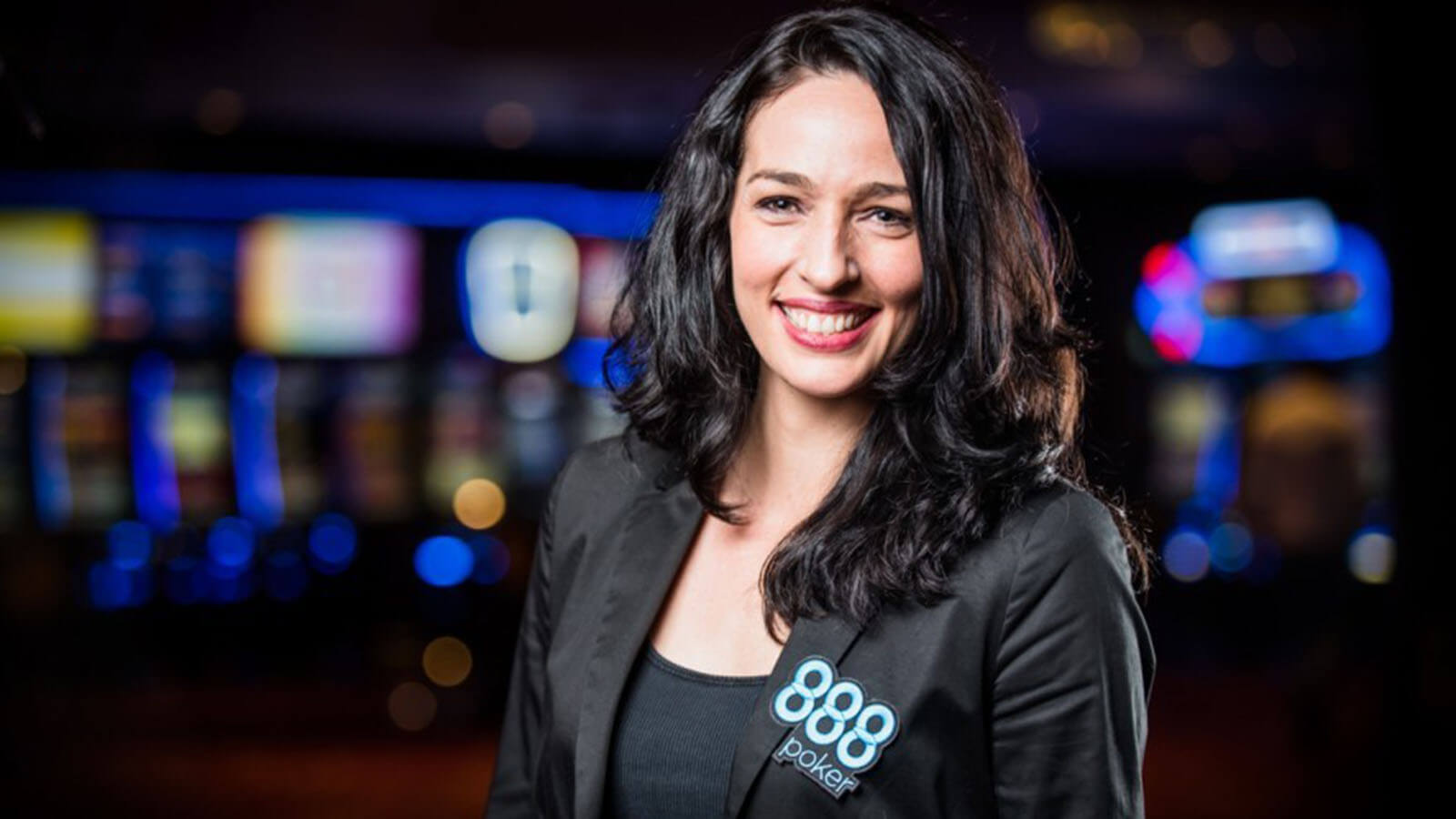 Source: pokerdb.com
Kara got her start when she was asked to host a show called Poker Night Live, which features online tournaments. As part of her job for the show, Kara would watch the game with pro commentators who would analyze the game as it unfolds.
Birthday: August 11, 1977 (45 years)

Place of origin: Northern Alberta

Nickname: Great Scott, Kara Scott Chad

Career Span: 2005 – Present

Tournaments attended: 25
Kara Scott's Journey
According to Kara, it was in the process of listening to these professionals play that she learned how to play. She began to have a deeper interest in the strategy concepts.
Soon after, she headlined several shows and covered more prestigious events, including the WSOP. Her first significant tournament cash as a female poker player was in 2009 at the PaddyPower Irish Poker Open, earning $413 612 in the runner-up position.
She has also had several cashes at other events
2008 WSOP Main Event; $41,816

2009 WSOP Main Event; $32, 963

PartyPoker Sports Stars Challenge; $50,977
In total, this Canadian female poker player has amassed over $600,000 from live poker live winnings.
Kara Scott has a Poker Husband!
Without a doubt, Kara Scott had a lot of admirers, especially during her deep run in the 2009 WSOP Main Event.
However, in May 2014, Kara Chad put paid to her admirers' dreams and designs about her when she wedded Italian professional player Giovanni Rizzo. The duo got engaged in Venice, Italy, on April 10, 2013, at the exact spot where they shared their first kiss.
Carla Sabini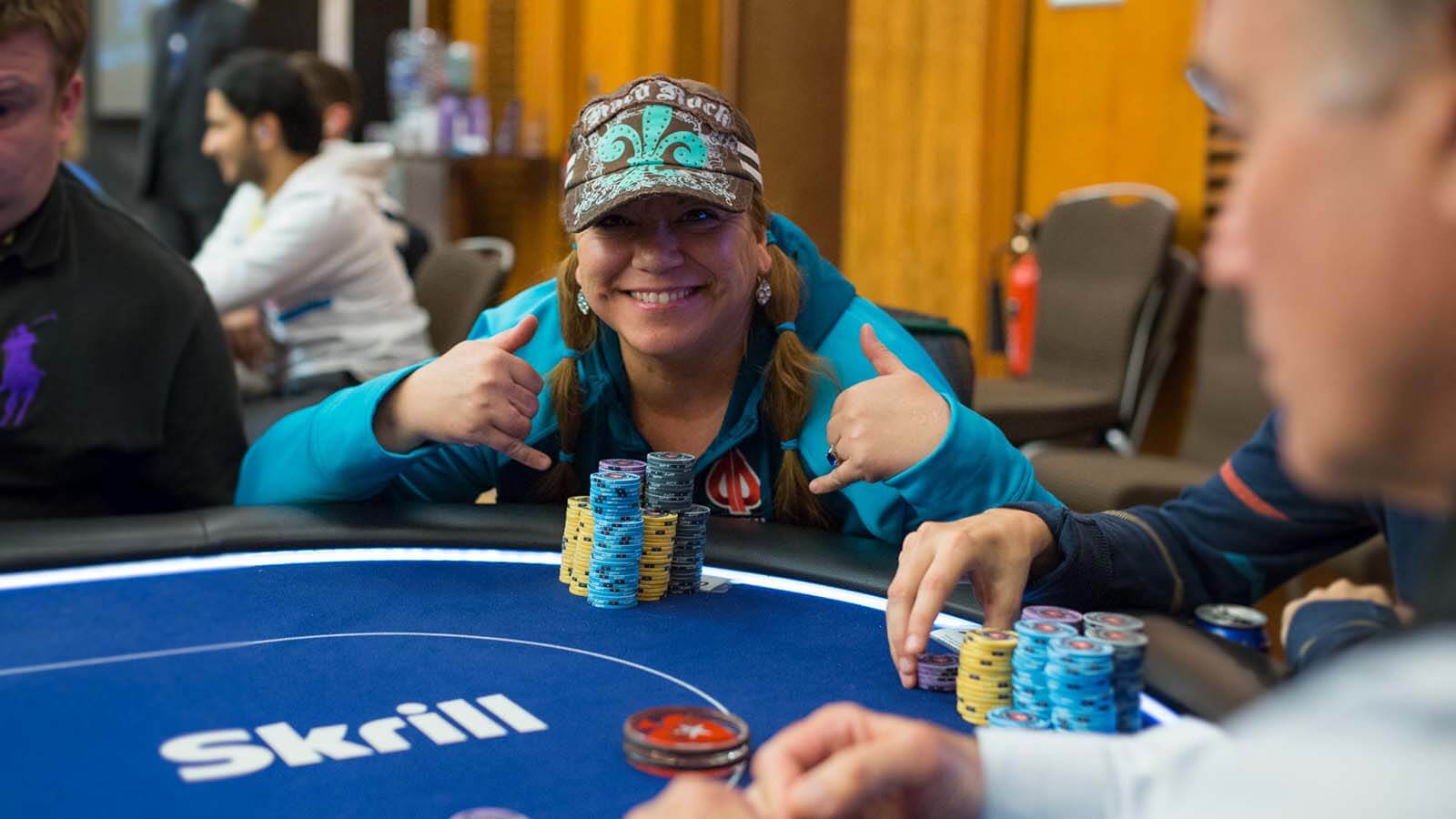 Source: pokernews.com
Carla Sabini is another Canadian female poker player enigma! Carla keeps herself and her personal data out of the public's eyes and opinions. But we know for sure that she has lots of reasons why she is number 7 on our list.
Birthday: N/A

Place of origin: N/A

Nickname: N/A

Career span: 2011 – Present

Tournaments attended: 41
Carla Sabini Cashes
Carla Sabini got into the poker limelight in September 2012 when she got her first big cash by being a runner-up in a Heartland Poker Tour event in Colorado, earning $139,839.
Since then, she has competed in different events and had several cashes, including
2013 WSOP $10,000 World Championship- No Linit Hold'em – $32, 242

2013 European Poker Tour 5000+250 No Limit Hold 'em – $24, 224

2019 $400 No Limit Hold'em MonsterStack – $8,733
Her career total life earnings are $559,415.
The Game Carla Sabini May Never Forget
Carla Sabini had participated in card games events, but there is one that, even after several years, she may still remember the details vividly. It was her debut match on the EPT, specifically in the £10,300 High Roller, EPT London Main Event.
Sabini shared the same table for the first time with some of the experienced players she has looked up to, including Jake Cody, Dan Shak, Philipp Gruissem, Jason Mercier, Sofia Lovgren, Talal Shakerchi, and Steven Silverman.
She was excited by the opportunity the table afforded her to play with the industry greats. However, it didn't shake her confidence; she made a pretty good showing for a first-timer.
Cindy Kerslake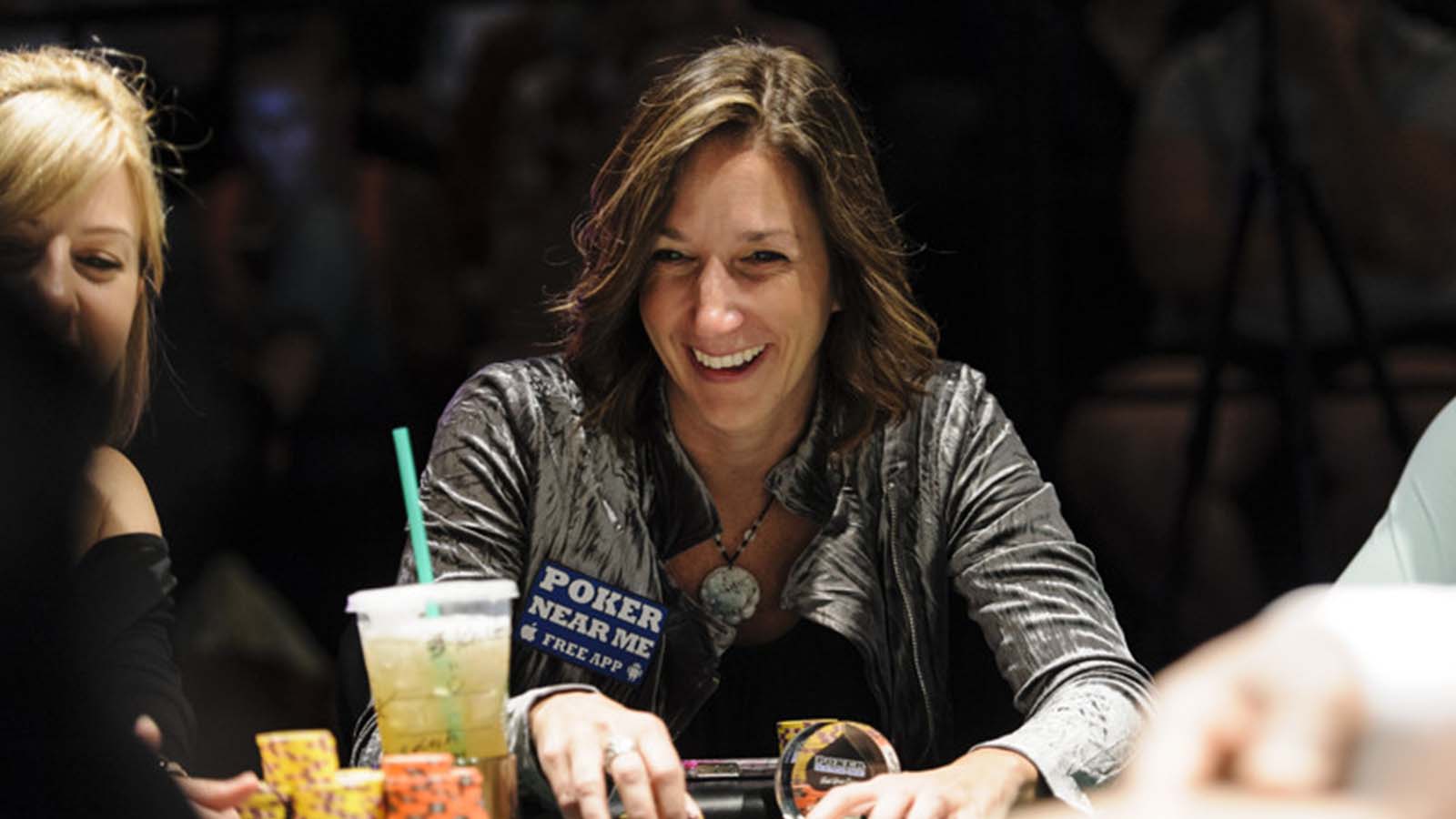 Source: wsop.com
Cindy Kerslake is a Canadian female poker player who still plays. She plays for over a decade and has had some pretty shocking moments in her career.
Birthday: N/A

Place of origin: Calgary, Canada

Nickname: N/A

Career Span: 2006 – Present

 Tournaments: 114
More about Cindy Kerslake
From just playing live poker events alone, Cindy has earned a career-high of more than $450,000. She started playing it professionally in 2006. Her first recorded game was on February 25, 2007, in $160 + 15 Ladies No Limit Hold 'em at Great Canadian Freezeout, Calgary, where she became second and earned $2,316
Since then, Cindy has competed in over 100 live tournaments, including WSOP, and had several cashes. Her biggest win yet is $35,185 earned on June 20, 2018, after coming second in $500 + 50 No Limit Hold 'em at the 2018 Wynn Summer Classic, Las Vegas.
Evelyn Ng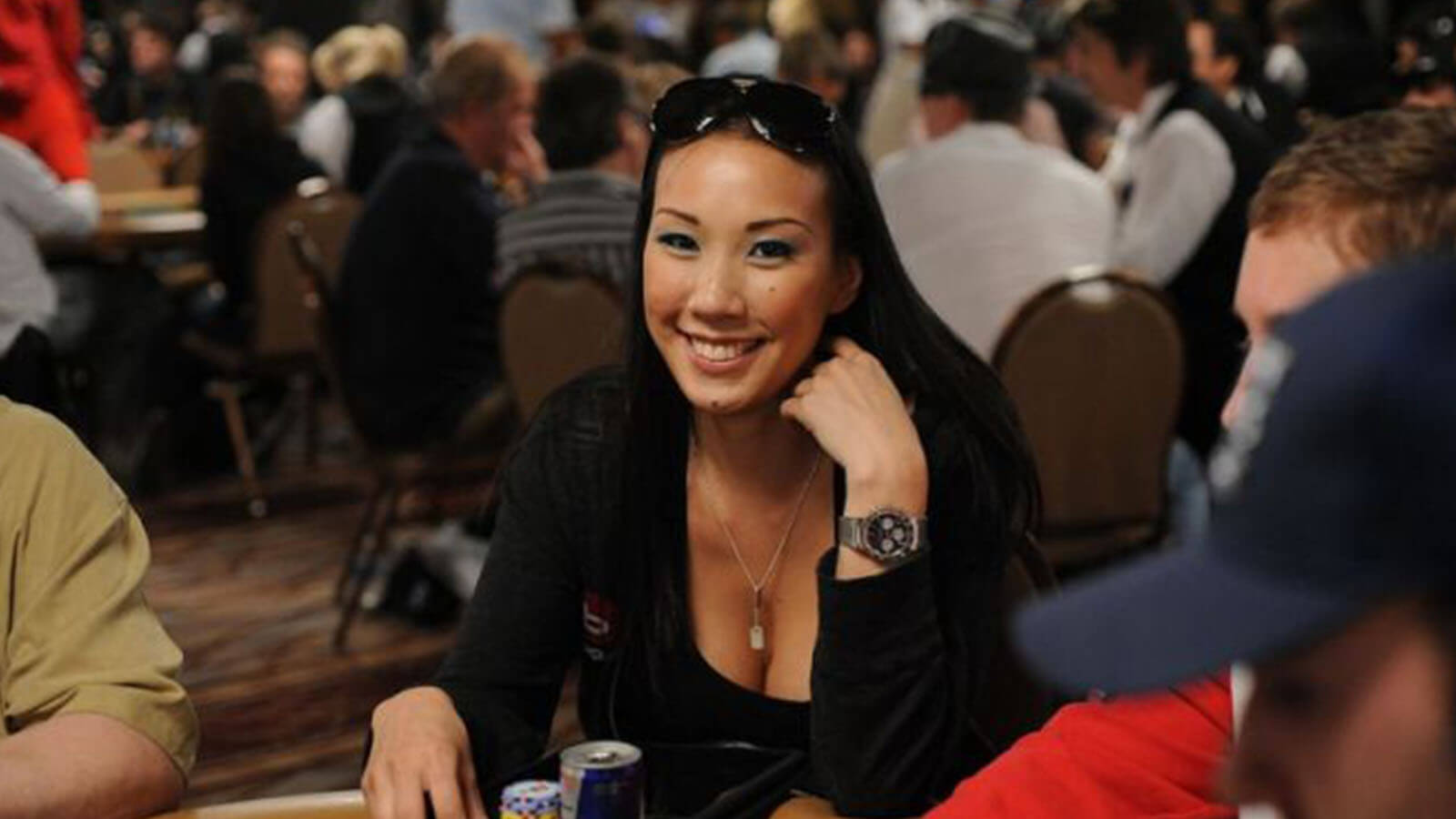 Source: pokernews.com
Evelyn Ng shot to fame when she placed second at the Ladies' Night I tournament on the World Poker Tour (WPT), finishing ahead of proven players like Annie Duke and Kathy Liebert. She would go ahead to compete and cash in several live tournaments, including WSOP No Limit Hold 'em games.
Birthday: September 14, 1975 (46 years)

Place of origin: Ontario

Nickname: Evybabee

Career Span: 1992 – 2010

Tournaments attended: 32
Evenly NG Rise to Fame
She achieved her best cash on April 18, 2006, in the WPT Championship- No Limit Hold 'em at Fourth Annual Five-Star World Poker Classic, Las Vegas, when she came 39th and earned $73,230.
The next month, she got her third-highest cash of $50,000 in No Limit Hold 'em in the Calvin Ayre Wild Card Poker Tournament, San Jose. As of 2010, her total live earnings exceeded $370,000.
Evelyn Ng Once Dated Daniel Negreanu!
He is one of the most proeminent names in this industry, and if he has any affairs, especially with his fellow poker player, it has to be in the news. Around the late 90s, Evelyn Ng dated Daniel Negreanu.
As a matter of fact, Negreanu was the one who helped her develop a style of play to win against aggressive players. A point to note; Ng was one of the characters featured in the video game about Negreanu; Stacked with Daniel Negreanu.
Darlene Lee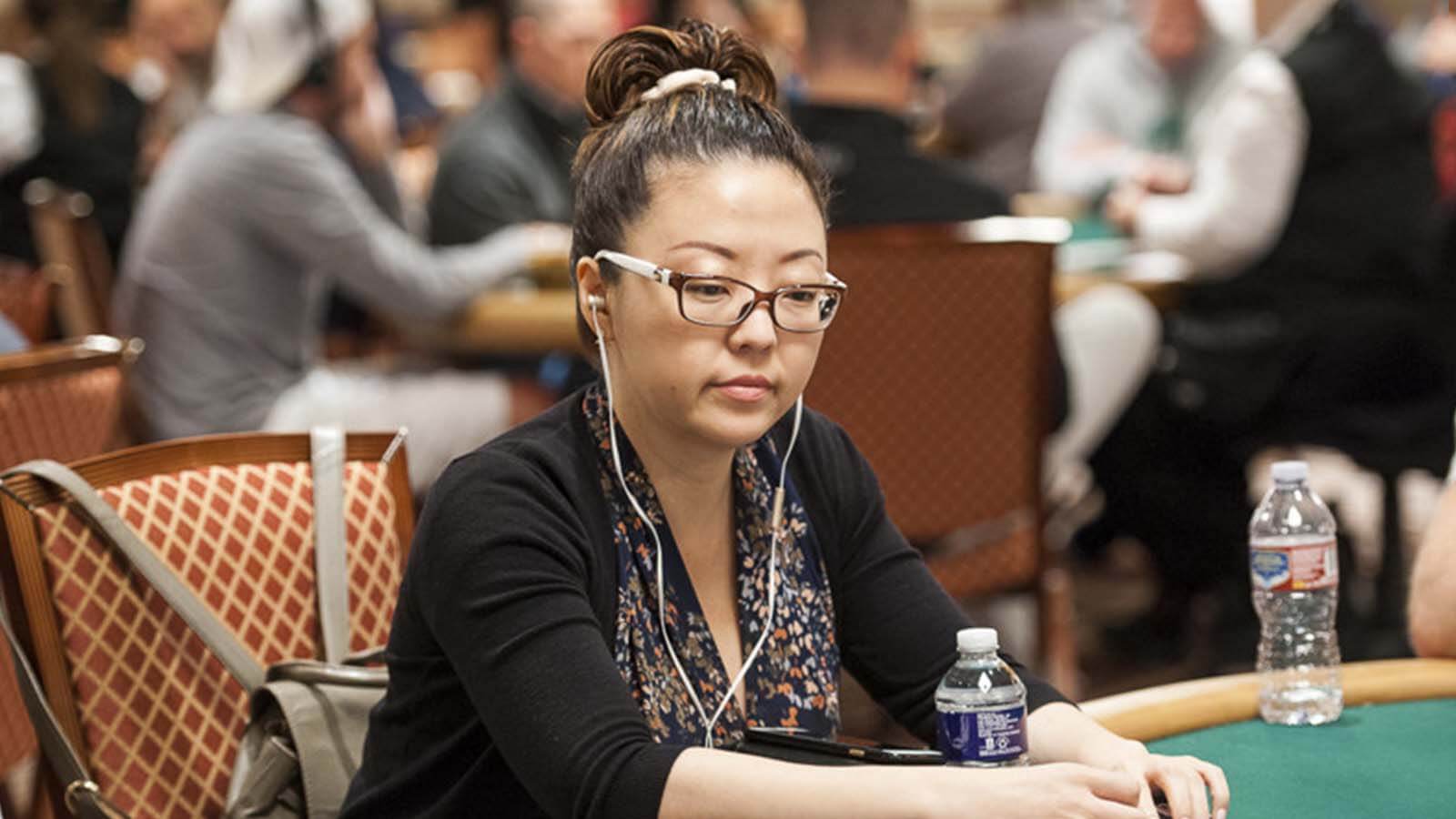 Source: wsop.com
Darlene Lee is 314th on Canada's All-Time Money List, having earned total live earnings of $341,625 from flows of cash in 29 live tournaments.
Birthday: N/A

Place of origin: Vancouver, Canada

Nickname: dardarbinks_22

Career Span: 2009 – Present

Tournaments attended: 29
Darlene Lee's Profile
Darlene has had a long career as a female poker player, with her first professional game being No Limit Hold 'em – Main Event in the 2010 British Columbia Poker Championships, Richmond. In that game, she came 20th and earned $8,577.
Seven years later, Darlene would go ahead to achieve her biggest career cash of $87,738 after placing third in the #99 No Limit Hold 'em Superstack event of the Deepstack Extravaganza III, Las Vegas.
Darlene Lee WSOP Cashes
Darlene Lee has earned a total amount of $90,593 from five prizes in the WSOP. Here is a total breakdown of the competitions she cashed in:
Position: 41st, $10,000/$1,000 Ladies No-Limit Hold'em Championship, 2014 WSOP – $3,311

Position: 113th, $10,000 No-Limit Hold'em MAIN EVENT – World Championship 2014 WSOP – $52,141

Position: 53rd, $1,500 No-Limit Hold'em MILLIONAIRE MAKER, 2015 WSOP – $24,062

Position: 39th, $1,500 Summer Solstice No-Limit Hold'em – $8,568

Position: 803rd No-Limit Hold'em MONSTER STACK 2016 WSOP – $2,511
Thi Hoa Nguyen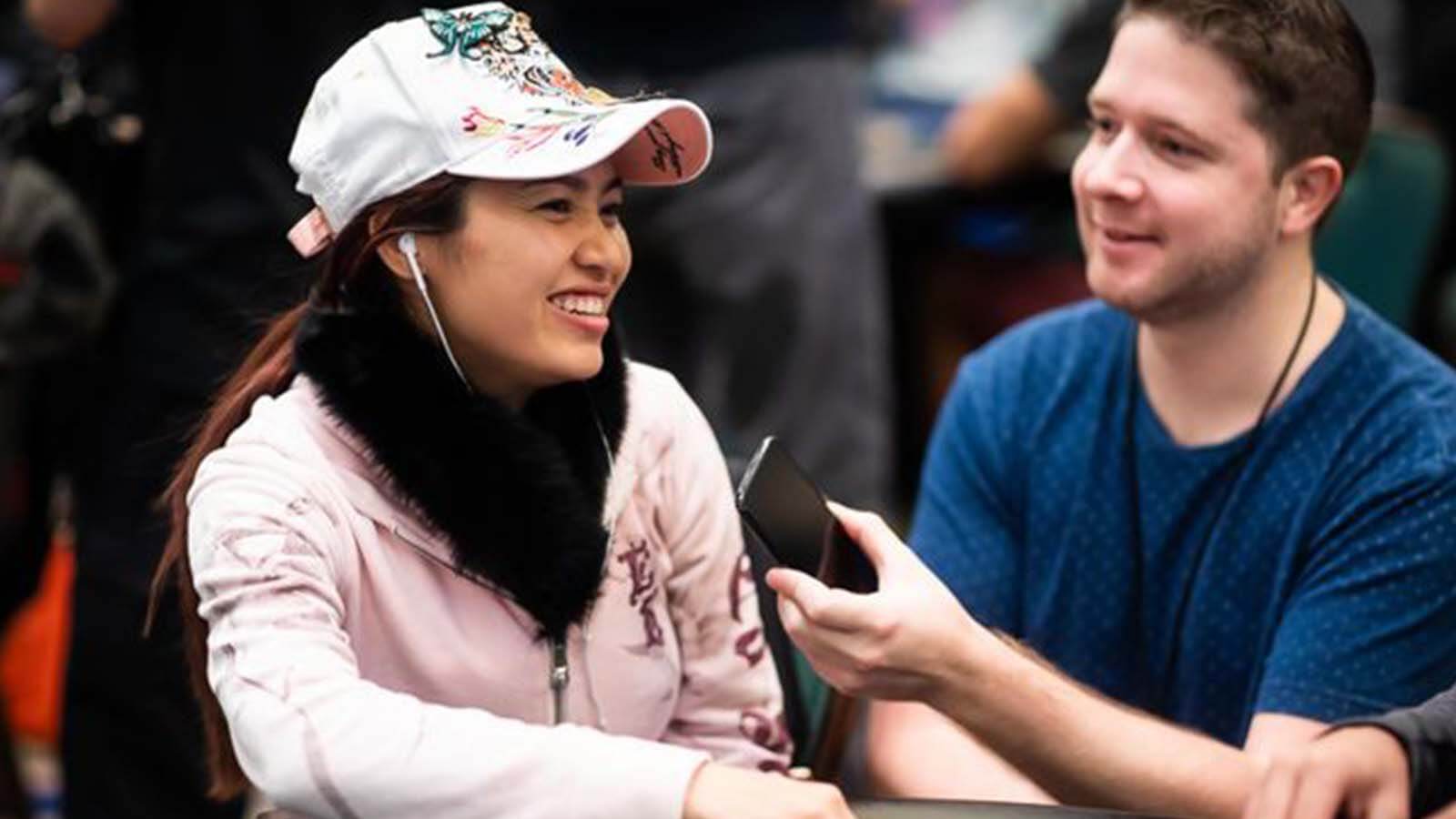 Source: pokernews.com
Thi Hoa Nguyen is another Canadian female poker player doing well for herself with the card game. So far, she has earned $323,375 live tournament winnings from only 29 won prizes in a career she started professionally in 2014.
Birthday: December 05, 1997 (25 years)

Place of origin: Toronto

Nickname: N/A

Career Span: 2013 – Present

Tournaments attended: 21
Who is Thi Hoa Nguyen?
She is still actively playing, earning $2,218 in her last game at the $1,000 No Limit Hold 'em – Ladies Championship Event #61 of WSOP 2022, held in Las Vegas on June 29, 2022.
She is currently 329th on Canada All-Time Money List.
Let's Recap the Facts
Who is the best female poker player in Canada?
All the female poker players on our list are skillful and have varying strengths, so it's hard to tell, but we will give it to Xuan Liu for using her love for board games and learning strategies to create a successful professional career.
Who is the richest Canadian female poker player?
The richest Canadian female poker player is Kristen Bicknell, having earned about $5.5 million.
How do men's tournament earnings compare with the best Canadian female poker players?
Canadian female poker players still have a long way to go in reaching or surpassing their male counterparts' earnings. Daniel Negreanu, a Canadian and third on the Global All-time money list, has earned over $46 million from the game. Kristen Bicknell ranks 16th on Canada's All-Time Money List.