Can online casino refuse to pay out?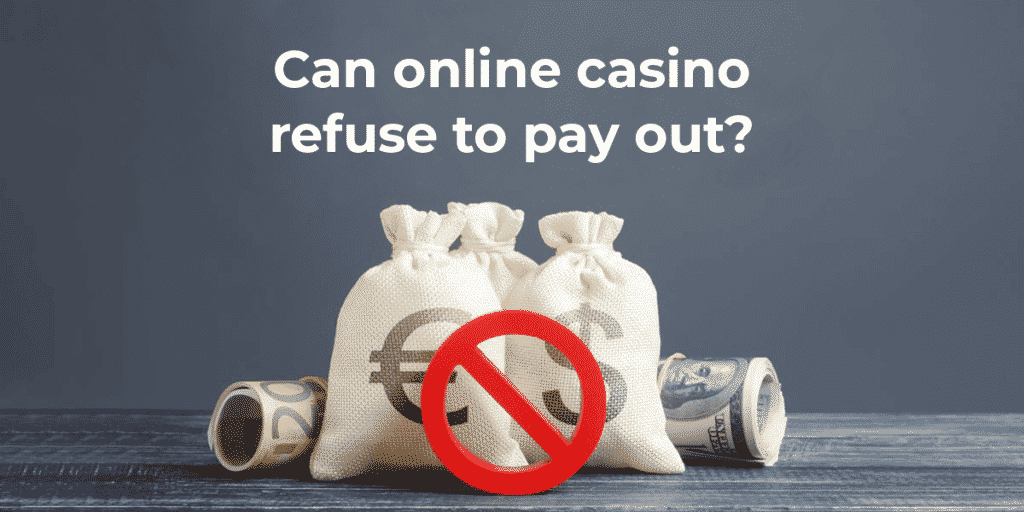 As experts, we came with an answer to the most common question in the gambling niche. We've used our knowledge and expertise to shed light on the frequent situations when a casino operator will refuse to pay your winnings and ways you can avoid such circumstances.
Reasons why casinos won't pay
4 Common reasons why casinos refuse to pay
If, in the unfortunate event, the casino operator you have opened an account with refuses to pay you, you should know that there are specific reasons why.
While investigating this matter, we've discovered four main reasons why such a thing occurs. However, we must point out that such a thing can happen not only because the operator is unreasonable but also because you might have breached the imposed terms and conditions unknowingly.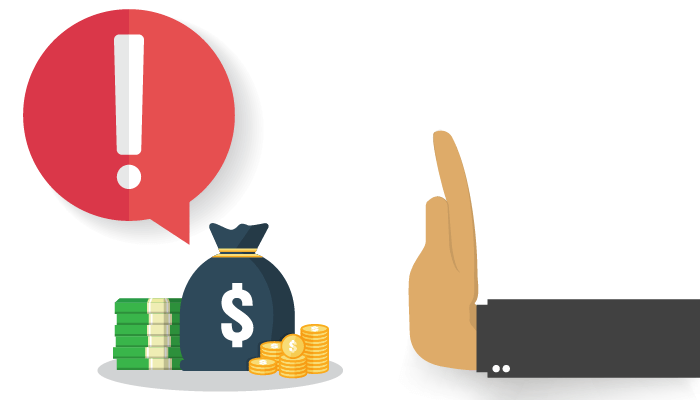 So, here's the deal:
1.     Terms and conditions
When opening an account, you must complete the blanks with your personal information. In the end, you will be asked if you agree with the casinos' terms and conditions. Here, you must attention.
We understand the fact that most of you don't read the interminable general terms of a site. Still, these are vital if you want to have a smooth user experience.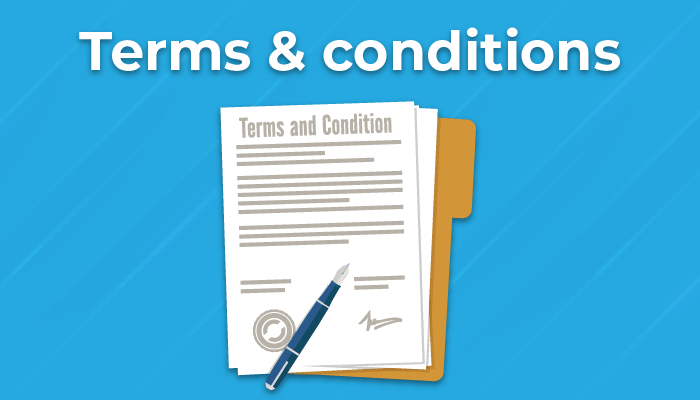 In addition to this, the majority of gaming sites have their terms explained in a complicated and sophisticated manner. By doing this, they will make you skip reading those terms and quickly agree to them.
However, you might agree to some unreasonable terms by doing so, which can eventually lead to a casino not paying you.
So, you might be thinking:
What imposed terms can there be that can influence whether or not a casino pays you.
The most common situations are:
As we have stated, each casino operator sets its agreements. Therefore you must read them carefully, especially when you want to claim a promotion.
The casino incentives are indeed attractive, but note that it can have a limited amount for withdrawing,  restrictions on the region, game type, imposed limits on bets, be them higher or lower. Besides these aspects, specific platforms also have restrictions on particular games, especially on slots.
You might have been able to open an account as a minor. However, even though you had the possibility to play, certain documents are needed to prove your identity and check your age when withdrawing.
Grant that, in Canada, the legal age of gambling is 19 except Alberta, Manitoba, and Quebec, where the admissible age is 18+.
Once you have chosen to self-exclude from gambling activities, you will not be able to open another account, especially on sister casinos.
However, suppose you had been able to open an account in such a situation. Still, you should know that once the gaming operator discovers that you've selected the self-exclusion features, it will confiscate your winnings.
2. Payment issues
Matters regarding banking are some of the most common situations when a casino refuses to pay.
So, here's the deal!
You must take into consideration the following situations:
Withdrawal limits were not met
Each gaming site sets its limits. You have an obligation to respect the imposed limit and never exceed it because otherwise, you will not receive your winnings.
For example:
Suppose the casino imposes a limit that cannot exceed C$5000 per day.
This means that in 24 hours, your withdrawals cannot go over this amount.
However, you must remember that you have the right to transparent information. This means that the casino must provide you with relevant and straightforward details regarding this aspect.
Recommendation: Using our experience of over five years, we can safely say that most platforms do not offer this type of information in their general terms and conditions. Hence, we advise you to get in touch with customer support to find out further information.
Be aware: Some online casinos will set limits on either day, week, month, or even per account.
You deposited using someone else's card
Each gaming website states in its general terms and conditions that you cannot receive winnings if you have funded your account with a card from which you are not the account holder.
Why?
This is done as a measure to prevent money laundering or credit fraud.
The wagering condition has not been completed.
Do you know why the wagering requirement is essential?
All gaming operators offer promotions that come with wagering attached for anti-money laundering purposes. By doing this, criminals won't be able to fund their accounts and withdraw their money instantly to clean their illegal funds.
Hence, the wagering, turnover, or playthrough requirement has been implemented.
So, if you do not meet this requirement, the online casino will have all the rights to refuse to pay your winnings.
Tips: There are casino operators who do offer no wagering bonuses. Check out our dedicated page for an extensive list of such platforms.
Using our experience of more than five years in this domain, we've discovered that specific platforms will delay your transactions to make you cancel the withdrawal request.
This is done so that you can continue playing and finally lose all your funds.
3.     Account issues
Opening an account at a gambling site also means to agree with its general conditions. For this reason, we always recommend our users to either read the terms and conditions thoroughly or make use of our casino reviews to know exactly what to expect from that site.
We also must point out that account issues are the most encountered situations when a casino won't pay you.
Verification documents were not sent
You must provide certain documents in order for the platform to verify your account and identity. These include, but are not limited to:
ID (it can be either a passport or driving license);

Utility Bill (pay attention because it must be dated within the last 90 days);

Deposit Proof (it can be a screenshot, bank statement, or anything that can show that you have funded the account).
If such documents are not uploaded, the operator cannot verify the account. Hence, you shall not receive your funds.
If you read the terms and conditions, you will come across the following rule:
No player is allowed to open another account on the same IP address, computer device, residential address, e-mail address, and so on.
So, suppose upon verification, it is discovered that you broke this rule. In that case, the gaming website you have become a member of will terminate your account and won't pay your winnings.
4.     Gambling license issues
This is one of the most crucial aspects that we continuously emphasize.
The reason is simple!
The gambling niche is broad, and thousands of online casinos are established daily. However, not all of them work under a gambling authority license such as MGA and UKGC.
This means that if you're not paying attention to the license and fund your account with a certain amount of money when you wish to request a withdrawal, that specific site might pull one over you.
Which will only conclude with the operator not giving you your winnings.
How to solve payout issues
Quick guide about what to do in case the casino operator refuses to pay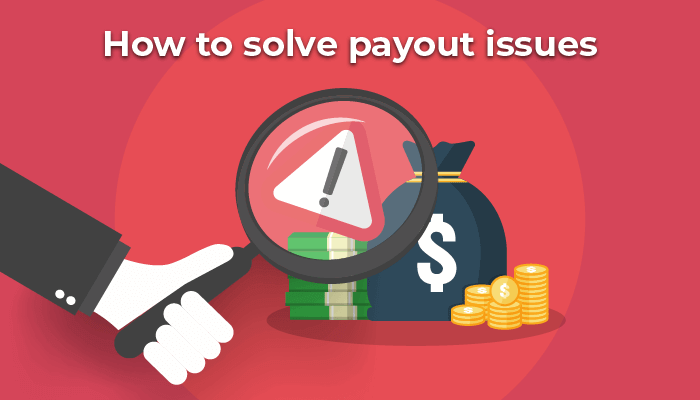 If, in the unfortunate event, you are in a situation when your gaming website refuses to pay you, we're here to tell you that we have your back.
For this reason, we've created a mini-guide that can help you solve the problem.
So, let's dive right in.
Suppose you have the right arguments and you believe that you have not breached the terms and conditions. In that case, you might solve the problem without escalating it.
It is true that the support staff have limited resources. But they can still offer you the necessary insights to resolve such a matter.
If the customer service proved to be unhelpful with such issues, then you can escalate your complaint.
You should know that particular third parties deal with such matters.
These are:
ADR: Alternative Disputes Resolution;

CPGCP- Canadian Problem Gambling Certification Board;

CGA- Canada Game Association
These non-profit organizations can aid you and offer the necessary support. In case you need further information regarding how to contact these organizations, or you want clarifications on how to solve the dispute, we recommend our specialist guide.
Choose a trustworthy top online casino
We've always drawn attention to this aspect.
Why?
Because this is where your troubles may appear.
We mean by this that if the platform you want to join doesn't have a license or it had various user complaints that haven't been resolved, it should be a red flag to you.
We understand that it might be complicated to investigate all of the casino operators and choose just one. But you should know that this is where we can come in your help.
We have a team full of experts and specialists from this domain, and each one knows how to pin-point those platforms that do not seem trustworthy.
So, use our academic knowledge and extensive free of charge casino library to pick a top online casino that is reliable and safe for you. We believe that a top casino offers a wide variety of games, providers and bonuses, and a safe environment where you can feel secure to make a deposit.
Can online casinos refuse to pay?
To put it simply, yes.
The aim of this page was to emphasize the situations when a gaming operator might refuse to give your winnings and which are the most common reasons why such a situation happens. We've thoroughly explained each reason, so we urge all Canadians to read them thoroughly. Besides this, we've also put together a quick guide with information regarding who to contact in the unfortunate event that you do come across such a situation.
References: