Casinos Licensed by Kahnawake Gaming Commission
Kahnawake is a small Canadian territory belonging to one of the indigenous Indian tribes that considered the online gambling industry's potential since the early days of the Internet era.
In July 1999, the Kahnawake Commission enacted the Regulations concerning Interactive Gaming Act, which marked the beginning of their successful journey as a gambling authority. The regulator has been issuing online gambling licenses to over 50 operators, for longer than any other jurisdiction in the world.
Our team has conducted intensive research on the legislation surrounding the Kahnawake Gaming Commission and the best casino regulated by this authority. On this page, we will provide all the details you need to decide if joining a gambling platform with this type of license is worth it or not.
Let's dive right in!
List of online casinos licensed by Kahnawake
At Casinobonusca, we closely test and review all the gaming sites in our database, based on a pre-defined system approved by leading experts in the iGaming industry.
 In our analysis, we've identified a list of the top online casinos regulated by the Kahnawake Gaming Commission that you can join right away, directly from our platform:
Best casinos regulated by Kahnawake
| Casino name | Join the platform |
| --- | --- |
| Casino Friday | Visit |
| Jackpot City Casino | Visit |
| Ruby Fortune Casino | Visit |
| Euro Palace Casino | Visit |
| Royal Vegas Casino | Visit |
| Spin Casino | Visit |
The six gaming platforms mentioned above were selected for excellent results during our evaluation process. On top of that, they all come with a vast game collection and lucrative bonus codes, which can bring you extended playtime and improve your gambling experience.
Best Kahnawake casino promotions
Gambling operators create unique promotions that are designed to attract new players to the platform. Our team of specialists has evaluated thousands of casino promotions based on user feedback while factoring in the player benefits and if the operator respects its promise.
We know how important it is for you to start your gaming journey off the right foot, so we researched the best Kahnawake licensed casino bonus codes. Based on our expertise, here are the top 3 promotions available for Canadian players:
Top-rated Kahnawake casino bonus codes
| Offer | Wagering Requirements | Game Providers | Grab the offer |
| --- | --- | --- | --- |
| 50 Free Spins + 100% up to C$750 |  70 x Bonus | Evolution Gaming, Ezugi, NetEnt, Microgaming | Claim |
| 100 Free Spins + 100% up to C$400 | 70 x Bonus | Microgaming, Ezugi, Netent, Evolution Gaming | Claim |
| 50 Free Spins No Deposit | 70 x Winnings | Evolution Gaming, Microgaming | Claim |
Want to learn more about these promotions?
Make sure you stick until the end for a complete list of all the bonuses from online casinos regulated by the Kahnawake Gambling Commission. We will provide you with all the details regarding these offers, as well as tips on how to get the most out of your benefits.
---
Recommendation: If you're new to the gambling world, we suggest reading the bonus description before claiming it. This way, you will identify the best promotions and consider all the technical details in advance, leading to a more informed gambling decision.
---
Benefits of the Kahnawake gambling license
One of the primary advantages of the Kahnawake license is its flexibility and adaptability. It can be used for a wide range of casino games, including eSports betting, sports betting, live casino games and table games, poker, slots, and many others.
After analyzing several platforms licensed by the Kahnawake, we've identified five reasons why startups and businesses choose to collaborate with this regulator:
Player agreement – An online casino operating under this license must implement responsible gambling practices and avoid fraudulent activities.
Zero tax policy – The CPA license holders are granted the benefit of 0% tax on their gross gaming revenues and 0% tax rate, allowing businesses to focus on reinvesting the income and expanding the company.
Low application fees – Based on our research, the costs of a Kahnawake license are some of the lowest in the market, allowing entrepreneurs to invest more in developing their product and customer relationships.
Fast setup – Even though the process for obtaining the Kahnawake license is not as fast as Curacao, an online casino can still acquire it in a relatively short time. It all depends on how quickly the operator submits all the required documentation.
Straight forward process – Generally speaking, the bureaucracy surrounding a gambling license is a daunting task. However, Kahnawake developed a system that allows all applicants to ease the process, as long as they complete all the required questionnaires and supporting documentation. On top of that, there are dedicated licensing services available online that can solve all the business paperwork in exchange for a fee.
Why can the Kahnawake nation issue gambling licenses?
The Kahnawake Mohawk Territory is a fully autonomous reserve located in Quebec, Canada, that has the authority to make its own regulations regarding corporate matters, like taxation, licensing, and company laws.
Many of our readers asked us why they should trust a region that sits on only 18.5 square miles and has around 8000 residents as an online gambling licensing authority.
For starters, most of the Mohawk territory residents are employed in the gambling sector, and it is widely regarded as one of the leading license providers in the world.
Their highly-skilled workforce has decades of experience in the iGaming industry. It qualifies the Kahnawake Gambling Commission as a reputable and fair regulator that many online gambling platforms consider when they're just getting started.
Kahnawake licenses for online casinos
There are six different Kahnawake licenses available that casinos can choose from depending on their business needs. Operators that want to run an online casino only need to apply for two of these licenses:
Client Provider Authorization (CPA) – this license is required for establishing a gambling platform from Kahnawake. The holder of CPA is considered an Authorized Client Provider and has the right to run interactive gaming activities from premises located within the jurisdiction.
Key Person Permit (KPP) – in addition to the CPA, the Kahnawake law requires that at least one person applies for a Key Person Permit. The KPP holder has both operational and managerial functions for the entity that has the CPA license.
You're probably wondering – How much will it cost the operator?
Well, applicants need to pay C$25,000 to apply for a Client Provider Authorization license and an additional C$5000 for each Key Person License. The Gaming Commission will refund the entire cost if an application is rejected.
All companies operating from Kahnawake must incorporate a company in that region, negotiate deals with third-party service providers, and open settlement accounts. Most of these gambling operators have a contracting company, making the process more straightforward and bringing maximum financial benefits to the business owners.
Kahnawake Gaming Commission laws and regulations
Kahnawake is a well-respected jurisdiction, and many online gaming operators around the world consider their license trustworthy. Their regulations were created to support the development of the online casino industry and ensure that all online gambling companies offer fair services to their clients.
The Mohawk Council and the Kahnawake Commission have persistently advocated that the Kahnawake Gaming Act is part of their "aboriginal rights" that have been around since forever. In 1982, Canada recognized and declared these rights in subsection 35(1) of the Constitution Act.
Since it was first established in June 1996, the Kahnawake Gaming Law's legitimacy and the Commission's activities have never been confronted under the Canadian government's laws or other jurisdictions.
Certain members of the Parliament mentioned taking official action on the Commission's activities, but nothing materialized. The Quebec Police also investigated some of the members, but none of them were punished.
There are speculations that the Kahnawake has special treatment in the Parliament because no other First Nations tribe is currently running a similar operation. If more tribes would attempt to join the iGaming market, the authorities might be forced to take legal action.
Until then, the Kahnawake Gaming Commission will continue holding a unique position in Canada's online gambling industry.
---
Fun Fact: In 2007, a gaming operator challenged the Commission's decision to refuse the issuing of a license. The Quebec Superior Court voted in favor of the Commission. Still, since they ruled against the plaintiff, the court declared that "they don't consider it necessary to rule on the validity of the gaming law."
---
Fundamental principles of the Kahnawake Gaming Act
Based on our analysis, the Kahnawake Gaming Commission requires all casino operators to abide by their five fundamental principles of online gambling:
Making sure that all players are treated with transparency, the winnings are paid out on time, and all financial data is stored in a secure environment;
Protect underage gamblers and other vulnerable categories (e.g., gambling addiction) from the risks of gambling;
To provide a legal way to control any form of gambling that is from, based in, or offered from the Kahnawake jurisdiction;
Preventing the association of online gambling with crime;
Ensuring that gambling activities conducted responsibly and fairly;
Additionally, the Commission offers players on the platform a protection mechanism that can help them solve disputes and submit their player complaints. The Kahnawake Gaming Commission has a dedicated full-time Dispute Resolution Officer responsible for ensuring that all issues are resolved promptly and amicably.
Kahnawake Gambling Commission Contact
Suppose you want to report suspicious gambling activities or have issues with a casino regulated by the Kahnawake Gambling Commission. In that case, you can contact them via phone at +1 450 635 1076 or send them a fax at +1 450 635 1139.
For more specific inquiries, you can send them an e-mail at info@gamingcommission.ca or send them a letter to their physical address at P.O. Box 1779 located on Old Malone Highway, Kahnawake Mohawk Territory, Canada.
Legal requirements for obtaining a Kahnawake gaming license
Similar to other well-known online gambling jurisdictions, the Kahnawake Gaming Commission requires all their license holders to provide proof of identity, documents showing where their funds are coming from, and evidence that they are competent to operate a gambling business.
Once the required documents are submitted, they will be closely analyzed by the Commission to ensure that there aren't any discrepancies and that the operator fits the profile of a Kahnawake licensed casino. In some cases, the approval team might require business owners to provide supporting documentation.
Here is a list of all the documents and requirements needed to qualify a business for a Kahnawake license:
Original copy of the criminal record that proves the owners don't have any previous criminal offenses;
Notarized copies of passports ( not older than three months);
Certified bank references (not older than three months);
Servers are hosted in the territory of Kahnawake;
Original copy of utility bills;
Personal financial statements of shareholders and directors;
Birth certificate;
Proof of 3rd party fair RNG certification;
Ample description of the games and software that will be used;
Since the Gaming Commission enacted the "Regulations concerning Interactive Gaming" act on July 8, 1999, any operator that wants to get licensed in this jurisdiction must host their platform at the Mohawk Internet Technology data center on their reservation, managed by Continent 8 Technologies.
Kahnawake Commission approved agents and their responsibilities
According to Kahnawake gambling law, the Commission can appoint one or more agents that can carry out any of the following functions on their behalf:
Investigate if applicants for authorization qualify for operating gaming activities in Kahnawake;
Help them implement a suitable continuous compliance program for all the gaming operations licensed by the Commission;
Audit, test, and control system reviews and ensure that all the license holders have the required technical competence for offering gaming activities.
The Commission has appointed seven agents, including eCOGRA, Gaming Associates Europe, Quinel, Triton Canada, iTech Labs, and Scout Intelligence. These global institutions are well-known for offering various audit services, such as certified testing of online gaming systems, responsible operator conduct, fair gaming, and background checks.
---
Fact: Continent 8 is an international network based in Isle-of-Man that specializes in iGaming hosting services. The company uses next-gen technology to provide high-quality security, safety, and auditing services.
Tips: You can check the validity of a Kahnawake license by scrolling to the casino website's footer and verifying if the licensing information is clearly stated. You can also double-check it in the Commission's database by clicking the license link in the casino's footer, which will redirect you to the license validity checker.
---
Here's an example of a Kahnawake Certificate of Good Standing: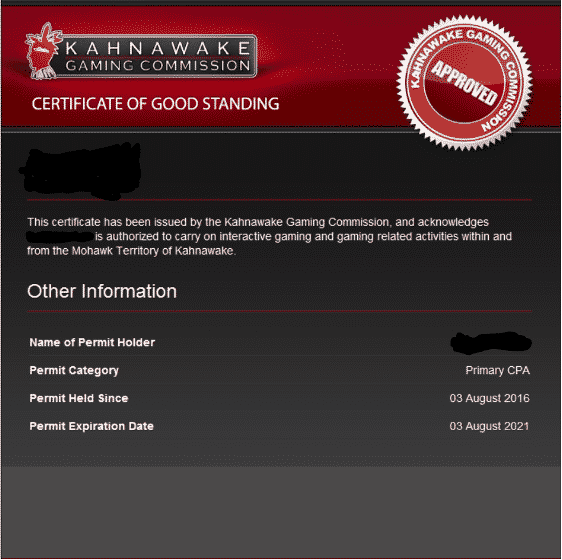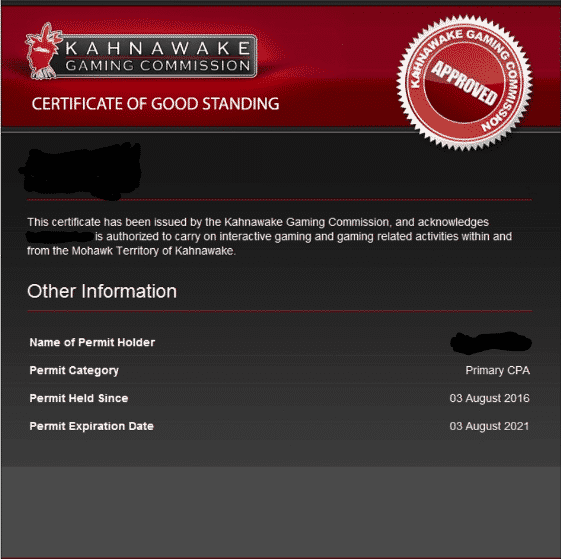 Final thoughts
The Kahnawake Gaming Commission is one of the most reputable authorities for online casinos that operate globally. In addition to being one of the first licensers in the iGaming industry, they comply with the highest standards, sharing similar values with other reputable regulators, like the Malta Gaming Authority or the Alderney Gaming Commission.
If you choose to join a gambling platform regulated by Kahnawake, you will be playing in a safe environment and get treated with full transparency. You can rely on the Commission's power to keep their promise that they will offer fair gambling and RNG-tested casino games.
To make things easier for you, we have created a complete list of all the bonuses from Kahnawake regulated casinos, which can be found below this article.
Reference list
Read more