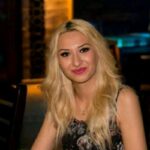 Magda Olbea is a multiskilled publisher for the Canadian online gambling industry. She has experience of over two years in this area and specializes in mobile gaming platforms. Not only does she test the mobile version of each online casino, but also writes unbiased reviews for prospective players. Her journey in the iGaming world began as a hobby, playing live casino games on her mobile, some of the favourites being Blackjack and Baccarat. As one of her major interests is technology, in her spare time, Magda enjoys learning about web developing on WordPress platforms and SEO techniques.
Rapid Casino
Rapid Casino review will present you all the details a player should know before joining a platform. Keep reading to find out more about their game collection, Rapid Casino promotions, transaction process and more.
Tsars
Discover the latest Tsars promotions here! Check out our Tsars casino review for useful information about games, transactions, customer support and more.
13 Haunting Halloween Slots
We've prepared you a list with 13 of the scariest video slots to try this Halloween. This article will present you with the possible story behind the game and what features you will find. We have tested some games to make sure they're worth being in this top, and those that you see meet the criteria.
Tebwin
This Tebwin casino review aims to help you make an informed decision about joining the platform. After exploring it, you'll learn more about the registration process, games, Tebwin promotions, banking methods and customer support. Let's dive in!
Football Ban Stories: 67 Cases From Respect to Disappointment
The world of the beautiful sport is no stranger to controversy. And many-a-time football legends and stars found themselves behind bars.
GameStop & Gambling: What's their relation?
The GameStop Saga showed that the internet could drive share sales high and kill investment as to what happened to hedge fund investors. Read on to understand the similarity of GameStop to gambling.
Virtual City Casino
This Virtual City Casino review contains every detail about Virtual City Casino bonuses. Find out how to claim them and for what games work. Always gamble safely!
It is Official! Too much video games equal addiction
Do you like playing Video Games? Know when to stop as Video Games are officially an addiction. Learn with us the symptoms and how to prevent it!
VPNs and Gambling: Are they Compatible?
VPN allows you to surf the web, without concerns about hackers or third-party surveillance. But is it legal to resort to VPN gambling? Find out from our guide!
Challenge Casino
Casino experts cover the Challenge Casino bonuses after multiple tests. Find out how they work, the games they allow, and our overall site opinions in one quick read!