10 Christmas Slots Worth Trying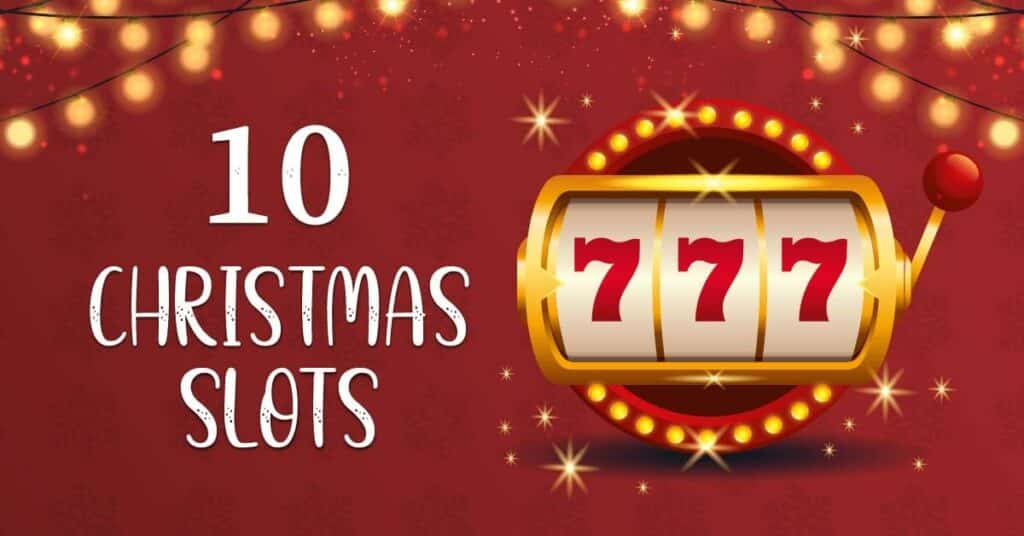 We've gathered 10 of the best Christmas video slots you can enjoy while drinking some hot choco. Whether it is snowing outside or not, you can always get in the Christmas spirit if you create the right atmosphere and these games should help you with it.
If you want to know more about their special features and general aspect, keep reading this article. Besides, everyone loves a good story by the fireplace. All slots tell a tale both through their gameplay and the beautiful graphics.
A Christmas Carol – Betsoft
You must have heard this title before. The novel first published in 1843 inspired Betsoft to create the video slot "A Christmas Carol." The game will take you to a cold December day inside Scrooge's bedroom. The old man looks upon the window with a grumpy expression, gazing at the rooftops covered in snow.
The slot has 25 paylines, a Wild, and special symbols represented by the three spirits: Past, Present, and Future. These will trigger free spins. The game has a 94.58% RTP. However, there's no Multiplier or Bonus round.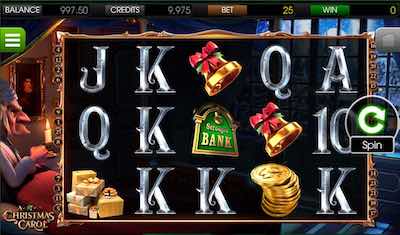 Deck the Halls – Microgaming
Almost everyone knows the lyrics to this song. At some point, they mention "Yuletide." That's because the melody has Welsh origins. The English translation, whatsoever, was written by Thomas Eliphant in 1862.
Over a century later, Microgaming designs the video slot sharing the same name as the famous carol. The game is set on a red background with festive motives. The symbols are 2D, but so nicely drawn they will win your heart.
This slot machine has 30 paylines, a Wild, Multiplier, a Scatter, and free spins. Its RTP is 95.38% and has high volatility.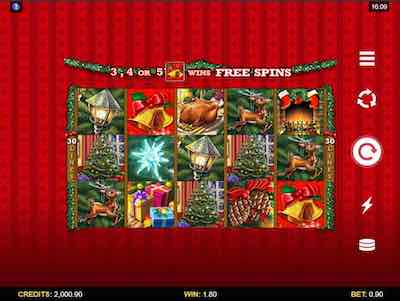 Secrets of Christmas – NetEnt
What's the most guarded secret on Christmas? The answer is very simple: the gifts. This slot will take you into a wooden cabin full of them. Drift over the untouched snow and take a look at the window. There you'll see all the presents, but also the symbols.
The 3×5 board comes with 25 paylines. When it comes to features, it has everything: a bonus game, Wild symbol, free spins, Multiplier, and a Scatter. Its RTP is 96.72% and has mid-high volatility.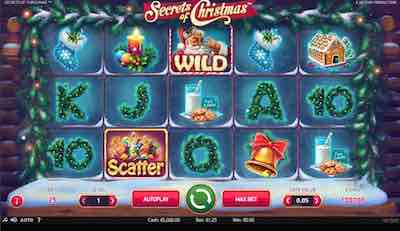 Santa vs Rudolph – NetEnt
Usually, people wonder which superhero would win in a fight. Still, not many ask themselves, in a confrontation between Santa and Rudolph, who'd win? Those from NetEnt brought up the question, and this is how this video slot was born.
Santa vs Rudolph slot machine has a funny 2D design, depicting Santa on the left side of the board and the steeler deer on the right side. By playing, you can help Saint Nick get back his hat so he can deliver the presents.
The slot has mid-high volatility and a 96.35% RTP. If you play this game, you'll benefit from free spins, respins, 20 paylines, a Multiplayer, Wild and a Scatter.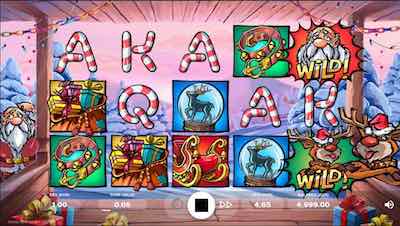 Xmas Magic – Play'n GO!
You see the word "Xmas" so often on Christmas cards, globes, sweaters, and even some slot machines are named like this. It sounds rather recent, but it was used even in the XVI century! However, the game from Play'n GO was only launched in 2019 and is expecting you with a 3×5 board.
You'll first find yourself in the center of a town and, later, above the snowy roofs, looking at the beautiful landscape with buildings decorated for Christmas. There you'll also see the gameboard, designed so it can perfectly fit with the story created. You will find here 50 paylines, a Wild, a Scatter, and also free spins.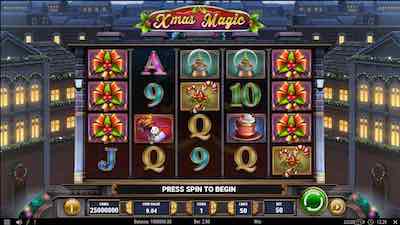 Brutal Santa – Evoplay
When Eartha Kitt was singing "Santa Baby" it's quite unlikely she was thinking about the Santa Evoplay presents its players. If you choose this video slot, you'll meet an entirely different Saint Nick. If one could assume his music tastes, he's into Judas Priest.
You can play whatever you want in the background while enjoying this slot. It comes with 9 paylines, Wild symbol, Multiplier, free spins, and enough special features to last until next Christmas, including Respins.
See what this unique Santa has for you in his sack, and don't forget to rock and roll!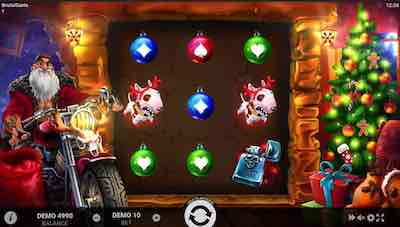 Jingle Spin – NetEnt
Those familiar with the Steampunk concept will recognize the aesthetic NetEnt mixed along with the holiday spirit when creating Jingle Spin. Whoever didn't yet encounter this term before should know that it refers to a reinterpretation of the Victorian era in a more sci-fi way.
The Santa presented here fits that picture very well with his glasses and the overall. The creators did a marvelous job when designing this slot machine. Moreover, you'll be fascinated by its innovative gameplay.
There are 20 paylines. Besides, you'll encounter Wild symbols and a Scatter too. You may unlock free spins, but there is much more than this when it comes to features. It would be best if you gave it a try and found out more about it.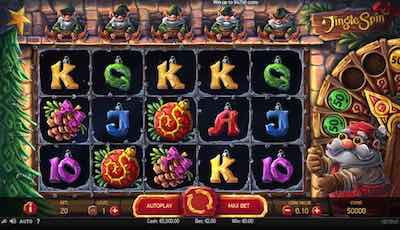 Rudolph's Ride – Booming Gamest
In 1939 the story of Rudolph the Red-Nosed Reindeer is being written. Still, the story behind the story is not entirely a happy one. The deer, howsoever, exists thanks to the author's daughter. She loved the deer from the Lincoln Park Zoo so much it convinced her father to write about the reindeer with a shiny nose.
Among those inspired by that story are the ones from Booming Games. They created the slot you see now: a 3×5 board filled with Christmas elements, 20 paylines, Wild, Multiplier, Stacked symbols, free spins. The game seems fascinating, and if you are a fan of the song too, this is the slot you need to try.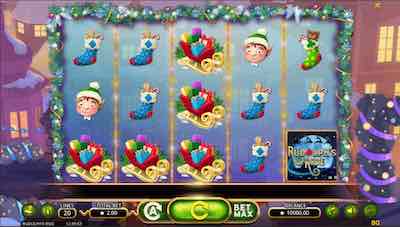 Happiest Christmas Tree – Habanero
Germans started decorating the Christmas tree and, from there, it has become not only a tradition but a symbol. Who can imagine a Christmas without snow or a colourful tree? However, when you hear the title given for the slot by Habanero, you'd expect a cheerful tree with eyes, maybe a smiling mouth.
It is not what you'll find here. This video slot focuses on the joy of giving. The happiness comes from the people around it, excited for the gifts they've found. It is up to you to collect those. You can find some of them on the 3×5 board. There, you'll also see a Wild and a Scatter. You may trigger free spins as well. The RTP is 96.7%.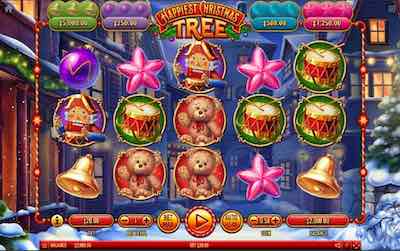 Merry Xmas – Play'n GO!
Everyone will associate this time of year with gifts, closure, colourful lights, snow, and some particular smells that make you feel at home. Cinnamon and boiled wine are the most common scents that take you right back to a special moment.
Merry Xmas from Play'n GO invites you to enjoy this slot machine. Its symbols vary from the wine cup to bells, candles, tree decorations, a deer, Santa himself, and also candy canes. This game can be described as Christmas in a nutshell.
You could be wondering what it is that you'll get. Well, you'll find here 15 paylines, Wild, Scatter and  Multiplier symbols, free spins, and even a bonus game.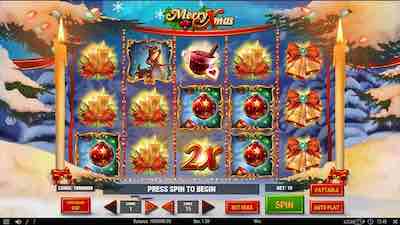 If you want to listen to Christmas songs in July, that's ok. You may choose any playlist you want. The same thing applies to these slots. Whoever wants to get in the spirit may pick any of the games we've listed above.
Nonetheless, if you are a fan of slots, no matter what theme they have, we're here to help you find some more. By taking a look at this page, you will find plenty of such games you can try any time you want. They've all been tested by us, so you may read their review before playing.
References