9 Sports Betting Movies Worth Your Time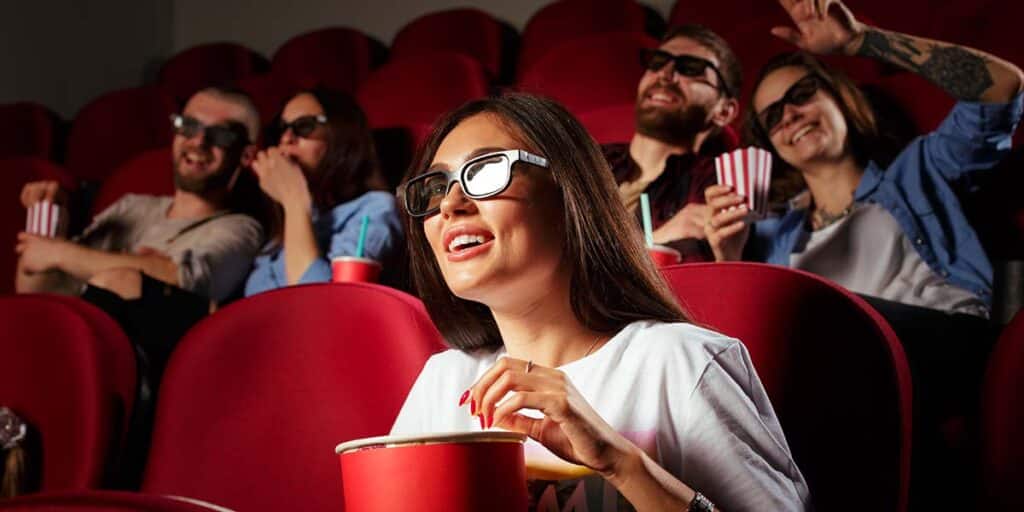 Excitement, entertainment, and thrill are what you will find in these sports betting movies. They are fascinating films about gambling and can even teach us what to do and, most importantly, what not to do when betting.
1.   Two for the Money starring Al Pacino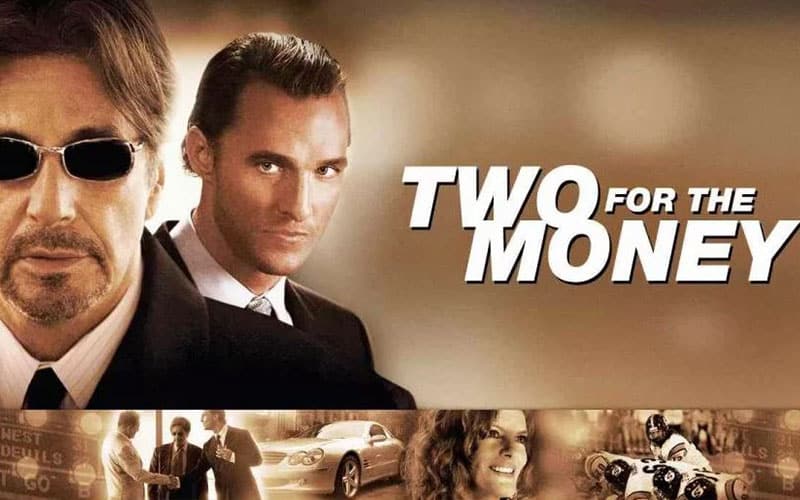 Overview
| Year Launched | Box Office | Directed | Produced |
| --- | --- | --- | --- |
| 2005 | $30 million | D. J. Caruso | James G. Robinson |
Storyline
It starts with disaster and hope
In this sports betting movie, Al Pacino, alongside Mathew McConaughey, brings an excellent performance as usual. It starts with Brandon Land (Mathew McConaughey), a college football player who suffered an injury that ended his career. This brings him to handicapping football games. Since he's very good at his job, Walter Abrahams (Al Pacino) takes him under his wing at an important sports consulting business.
He researches at first
Lang constantly does his homework, and because of this, he's always right in predicting the outcome of a game. Because of this, Abraham's success skyrockets, and Lang starts living a luxurious lifestyle. However, most times in life, success brings arrogance, and this arrogance makes people foolish. This happens to both of our main characters.
It ends as it starts
Abrahams being a recovering gambling addict, make his way to alcohol as well, becoming increasingly volatile. If you find yourself in this kind of situation, please seek help or take a test to know if impulsive behaviour is one of your traits.  As for Lang, he changes his career path again, but this time on his terms.  
Why do you need to watch it?
Out of the movies about sports betting, this one highlights how a newcomer can positively impact a business. One only needs to have eyes that see the perfect new opportunity; this applies to business and casinos alike. Like Abrahams, look on the Canadian market for fresh offers coming from brand-new casinos. By joining a recently established casino, you can have a bigger impact on how it will develop.
New iGaming platforms desperately need new players; that's why they offer large bonuses. However, a few bad reviews can destroy them. Because of this, the platform is much more eager to implement user feedback. By offering analyses about the casino, you can effectively impact how it does business. You have the power of life and death over an online casino.
2.  Mississippi Grind starring Ryan Reynolds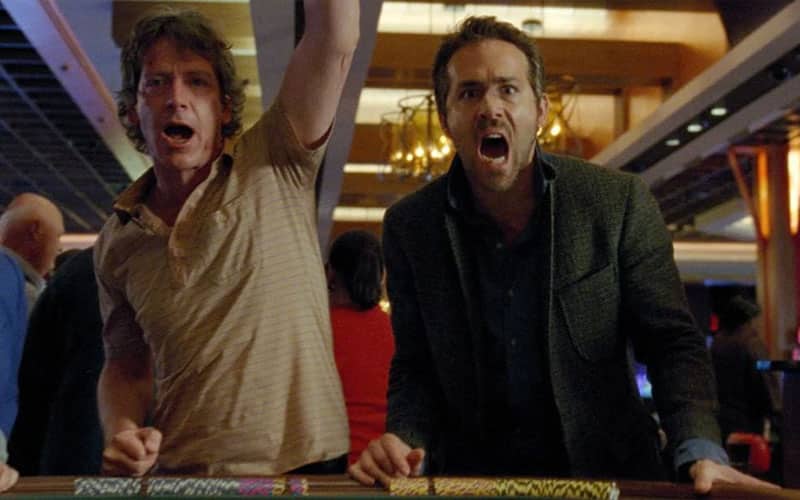 Overview
| Year Launched | Box Office | Directed | Produced |
| --- | --- | --- | --- |
| 2015 | $422 thousand | Anna Boden Ryan Fleck | Lynette Howell Ben Nearn Jamie Patricof Tom Rice |
Storyline
The bumpy road ahead 
This is one of the sports betting movies that explores the perils of gambling addiction and its impact on friends and family in depth. The movie has two main characters, Curtis (Ryan Reynolds), a young gambler who travels from casino to casino, and Gerry (Ben Mendelsohn), an out of luck punter. After meeting, they start a series of gambling adventures across the United States. However, the results are not always in their favour.
Never bet big on a hunch  
Getting excited as most gamblers in movies about sports betting do, Gerry goes all-in on a single-horse bet which costs him almost all his funds. Luckily, a friend in need is a friend indeed, and Curtis gives him some money for a bus ticket home. The movie has many more scenes of reckless gambling, but this one shows that sometimes sure bets are not what they seem. 
Hope for the best
The ending is interesting, but luck is much more capricious than the movie implies. So, do not consider that always after one or a few losses; eventually, you will win big since life does not work that way. As two wrongs do not make a right, many losses never bring luck.
Why do you need to watch it?
From sports betting to roulette and poker, the whole casino experience is in this one movie. The whole film is an online casino in pictures since it has so much game variety.
We know and understand very well that you might want to see how well the movie picture the reality of a casino. For this reason, we've analyzed 100 online casinos and came with the ultimate Canadian casino list. In this way, you can see for yourself how well the movies portray real life.
The two protagonists win and lose a lot throughout the movie paints a picture of the ups and downs of gambling. However, please don't take their experience as standard since it rarely happens in real life.
3.  Hardball starring Keanu Reeves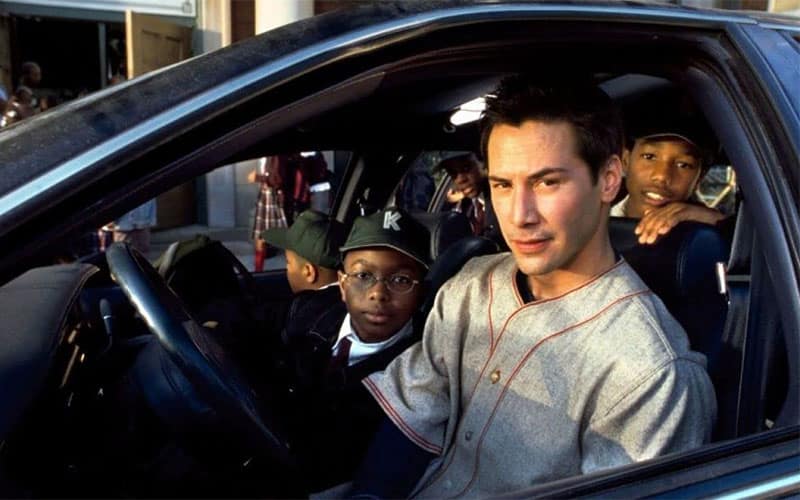 Overview
| Year Launched | Box Office | Directed | Produced |
| --- | --- | --- | --- |
| 2001 | $44 million | Brian Robbins  | Tina Nides Mike Tollin Brian Robbins |
Storyline
Kids can bring good luck
From all the movies about sports betting, this is the only one that features Keanu Reeves. The gambler Conor O'Neil (Keanu Reeves) has unpaid debts to two different bookies and no money. That's why he accepts a job as a coach for a little league team of African American kids.
The suspense is killing me
O'Neil makes a $12 thousand bet to pay his $12 thousand debt during the movie. In terms of responsible gambling, this is the most irresponsible thing to do. However, the whole thing gives an interesting level of excitement for a movie that involves little league sports.
To bet or not to bet
Does he win the bet, or does he lose it? The important thing is that the kids are alright.
Why do you need to watch it?
Although betting the sum you owe instead of paying it back is dangerous, the movie brings some engaging lessons about the essential things in life. Out of all the other sports betting movies, this emphasizes that family and friends are the biggest jackpots. The protagonist receives something like a casino welcome bonus when he starts coaching the team. Maybe the Canadian market was inspired by movies like this since online casinos there have the best welcome offers.  
4. Focus starring Will Smith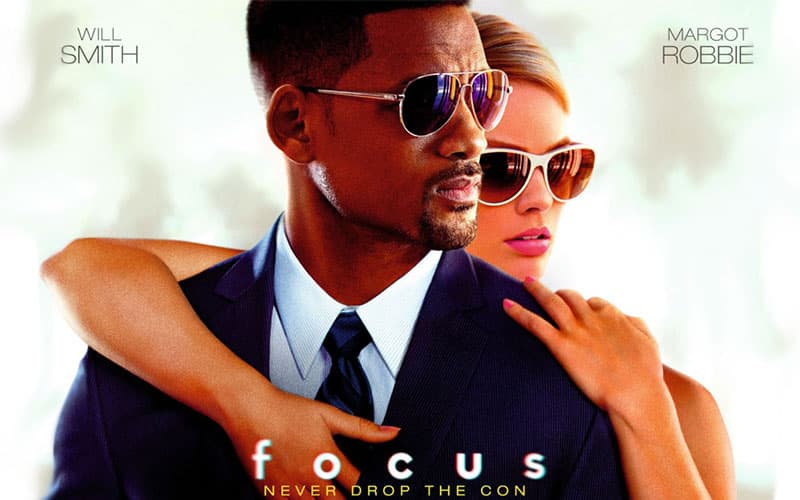 Overview
| Year Launched | Box Office | Directed | Produced |
| --- | --- | --- | --- |
| 2015 | $150 million | Glenn Ficarra John Requa | Denise Di Novi |
Storyline
She's an amateur
The only Will Smith sports betting movie has an exciting plot around Nicky's (Will Smith) relationship with Jess (Margot Robbie). They meet when she tries to con him but to no avail since he's the more experienced in tricking people. The failed con turns into a mentorship for Jess that is taken under Nicky's wing.
The perfect gambling scene
One of the best scenes in sports betting movies is here. It perfectly captures the excitement, risk, and horror of gambling. The two protagonists go to a football game where they sit near a wealthy man named Mr. Liuyan, hooked on gambling. They start betting on everything around them until it all culminates with Nicky losing over a million dollars. However, Nicky decides to go double or nothing on the craziest bet. 
He tells Liuyan to choose the number on the back of one football player, and Jess will guess the number. After telling Nicky, he is crazy, Mr. Liuyan accepts the wager. Jess realizes everything was planned and chooses the correct number.
Now she's a pro
The movie then jumps to three years later when Nicky reunited with Jess in Argentina and scams their way into 27 million euros.
Why do you need to watch it?
The movie has action, intrigue, and plot twists. If you want to understand how high-stakes gambling feels, this is a must. Like all the good movies about sports betting, it shows that wagering can be done on just about anything since it all depends on your imagination.
Although gambling can be made in any circumstance, it is best to do it in a professional environment. You know that your funds are secure, and no funny business is involved if gambling experts recommend an online casino from the Canadian market. It's always best to make decisions based on the investigations of professionals.   
5. Uncut Gems starring Adam Sandler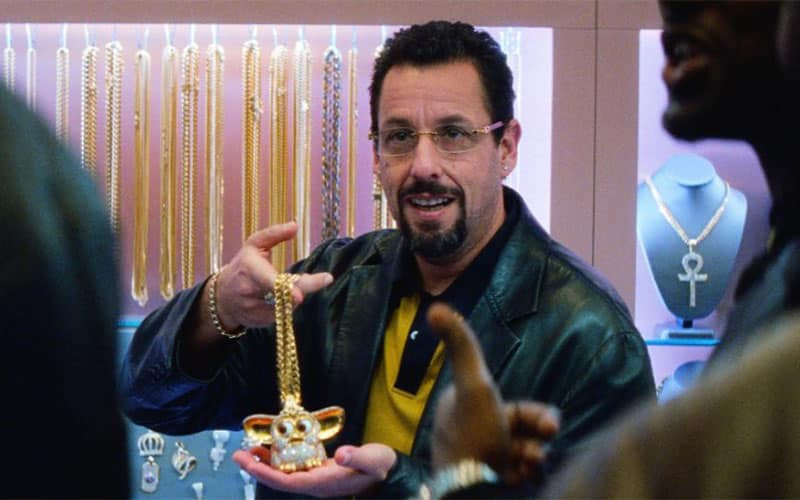 Overview
| Year Launched | Box Office | Directed | Produced |
| --- | --- | --- | --- |
| 2019 | $50 million | Josh Safdie Benny Safdie  | Scott Rudin Eli Bush S. Bear-McClard |
Storyline
Everything looks terrible for him
One of the sports betting movies on Netflix features Adam Sandler in a serious film compared to what we usually see. However, his performance as the protagonist is exceptional. The movie starts with Howard Ratner (Adam Sandler), a gambling addict with many debts.
A good bet stopped by goons
Ratner places a bet that almost won him over half a million dollars. But the person he owed money to cancels the bet since he was wagering the possibility of ever paying him back. Sometimes you just need a no deposit bonus like the ones found on the Canadian market to play and not have to lose your own money.
You don't want to know
The ending is surprising. Out of all the movies about sports betting, this one is a roller-coaster that shocks.
Why do you need to watch it?
This real drama portrays how gambling can get you in much more trouble than you think. Sports betting movies do not always show the real face of gambling problems, but this one is not like that. Reality can be brutal sometimes, and this movie shows it in all its glory.
6. Lay the Favourite starring Bruce Willis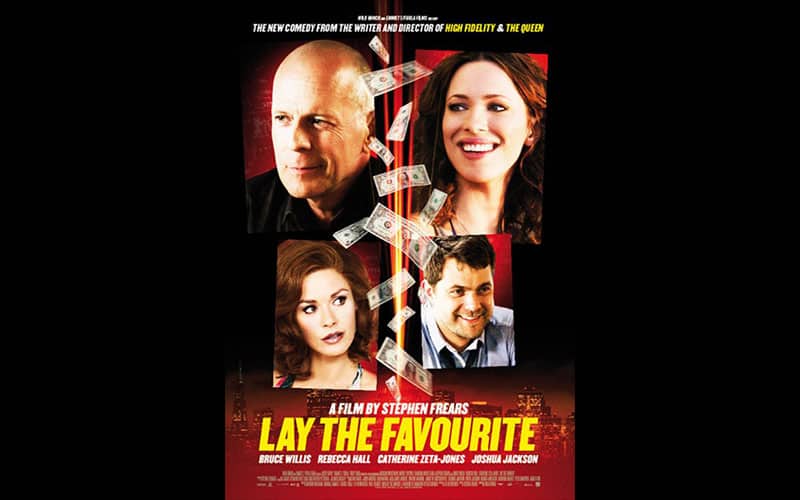 Overview
| Year Launched | Box Office | Directed | Produced |
| --- | --- | --- | --- |
| 2012 | $1.5 million | Stephen Frears   | Randall Emmett George Furla Paul Trijbits  |
Storyline
The stars are the limit
Out of all the other movies about sports betting, this one is based on a fascinating real-life story. Beth (Rebecca Hall), a cocktail waitress in Las Vegas, meets with Dink Heimowitz (Bruce Willis), a professional gambler. She's good at numbers, and because of this, Dink takes her under his wing in the fascinating world of sports betting.
Gambling can be dangerous
Dink and Bet develop a strong relationship, but everything goes south after Dink starts losing and fires everyone from his team. Beth accepts a job with another bookie and works for an illegal operation in New York and a legal one in Curacao. Illegal betting is always dangerous, but legal wagering can be the same if you do not choose the right place.
All of it was real
The bets in the movie really happened, and it's all from the perspective of Beth. Beth Raymer also wrote a book that tells this story in more detail since it is her life before becoming a journalist.
Why do you need to watch it?
The plot is based on a real story compared to all the other sports betting movies. It also shows the significance of doing your homework by looking at the numbers for sports betting. It would be ideal if you stayed away from things like illegal betting. Since no one guarantees the security of your funds, and you can even lose your freedom.
The movie also shows the beauty of Curacao and the opportunities it provides to gambling operations. Many online casinos are based on this island since it provides gambling licensing. However, it is not considered one of the safest licenses out there.
7. White Men Can't Jump starring Wesley Snipes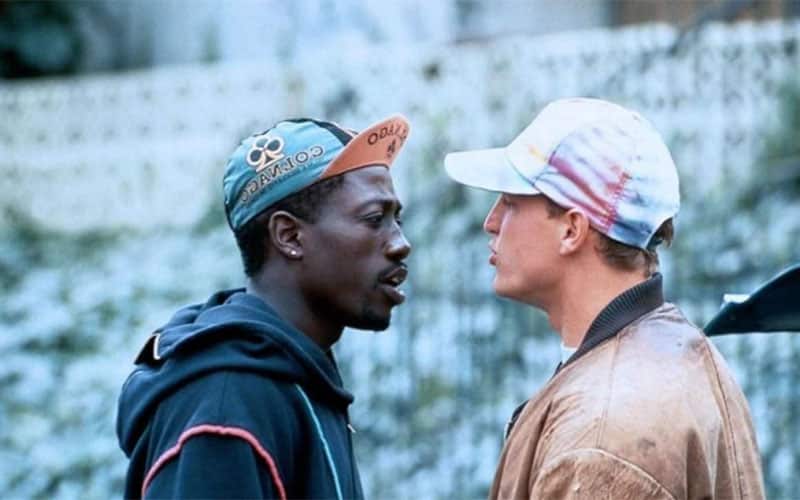 Overview
| Year Launched | Box Office | Directed | Produced |
| --- | --- | --- | --- |
| 1992   | $90 million | Ron Shelton  | David V. Lester Don Miller Michelle Rappaport |
Storyline
This white man can play
The best comedy out of all the movies about sports bettingis this one. Billy Hoyle (Woody Harrelson) makes money playing street basketball since people assume he cannot win because he's white. Eventually, he teams up with Sidney Deane (Wesley Snipes) to play some team matches.
Street sports betting
The whole movie rotates around the idea of people betting on street basketball. Eventually, the two-protagonist bet that Hoyle cannot make a slam dunk since the white man can't jump. So, can white men jump? Watch the movie and find out.
Sports betting brings people together
Playing sports and placing bets with friends can be fun and make relationships stronger. Also, keep in mind never to underestimate a confident man that wants to bet against you.  
Why do you need to watch it
This is a funny comedy that has thrill and is outright hilarious for a sports betting movie. The most important lesson is that basketball and making bets on the neighbourhood game can bring people closer together. When you are out of town and want to gamble with friends, there are options available. The best mobile casinos on the Canadian market are always open to everyone.
8. The Gambler starring James Caan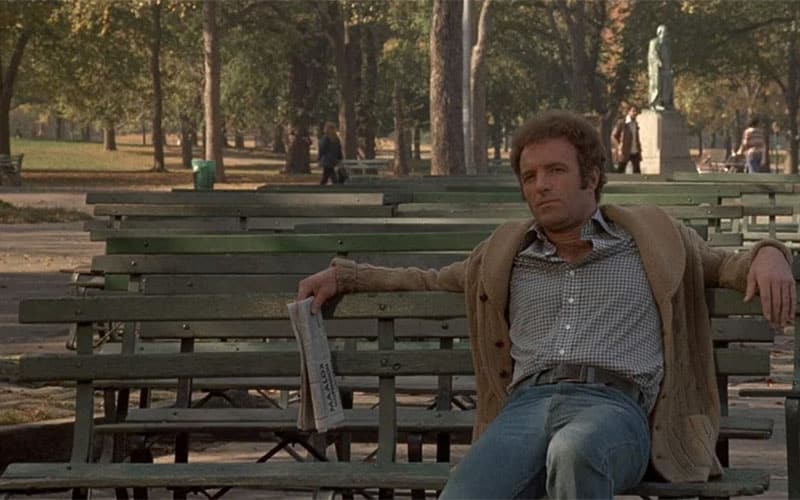 Overview
| Year Launched | Box Office | Directed | Produced |
| --- | --- | --- | --- |
| 1974   | – | Karel Reisz    | Irwin Winkler Robert Chartoff |
Storyline
A literature professor that lives for gambling
This is the oldest one on our list of sports betting movies, but it's undoubtedly a good one. The movie rotates around Axel Freed (James Caan) trying to pay off his hefty gambling debts. He is a college professor of literature that is obsessed with gambling.  
Pay the money back or gamble it some more?
The protagonist does not struggle with that question since he gambles it and then goes all-in on a basketball game. However, basketball is his undoing. Sports betting done just for the thrill with no previous research brings excitement that ends in despair.
The darkest ending  
Movies about sports betting are usually fun and exciting, but none has an ending darker than this. Gambling just for the trill can bring you so many troubles that can be avoided so easily if you just play responsibly.
Why do you need to watch it?
For understanding the perils of gambling, this movie is a must. There are even some academic papers talking about it. This is a lesson for everyone that just gamble away their money for the sake of excitement. Some people are more inclined to develop this kind of problem than others. Try doing some self-assessment tests to see if you are prone to compulsive behaviour when gambling.
9. The Color of Money starring Tom Cruise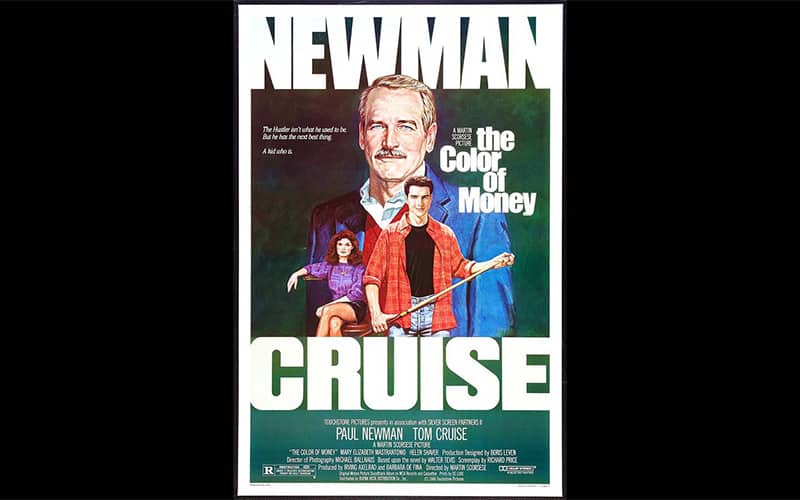 Overview
| Year Launched | Box Office | Directed | Produced |
| --- | --- | --- | --- |
| 1986   | $52 million | Martin Scorsese | Irving Axelrad Barbara De Fina |
Storyline
The story continues
Compared to other movies about sports betting, this one is a sequel to the novel The Hustler. Eddie Felson is a former pool hustler that still makes wagers for other players, but his full-time job is selling liquor. He meets Vincent Lauria (Tom Cruise), a young and skilled pool player and his girlfriend, who is not very good at making the competitor lose money. Felson tells them they have great potential to make money, and the plot starts.
On the road to success
Going to hustle on the road to Atlantic City, Eddie teaches Vincent how to trick opponents into betting more money. But Vincent is too arrogant to play below his skill. Eventually, he listens to the advice given by the experienced hustler.
The mentor versus the student
The movie ends very nicely with everything tying itself together. The last scene ends with the old-timer saying, "I'm back."
Why you should watch it
Sports betting moviesalways have some hidden significance that portraits deeper meanings about life. In this one is the flaw or arrogance and how it can cost you a lot of money. Being disciplined and thinking you are not too big to fail is the key to success, especially in gambling. Paydays are always around the corner if you master this kind of thinking. While improving your skill, give the best payout casinos from the Canadian market a try and see how a safer strategy can help.
Conclusion
If you want to watch something with your friends or just want to see a movie about gambling, this list is for you. There also is a lot to discover from these films. The most important thing is strategies and navigating your way around gambling by doing the perfect research. You can try all these strategies on Canadian online casinos to see if they work or not. Always remember to play responsibly to maximize your fun.