Large casino bonuses vs. transparent information – the psychological implications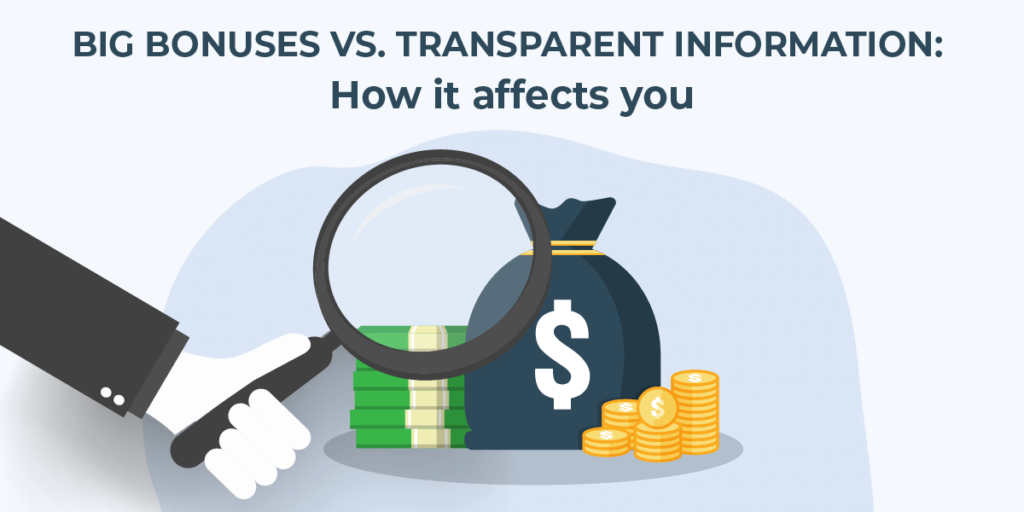 All casino players are looking for promotions, and when it comes to this, the bigger, the better. However, every gaming website is different, and not all of them offer complete transparency and fairness.
So what happens when you find a great casino bonus that offers a large amount of money, but the information you get is either incomplete or not transparent at all? Let's see how this affects gamers and what it may mean to you!
Attractive casino bonuses and why are they important
Regardless of their level of expertise, casino players agree on one thing – a good bonus can really boost your gambling session.
That is why they are always on the hunt for the newest and biggest promotions that can offer them a large amount of money to get them started. This is true whether they sign up for a new platform or merely opt-in for promotions on their favourite casino.
New players are especially interested in these, as a consistent bonus can give them the confidence they need to start their journey on a new casino. Most of these big promotions are created for them, so the existing players of a platform rarely get big bonuses.
One exception is the VIP program, which in some cases, can provide players with promotions that offer more considerable sums than the ones available for regular players and newcomers.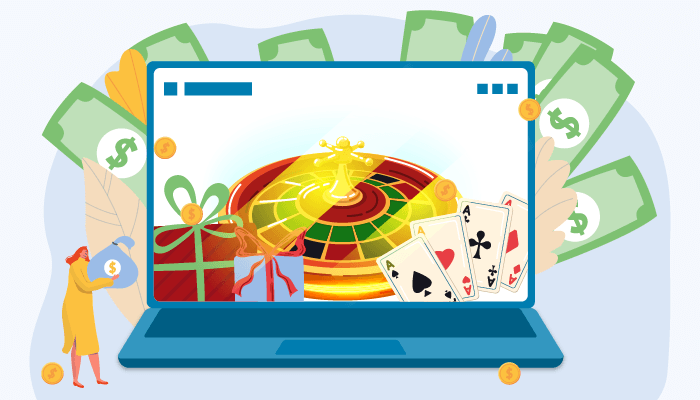 Why casinos offer bonuses
Casinos use bonuses to attract players, and it is a very competitive market. The bigger the bonus offered, the more clients one casino steals from the others and the more chances it has to turn them into loyal customers. Therefore, gaming platforms are constantly competing to offer the best promotions to the players' delight.
As you can see, bonuses are created with the player's interest in mind and the casino's. This is great because as long as both parties benefit from these, you can rest assured you will always have new and significant promotions to claim from various platforms.
Having options is great, but the information you have on the promotion and the casino should be the most important deciding factor when it comes to making your choice.
Why transparent information is always necessary
Being informed is critical, especially when gambling. Promotions come with rules and requirements that need to be clearly stated in the Bonus Rules almost every time.
While a few offers on the Canadian gambling market come with no strings attached, you have to read the website's Terms and Conditions even in these cases. However, expert websites explain the rules of sign-up bonuses featured on their platform.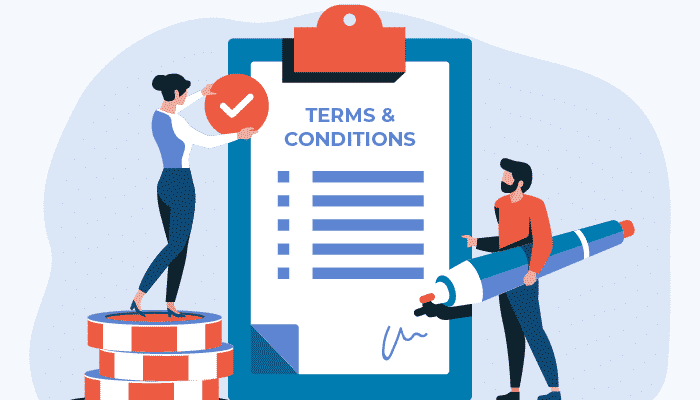 The quartertone of casino rules
The Terms and Conditions section of an online casino should always be written in a way that is easy to understand by all players, and it has to offer transparent information. By reading these, you will know what you are not allowed to do on the platform, what the site requires you to do, and what you have to do to benefit from certain website features.
Lack of transparency in such matters may lead to your account being blocked or deleted because you were not properly informed about what the site deems unacceptable.
Even more, if you are not fully and correctly informed, you may lose your bonus, your winnings, or have your cashouts denied. These are not situations where you want to find yourself, especially after investing your own money to play on the online casino.
An important tip is to always look at casino reviews made by experts since they explain all the relevant details in a straightforward manner.
Always read the Terms & Conditions carefully
That is why it is imperative always to read the Terms and Conditions and Bonus Terms and make sure they thoroughly explain what the site expects from its users and the users' rights.
Another critical aspect you have to pay attention to is if the Terms and adequately adapted to the Canadian market. Some casino brands activate on markets in different countries, and some do not take the time to adjust their Terms and Conditions or Bonus Terms.
You will see amounts in a different currency than the Canadian Dollar when this happens, which may confuse you, especially if the website keeps your balance in CAD.
Some rules may not even apply to the Canadian market in these cases, and some payment options or games may not even be available. Therefore, trying to use them may create problems for the user.
The best online casinos from the Canadian market explain all their rules in a transparent manner but always look for further info if you don't understand something.
The psychological implications of choosing a big bonus over transparency
The implications of choosing a consistent bonus offer over information transparency are not only related to your finances and casino status. There may also be psychological implications, especially if you are a player who is dealing with a gambling addiction or problem gambling.
As we've mentioned before, promotions attract players. While this is usually a good thing, it is risky when the players fall into the category of people who do not gamble for fun. For such players, moderation is crucial.
Moderating their gaming sessions and overall behaviour is the players' responsibility, but many are still active gamblers and always looking for promotions.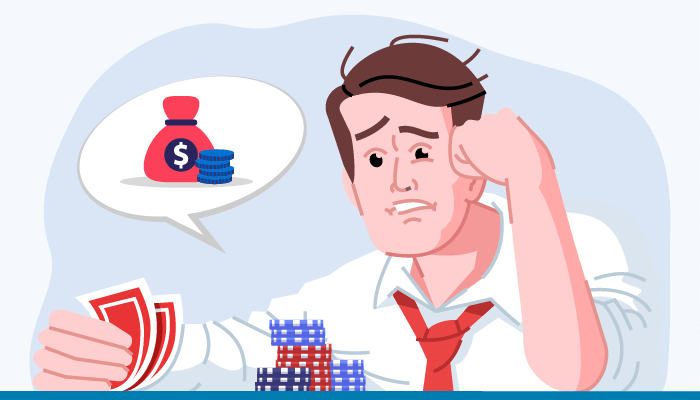 Gambling addiction and big bonuses
When someone's dealing with gambling problems finds themselves in a situation where they choose a large bonus with no transparency on the information related to the site or the offer, the consequences can be worse than for a regular player. They may be inclined to deposit and wager more considerable amounts of money.
The lack of information may cause issues that lead to losing their deposit, bonus, or winnings. While a regular player might be annoyed or disappointed, players that deal with gambling addiction have powerful feelings when it comes to this activity, which may include:
Anger;

Irritability;

A strong desire to recover lost money by depositing and wagering more;

Frustration that may lead to depression.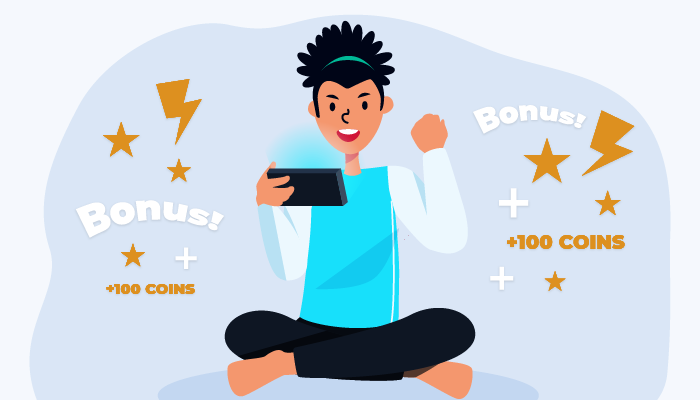 Underage gambling
Aside from this, a well-known issue is underage gambling. Massive promotions may attract young people who are not of legal age yet.
In this case, the lack of transparent information may lead them to think there is no problem playing on that specific website or providing false information about their age.
With no guidance and no explicit or transparent information, the number of underage gamblers may rise, despite the efforts to stop it. However, there are guides on how to protect your child from gambling that can help parents safeguard their kid's behaviour.
In conclusion
Casino bonuses that offer large amounts of money are very lucrative for both online casinos and players. However, it is always vital to check the Terms and Conditions and Bonus Terms before claiming any promotion.
If these do not fully notify you of everything you need to know or if the information is delivered in a confusing manner, it might mean you should keep on looking and not claim the promotion.
Legit gaming websites do their best to provide all the necessary rules and requirements. They will use a language easy to understand by all players and adapt to every available market.
The lack of these may bring problems to regular gamblers and even more so to those dealing with gambling addiction. It may also enable underage gamblers to join these platforms.