Top 11 gambling movies of all time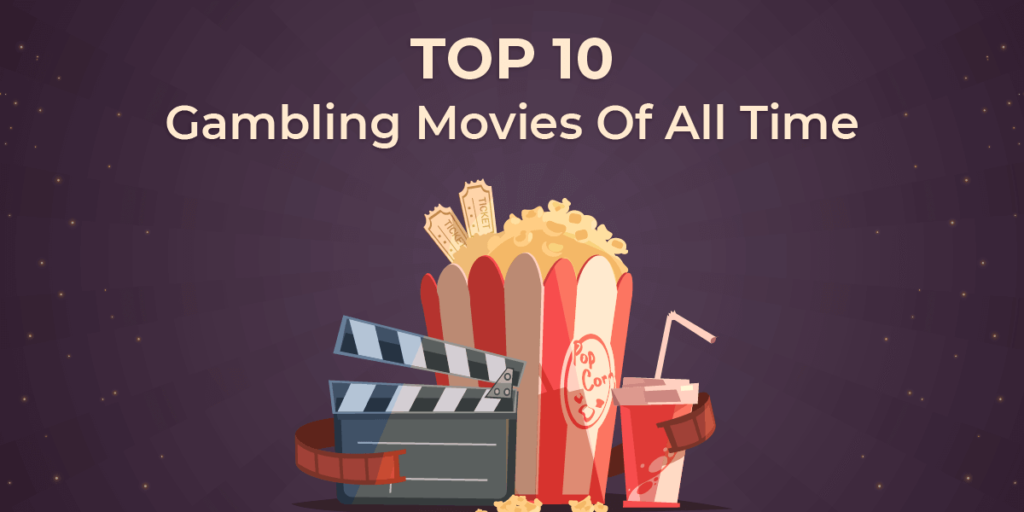 Gambling may not always be seen as an activity that inspires art, but, in fact, it does. You may have seen the Dogs Playing Poker painting by Cassius Marcellus Coolidge; you may have listened to The Jack by AC/DC or heard about a great movie about gambling.
If you haven't, here are the top 11 best gambling movies ever made for you to watch.
11. Owning Mahowny (2003)
Directed by: Richard Kwietniowski
Written by: Maurice Chauvet
Based on: Stung: The Incredible Obsession of Brian Molony by Gary Stephen Ross
Box Office: $1 million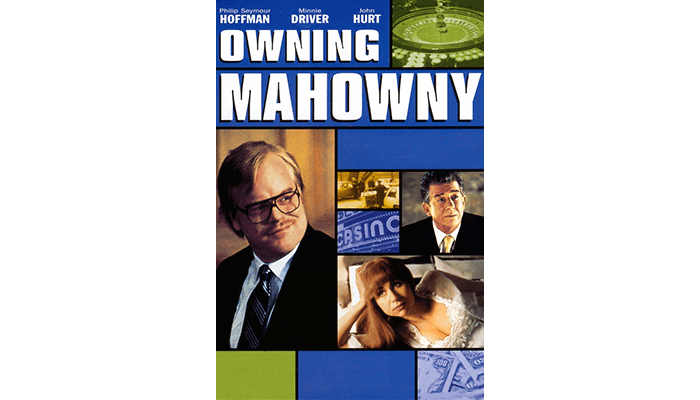 Going from the top to the bottom
Dan Mahowny (Philip Seymour Hoffman), a Canadian Imperial Bank of Commerce manager, has a good reputation, a rising career, a beautiful girlfriend, many friends, and a gambling problem.
In order to get more of his favourite activity, he started creating dummy accounts at his bank and over eighteen months; he executed the biggest single-handed bank fraud in the history of Canada.
He took over ten million dollars from the bank to feed his addiction, as his desire to play couldn't be stopped either by huge winnings or huge losses. In the end, Mahowny is arrested and sent to jail.
We don't recommend this kind of behaviour but if you want some extra funds with no investment on your part no deposit bonuses are the way to go.
10. Hard Eight (1996)
Directed by: Paul Thomas Anderson
Written by: Paul Thomas Anderson
Based on: Cigarettes & Coffee by Paul Thomas Anderson
Box Office: $222,559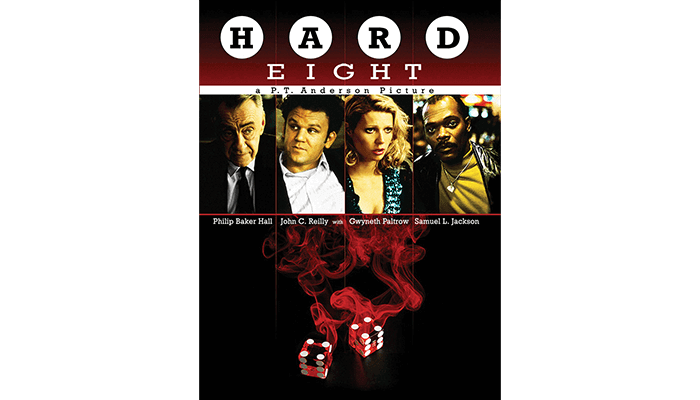 This one has a plot twist
Sydney (John C. Reilly) is a veteran gambler in his sixties, and he still spends his time gambling. He meets John outside a diner in the desert and buys him coffee.
John is a loser who has no money, but things will soon change. Sydney tries to help him, so he takes care of him, brings him to Reno and teaches him all the tricks and secrets of his work.
Here, he meets Jimmy (Samuel L. Jackson), a small-time player, and Clementine (Gwyneth Paltrow), a casino waitress. He soon finds out she also occasionally works as a hooker. This does not stop him from marrying her. Jimmy, however, knows more about what Sydney did and how his encounter with John was not accidental at all.
The title of the film comes from Craps lingo. At the beginning of the movie, Philip Seymour Hoffman loses while playing for a Hard Eight, and later, Jimmy gambles for one and wins.
9. The Hustler (1961)
Directed by: Robert Rossen
Written by: Robert Rossen, Sidney Carroll
Based on: The Hustler by Walter Tevis
Box Office: $7.6 million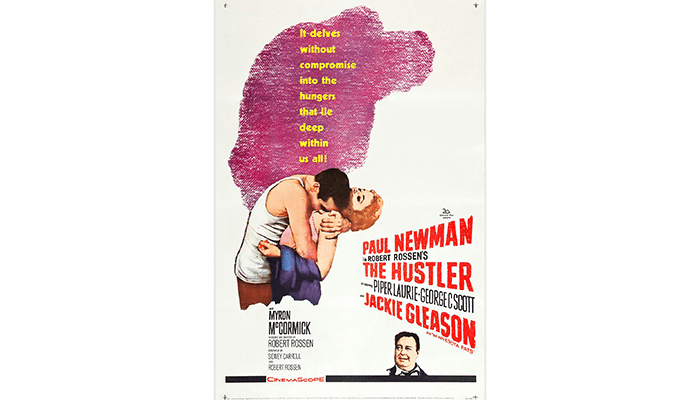 Is he a tryhard?
"Fast" Eddie Felson (Paul Newman) is a pool shark, and together with his friend Charlie Burns (Myron McCormick), are travelling the country hustling every unsuspecting target.
Eddie wants to become known and prove that he is the best, against Charlie's wishes. He decides to take on the best – the Minnesota Fats, whose home pool hall is at the Ames in New York City. There, he meets gambler Bert Gordon (George C. Scott), who believes in Eddie's talent but thinks he needs more than that to win this.
He offers to take him under his wing and finance him in every challenge, not only against the Fats but in exchange for a 75% cut.
In the process of deciding if this is the way for him to go, Eddie meets Sarah Packard (Piper Laurie), who also has a close relationship with alcohol abuse. She and Bert each think that the other is bad for Eddie. His ambition leads to his personal life going downhill and a re-match with the Minnesota Fats.
8. Dead Man's Hand (2007)
Directed by: Charles Band
Written by: Dominic Muir (as August White)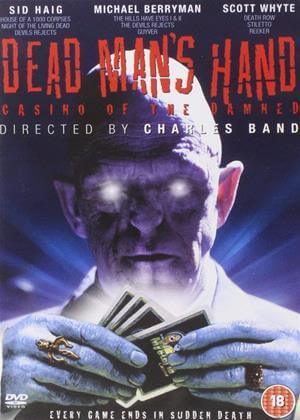 A gambling movie for Halloween
Matthew Dragna (played by Scott Whyte) inherited a casino from his dead uncle. Together with his girlfriend, JJ (played by Robin Sydney), and a group of friends, they decided to check it out. The road trip takes them to Las Vegas's outskirts, where they come across the crumbling Mysteria Casino.
Unfortunately for them, the casino turned out to be haunted by a vicious ghost known as the Las Vegas mobster Roy "The Word" Donahue (played by Sid Haig) and his goon Gil Wachetta (Michael Berryman). By comparison, the top online casinos are never haunted since spirits can't access the internet.
These two gruesome ghosts were looking to settle an old grudge. Now, Matthew and his lover must fight for their souls as the monstrous ghosts want a bloody vengeance. 
7. Ocean's Eleven (2001)
Directed by: Steven Soderbergh
Written by: Ted Griffin
Based on: Ocean's 11 (1960)
Box Office: $450.7 million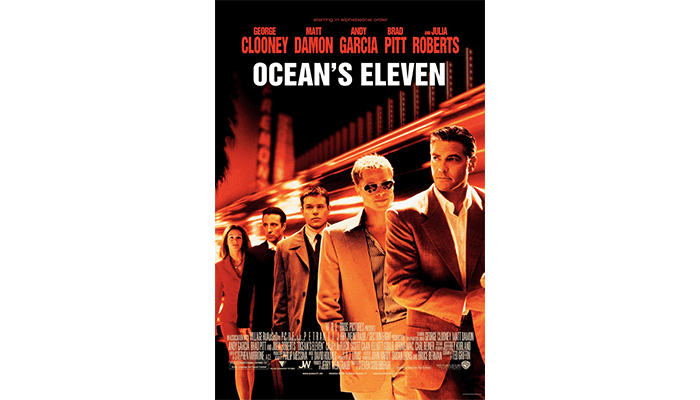 The biggest casino heist in history
Danny Ocean (George Clooney), a recently paroled thief and con artist, plans the biggest heist in history.
He seeks out Rusty (Brad Pitt), his partner. Together they create an eleven-member team, including a thief out of retirement, a pickpocket, a surveillance man, an explosives expert, a card dealer, a Chinese acrobat, a bitter casino mogul, two frontmen.
Their targets are The Mirage, The Bellagio, and The MGM Grand, three casinos owned by Terry Benedict (Andy Garcia). The vault containing the cash from all these three casinos is in Las Vegas, and they plan to rob it at night and get over 150 million.
Rusty soon discovers that Ocean's ex-wife, Tess (Julia Roberts), is Terry's new girlfriend. Danny Ocean decides to proceed with the plan, not worried that she may be in danger. The team does an incredible job, but Ocean has a secondary plan – to get the girl too.
6. Croupier (1998)
Directed by: Mike Hodges
Written by: Paul Mayersberg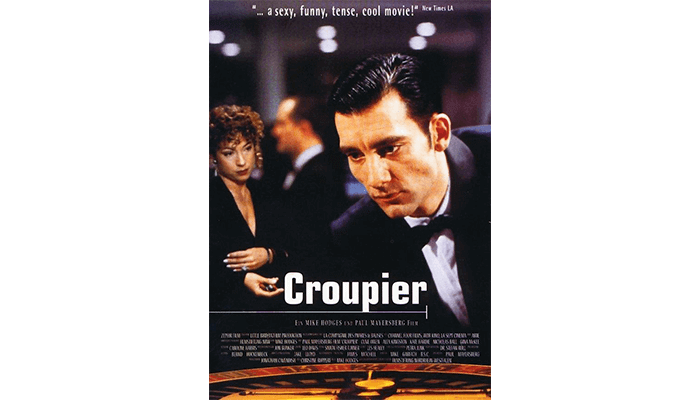 Interesting movies
A young and struggling novelist in London named Jack Manfred (Clive Owen) tries to make ends meet. After selling his car, he gets a Croupier job at the Golden Lion Casino.
Even if he does have the necessary training, he does not like the job. He does, however, find it interesting to watch the gamblers, for which he has no respect or consideration, lose.
He starts living his life and observing things through the eyes of his novel's character and his own alter ego, "Jake."
This leads him to break the casino's rules for employees and starts seeing Jani (Alex Kingston) outside of work. Jani is a gambler down on her luck, and he persuades Jack into being her accomplice in a heist at the casino.
If you want to receive a hefty sum from the casino without doing any funny business try the welcome bonuses since they offer the highest value compared to other promotions.
5. California Split (1974)
Directed by: Robert Altman
Written by: Joseph Walsh
Box Office: $5 million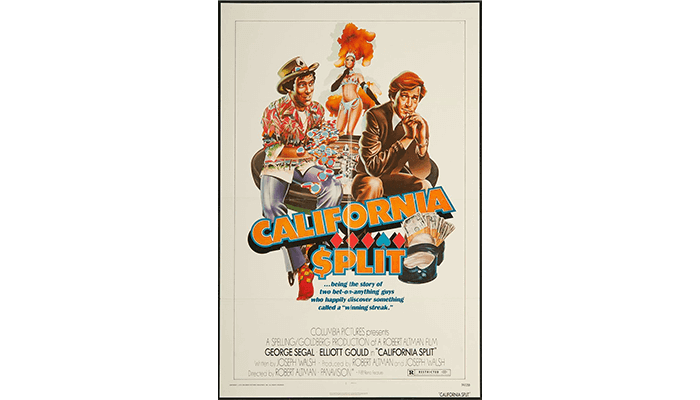 A bumpy ride
Bill Denny (George Segal), a magazine writer passionate about casual gambling, and Charlie Waters (Elliott Gould), a small-time career gambler, meet a Southern California gambling club. After both being the target of a fellow gambler's wrath, they become friends and start spending more time together.
This makes Bill want to have Charlie's life and starts hanging out with Charlie's prostitute friends Barbara Miller (Ann Prentiss) and Susan Peters (Gwen Welles). He gets in debt to his loan shark as he starts gambling more.
They both try to raise enough money to trip to Reno to gamble with the "big boys." When they manage to do that and Bill wins $18,000, he is convinced he is on a winning streak and gambles even more. At some point, he stops, drained and with no enthusiasm left, splits the winnings with Charlie and quits gambling.
4. Uncut Gems (2019)
Directed by: Josh Safdie, Benny Safdie
Written by: Josh Safdie, Ronald Bronstein, Benny Safdie
Box Office: $50 million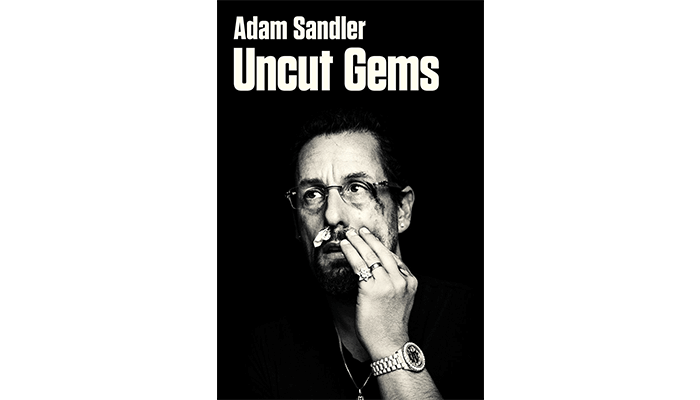 Adam Sandler in a serious movie
In the corrupt diamond market of New York City, Howard Ratner (Adam Sandler), a gemstone dealer and gambling addict, is swimming in debt. He owes money to many people, including Arno (Eric Bogosian), his brother-in-law.
Howard is not only an addicted gambler, but his problems also come from the fact that he is a con artist and an incorrigible adulterer. As both his personal and work life are crashing down, he sees the light at the end of the tunnel when he gets his hands on a rare piece of Ethiopian black opal.
Kevin Garnett (Kevin Garnett), a famous basketball player, is obsessed with the opal and gets it for one game, leaving his 2008 NBA Championship ring as collateral. Howard pawns the ring immediately and places a six-way parlay on Garnett's performance in the game that night.
The opal brings problems and oportunities
He wins, but his winnings are confiscated by Arno, to whom he owed money. Garnett brings back the opal and offers to buy it, but Howard had bigger plans with it – he wants to sell it at an auction.
This didn't work as planned, and he ends up selling it to Garnett and placing a three-way parlay on the player's performance again. However, this time, the one who gets to walk with the winnings is Julia (Julia Fox), his girlfriend.
This movie is your only chance of seeing Adam Sandler and The Weeknd getting in a fight over a girl.
If you find yourself having unhealthy behaviour when gambling we urge you to seek treatment and help from people around you.
3. The Gambler (1974)
Directed by: Karel Reisz
Written by: James Toback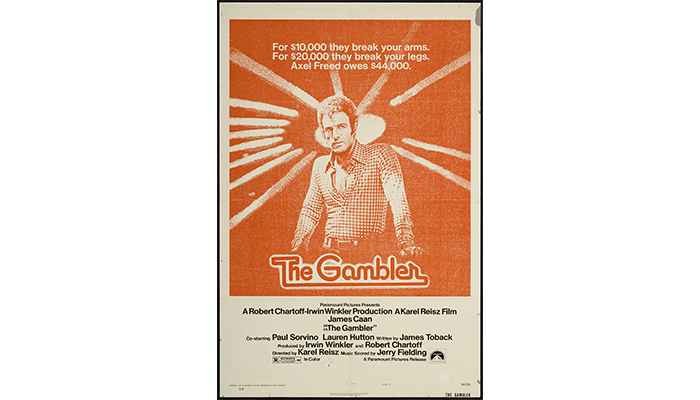 A dark story about addiction
Axel Freed (James Caan), a respected English Literature professor at New York College, has a strong addiction to gambling. Even if winning is his goal, his excitement is that much bigger in the possibility of a loss, which is a recipe for disaster.
After he loses $44,000, an amount of money he does not have, the people he owes the money to are not very patient or friendly.
He tries to get the money from both legal and not so legal sources and by borrowing from his wealthy grandfather, A.R. Lowenthal (Morris Carnovsky), his mother, Naomi Freed (Jacqueline Brookes), and even his girlfriend, Billie (Lauren Hutton).
His struggle is worsened by his inability to stop gambling, and his problems with those who he owes are after him. His girlfriend eventually leaves him, his mother disowns him, and he is forced to find a way to remain alive and come out ahead.
2. Casino (1995)
Directed by: Martin Scorsese
Written by: Nicholas Pileggi, Martin Scorsese
Based on: Casino: Love and Horror in Las Vegas by Nicholas Pileggi
Box Office: $116.1 million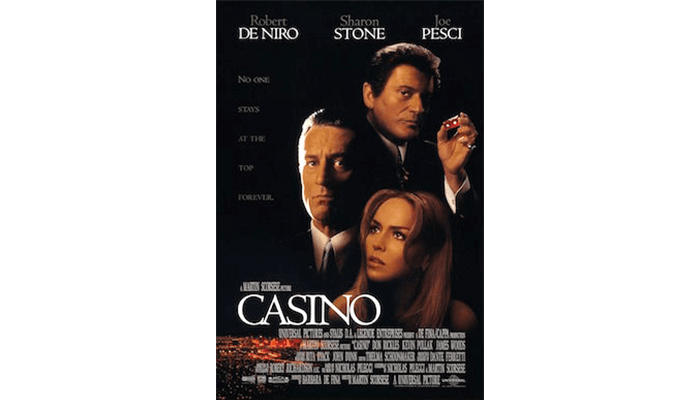 Gambling and mafia: what can go wrong?
The story begins in 1975 when the Italian Mafia from Chicago asks Ace (Robert De Niro) to run the Tangiers Casino on the Las Vegas Strip. His childhood friend, Nicky Santoro (Joe Pesci), is also hired by the Mafia to protect Ace and the organization.
Ace manages to make the entire operation seem entirely legal and fair while also allowing his bosses, the Italian Mafia, to skim profits off the top. Nicky, however, becomes problematic because of his violent, volatile, and reckless behaviour.
While Nicky falls in love with drugs and violence, Ace falls in love with Ginger (Sharon Stone), a love interest just as dangerous as Nicky's. Ginger is a hustler, a self-destructive woman. Her main weakness is Lester Diamond (James Woods), a man with whom she shares a past and a very twisted present.
1.    21 (2008)
Directed by: Robert Luketic
Written by: Peter Steinfeld, Allan Loeb
Based on: Bringing Down the House by Ben Mezrich
Box Office: $159.8 million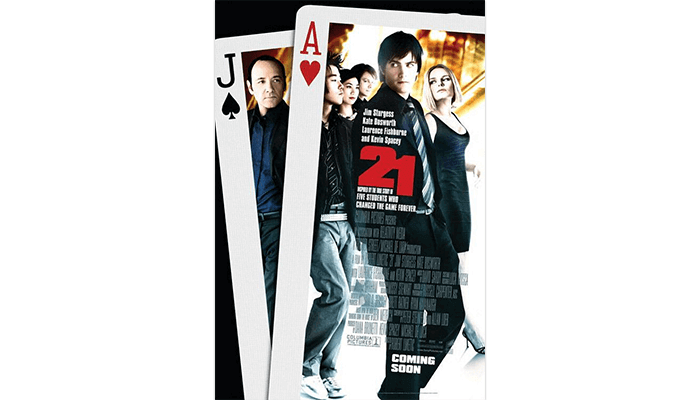 Gambling and math
21 is an American drama film inspired by the true story of the MIT Blackjack Team as told in Ben Mezrich's best-selling book, Bringing Down the House. The movie's protagonist is Ben Campbell (Jim Sturgess), a mathematics major at MIT.
He is accepted into Harvard Medical School, but he cannot afford the tuition, so he applies for a scholarship that will only be granted to the student that genuinely dazzles the director.
Back at MIT, professor Micky Rosa (Kevin Spacey) challenges Ben with the Monty Hall Problem. After he solves it and gets a 97% score on the non-linear equations test, Ben is invited to join Micky's Blackjack Team.
Never cheat the house
This team consisting of students Jill (Kate Bosworth), Fisher (Jacob Pitts), Kianna (Liza Lapira), and Choi (Aaron Yoo), uses card counting and subtle signals to increase their winning probabilities at casinos.
Ben flew with the team and Micky to Las Vegas multiple times and managed to break the impenetrable casinos, winning lots and lots of money. But things spiral out of control when Micky leaves the team and Cole Williams, the head of security, has his eyes on Ben.