11 Best Racehorses of All Time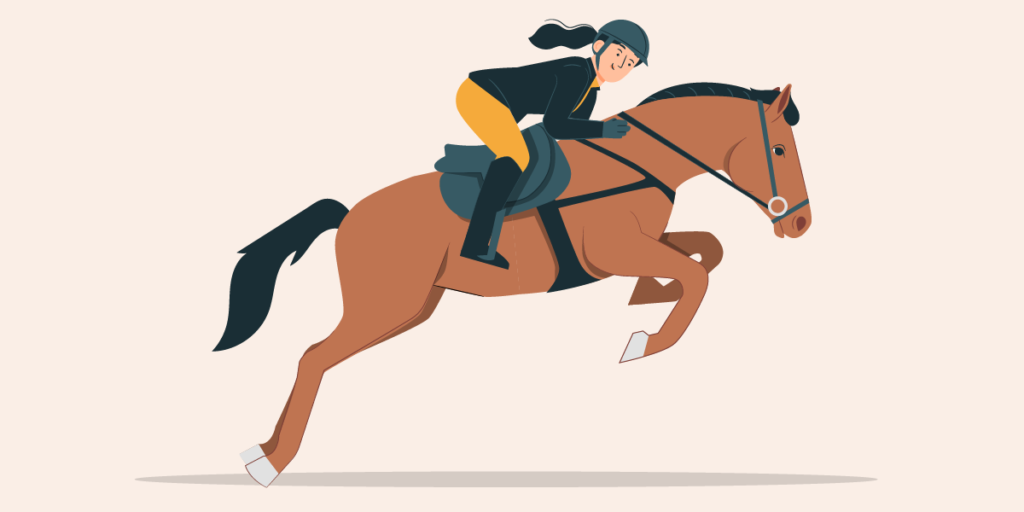 Horseracing is one of the oldest sports, with its beginnings traced all the way back to classical antiquity. While the basic idea of having horses race to determine which one is faster has remained unchanged, the sport has taken many forms around the world.
There are variations that include races with and without jockeys, running over obstacles or on different track surfaces, and even races in which only a particular breed can participate. However, even with so many variations, some horses stood out and impressed everyone. Here are the 11 best race horses of all time and their interesting stories!
1. Arkle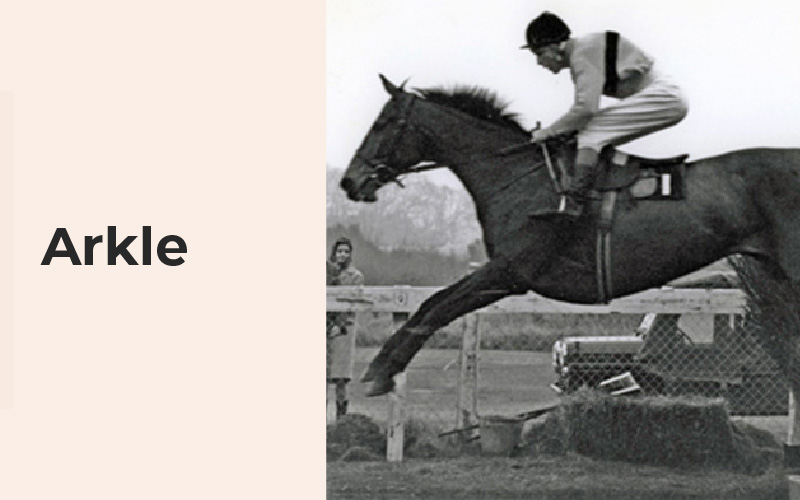 | | |
| --- | --- |
| Country | Ireland |
| Breeder | Mary Baker at Malahow House |
| Trainer | Tom Dreaper |
| Owner | Anne Grosvenor, Duchess of Westminster |
| Record | 35: 27-2-3 |
| Earnings | £95,198 |
Arkle, an Irish Thoroughbred racehorse, was born on April 19th, 1957, and died on May 31st, 1970. His sire, Archive, was next to useless as a racehorse and his dam, Bright Cherry, won six times over jumps over two miles. Arkle was sold as an unbroken three-year-old in 1960 for 1,150 guineas to Anne Grosvenor, who named him after the mountain Arkle in Sutherland, Scotland, which bordered her estate.
Trained by Tom Dreaper, Arkle won 24 times from 26 starts in the 1962-1963 timeframe. Then, at the 1964 Hennessy, he broke the course record by over four seconds while carrying a 175 pounds handicap.  The steeplechaser managed to win 2 Hennessy Cognac Gold Cups, 3 Cheltenham Gold Cups, 3 Leopardstown Chases, and one Irish Grand National, King George VI Chase and Whitbread Gold Cup.
His Timeform rating is 212, and, in the 73 years since the publication exists, it has not been matched by any other racehorse.
2. Man O' War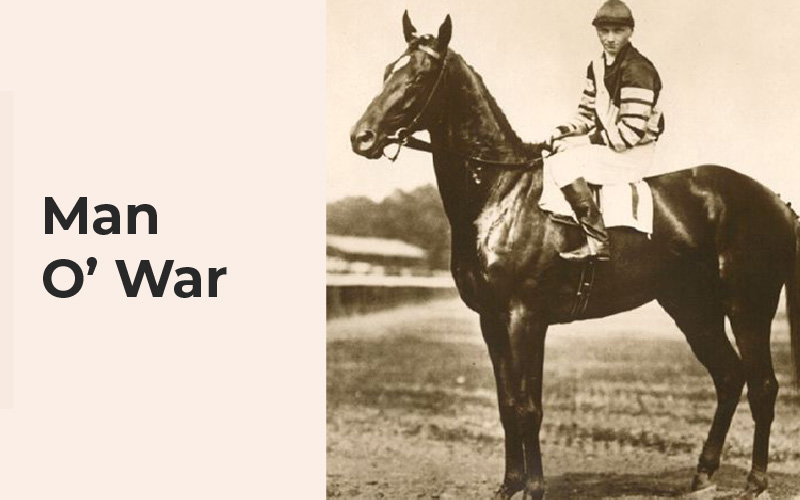 | | |
| --- | --- |
| Country | United States |
| Breeder | August Belmont Jr. |
| Trainer | Louis Feustel |
| Owner | Samuel D. Riddle |
| Record | 21: 20–1–0 |
| Earnings | $249,465 |
One of the Thoroughbreds foaled in 1917, Man O' War was born at the Kentucky Nursery Stud on March 29th. Bred by August Belmont II, he was then sold to the Pennsylvania horseman Samuel Riddle for $5,000 and shipped to his training farm in Maryland. He is one of the most famous racehorses in the history of this sport.
The first race he won was on June 6th, 1919, while ridden by Johnny Loftus. He won by six lengths and crossed the finish line at a canter. He kept on winning races, so the weight he was required to carry as a handicap also increased. When he was two years old, Man O' War carried 130 pounds in his fourth race. With time, he managed to carry 304 pounds in a race, the most any horse at that time had ever carried.
The only defeat in his career was his sixth race at the Stanford Memorial. The horse that beat him in this race was named Upset, and Man O' War defeated him on six other occasions later on. He became the Horse of the Year at the end of his two-year-old season, and when he was three years old, he started setting records.
3. Secretariat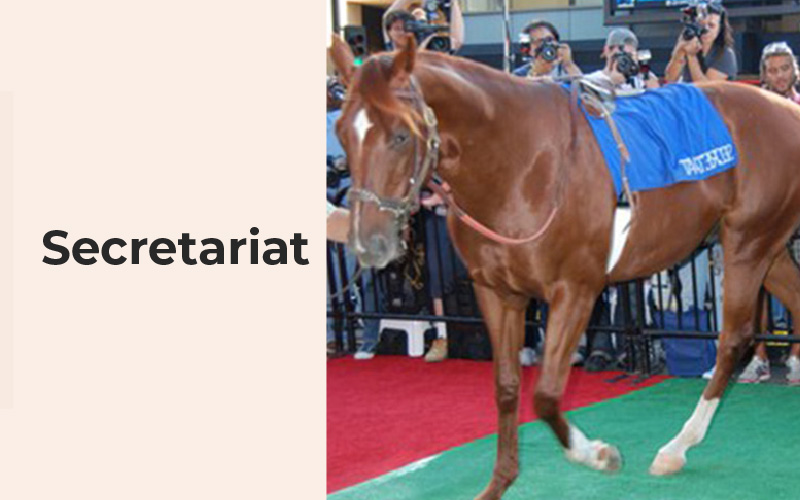 | | |
| --- | --- |
| Country | United States |
| Breeder | Christopher Chenery |
| Trainer | Lucien Laurin |
| Owner | Penny & Christopher Chenery |
| Record | 21: 16–3–1 |
| Earnings | $1,316,808 |
Secretariat was a champion American Thoroughbred racehorse foaled on March 30th 1970, and he died at 19 years of age, in 1989, on October 4th.
Also known as "Big Red", he was bred by Christopher Chenery, he did not seem to be made for racing at first. The horse was moody at first and had a hard time focusing without blinkers. His first races were not great, and he even bumped with other horses and had to recover and train more.
At the Hopeful Stakes in 1972, Secretariat was the last horse out of the gate but astonished everyone when he covered the last quarter of the race in only 22 seconds. He finished in the first place, and that was very impressive for a two-year-old. Starting slow and getting faster as the race went on became his signature.
He has won multiple awards during his career, such as Champion Two-Year-Old Colt, Champion Three-Year-Old Male Horse, Champion Male Turf Horse, and Horse of the Year in 1972 and 1973. He also was the ninth horse to win the Triple Crown Champion award.
4. Zenyatta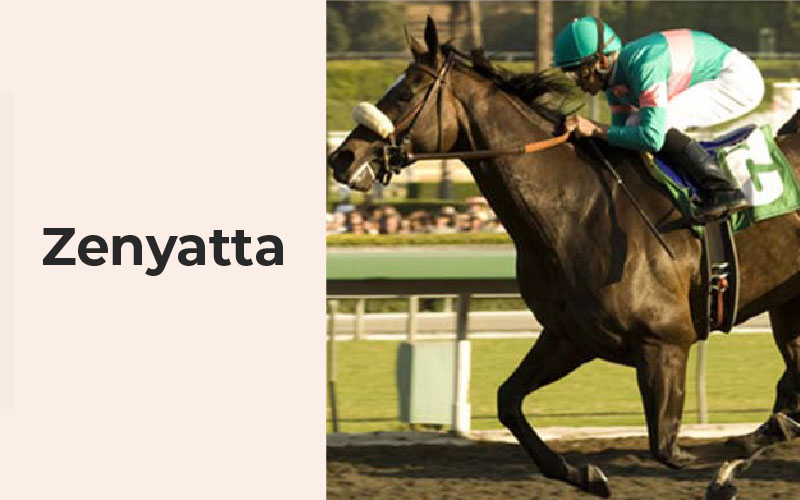 | | |
| --- | --- |
| Country | United States |
| Breeder | Maverick Productions, Limited |
| Trainer | John Shirreffs |
| Owner | Jerry & Ann Moss |
| Record | 20: 19–1–0 |
| Earnings | $7,304,580 |
Zenyatta is a champion American Thoroughbred racehorse foaled on April 1st 2004. Her owners Jerry Moss and his wife named her after the Police's album Zenyatta Mondatta.
Trained by John Shirreffs, the mare developed rather slowly, making her start late in her three-year-old year when she won a maiden race. In total, she participated in 20 races and has only lost one.  Between 2008 and 2010, Zenyatta was the winner of 17 graded stakes races, and 13 of them were at the Grade I level.
She was the first mare to win the Breeders' Cup Classic in 2009. She also won the Apple Blossom Handicap and the Breeders' Cup Ladies Classic in 2008, as well as consecutive wins in the Clement L. Hirsch, Vanity Stakes, and the Lady's Secret. The latter was later renamed the Zenyatta Stakes in her honour.
5. Kelso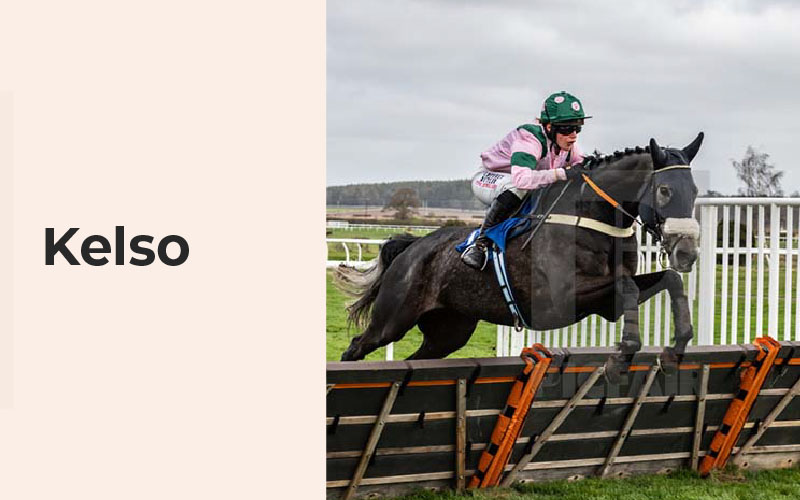 | | |
| --- | --- |
| Country | United States |
| Breeder | Bohemia Stable |
| Trainer | Dr John Lee Carl Hanford |
| Owner | Bohemia Stable |
| Record | 63: 39–12–2 |
| Earnings | $1,977,896 |
One of the best racehorses in history, Kelso was an American Thoroughbred foaled on April 4th, 1957. He was born at Claiborne farm near Paris, Kentucky, and was owned by Allaire du Pont.
Kelso was not an easy horse to work with, as even having him gelded did not calm him down. Nevertheless, he made his two-year-old debut at the Atlantic City Race Course in 1959. He won this race but placed second for the following ones that year.
His third year was when he became truly known, year during which he managed to equal Man O' War's time of 2:40-4/5 for 1⅝ miles. In 1960, Kelso became the Three-Year-Old Champion Male of the year and also got the American Horse of the Year award.
He set nine track records during his career and has won five Horse of the Year titles, making him the only horse that accomplished that. To this day, he holds the World Record for two miles on dirt of 3:19.1.
6. Black Caviar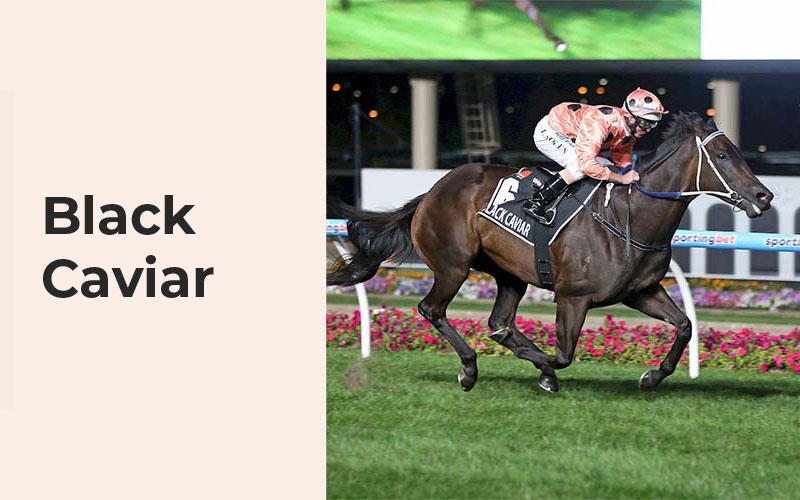 | | |
| --- | --- |
| Country | Australia |
| Breeder | R. Jamieson, Vic |
| Trainer | Peter Moody |
| Owner | G.J. Wilkie, K.J. Wilkie, Werrett Bloodstock Pty Ltd, C.H. Madden, etc |
| Record | 25: 25–0–0 |
| Earnings | $7,953,936 |
Black Caviar is a champion Australian Thoroughbred foaled in August 2006. She was undefeated in her career, winning all 25 of the races she participated in before retiring.
Trained by Peter Moody and having more than one owner, Black Caviar won her debut race as a two-year-old by 5 lengths. From 2011 to 2013, she was named Australia's racehorse of the Year. She was also the first horse outside Europe to win the Diamond Jubilee Stakes in England, Europe's premier race.
An interesting fact about her is that she raced in the same period as Zenyatta and broke her record of consecutive wins.
7. Eclipse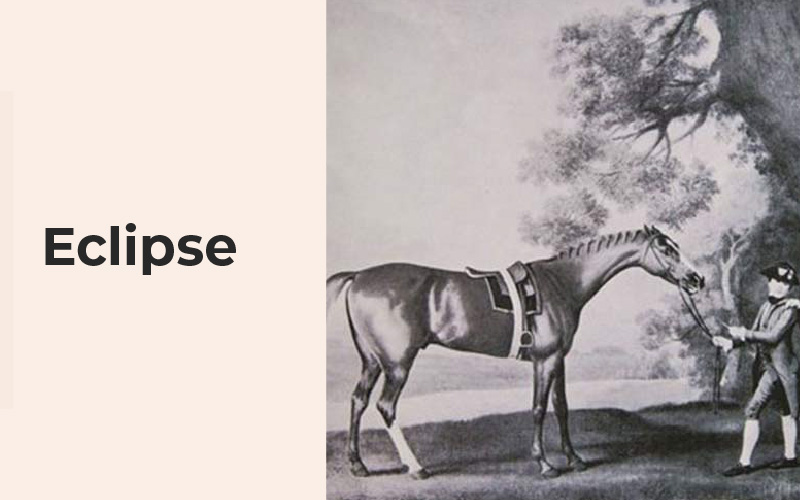 | | |
| --- | --- |
| Country | Great Britain |
| Breeder | Duke of Cumberland |
| Trainer | Sullivan |
| Owner | William Wildman Dennis O'Kelly |
| Record | 18: 18-0-0 + 7 heats |
| Earnings | 2,149 guineas |
This British Thoroughbred racehorse got his name because he was foaled in 1764 during a solar eclipse on April fool's day. Owned by William Wildman and later by Dennis O'Kelly and trained by Sullivan, Eclipse was undefeated in his racing career. He has won all 18 of his starts, including 11 King's Plates.
He has won the most prestigious race of his time, the Great Subscription Purse.  Among the successful sires that trace their lineage to the undefeated Eclipse is Secretariat. In fact, it is believed that Eclipse is in the pedigree of over 90% of Thoroughbred racehorses.
Eclipse did not race until he was five years old, and before that, he was worked very hard by poachers. When he did start racing, he could not stop winning and became one of the most famous racehorses in the UK. That also became the very reason why he retired, because no one wanted to race against him.
8. Citation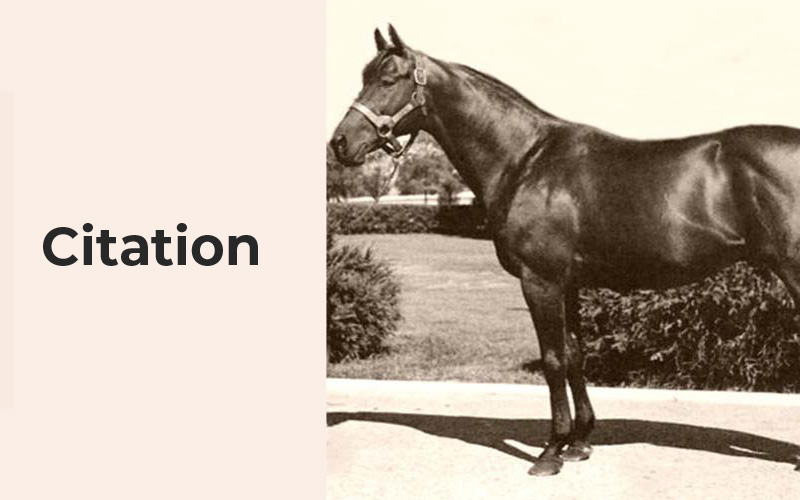 | | |
| --- | --- |
| Country | United States |
| Breeder | Calumet Farm |
| Trainer | Ben A. Jones Jimmy Jones |
| Owner | Calumet Farm |
| Record | 45: 32–10–2 |
| Earnings | $1,085,760 |
Citation was a champion American Thoroughbred racehorse foaled on April 11th 1945, at the Calumet Farm. He became the first racehorse in history to win $1 million. He has won Champion 2-Yr-Old Colt and 3-Yr-Old Colt, and during his third year, he has won 19 of 20 races. After this year, he had to take one year off to recover from an injury.
In 1948 Citation was named the Horse of the Year, and his record in races was 16 wins in a row. Eddie Arcaro became his jockey after the previous one went missing right before the Kentucky Derby. 
9. Kincsem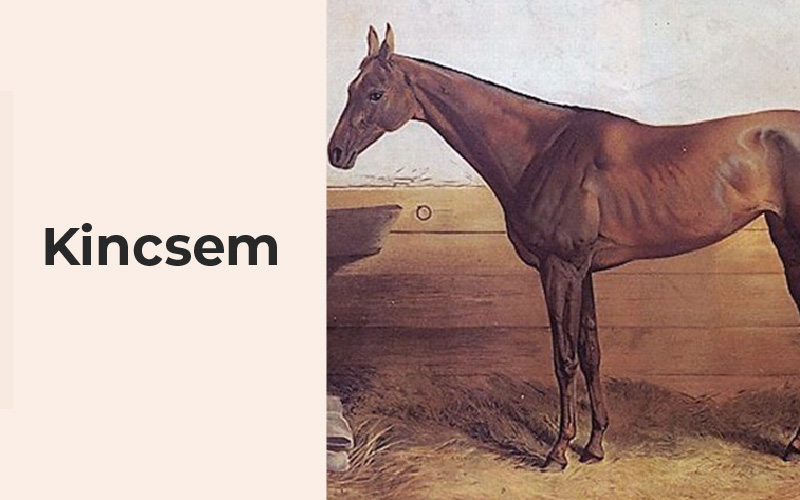 | | |
| --- | --- |
| Country | Hungary |
| Breeder | Ernő Blaskovich |
| Trainer | Robert Hesp |
| Owner | Ernő Blaskovich |
| Record | 54: 54–0–0 |
| Earnings | 199,754.50 fl |
Kincsem has the most victories of any unbeaten horse in the history of horseracing, having won all 54 races she participated in. She was so good that the next closes record belongs to Black Caviar, which has won all his 25 races.
Foaled in 1874 on March 17th in Hungary, Kincsem's name translates to "My Treasure" or "My Precious". Ernő Blaskovich was his breeder and owner, and Robert Hesp trained him. During her long career, she has earned the equivalent of €2.56 million.
Ernő Blaskovich attempted to sell Kincsem as a yearling, but all prospective buyers saw her as inferior and looked for the best race horses breeds. An interesting fact about her is that she had a companion cat that travelled with her, and it is said that she would not move unless her companion were present.
10. Ruffian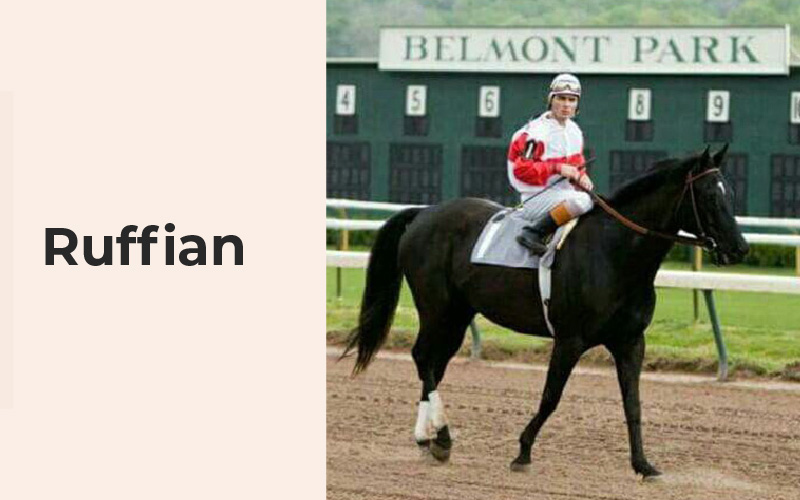 | | |
| --- | --- |
| Country | United States |
| Breeder | Stuart & Barbara Janney |
| Trainer | Frank Y. Whiteley Jr. |
| Owner | Stuart & Barbara Janney |
| Record | 11: 10-0-0 (1 DNF) |
| Earnings | $313,428 |
While her stats are not as impressive as those of other horses in this list, Ruffian has a fascinating story. She was foaled in 1972, on April 17th and was an American Thoroughbred racehorse and only lived for three years.
She has won 10 consecutive races during this short time, including the American Triple Tiara, now known as Coaching Club American Oaks, the Acorn, and Mother Goose. The best part about her was that she was in the lead in every race she ran.
At ages two and three, she was named the American Champion filly. All came to a halt, however, when in her third year, she entered a match race with Foolish Pleasure, the Kentucky Derby winner, and suffered a severe leg injury. She underwent surgery but had to be euthanized due to no chances of recovery.
11. Seattle Slew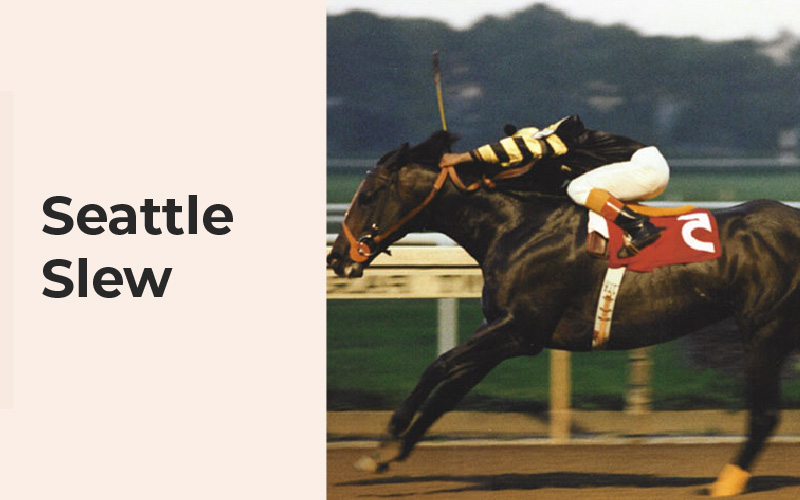 | | |
| --- | --- |
| Country | United States |
| Breeder | Ben S. Castleman |
| Trainer | William H. Turner Jr. Douglas R. Peterson |
| Owner | Karen & Mickey Taylor and Jim & Sally Hill |
| Record | 17: 14–2–0 |
| Earnings | $1,208,726 |
The champion American Thoroughbred Seattle Slew was foaled on February 15th 1974, in Lexington, Kentucky.
As a foal, he was considered to look like a mule, and his first nickname was Baby Huey. In addition, his right forefoot was turned out, which added to how unattractive he looked. This is probably part of the reason why he was sold for only $17,500 at that time, the equivalent of $84,000 in 2020.
He had his debut when he was two years old but only raced three times. However, he was named Champion Two-Year-Old of 1976.
In 1978, Seattle Slew was scheduled to run in the Tallahassee Handicap but had to skip it because of fever and loss of appetite. His condition worsened when he was administered an injection to help him, but which missed the vein. Even if no one expected it, he made a recovery and came back to the track in August that year at the Saratoga Race Course, which he won.
In his career, he won ten major stakes races, the Triple Crown, and was selected U.S. Champion Older Male Horse for three years in a row.
The best race horses today
| Rank | Points | Horse | Country |
| --- | --- | --- | --- |
| 1 | 127 | St Mark's Basilica | France |
| 1 | 127 | Adayar | Ireland |
| 1 | 127 | Mishriff | Ireland |
| 4 | 125 | Palace Pier | Great Britain |
| 6 | 123 | Nature Strip | United States |
These are the best race horses at the moment and if you like to bet on such races, keep an eye on these ones! While the horses on our list have a beautiful history and are honoured in many ways for their achievements, there are new names that have potential.
This is only the top of the list when it comes to the world's best racehorses today, but you should keep an eye on it because it may change at any moment.