TV Show Online Slot Machine Games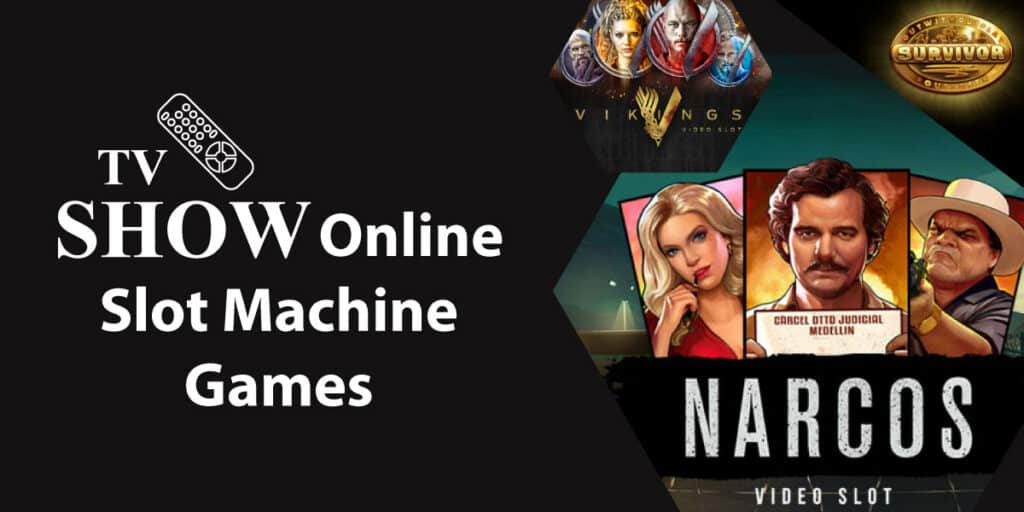 You have seen a TV show that intrigued you, making you feel for the characters and the story. But now that the finale episode is over, you might find yourself looking for that universe.
If you are a TV show and a gambling enthusiast, you can now combine the two by spinning the numbers on the TV show slot machines.
Vikings, Narcos, Sons of Anarchy, Sex and the City and even Family Guy are some of the shows that have inspired software developers to provide their players with TV slots.
You can find these games on the best online casinos in Canada.
Walking dead Slot Machines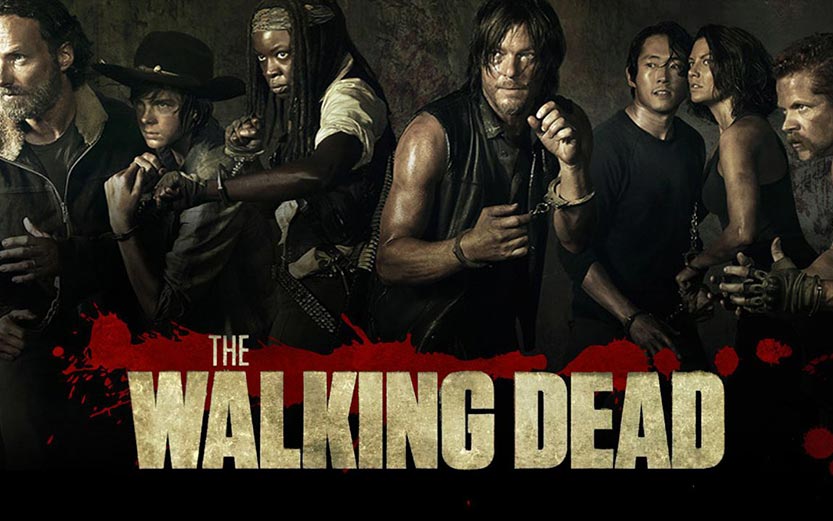 The Walking Dead is a series that first aired on television on 31st October 2010, having 10 seasons.
The 11th and last season of the TV show had its premiere on 22nd August 2021 and will continue in the following year.
The plot is based on the comic book having the same name. It follows the life of the main character Rick Grimes in a post-apocalyptic world where he is faced with surviving an epidemic of zombies.
Introducing The Walking Dead slots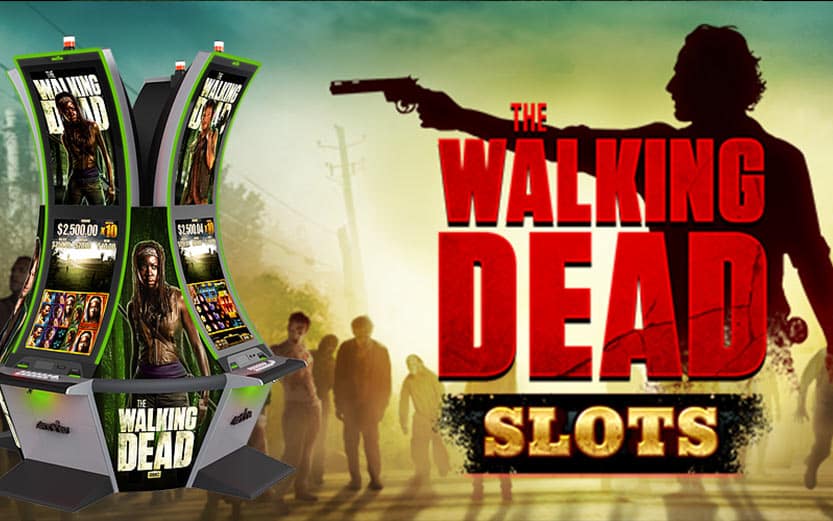 The Walking Dead slot machine was first introduced to the iGaming enthusiasts on 24th September 2013 at the Global Gaming Expo (G2E) 2013.
Its developer, Aristocrat Technologies Inc., has produced the slot based on the first two seasons of the tv series.
Walkthrough
The bet limits are represented by the minimum of C$0.75 and the maximum of C$3 per bet line. To become eligible for higher Jackpot amounts, you will need to make C$3 bets.
During the CDC mode, short for the Centre for Disease Control, you can play up to three spins and create for yourself a chance at a grenade round.
Moreover, you can activate the Atlanta Wheel by getting 3 or more-wheel icons placed in any position. Then continue to spin until it lands on Free Games or the CDC Wheel.
Some of the characters you will meet during the gaming session are Rick and Lori Grimes, Daryl Dixon, Glenn Rhee, Andrea, and Shane Walsh.
Other symbols represent a crow, a necklace, a screwdriver, or a Teddy Bear.
Additionally, the game contains Wild Symbols, Scatters, Free Spins as well as Progressive Jackpots.
Free spins with no deposit are also a casino offer that is quite popular in Canada, so we took the time to select the best for you.
Walking Dead Slot machine details
| Feature | Details |
| --- | --- |
| RTP | 95% |
| Paylines | 4096 |
| Stakes | 0.75 to 3.00 |
| Rows | 4+ |
| Reels | 6 |
Bonus Games and Jackpots
The bonus games might represent a chance of having more substantial wins. These are titled Wheel Level One, CDC Wheel, and Escape from Atlanta.
Wheel Level One
The Wheel Level One game is activated when you receive three mini versions of the reels.
The Wheel rotation can provide you with acquirements such as Progressive Jackpots, credits, free spins, or the CDC Wheel game.
CDC Wheel
The Center for Disease Control is an essential location in The Walking Dead show.
In the slot machine, it can be found as a vertical wheel with a single reel giving prizes suchlike:
Multipliers

Credits

Free spins

Cash payouts
Other acquirements are Walker Bonus and the grenades.
The first one will provide you with extra spins and payout multipliers.
The grenade's explosion will activate some or all the spaces that contain cash prizes that will add to your balance. When this happens, you will see visuals of the funds exploding on the screen.
Escape from Atlanta
This bonus game is expected to provide you with bonus spins, and you might claim up to 15 games while trying to escape the city.
Jackpots
By spinning the wheels through the Walking Dead slot machine, you become eligible for a C$500,000 Jackpot win. However, there are a total of four different types of Jackpots that you can acquire.
| Jackpot | Value |
| --- | --- |
| Grand Prize | C$500,000 |
| Major | C$500 |
| Minor | C$50 |
| Mini | C$10 |
Game Features
The bonus games have bonus features that mainly consist of expanding the grid, which results in more opportunities to acquire funds. These features are named Reel Growth, Wild Attack and The Horde.
Reel Growth
The Reel Growth is the classic game of this TV slot, and the game will present you with a 6×4 grid. By playing this game, the reels can expand up to seven rows.
The Canadian player can generate the expansion of the rows and the other two ways of playing this slot machine.
Wild Attack
As the title suggests, the walkers will take over the screen leaving behind the symbols that you can spin for another chance to hit the Jackpot.
Even if it might require some effort, the so-called Apocalyptic Wins might result in hundreds of dollars if the wild symbols are placed in the right spots.
The Horde
This feature is introduced by a helicopter being piloted in the background. The reels start disappearing from the screen.
Under the helicopter, you will notice the group of walkers invading the screen one more time. It creates the space for the sticky wild symbols that represent the characters Rick Grimes and Shane Walsh.
Sons of Anarchy Slot Machines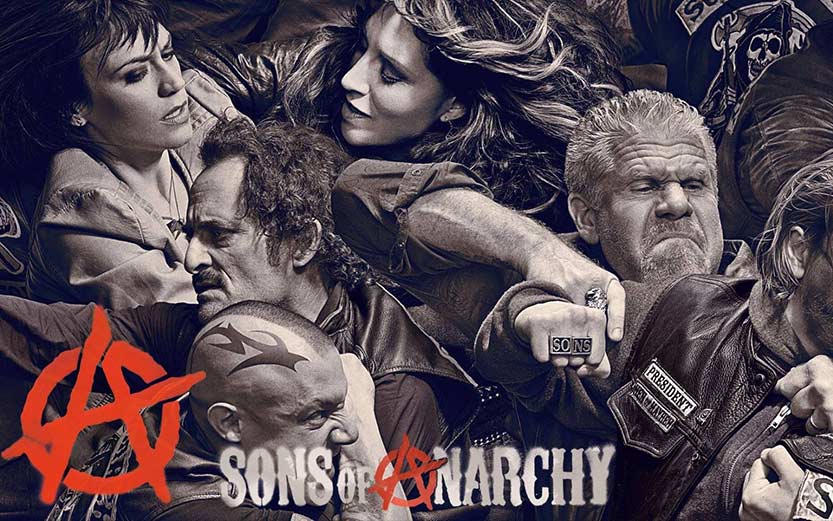 The Sons of Anarchy is a TV series that follows the life of Jax Teller, a young father and an essential member of a motorcycle club.
It first aired on 3rd September 2008, and it ended after 7 seasons. While Jax is the main character, the plot goes around the whole group, their lives, and the actions they initiate for the club's survival.
Introducing the Sons of Anarchy Slot Machines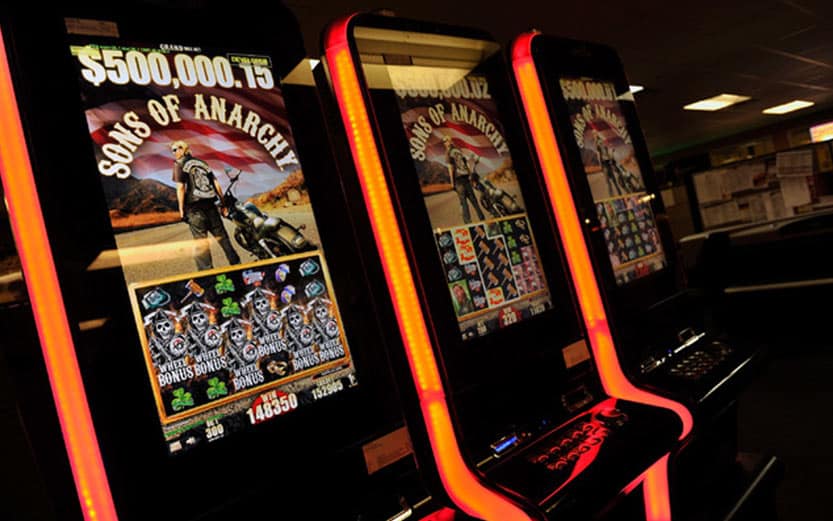 The developing company of this TV show slot machine is Aristocrat Technologies Inc. and was first released to the public in April of 2015.
Reel Symbols
The Big Symbols represent some of the characters such as Jax Teller, Gemma, Clay, Tara, and Opie.
Other reel symbols are the logos of SAMBEL, TM Automotive, SO-NS gold knuckle rings, and Redwood Original American Flag.
Walkthrough
The lowest cost per spin is C$0.60, while the highest is C$3.00 with 300 credits per spin.
The TV slot also includes Wilds, Free Spins, Scatter, Multiplier, Progressive Jackpot, and other Bonus Games.
Sons of Anarchy Slot Machine
| Feature | Details |
| --- | --- |
| RTP | 97.05% |
| Paylines | 60 |
| Stakes | C$0.60 – c$3.00 |
| Reels | 6 |
Bonus Game and Jackpots
This TV slot starts with an image of Jax Teller standing on a deserted highway next to his bike. Along with that, there's a clear picture of his SAMCRO patches placed on the back of his jacket.
Cluster Power
The Cluster Power is the bonus game to access within the Sons of Anarchy slot machine, having a 5×6 grid and more than 15,620 possible ways of reaching prizes.
The symbols will appear in any available places from the three reels, groups, or clusters to create winning combinations.
Jackpots
Placing bets of C$3 can result in receiving one of the three Jackpots:
| Jackpot | Value |
| --- | --- |
| Grand Prize | C$500,000 |
| Major | C$500 |
| Minor | C$50 |
| Mini | C$10 |
The best gameplay can be combined with a first deposit bonus from our complete selection!
Survivor Slot Machines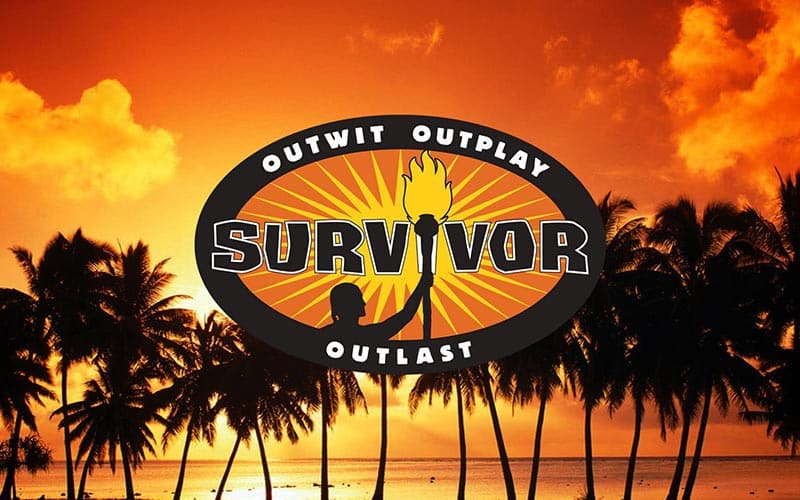 Survivor has recently aired their recent episode as part of season 41. The first episode was aired on television in 2000.
The point of interest stands in the groups of people placed in isolated locations. They must provide for themselves the primary means of survival.
Introducing the Survivor Megaways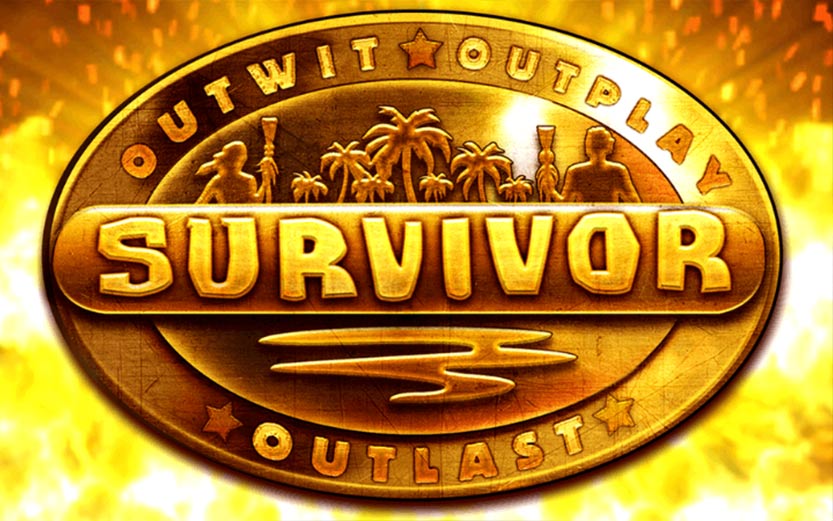 The Survivor slot machine is an online game developed by Big Time Gaming that launched in April 2020. Initially, it was released through LeoVegas, following on the SG Digital Network.
Walkthrough
Once you start the game, notice 6 reels sectioned into 3 segments, holding up to 6 symbols at the top and bottom.
Then on the paytable shall appear 10 regular pay symbols from which 4 are high, and 6 are low. Tiki masks represent the high ones, and 3 or more are required for winning combinations.
Survivor Slot Machine
| Feature | Details |
| --- | --- |
| RTP | 96.47% |
| Paylines | 100.842 (Megaways) |
| Stakes | 20 p/c – C$50 |
| Reels | 6 |
The Survivor slot machine provides a grid of 6×7, a medium to high volatility, no bonus games, and a Jackpot representing 1000 the total bet.
I Dream of Jeannie Slot Machines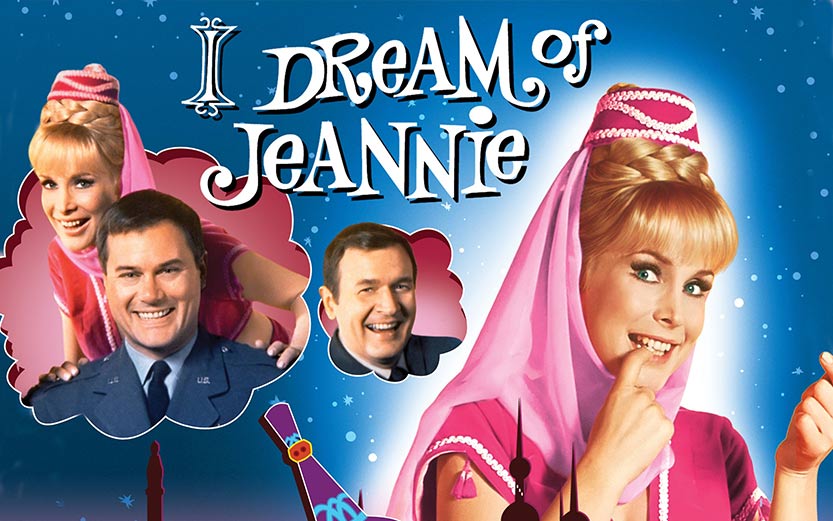 I Dream of Jeannie first aired on 18th September 1965 and ended 5 seasons on 26th May 1970. Through the 25 minutes, long episodes have presented the story of a 2000 old genie and an astronaut that live together.
I Dream of Jeannie Slots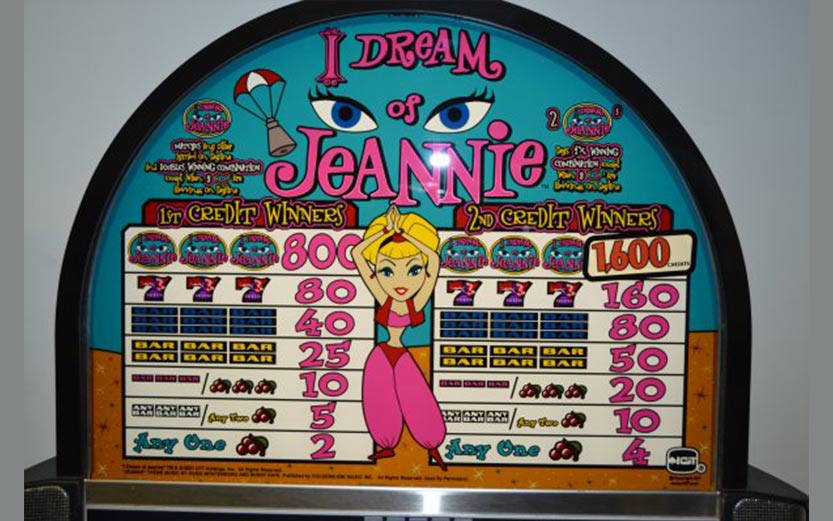 The International Game Technology (IGT) company developed this TV show slot machine and launched it in 2015.
Walkthrough
The bets limits range from a minimum of 50 credits to a maximum of 600 credits. Also, you might place a chance of C$24 per spin to play all the 5×3 reels.
I Dream of Jeannie Slot Machine
| Feature | Details |
| --- | --- |
| RTP | N/A |
| Paylines | 30 |
| Stakes | C$0.50 – c$6.00 |
| Reels | 5 |
Symbols and bonus rounds
The game's icons represent the main characters and magic carpets, genie bottles, or Arabian-style shoes.
However, the characters are the ones from the cartoon version and not the live-action tv show. Moreover, these icons can sometimes generate bonus rounds such as:
Progressive Pick;

A Blink of Jeannie's Eye;

I Dream of…;

Jeannie's Treasure Chest;

Major Nelson's Bachelor Pad;

Major Nelson in Orbit.
Playing any of these features will make you eligible for winning credits, multipliers, or one of the four Progressive Jackpots.
Sex and the City Slot Machines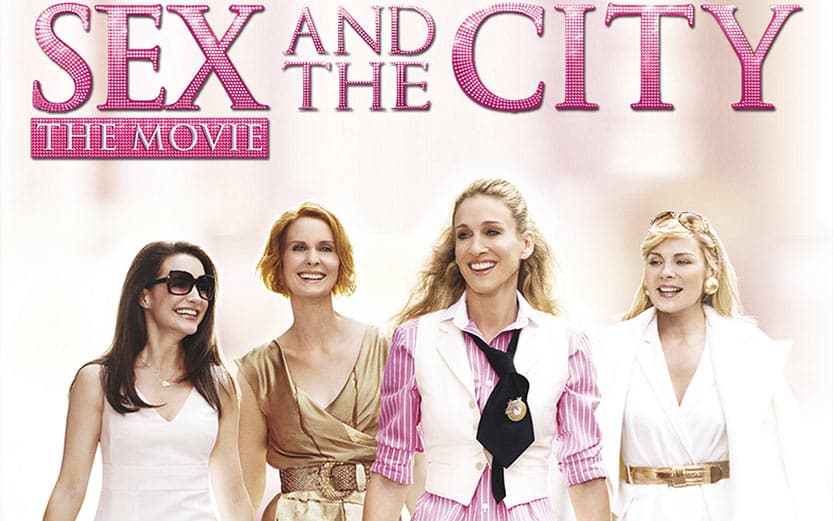 Released on 6th June 1998, the show follows the stories of Carrie, Miranda, Samantha, and Charlotte through the 94 episodes. The show aired the last episode on 22nd February 2004.
Some no wagering bonuses will allow you to play this game and keep your initial wins for cash out.
Sex and the City Slots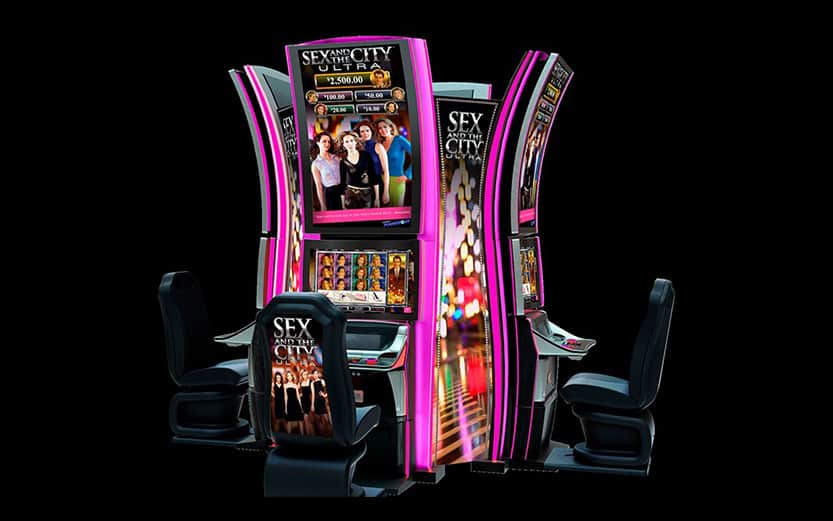 The Sex and the City slot machine was developed and operated by IGT. It was released to the public in 2011.
Walkthrough
The slot provides 50 credits x 4 that can be played on the up 40 paylines. Also, for all 4 bonus games to become available, you must earn 200 credits per turn, with a maximum of 600 and a minimum bet of 20 credits.
Sex and the City Slot Machine
| Feature | Details |
| --- | --- |
| RTP | 99% |
| Paylines | 40 |
| Stakes | C$0.1 – C$6 |
| Reels | 5 |
Symbols
One of the symbol categories is the reel symbols representing characters such as Charlotte, Carrie, Miranda, Samantha and even Mr. Big.
Other symbols contain a diamond ring, a dress, purple heels, a handbag, and a limousine, as well as a Cosmopolitan magazine.
Bonus games
Then you shall also notice key symbols suchlike a pink heart. On occasions 3 or more appeared, the bonus games became available.
Change of Dress
In this game, you are given the option to select a dress for one of the main characters and receive multipliers or extra credits for the next bonus game.
Simply Fabulous
Charlotte's wedding inspires the theme, and you must decide on a ring box from the 3 options shown on the screen.
The boxes contain numbers from 0 to 9, and after selecting your box, three numbers will show up, notifying you about the funds you won in the game.
Hello Lover
This bonus game will present you again with boxes containing this time shoes, and you will have to decide which pair of shoes is the character's preferred one.
After making your selection, you will receive the Locking Symbol for the next bonus game, which determines the size of your bonus. Also, the free spin mode should start after receiving your results.
Perfect Gift
While in the Perfect Gift bonus game, you shall select a gift for one of the protagonists. The Canadian player can choose clothes, a yellow rose, a chocolate box, or a drink.
Choosing a gift for the characters translates into coin amounts for each of the chosen gifts. Perfect Gift might seem like a simple game, but it is also the most financially beneficial one.
Progressive Jackpot
Sex and the City slot machine has around 5 Progressive Jackpots that can make you eligible to win C$15, C$30, C$200, and up to C$500.
Star Trek Slot Machines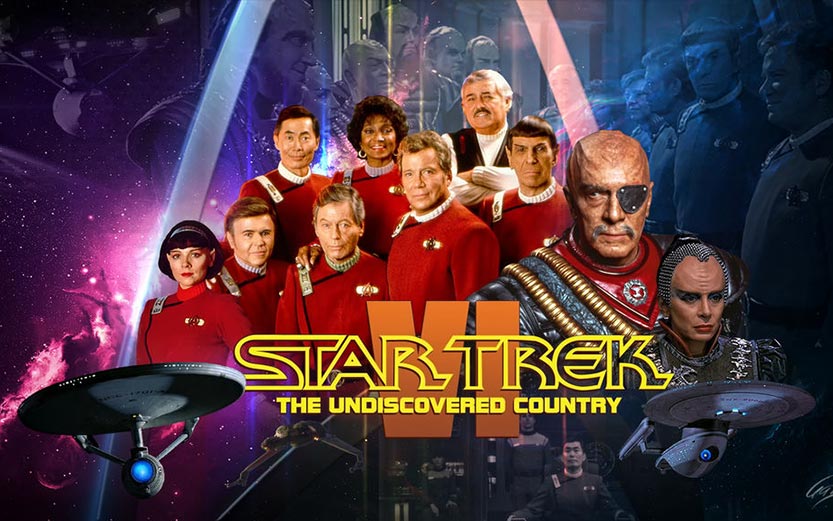 Running from 1966 to 1969, Star Trek is a science fiction media franchise that inspired the creation of a pop-culture phenomenon.
The series presents the journey of the starship USS Enterprise, built by the United Federation of Planets in the 23rd century.
Star Trek Slots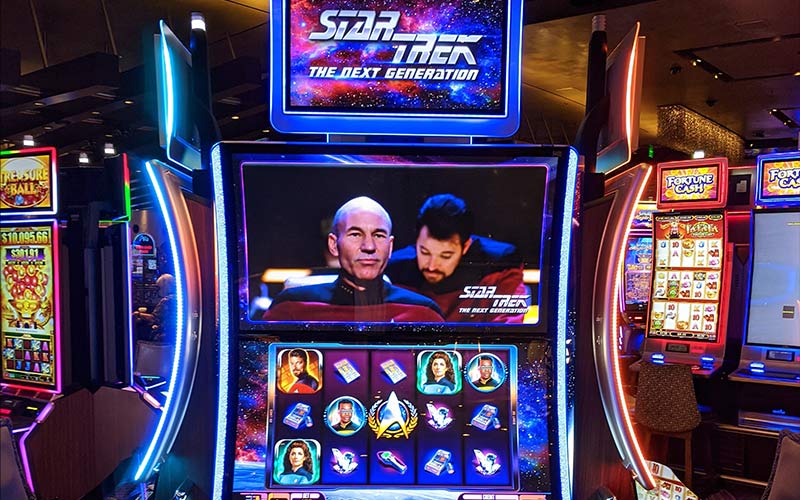 IGT's software developer inspired the original Star Trek series when creating the TV show slot machine and releasing it in 2014.
Walkthrough
The Star Trek slot machine contains multiple symbols that can have a specific different payout. By way of example, The Insignia pay 1500 credits in exchange for 5 characters, 750 credits for 4 symbols or 250 credits for 3 symbols.
Star Trek Slot Machine
| Feature | Details |
| --- | --- |
| RTP | N/A |
| Paylines | 30 |
| Stakes | 0.01 – 10 |
| Reels | 5 |
Symbols
All the symbols in this slot machine contain a character or representative object from the series. Also, the image quality corresponds with one of the eras when the show first aired.
Red Alert Bonus Game
Once you gain 3 or more symbols on the reels, face the warning to prepare for battle while the Enterprise appears on the left side.
On the opposite side, a fleet of Klingon ships is showing. Each of the Klingon ships can provide you with multipliers from 2x up to 15x.
To maintain your bonus, you need to get 3 or more 100% Shields symbols to restore your spins.
This Red Alert bonus game will generate its paytable. Moreover, the play will provide icons showing Kirk, Spock, Dr. McCoy, and several weapons to you.
Medals
Each time you receive 3 or more Features on the reels, you will be provided with a medal. To find how many awards you have earned, head over to the upper bar.
You become eligible for additional games by accumulating medals, but only when playing on land-based slot machines.
Family Guy Slot Machines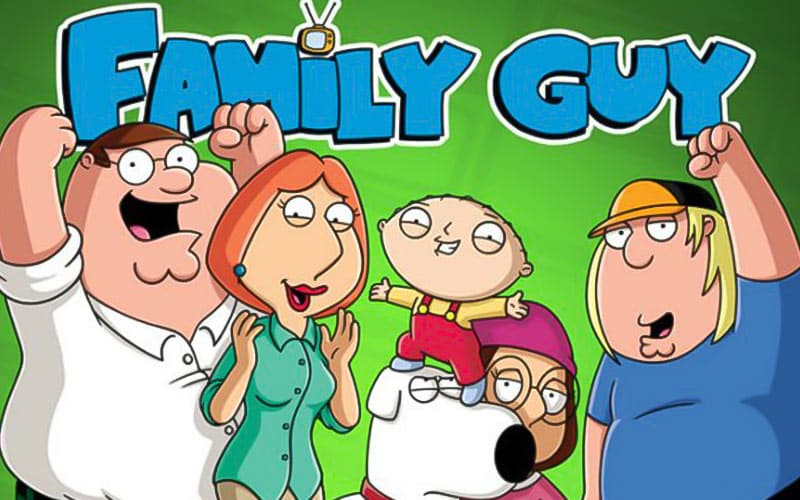 Family Guy has been running for 21 seasons since 1999 and introduces the Griffin family, made of Peter, Lois, Meg, Chris, Stewie and their talking dog Brian.
Introducing the Family Guy Slots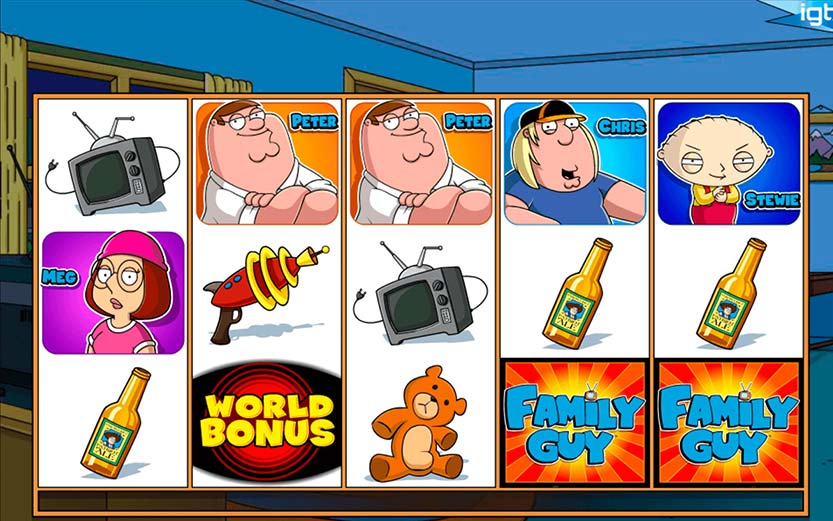 The software developer IGT brought the Family Guy slot machine and was first released in December 2015.
Walkthrough
The bet's lowest and highest limits are going between C$0.50 and C$1,500, with a maximum winning possibility of C$250,000.
Family Guys Slots Machine
| Feature | Details |
| --- | --- |
| RTP | 96.05% |
| Paylines | 30 |
| Stakes | 0.50 – 1,500 |
| Rows | N/A |
| Reels | 5 |
Bonus features
This TV slot has a few bonus features that will provide your balance with additional funds.
Griffin Family Features
Once you start spinning, one member of the Griffin family will appear at random and provide one of the following:
Peter will give you an instant money award of between 4 or 100 times your total bet;

Stewie will provide 1 up to 3 extra Wild Symbols on any of the reels;

Lois is turning from 1 to 3 Character Symbols into a scatter, making them pay you with amounts between 1 or 1000 times your bet;

Brian is showing up if 1 Bonus Symbol is visible and will provide you with 1 or 2 additional Bonus Symbols and might also give you the world bonus.
The World Bonus Feature
On reels 2, 3 or 4 you shall get three World Bonus symbols to generate a mini-game that also provides other three features:
The Drunken Clam Bonus – Select different drinks for Peter, Joe, Quagmire or Cleveland;
The Chicken Fight Bonus – This represents the ongoing fight between Peter and the Chicken mascot, and you will have three rounds of this battle;
Lois' Hot Free Spins Bonus – Start with 10 free spins, 4 paying icons and other representative symbols.
The Jetsons Slot Machines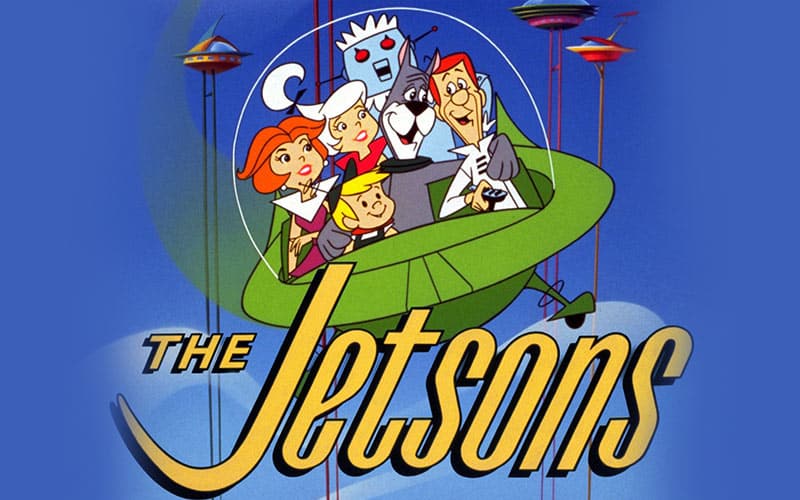 The Jetsons is an animated TV series that first aired in 1962 and ran for 3 seasons, presenting the Jetson family in a futuristic universe.
Introducing The Jetsons Slots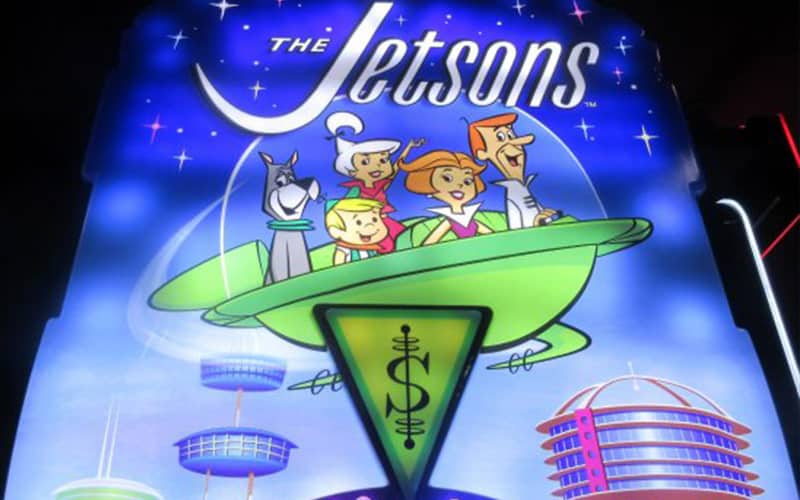 The slots TV was developed by WMS Gaming and released to the public in 2014 as a land-based slot machine.
Walkthrough
The game provides Wild and Common Symbols containing images of Rosie the Robot, Elroy, or George.
Rosie the Robot becomes a Wild Symbol if her icon is landing on reel 5. She will go towards reel 1, turning a random number icon into another Wild.
The Jetsons Slot Machine
| Feature | Details |
| --- | --- |
| RTP | N/A |
| Paylines | 20 |
| Stakes | N/A |
| Rows | 3 |
| Reels | 5 |
Bonus Wheel Feature
This feature is activated when the Wheel symbol lands on reels 1 and 5, making you win a bonus game. However, if you decide not to take any action, Astro will spin the Wheel for you.
Narcos Slot Machines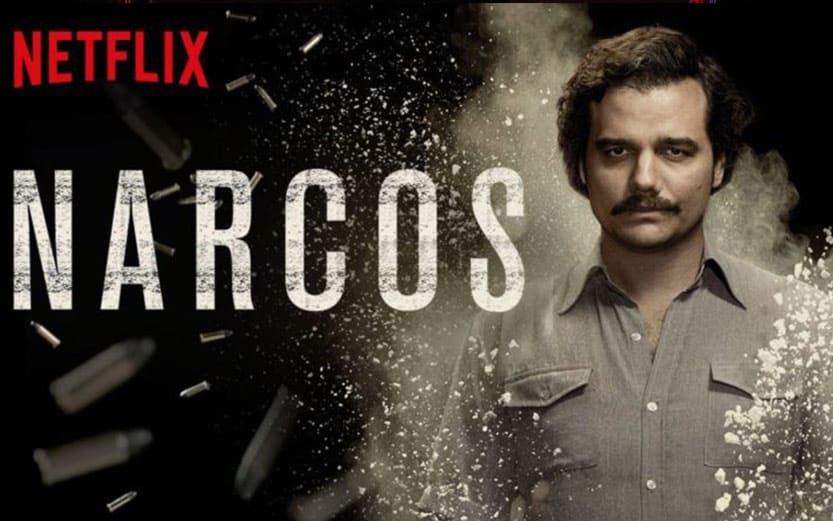 Narcos is a crime drama TV series that introduces the story of influential figures from Colombia. It aired in 2015, ending with 3 seasons in 2017.
Introducing the Narcos Slots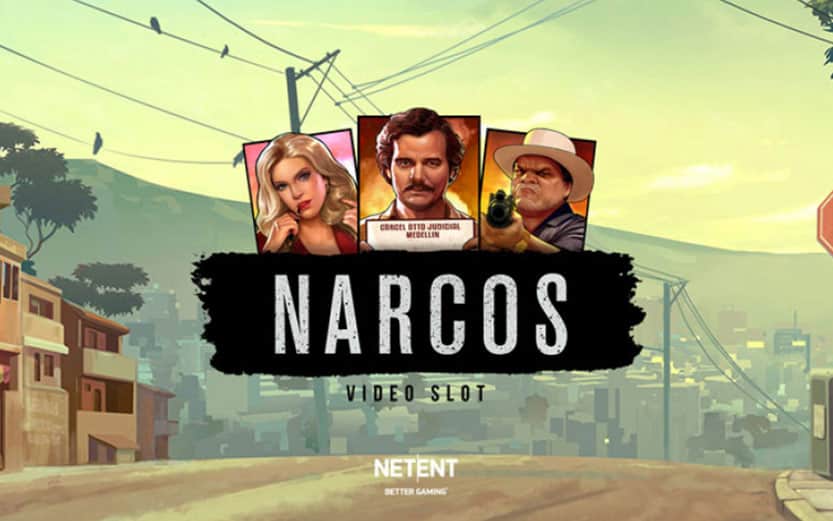 The Narcos slot machine was developed by NetEnt and is available for players on both mobile and desktop.
Walkthrough
The present TV slot provides wins based on the symbols appearing on consecutive reels, providing you with 240+ ways of gaining a prize.
There are 3 types of icons as a Wild Symbol, a Walking Wild, and a Scatter Symbols, all providing you with extra spins.
Narcos Slot Machine
| Feature | Detail |
| --- | --- |
| RTP | 96.23% |
| Paylines | 243 |
| Stakes | C$0.20 – C$400.00 |
| Rows | 3 |
| Reels | 5 |
Vikings Slot Machines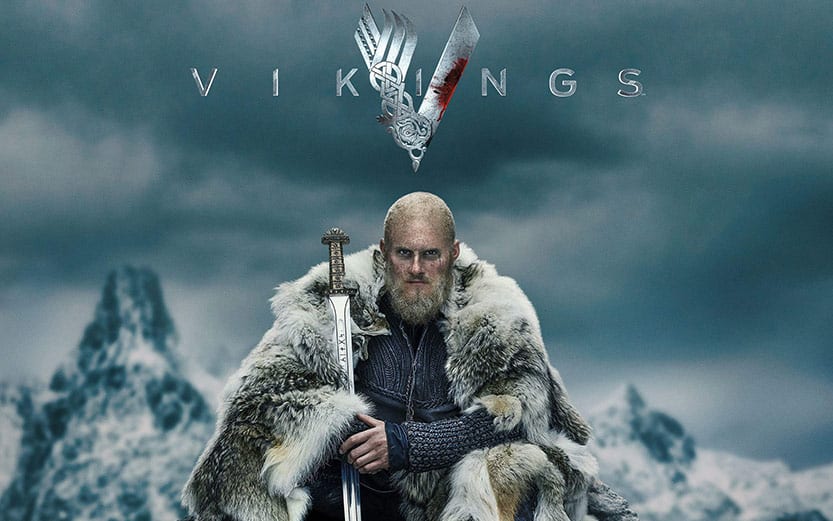 Vikings is a historical-based series that ran for 6 years from 2013 through 2020, presenting the legendary Norse hero, Ragnar Lothbrok.
Introducing the Vikings Slots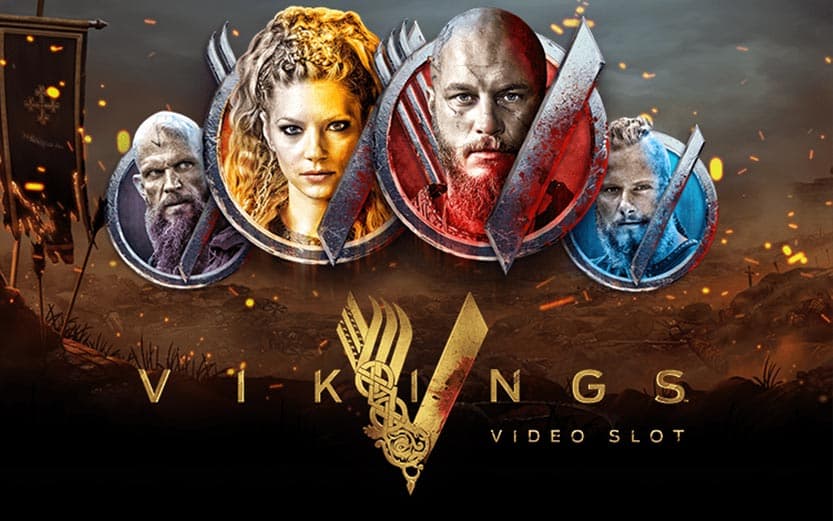 The Vikings slot machine was developed by NetEnt and was launched in 2018, offering high game volatility.
Walkthrough
The highest bet limit is C$100, while the lowest bet limit is C$0.10. Placing bets will make you eligible for the maximum prize of 200,000 coins.
Moreover, when matching 3 or more symbols, you can win 2 or 70 times your bet.
The symbols represent characters such as Floki, Bjorn, Lagertha, or Ragnar. Also, by matching three 'V' symbols, you will activate fixed winnings.
Vikings Slot Machine
| Feature | Detail |
| --- | --- |
| RTP | 96.05% |
| Paylines | 243 |
| Stakes | C$0.10 – C$100 |
| Rows | 3 |
| Reels | 5 |
Spin the Wheel on the Best TV Slot Machines
There are numerous slots on TV to select. However, if you decide to play any of them, ensure it is your favourite TV show and spin the Wheel while encountering your favourite characters.
CasinoBonusCA will be your guide in this growing world of TV show-based online slot sites.