Why Skip Illegal Sports Betting Sites? 13 Illegal Betting Facts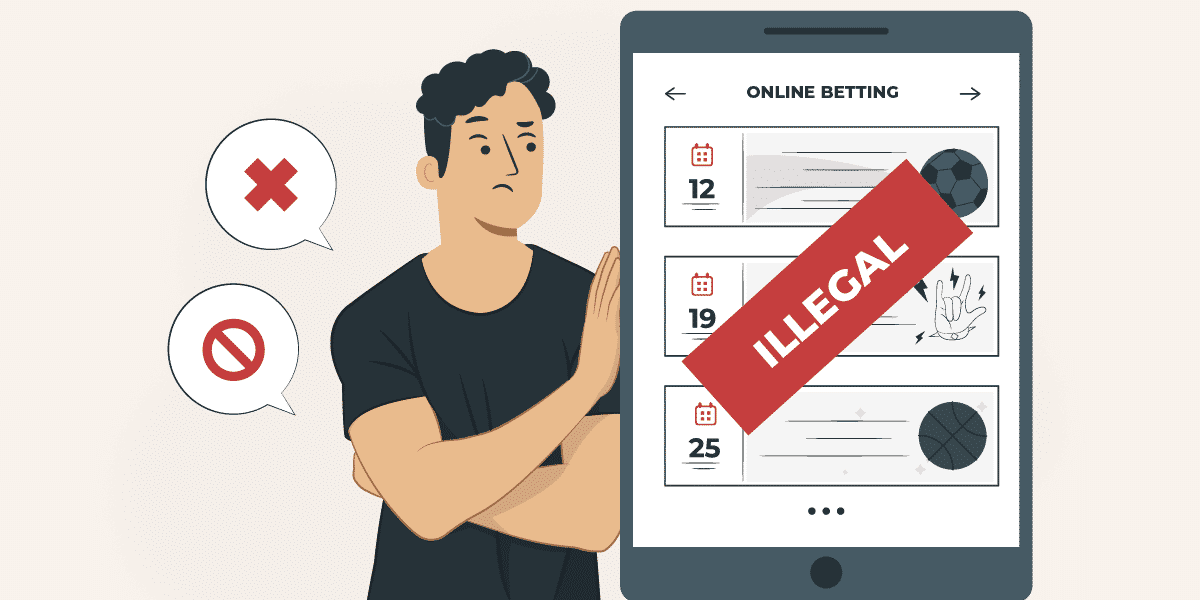 So, you're sports betting enthusiasts, and you wish to use your knowledge and profit off your favourite team. The worst way to go about doing so is via illegal sports betting websites. We'll give you no less than 13 reasons why this is the case:
1. Your Data is Unsafe
You find a way to access an illegal betting service. The next step will be providing some account credentials.
Indeed, these can be as sketchy as basing your entire profile on one email address.
Nonetheless, illegal sites have no requirements for customer data protection. So, don't be surprised when you start receiving endless batches of spam in your inbox, or worse, jeopardize your access to other services following a security breach of the illegal site's database.
In truth, such an event may not even be necessary since:
2. Illegal Sites May Sell Your Data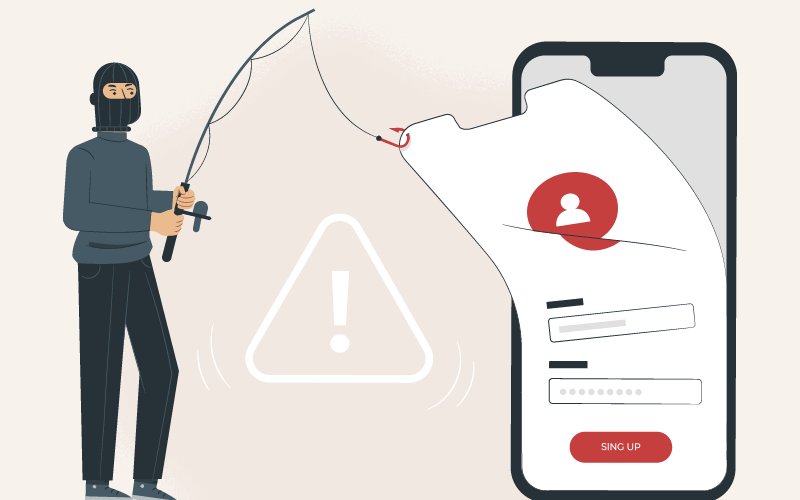 You read it right.
The primary purpose behind unlawful betting sites is to make a quick profit before busting. And the operators won't avert from doing so by all mean necessary, including selling your data to third-party services.
Many questionable online services are fronts for data harvesting, unregulated offshore sites included. So, wagering on sketchy online sportsbooks may tarnish your name and send you down a spiral of digital security breaches.
So, SSL encryption, a requirement for licensed sportsbook companies, simply is not part of the deal for the services in question.
These considerations should be aggravating, even if you do not know what illegal sports betting is.
What Cybersecurity Experts Recommend
Legal sports betting sites function with user data and thus have to abide by data protection acts. These are a part that the licensing process imposed in Canada will verify.
Still, as a rule of thumb, when accessing access an online sportsbook company, check to see, firstly, if the browser indicates an insecure connection. If you can confirm this fact, look for mentions of SSL encryption. This measure is a must for any online service that you register on and is something we check for in our online casino assessments. You indeed won't find any illegal betting site there.
3. You will Not Receive the Attractive Bonuses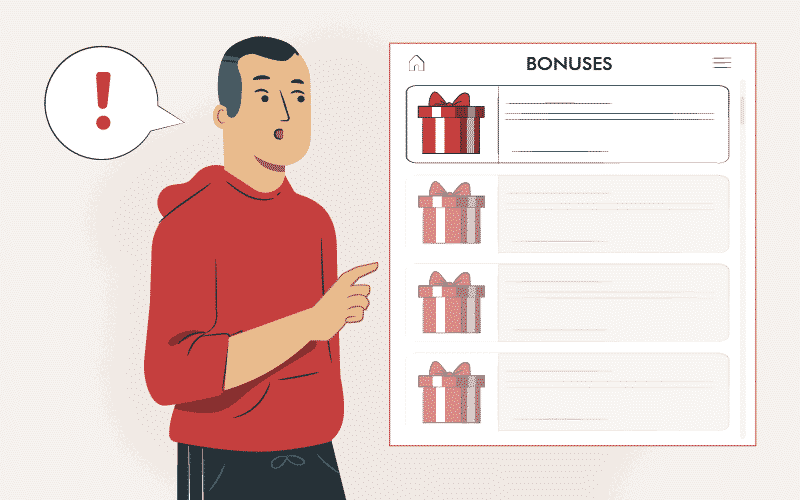 You decide to disregard privacy issues and hop on illegal sports betting sites to claim some generous bonuses.
Unlicensed sportsbooks have no external oversight for their bonus practices. Here are some examples of how they may cheat you out of their stated promotions:
You find the promotional page on a third-party platform. You access the unaccredited betting site, proceed with the claiming process, only to see that you received nothing, less, or you still have to complete some steps to claim the bonus. Illegal betting sites will often prove deceitful in their ads.
Say you find an up to C$100 deposit bonus. You go on the page, deposit to claim, and find out that you received less than stated. Some outlaw sites will fail to communicate essential data, such as the match percentage.
Or you deposit, say via Neteller, which is available, and fail to receive the offer credit. Some promotions will exclude payment options. Legal sportsbooks will state this.
Say you finally receive the bonus and start wagering it, only to suddenly lose your offer funds following a wager. No legal site will fail to communicate the maximum bet amount or eligible games. And if you cannot find any information of this kind, you should wonder about the legality of your chosen site.
In some cases, illegal sports betting sites will forfeit your bonus with no explanation. You will have no method of retrieving it.
Finally, say you wager the received sum and wish to cash out your money. Unlicensed sportsbooks can, in turn, unjustifiably limit your cashable amount or have you jump through hoops to claim your money.
Why is illegal sports betting popular? Due to the bonuses, these sites will advertise. How does illegal sports betting work? By cheating you out of your promotional items and deposited money.
And, in this vein, you should remember that:
4. They Only Provide Questionable Payment Methods
Ok, let's say that you'll use a throwaway email, boot up a VPN, and consider your data to be protected.
What about your funds? You'll need to add money to start placing sports wagers.
Don't be surprised to see only the most disadvantageous payment methods in Canada to be available. You'll risk having unstated fees added to your transactions. Why is this the case? These sites have a hard time striking deals with decently run financial services, so they'll opt for what remains.
Important: One red flag is the addition of cryptocurrencies for transactions. These decentralized and unregulated currencies are highly volatile, so your balance will greatly fluctuate, even risking becoming nigh-valueless.
5. Your Funds are Unprotected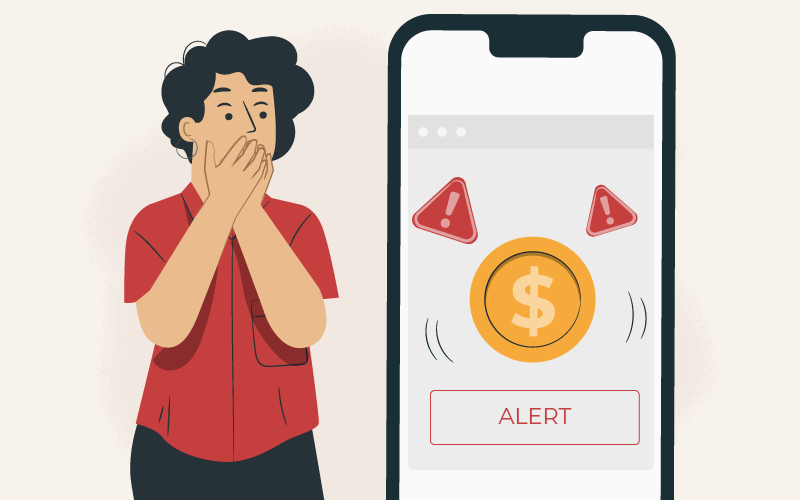 You assumed the risk of adding funds to the illegal site. You paid the fees.
Your funds aren't clear from dangers.
License-regulated betting sites have the obligation of separating user funds from company capital. The reasoning behind the approach is simple:
If the company goes insolvent, you, as a user, still want to receive your balances back. Now, with fair and legitimate betting sites, insolvency and unjustified loss of funds hardly show on the horizon.
This isn't the case for quickly contrived, carbon-copy illegal sites, for which failing is not just a possibility but the expected eventual outcome.
Don't risk flushing your funds down the drain once the illegal betting site is taken down.
Tips: Top gambling licensors working in Canada, mainly the MGA and the UKGC, perform financial plan viability checks before a gambling site goes live. Simply put, regulators make sure that the online casinos under their tutelage showcase the lowest risk of insolvency possible.
How to Make Sure Your Funds are Safe
This also boils down to licensing. Granted, some gambling sites functioning in Canada will outright state in their terms that they separate company capital from users' balances. Still, top licensors, like the UKGC or MGA, also rank an operator's customer funds protection levels.
Licensed services must then specify the rank level awarded by these regulators.
Nevertheless, it's not only that you are funding an illegal website and risk losing money. It gets worse.
6. Many Illegal Betting Sites Run on Organised Crime Money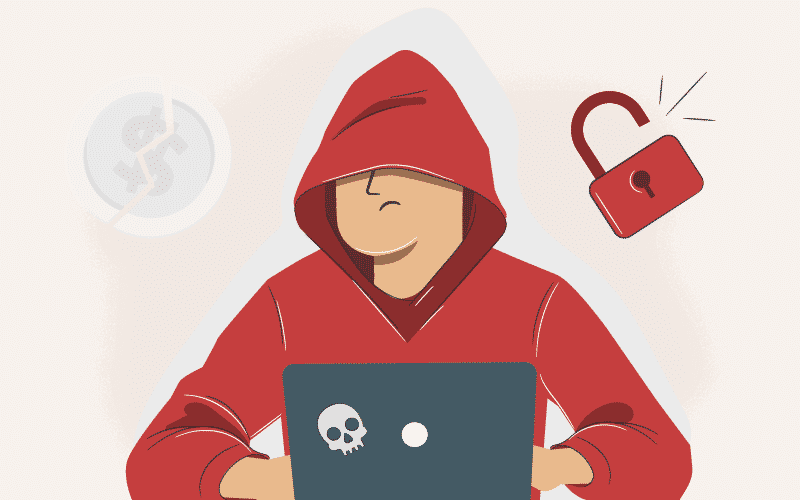 Back in the days of close to no gambling regulation in place, gambling became not only one business run by criminal organizations but their main method of laundering funds.
Offshore sportsbooks became a favourite for this purpose, as illegal betting sites were a quick and easy way of anonymously transferring funds across borders via tax havens.
Surely, when we say illegal gambling, you imagine gangsters organizing poker games in seedy backrooms and motels. But the mob, too, went online.
Legislators became aware of how many criminal and terrorist organizations started exploiting gambling sites' lax digital security measures to launder untraceable funds. Consequently, they imposed several AML procedures to combat it.
Procedures that illegal sportsbooks have no reason to adhere to.
7. Illegal Sports Betting Sites have Poor Practices
You somehow brush off all previous objections. All you wish to do is place your bet on a game and claim your win.
Don't be surprised to see that there are disappointingly few online betting options, the odds are poor, poorly stated, or disregarded in the end.
Let's take them one at a time:
Illegal services have Poor Odds, Payout, and Return Percentage: In many jurisdictions, illegal sports betting sites are the only option for gamblers. The lack of competition, combined with inadherence to sports betting regulations, are the ingredients for providing a bad deal. It may not seem obvious to an unkeen eye since:
Illegitimate Online Betting Sites Communicate Their Betting Practices Badly: Such services are hastily done, and you should show no surprise when you see or fail to do so, the bad staking practices. And even if you do figure them out, remember that…
Illegal Sports Betting Sites have no Obligation to Respect Payouts: They won't be hit with charges, and if they lose one customer, ten more will be waiting to join. There are backhanded ways of withholding your stake and payout, such as bad payout limits or times and excessive requirements.
Thus, remember that a poor, haphazardly put-together platform with quick-profit or worse criminal objectives is what is illegal betting.
And there are reasons why illegal sports betting sites can act this way:
8. Illegal Sportsbooks have Unassessed Terms & Conditions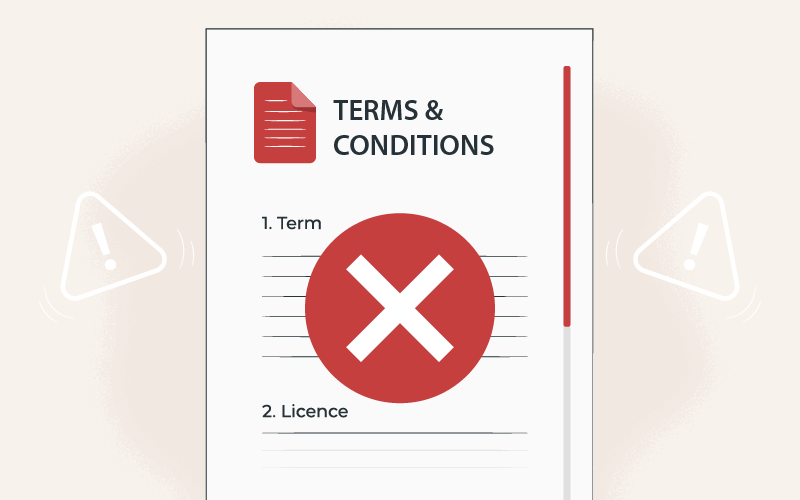 Several such services will actively try to hide their internal regulations by all means. And no wonder. Whatever terms and conditions they do state and uphold will sound disadvantageous even to a rookie.
Be Aware: Our legal experts consider unmotivated account forfeitures, the confiscation of available balances, or nonfungible inactivity fees to be some of the most frequent questionable practices illegal sportsbooks engage in.
Legislators will always scrutinize an online gambling website's terms and conditions before going only and while holding their licenses.
Make Sure to Read Our Reviews
Our specialized iGaming reviewers have an intricate process of service assessment and grading. Perhaps the most important part of a site review is the full analysis of its terms and conditions, as well as how both the operator and overseer guarantee their upholding.
But you may ask yourself, are only completely unlicensed sportsbooks to be considered illegal?
Here, the issue gets complicated:
9. Grey and Black-Market Sportsbooks
We have to clarify better what is illegal sports betting. Black-market sports betting sites hold no licenses for any jurisdiction. They most often function as shell companies or fronts for shady business. These, in turn, are most susceptible to takedowns and the hardest to access.
But there is a grey area of illegitimate sportsbooks that do hold some accreditation, but this either is untrustworthy or does not apply in the Canadian province you reside in.
Curacao licenses are such an example. The accreditation can be awarded by a slew of companies functioning in the tax haven and has very lax requirements.
While not entirely illegal, Curacao licensed sportsbooks have several practices our Canadian legal experts consider unfair.
What are the risks of accessing such websites?
10. You Have No Legal Protection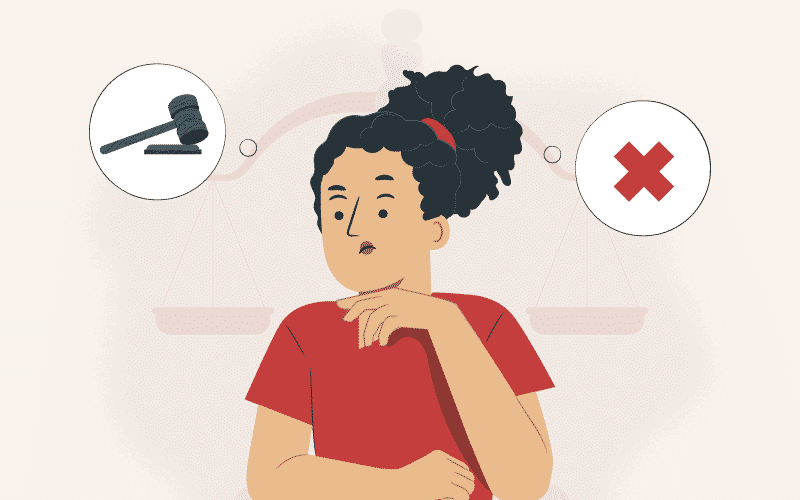 Say you do make the ill-advised decision of betting on illegal sites or services holding licenses unrecognized by your local jurisdiction.
If the illegal sportsbook operator mistreats you, you do not have gambling-specific regulatory body to appeal to.
And you may try to commence legal proceedings, but given that the service is not recognized in your province, you have little to build your case on.
In the case of legitimate betting sites, customers have the licensor on their side and a slew of respected alternate dispute resolution agencies that will step in and correct any operator's decision.
Important: If you access such sites via mirrors or by using a VPN, you have no way of attack, as such practices go against the rules of online sports betting in Canada.
Just because there is a way to access illegal sports betting sites, this does not mean that it's safe or advised. Plus, issues will arise even before being directly wronged:
11. Illegitimate Sportsbooks Do Not Uphold Safe Gambling
This is one more sad entry among the illegal sports betting facts we come upon.
Unlicensed online sportsbook operators do not provide any protection for their users in Canada.
Features such as deposit limits, reality checks, time-outs, or self-exclusion systems are essential tools to staying in control. Still, they are not to be found on illegal sports betting sites.
When you ask yourself how illegal sports betting work, safely and responsibly are not the first answers to come to mind. And you are justified in thinking so. These effectively reduce a gambling service's net profits by protecting any problem sports bettor.
12. It Hurts the Canadian Betting Industry as a Whole
You may not be a problem gambler, but playing on illegal sportsbooks will prove detrimental to the betting industry in Canada in the long run.
Not only will it consolidate illegal betting's place in the Canadian gambling milieu, but the popularity of unlawful activity will incite a response from authorities.
We may remember how the fear of game-fixing, as well as a few actual confirmed cases, led Canadian legislators to outlaw single sports bets, essentially crippling the national legal sports betting scene.
13. You are Breaking the Law and Can Face Charges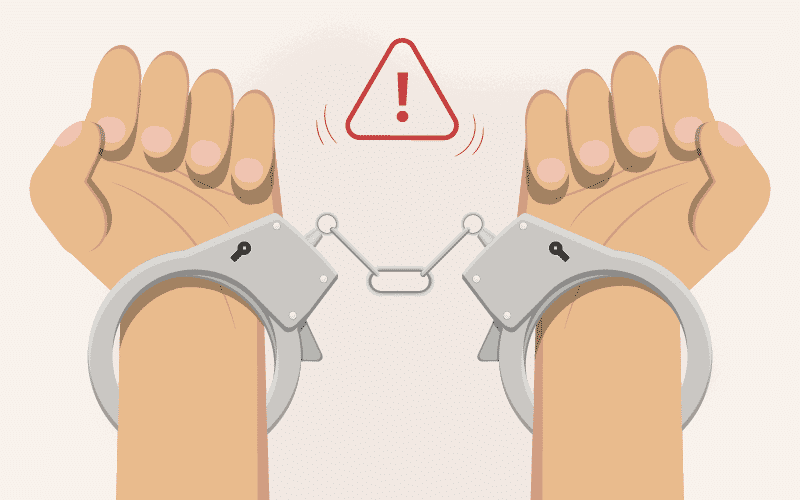 You can read it again. It is true.
These illegal sports betting facts should come as no surprise to anyone and is another entry from our illegal sports betting facts you should keep in mind.
We did address how you do not have any legal protection in a conflict with the services, but these may drag you into legal troubles. Thus, playing on an unlicensed sportsbook can attract illegal sports betting charges.
These really are no joke. We do mean it. The maximum punishment for illegal sports betting goes up to two years in jail.
Is Sports Betting Legal in Canada?
Yes. And it is only getting better and safer.
In the past, the Canadian government did prohibit single bets. This prohibition effectively answered the question of "why are illegal sports betting popular in Canada?"
Things did change recently with the passing of Bill C-218 on the 23rd of July 2021. This was the resolution of a six-year process that ended with the legalization of single-game betting.
So, the new answer to "is sports betting legal in Canada?" is a resounding yes.
And given that now you also know what illegal betting is and how does illegal sports betting works, there is no real reason to indulge in it.
And, as always, the best way to proceed on today's iGaming market, and to tell the legal from the less so apart, is knowing your rights as a customer and gambler. Here, again, our legal experts will go through the entire body of protective measures imposed by Canadian authorities.
References: