The Rights and Obligations of Canadian Gamblers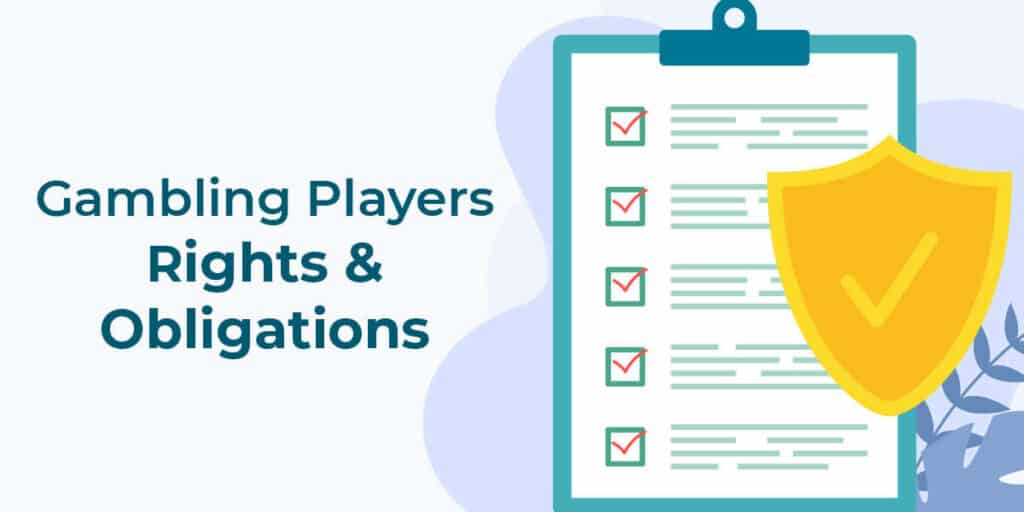 CasinoBonusCA created a legal guide regarding your rights and obligations as a gambler. It is essential to know what you merit in the case of online casino gambling.
Alternatively, it is just as vital to understand what things you have to respect to be on the safe side of legality. You can rely on this informational page, and rest assured that it is based on research and multi-year experience.
Gambler's rights
Under Canadian law, customers have certain rights on their side. These are applied to online gambling too. There are nine things you are entitled to as a player.
This section takes each one of them one by one and straightforwardly explains them. Hopefully, after reading it, you will know more about what you can do in online casino betting.
1. Access a variety of legal gambling activities
All the in-person gambling activities available to you have to be regulated by the province authorities. The standard options are:
Bingo raffles;

Ticket lotteries;

Video lottery machines;

Physical slot machines.
As an adult gambler, you have the right to access all these options, as long as they are operated legally.
2. Access offshore online casinos
Since the majority of online casinos are registered in offshore countries like Gibraltar, Isle of Man, Malta, etc., Canadians may use their services, as long the platforms are licensed by well-known authorities such as the Malta Gaming Authority, The United Kingdom Gambling Commission or any of the Scandinavian counterparts.
Tips: Using our site, you can skip the step of looking for a casino, as we have scouted for the safest casino available to Canadians.
3. Fund your online casino play with bank cards
Of course, remote gambling entails remote payments. It translates into making payments using your debit or credit cards. You are legally allowed to proceed as such, as long as your banks allow it.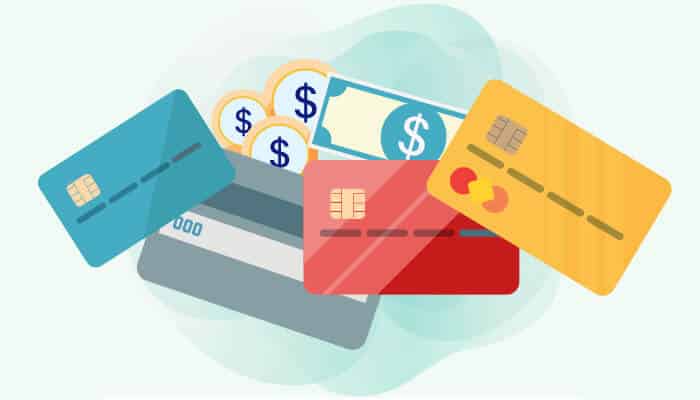 What banks can you choose?
CasinoBonusCa has looked into payment methods extensively over the years. As a result, we came up with a top that includes four well-established banks that are online wagering friendly.
The Royal Bank Canada

RBC, for short, allows you to fund your gaming account. You can count on them and their first-class services, opened in 50 countries with over 16 million active customers. As their site states, Canadians may use their accounts for homeland and offshore gaming.

The Canadian Imperial Bank of Commerce

It is the second option that you can use, similarly well-ranked and safe. CIBC operates in North America, Europe, Asia, and South America. At the moment we were writing this, they had over 11 million customers worldwide.

TD Bank

You have probably heard of them since they are one of Canada's most popular commercial banks. Summing over 10 million customers, they are among the institutions that allow you to make deposits on online casinos.

Bank of Montreal
This old-time option dates back to the years after The War of 1812. They allow various payments done using their services, including online wagering. You can join over 7 million customers that they already have.  
Be aware: United States-based banks will be very prudent with payments towards online casinos for fear of fueling illegal gambling. Thus, if you're one of their clients, they might block you from funding your account.
4. Keep your funds protected
There are two main sides to this situation. Firstly, you should be allowed to cash out the money you have put in unless you are engaged in a bonus wager.
Why do casino bonuses change the status of your funds?
When you have your money engaged in a casino bonus, that means you have already agreed to some terms and conditions. Most often than not, they shall state that once active, they can't be taken out. Or they can be taken out, but the bonus will then become invalidated.
The other side of the issue relates to what happens if the casino becomes bankrupt. If the terms of use are written in a fair manner, you should be able to recuperate your funds, partially or totally.
5. Keep your data private
All online casinos should handle your data with care and not share it with badly intended third parties. Moreover, you need to have informed consent over how they handle your information, usually given to you when you sign up.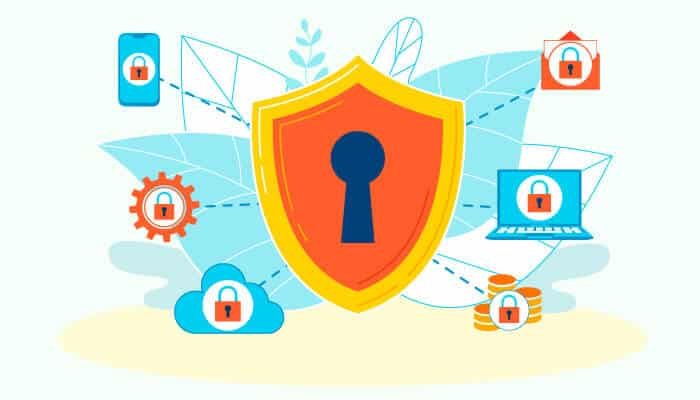 What is the legal context behind it?
All commercial businesses that need personal data for their customers have to follow the statements of PIPEDA. The Personal Information Protection and Electronic Documents Act adopted by the Parliament in 2000 dictates personal data's fair handling.
It includes ten principles, and to summarize the essential points from them; data has to:
Be collected with your consent;

Be collected for fair purposes;

Be stored and used within equitable limits.
Tips: If you believe a casino has not handled your data correctly, you can make an internal complaint or go even further to the Office of the Privacy Commissioner of Canada, the bureau that handles data issues.
Recommendation: Pick casinos that are transparent with their data-related purposes and practices, as it shows their openness to their users.
6. Keep your online traces private
All Canadian people who use the Internet are supposed to be protected under The Anti-Spam Law (CASL), including online gambling. This covers the privacy of your traces and respects your desire to refuse spam emails, spam programs and other threats.
How does a typical scenario play out?
You have to consent to any promotional material sent to you expressly. You also have to agree to specifically install secondary software related to the casino. The law also covers the safety of cookies and digital history.
As we have seen, most casinos will present their Cookie Policy. You have to agree separately from the principal terms of use.
Recommendation: Pick a casino that has constructed its Privacy Policies after the EU GDPR, as those are the safest and many non-EU countries follow their directives.
7. Access fair terms and conditions
The terms and conditions of the website are the digital equivalents of a contract that you agree to when you click the "Agree" button. You, as a gambler, have the right to be offered a space with fair rules.
Thus, the decisions made there cannot affect you negatively.
What should the terms exclude?
Most importantly, a casino cannot take the terminal decision like account suspensions or cancelling of promotions you qualify for without a clear explanation.
These situations represent a refusal of service, and thus, they have to explain.
Be aware: Changes in the terms and conditions brought while you are already a member have to be communicated to your clearly, before or at the date they start taking effect.
8. Play fair-coded games
A typical casino gamer should be granted access to games that are not rigged to ensure fair outcomes based on chance only. On the same idea, the virtual game you are playing has to have the same odds as its offline counterpart.
What solutions do casinos employ to respect this rule?
As we have noticed in our constant casino research, most casinos have random-generating software that creates millions of combinations for each round or hand played.
How can you be sure that your online casino respects this right?
You don't have to worry much about this issue since licensing authorities prioritize checking game fairness. If you see that the casino has a license from the top authorities, you can rest assured that their games are not rigged.
9. Receive transparent information from the casino
Any casino that you choose to play on must be truthful about their products.
Like any other business, they have to state the things they use and offer as they are, without hiding or altering the facts.
The main things that they have to respect are:
Not lying about their licensing;

Not lying about the quality of their products;

Actually delivering the services, they have offered to you.
Gambler's obligations
From a different perspective, a Canadian gambler has certain obligations to follow, both to the casino business he is the client of and Canada's state. There are six main issues you are obliged to follow.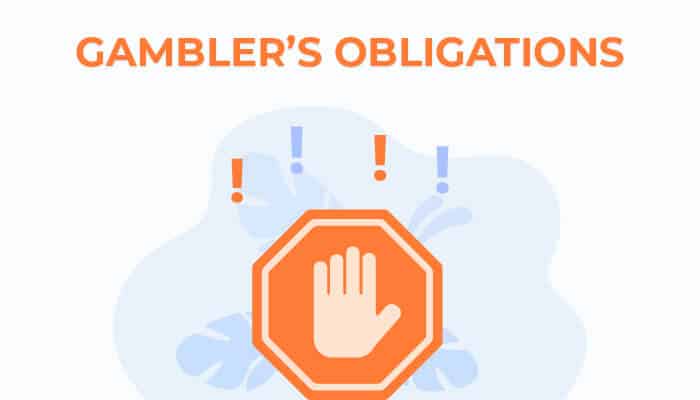 This section focuses primarily on these issues, along with some advice for each obligation to make things easier. We strongly advise you to take the things below seriously and never let gambling get in the way of a responsible life.
1. You must legally be an adult to gamble
Underage gambling is an offence that is punishable with fines that can go up to C$1000 and other consequences such as suspension of the driver's license or prison time in rare and severe cases.
If you want to know at what age you can gamble, remember, the casino gambling age is the same as the drinking age.
What's the age by province?
In the three provinces, namely Manitoba, Quebec and Alberta, the minimum age required is 18. In the rest of the country, all players have to be 19 or older to gamble, in-person or remotely.
Important: You cannot enter a casino while underage, even if the establishment is part of a hotel or cultural center.
2. Pay taxes on derived interest
Luckily, Canadian gamblers do not have to pay taxes on their gambling wins. Yes, there is a 0% tax on gambling wins. However, if the sum won stays in a bank account and ends up deriving interest, that is taxed.
How should you proceed in such cases?
There is a specific tax form that needs to be filled in during tax season. The name is explicitly T5, and there you write in all sums that derive interest.
3. Report your wins (for pro players)
What we tackled up until this point relates to amateur gamblers. But this is the time when we give advice to professional gamblers.
Suppose a person derives most of their income from gambling events and competitions, both online and offline. In that case, they have to complete specific steps.
Just like an employer would file the papers for their employees' income, the same has to go for professional gamblers. All their income has to be reported so that it can be qualified as safe.
How can you be sure you're doing it right?
If you are unsure how to proceed with your paperwork or are unsure if you qualify as a professional player, you should reach out to authorities. Our advice is to visit the official governmental site and reach out to the authorities for guidance.
4. Do not host illegal betting houses
You are not allowed to organize a place where bets and wagers are made on casino games unless you go through all the procedures of starting up a business. According to the Canadian Criminal Code, not following this rule comes with the risk of imprisonment up to a full two years.
Interesting fact: Every Canadian province has a legal framework to license local online gambling sites; we have not seen a precedent so far.
5. Do not host betting and bookmaking events
Bookmaking and trying to profit from private bets are offences against the Canadian Criminal Code regulations. But since consulting legal documents by yourself is a hassle, we resume it here.
So, please refrain from doing any of the following:
Use a place you own to register bets;

Use or borrow gaming machinery without a license;

Record non-regulated simple bets or pool bets;

Give tips for illegal sports betting for other people;

Advertise illegal betting opportunities.
Be aware
All of the offences defined and qualified in the 202 section of the Code are punishable by prison time. Similarly, aiding someone in committing the crimes is also illegal.
The punishments for breaking this law, once or on multiple occasions, will be between a few days in prison and up to a maximum of two years.
6. Do not make a bet on behalf of another person
You cannot make any gambling moves on behalf of another individual. Most importantly, you cannot make money decisions with someone else's funds. This is true for both handling cash and using someone else's credit/debit cards or e-wallet.
Be aware: Do not impersonate another person when you create a casino account. You will, at some point, be asked to prove your identity by sending papers.
According to section 403 of the Canadian Criminal Code, identity fraud or identity theft (they have separate definitions) is punishable with ten years in prison. This goes for online and offline cases too.
Regulatory bodies and history
Now that you know the specific details about your rights and obligations, we can integrate the issues into a bigger context. Thus, this section will give a quick overview of two things:
The history of gambling on the territory of Canada;

The gambling regulatory bodies of Canada.
A short history of the matter
Before the turn of the 20th century, the only gambling activities that were allowed were used for charity events and raising money for communities. In 1910, one of the first amendments to the Gambling Act allowed a few types of sports bets, mainly horse racing.
Interesting fact: The first type of bet accepted on the racetrack was pari-mutuel; it is a type of pool betting. Before the winners are paid, The House deducts a tax.
In the 60s, the gambling responsibility was moved from the Federal side to the local side. With this change, all provinces were allowed to make their own decisions.
Interesting fact: The first brick-and-mortar Canadian casino was built in Winnipeg and opened in 1989.
What is the authority in charge?
The Canadian Gaming Association (shortened to CGA) is the body, part of Canada's Government, that is in charge of the national casino industry.
One of their main goals is to educate and promote the economic advantages of online and offline gambling. Thus, their products mainly regard these three points:
Domain research;

Finding innovative solutions;

Updating the best practice codes.
What are they doing?
Some of the Association work's most well-known results are Canadian Gaming Business magazine and the Canadian Gaming Summit.
Final remarks
We have reached our legal guide for online Canadian gamblers. We hope that you feel more comfortable placing bets online, knowing the rules and options. We also hope that our pro player advice made smart gambling easier to grasp.
Always gamble responsibly!
Consulted sources: