How much you lose in casinos with forex spreads: A case study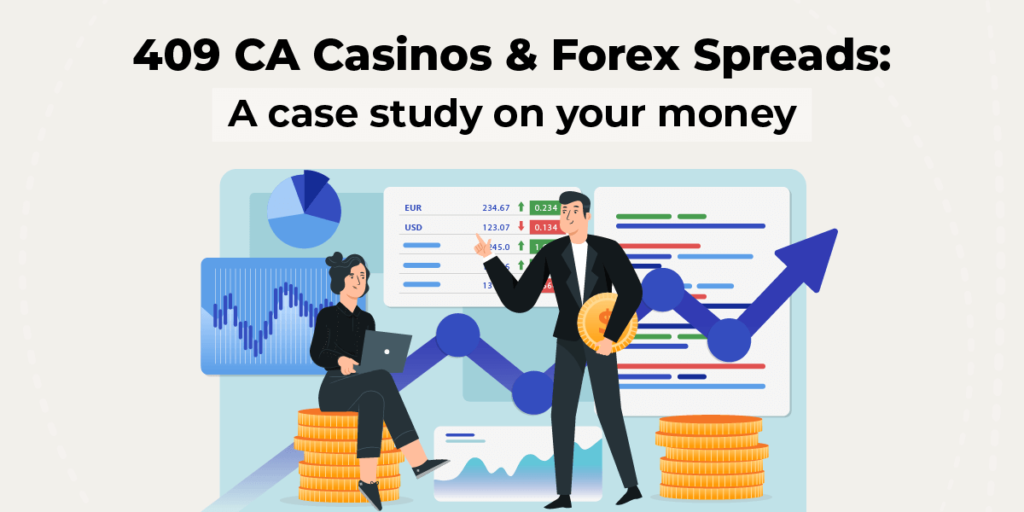 We are iGaming experts and connoisseurs of the forex exchanges rates. We understand that the online gambling industry lacks transparency, especially when it comes to making transactions and conversions.
For this purpose, we have created this definitive study that underlines various aspects of the Canadian gambling industry, data accumulated based on our extensive experience in this domain, all in relation to Forex. We believe that to make an informed financial decision, the customer needs to know every aspect that plays in the background and which can influence his final gambling activities.
The relationship between Forex and the Gambling Industry
The first question we must answer is:  What is the relationship between the two?
As you already know, Forex stands for foreign exchange, a global marketplace for trading international currencies and their derivatives. The relation between this marketplace and the gambling industry comes forward when a customer wants to make a transaction on a Canadian online casino that doesn't provide CAD as its' currency.
In simple terms, you will make a transaction with Forex pairs such as CAD- EUR (suppose that the online casino sets EUR as currency by default). Therefore, a conversion will take place. When such an action is made, inevitable differences between the bid and ask priced will appear, a difference which is named spread.
You might ask: How many players do access online casinos that don't allow CAD transactions?
We've extracted the answer from our database: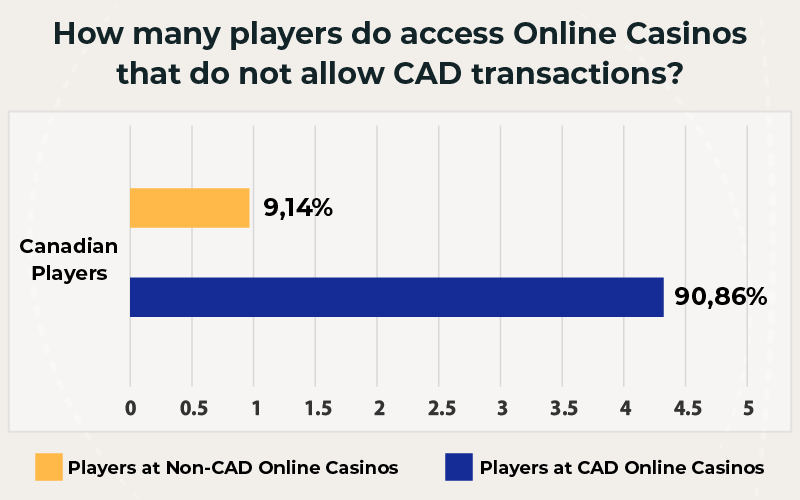 9,14% of players from the Canadian gambling industry might be a low number, compared to 90,86% of CAD casino users. However, we cannot ignore this percentage.
To come with an easy-to-understand answer to the most complicated questions for the 9,14% users, our gambling experts have analyzed 409 iGaming sites, which covers approximately 80% of the Canadian gambling market. It must be noted that only casino operators that work with respect to at least one licence-granting authority have been selected.
Recommendation: On CasinoBonusCa there are 84% of online casinos that do permit CAD transaction. We urge our customers to check them thoroughly and select the one where your money won't meet losses.
The Forex pairs CAD- EUR or CAD- USD are the most common ones. After a thorough investigations our specialists have concluded that approximately 66% of online casinos that don't have CAD as a currency, will have set by default either EUR or USD currencies.
The matter has been further researched and the following data's have been extracted: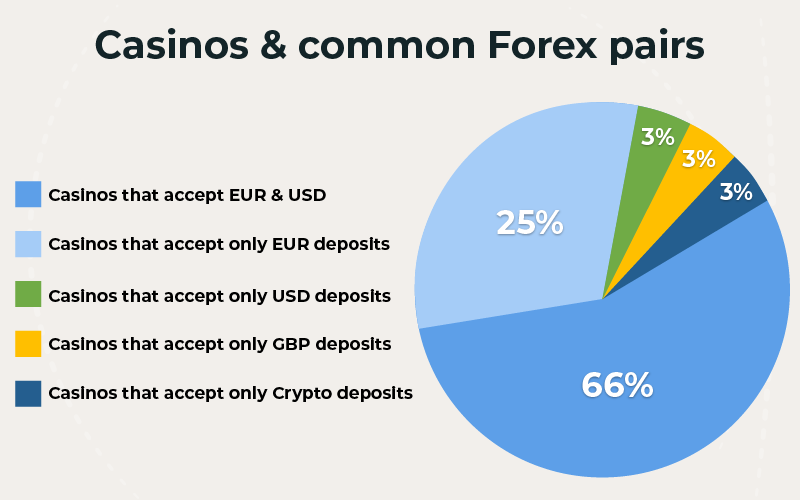 Based on the study we've realized we've discovered that from the operators who don't permit CAD deposits, 66% of them allow the CAD-EUR and CAD-USD forex pairs.
As exemplified in the chart from those 66% of online casinos the usual pair encountered by Canadians is the pair EUR-CAD as 25% of such casinos permit only EUR transactions. The following pairs and more exactly the CAD-USD, CAD- GBP, and CAD- Crypto (such as Bitcoin, Ethereum, Tether, etc) are confronted as much as 3%. For the last forex pairs mentioned, the same condition as the one from the CAD-EUR pair applies which is that only deposits in the mentioned pairs are allowed.  
Our primary objective with this study is to shed light on how many online casinos focusing on the Canadian market provide CAD as currency, how can a gambling licence influence this aspect, and the average spread on payment methods found standard on such sites. Our purpose is to inform the Canadian customers of the rates that can influence their transactions, suppose that an operator does not allow CAD payments to be made.
European Gambling licences influences
From the 80% analyzed casino operators, our experts have discovered that 35.21% have received a Curacao licence and 31,05% work under the legislation of the Malta Gaming Authority.
To understand clearly the difference between them, we must first answer the following question:
What is the difference between Curacao licensed casinos and Malta Gaming Authority licensed casinos?
Casino operators usually opt for a Curacao license since it is more accessible. Therefore, easier to obtain by not imposing too many rules. However, as experts in the iGaming domain and with vast experience backing us up, we must point out that casinos with only such a licence do not add to its trust.
It is indeed efficient and is usually ideal for startup casino operators, but we don't recommend such platforms. Suppose you do want to access such casino operators. In such a case, we advise each individual to check the licence's validity. If the licence is not valid anymore, you should avoid it at all costs.
Compared with Curacao, a Malta Gaming Authority licensed casino operator must undergo extensive strict audits and meet precise regulations. Malta Gaming Authority, or in short MGA, is a pillar in the gambling niche. Therefore, we advise each Canadian individual to start their gambling activities on platforms with such a licence available.
So, from the total of analyzed iGaming websites, 16,38% of them don't accept CAD. From this amount, 91% usually have EUR set as default.
Let's consider this research and the fact the most come with either a Curacao and MGA licence. We can say that the majority of off-shore online casinos operate in advantageous fiscal jurisdictions from either the European Union, such as Maltese or with strong European influences, and we refer to Curacao.  
We've further investigated the matter by separating the MGA and Curacao operators and checking how many do not provide CAD transactions.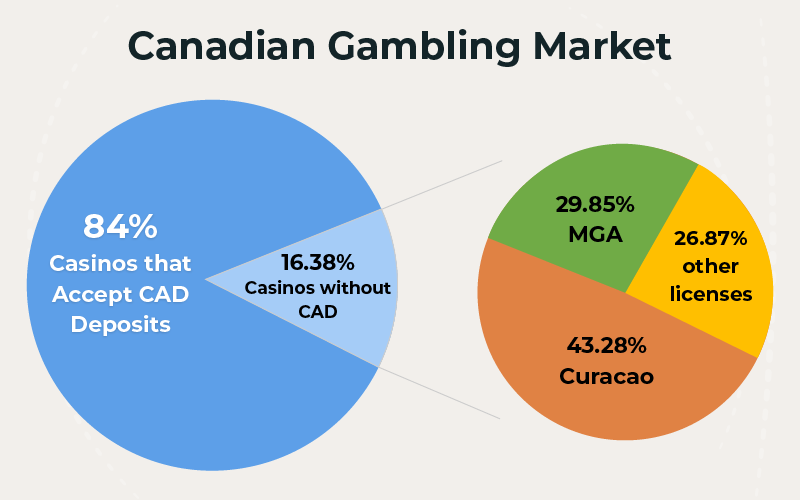 Let's split the 84% casinos that do accept CAD deposits based on their licence:
| Percentage | Licence |
| --- | --- |
| 34,11% | Curacao |
| 33,24% | MGA & UKGC |
| 23,62% | Only MGA |
| 6,12% | Only UKGC |
| 2,91% | Other licences such as Gibraltar, Kahnawake |
Now, that you know the type of licence-granting authority is usually find on CAD casinos, we've further investigated these platforms to see if they allow payment methods ideal for Canadian players. Founded on the research the following data has been extracted.
As previously mentioned, approximately 91% of casino operators do not accept CAD transactions and instead permit EUR. Therefore, a customer with a bank account in CAD will have to make a forex transaction when depositing. The CAD amount must be sold for EUR.
This situation is frequently encountered in the Canadian gambling market as most operators come from the European jurisdiction.  
Tips: 15% of CA casinos with MGA licence do not permit CAD transactions, compared to 20% of operators that come with a Curacao licence. Your chances are higher and your money safer if you join an MGA casino.
In such circumstances, the following question arises:
What to do in case you cannot access an online casino with CAD?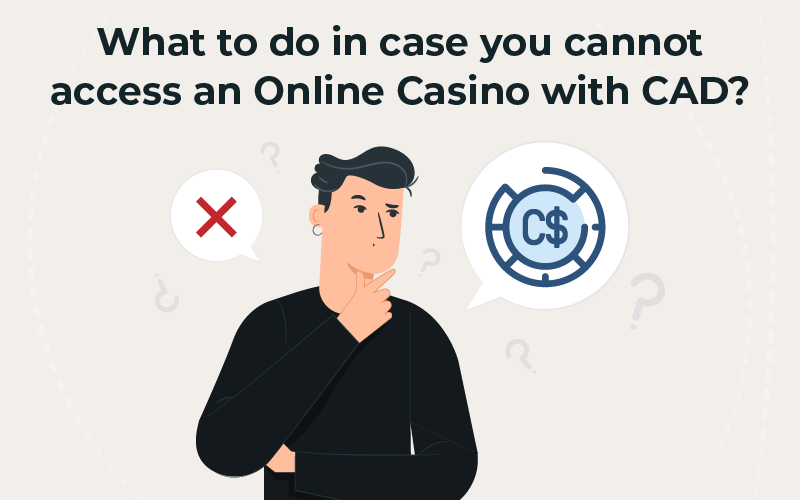 Ideally, we recommend making payments only on such platforms. But we understand that the reality is different. Our team of specialists has prepared this study in order to come with reasonable solutions and offer transparent data about the actual events so that Canadians can make an informed financial decision.
The real solution to such circumstances is to verify the rate established by the bank or payment method you have an account with. Unfortunately, this is frequent in the Canadian gambling industry as 91% of online casinos do not accept it.
Another option is to have an account created with the imposed Forex, such as EUR in our case.
For a better understanding of each solution given by our specialists, we shall explain them separately.
1.     Verify the forex rate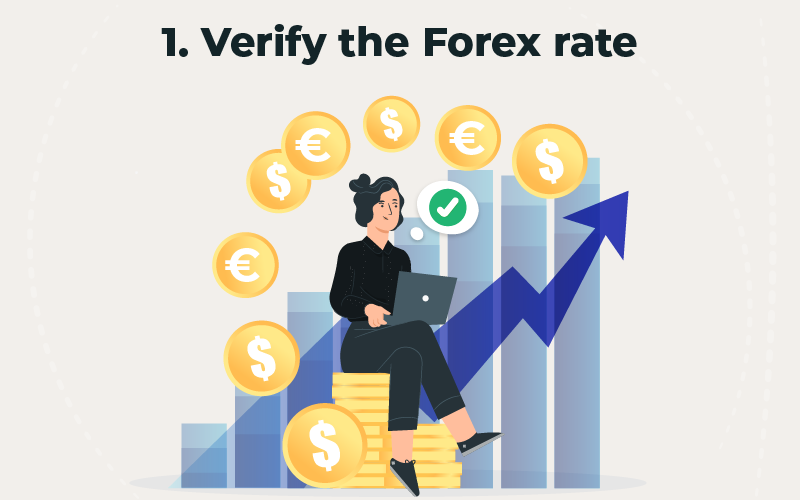 When you want to convert from CAD to EUR, a spread on currency pairs will appear. This will vary widely as it can usually fluctuate on the amount of currency traded.
Let's take into consideration the following table:
| Date | CAD/EUR= Price |
| --- | --- |
| May 31st 2021 | 0.6788 |
| April 1st 2021 | 0.6786 |
| February 1st 2021 | 0.6443 |
| October 1st 2020 | 0.6409 |
| August 1st 2020 | 0.6328 |
| June 1st 2020 | 0.6529 |
As it can be seen in the above table, approximately each month the market is fluctuating. Note that the table was realized with the open price presented at the moment of writing.
Be aware: Because the forex market fluctuates on a regular basic, it can influence your money and balance account
As the spread is not calculated by the casino operators but by banks, we've selected the most used banking options used by Canadian players at online casinos.
The methods are:
Skrill Moneybookers;

Neteller;

EcoPayz;

Canadian Banks;

Card Payments (such as Visa & Mastercards);

Interac;

Transferwise.
To come with a clear image of which payment method is theoretically most beneficial, we've done a research from which we've extracted the following data's:
| Payment Method | Approximately Spread |
| --- | --- |
| Skrill Moneybookers | 4% |
| Neteller | 4% |
| EcoPayz | 3% |
| Canadian Banks | 3~5% |
| Card Payments | 3~5% |
| Interac | 3~5% |
| Transferwise | 0.5% |
The percentage provided applies to each deposit and each withdrawal you will make. Therefore, if you choose Skrill Moneybookers as a method, you must consider that you will lose approximately 4% of the total amount you either deposit or cash out.
We have the following situation:
We shall exemplify this 4% spread using a simple situation with a standard deposit of €100 using the exchange rate of C$148.06 represented by the amount presented at the moment of writing the study.
Therefore, to make a deposit from your bank account, C$153,98 will be debited; suppose that the spread is indeed 4%. Basically, you will lose a sum of C$5,92 when making the payment.
Now, suppose you want to make a withdrawal from the online casino. The same 4% spread will apply.
For this scenario, we shall use the same amount of €100. You shall receive the amount of C$142,12. This translates with a loss equivalent to €4.
We've given an example using a small amount of money, and the spread of 4% is not high. However, be aware that when making transactions with higher amounts, the losses will be significant. Hence, influencing your gameplay.
Tips: Transferwise is the ideal method when making deposits or withdrawals as the spread is only 0.5%. Therefore, the losses on your money will not be as significant compared to a spread of 4% from using Skrillmoneybookers or Neteller.
Be aware:  If 9,14% of player lose on average 3,5% per transaction due to the forex spread, then in the casino market approximately 0,31% of the transaction value is lost on forex spreads. The calculation realizes by our gambling experts does not include the fluctuating prices.
2.     Open a Bank account directly with the currency EUR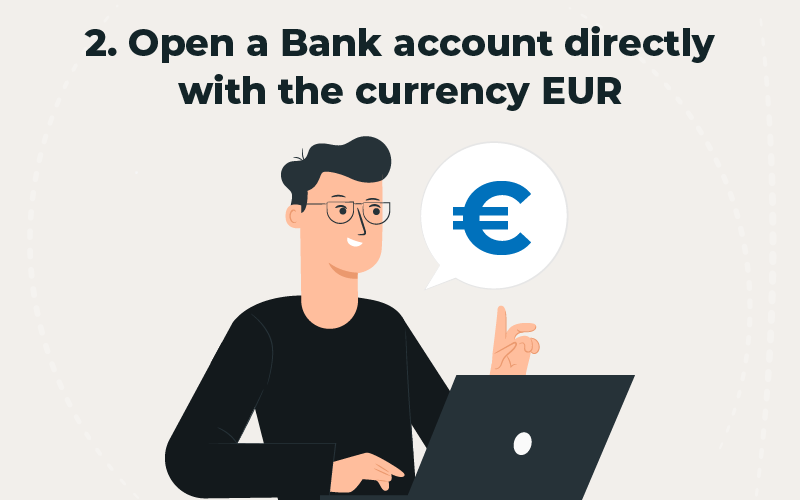 By opening a multi-currency bank account, you may convert between CAD and EUR without worrying about the currency fluctuation or have any rate risks.
Based on the research made by our experts approximately 9,14% of casino players choose to play at non CAD casino, while 90,86% join only CAD platforms. Therefore, it means that approximately 9,24% of Canadians choose either to open an EUR account or verify the forex rate.
Managing and holding your money through this option allows you to access any 16,38% online casinos that do not permit CAD transactions. Besides this, most bank accounts will enable multi-currencies to come with strict controls to safeguard the accounts and keep your funds safe.  
In the Canadian gambling market, 84% of online operators do offer their customers the possibility to realize CAD transactions. Unfortunately, we cannot omit the 16,38% of operators that do not permit CAD payments. As experts in this domain, we have thoroughly studied and researched this topic to provide relevant solutions to every Canadian individual who wants to access the 16,38% of casinos.
Opening an account directly in EUR is indeed the most accessible and easier to manage solutions. Still, we do understand that it might not be possible for some, as each person has the right to what it's best for him. Therefore, even if the first solution, which is always to verify the forex rate, might be challenging to track daily, it is the most within reach option.
References: