What Casino Games do Canadians Play the Most?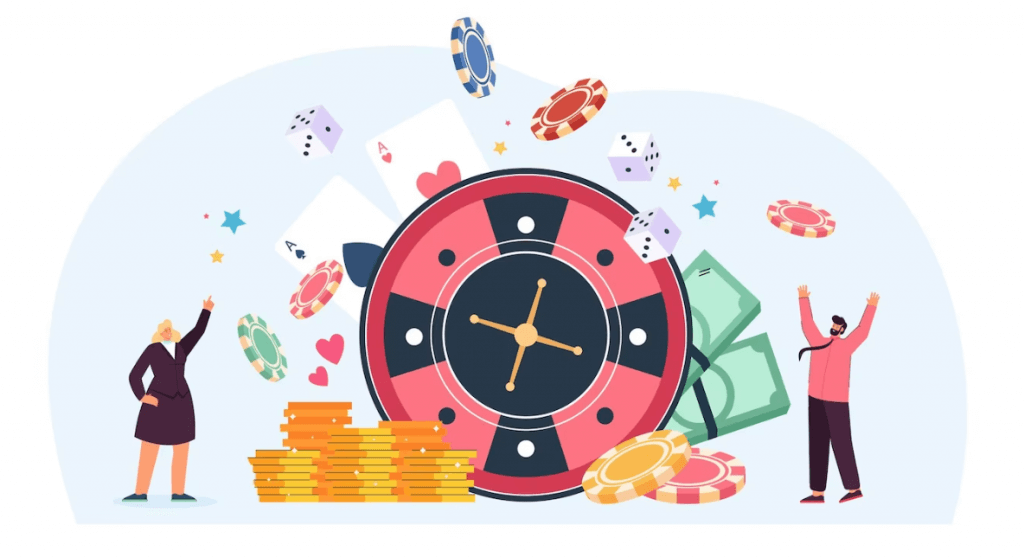 Casinobonusca reveal clear statistics on the popularity of casino games according to each age group in Canada. Check our data to see which category suits you.
Most played casino games in Canada by age group
| Game | Age group: 19-34 | Age group: 35-44 | Age group: 45-54 | Age group: 55-64 | Age group: 65+ |
| --- | --- | --- | --- | --- | --- |
| Slots | 80% | 77% | 70% | 53% | 45% |
| Bingo | 20% | 47% | 50% | 83% | 88% |
| Lotteries | 64% | 69% | 76% | 85% | 87% |
| Scratch Tickets | 60% | 58% | 84% | 77% | 70% |
| Roulette | 3% | 3% | 4% | 2% | 1% |
| Blackjack | 2% | 2% | 3% | 1% | 1% |
Our casino game data is subtracted internally

CasinoBonusCA experts gained all the information through their metric system and internal audit of the users' gaming preferences.
Age group 19-34 years old: 80% choose online slots
According to CasinoBonusCA's latest statistics, slots are among the most preferred games for players aged between 19 and 34, followed by lotteries, scratch tickets, bingo and table games.
CasinoBonusCA shows slots remain popular among all age groups
You may notice that online slots sites dominate multiple age groups regarding usage.
More than 50% of online players between 19 and 64 play online slots, which reveals how versatile and engaging this type of game is, still drawing players of different ages.
Age group 35-44 years old: 47% play online Bingo
Apart from slots which still dominate the popularity charts among players aged 35-44, players from this category choose lotteries, scratch tickets, bingo and table games.
Bingo is not just for senior players
Bingo is considered a game favoured by seniors, but statistics show different things.
Bingo dominates younger age groups, too
Players aged 35+ prefer playing bingo as it is a very social game, even in online versions.
Regardless of CasinoBonusCA's data, Bingo remains the go-to choice among players aged 65+, with lotteries also having a close percentage. Thus, the most popular options for senior online gamblers are Bingo and lotteries.
Age group 45-54 years old: 84% prefer scratch tickets
Scratch tickets and lotteries remain among the first choices for players in this age group.
Over 50% of online players aged 19-65+ choose scratch tickets
One surprising fact about CasinoBonusCA's data highlights the popularity of scratch tickets.
Among all age groups, over 50% of players choose this type of game as it doesn't require a very complex skill or strategy. Also, these scratch tickets impose low costs and various ticket types.
Age group 55-64 years old: 85% buy lottery tickets
As surprising as it may seem, lottery tickets are more common among this age group. Bingo comes right next.
The potential for big wins motivates online gamblers to choose scratch tickets instead of lottery tickets or slots. For example, progressive jackpot scratch tickets imply considerable payouts to lucky winners.
Age group over 65 years old: bingo and lotteries remain the top choices
Bingo is the most popular online game among senior players, and lotteries come very close. The least-played online casino games remain Blackjack and Roulette.
Another online game that maintains stability between multiple age groups is the lottery.
The reason behind this similarity is that the premise and rules of these online games are simple and easy to understand.
Among the least popular online casino games preferred by senior players are Blackjack and Roulette, with only 1% of these online players engaging in these games.
Why are Blackjack and Roulette the least popular online casino games?
We can justify the disinterest of online gamblers toward table games such as Blackjack or Roulette for several reasons.
First of all, table games are less social than other games.
Other reasons why Blackjack and Roulette are not as popular as other games include the higher house edge of these games compared to slots, the straightforward rules, and fewer variations.
Online casinos have made table games more interactive by offering live casino versions of Blackjack, Roulette and other variants. Thus, players and real dealers can interact with each other while playing this game online.
How many Canadians engage in online casino games?
Regarding Canadians' gambling habits, statistics show that over 19 million Canadians are actively gambling in online casinos.
The online gambling industry gained over $1 billion from online gambling in 2021.
Why do 80% of players aged 19-34 prefer online slots?
To some, it might be intriguing how online slots remain the first choice among younger players.
However, this fact may be influenced by numerous factors, such as the variety of online slots the gambling providers supply and that younger players are used to playing more rounds than others.
A comparison between slots & other games
Therefore, online slots dominate the younger generation, which is similar to video games nowadays and is influenced by the themes of online slots.
Thus, online players might be drawn to this type of game as they do not need to invest in particular strategies, mainly because online casinos recreate a gaming experience similar to what they are used to.
How will the trends change in the Canadian online gambling industry?
Even though the gambling industry is constantly changing and includes new features to adapt to the market's demands, there's a low chance the trends among Canadian players will abruptly change.
Slots have remained one of the most played online games, while lotteries and scratch tickets have had a stable history among games of chance.