Casino Nova Scotia Halifax Review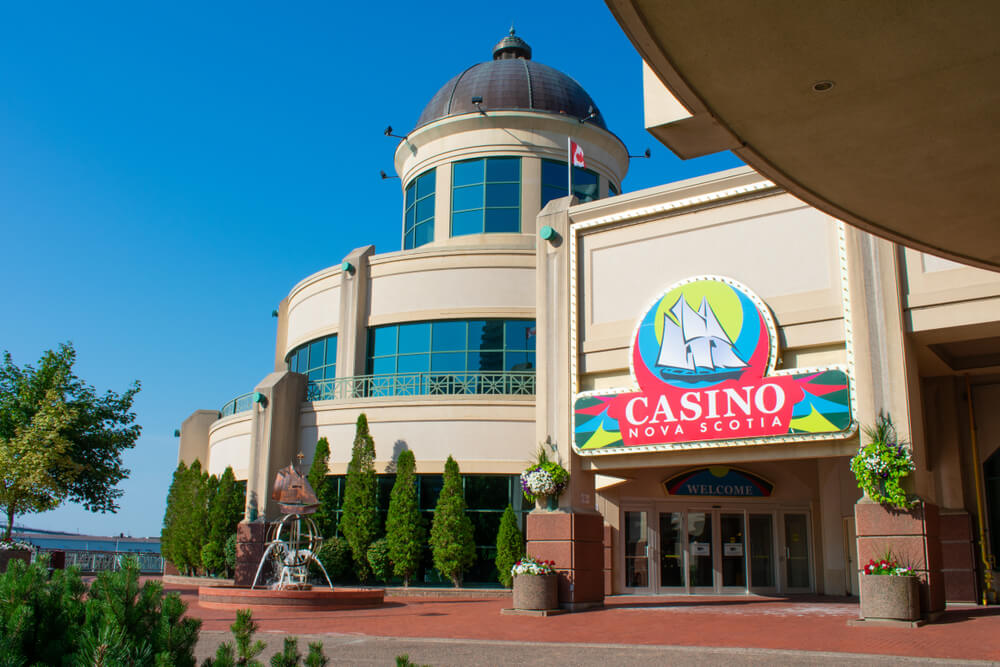 We recently made a trip to Casino Nova Scotia to bring you insights on every feature of the biggest casino in Halifax – from the C$0.01 slot machines to the high-limit tables.
Learn about each restaurant, every game type, and more in our extensive review of Casino Nova Scotia.
Casino Nova Scotia Ratings
| | |
| --- | --- |
| Overall Rating | 4.2/5 |
| Slot Machines | 5/5 |
| Casino Games | 4/5 |
| Staff & Service | 4/5 |
| Loyalty & Rewards | 4/5 |
| Casino Atmosphere | 4/5 |
| House Rules (T&Cs) | 4.5/5 |
| Player Feedback | 3.7/5 |
| Operator | 5/5 |
Table of Contents
Rating and Review Process for Casino Nova Scotia
Anyone can have a quick look at the homepage of a Canadian casino but we have devised a specialized review system that provides our readers with unique insights into the casino experience because we actually go there. Our expert reviewers not only crunch the data and conduct thorough research, but we also spent time in the casinos we review as real players.
We walked through the glass doors of the Casino Nova Scotia in Halifax and played numerous games, tested the menus, and watched sports at the bar. You can trust our insights because we experienced this casino first-hand.
How we inspected Casino Nova Scotia
Date of visit: 07/07/2023
Time of visit: 5 PM – 9 PM
Initial bankroll: C$100
What we played: Slots, Roulette, Blackjack
Final bankroll: C$340
Next visit: 03/29/2024
What we looked at
We thoroughly covered every corner of Casino Nova Scotia. This meant we sat at as many tables as possible, played numerous slots, and made sure to see how big the progressive jackpots can get. But don't think we stopped at the games – we also dined in the casino's restaurants and watched live music in the lounge.
This allowed us to have a unique view of the overall environment at this casino and develop a great gauge of the atmosphere you can expect when you walk through the doors for the first time. We spent more than four hours at Casino Nova Scotia and experienced as much as possible so we can support your first visit with plenty of vital details.
What we found
Address

1983 Upper Water St, Halifax, NS B3J 3Y5

Open hours

Mon – Thur 10 AM – 4 AM

24 hours on weekends

Membership

Not required

Minimum age

19

ID checks

Yes

Game types

Slots, table games, poker

Tables

27

Slot machines

600+

Payment

Cash, Card, Chips

Average betting range

C$0.01 – C$1,000

Free drinks (Canada)

Yes

Restaurant

Yes

Hotel

No

Poker tournaments

Yes, No Limit Hold'em and Omaha tournaments
Slot Machines – 5/5
With over 600 feature-packed slot machines, a huge range of progressive jackpot titles, both low and high-limit machines, and a wide array of themes to enjoy, Casino Nova is a serious slot casino.
Slots we played at Casino Nova Scotia
The moment we walked into Casino Nova Scotia we headed straight to a row of slot machines that stand in the casino lobby opposite Guest Central. We played Kilimanjaro and managed to win a few dollars. Next, we tried Buffalo Diamond since the game offered 2,400 ways to win and the bet minimum is only C$0.01.
How many slot machines does Casino Nova Scotia have?
According to Guest Services, the casino currently has over 600 slot machines featuring a variety of unique themes including Egyptian, fruit machine, fishing, and fantasy slots.
Do the slot machines accept coins?
No, we did a sweep of the casino floor and none of the slots accepted coins. You can either use cash notes or the ticketing system which is fairly intuitive.
Slot machine providers
Aristocrat

IGT

Everi

Bally
Local progressive jackpots
We did come across numerous local progressive jackpot slots such as Pan Am Mighty Cash which had a mega jackpot sitting at around C$2,000 at the time. The Smokin' Hot Stuff Wicked Wheel progressive jackpot was already over C$15,000 too.
Casino Games – 4/5
Boasting 27 tables which include variations of roulette, blackjack, and poker, Casino Nova Scotia offers a very diverse range of games to play. High rollers will enjoy the higher table limits on the high-limit tables but the minimum bets are a touch high for the more casual players.
Game types
Roulette: 3 tables
Blackjack: 13 tables
Poker: 8 tables
Baccarat: 3 tables
Betting limits
The table limits will vary between the different table games on offer and the highest limit we saw was C$2,000 on the baccarat tables. We also noted a blackjack table with a high limit of C$1,000. The roulette tables had a relatively high minimum bet of C$10 during our visit.
Can anyone bet the highest limits or do you need special VIP access?
No, there are no special requirements to bet with the highest limits. Any player at the table is allowed to bet the maximum table limit.  The highest limits can be found at the high limit tables which open between 5 PM and 4 AM.
Casino Nova Scotia poker tournaments
You can sit in on $1/$2 No Limit Hold'em Games or $5/$5 Pot Limit Omaha Hi poker games in the dedicated poker room. It can sometimes be a good idea to reserve a seat at the table for these tournaments. The No Limit Hold'em buy-in is usually $40, while the Omaha games usually cost $200 for a seat at the table.
Staff & Service – 3/5
Casino Nova Scotia has two restaurants, bountiful buffets, and secure parking. However, parking isn't free unless you're at a certain Player's Club level and there is no accommodation. The staff was a delight during our gaming sessions and we received complementary drinks on two occasions.
Food & Drinks
Besides an Italian and BBQ buffet on Friday and Saturday, you can enjoy two distinct eateries: 3Sixty Lounge and May Garden.
May Garden is a classic Chinese restaurant offering hundreds of tasty dishes at reasonably affordable prices. You can do "Dinner for Two" for between C$38 and C$48, and even less if you choose to craft your selections yourself. If you go with a group, you can all eat a huge platter of food for only C$95.
3Sixty Lounge is a bar, restaurant, and entertainment hub offering live music, sports on big screens and a variety of food options. The menu is diverse with everything from burgers and tacos to poutine and seafood chowder. Player's Club members get a reduced price which is basically C$1 off every menu item.
3Sixty Lounge
Monday – Sunday: 12 PM – 10 PM

Tuesday (Club 55): 11 AM – 10 PM
May Garden
Friday – Saturday: 3 PM – 12 AM

Sunday – Thursday: 3 PM – 10 PM
How much do you tip at Casino Nova Scotia?
Following the HST rate is fairly common in Nova Scotia, so tips of around 15% are much appreciated.
Does Casino Nova Scotia offer free drinks?
Yes, casino staff can provide complementary drinks – including alcohol – to those playing slot machines or table games. You will have to finish your drink while seated and cannot move around while carrying a drink.
Is there a buffet at Casino Nova Scotia?
Yes, there is. The buffet is available every Friday and Saturday between 5 PM and 10 PM. On Fridays, you will be treated to an Italian feast while on Saturday you can enjoy a Prime Rib Buffet. Both buffets start at $19.99 for Players Club Members.
Parking
Casino Nova Scotia has a huge multi-story parking garage with 550 spaces including 14 wheelchair spots.
Player's Club members with Silver, Gold and Privé status can park for free while Bronze members can earn free parking by earning 10 Player's Club points.
Parking charges
1 hour: C$3.00
Daytime: C$15.00
Overnight: C$8.00
Accommodation
Casino Nova Scotia initially offered accommodation as it first opened inside the Sheraton Hotel in 1995. Even after the casino moved in 2000, the hotel remained affiliated with the casino until both facilities were sold in 2005. The hotel, now called Marriot Halifax Harbourfront, is still accessible from the casino via a pedway.
Do you tip room service at Casino Nova Scotia?
If you do choose to stay and eat at the Marriot Halifax Harbourfront, the usual 15% tip is customary when dining in the restaurant or when receiving room service.
Are there smoking areas?
The Marriot Halifax Harbourfront is a 100% non-smoking hotel. Additionally, Casino Nova Scotia is now a smoke-free casino and has removed the gaming section that allowed smoking. You'll need to step outside if you wish to smoke or vape.
Security
Like most casinos, the facility is covered in cameras, but they are discreet. We also know that the cameras use facial recognition technology.
The security team will check the IDs of anyone who looks under 30 and from our experience, they really stick to this policy – we were checked as young-looking 30-something year olds.
Loyalty & Rewards – 4/5
The Casino Nova Scotia Player's Club is free to join, provides plenty of free gifts, and provides discounts at the buffets. Loyalty programs can often provide casino bonuses and the Player's Club also lets you earn points which can be redeemed for cash rewards too.
How does the Casino Nova Scotia rewards program work?
Players receive a card that can be scanned when playing casino games. You'll earn points as you play. The number of points you earn within six months determines your tier status. There are four tiers – Bronze, Silver, Gold, & Club Privé – and each has special benefits.
What you get
Free gifts

Points redeemable for food and parking

Cash rewards

Monthly rewards

Qualification for free parking
How to register for the program
Head to Casino Nova Scotia

Enter the casino and go to Guest Services

Ask to sign up for the Player's Club

Fill out the appropriate forms and provide your government-issued ID
Casino Atmosphere – 4/5
You can enjoy free live music every single week, see blockbuster rock bands and shows, and take in the scenic views of the Halifax harbourfront inside a classic-looking casino facility.
Inside Casino Nova Scotia
We want to give you an idea of the overall experience at Casino Nova Scotia. That's why we paid attention to a whole lot more than the games. Our keen eyes took note of the facility itself including the layout and design.
Design experience
Some casinos across Canada look more like rooms with casino games inside them. But Casino Nova Scotia looks like a premium casino facility. The ceilings are high giving off the feeling that the building is so much bigger – even though the building is far from small – and you almost feel like the rows of slot machines are endless.
However, the décor is somewhat dated and you could be forgiven for thinking you stepped into the mid-2000s.
The 3Sixty Lounge is centrally located which is perfect for quick pit stops or to check the score on sporting events.
Are you allowed to take photos in Casino Nova Scotia?
Yes, but there are restrictions. You cannot take photos of the casino floor and especially not at the gaming tables. Even taking a photo of a slot game will attract the attention of security if they see you. So, keep it to selfies with your friends or a picture of your burger.
Location and surroundings
Casino Nova Scotia is located on the scenic Halifax harbourfront with gorgeous views of the North Atlantic Sea. The casino is surrounded by artisanal shops, galleries, the historic Halifax Citadel, and a picturesque boardwalk. You're only a short walk to downtown Halifax where you'll find a plethora of unique cafes.
Do you need a passport to visit Casino Nova Scotia?
No, any form of government-issued ID will suffice. However, if you are from another country, you will need to show a passport since your local government-issued ID may not be accepted.
Events
Free live music showcasing local talents can be enjoyed in the 3Sixty Lounge every Friday and Saturday night. A variety of shows and more renowned bands often play in the Schooner Room. Tickets usually hover around the C$40 – 50 mark.
House Rules (T&Cs) – 4.5/5
The code of conduct at Casino Nova Scotia is easily accessible and entirely reasonable. You've got a relaxed dress code, you can take pictures of friends at the bar, and it won't cost you anything to walk through the front doors. However, the casino does close for a few hours on weekdays.
Casino Nova Scotia's opening hours
Casino Nova Scotia is open 24 hours over the weekend but during the week the casino is open between 10 AM and 4 AM.
Does Casino Nova Scotia charge entry?
Entry into Casino Nova Scotia is entirely free.
Do you always need a reservation to play at Casino Nova Scotia?
No, you can just turn up and play. There are plenty of slot machines and tables to go around.
Is membership required at Casino Nova Scotia?
No, membership is not required to enjoy any of the games, services, or entertainment at Casino Nova Scotia. However, the Player's Club card does possess many benefits.
Dress code
There isn't a set dress code at Casino Nova Scotia and you'll be allowed in so long as you're fully clothed and wearing shoes.
You just can't wear anything gang-related, offensive, or graphic. A golden rule is to dress like you would if you were going to a nice restaurant.
Standout rules at Casino Nova Scotia
None of the rules at Casino Nova Scotia are out of the ordinary.
Player Feedback – 3.7/5
Casino Nova Scotia has been reviewed on Google and Tripadvisor more than 3,100 times and customers have mostly enjoyed their experience at the casino.
Casino Nova Scotia player reviews
Google – 3.9/5
Customers found the staff, including security, to be very friendly and many had great things to say about the buffets. But gamblers did feel the casino felt very slot-centric and lacked gaming variety.
Tripadvisor – 3.5/5
Many customers commented on how much they enjoyed the food and the service. However, some older customers had poor experiences at the buffet while more experienced gamblers noted a lack of "anything new".
Most common issues
Lack of gaming variety

Some long queues at the buffet
Operator – 5/5
Boasting more than 20 casino facilities across Canada, as well as numerous other entertainment facilities, the owner of Casino Nova Scotia is highly trustworthy.
The operator was previously listed on the Toronto Stock Exchange and was once part of the S&P/TSX Composite Index.
Who owns Casino Nova Scotia?
Casino Nova Scotia is owned by Great Canadian Entertainment which purchased the casino from Caesars in 2005. The Sheraton Hotel which previously housed the original casino and was affiliated with the casino after its move to the Halifax waterfront was purchased separately by the Marriot Corporation.
Other casinos by the same operator
Casino Nova Scotia Sydney
Contact info
| | |
| --- | --- |
| Website | www.casinonovascotia.com |
| Email address | |
| Telephone number | +1 902 425 7777 |
| Other | Facebook, Twitter, and Instagram |
Casino Nova Scotia Competitors
Casino Nova Scotia has only one serious competitor – itself. While there are a few entertainment centers with a handful of VLT machines scattered around, the only other casino is Casino Nova Scotia's sister casino in Sydney.
Casino Nova Scotia vs Casino Nova Scotia Sydney
The Sydney sister casino is much smaller than Casino Nova Scotia in Halifax. There are no table games either. Just around 300 exciting slot machines and E-tables featuring roulette and blackjack.
Casino Nova Scotia Sydney is best for budget gaming
This casino features very low limits with slot machines that can have their reels spun with as little as C$0.01 and a minimum e-table bet of C$1.00.
What sets Casino Nova Scotia apart from its competitors?
Casino Nova Scotia in Halifax is simply bigger and better than its competitors. No other facility in Nova Scotia offers genuine table gaming and a Vegas-like experience. The only way you can get even more games would be to play at an online casino in Canada.
Casino Nova Scotia Pros and Cons
Pros
Only genuine table games in Nova Scotia

Free Live Music on Friday & Saturday nights

Numerous progressive jackpot slots

C$2,000 maximum bet on high-limit tables
Cons
C$10 bets for table games are a touch high
Should You Spin the Reels at Casino Nova Scotia?
You simply won't find another casino experience quite like this anywhere else in Nova Scotia. With a prototypical aesthetic that mirrors something you would find in Las Vegas or Atlantic City, a great variety of table games with high limits, and plenty of slots to play, Casino Nova Scotia is the best casino in the province.
Nowhere else in the province can you eat Chinese fusion, enjoy hundreds of slots, and take part in lucrative and challenging poker tournaments under one roof. Sign up for the Player's Club card and you can enjoy more benefits every time you return too.