Diamond Tooth Gerties Gambling Hall Review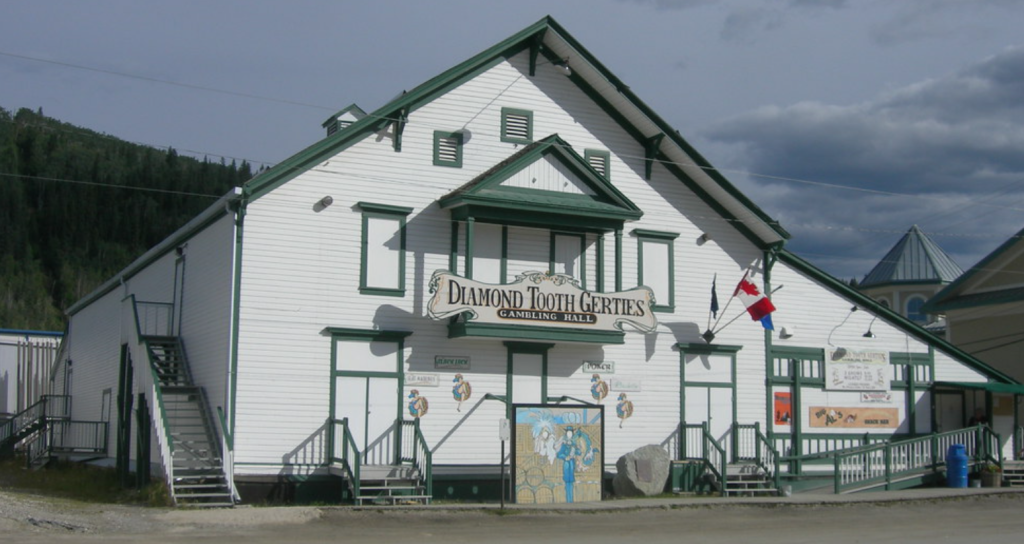 Located at the base of the Ogilvie Mountains lies the oldest casino in Canada. Our experts have thoroughly reviewed Diamond Tooth Gerties Gambling Hall and the incredibly unique Klondike experience that cannot be found at any other casino.
Stick around as we identify all the games you can play, reveal the range of events on offer, and show you why Diamond Tooth might just provide a casino experience that cannot be missed.
Diamond Tooth Gerties Ratings
| | |
| --- | --- |
| Overall Rating | 3.1/5 |
| Slot Machines | 3/5 |
| Casino Games | 4/5 |
| Staff & Service | 2/5 |
| Loyalty & Rewards | 0/5 |
| Casino Atmosphere | 5/5 |
| House Rules (T&Cs) | 3/5 |
| Player Feedback | 4.5/5 |
| Operator | 4/5 |
Table of Contents
Rating and Review Process for Diamond Tooth Gerties
Our experts have devised an incredibly specialized and focused casino review system that allows us to analyze every corner of a casino operation like Diamond Tooth Gerties. We go far beyond any other review and fully analyze the types of available games, rate the visual aesthetic and atmosphere, and confirm the legitimacy of the operator.
With this special system, we can experience Diamond Tooth Gerties as both a casino expert and a newbie. We'll walk you through an entire night at Diamond Tooth, so you know what to expect. Our experts look past the marketing to reveal the genuine experience including what it's like to gamble, drink, eat, and even park at this popular casino in Yukon.
How we inspected Diamond Tooth Gerties
Date of visit: 08/12/2023
Time of visit: 8 PM – 12 AM
Initial bankroll: C$100
What we played: Slots, Roulette
Final bankroll: C$162
Next visit: 08/14/2023
What we looked at
We look at far more than just casino games using our specialized review system. Our ratings are based on numerous essential components of an online casino. We'll rate the visual aesthetic of the casino, we'll analyze the food and beverage options, and we'll reveal the different forms of entertainment you'll enjoy at Diamond Tooth Gerties.
What we found
Address

Corner of Fourth Ave & Queen St, 1001 Fourth Avenue, Dawson City, Yukon

Open hours

Summer:

Thursday – Monday: 7 PM – 1 AM

Tuesday – Winter: 7 PM – 11 PM

Fall:

Friday and Saturday: 7 PM – 1 AM

Winter:

Friday and Saturday: 7 PM – 1 AM

Membership

Not required. C$20 season pass is required in the Summer.

Minimum age

19

ID checks

Yes

Game types

Slots, table games

Tables

8

Slot machines

64

Gaming terminals

No

Payment

Cash, Chips

Average betting range

Slots: C$0.01+

Tables: C$2 – C$50

Free drinks (Canada)

No

Restaurant

Yes

Hotel

No

Poker tournaments

Yes, No Limit Hold'em
Slot Machines – 3/5
Diamond Tooth Gerties features 64 slots from the highly reputable and prolific slot provider IGT. You'll find tons of summer slots with advanced visuals and dazzling sounds. We also noted a handful of small progressive jackpot slots with Mini and Maxi jackpots.
Slots we played at Diamond Tooth Gerties
Before we started playing slots, we quickly watched a round of the Money Wheel which saw players bet on a wheel with Canadian dollars pinned on it. We began by playing Siberian Storm which has 720 paylines as a penny slot.
Next, we played Cleopatra because we love a good Egyptian slot. After a few more games and a few rounds of roulette, we finished up by playing Goddess of Gold and tried to chase the Maxi jackpot.
How many slot machines do Diamond Tooth Gerties have?
We confirmed 64 slot machines were currently available at the time of our visit.
Do the slot machines accept coins?
No, the slot machine games all accept cash banknotes only.
Slot machine providers
Local progressive jackpots
The only progressive jackpot slots are local jackpots isolated to a single row of machines. These prizes can reach the tens of thousands though. During our visit, the Goddess of Gold slot had a Maxi jackpot prize of over C$3,000.
Casino Games – 4/5
There are only a handful of tables available each night but you can enjoy five different games including two different blackjack games. The table minimums are very low and the maximums are set at C$50, except for some poker tournaments and Liberal Rules Blackjack which features a C$100 maximum bet.
Game types
Roulette

Blackjack

Poker

Money Wheel

Red Dog
Betting limits
The bet limits vary from table to table. Blackjack tables range from C$3 to C$15 minimum bet tables while roulette tables have a minimum bet of C$2 and a maximum of C$5 (inside) and C$50 (outside) bets. Poker tables start at C$1-2.
Can anyone bet the highest limits or you need special VIP access?
Limits are quite small at Diamond Tooth Gerties since it is a non-profit organization. Anyone can play the highest available limits.
Diamond Tooth Gerties poker tournaments
Numerous tournaments are held on weekends and there are often a few larger tournaments scheduled throughout the year. The buy-ins for the larger tournaments are usually around C$200 – 500.
Staff & Service – 2/5
During our visit, we encountered some of the friendliest and most dedicated staff who provided excellent service.
While there isn't an abundance of food variety, the diverse drinks menu was refreshing and the fact you can drink, eat, gamble, and watch a show in the same room truly adds to the experience.
Food & Drinks
Your food options are fairly limited at Diamond Tooth Gerties with only one eatery. The casino does offer a wide selection of drinks at the bar and we were very impressed by the non-alcoholic beer and mocktail options.
The High Roller Canteen is the only option for food and drinks. Your food options are more snack-like than with the likes of paninis, pizza by the slice, and a few pasta dishes. The drinks menu is extensive and includes local and craft brews, as well as a wide selection of wines and liquors.
How much do you tip at Diamond Tooth Gerties?
There are no exceptional rules in Yukon. The standard tip of 15 – 20% for good service is encouraged but perhaps closer to 20% considering the higher cost of living in the region.
Does Diamond Tooth Gerties offer free drinks?
No, it appears Diamond Tooth Gerties does not offer complimentary drinks at the tables.
Is there a buffet at Diamond Tooth Gerties?
There are no buffets at this northern Canadian casino.
Parking
Free parking is available in the parking lot conveniently located right outside the casino.
Accommodation
The facilities do not include a hotel or any form of accommodation. However, since the casino is located in downtown Dawson City, you'll be within walking distance of numerous hotels including Dawson's Lodge, The Downtown, and Triple J.
A hotel room in Dawson City will likely set you back about C$150 a night but we've seen rooms as low as C$60-80 at the Bunkhouse Hotel.
Are there smoking areas?
There is a designated smoking area outside of the casino. You cannot just smoke on the porch either.
Security
We noted security at the entrance and a couple of security guards on the casino floor but they very much blended into a crowd. There are several CCTV cameras dotted around the venue, adding an extra layer of comfort and safety.
Loyalty & Rewards – 0/5
There are no VIP or loyalty programs at this casino. Diamond Tooth Gerties is very much a community casino aimed at giving back to the town and isn't really in a position to dish out free spins, cashback, or other typical casino rewards.
Casino Atmosphere – 5/5
With an incredibly unique Klondike theme set against a gorgeous mountain backdrop, Diamond Tooth Gerties is one of the prettiest casino experiences in Canada. The staff and performers never stop and each visit feels like stepping into a time machine.
Inside Diamond Tooth Gerties
We carefully examined far more than just the casino games on offer. Our keen eyes took in the overall atmosphere too. Read on to learn about the visual stylings of Diamond Tooth Gerties and find out about the alternative entertainment available every single night.
Design experience
The interior design of this casino is entirely unique. Stick with the Klondike theme, the interior looks like an old western speakeasy, town hall, and theatre with a casino twist. You got stained glass windows, vintage flags, beautifully stained timbers, and plenty of old photos of prospecting legends.
Are you allowed to take photos in Diamond Tooth Gerties?
Photos are encouraged during the shows. This is because many of them are quite interactive and you or your friends may suddenly find ourself center stage.
You can take photos around the casino area since everything is in the same room, but you'll be asked to put your phone/camera away if you're playing at the tables.
Location and surroundings
The casino is located in downtown Dawson City, Yukon which is famed for being at the center of the Klondike Gold Rush during the late 19th Century. In town, you'll find all your required amenities including shops, accommodations, and bars. The local backdrop is picturesque too and you can take a hike to Midnight Dome for a view of the town and the Ogilvie Mountains.
Do you need a passport to visit Diamond Tooth Gerties?
Diamond Tooth Gerties accepts government-issued photo ID but we would recommend using your passport if you're travelling from outside North America.
Events
There are shows every night at Diamond Tooth Gerties. These include cabaret, singing, dancing, cancan, live music, and even talent nights. Unless there is a special event, there are three Klondike-themed shows every night which include the famed Cancan show.
House Rules (T&Cs) – 3/5
Diamond Tooth Gerties is a fairly laid-back casino with less restrictive rules than a typical casino but it does suffer from a very limited schedule that sees the casino closed on weekdays during the fall and winter.
The casino also has a one-time C$20 charge during the summer.
When is Diamond Tooth Gerties open?
The casino is only open in the evenings and is also closed for most of the fall and winter. During the summer the casino is open every day from 7 PM but is only open on weekends during the colder months.
Summer hours:
Thursday – Monday: 7 PM – 1 AM

Tuesday – Winter: 7 PM – 11 PM
Fall hours:
Friday and Saturday: 7 PM – 1 AM
Winter hours:
Friday and Saturday: 7 PM – 1 AM
Friday and Saturday: 7 PM – 1 AM Does Diamond Tooth Gerties charge entry?
Yes, but only once and only during the summer. A C$20 summer pass is required to enter during the summer period which is typically between May and September. The pass lasts all summer long though.
Do you always need a reservation to play at Diamond Tooth Gerties?
The casino does not take reservations. It is very much a first come, first serve operation.
Is membership required at Diamond Tooth Gerties?
No membership is required or offered. Simply turn up and play.
Dress code
Diamond Tooth Gerties is a fairly "local" casino so the dress code isn't particularly strict. You can get away with most clothing choices so long as you are not wearing anything offensive. However, the staff certainly appreciate customers dressing up to match the Klondike theme and you'll see plenty of patrons adoring steampunk and Victorian-era styled clothing.
Standout rules at Diamond Tooth Gerties
Without many not-worthy house rules, there aren't any particularly standout rules either. You shouldn't encounter any surprises at Diamond Tooth Gerties.
Player Feedback – 4.5/5
With over 1,000 reviews across Google and Tripadvisor, it's not difficult to see what previous customers think of Diamond Tooth Gerties. There was barely a bad word said between the two platforms and most customers praised the staff, performers, and overall experience.
Diamond Tooth Gerties player reviews
Google – 4.6/5
Google reviewers were all huge fans of the shows but they also thoroughly enjoyed the blackjack and roulette tables. However, some locals did comment on large crowds and long waits during the summer months.
Tripadvisor – 4.5/5
Reviewers on Tripadvisor think the casino cannot be missed because of the unique experience provided by the shows and performers. Some reviewers did note that the food could have been better.
Most common issues
Long waits during peak summer periods
Operator – 4/5
Uniquely, Diamond Tooth Gerties has been owned and operated by the non-profit Klondike Visitors Association since the casinos launch in 1971.
Who owns Diamond Tooth Gerties?
Diamond Tooth Gerties is a unique establishment. Owned by the Klondike Visitors Association, revenue from the casino is reinvested back into Dawson City. Buying a season pass, purchasing drinks, and betting at the tables helps pays for the production of local events and continue the preservation of historic sites.
Contact info
Website

https://diamondtoothgerties.ca

Email address

Telephone number

867-993-5575

Toll-free: 1-867-465-3006

Other

Facebook and Instagram
Diamond Tooth Gerties Competitors
About 40,000 people are living in Yukon and Diamond Tooth Gerties is the only game in town. Without any competitors, residents can either travel to Dawson City to enjoy the gaming options at Diamond Tooth Gerties or choose to play at a Canadian online casino. However, no online casino offers the same atmosphere as Diamond Tooth.
Diamond Tooth Gerties Pros and Cons
Pros
Enjoy three special shows every single night

Numerous local progressive jackpot slots to play

Great range of local and important beverages

Low bet minimums for table games and slots
Cons
Extremely limited opening hours during winter and fall
Is Diamond Tooth Gerties Worth Its Weight in Gold?
Boasting numerous gaming tables, over 60 slots including local progressive jackpots, and three exciting and unique live shows every night, Diamond Tooth Gerties showcases an experience you won't find at any other casino in Canada.
The Klondike theme is a wonderful throwback to a bygone era and the range of gambling options are the best in Yukon. With little competition, Diamond Tooth is the best casino in Yukon. The unique theme coupled with the gorgeous setting below the mountains makes Diamond Tooth Gerties a casino that needs to be experienced.