Grey Rock Casino Review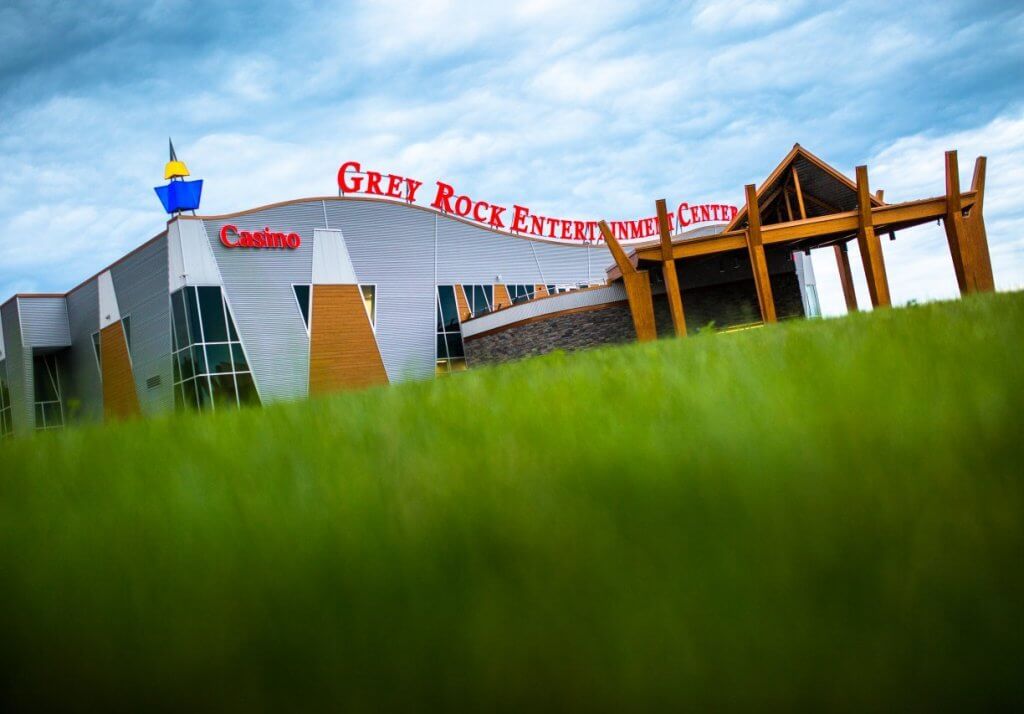 Grey Rock Casino is the only facility you can turn to for casino gaming in Edmundston. But is Grey Rock still worth the visit? Our experts spent hours in a modern entertainment facility that boasts hundreds of games to enjoy.
Read on to find out what games you can play, learn how you can claim loyalty rewards, and learn all about the other entertainment options you can enjoy.
Grey Rock Casino Ratings
| Overall Rating | 4.25/5 |
| --- | --- |
| Slot Machines | 5/5 |
| Casino Games | 2/5 |
| Staff & Service | 5/5 |
| Loyalty & Rewards | 4/5 |
| Casino Atmosphere | 5/5 |
| House Rules (T&Cs) | 4/5 |
| Player Feedback | 4.2/5 |
| Operator | 5/5 |
Table of Contents
Rating and Review Process for Grey Rock Casino
Our industry experts have developed a unique review system that allows our talented team of reviewers to test every corner of every casino in Canada. We can deeply analyze every component of Grey Rock Casino because our reviewers walked through the doors of the only casino in Edmundston.
Thanks to our review system, we were able to test dozens of slots, analyze the professionalism of the staff, sit down and eat a meal, and experience the casino floor atmosphere like only we can.
How we inspected Grey Rock Casino
Date of visit: 09/02/2023
Time of visit: 9AM – 1AM
Initial bankroll: C$150
What we played: Slots, Stadium blackjack
Final bankroll: C$161
Next visit: 09/11/2024
What we looked at
Just because Grey Rock Casino is the only game in town doesn't mean we will give the establishment a free pass. We thoroughly examined the quality of the games on offer and spent time in every single eatery and bar.
Our reviewers considered the quality of the facility's design and layout and looked at how attentive and professional the level of service at Grey Rocks Casino was.
What we found
Address

Madawaska Maliseet, First Nation, 100 Chief Joanna Blvd, Saint-Basile, NB E7C 0C1

Open hours

Sunday – Thursday: 10 AM – 12 AM

Friday – Saturday: 10 AM – 2:30 AM

Membership

Not required

Minimum age

19

ID checks

Yes

Game types

Slots, VLT table games

Tables

No

Slot machines

250

Gaming terminals

12+

Payment

Cash, Card

Average betting range

C$0.01 – C$100

Free drinks (Canada)

Only non-alcoholic beverages

Restaurant

Yes

Hotel

Yes

Poker tournaments

Yes, Texas Hold'em
Slot Machines – 5/5
You can enjoy hundreds of slot machines that cater to a variety of themes and game features. Powered by several top software providers, these slots are among the most advanced in Canada.
Slots we played at Grey Rock Casino
We started by heading to a row of progressive jackpot slots and tried our hand at Lightning Dragon. After a few attempts, we then moved on to the branded Game of Thrones: Winter is Here which also boasted a huge C$10,000 grand prize, which we did not win. After 10 minutes we moved on to the VLT terminals.
How many slot machines does Grey Rock Casino have?
The casino floor is jam-packed with more than 250 advanced slot machines including Egyptian, fantasy, branded, and summer slots.
Do the slot machines accept coins?
No, the slot machines only accept cash notes and tickets.
Slot machine providers
Local progressive jackpots
As we walked around the gaming floor, we noticed numerous progressive jackpot slots that included Dragon Link, Lightning Dragon, Prize Strike Coin Caper, Little Shop of Horrors and more.
These jackpots can reach prizes in the tens of thousands.
Casino Games – 2/5
There are no live table games at this casino. They promote "hybrid table gaming" but this means VLT gaming via the popular Stadium machines. You can choose from five different games at any time and the bet limits are very accessible for casual players.
Game types
Stadium Roulette

Stadium Blackjack

Stadium War

Stadium Three Card Poker

Stadium Ultimate Texas Hold'em
Betting limits
All the VLT games that we attempted had a maximum betting limit of C$2 and we were allowed to put as much as C$100 into the machine.
Can anyone bet the highest limits or you need special VIP access?
There are no VIP betting limits at Grey Rock Casino. Anyone can play the maximum bet.
Grey Rock Casino poker tournaments
There are some poker tournaments but they are less frequent than during the post-COVID 19 days. You can join C$1/2 Texas Hold'em and $2/5 no-limit games.
Staff & Service – 5/5
With several hotel options within walking distance of the casino, several dining options, a great selection of drinks, and free parking that even supports RV's, Grey Rock Casino has gone above and beyond to provide high-quality service to its patrons.
Food & Drinks
Fiddlehead Café & Lounge is open every day and offers breakfast, lunch, and dinner while also boasting a bar that operates until closing time.
The pricing is incredibly reasonable with most mains costing around C$10 and a huge platter that only costs C$20.
Valley View is far more of a traditional restaurant, opening at 4 PM for a dinner service that runs until 10 PM. Located on the second floor, Valley View lives up to its name with a terrace that provides a stunning view of the valley. The menu is also quite traditional but a little pricey with mains ranging from C$10 – 38 with much of the menu hovering around the C$22-24 mark.
You can go to both locations for drinks too, where you can enjoy a variety of cocktails, wine, and both local and important beers.
Fiddlehead Café & Lounge
Food: 10 AM – 8 PM
Bar: Sunday – Thursday – 11 AM – 12 AM, Friday – Saturday: 11 AM – 2.30 AM
Valley View
How much do you tip at Grey Rock Casino?
There is nothing out of the ordinary at Grey Rock or in Edmundston, the standard tip of between 15 – 20% is encouraged.
Does Grey Rock Casino offer free drinks?
The casino wasn't doing any complimentary alcoholic beverages when we were at the tables but a few free soft drink fountains are still available.
Is there a buffet at Grey Rock Casino?
The two restaurants at Grey Rock Casino do not offer a buffet at this time.
Parking
Grey Rock Casino has ample free parking which also includes plenty of RV spaces.
You can also rebook an RV spot to ensure you'll have a space during your visit. RV customers can also take advantage of a toilet block and dump point.
Accommodation
You can stay at any of the three partner hotels associated with the casino. The Quality Hotels & Conference Centre is conveniently located at the end of a pedway which links the hotel to the casino facility. You can even park a snowmobile in one of the 15 heated garages provided by this certified eco-friendly casino.
Comfort Inn is located about 2km away but you'll get a C$50 free play voucher when you pick up your guest key. Inn of Arcadia provides a much more premium experience and is conveniently located in downtown Madawaska.
While a little cheaper during the offseason, the hotel rooms are a little pricey but surprisingly the premium Inn of Arcadia is one of the cheaper options compared to the prices of Comfort Inn which often average over C$220.
Quality Hotels
Comfort Inn
Inn of Acadia
Do you tip room service at Grey Rock Casino?
These hotels do not offer room service but free breakfasts are available. This means there is no room service to tip but there is no harm in tipping a team member if they help you with your bags.
Are there smoking areas?
Both the casino and partner hotels are non-smoking buildings. You'll have to smoke in the designated spaces provided outside by the entrance to each facility.
Security
CCTV is present all over the casino and the security guards can be seen at the entrance of the casino. We noted security walking the floor on occasion but they were hardly noticeable.
Loyalty & Rewards – 4/5
Totem is the free rewards program offered by Grey Rock Casino that provides exclusive promotions, member-only gaming options, and reduced prices for food, drink, and boutique items.
How does the Grey Rock Casino reward program work?
Registration is completely free and you can't stand early right away. You'll earn one Totem Rewards point for every dollar you bet. New customers will get a C$10 free play bonus as soon as they sign up and the points you earn can later be redeemed for free play, food and drink vouchers, or even price reductions at the boutique.
What you get
C$10 sign-up bonus

Entry to sweepstakes

Exclusive promotions

Food/beverage and items vouchers

Member-only game access
How to register for the program
Go to Grey Rock Casino and speak to a member of guest services

Provide your government-issued photo ID to prove you're 19 or older

Complete the simple forms and return them to the guest services team member
Casino Atmosphere – 5/5
We always thought the atmosphere might be special at Grey Rock Casino since you have to pass a gigantic 40-foot totem pole that immediately sets the scene. Not only did we test the casino games, but we also took in the overall atmosphere and analyzed the facility's design elements.
Inside Grey Rock Casino
The carpets are uniquely designed and coloured and the lightning immediately feels exciting – that kind of lighting that makes a winter Tuesday afternoon feel like a Saturday night. With a central gaming floor, the atmosphere and sounds of the casino can always be felt and heard.
Design experience
Polished timbers, brushed stone, and sharp design elements to the walls, ceiling, and carpets – Grey Rock Casino does feel premium. The casino could easily rest on its laurels but instead has provided a casino that looks incredibly modern and looks like set pieces ripped from the set of Ocean's 13.
Are you allowed to take photos in Grey Rock Casino?
Yes, but no recording devices of any kind can be used on the gaming floor.
You'll have to stick to taking photos in the bars, restaurants, terrace, or the event centre.
Location and surroundings
Look hard enough and you might be able to make out parts of Maine. Otherwise, the views are almost like the backdrop of an old western as Edmundston's short mountains, empty plains, and gorgeous rivers drop you right back into the American frontier.
The Trans-Canada Highway runs right by the casino and you can get yourself to downtown Edmundston in just a few minutes.
Do you need a passport to visit Grey Rock Casino?
No, Grey Rock Casino accepts any reasonable form of government-issued photo ID like a driver's licence, national ID, or proof of age card.
Events
The impressive event center can seat 10,000 people and has seen everything from weddings and business parties to renowned recording artists and huge tribute acts. Some smaller acts will play the casino bar too.
House Rules (T&Cs) – 4/5
The casino has fairly relaxed house rules that allow photography – so long as it is not on the gaming floor – and a relaxed dress code. Open every day but with a reasonably early closing time, it's not the late-night destination like many other Canadian casinos can be.
When is Grey Rock Casino open?
Grey Rock Casino opens every morning at 10 AM. The casino closes at midnight between Sunday and Thursday but stays open until 2:30 AM on Friday and Saturday.
Opening hours
Sun – Thurs: 10 AM – 12 AM
Fri & Sat: 10 AM – 2:30 AM
Does Grey Rock Casino charge entry?
No, Grey Rock Casino is completely free to enter.
Do you always need a reservation to play at Grey Rock Casino?
Not at all. You can just turn up and play at any casino slot or hybrid table that is available.
Is membership required at Grey Rock Casino?
No, membership is not required to play at Grey Rock Casino. However, there is a very small handful of member-only slots.
Dress code
The casino's house rules clearly state "dress code in effect" but no dress code is actually provided. However, it was pretty clear when we walked around the casino that the dress code was pretty relaxed. We noted that no men were wearing open-toed sandals but t-shirts appeared acceptable.
Use your best judgment and obviously do not wear anything that could be considered offensive, gang-related, or inappropriate.
Standout rules at Grey Rock Casino
Staff will check ID if you look under 25 years of age

Voluntary Self-Exclusion Program is available
Player Feedback – 4.2/5
The casino has generated over 1,000 reviews on Google and Tripadvisor and maintains an impressively high rating on both review platforms.
Grey Rock Casino player reviews
Google – 4.4/5
Google reviewers regularly found the Grey Rock Casino staff to be very friendly and enjoyed the reasonable food prices. Customers would have liked to see more games though.
Tripadvisor – 4/5
Customer thoroughly enjoyed their food and commended the friendly vibes on the casino floor. Some gamers commented about the limited gaming options compared to big casinos in other cities.
Most common issues
Operator – 5/5
Grey Rock Casino is owned by the Madawaska Maliseet First Nation which overcame crippling debt during the COVID-19 pandemic and continues to maintain a safe and legitimate casino in Edmundston.
Who owns Grey Rock Casino?
This is a tribal casino and is owned by the Madawaska Maliseet First Nation. The tribe has fingers in many pies and runs a multi-facet, multi-billion-dollar empire that includes the Grey Rock Casino among other endeavors such as legal Cannabis edibles.
Contact info
| | |
| --- | --- |
| Website | https://www.greyrockcasino.com |
| Email address | |
| Telephone number | (506) 735-2820 |
Grey Rock Casino Competitors
Grey Rock Casino has no land-based competitors as it is the only casino in Edmundston. The closest casino is more than an hour's drive away in Fort Fairfield further down the Maine and Canadian border. Forget Maine too – the two casinos are located in the south of the US state. Casinos in Quebec are far too distant too.
This leaves the numerous online casinos in Canada as the biggest competitors. Online casinos do provide more table games than Grey Rock Casino but the online platforms simply cannot replicate the exciting environment of Edmundston's casino destination.
Pros and Cons
Pros
Rows and rows of progressive jackpot slots with huge prizes

Huge 10,000-seat event center hosts great bands and events

More than 250 advanced, touchscreen slot games

Stay at three partner hotels or enjoy free parking for RVs
Cons
Limited variety of casino games to play
Should You Hit or Fold on Grey Rock Casino?
Grey Rock Casino is still the only casino in Edmundston but Madawaska Maliseet First Nation hasn't cobbled together a casino. Instead, this casino is stunningly modern and provides a ton of different entertainment options. You can eat reasonably priced but exceptional meals, drink a variety of local and imported brews, and enjoy hundreds of casino games.
But the range of games could be stronger. There are no live tables and the Stadium VLTs are fun but simply not the same. However, the slot games are well varied in terms of theme and mechanics and there are loads of progressive jackpots to try and get your hands on.