Red Shores Casino Review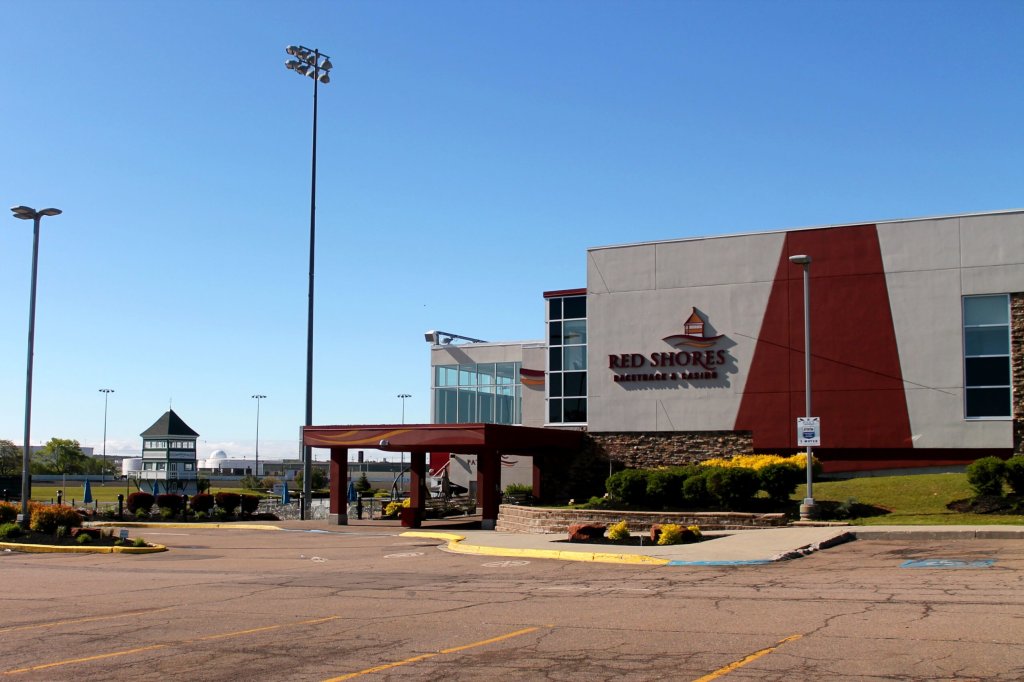 In Prince Edward Island, the only destination for genuine casino gaming is Red Shores Charlottetown. But the real details on what this casino offers can be hard to come by – thankfully, our experts have all the insights.
Read on to learn about every corner of this modern casino complex and the gaming joys that hide within with detailed insights in our Red Shores casino review.
Red Shores Casino Ratings
| | |
| --- | --- |
| Overall Rating | 3.7/5 |
| Slot Machines | 5/5 |
| Casino Games | 4/5 |
| Staff & Service | 3/5 |
| Loyalty & Rewards | 5/5 |
| Casino Atmosphere | 3/5 |
| House Rules (T&Cs) | 2.5/5 |
| Player Feedback | 4.15/5 |
| Operator | 3/5 |
Table of Contents
Rating and Review Process for Red Shores Casino
Properly analyzing a casino takes more than just a quick Google search. That's we use our unique review system and actually visit the casinos we review. Our casino experts crossed Confederation Bridge and played a variety of games at Red Shores Casino.
This special approach allows us to view the experience from the eyes of you, the future player. We watched a few races in the Simulcast section, tasted the food at the bar, and played more than a few hands of our favourite casino games.
You can trust our insights and information because we lived it so that you know what to expect if you choose to visit.
How we inspected Red Shores casino
Date of visit: 07/21/2023
Time of visit: 16h – 20h
Initial bankroll: C$100
What we played: Slots, Blackjack
Final bankroll: C$175
Next visit: 03/12/2024
What we looked at
We really wanted to provide insights that no other review has ever done before. That's why we tested and analyzed more than just the casino gaming options on offer. Additionally, we examined the quality of the facility, checked the forms of entertainment you can enjoy, and analyzed every drinking and dining experience available.
What we found
Address

58 Kensington Rd, Charlottetown, PE C1A 9S8

Open hours

Slots:

11 AM – 1 AM

Thurs to Saturday: 11 AM – 2 AM

Table games:

Monday to Wednesday: 4 PM – 1 AM

Thursday to Friday: 4 PM – 2 AM

Saturday: 12 PM – 2 AM

Sunday: 12 PM – 1 AM

Membership

Not required

Minimum age

19

ID checks

Yes

Game types

Slots, table games, racing, poker

Tables

10

Slot machines

200+

Gaming terminals

10+

Payment

Cash, Card, Chips

Average betting range

C$0.01 – C$200

Free drinks (Canada)

No

Restaurant

Yes

Hotel

No
Slot Machines – 5/5
Red Shores casino boasts more than 200 slots including high-quality branded slots, 40 progressive jackpot slots, and a vast range of casual-friendly penny slots that will cater to all player types.
Slots we played at Red Shores Casino
We began by playing Golden Egypt since we'd always been a sucker for a good Egyptian slot and you can play for as little as C$0.25. Next, we quickly spent some time on Tarzan since we wanted to try our luck on a slot that only costs a minimum of C$0.01. The last slot we sat down and played is Sons of Anarchy as we wanted to try and win the Grand Jackpot.
How many slot machines does Red Shores casino have?
We confirmed at least 200 slot machines offering a great deal of variety in themes and slot features.
Do slot machines accept coins?
No, you can only use cash notes and the casino's ticketing system. Your Rewards Card can also be swiped when using Free-play credits.
Slot machine providers
IGT

Scientific Games

Aristocrat Gaming
Local progressive jackpots
You can play around 40 progressive jackpot slot machines and the casino has even hosted its own progressive jackpot promotions in the past. The last one we saw included a progressive jackpot that paid out to all customers who had their rewards card inserted into a machine at the time a player won the jackpot.
During our trip to Red Shores, we noted that the Lightning Link jackpot had moved past $10K when we walked past a row of the machines. We watched another player win the minor jackpot worth about C$25 on Fort Knox.
Casino Games – 4/5
With 10 gaming tables including a poker room that has six tables, Red Shores showcases the only table gaming in town. The bet minimums are low enough for most casual players to enjoy and the maximum bet amounts, while not high roller territory, can certainly generate some big payouts.
Game types
Roulette: 1 table

Blackjack: 2 tables

Poker: 6 tables

Baccarat: 1 table
Betting limits
We couldn't get near the roulette table during our visit but the blackjack tables had a minimum bet of C$5 and a maximum of C$200. The poker room had a couple of cash games being played but the casino hasn't hosted any tournaments in a while.
Can anyone bet the highest limits or do you need special VIP access?
You don't need to be an extra special player to play the highest table limits.
Staff & Service – 3/5
With numerous restaurants, affordable drinks, free parking, and pleasant staff, Red Shores is a great destination to dine at, regardless of whether you wish to play any casino games at all.
Food & Drinks
Red Shores Casino is serviced by three restaurants, two of which act as fully-fledged bars too. Red's Gold Cup Lounge is situated on the casino floor, acting as a great spot for a quick drink between games or to watch the racing. The menu contains plenty of bar classics such as Mozza sticks, seafood chowder, and chicken wings.
Head up to the Top of the Park for gorgeous views of the historic Charlottetown driving track and dine on a variety of buffets which can include Sunday brunches and race night buffets. Prices vary depending on the day and event, but often range between C$20 and C$40.
Turf's Bar & Grill is located by the simulcast area and is great for snacking between or during races. You'll find loads of specials each week which typically consist of a main, a side, and a drink. Turf's is very affordable too with specials hovering around the C$13 mark.
Turfs Bar & Grill:
Monday to Wednesday: 11:30 AM – 1:30 PM

Thursday to Friday: 11:30 AM – 1:30 PM + 5 PM – 7 PM

Saturday: 11 AM – 2 PM + 5:15 PM – 7 PM
Top of the Park:
Monday to Wednesday: 10 AM – 4 PM

Thursday to Saturday: 10 AM – 7 PM
Red's Gold Cup Lounge
How much do you tip at Red Shores casino?
If you're dining with a bigger group – usually 10 or more people – a tip is often included in the bill. However, for the rest of us, a customary 15% tip is considered the norm at Red Shores Casino.
Does Red Shores Casino offer free drinks?
During our time at the tables, we couldn't get any free drinks and nor did any of the other players who were spending significant time at the table.
Is there a buffet at Red Shores casino?
Yes, you can enjoy a variety of buffets at the Top of the Park restaurant. The menu for each brunch event is located on the Red Shores website.
Parking
There is a ton of free parking located in the main lot which is right outside the casino's front door.
Accommodation
Red Shores does not offer any accommodation, but the nearest batch of hotels can be found in the downtown area. This is only a 20-minute walk or a 4-minute drive away. Some of the hotels provide a nice view of the Hillsborough River and Charlottetown Harbour.
Smoking
PEI has tough smoking laws. You'll have to step outside to smoke as there are no designated smoking areas in the casino.
Security
Like any good casino, Red Shores has excellent CCTV coverage and we noted a few security officers walking the casino floor.
You won't ever feel their presence but it's good to know a great level of security is provided.
Loyalty & Rewards – 5/5
Red Shores Casino rewards loyalty and any player can sign up for a free Rewards Club card that can help you earn free play and special perks every single time you play.
How does the Red Shores casino rewards program work?
The Red Shores Rewards Club operates on a Points2Play program. That means you will earn points as you play, receiving discounts along the way. You'll get 1 point for every $2 spent on a slot machine or points can be earned based on your time and average bet at the tables. While you can't redeem your points for cash, you can grab free-play credits or merchandise.
What you get
Free-play credit

Exclusive promotions

Buffet discounts
How to register for the program
Head to Red Shores Casino and go to the Rewards Club Desk

Present your government-issued ID to prove you are at least 19 years old

Fill out the registration forms that will be provided by a team member

Receive your new Rewards Club card
Casino Atmosphere – 3/5
With racing throughout the year and its proximity to downtown Charlottetown, there is plenty to enjoy at Red Shores, even if you don't fancy playing any casino games.
Inside Red Shores Casino
To help you get an idea of how you'll feel stepping into the Red Shores Casino, we made sure to observe and take note of the design, layout, and overall experience of being in the casino. Additionally, we made sure to examine what other forms of entertainment are available.
Design experience
Red Shores still looks very modern. The lighting is slightly darker than you would expect but this makes the lights of the slots truly pop. Part of the casino features ceiling-to-floor glass that provides a stunning view of the Charlottetown driving park. The atmosphere is always heightened as you can feel and hear the casino floor from any part of the casino.
Are you allowed to take photos in Red Shores Casino?
Yes, to some extent. You can take photos in the bars, restaurants, and slot gaming areas but you cannot even take your phone out at any of the gaming tables.
Location and surroundings
First and foremost, you get a view of the historic Charlottetown Driving Park which has been around for over a hundred years. The casino is rather uniquely located amongst a fair number of residential buildings, so you won't have a whole lot to see or explore nearby. You can see the Hillsborough River and you're only a short walk from downtown.
Do you need a passport to visit Red Shores casino?
No, any form of government-issued ID will suffice. Even international players can use a government-issued ID that isn't a passport, but we would recommend using your passport if your ID doesn't look as legitimate as a Canadian ID.
Events
The Charlottetown Driving Park does have a history of hosting concerts from top bands including the likes of Aerosmith, Black Eyed Peas, and Cheap Trick. These days smaller events are held such as tribute shows. You can still watch some of the most exciting live standardbred harness racing in the United States throughout the year including the Gold Cup & Saucer.
House Rules (T&Cs) – 2.5/5
Red Shores doesn't put much effort into displaying their house rules and you can't even get a look at them ahead of your visit.
Thankfully, the house rules are quite relaxed and so long as you're not rude, offensive, or cause any trouble, there aren't many "rules". Although, you must be 19 years or older to enter the casino.
Red Shores casino opening hours
The casino is generally open between 11 AM and 1 AM. However, the gaming tables don't open until 4 or 5 PM, depending on the day, and the casino is open an additional hour on Friday and Saturday, so you can play until 2 AM.
Does Red Shores casino charge entry?
No, entry into the casino is free. However, there may be a charge to enter certain outdoor sections during race meetings.
Do you always need a reservation to play at Red Shores casino?
No, you can simply turn up and play.
Is membership required at Red Shores casino?
No, there is no membership needed to enter the casino but you can sign up for a membership program in the form of the Rewards Club.
Dress code
There is no set dress code at Red Shores Casino and it's likely you'll be able to dress down a little more than you could at most other casinos in Canada. However, this is not a license to wear anything disrespectful or offensive. Just try and keep things as close to smart-casual to be on the safe side.
Standout rules at Red Shores casino
Proof of Covid-19 Vaccine
While still listed as a necessary component of entry into Red Shores, we were not asked to provide any proof of vaccination when we arrived, so this may be an outdated rule but one you should be aware of before visiting.
Player Feedback – 3.8/5
With almost 1,000 reviews across Google and Tripadvisor, the people have spoken and they have a great deal of praise for Red Shores Casino.
Red Shores Casino player reviews
Google – 4.3/5
Google reviewers had loads of good things to say about the range of slots, the price of the beer, and the amount of parking. The staff was also well-complimented but some customers noted how busy the casino can get during race meetings.
Tripadvisor – 4/5
Customers on Tripadvisor consistently sing the praises of the casino experience during track days when the noise and atmosphere can be felt. Additionally, many enjoyed the buffets but accurately noted that many mainland casinos would not charge for non-alcoholic beverages.
Most common issues
No free non-alcoholic drinks at buffets

Can be too busy during race meetings
Operator – 3/5
Red Shores operates Red Shores Casino which was built after the Atlantic Lottery Corporation cut a deal with the local government to drastically overhaul the site after damage from Hurricane Juan and the declining revenues for racing betting.
Who owns Red Shores casino?
The casino is owned by a private organization called Red Shores.
Other casinos by the same operator
Contact info
| | |
| --- | --- |
| Website | https://redshores.ca |
| Email address | N/A |
| Telephone number | 902-620-4222 |
| Other | Facebook, Twitter, Instagram, YouTube |
Red Shores Casino Competitors
As a tiny island of only around 150,000 people, there isn't a huge demand for gambling facilities. This is largely why Red Shores is the only traditional casino in Prince Edward Island.
Red Shores Charlottetown vs Red Shores Summerside
The sister casino to Charlottetown is located at Summerside Raceway and offers around 60 advanced VLT machines that can be enjoyed every day. There are nowhere near as many games to play as Charlottetown but the experience is more relaxed and quiet.
Red Shores Summerside is best for exciting VLT machines
This racino offers some of the most advanced VLT machines with dazzling visuals and authentic animations.
What sets Red Shores Casino apart from its competitors?
Nothing, but that's only because Red Shores does not have any direct competitors. You could cross the bridge to New Brunswick but if you're sticking to the island, then Red Shores rules the roost. Naturally, Red Shores will always provide a great atmosphere than any online casino in Canada.
Red Shores Casino Pros and Cons
Pros
Simulcast racing and gaming in one place

Only place to enjoy table games in PEI

Regular buffets with views of the Driving Park

Over 40 progressive jackpot slots
Cons
No poker tournaments are scheduled at this time
Is Red Shores a Royal Flush?
Boasting numerous table games covering the most popular casino games of all time and proving a collection of over 200 slots that include branded progressive jackpot games, Red Shores is the biggest and best casino in Prince Edward Island for a reason.
With very accessible bet limits, players of all levels can enjoy Red Shores. The casino is full of additional entertainment with famous harness racing, multiple dining options, and a variety of shows each month. New and returning customers can always become a Rewards Club member for free and start earning points towards exciting prizes.