The Shorelines Casino - Gananoque Review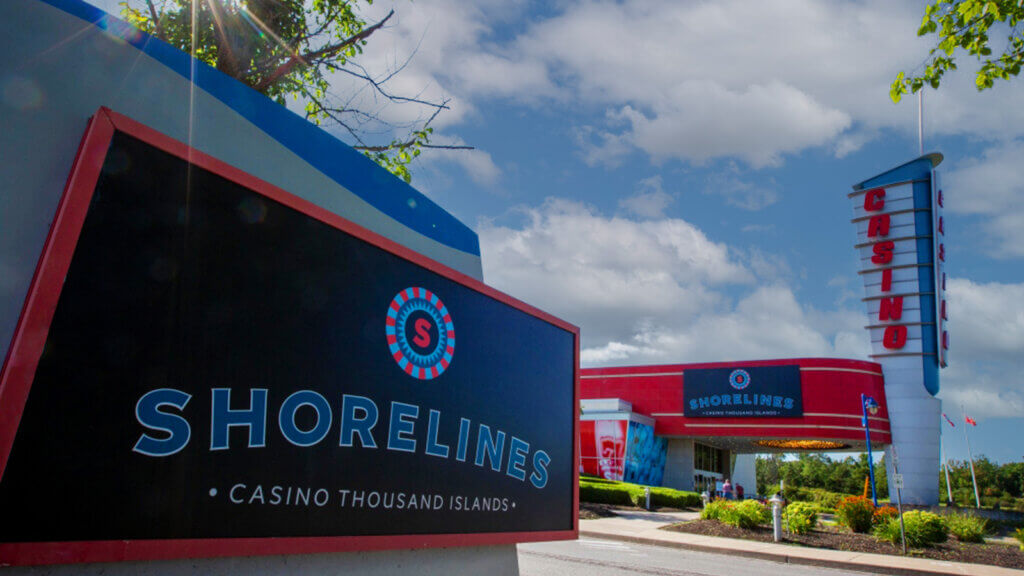 Read our Shorelines Casino Gananoque review to find out the available services and whether the casino is worth visiting.
The Shorelines Casino Gananoque Ratings
| | |
| --- | --- |
| Overall Rating | 4.5/5 |
| Slot Machines | 5/5 |
| Casino Games | 4/5 |
| Staff & Service | 5/5 |
| Loyalty & Rewards | 4/5 |
| Casino Atmosphere | 3/5 |
| House Rules (T&Cs) | 5/5 |
| Player Feedback | 3.7/5 |
| Operator | 5/5 |
Table of Contents
Rating and Review Process for Gananoque the Shorelines Casino
Our rating and review method aims to cover the entirety of a casino's functioning, services, and potential appeal or detriments for visitors.
We have performed first-hand assessments for our Shorelines Casino Gananoque review by actually visiting the premises and anonymously accessing available services. What you are reading is the result of several hours and a number of funds spent in evaluating the Ontario casino.
How we inspected the Shorelines Casino Gananoque
Date of visit: 10/05/2022
Time of visit: 8h – 10h
Initial bankroll: $100
What we played: Roulette, Blackjack
Final bankroll: $0
Next visit: 05/08/2023
What we looked at
Here are the essential areas we looked at when creating our Shorelines Casino Gananoque review.
We have tested the available casino games, including slots and table games.

The overall casino atmosphere and experience.

The venue's placement, surroundings, and scenery.

The performance and quality of the staff's services.

Other player's feedback, complaints, and observations.

Loyalty and rewards systems and VIP club benefits.

The entirety of the stated terms and conditions as stated by the operator.
All data has been cross compared with other Ontario casinos to arrive at a trustable rating for Gananoque the Shorelines Casino.
What we found at the Shorelines Casino Gananoque
| | |
| --- | --- |
| Address | 380 Highway 2, Gananoque, Ontario K7G 2V4 |
| Open hours | 8AM-4AM |
| Membership | Not required |
| Minimum age | 19 |
| ID checks | Yes for non-members |
| Game types | Table games, slot games |
| Tables | N/A |
| Slot machines | 480 |
| Gaming terminals | 70+ |
| Payment | Cash, Card |
| Average betting range | $5 – $100 |
| Free drinks (Canada) | No |
| Restaurant | Yes |
| Hotel | No |
| Poker tournaments (UK) | Texas Hold'em |
Slot Machines – 5/5
The Thousand Islands Shorelines Casino has an impressive number of over 480 slot terminals accessible for all customers, making it an ideal venue for Ontario customers.
All slots also come from renowned casino game providers and developers, some of which we will highlight.
Slots we played at Shorelines Casino
| | | | |
| --- | --- | --- | --- |
| Slot machine | Payout rate | Minimum bet | Provider |
| Rhino Charge | N/A | $0.01 | Aristocrat |
| Beverly Hillbillies | N/A | $0.01 | IGT |
| Queen of the Nile | N/A | $0.01 | Aristocrat |
How many slot machines does Shorelines casino have?
Shorelines Casino has a total of 480 slot machines and, also, an additional section with electronic table games.
Do the slot machines accept coins?
Yes, you can play any type of slot machine using coins. You can also bring your credit card if you want to. The bets usually range from $0.01 to $5.
Slot machine providers
Aristocrat;

IGT;

Franco Gaming;

Ainsworth;

SG.
Local progressive jackpots
Some of the most popular progressive jackpots at Shorelines Casino are:
Agent: Magnifying Jackpots;

Dragon Emblem Jackpot;

John Wayne Progressive.
Casino Games – 4/5
With over 18 types of table games, including Roulette, Caribbean Stud, and Blackjack, the Shorelines Casino at Gananoque is a worthwhile choice.
The betting limits, ranging from $5 to $100, allow mostly for low-rolling, but be sure to find higher conditions, once you become a regular.
Game types
Roulette: 5 tables

Blackjack: 3 tables

Poker: 1 room
Betting limits
| Game | Minimum bet | Maximum bet |
| --- | --- | --- |
| Roulette | $5 | $100 |
| Blackjack | $5 | $100 |
| EZ Squeeze Baccarat | $5 | $100 |
| Spanish 21 | $5 | $100 |
| 3-card Poker | $5 | $100 |
| High Card Flush | $5 | $100 |
Can anyone bet the highest limits or you need special VIP access?
Anyone can bet the highest limits, whether they have the Rewards membership or not.
Shorelines Casino Poker Tournaments
There are plenty of Texas Hold'em tournaments at Shorelines Casino. You have a dedicated poker room where you can attend and participate in poker games. It runs from Monday to Wednesday (from 6 PM to 2 AM) and from Thursday to Sunday (from 11 AM to 4 AM).
Each week you get 2 no limit Texas Hold'em tournaments on Thursdays and Sundays, each one beginning at 11 AM. The first one starts at $125 and the second at $60.
Staff & Service – 5/5
While we did not find the lack of in-house accommodation to be great, all other facilities, from food and drinks to parking and associated prices are commendable.
Food & Drinks
This casino also provides an indoor bar where you can have a drink or even dine. It has a pretty particular schedule: from Sunday to Thursday, you can only access it between 12 PM to 8 PM, while the schedule for Friday and Saturday extends with one hour, from 12 PM to 9 PM. If you want to have breakfast on weekends, bear in mind that the bar is open from 9 AM to 11:30 AM.
One advantage of this bar is that you have plenty of options to choose from, in terms of food and drinks. You can opt for starters, soups, salads, burgers, pasta, mains and desserts. As for drinks, you may try out wine or beer.
The prices are quite decent for a casino restaurant, ranging from $9 to $30.
How much do you tip at Shorelines Casino?
You won't find any information about the tip, but we left a 15% tip after we had finished our meal.
Does Shorelines Casino offer free drinks ?
Shorelines Casino does not offer free drinks, but if you are a member, you may get certain discounts. If you already have a membership card, talk to the staff to help you.
Is there a buffet at Shorelines Casino?
Yes, the buffet is open for casino players, but you cannot make reservations in advance.
Parking
We found that this casino provides plenty of parking spaces, for free. Make sure that you don't go there at rush hour, since it may be too crowded and you won't find a spot.
Accommodation
This casino does not offer any in-house accommodation, however you can find hotels nearby. If you are a member of the Rewards programme, you can get discounts at partnered hotels, like
Pickering Casino Resort Hotel or the Great Blue Heron Casino & Hotel. You can gain comp dollars here and also use them if you gathered enough.
Talk to the staff when you arrive. They will explain how the system works.
Do you tip any service at the Shorelines Casino in Gananoque?
While there is no set value, nor a standard rule for tipping, we recommend that you follow the 10% to 20% rule for tipping service staff and other employees.
Are there smoking areas?
According to their Code of Conduct, players are not allowed to smoke inside the casino. You must go outside if you want to smoke.
Security
We noticed that it takes quite a long time to check the ID at the entrance. Since you must schedule the time you're going to spend playing a slot game, online, you will have the security often checking your time to see if it's up. This can be quite intrusive since we noticed they came to the slot machine a couple of times.
Loyalty & Rewards – 4/5
The addition of two different rewards programs with desirable benefits and a permissible registration process makes the Thousand Islands Shorelines Casino worthwhile in this isle.
How does the Thousand Islands Shorelines Casino rewards program work?
The reward system splits into 2 sections. You can receive: reward points and comp dollars.
The difference between them is that you will receive reward points strictly for Slot gameplay and comp dollars for all your gambling activity. Each 100 reward points equal $1 which you can use for free play. As for comp dollars, you can use these for various amenities.
What you get
Depending on the tier level and how many points you manage to acquire, you can receive:
Free Play, exclusive tournaments and promotions;

Discounts at restaurants;

Room upgrade and late checkout at hotels;

Advantages at partnered casinos.
How to register in the program
To register in the Rewards programme you need to talk to the staff. They will collect your name, e-mail address, physical address, telephone number, date of birth and gender.
You can get your reward points by directly playing slot games. You will get comp dollars if you use any of the casino amenities. Bear in mind that you must present the Great Canadian Rewards card.
Casino Atmosphere – 3/5
With its charming retro interior, multiple facilities and its placement close to St. Lawrence River and Lake Ontario, Shorelines Casino Thousand Islands has a great atmosphere and incredible surroundings.
You should really consider the casino as an attraction for your extended visit to Gananoque, as it fits incredibly well with the entirety of the area's local flavor.
View from the inside
The interior of Shorelines Casino does not impress much. It looks like a regular casino venue, with slots and tables stacked one after another. We noticed that, since the distance between tables is so small, it can get a bit crowded and overwhelming at times.
Design experience
The design is colourful, made specifically to catch your attention. It is the type of design that you would usually find at any casino venue in Canada.
Are you allowed to take photos in Shorelines Casino?
Yes, you are allowed to take photos in Shorelines Casino. However, you should talk to the security or the staff before attempting to take a photo.
Location and surroundings
Gananoque is a great place to visit, with its mix bucolic scenery and the aquatic environment.
You will be within a day's driving distance from the breadth of Lake Ontario and within a few hours' drive from St. Lawrence River, and the 'thousand islands' the area is known for.
Do you need a passport to go to Shorelines Casino?
You will need a form of identification when you enter the casino. The security will check your passport or ID to make sure you have the legal age to gamble.
Events
The events you will encounter are heavily gambling oriented with examples like the Jackpot Party that occurs every second month.
Otherwise, entertainment events can vary and there is no clear infrastructure for the venue to become a cultural center by any means.
House Rules (T&Cs) – 5/5
The casino website is very well organized. You have easy access to the Code of Conduct, Accessibility and the Privacy Statement at the bottom of the homepage.
The Terms and Conditions are transparent and on point, and you will find them in both English and French.
When is Shorelines Casino open?
This casino operates from Monday to Sunday, starting from 8 AM to 4 AM.
Does Shorelines casino charge entry?
Shorelines Casino does not impose any fee at entrance.
Do you always need a reservation to play at Shorelines casino?
You need to make a prior online reservation for slot games. The security will regularly check to see if your time is up.
Is membership required at Shorelines Casino?
The Rewards membership is not required at Shorelines Casino, but it will provide you with some perks.
Dress code
There is no specific dress code at Shorelines Casino. However, players are forbidden to wear clothes with obscene phrases on them as well as gang-related signs or graphics.
Standout rules at X casino
You'll get an ID check if you look or are under 30.

You should not act belligerently, neither in speech nor in action.

Clothing with gang-related graphics or obscene messagery is prohibited.

You need reservation to play on slot machines. The staff will check to see if your time is up.
Player Feedback – 3.7/5
The Thousand Isalnds Shorelines Casino earned a pretty mediocre rating from other reviewers and past customers according to Google Reviews and TripAdvisor.
Shorelines Casino Gananoque player reviews
Google – 3.8/5
Most Google reviews praise the spot for its catering, location and facilities, while being quite reserved when it comes to actual gambling.
TripAdvisor – 3.5/5
TripAdvisor lists the Thousand Islands Shorelines Casino as the fifth destination to visit in Gananoque out of 26 options. The reviews similarly center on its worth as a dining and recreative destination while downplaying the casino gambling aspect.
Most common issues
The casino floor is pretty small.

Winning rates may be lower than for other venues.

Customers get ID'd even when they don't look under 30.

The decor is dated.
Operator – 5/5
The Shorelines Casino Gananoque venues is owned and operated by the Great Canadian Gaming Corporation, nowadays referred to as Great Canadian Entertainment, which owns an additional 25 gaming venues, with 12 being in Ontario.
Within the province, the corporation adheres to the legal framework upheld by the AGCO.
Who owns Shorelines Casino?
Shorelines Casino is owned by the Great Canadian Gaming Corporation. It was recently acquired by Apollo Global Management, in 2021, which is another renowned gambling company.
It owns and operates 25 casino venues in Canada. This company also owns horse race tracks and gaming centers. One advantage is that it is partnered with resorts, restaurants, hotels and other gaming-related venues.
Other casinos by the same operator
Pickering Casino Resort;

Casino Woodbine;

Great Blue Heron Casino & Hotel;

Casino Ajax;

Shorelines Casino Peterborough;

Elements Casino Mohawk;

Elements Casino Grand River;

Elements Casino Flamboro;

Elements Casino Brantford;

Shorelines Casino Belleville;

Shorelines Slots at Kawartha Downs;

Shorelines Casino Thousand Islands.
Contact info
| | |
| --- | --- |
| Website | https://shorelinescasinos.com/thousand-islands/ |
| Email address | – |
| Telephone number | 613-382-6800 |
| Other | – |
Who Are the Top Competitors of Shorelines Casino Gananoque?
The Shorelines Casino Gananoque establishment has two main competitors: the close-by Play! Gaming & Entertainment, and the more lavish Shorelines Casino Belleville.
Thousand Islands Shorelines Casino vs Play! Gaming & Entertainment
With its placement in Kingston, close to other entertainment venues, Play! Gaming & Entertainment may be more accessible when on a trip.
Additionally, the latter accrued a slightly higher 3.9 out of 5 rating.
Play! Gaming & Entertainment is best for Accessibility
The fact that the venue is in Kingston, which by far overshines Gananoque may make Play! Gaming & Entertainment desirable for many.
Shorelines Casino Gananoque vs Shorelines Casino Belleville
The Bellevile counterpart for the Shorelines Casino sits lower down the stream, a drive away from Lake Ontario.
The venue manages to look more modern and pack more entertainment terminals, while still being located in a relatively charming location with natural scenery abounding.
Shorelines Casino Belleville is better at Presentations & Entertainment
If you decide to go to Belleville, you may get the same Canadian scenery but with more to do and visit around.
What sets Shorelines Casino Gananoque apart from its competitors?
The Shorelines Casino Gananoque is more of an experience in itself, with its retro look and more reclusive placement.
If you want to have a more nostalgic trip destination, we would have to recommend the more rustic Thousand Islands Shorelines Casino. Plus, few venues can beat its location.
Pros and Cons
Pros
Great dining service at a discount price.

The Thousand Islands scenery is great.

The venue is a rustic blast from the past.

You will have more than enough parking space.

Great destination for a countryside retreat.

Part of a great rewards program.
Cons
Not so praised for gambling facilities.

Some may find its design dated.

Its location can prove reclusive and isolated.
Is the Thousand Islands Shorelines Casino Your Best Choice?
If you are willing to trade lavish for rustic, central for marginal, modern for retro, and large for intimate, the Shorelines Casino Gananoque venue is a great stop in your Canadian trip.
It may not be the best land-based casino in Ontario, but as it stands, it is worth a visit from you. Don't expect to play too much, but await a great dine-in experience.