Sneak Peak to Online Bingo: Understand how to play it
Bingo is a game of chance, but you should still know how to get the hang of it. That's where we intervene! Let us help you with the little-known aspects of bingo!
Know the Bingo Rules
The rules are pretty straightforward compared to other casino games such as Canada Online Roulette or Canada Online Blackjack. It is a game of chance, so there's not much you need to learn.
Still, there are various types of bingos, and each one has different patterns. Initially, it shall contain 224 fields, divided into 5 x 5 numeric grids.  
So, what's the rule of this game of chance?
Knowing the numbers, you have to cross on your bingo board.
Each bingo variant will allow you to create different types of patterns!
Full House: You have marked all the numbers called.
2 lines: Where you mark two rows, either horizontal, diagonal or vertical.
Here's how it should look: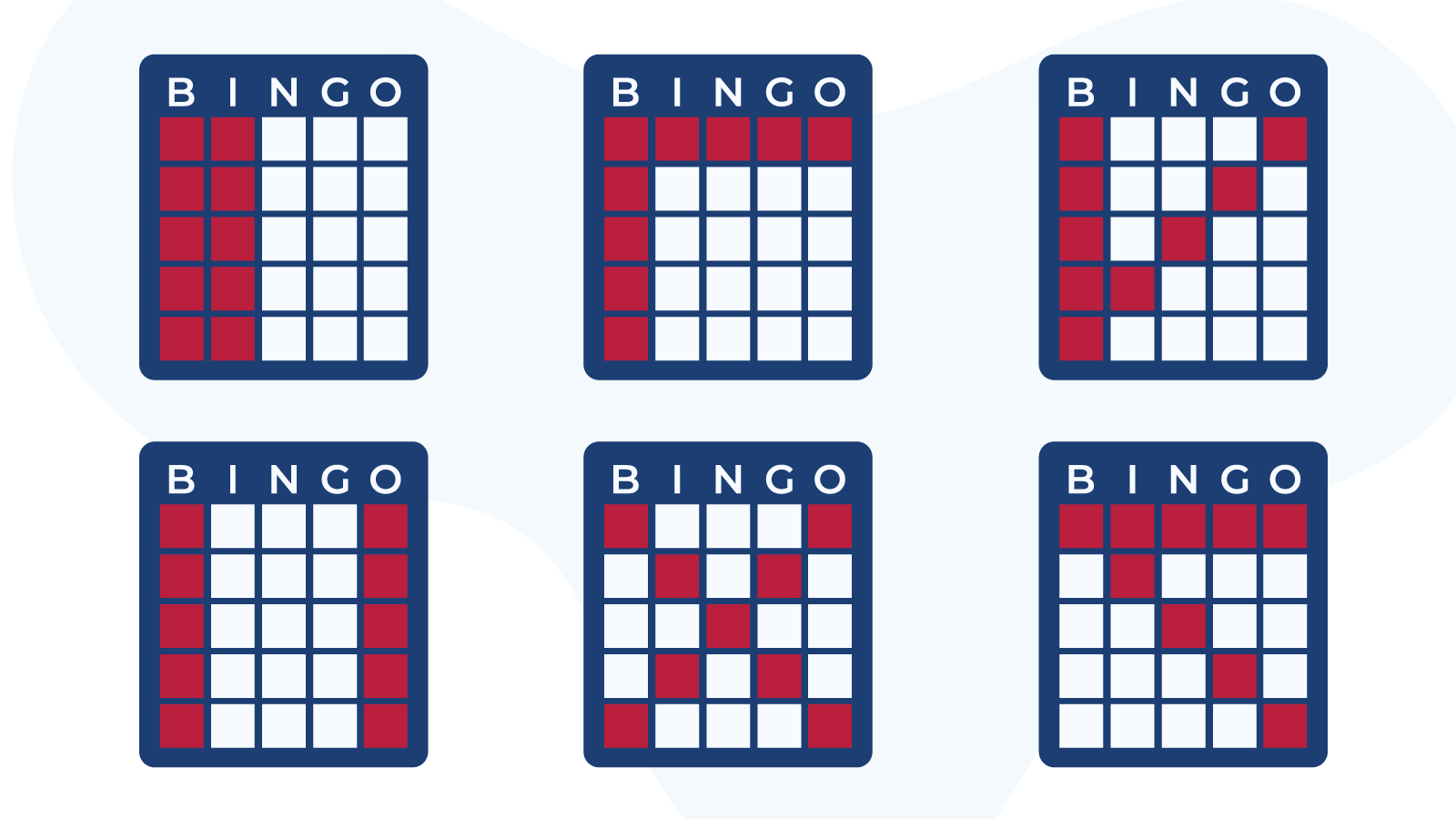 1 line: You have crossed only a row of your ticket.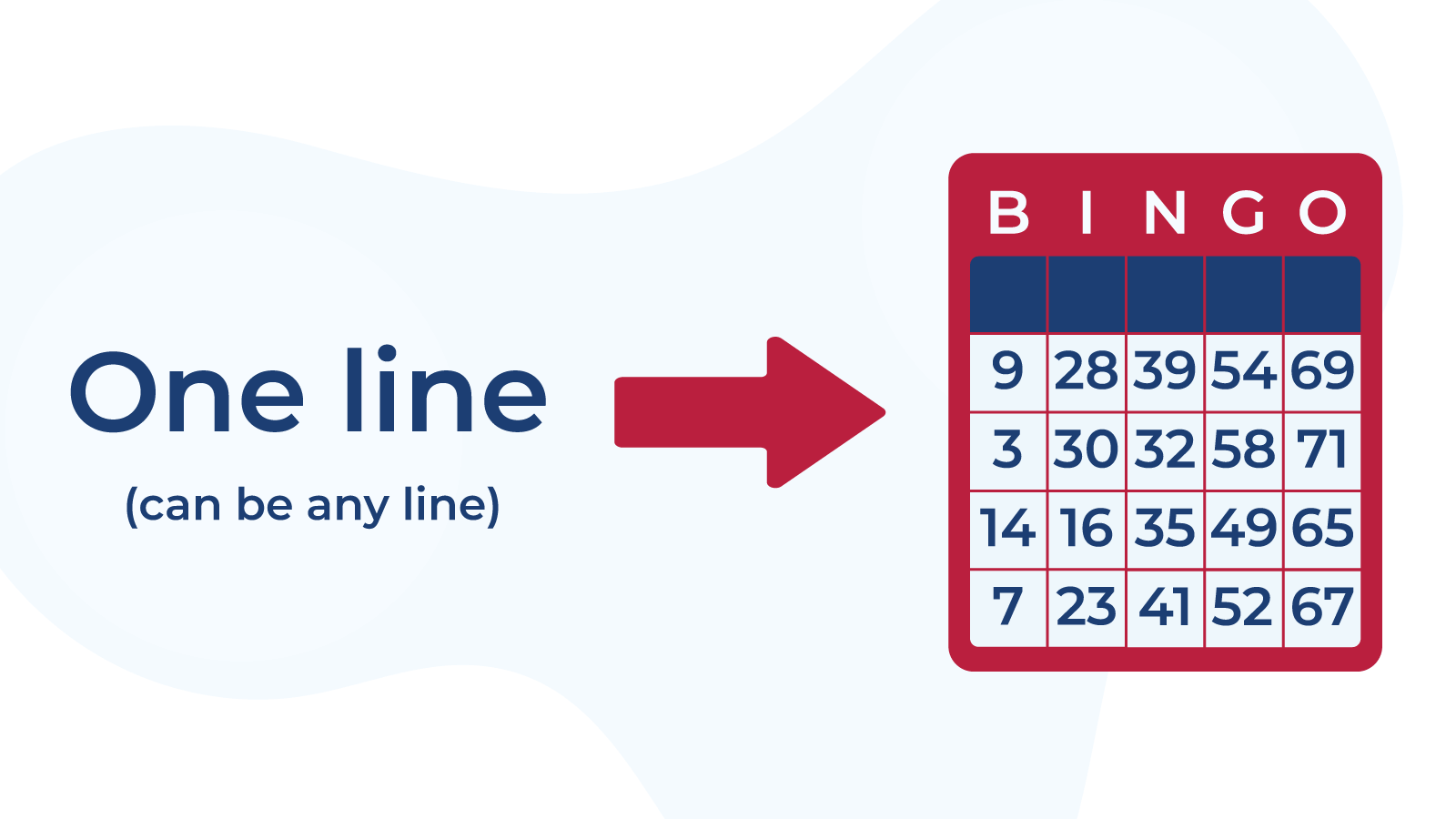 Pattern: You mark a set of patterns of squares. Each game type will have multiple designs.
Can you calculate your bingo odds?
Of course! Even though it's a game of chance, you can still calculate the odds of winning.
Think of it like this:
Suppose a user has 3 cards from a total of 100 which are in play. In such an instance, the bingo odds of winning are set at 3%.
This system can be applied in all bingo plays.
Which is the right Bingo type for you?
In the gambling industry, there are a few different types of online bingo variants. What you're interested in depends only on you. We're not here to tell you what to choose, but to help you understand each type and select the one which suits your taste.
We believe that making an informed decision will also help maximize your winning chances.
This being said, let us begin:
75 Ball Bingo
This online bingo variant consists of 5 x 5 grids where random numbers will be generated from 1 to 75, as the name of the type also implies. In total, it has 25 spaces which also includes a free square in the middle of the card.
In each column, a set of numbers will appear.
Here's a visual of how the numbers will be generated according to each column:
| Column | Set of Numbers |
| --- | --- |
| 1st | 1-15 |
| 2nd | 16-30 |
| 3rd | 31-45 |
| 4th | 46-60 |
| 5th | 61-75 |
If you haven't seen a 75 ball bingo ticket up until now, you don't need to worry. We come to you with an illustration of what your ticket will look like.
Here's the deal: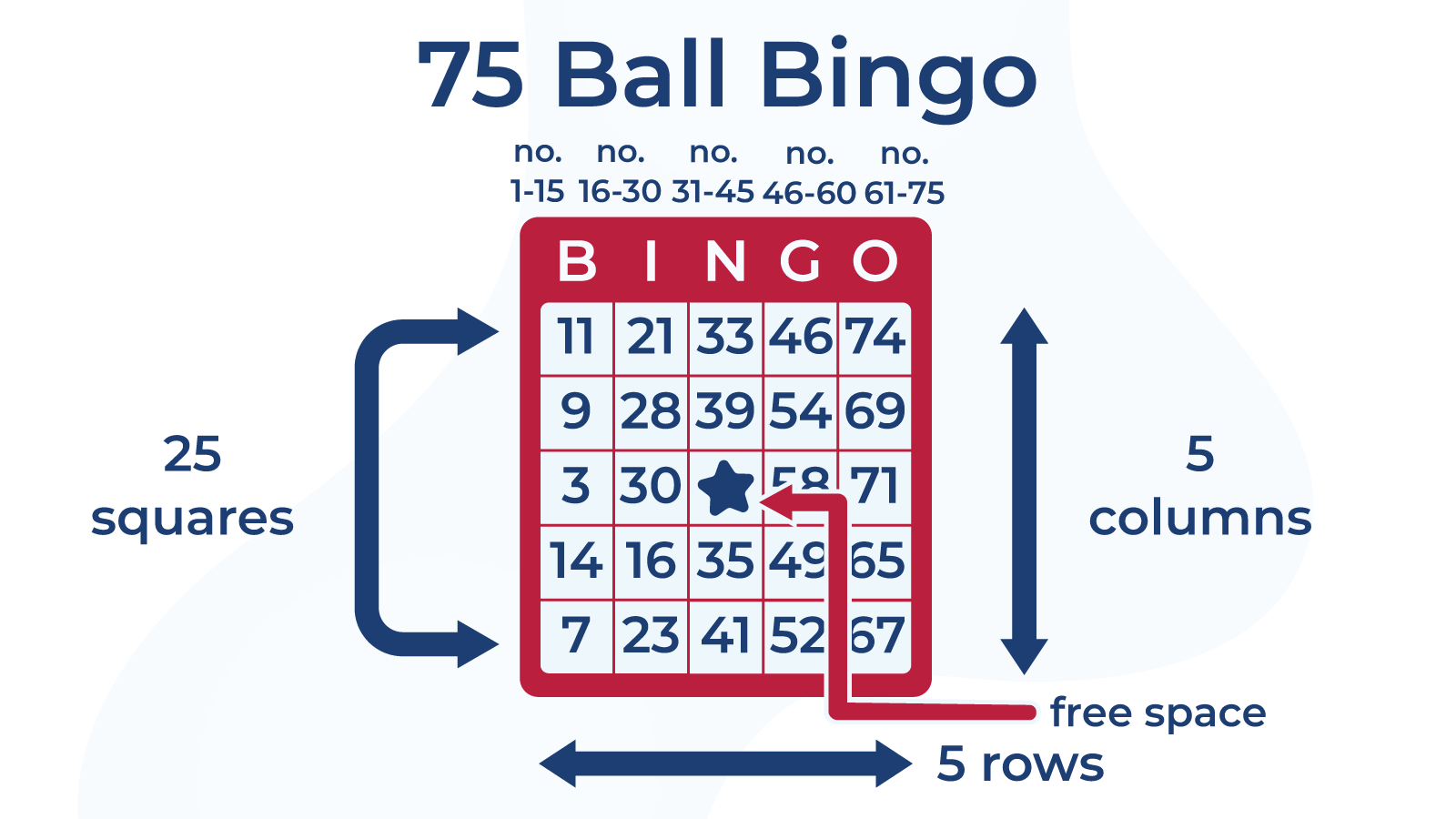 80 Ball Bingo
This bingo-type grid is a 4 x 4 square with 4 columns and containing 80 numbers.
The pattern of this type looks like this:
| Column | Set of Numbers |
| --- | --- |
| 1st | 1-20 |
| 2nd | 21-40 |
| 3rd | 41-60 |
| 4th | 61-80 |
Want to know how your 80 ball bingo ticket will look like before starting the game?
We've got you covered: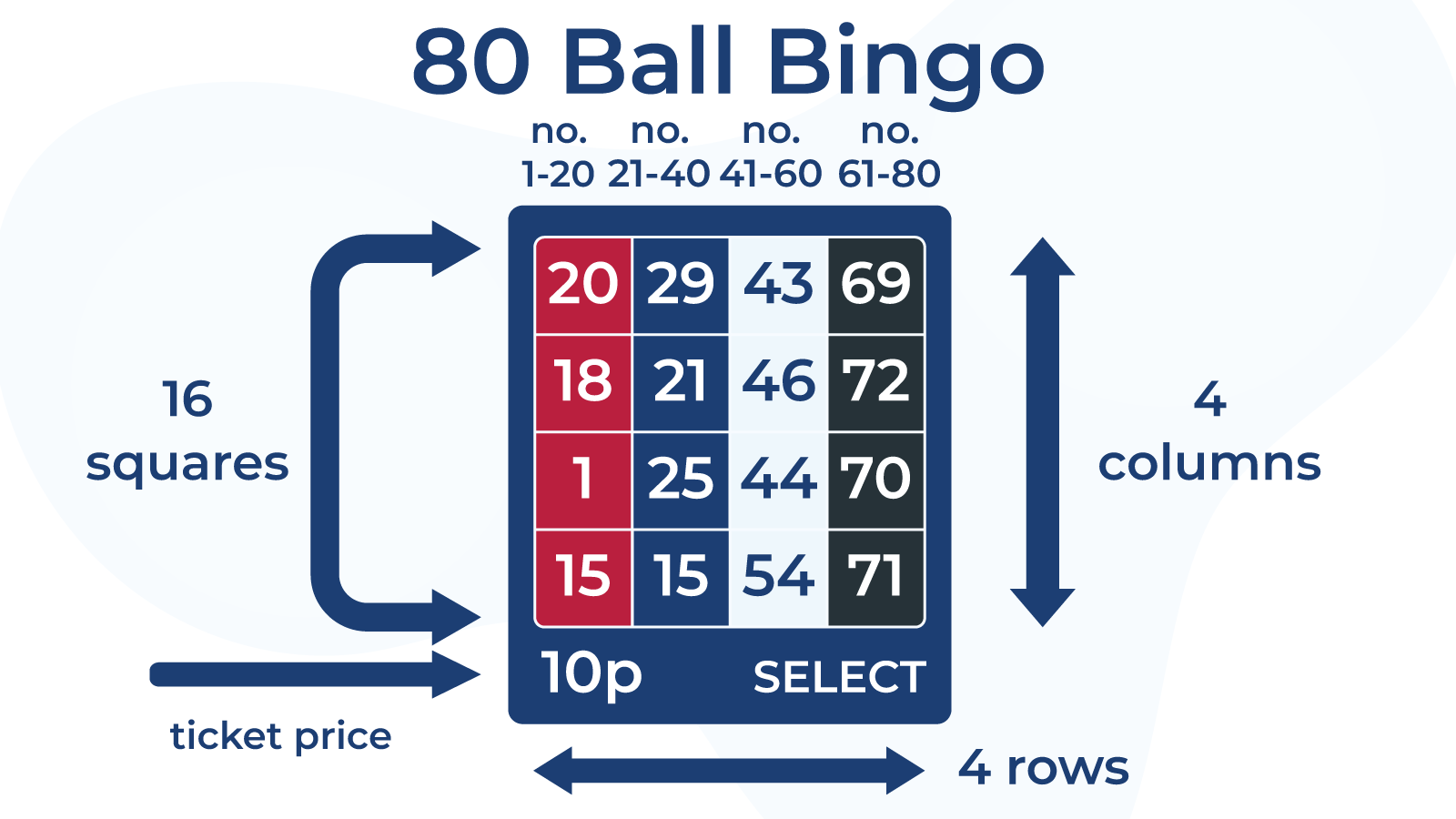 90 Ball Bingo
This bingo type is quite different from the ones presented above. Is made of 3 x 9 chart of numbers. You will see that each line that contains 9 squares has 5 digits and 4 free spaces.
As with the other variants on each of the 9 columns, you will find a particular set of numbers.
Here's how it appears:
| Column | Set of Numbers |
| --- | --- |
| 1st | 1-9 |
| 2nd | 10-19 |
| 3rd | 20-29 |
| 4th | 30-39 |
| 5th | 40-49 |
| 6th | 50-59 |
| 7th | 60-69 |
| 8th | 70-79 |
| 9 | 80-90 |
How to play Online Bingo: Step-by-step
Not sure where to start? Let us be your guide in the bingo world. We'll tell you the steps you need to follow, and all that's left to do is to start your bingo session.
It's that easy with us!
Let us get straight to the point:
Choose a bingo room that suits your taste.

Purchase your online ticket.

It's time to start the game!

Wait for the caller to call your number.

The numbers will appear on the call board.

If the called numbers are on your bingo board, they will be automatically crossed or circled.

Your aim? Cross out all of the numbers on your ticket.

Depending on your bingo type, you get line wins, and pattern wins where you get a prize.

The numbers will keep being drawn until one, or several players have the bingo pattern completed.

Do you have all of your numbers crossed? That is bingo!

A pop-up will appear with the winners and the generated rewards.
Now you know how to play it. But our job doesn't end here!
We understand that it might be difficult to set on a single bingo casino, primarily since many platforms exist in this industry. But, we proud ourselves as your champions of choice!
What we mean is that we've analyzed the online bingo niche and created a comprehensive database with bingo casinos that are worthy of your membership. Besides the fact that we come to you with elite platforms, we also put at your disposal a list of bingo bonuses that can increase your winning chances.
It's better to know how and where to start your bingo journey!
Do you speak Bingo?
Are you new in the online bingo world? If that's the case, you might want to get acquainted with the online bingo terminology. You learn the words, and we guarantee a smooth session!
Let's dive right in:
Bingo Board: The panel that appears on your screen and where your numbers are drawn are presented.
Blackout: It means that you must cover all the spots on the card in order to win and not have typical patterns such as vertical, horizontal, or diagonal.
Card: Basically, it is your ticket you use to engage in a bingo play.
Chat Moderator: Or simply CM is the person who works as a representative in the chat section of the online bingo.
Chat Room: As the name implies, it is the place where you can interact with other players.
There are times when promotions are awarded in chat rooms.
Free Space: This is the free square that will be automatically filled at your session's start.
Jackpot: Have you made a particular pattern with a set number of the ball? Well, this means that you get an additional reword.
Progressive Jackpot: As any progressive jackpot, it is a jackpot that accumulates as users play. Generally speaking, it will be granted if you mark complex patterns with just a small amount of numbers.
Get familiar with the unheard Bingo Lingo:
In chat rooms, users don't always have enough time. The rush takes over, and you will find yourself reading cryptic messages and not understand a thing.
Well, we know the meanings behind it, and we're here to share the secrets with you.
These are the ones you need to memorize:
1tf: It translates as one to go, and it means that only one number is left to win.

2tg: When you see this, it means that you only have two numbers until you get to win.
We've also investigated and translated the secret language behind the bingo chats.
Let us point some of them:
| Bingo Lingo | Translation |
| --- | --- |
| AAMOF | As a matter of fact |
| ASAP   | As soon as possible |
| ASL   | Age, sex, location |
| B4N   | Bye for now |
| BBL | Be back later |
| BF | Boyfriend |
| BRB | Be right back |
| BTW   | By the way |
| CU | See you |
| CUL   | Catch you later |
| CYA | See you later |
| FCOL   | For crying out loud |
| FYI | For your information |
| GF | Girlfriend |
| GG | Good game |
| GL | Good luck |
| GLA | Good luck all |
| GR8 | Great |
| HAGD | Have a great day |
| IMHO | In my honest opinion |
| JK | Just kidding |
| K | Ok |
| L8R | Later |
| LOL | Laugh out loud |
| LYK | Let you know |
| NOYB | None of your business |
| NP | No problem |
| OMG | Oh my god |
| PLZ | Please |
| ROFL | Rolling on the floor laughing |
| SRY | Sorry |
| THX | Thanks |
| TTYL | Talk to you later |
| TY | Thank you |
| W8 | Wait |
| WB | Welcome back |
| WD | Well done |
| WTG | Way to go |
| YW | You are welcome |
What do we do for you?
We do not only come to you with elucidations on how bingo works; we also put at your disposal certified sites where you can test what you learn from us. It pays off to know your game and where to play it.
That's not all!
If you want to try something different, we are your source. We present you with best casino sites that have incorporated various types of games, from classic casino games to live casino, online lottery and more. Everything you shall discover in our library has been carefully analyzed and tested.
Our best interest is your safety!