7 of the World's Largest Casinos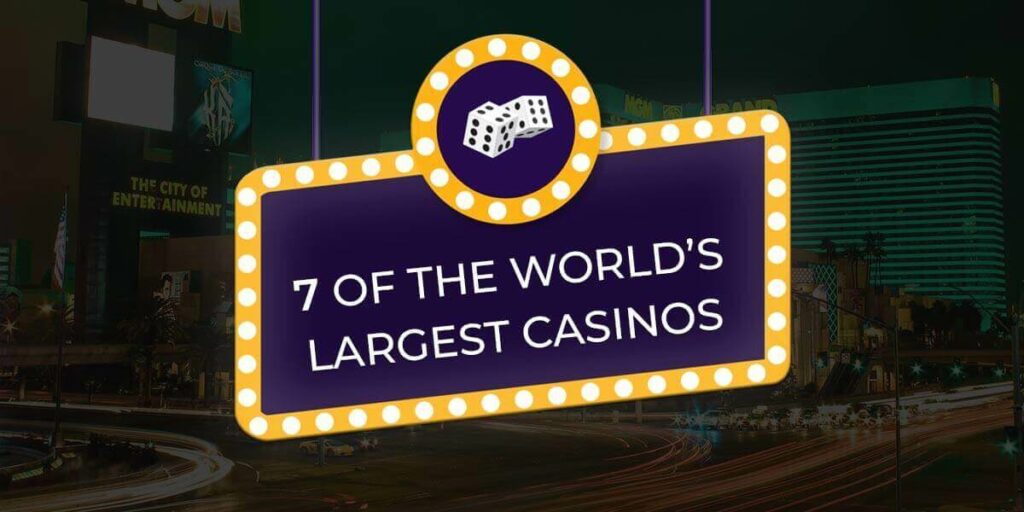 The world's largest casinos leave you breathless with their architectural design and dimensions. We've selected 7 of the most imposing gambling houses that are still operational today.
Then and Now
Il Ridotto marks the birth of legal, government-sanctioned gambling in Europe. In 1683, a wing of the Dandolo Palace in Venice was turned into a casino, becoming the first casino in the West. Today, casinos are built in a different style, but they still share the magnificence of this original model.
Some of them still blend Renaissance patterns with a modern view, but we can see clearly that casinos and gambling in general have been utterly transformed since then. Il Ridotto was an exclusive place, reserved for the noble, while in our times, gambling has reached the masses.
Now, you're welcome in the world's largest casinos even if you're not really of blue blood. It's understandable that land-based casino managers do their best to attract clientele, like quitting dress codes, since legit online casinos don't have any requirements except those imposed by law and gambling institutions.
7. Rio Casino Resort – South Africa
Located in Klerksdorp, Rio Casino Resort measures 24743 m2, making it the largest casino in South Africa. Opened in 2002, it hosts over 200 slots and table games. More precisely, the Brazil-themed location offers its clients the possibility of choosing from 247 slot machines and 11 table games.
6. Ponte 16 – Macau
Located in Macau, this 25000 m2 establishment is not only a grand casino. It is also known for a Michael Jackson exhibition, where you can find items such as the glove he wore during his first moonwalk performed on television in 1989.
As for the casino floor, here you can find 307 video poker and slot machines, along with 109 table games.
5. Casinò di Campione – Italy
Italy is host to plenty of historic casinos. Established in 1917, Casinò di Campione's initial purpose was gathering information from foreign diplomats. With 500 slot machines and 56 table games under its roof, it was considered the biggest in Europe.
It was temporarily closed in 2018, but now local authorities plan to reopen it. It's worth keeping an eye on how this situation develops.
4. Casino Lisboa – Portugal
The Casino Lisboa is open to visitors since its inauguration in April 2006.
Then, it featured more than 700 slots and 22 table games, but the number of games has grown considerably. It was the first casino in the country built not in a tourist area, but a major urban center. That's why, at first, it wasn't very well received. Still, this didn't stop it from functioning and becoming one of the biggest casinos in Europe.
3. MGM Grand – Las Vegas, Nevada
The Entertainment Capital of the World couldn't be missing from the list, so it made its way here with MGM Grand. Located on the Las Vegas Strip in Paradise, this huge building holds 139 table games and over 2500 slots. The High Limit Slots have a payout up to $500000!
This hotel is unique. It is the biggest in the States, with 6852 rooms and its gaming floor measures almost 16000 m2, the largest in Vegas.
2. Montreal Casino – Canada
Situated on Notre Dame Island, it is the largest casino in Canada since 1993 when it was opened.
The gaming floor is almost 50000 m2, accommodating over 3200 slot machines. Add to these over 100 table games, and you'll understand why Montreal Casino is such an imposing establishment.
A new area was inaugurated in 2014, called the Zone. Here, you can learn the basics of Blackjack and other table games. If you're visiting, you may take advantage of this opportunity to up your game.
1. WinStar World Casino – Thackerville, Oklahoma
The world's biggest casino is surprisingly not located in Nevada but Oklahoma. WinStar World Casino opened in 2004, but 5 years later, it was renovated, reaching 34000 m2. With more than 8500 electronic games, 100 table games and a Poker room with 55 tables, this casino has games for all tastes.
Guests will certainly not miss out on entertainment when they visit WinStar. Notable artists performed in its concert hall, like Dolly Parton, Blake Shelton, Luke Bryan, Maroon 5, John Legend, Sting, Jerry Seinfeld and John Mellencamp.
Impressive through style and size, our list of the 7 biggest land-based casinos could have been completed with a few more where some of the biggest casino heists took place, but we thought these stand out by themselves.
As a final expert tip, if you plan on visiting Vegas, they play a lot of Blackjack there, so be prepared. It may come in handy to practice your skills beforehand. Since live casinos in Canada provide virtually any Blackjack variant, you could combine your live dealer casino with a bonus and practice for free!
References