7 of the World's Largest Casinos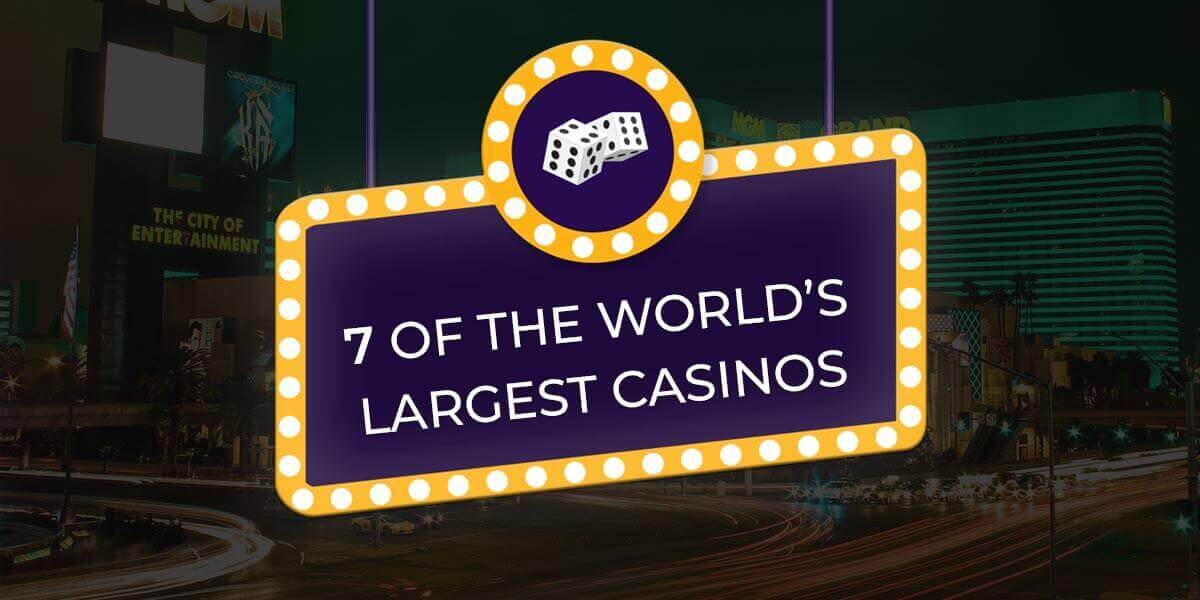 The world hosts plenty of casinos, some of which leave you breathless. They will leave all their customers speechless with their design and dimensions. The purpose of this article is to present you 7 of the greatest casinos that ever existed.
It all started with Il Ridotto. This wing of Palazzo Dandolo, near the San Moise church, was turned into a casino in 1638, becoming the first legal mercantile casino in the West. Who would have thought back then how the casinos would look centuries later?
Today, you'll find plenty of such remarkable establishments, some of which you can still visit. Still, if you can't afford to travel now, you should try some of the newest legit casinos that have been carefully selected by our experts. They're even safer than the land-based ones given that they are tested by eCOGRA, and also own one or more gambling licenses.
7. Rio Casino Resort – South Africa
Located in Klerksdorp, Rio Casino Resort measures 24,743 m2, making it the largest casino in South Africa. Opened in 2002, it hosts over 200 slots and table games. More precisely, the Brazil-themed location offers its clients the possibility of choosing from 247 slot machines and 11 table games.
6. Ponte 16 – Macau
Located in Macau, this 25,000 m2 establishment is not only a grand casino. It is also known for its Michael Jackson exhibition, where you can find items such as the glove he wore during his first moonwalk performed on television in 1989.
As for the casino itself, here you can find 307 video poker and slot machines, along with 109 table games.
5. Casinò di Campione – Italy
Italy seems to be hosting plenty of historic casinos. Established in 1917, Casinò di Campione's initial purpose was gathering information from foreign diplomats. With 500 slot machines and 56 table games under its roof, it was considered the biggest in Europe. Unfortunately, you cannot gamble here anymore as it was closed in 2018.
4. Casino Lisboa – Portugal
Since April 2006, you can visit the Casino Lisboa. You'll find it at the Park of the Nations. You may choose from more than 700 slots and 22 table games. It was the first casino in the country built not in a tourist area, but a major urban center. Because of this reason, it wasn't very welcomed. Still, this didn't stop it from functioning and, this way, it became one of the biggest in Europe.
3. MGM Grand – Las Vegas, Nevada
The Entertainment Capital of the World couldn't be missing from the list, so it made its way here with MGM Grand. Located on the Las Vegas Strip in Paradise, this huge building holds 139 table games and over 2500 slots. The High Limit Slots have a payout up to $500,000!
This hotel is unique. It is the biggest in the States, with 6,852 rooms and its gaming floor measures almost 16,000 m2, being the largest in Vegas.
2. Montreal Casino – Canada
Situated on Notre Dame Island, it is the largest casino in Canada since 1993 when it was opened. It consists of 3 interconnected buildings. While the third is an annex, the main one has 6 floors.
However, it gets better: the gaming floor is almost 50,000 m2! How many slots can fit in that space? Over 3,200. Add to these the over 100 table games, and you'll see why Montreal Casino is such an imposing establishment.
Recently, in 2014, a new area was inaugurated, called the Zone. There, you can learn the basics of Table Games. So, if you're still a newbie, you may take advantage of this opportunity to become familiar with Baccarat, Blackjack and other such. Consider the best here are the lowest in the casino.
1. WinStar World Casino – Thackerville, Oklahoma
The world's biggest casino will not be found in Nevada but Oklahoma. WinStar World Casino opened in 2004, but 5 years later, it was renovated, reaching 34,000 m2. With more than 8,500 electronic games, 100 table games and a Poker room with 55 tables, you cannot stay indifferent when faced with such a scene.
Its guests will certainly not miss the entertainment. Among those who performed at WinStar, we can name Dolly Parton, Blake Shelton, Luke Bryan, Maroon 5, John Legend, Sting, Jerry Seinfeld and John Mellencamp.
If you could travel to any place for free, where would you go first? Now that you've read some about the most impressive casinos around the world, it's up to you to choose the one you want to visit first. You could pick one, or you could check them all.
The world's huge, and you've got all the time in it to plan this trip, but don't forget to practice first. You can also do that on your phone, and for that, we've selected some casinos worth trying, optimized for mobile use or have a dedicated app. Check out that list, and get ready for the upcoming adventure!
References