The Biggest Casino Heists of all Time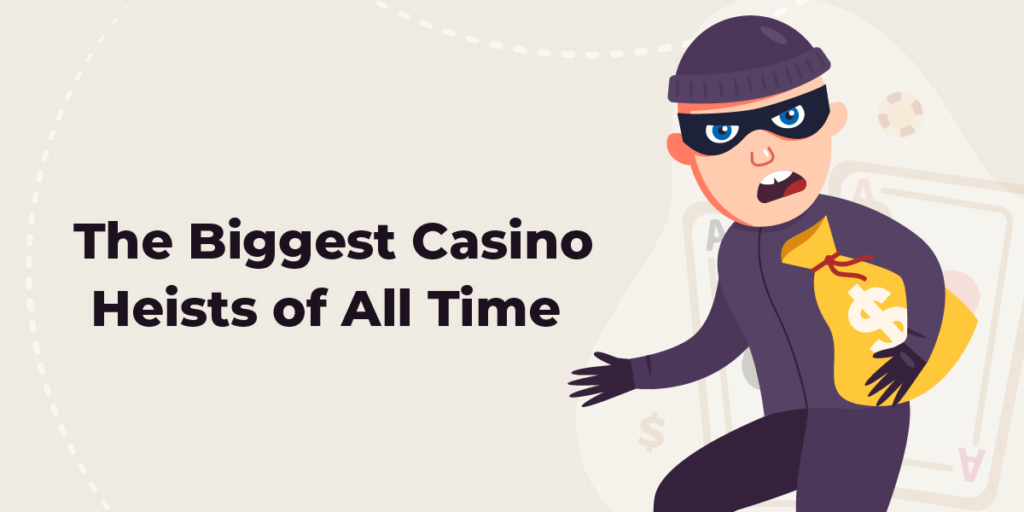 Find out about the gambling history's successful casino robberies with the highest stakes. Our bonus casino experts will tell you how the biggest casino heists occurred.
9. Operation Cuban commando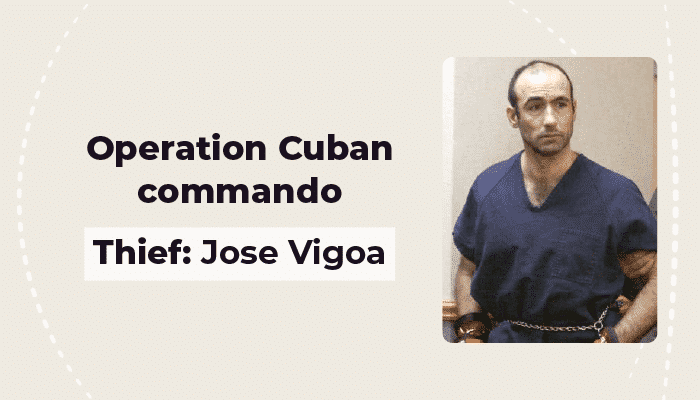 Target: The Bellagio (Las Vegas)
Robber: Jose Vigoa  
Year: 2000
Amount stolen: $160,000 in chips
How: Bullet-proof Attire
To start on a lighter note, let's discuss the first Bellagio heist, plotted and enacted by Jose Vigoa. Yes, you've heard it right! The famous Las Vegas venue has been the target of multiple successful casino robberies over the years.
The First Hit
The first heist occurred in 2000 when a former Cuban commando named Jose Vigoa, set his sights on the Bellagio.
He was already an experienced bank and casinos robber with a vast criminal record before taking off with over $160,000 worth of chips. This may seem a lot but the top has just begun. Wait until you hear about the rest of the heists on our list!
How Did He Do It?
Helped by two other armed accomplices, Vigoa jumped over the cashier cage counter, packed a bag with chips then quickly ran towards the exit. As he was also wearing bullet-proof equipment, he easily dodged the security guards' shots.
He Didn't Get Away
Jose was caught when he murdered two truck drivers on his escape route. He received an astonishing 500-year sentence for his crimes. This amazing heist was the main inspiration behind top gambling movies Storming Las Vegas and Ocean's 13.
8. The One That Got Away… with $500,000
Target: Stardust Casino (Las Vegas)
Robber: Bill Brennan  
Year: 1992
Amount stolen: $500,000
How: Tricked the Security System
Stardust was subject to one of the most infamous and controversial Las Vegas casino robberies, back in 1992, when Bill Brennan stole a total of $500,000 in cash and chips.
An Unlikely Robber
Unlike Jose, Brennan had no criminal record prior to the big event. He was just a regular Stardust employee who, one day, decided to break even and change his life forever.
How He Did It
As Bill was a devoted employee, he had extensive knowledge of how the casino's security system works and managed to trick it.
He Then Dissapeared
What's more intriguing about this event and different from most casino heists is that Brennan got away with it and hasn't been seen since.
Rumours have it that he fled to Mexico or Colombia, undertook a new identity and shook hands with drug cartels. We'll probably never find out.
7. Family Business Goes Wrong (at Least for the Dad)
Target: Stardust (Las Vegas)
Robbers: Royal, Jake and Bobby Hopper    
Year: 1991
Amount stolen: $1.1 million
How: 'Fake Robbery' Decoy
Here comes another Stardust heist! One year before the Brennan event, the venue faced a 'family business' issue. Royal Hopper, one of the casino's security guards, used his sons, Jake and Bobby, as decoys for not one but two thefts.
The Two Casino Heists
The first time, the sons acted as 'fake' robbers. While everyone was distracted, their father performed an inside job and sneaked out with $150,000.
However, that did not satisfy him, and the three men managed to arrange another heist worth $1 million. They had little time to savour their stealing streak, as they were caught soon after the second robbery.
The Father Paid for the Casino Heists
What's quite surprising is that only Royal got a prison sentence while his sons escaped indictments. Good lawyers pay off, right?
6. Hacking the Ritz with a mobile phone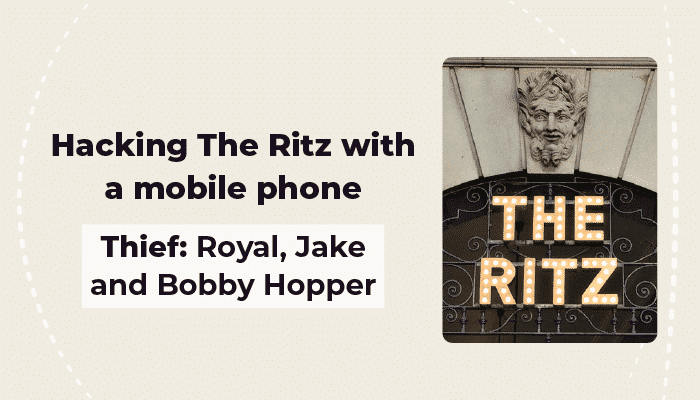 Target: The Ritz (London)
Robbers: Royal, Jake and Bobby Hopper   
Year: 2004
Amount stolen: $1.3 million
How: high-tech equipment
Here's yet another trio who robbed a gambling venue of £1.3 million is comprised of two Serbian men and a Hungarian woman. This time, the occurrence took place at the famous Ritz enterprise in London.
Laser-Guided Robbery
The three Eastern Europeans performed one of the most high-profile technological casino heists of all time. They used a laser scanning system embedded in their mobile phones to hack a Roulette game.
The technology was so advanced that it was able to determine the exact spot where the ball will land.
They were eventually caught and the trio got away with a lifetime ban from all London casinos, as there were no clear laws against gambling cheating at that time. Their sentence certainly falls on the lighter side when considering other casino heists.
5. Unconscious Robbery of Soboba
Target: Soboba Casino (Las Vegas)
Robber: Rolando Ramos, Eric Aguilera (although he can't recall)
Year: 2007
Amount stolen: $1.5 million
How: Gunpoint Robbery
Not much of a mastermind, Rolando Ramos robbed the Soboba gambling venue of $1.5 million by using a pretty classic and straightforward strategy: gunpoint robbery. Quite an amateurish approach considering the others.
Another Inside Job
Rolando was part of the casino's low-level security personnel. He also received aid from Eric Aguilera, one of his colleagues. Together, they held ten employees hostage at gunpoint. The weapon later proved to be fake. Ramos loaded the cash while Aguilera drove the getaway car. What's funny about this story is that Rolando claimed he had no memory of his actions after being caught. He blamed his excessive drug consumption. Good luck using that as an alibi for your casino heists!
4. The Birth of the Biker Bandit
Target: The Bellagio (Las Vegas)
Robber: Anthony Carleo
Year: 2010
Amount stolen: $1.5 million in chips
How: Gunpoint Robbery but Better (on a motorbike)
The second high-profile case from the casino heists involving the Bellagio, has Anthony Carleo as its protagonist.
A Robber With Experience
Anthony had already committed a successful robbery before this hit, at the Suncoast Casino. More so, he almost managed to get away with this one and have two successful robberies under his belt.
The Bike Hit
In December 2010, Carleo arrived at the Bellagio on a motorbike. While still wearing his protection helmet, he ran inside the enterprise, pulled out a gun and grabbed over $1.5 million worth of chips. Following his feat, he was referred to as the Biker Bandit.
Like Most Casino Heists, It Ends With An Arrest
At first, he could not be identified but was eventually caught when he tried to sell the chips online on a poker forum. An undercover cop impersonating a potential buyer was the one who arrested Carleo. After all, truth is stranger than fiction indeed!
3. Truck driver turned casino thief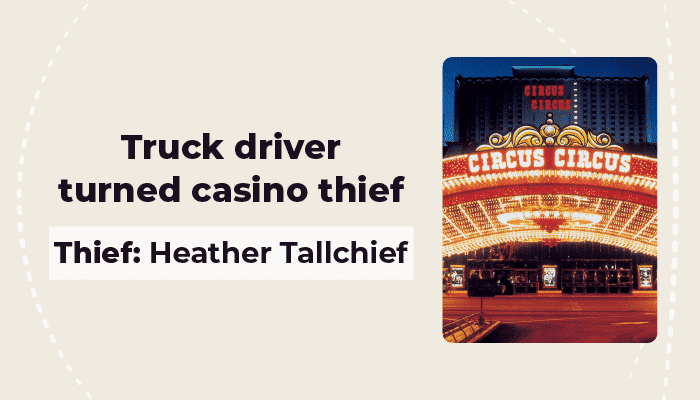 Target: Circus Circus (Las Vegas)
Robber: Heather Tallchief
Year: 1993
Amount stolen: $2.5 million
How: armoured truck getaway
The Circus Circus hit is the only one on our list of casino heists with a leading woman, which makes it even more intriguing.
Twenty-one-year-old Heather Tallchief worked as an armoured truck driver for Circus Circus. Her job was to load ATM machines around the building with cash.
Another Employee Trying One's Hand
She was a trusted employee until one day when she drove away the truck packed with $2.5 million in cash.
She Disappeared for 12 Years
After almost 12 years with no trace of Tallchief, she surrendered to the police claiming that her husband, who was rumoured to have plotted the heist with her, ran away with the money.
Double-Crossed or Geniuses
Heather ended up serving only five years in prison. Yet, some believe that she pulled off the perfect robbery and the couple still secretly has the money.
2. The MIT Blackjack masterminds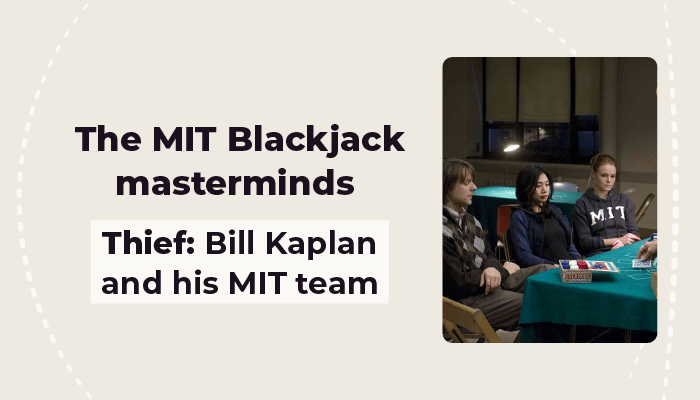 Target: multiple casinos (around the world)
"Robbers": Bill Kaplan and his MIT team
Year: 1979-2000
Amount stolen: $22 million (estimated)
How: card counting strategy
Although we are not talking about any specific casino heists here, the infamous MIT Blackjack team could not go unmentioned.
The team takes the second spot on our list since it was behind the most popular and elaborated series of organized crimes in history.
It even inspired the successful '21' movie, which was based upon real events.
What Did They Do?
A Harvard graduate called Bill Kaplan, who became an expert in card counting while playing Blackjack, saw a huge opportunity of building a fortune around the game.
He later recruited a group of MIT students and started training them in the 'art' of card counting.
From 1979 to 2000, the team was believed to have 'stolen' over $22 million by using this strategy to trick several casinos around the world. Technically, these cannot be considered successful casino robberies, but they certainly were successful, and the casinos must have felt robbed.
Fame Ruined It All
Yet, their strategy was so ingenious that the story made headlines across the globe and became renowned as one of the greatest undercover casino heists in history.
1. The jackpot of Casino Heists 
Target: Crown Casino (Australia)
Robber: James Manning
Year: 2013
Amount stolen: $32 million
How: surveillance camera hack
Now that we reached first place on our list, it's time to talk about the most 'high-value' of the successful casino heists, accounting for not less than $32 million. What makes it even more special is that heist is the most recent one, chronologically speaking. It also isn't one of the numerous Las Vegas casino heists.
This is How It Went
New Zealand millionaire James Manning plotted the perfect decoy by becoming a Crown VIP member.
In this way, he also gained access to exclusive card tables packed with high rollers. James bet against the odds on all eight hands of a Poker game, winning a staggering $32 million.
The Ace Up His Sleeve
However, this was anything but a simple coincidence. After further investigation, officials concluded that Manning plotted with a venue employee to hack the surveillance cameras and enable him to win by giving away valuable signals during the game.
Since, technically, Manning didn't steal the casino's money, he got away only with a life ban from gambling enterprise. 
References: