Top 100 Poker Stars: Self-made Millionaires Gone wrong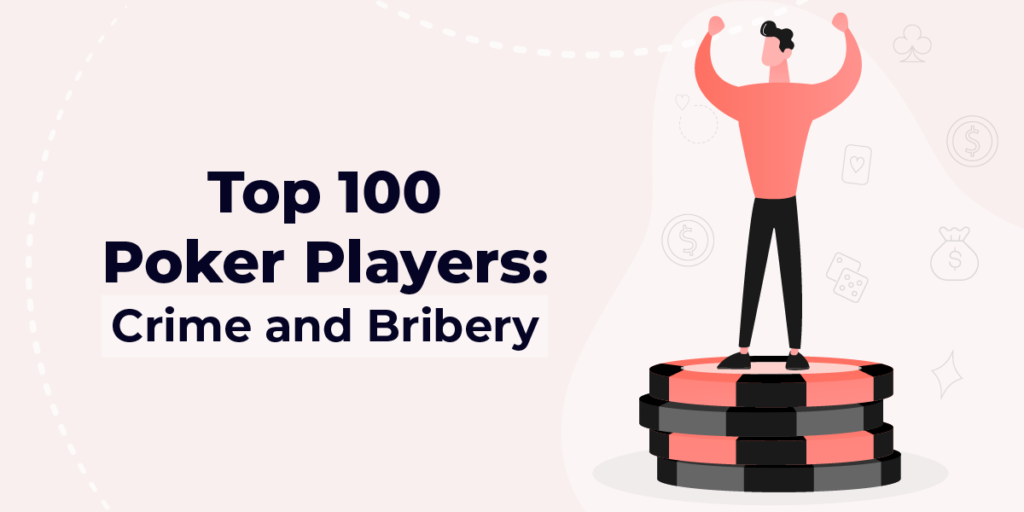 From success and fame to banters, shock, and controversies. Dive into the most intriguing stories from top 100 poker players around the world!
Disclaimer: CasinoBonusCA does not condone gambling addiction. We recognize that gambling can have severe effects on both mental and physical health. The purpose of this article is to raise awareness about the problems that may occur while playing this type of game.
Canada's Aces of Spades
Famous and infamous: we stacked up the most successful and controversial Canadian poker players who ever lived.
Take a look!
1.     Daniel Negreanu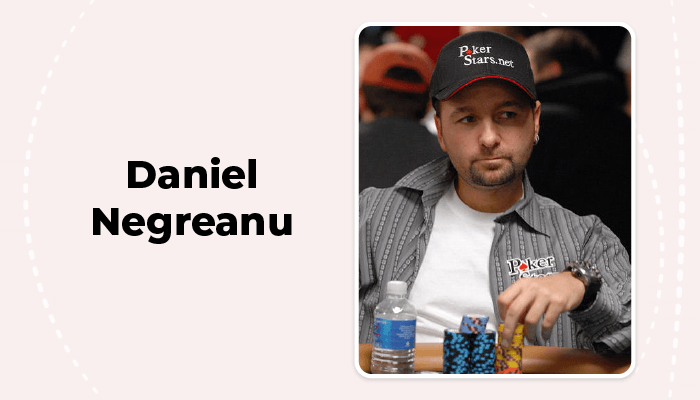 Kid Poker, or Daniel Negreanu, has quickly risen to fame in this industry and is considered one of the top poker players of all time, with 6 WSOP bracelets, 2 WPT titles, and a WCOOP title.
Strongly opinionated, he made a presence on social media through podcasts, interviews, vlogs related to this game. Besides being a social media star, Daniel took up some roles in movies like X-Men Origins: Wolverine and Detention.
Even pros have faults!
Yet, he made headlines when he was named in a $330 million lawsuit initiated by fellow poker pro Mike Postle and other poker stars, like Phil Galfond and even Doug Polk.
He was accused by Postle of defamation after Postle himself was accused of cheating in a live-streamed game.
2.     Jonathan Duhamel
With $17.5 million earnings and the 2008 WSOP Main Event's winning title, Jonathan has ensured a second place on Canada's All-Time Money List.
Nonetheless, his life is not entirely devoid of controversy
In 2011, he got attacked in a home invasion robbery and lost his Main Event bracelet, a Rolex watch and $150.000. 
But the bad luck didn't stop there!
He also received tax evasion allegations from The Canada Revenue in CA$1,219,114 federal taxes, stating that his poker playing constituted an actual business.
3.     Mike McDonald
Mike McDonald has for sure established himself as a poker prodigy!
The Ontario – based player earned the youngest player's title to win a European Poker Tour at only 18 years old. With $13 million winnings gained in his entire career as an online and live poker player, he even ranked #5 on the Global Poker Index.
How can you spot a good deal? Our team of experts compiled an extensive guide on how to spot a good online poker site. Read it now and find more info on secure sites for Texas Hold 'Em and more!
4.     Sorel Mizzi
With $11.15 million earnings in live tournaments and 18 WSOP cash-ins, Sorel Mizzi secured himself fourth place on Canada's All-Time Money List.
From success to flop
But his casual gambling style made his fans and fellow poker pros give his success a second glance. Mizzi got caught purchasing someone else's account during a Full Tilt Poker tournament.
He repeated that scheme with PokerStars and got himself banned, this time using another account to fake his location.
Although he admitted the wrongdoings on Joey Ingram's podcast, his reputation in the poker world was significantly damaged. It will probably never be the same again.
5.     Guy Laliberté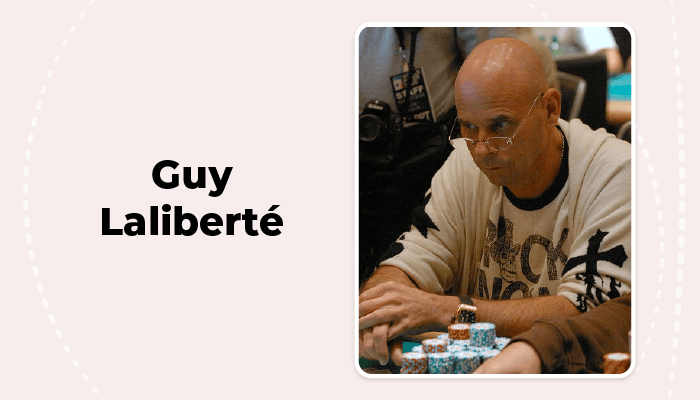 Did you know that the co-founder of the renowned Cirque du Soleil is also an avid poker player?
Guy Laliberté, a live tournament regular, played with big names in the industry, like Phil Hellmuth or Tom Dwan. Yet, he has made himself even more famous, not through his successful skills as a businessman but rather for being one of the biggest losers in history.
With over six active accounts, he lost more than $30 million on online cash games in the span of 6 years.
6.     Jaime Staples
If you're a regular on Twitch, you surely heard of Jaime Staples.
The Canadian poker player started with low-stakes poker games and made his way up to online multi-table tournaments, becoming a PartyPoker pro in 2019. 
How to become yourself a pro
If you want to become a pro, first, you have to get the hang of the basics. We jotted down for you some tips and tricks on how to manage the minimum deposit. Small payments can lead you to big victories if you follow our directions.
He has over $1 million winnings in gambling and a pretty substantial online fan base, with more than 112,000 followers on Twitch.
7.     Gavin Smith
Loved and respected by many, Gavin Smith started playing poker at 26.
His life, however, hasn't always been easy
He had a job as a taxi driver in order to support himself while playing cards with his father financially. At 30, Smith managed to open his own poker club in Ontario. He gradually became even more successful and won 1 WSOP gold bracelet in 2010.
8.     Kristen Bicknell
Considered one of the best female poker players in the world, Kristen Bicknell never ceases to amaze! She earned more than $5 million in online poker earnings and 3 WSOP bracelets.
Yet, she still was subjected to controversy!
Both her and her boyfriend, Alex Foxen, came under suspicion in the 2018 $5K DeepStack Championship NLHE tournament when they supposedly soft played against each other. They eventually finished in the top 3.
What is soft play?
It is a set agreement between two participants to not play big pots against each other. That way, at least one of them has higher chances to get as far up in the game as possible.  
The American Red and Blue Chips
From Texas's rough lands to the fabulous and extravagant Las Vegas, we gathered the Good, the Bad, and the Ugly of US top poker players of all time.
Shuffle the decks and see which stories you know!
9.     Stu Ungar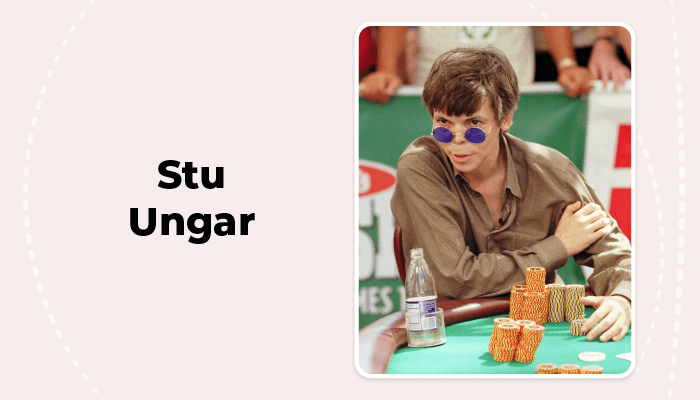 Baffling and unexpected! These are the two words that best describe Stu Ungar's life.
Stu's life would take a downturn following his mother's death in 1979 when he started using cocaine. His addiction cost him the 1990 WSOP Main Event, finishing in 9th place after an overdose, without even taking a seat at the table.
A high roller's free fall: what happened?
As years went by, his prize money went to drugs and sports betting, which eventually lead him to spend the rest of his days locked up in various hotel rooms. Upon his death, he was left with no money, and his friends paid for his funeral. In 2003, A. W. Vidmer released the documentary: High Roller: The Stu Ungar Story, based on Stu Ungar's life.
10.  Doyle Brunson
When we say Doyle Brunson, we automatically think restless.
At 71, the Texas Dolly won Legends of Poker and broke the record as the oldest winner of a World Poker Tour. With 10 WSOP bracelets and $6.2 million earnings only from tournaments, he is deemed one of the best poker players of all time.
But life hasn't always been good to him
Brunson started his gambling career playing in illegal games run by organized crime gangs with his friend Dwayne Hamilton. In many instances, he has been held at gunpoint and even beaten.
11.  Johnny Moss
Originally from Texas, Johnny Moss delved into the gambling world at a young age, learning how to cheat in games from a group of scammers. However, he chose to use his knowledge for the better instead and got a job at a local saloon where he made sure the games were played fairly.
The Grandfather of Poker has lots of rumours in store
Over the years, he acquired 8 bracelets and 9 WSOP event wins. But some aspects of his life have always been speculated by his fans.
It is said that, in his youth, Moss carried a pistol with him
While playing cards at a backroom game, he noticed a peephole from which someone could spy on the players' cards.
Johnny made it clear to cover the peephole, or else he would open the fire at the spy. No one took him seriously until he started firing at the ceiling, and the spy was injured.
Rumours or not, one thing was sure about Johnny Moss: he could not tolerate a cheater!
12.  Phil Hellmuth
If we can name one master of poker controversy, then Phil Hellmuth has for sure won this title!
With 15 WSOP bracelets and $23 million in tournaments, Poker Brat sure knows how to make himself present in a big way.
A heated conversation!
While participating in the NBC show: Poker After Dark, he asked his fellow professional players, among whom Gus Hansen and Huck Seed, to stop talking when it was his time to make his move. They agreed, but when he started talking, Seed addressed him jokingly: "please be quiet so that I can talk".
In a fit of anger, Hellmuth walked off the set, threatening never to return. And that wasn't the only time when he let his temper get the better of him. At the 2008 WSOP, he insulted fellow player Cristian Dragomir, calling him an "idiot," and received a penalty.
Quite a reaction!
13.  Phil Ivey
The so-called Tiger Woods of Poker started young, frantically playing 15 hours a day with a fake ID.
His continuous strive paid off, earning him his first WSOP bracelet at age 23 and a place among some of the richest poker players in the world.
However, throughout his career, he has been subject to many scandals, including the Borgata Casino case.
What was the Borgata Casino case?
In 2014, Borgata Casino accused Ivey of cheating at baccarat using a defective deck of cards and sued him for $15.6 million. After numerous appeals, Ivey's luck took a turn, and, in 2020, both he and the casino finally reached an agreement.
With 10 WSOP bracelets and over $26 million in tournaments, Phil Ivey has made himself in the poker industry.
14.  Chip Reese
What doesn't kill you makes you stronger?
Well, in this case, it transforms you into one of the top cash game poker players of all time!
Reese's first encounter with the gambling world was during his elementary school when he had to stay home for a year due to a severe rheumatic fever.
With nothing else to do, his mother taught him to play card games
And, so, he won 3 WSOP gold bracelets and even got the HORSE championship trophy named after him.
Although the acronym HORSE might make you think of the mighty strong animal when it comes to poker, it is an entirely different thing. It refers to a multi-game type of poker which is commonly associated with high-stakes tables.
15. Ted Forrest
The five-time WSOP bracelet winner, Ted Forrest, has been relatively short of luck.
First, his first three bracelets got stolen, and then he got charged with two crimes by Las Vegas courts:
Theft;

Passing two checks with no funds at Wynn Las Vegas Casino.
Even though he initially made a settlement with the casino to pay the quarter of a million dollars in debt for 10 monthly payments, he failed to do so.
The case was taken to Court
To add insult to injury, he owed Wynn Las Vegas the fabulous sum of a quarter of a million dollars he was supposed to pay back but never did.
16. Chris "Jesus" Ferguson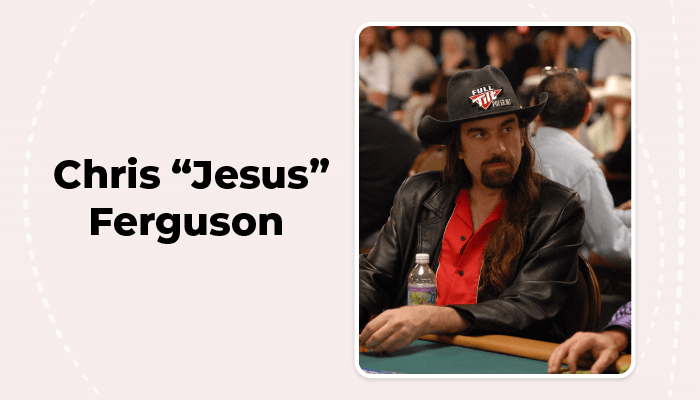 Long dark hair, thick beard, and a black cowboy hat on his head, Chris 'Jesus' Ferguson sure knows how to make his presence felt.
He started playing poker at 10 years old and, over the years, won 6 WSOP bracelets and over $8 million in tournaments.
PhD in Computer Science and poker play
Unlike other players who dropped out of college to pursue their poker careers, he stuck to his education and earned both the Bachelor's Degree and the PhD in Computer Science.
But he didn't run that far away from controversy!
Ferguson was caught in the infamous Full Tilt Scandal, allegedly being partially responsible for the players' money loss. He admitted that he didn't know of the wrongdoings until it was too late.
17. Dan Harrington
1995 WSOP Champion and two-time WSOP bracelet winner Dan Harrington is famous for his three strategy best sellers and aggressive gameplay, which earned him the alias Action Dan.
Do you want to test your skills and play like a pro? We teach you how to do it! Learn some tips and tricks as well as some poker language to help you win the big stakes!
Playing poker with Bill Gates
But before establishing himself as a professional player, he worked as a bankruptcy lawyer, proving to also be successful in his private life.
Believe it or not, he even got the chance to play poker with Bill Gates in his days at Harvard. And no one can forget his Red Sox cap, which has already become a statement accessory for him.
18. Howard Lederer
Known in the poker industry as "The Professor", Howard Lederer started playing card games with his father at a very young age.
Fueled by the competitive gameplay, he transformed this passion into a career, winning 2 WSOP bracelets and over $6 million in live tournament earnings.
Besides grandiose winnings, his name is also attached to one of the most famous poker scandals in history: the Full Tilt Poker controversy.
The Full Tilt Poker scandal explained
Founder and board member of Tiltware, Lederer was sued by the United States Department of Justice for bank fraud and illegal gambling following the Full Tilt poker website shut down. He eventually reached an agreement of over $2.5 million in assets to be forfeited.
19. Jennifer Harman
Her talent was visible at a very young age, as she was playing with her father. Following her mother's death, Harman became addicted to this game and started using fake IDs to play at local casinos.
She is considered one of the best female poker players globally!
Jennifer Harman holds 2 WSOP bracelets and over $2.5 million winnings in live tournaments.
Eventually, she dropped out of a regular job and settled for a poker career, against her father's wishes. She became a member of the Poker Hall of Fame in 2015.
20. Justin Bonomo
An avid poker player, Bonomo started his gambling career at the young age of 9, participating in Magic: The Gathering competitions.
At 19, he came in fourth at the televised European Poker Tour, winning €31,500. But his lucky days were soon to be over when he got banned on PartyPoker because he entered and won a tournament using 6 accounts simultaneously. This scandal got a lot of public attention within the poker industry. It went done in history as one of the most discussed issues ever.
Did you know?
Magic: The Gathering is the first trading card game and has as a source of inspiration the highly popular game Dungeons & Dragons?
21. Ryan Depaulo
The 2020 WSOP event was held entirely online. But that didn't stop Ryan Depaulo from winning his first bracelet from a special location.
The New York-based poker player drove all the way to New Jersey to participate in the WSOP. And his effort paid off, earning him his first WSOP bracelet right in the Whole Foods parking lot and quite a lot of online fame.
Social media star
But Depaulo is no stranger to social media, posting regular vlogs on Youtube and having a fanbase of over 9000 followers on Twitch.
He mainly does vlogs, documenting poker events and his funny style keeps over 81.000 Youtube followers entertained.
22. Vanessa Selbst
Vanessa Selbst broke record after record and is known to have some of the highest poker player rankings in the industry.
She is the only woman ranking first on the Global Poker Index and the only female with 3 WSOP bracelets in open field events.
Being in the center of attention also meant constant criticism
After all, she is known for her Twitter disputes, a famous one being with poker star Doyle Brunson over the Hillary Clinton vs. Donald Trump presidential election in 2016.
This made her quit poker entirely for two years. But she came back at the 2019 WPT Borgata Poker Open.
23. Annie Duke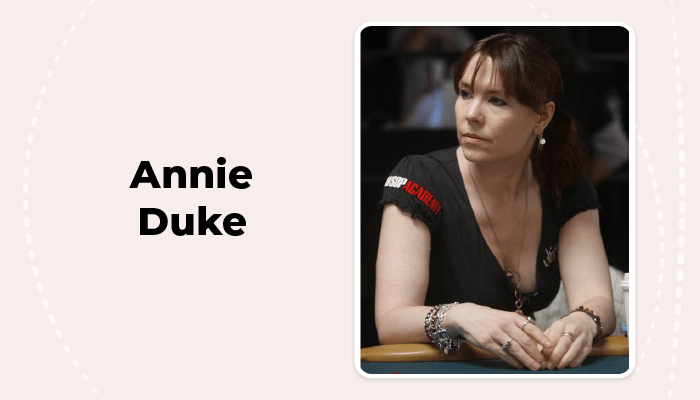 Annie Duke could easily be crowned as the Queen of Controversy. Ultimate Bet, Epic Poker League, or Full Tilt scandal: you name it, she got them all!
Annie Duke and Donald Trump's Celebrity Apprentice show
But you will probably recognize her from Donald Trump's Celebrity Apprentice tv show, where she got into a spiteful fight with comedian Joan Rivers, comparing her to a deadly disease.
Duke continued to endorse the Ultimate Bet website even after the onset of the superuser cheating scandal and cashed in big checks from the Epic Poker League, even if it was on the road to bankruptcy.
24. Christian Lusardi
If you have followed the 2014 Borgata Winter Open Big Stack scandal, then the name Christian Lusardi sure does ring a bell.
Controversy got him famous!
The poker player quickly became famous after using counterfeited chips and then attempting to flush them down the toilet of his hotel room.
This resulted in almost $500.000 losses for Borgata, and the hotel pipes were severely damaged and needed urgent repair. He eventually pleaded guilty and was sentenced to 5 years in prison and reimbursement to both Borgata and Harrah's Hotel Casino.
25. Vanessa Rousso
A poker prodigy since she was 5 years old, Vanessa Rousso settled herself among the top 5 female poker players, money-wise.
Big Brother show
But she made herself quite known even outside the poker world by participating in the 2015 Big Brother tv show, where she announced her engagement to her girlfriend, Melissa Ouellet.
And she even challenged her musical skills with the release of the song "Kiss Face", while she worked as a music producer and DJ.
26. Erik Seidel
Erik Seidel is for sure one of the top poker players of all time. His love for games started when he was only 12 and gradually became a profession.
It soon began to wear him down, so he took a job as a stockbroker, only to lose it due to a stock market crash. But he went back to gambling. That's how he won 8 WSOP bracelets and a World Poker Tour title.
However, he got caught up in a pretty nasty Ponzi Scheme
He and his fellow poker players John Juanda, and Zachary Clark were tricked by Ali Fazeli into buying $1.3 million worth of Super Bowl tickets. These tickets were supposed to be resold, and the profit shared, but that never happened.
Ali Fazeli was eventually sentenced to 18 months in jail.
27. Mike Matusow
If you always keep an eye on poker controversies, then you surely can't miss Mike Matusow's name.
Also known as 'The Mouth', he has clearly stood up among his fellow players as a trash-talker at the poker table.
But his problems don't reside only in his gambling career
He has been sentenced to 6 months in jail for providing ecstasy and prescription painkillers to an undercover police officer. He even wrote an autobiography entitled Check Raising the Devil.
28. Greg Raymer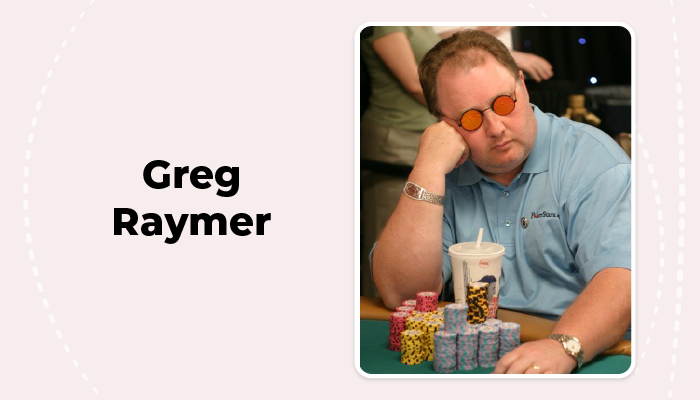 Coloured clothes and holographic reptile eyeglasses: you surely can't miss Greg 'Fossilman' Raymer at the poker table.
Interestingly enough, that is not the only thing controversial about him
In 2013, he was arrested for getting involved with a prostitute. He admitted the wrongdoing and agreed to do voluntary work and see a therapist. But he added more fuel to the fire when he stated that the purpose of his cheating was to actually repair the relationship between him and his wife, Cheryl.
Needless to say, he got more negative publicity after that.
29. Michael Sexton
American professional poker player Michael Sexton is best known as the voice behind World Poker Tour.
After 15 years of being the famous Tour commentator, he eventually won the World Poker Tour title and a WSOP bracelet.
Always on the move
The Poker Hall of Fame member also created a nonprofit organization and was a chairman for PartyPoker. And his determination to live an exciting life didn't stop even past his prime when he decided to have a son at the age of 61.
30. Gavin Griffin
Gavin Griffin broke the record and made history as the youngest player to win a WSOP tournament, with a total live winning amount of $5 million.
But his gambling lifestyle spiralled down into a heavy addiction, which eventually made him broke. Since then, he has had no choice but to play low stakes, to keep himself afloat.
Remember to always gamble responsibly!
Do you know which are the most efficient ways to keep gambling under control? Read our article and find out more about licenses, organizations and special casino features that make it easier for you to stay balanced.
31. Erik Lindgren
Erik E-dog Lindgren is ranked among the poker players with the most money winnings, amounting to more than $10 million in tournaments.
But the poker dream didn't last long
His life went quickly downwards into crippling gambling addiction. This led him to file for bankruptcy in 2015, which cost him a debt of over $10 million, including to Full Tilt Poker.
Lindgren eventually sought help within a rehab program for gambling addicts.
32. Daniel Colman
Gambling has become a full-time job for American professional poker player Daniel Colman.
His road to success was paved with many controversies
First, the multi-accounting scandal was where he admitted having used more than one account in online poker tournaments. As a result, he even got banned by PokerStars for a year.
And we cannot forget about the infamous remarks about Phil Hellmuth. Colman threw shade at his fellow poker player, calling him a cancer after Hellmuth endorsed a controversial website.
33. Benny Binion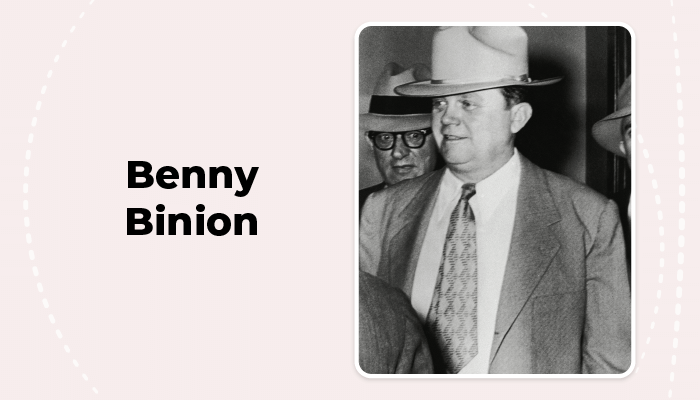 Poker player and organizer Benny Binion can easily be considered an icon in the crime world.
From cheating and smuggling to murder, he did them all!
Interestingly enough, as he got rich, he shared his money with the police. This was obviously a strategy to bribe the law enforcement into giving him lighter penalties, which they actually did. But he is probably best known for his illegal gambling network in Dallas, Texas.
Eventually, he moved his gambling activities to Nevada and opened the well-known Binion's Horseshoe casino, which was featured in several movies, like the James Bond: Diamonds Are Forever or Last Vegas.
What other casino movies can you watch?
Speaking of films, do you know which are the best gambling movies of all time? No worries, we got you covered! Grab your popcorn and choose one from our top 10 list!
34. Steve O'Dwyer
Stephen O'Dwyer earned an impressive amount of $30 million on online poker tournaments throughout his poker career.
The road to success is paved with obstacles
Despite his rapid success, he was severely affected by the Full Tilt Scandal and Black Friday and went bankrupt. With no earnings on his table, he even slept on the floor at the 2011 WSOP and borrowed money for food.
Now, he is back in the game, winning the 2020 online WPT Heads-Up Championship Event.
35. Jamie Gold
The 2006 WSOP Main Event winner, Jamie Gold, got sued by TV producer Bruce Crispin Leyser for half of his tournament winnings. He allegedly didn't keep his promise to share the winnings with Leyser.
Leyser backed up his case with a voice mail sent by Gold in which the former tells Leyser that he will receive his half.
While everything came down to a mere misunderstanding, $6 million earnings from Gold's account were frozen. Eventually, he and Leyser settled the matter outside Court.
36. Humberto Brenes
With the reputation of a ranter, Humberto Brenes knows how to make his presence felt. Nicknamed 'The Shark', the poker star always carries a tiny shark figurine with him, which he often uses to mock other players in the midst of a game.
His loud personality has become his signature
But his excessive competitive attitude stems from earlier times when he was just a child watching his father playing poker. Even though he used to earn lots of money against other players, Humberto's father often gave his winnings back to the less fortunate players.
The Shark saw this as other players taking advantage of his father, which made him even more ambitious. 
37. Ivan Freitez
Iven Freitez can easily be considered a master of deception in the gambling world.
At the 2011 EPT Grand Final tournament, he put up a plan to trick opponent Eugene Yanayt. He first announced that he wanted to make a raise but then changed his mind to make a call.
Going against the rules
Even though that wasn't allowed, he still chose to confuse his competitor. Sadly for him, Yanayt was warned that this was a signature angle shooting scheme that Freitez usually uses to distract his opponents.
This tactic gained him a lot of hate from both colleagues and fans.
38. Isaac Haxton
Similar to American Poker Player Justin Bonomo, Isaac Haxton delved into the world of games at a very young age with Magic: The Gathering.
Slowly but surely, Haxton changed his game of choice to poker. He started at the Turning Stone Casino in Verona and moved up to online poker on Ultimate Bet.
His total winnings currently amount to $3 million.
39. Jake Schindler
Jake Schindler is known to be unstoppable at gambling, even when it comes to breaking the rules.
He allegedly played on a remote desktop with a Canada VPN for six months, and the PokerStars Website got suspicious of his activity.
This is not all!
In 2013, PokerStars subtracted $250,000 of his earnings within the account and even banned him from participating in online and live tournaments. This obviously took a toll on his poker career, but he came back and won the $25,000 Aria High Roller event five times.
40. Ernie Scherer
Besides being an enjoyable game, poker has its own dark side.
That is the case of poker pro Ernie Scherer, who got convicted for murdering both of his parents in 2008. He was supposed to inherit over $2 million from his parents when he reached the age of 30 in just a couple of months. But, being pressured by major debts, he decided to kill them for an early inheritance.
The Court concluded that he was guilty and charged him with two consecutive life terms. 
41. Bryan Micon
If you are passionate about the ins and outs of bitcoin poker, then you surely heard of the name Bryan Micon. The poker player used to run the Seals With Clubs Website until it was discovered that it didn't have a license.
And without a license in the state of Nevada, he could have faced a 10-year sentence in jail. Lucky enough, he accepted a deal and was put on probation and fined $25,000.
42. Cary Katz
Cary Katz will definitely go down in history as the poker player who sued his own company.
He filed a $20 million lawsuit against media company CRTV which also owns Poker Central. CRTV's manager, Elizabeth Wood, agreed to give him $10 million and 5% annual interest for his loaned sum of money.
Taking the case to Court
But the company couldn't stick to its word, so Katz decided to take things to Court. While this scandal seems to make little to no sense at the surface level, people speculate that it is actually Katz's attempt to avoid paying a debt.
43. Dan Smith
Considered by Daniel Negreanu the best player in the world without a WSOP bracelet, Dan Smith has quickly made a name in the poker industry since the early age of 16.
However, his first love was not poker but chess
He even got a chess scholarship at the University of Maryland. Smith eventually dropped out of college and became playing this game professionally. This brought him a spot on the top 10 all-time poker tournament money list.
44. Carlos Mortensen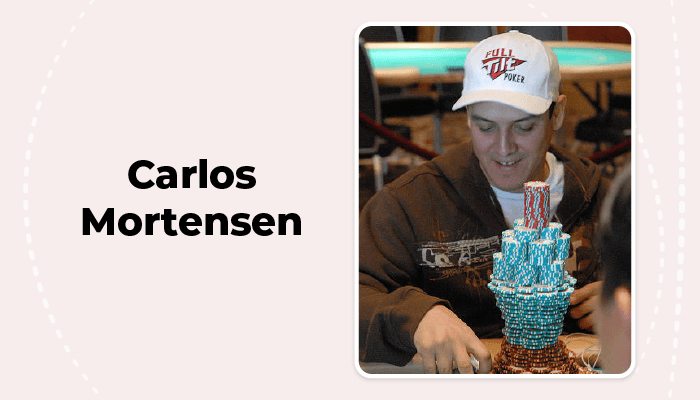 You might know him as the first South American winner of the WSOP Main Event.
Or maybe you've heard his name passing by in Episode 6, Season 3 of the TV show Gossip Girl.
Either way, Carlos Mortensen became famous worldwide for his intricate chip-stacking style, creating exquisite statues right at the table. And he even outran fellow professional poker player Daniel Negreanu and took first place on the all-time World Poker Tour money list.  
45. Jack Straus
Have you ever heard the phrase "a chip and a chair"?
The saying goes that no matter how much you lose in a game, as long as you have one chip, you can turn things around and win it all!
Well, it was initially coined by none other than poker pro Jack Treetop Straus in the 1982 WSOP Main Event.
How exactly did he do it?
While at the table, he played all his chips in the pot and lost the hand. As he was getting up to leave, he noticed another chip hiding under the napkin on the table. So, just like that, he got another $500 chip and won the entire WSOP event.
46. Bobby Baldwin
Legendary player Bobby Baldwin wowed the poker industry with 3 WSOP bracelets and the 1978 WSOP Main Event champion title.
Lawsuit involvement
More recently, however, he got involved in a quite disputed lawsuit between Leon Tsoukernik and Matt Kirk. Allegedly, Kirk loaned Tsoukernik some money when they were playing high-stakes games at Aria Casino, but he never got it back. Tsoukernik wanted to reach an agreement, but, supposedly, Baldwin fueled Kirk against him.
Eventually, the lawsuit was dismissed.
Where is he now?
Currently, Baldwin is the CEO of the Drew Las Vegas Casino.
47. Barbara Enright
Speaking of players who made history, Barbara Enright is for sure a force to be reckoned with in the gambling industry.
The first female winner of 3WSOP bracelets and 1 open WSOP event
Her passion for poker play started at the age of four when she was playing cards with her older brother. In order to sustain herself and her family, she had to take up three jobs as a hairstylist, bartender, and cocktail waitress. But she started winning more from poker, so she fully dedicated herself to professional play.
Enright is the only female player who got to the final table of WSOP US$10,000 No Limit Hold'em Main Event.
48. Alex Foxen
A successful player from a young age?
Alex Foxen amazed everyone when he won the WSOP circuit event at 21.
Cryptocurrency lawsuit
That didn't stop him from becoming involved in a $500.000 cryptocurrency lawsuit initiated by pro Ronit Chamani. Allegedly, Foxen solicited Chamani's investment in the Quasar Mining Group Inc. Further on, Foxen's company subtracted big sums from more than 17 investors but was abandoned, and thus many lost their money.
49. Billy Baxter
With 7 WSOP bracelets and over $2 million in earnings from tournaments, Billy Baxter sure had his fair share of fame.
His lavishing lifestyle took a turn with a fierce trial between him and the US Government
The story goes that Baxter classified his winnings from 1978 to 1981 as personal income. But the IRS wasn't going to settle for only a 50% tax rate, so they considered his winnings an earned income, increasing the tax to 70%.
While, at first, he agreed to pay, he then sued the Government for a tax refund. In the end, the Nevada federal trial court was on Baxter's side and, since then, the taxation method for players' income has changed.
50. Vincent Van Patten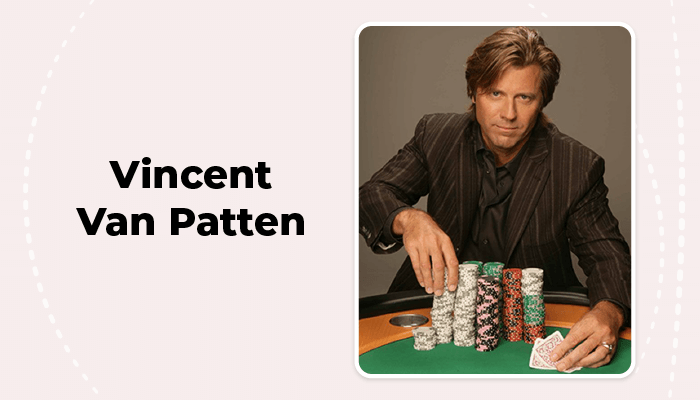 Ever wondered what Baywatch and the World Series of Poker have in common?
The answer is the American actor and commentator Vincent Van Patten. Initially playing Dr. Tom Morella's role in the famous TV series Baywatch, he gradually started being interested in poker. Since 2003, he became the WPT commentator.
Van Pattern chose to express his passion for poker even in his movies, playing Jimmy D's role in the biographical film High Roller: The Stu Ungar Story. 
51. Michael Mizrachi
A 5-time WSOP gold bracelet winner and the winner of the $50,000 Poker Players Championship event three times eventually went broke.
The reason was, however, not gambling but real estate
Michael Mizrachi lost almost all his capital due to the market crash in 2009. Things got so bad that he was indebted to the IRS with over $300.000.
He rebounced in 2010 when he won the WSOP Poker Players Championship.
52. Tom Dwan
You surely know him by the alias durrrr and his implication in Full Tilt Poker.
He managed to scare his fans when he disappeared from the public poker scene, and they started to share conspiracy theories. Many thought he went away to Macau because he had some problems with the American Government.
Illegal betting
When Paul Phua was arrested for illegal betting, he was one of three people, among Phil Ivey and Andrew Robl, to bail him out. Fans initially thought that he was involved in the scheme. Luckily, the rumours were fake, and he returned safely to the poker world.
If you want to read more stories featuring infamous famous players, you can check out our list featuring banned football players in order to get fully acquittanced with the ups and downs that follow a legendary sports career.

53. Hevad Khan
Loud and shocking!
These are the best two words to describe American pro Hevad Khan, also known as "RaiNKhaN", after the Mortal Combat character Rain.
He is known to be an online tournament avid player, so much so that he once played 26 tournaments at the same time, on a single computer, while being recorded for a Youtube video.
His trademark remained even to this day the "Bulldozer" scream at Rio
His scream had such a big impact on everyone that the WSOP initiated a rule under his name that banned any fervent celebrations during events.
54. Sam Soverel
Young poker pro Sam Soverel started making money from poker playing since college.
His father was mostly a no-show in his family life, and his mother left when he was only 15, but his sister helped him through a lot and got him into college.
Soon, he realized that he could win more money from poker, so he dropped out to become a poker player.
Professionals VS. Amateurs
He has been very vocal against professionals berating amateur players, saying that even though amateurs might not have the same experience as professionals and may have a bad day now and then, they still are successful people outside poker and should be treated respectfully.
55. Amarillo Slim
Have you ever wondered how Texas Hold'em got to Las Vegas? Well, we'll have to thank Amarillo Slim for that!
The American player who won 4 WSOP gold bracelets is considered by many, World's Greatest Gambler.
Playing against US presidents
And he was pretty famous; we would say since he even played poker against US presidents Richard Nixon and Lyndon B. Johnson.
However, some incidents stained his reputation. In 2003, he was charged with accounts of indecency with a child and sentenced to a $4000 fine and two years probation.
56. Shannon Fadal
If you're a fan of the movie American Pie, then you've definitely heard of the name Shannon Fadal.
The American actress and former fashion model has also established herself in the poker world, among other celebrities. At the 2005 WSOP Main Event, she got herself the best coach one could get: Daniel Negreanu, one of the world's best poker players.
One year later, she got to put her knowledge into practice and won a special tournament at the Caesars Palace Hotel.
57. David Oppenheim
David Oppenheim inherited his poker skills from his parents, who used to play in order to win some extra cash besides their day-to-day jobs.
At 16, he already played live cash games at the Bicycle Club, using a fake ID.
Losing almost everything in one game
Although he generally was successful in his poker career, he lost almost $2 million in a private game with adult magazine owner Larry Flynt.
That was undoubtedly the biggest failure of his life. 
58. Gabe Kaplan
Actor, comedian, and poker player: Gabe Kaplan has it all!
The poker star even made it to Super Bowl Of Poker Main Event two times.
With the WSOP in bloom, drawing more and more people, poker player Amarillo Slim tossed the coin and came up with a new tournament.
Taking the first place on the poker podium
And it didn't take long for the Super Bowl of Poker to gain momentum, as actor Gabe Kaplan won the first event, inspiring other amateurs to try their luck.
He is also a commentator at the most important gambling events alongside his career as a player.
59. Jennifer Tilly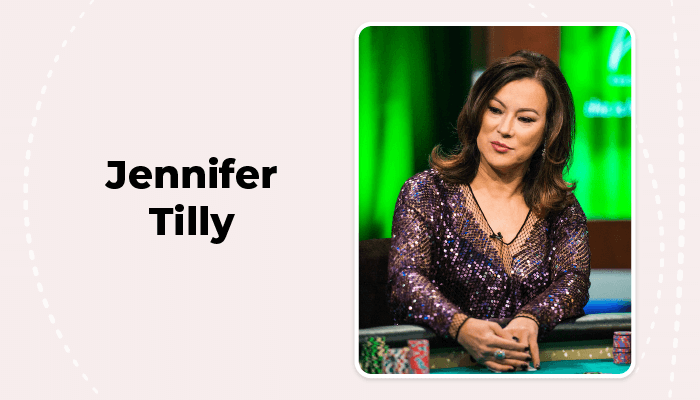 If you have seen the horror movie Child's Play, you surely heard of Tiffany Valentine's character.
The murderous puppet was voiced by none other than American actress and poker player Jennifer Tilly.
She started playing poker when she was young
Her passion for this game started when she was young, once her father, who was also a gambler, gave her the WSOP video game. Even though her skills were questioned many times, she managed to become the first celebrity to win a WSOP bracelet. With the help of fellow pro Phil Laak, she won the annual WPT Ladies Night event.
60. Barry Greenstein
Many know him as the Robin Hood of Poker for his generosity. Yet, few people recall his courageous posture in an armed robbery alongside Phil Ivey.
The two professional players were attending a WPT event in Paris when a fierce gunman entered the casino. Everybody went under the table, except for Greenstein, who didn't even flinch. He thought that the gunman's target would be the cashier, so he didn't bother to hide.
Until someone forcefully got him under the table
Phil Ivey even tried to pull a scheme on him and convince him that he was "on for doubles", but in reality, Greenstein was going to play to double his earnings in a single hand. The situation resumed, and they escaped safe and unharmed.
61. Jason Mercier
Jason Mercier, a former math student, dropped out of college to pursue a career in poker.
However, that wasn't such an easy thing to do, and, at first, he took a job at a grocery store to be able to provide for himself. As months passed, he became better at this game, so he started to play professionally.
And he managed to rank among 26 players with 5 WSOP bracelets.
62. Mike Postle
If there would be an award for controversy, then Mike Postle surely knows how to cause a stir in the poker world.
He was accused of cheating in a poker game at Stones Gambling Hall. Even though he usually kept his phone on his lap, Postle repeatedly looked downwards, making him seem like he knew the cards beforehand.
After watching the live footage, commentator Veronica Brill decided to make the accusations public. He then was sued, but the charges were dropped.
But he wasn't going to settle with that
Postle filed a defamation lawsuit against several renowned professional poker players, like Daniel Negreanu or Todd Witteles.
63. Maurice Hawkins
He started out as a football pro, but an injury to his leg made him rethink his future career and chose poker instead.
Yet, Maurice Hawkins was no stranger to controversy either
At the 2018 WSOP event, he and Italian poker player Sorin Lovin started throwing spiteful words at each other. The banter became so bad that Lovin even called him the n-word, for which he first received a penalty. As things digressed, Hawkins asked for a stricter punishment from the WSOP and, so, Lovin got disqualified from the tournament.
64. Chris Moneymaker
He is best known for sweeping Sam Farha's win of the 2003 WSOP Main Event.
The Moneymaker Effect
Then and there, the term Moneymaker Effect was born, giving amateur players hope that they too could win against poker titans.
Starting with a career in accounting, he made his way up by playing in tournaments worldwide. Although he is constantly competing and has gathered significant winnings through the years, Moneymaker is yet to receive a "chair" at the Poker Hall of Fame table.
65. Jason Koon
Koon tried his luck at poker in his days as a student at West Virginia Wesleyan College.
Abused by his father as a child and becoming homeless at some point, Koon learned how to make it in this world the hard way. He gradually transformed the bad events into motivation.
And, in 2010, he even came in 4th in the WPT Main Event for $225.000.
Wild Cards of Europe
Iconic bluffs, strategic gameplays, and high-stakes controversies!
We've got the European players who had to face their cards in the poker world.
66.Peter Jepsen
Danish player Peter Jepsen is no stranger to controversy.
The former military veteran of the Iraq War was convicted of three to four years of jail time for online theft.
How did he do it?
During international events, Jepsen hacked into other players' laptops and stole from their accounts. These thefts occurred in the span of six years and cost the players over €3.5 million.
67. Gus Hansen
From a successful player to a day-to-day job as an accountant, Gus Hansen's life surely had its ups and downs.
The beginnings
His passion for poker started with a Texas Hold'em tournament, which he won, even though it was his first time playing the game. He won 1 WSOP bracelet and the first season of the Poker Superstars Invitational Tournament.
But his game in live tournaments started going haywire and, without sufficient money to support himself, he gave up his gambling career and took a job as an accountant instead.
68. Phil Laak
If there is someone who can take rule-breaking to another level, then Phil Laak is the one to make waves in the gambling world.
The Irish player broke the world record for the longest uninterrupted poker cash game session, playing for 115 hours straight.
But that's not all!
He even went that far as disguising himself as an old man at the 2008 WSOP Main Event. With a few hours of professional makeup and the right attire, he managed to bamboozle his fellow poker colleagues.
Nonetheless, something good has also come out of his initiative. Ironic enough, since then, players are not allowed to conceal their facial identity within a WSOP event.
69. Maria Konnikova
With a bachelor's degree in psychology and creative writing at Harvard, Maria Konnikova remodelled her entire career objectives and chose poker instead.
And she proved to be quite a fast learner, winning $1,650 in the No-Limit Hold'em tournament in 2018.
The release of her book
Since then, she journaled her journey within the poker world in the book The Biggest Bluff.
What is remarkable about this New York Times bestseller is that she presents different poker schemes and strategies intertwined with various studies and examples from psychology and even philosophy.  
70. Archie Karas
Poker player Archie Karas's life is anything but easy!
He grew up in poverty, trying to find new ways to survive, day by day. After shooting marbles in exchange for money as a child, he ran away from home and got hired as a waiter on a ship.
He then moved to Los Angeles, where he started gambling big money. But he quickly went down a losing streak when he lost all of his million-dollar winnings.
Where is he now?
In recent years, Karas was caught marking cards at San Diego Casino, got arrested, and received a three-year probation sentence.
71. Annette Obrestad
Speaking about playing at a young age, Annette Obrestad began her poker career when she was only 15, under the online alias 'Annette_15'.
Initially, she asked her mother to deposit some money in her account, but since she refused, Annette had to take her chances in freeroll tournaments.
And doing so, she started to win as much as $500.000 on Pokerstars, becoming one of the top online players in the world.
72. Olivia Boeree
The only female player in the world with both a WSOP bracelet and a European Poker Tour win, Liv Boeree sure brings her A-Game when it comes to poker.
She made her first appearance in the poker universe as a contestant for the reality TV show Ultimatepoker.com Showdown, where she was couched by Phil Hellmuth, Annie Duke and Dave Ulliott. The show was very popular in 2005, and it featured many famous poker figures.
She became a foal point for controversy
However, since then, she received harsh criticism for defending fellow poker player Annie Duke, who has become quite a controversial figure over the years.
Annie Duke was not only involved in several scandals like Full Tilt or Ultimate Bet, but she is also notoriously known for her appearance in Donald Trump's Celebrity Apprentice tv show.
73. Antanas Guoga
Professional player, politician and businessman, Tony G is best known for his aggressive style at the table.
From 2014 to 2019, he was a member of the European Parliament of the Lithuanian Liberal Party.
He didn't get re-elected for a second term, and the Russian President Vladimir Putin even banned him from coming into the country due to some anti-Russian remarks.
Always speaking his mind and never holding back!
He often stands up for the amateur players at the table if they get caught up in the pros' speech play.
We cannot forget the legendary confrontations with Phil Hellmuth, which amounts to thousands of views on the Internet. But, throwing shade and calling people out have been a well-thought strategy of Tony's that brought him both haters and fame.
74. Will Kassouf
If there was a special prize for strategic speech play in poker, Will Kassouf would be a multiple-winner.
Along with his famous catchphrase 9-high like a boss!, the constant talking gained him many haters in the community.
Everything went downhill
Amid the 2016 WSOP Main Event, he got into a fight with fellow Canadian poker player Griffin Benger who called him out for verbal abuse. And in 2018, he was even caught stealing a $100 chip from one of his friends.
Kassouf admitted the wrongdoing and apologized, but he lost his sponsorship with Grosvenor Casino.
75. Luke Schwartz
Luke Schwartz is undoubtedly known for his ongoing stamina, both in poker play and in verbal confrontations.
The young poker player, originally from the United Kingdom, never shies away from making bad commentaries about other players' performances.
In 2020, he got into a fight with fellow poker player Phil Galfond, naming him a washed-up pro who can no longer go up against top pros. His behaviour got called out many times in the gambling industry, earning him a bad-mouth reputation.
76. Ivan Deyra
French poker player Ivan Deyra climbed the ladder to success, only to quickly go downwards due to a mistake.
How come?
Everything started with the Super High Roller event organized by Winamax, where he won over €83.000.
The issue was that he used both his father's account under the alias MATIVANAO and his own to play. He admitted the wrongdoing and, as a result, Winamax banned both accounts. Eventually, Deyra lost all his money winnings to the affected players, and his contract with Winamax was terminated right away.
77. Dave Ulliott
Orange sunglasses, an elegant suit, and golden rings inscribed with Devil and Fish (hence the nickname): Dave Ulliott was quite a presence in the gambling industry.
And we dare say that his presence was deeply felt in the outside world, too.
Since 19, he became involved in a series of crimes
He participated in a safe-cracking team, an armed robbery, and numerous fights. Ulliott got caught multiple times and was even put in isolation for 23 hours while in prison.
But his villain days were over when he met his second wife and decided to quit the criminal career and focus on poker instead.
78. Alexandru Papazian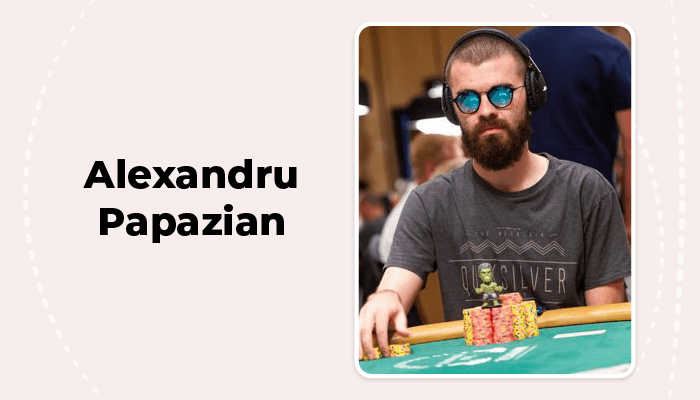 With over $3 million winnings in his entire career, Alexandru Papazian ranks first on the Romanian poker leaderboard.
He impressed everyone with his excellent skills in more than 49 tournaments and managed to secure the 444 spot on the All Time Money List.
The peak of his career was the WSOP 2017 event, where he became the first Romanian poker player to win a WSOP bracelet.
79. David Benyamine
At first, he wanted to become an archaeologist, then a professional tennis player.
A chronic shoulder pain cut his career short, and he ended up a successful poker player.
But his luck was about to change in 2004 when he got deported
While travelling from his country of origin, France, to attend several WSOP events, he was searched by the US police and sent on his way back.
Rumours say that he was stopped because his name was notably similar to a suspected terrorist. However, he might have been deported because he didn't have a work permit. It was enough, though, for him not to return to the United States for a year.
80. Dan Murariu
Experienced Romanian poker player Dan Murariu has been in this industry for over a decade.
His first win amounted to $184,182 at the No Limit Hold'em Main Event in Varna. After tremendous success at the Unibet Open Main Event, he was awarded the title of Unibet Ambassador. Take a look at our review on Unibet Casino and see their game collection, special tools, payment methods and bonus codes!
81. Viktor Blom
If you're a fan of Lord of the Rings and are up-to-date with the poker world, you surely heard the name: Viktor Blom alias Isildur1.
He became famous after his match with Phil Ivey
Back then, he lost over $3 million.
Yet, his unpredictable nature and aggressive style at the table made him one of the toughest competitors to play against, even for Phil Ivey. However, he left the poker field for almost a year after Brian Townsend shared his hand history.
82. Ionel Anton
With 14 important tournaments in 5 years, Ionel Anton has quickly become a pro in the poker industry. The Romanian-born player won almost $2 million and came in second at the 2011 WSOP in Las Vegas.
Initially, he was a very talented soccer player until high school, when he had to give up. But he added a new hobby, besides poker: mathematics. And he even uses it in poker games!
83. Victoria Coren Mitchell
Victoria Mitchell presents herself as a British professional poker player and writer.
And her life is nothing short of a fantastic story too
Following her father's death, one of her friends warned her of a supposed gang who was regularly checking the local death notices to crash at funerals, just for fun. So she thought to turn their scheme against them and orchestrated an entire plan to catch them. She placed a fake death notice and waited for them to respond.
Mitchell initially thought of putting laxatives in their canapés. Still, she eventually chose to contact the leader and inform him that she knows of their existence and they are not welcome.
84. Adrian Mateos
A poker prodigy with his first WSOP Europe Main Event win at the age of 19, Adrian Mateos is going down in history as one of the best Spanish players.
He challenged the poker world, becoming the youngest player to win 3 WSOP bracelets among numerous live tournaments, at only 22.
Spaniards are avid gamblers, spending more money on games than most countries. While the most popular bets are made on lotteries, casinos and even football, Spain is quite stringent when it comes to gambling and imposes a certain authorization to be legal.
85. Dario Sammartino
Dario Sammartino can easily be described as a sharply dressed man.
Dressed in a suit and a bowtie, the Italian poker player was so close to winning the 2019 WSOP Main Event but came in second, following a scandal that still makes waves.
He was playing against Nick Marchington when another player at the table noticed that Marchington had more chips in the stack when he shoved.
At that moment, Sammartino exploded in rage!
But, upon calling the WSOP Vice President Jack Effel, he concluded that the action was actually accepted, leading to Sammartino finishing second place.
86. Narcis – Gabriel Nedelcu
Being ranked 16th on the Romanian poker player leaderboard, Narcis Nedelcu is quite a force to be reckoned with!
He participated in over 72 live tournaments, and his winnings amount to more than $500.000 from live poker tournaments.
Are you up to a vivid and exciting experience?
Take a look at our list of top live casinos, along with special promotions and special tips. There is no other option that mimics the feeling of an authentic casino other than a live dealer and other online players in the same virtual room!
87. Andras Nemeth
Andras Nemeth alias probirs has definitely put his skills to the test along with his entire career as a professional poker player.
Trying to keep his personal life as private as possible, Nemeth makes himself heard in the poker world with 2 WCOOP and 3 SCOOP titles.
He overall participated in 59 tournaments over 11 years.
88. Lex Veldhuis
A well-known figure in the Twitch community, Veldhuis managed to gather over 260.000 followers through his online poker scores.
Originally a video gamer, his success includes, among others, 13 WSOP events cash-ins.
However, since social media is sometimes a two-edged sword, he has been massively affected by his continuous losing poker game while streaming. Veldhuis reduced the amount of time spent on social media, hoping that he can lift himself up quicker.
Asian Poker Pros
Raids, robberies, and scandals: we got them all! Check out the best and worst Asian poker stories!
89. Scotty Nguyen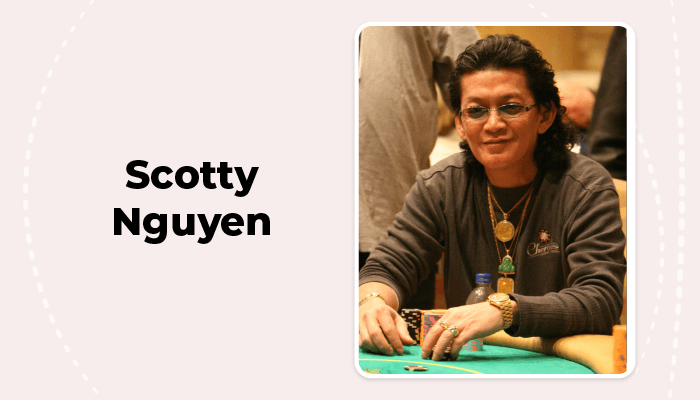 Drugs, alcohol, high stakes, and a unique personality: this is the rise and fall of Scotty Nguyen.
The five-time WSOP bracelet winner has taken the central spot in poker controversy many times. Cocaine, marijuana, alcohol, and gambling addictions made Scotty lose millions of dollars in tournaments, and he went broke.
His rebel lifestyle made him famous
Scotty went completely haywire at the 2008 World Series event, where he was heavily intoxicated with alcohol and lost his train of thought in front of live TV.
And his controversial nature didn't stop there. In 2009, the ESPN Magazine featured Scotty alongside fellow players Daniel Negreanu, Phil Hellmuth and Jennifer Harman in nude, sitting at a poker table.
90. Eli Elezra
Former lieutenant in the Israeli Defence Force, Eli Elezra, did a 180-degree turn and started pursuing a career in poker. After three weeks in prison, following his refusal to follow military orders to enter the air force, he put his skills to test and succeeded in becoming a lieutenant in the Golani Brigade Force.
However, his military career didn't last long due to a leg injury, so he started learning poker. And that would earn him close to $3 million in live tournaments and 4 bracelets.
91. Johnny Chan
If you've seen the 1998 movie Rounders, starring Matt Damon, then you will for sure remember Johnny Chan's cameo.
With a record of 10 WSOP bracelets, he is in tight competition with pro poker fellows Doyle Brunson and Phil Ivey for second place on the all-time WSOP championship list. Besides poker playing and acting, Chan is the owner of a fast-food franchise in the Las Vas Stratosphere Hotel and offers consultancy to various casinos.
92. Danny Tang
His love for sports started during University.
First soccer, then martial arts, Danny Tang eventually entered a poker hall and found his full-time career. He started playing in tournaments and quickly gained his first WSOP bracelet and winnings amounting to more than $2 million.
His ambition to be successful took a toll on the time spent with his dear ones. Nonetheless, even though he lost his father, he always had his mother's and friends' support when he was young.
93. Maria Ho
Maria Ho has definitely established herself in the professional poker industry, ranking second on the best female poker players leaderboard.
Besides gambling, she appeared in numerous tv shows, like American Idol and even participated in the 15th season of the Amazing Race.
Buzzfeed's Try Guys picked up on her talent
They challenged her to a game: amateurs vs. pro players.
The video got almost 7 million views on Youtube and 8000 comments from fans. Following this video, she stated that she would repeat this experience and shoot more videos designed to teach beginners and poker amateurs how to play.
94. Antonio Esfandiari
The three-time WSOP bracelet winner Antonio Esfandiari actually started out as a magician.
He changed his name when he was 19 from Amir to Antonio and got a nose job to suit his new persona.
How did he learn poker?
While performing magic tricks at several events, he got an invitation to the Texas Hold 'em tournament and learned to play poker. He became renowned for his 2012 "Big One for One Drop" tournament, where he won the second-largest single payout in history.
Since fame can sometimes stir envy, Esfandiari lost over $1 million in a robbery orchestrated by a woman he knew.
95. Sam Farha
Sam Farha is best known for losing the 2003 WSOP Main Event against Chris Moneymaker.
The accountant turned an $80 ticket into a $2.5 million prize and beat the high-stakes player Sam Farha. But his luck did come around eventually. He won three WSOP bracelets along with the spokesman of Harrah's Casino in Las Vegas.
96. John Juanda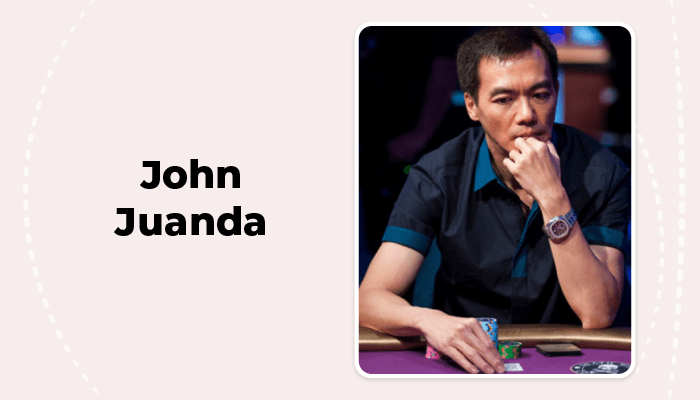 With five WSOP bracelets and a well-thought-out strategy, John Juanda is for sure a name to be remembered in the poker world.
He continuously strived to get better. Thus, he gradually earned the title of the most successful tournament player in the world among his fellow players.
The continuous battle to get better can become addictive
And Juanda knows it too well from his father, who suffered from a severe gambling addiction. However, he managed to find a balance and even got named Card Player Magazine's Player of the Year.
97. Paul Phua
You might know him from the Caesars Palace raid in 2014.
The Malaysian Chinese businessman and poker player Paul Phua was taken into custody and accused of operating an illegal betting operation related to the 2014 FIFA World Cup, along with his son, fellow player Richard Young and others.
Many colleagues pitched in to help, including Phil Ivey, who bailed him out. Eventually, the charges against Phua were dropped, and the case was dismissed.
98. Richard Yong
With over $11 million earned in live tournaments, Richard Yong can be considered one of the most prolific Asian players of all time.
Illegal sports betting
Yet Rochard Yong's name is forever linked to his fellow player Paul Phua in a scandal that shook the entire poker world. He was arrested for being involved in illegal sports betting organization run by Phua.
Luckily for him, his colleagues came to the rescue and bailed him out for $1.5 million.
99. Elton Tsang
Elton Tsang made history when he decided to organize the first-ever live poker tournament in Macau.
With the help of the Grand Waldo Casino owner as well as Matt Savage and Poker Stars, he created the Asia Pacific Poker Tour.
The Beginning of Asia Pacific Poker Tour
The event is held in seven locations: Australia, China, Macau, New Zealand, Philippines, South Korea and Taiwan, and it has run so far for 13 seasons.
After winning the €1 million Monte-Carlo One Drop Extravaganza, he became even more famous, which sent him to the best Asian poker players leaderboard.
100. Kitty Kuo
Originally from Taiwan, professional player Kitty Kuo moved to Las Vegas to pursue her poker career.
From one win to another, she was determined to break her own records. She began with winning the PokerStars Macau Poker Cup. Then she even finished second in the WPT Tournament of Champions Festival.
Speaking of champions, have you ever wondered how men and women react to winning?
If we sparked your curiosity, look at our article on CasinoBonusCA and see the psychological effects of winning in men and women.
We put the cards on the table
We gave you the good and the bad.
We have seen them strive to get to the top and become better and better. Almost perfect.
But we also witnessed them collapsing, losing everything they had, even themselves. With grandeur, fame, and a large amount of money comes enormous responsibility. Some know how to manage it, while others spiral down into a crippling addiction.
Our final advice!
Either way, you must never forget to put your mental and physical health before anything else and never underestimate the effects gambling can have upon your entire life.
References: