Are Online Casinos Allowed to Cancel Your Bonus?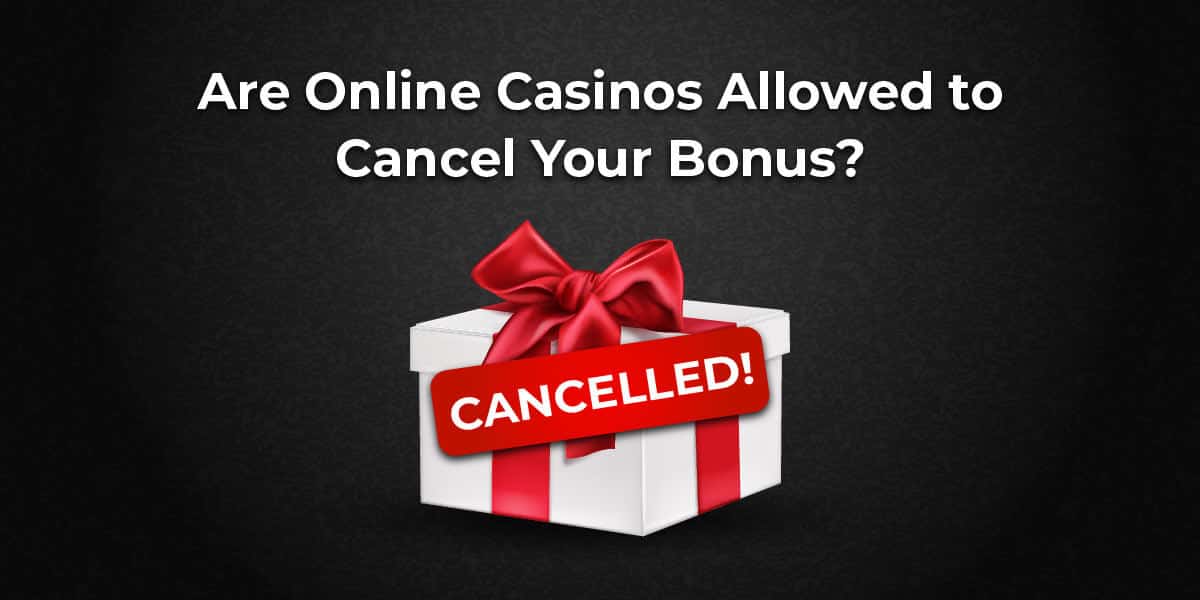 Over the years, while analyzing the online casino industry, we have seen casinos nullify the bonuses they have given to players. Since we are aware of how important casino bonuses are for you, as a regular online gambler, we are here to explain how and why bonuses are cancelled. We also delve into other related situations, like denied deposits and cancelling your own bonus.
Answers to three basic questions
Consider this section like a mini-FAQ, where our team has answered the most pressing questions relating to online casino bonus cancellation. In case any of the statements here change, we will bring updates to the page, so we can keep this informational page fresh and relevant.
Can casinos cancel your bonus?
The short answer is yes. Casinos have the right to cancel a bonus that you have claimed (even if you initially qualified), and, similarly, they have the right to refuse to give out a bonus.
Online casinos can handle operating their offers at their discretion, also including refusal of service and products, as long as they state their rules in their terms of use.
Be aware: Bonus cancellation may occur when you are caught breaching the terms and conditions or when you are suspected of such activities.
The cancellation of a casino promotion is just one of the consequences that casinos may impose on you. Serious or continuous rule-breaking may result in permanent account suspension.
Does bonus cancellation happen often?
Typically, bonus cancellation is not an often occurrence. We base this statement on the industry analysis and keeping constant contact with our users and other online gamblers.
Why is this the case?
Both parties, the casino and the player, have an interest in playing the casino bonuses. On the one hand, casinos have to run a business, and of course, the primary source of income comes from gamblers and their wagers. On the other hand, players want to play their favourite casino games in advantageous circumstances.
Can a casino legally cancel bonuses?
Again, the short story is yes. As long as casinos present clearly that they have total control over bonuses in their terms, once you agree to them and sign up, then you can't attack them legally.
How come this is true?
Accessing a website means you agree to its terms of use, like a binding contract. Thus, if a casino states that they can, at their discretion, remove your bonuses, once logged in there, you have to abide by their rules.
Tips: Always read through the site's terms and conditions before agreeing to them and completing your sign up process.
What about your deposited money?
Deposit funds and bonus funds have a different status. It may be the case that you could recuperate or put your deposited money to a different use. But, unfortunately, it all depends on the policies of the platform you're on.
Why a bonus gets cancelled
8 Main Reasons
This part is going to walk you through all the scenarios that might trigger bonus cancellation. The goal is to keep you up-to-date on what is not permitted so that you can play safely and smoothly.
Another goal is to make problematic situations more transparent, as we aim at being your trustworthy source of casino information. Stick around to see what things should be avoided.
1. The bonus has expired
Almost all casino bonuses expire after a certain time. If you have not completed the necessary wagering that gets you to cash out, then the bonus will be removed from your account.
The reasoning behind this is quite simple. Casino offers are meant to be one-time events that eventually disappear after a while. However, you can easily work around this issue by reading the bonus policies and planning your sessions accordingly to complete the wagering in the necessary time frame.
Tips: Depending on the bonus type in question, the availability period may vary. If there is a hefty, multi-fold bonus, then you might have up to a month to play it through. Smaller offers can be limited to just a few days.
2. You have displayed rude behaviour towards other gamblers
If a casino gives you opportunities to communicate with other players, you need to keep a civil attitude. Any exception to this rule will be sanctioned by the platform, most likely in bonus removal.
But what qualifies as rude behaviour?
Any type of offensive comment or attitude is definitely not accepted. Saying such words to a fellow gambler is deemed as harassment, and it will result in bonus removal, and it can end up in account suspension. This includes racial, sexual, and hateful words.
Similarly, you cannot promote or market competing gambling platforms. If you spend time to promote other websites in the chatrooms, you will lose your incentives. Lastly, you can't say untrue or defamatory statements about the online casino you're playing on.
Recommendation: If you have a problem with the casino, you can make a complaint or settle a dispute with them separately. Do not engage in rude comments in public discussion servers.
3. You have displayed rude behaviour towards the casino staff
The same points that we have briefly explained in number 2 apply to your interaction with the casino staff, like the support team or the live dealers at the tables. Thus, you should refrain from harassing the staff based on their gender, nationality, or race.
As we have seen over the years, casinos have 0 tolerance for derogatory attitudes towards their teams. Undoubtedly, your casino bonuses will be removed from your account. Possibly, your account will be suspended/deleted.
Tips: Casinos keep logs of your interaction with the support team through all its options. Whatever you say there can be used as evidence for your suspensions.
4. You have shown signs of "suspicious behaviour"
This is quite a fuzzy topic, but we will try to make it as clear as possible. Casinos will remove your active promotion if they see you displaying suspect behaviour or believe your moves and decisions are odd.
Yes, casinos have to right to remove your bonus if they are inclined to believe your moves are odd. Only a hunch is enough for them to make the decision. But we can tell you what you should avoid:
Use the payments you make instead of cashing them out unused. This may be considered money laundering;
Do not stack on bonuses or leave them unfinished;
Do not log from too many devices/IP addresses, as it looks like you are sharing your account with others;
Do not make a series of low-risk bets.
These strategies employed by online casinos are just ways to protect their business. They have to ensure that their user is not a bonus hunter or does not engage in illegal activities.
Suspect behaviour is off-limits, both if you play on your own or have unaccepted strategies with a group of people.
Be aware: If you are removed from a casino owned by a brand that has other gambling platforms, you will most likely not be able to use their other services.
Tips: Try to alternate using "free bonuses" (no deposit one) and deposit-triggered ones. Abusing "free games" is considered suspicious.
5. You made more than one account
Casinos do not allow a person to have more than one account for any reason whatsoever. This is against the basic statements of the Terms of Use in an overwhelming majority of cases. Thus, this action will nullify your bonuses.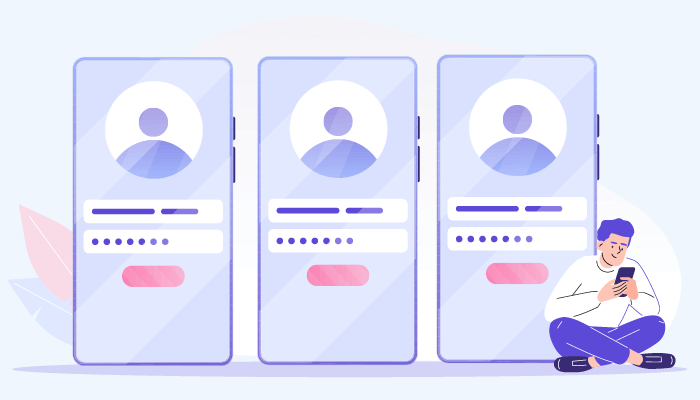 How can casinos know you own multiple accounts?
Firstly, they always read and store the IP addresses and devices you use. Thus, if you log into more than one account from the same devices, they will know. Secondly, each verified casino account is based on your identity, proved by your ID and bank statements.
Casinos are expressly against using more than one account to abuse the welcome promotions. Doing that will void all your bonuses and all your funds.
6. You have displayed "irregular play"
When you have an active bonus, you need to play it through in order to get to cash out. But some instances may end up in you losing your bonus. Here's what to avoid when wagering in the lobby:
Do not make low-risk bets on table games. This is considered to be taking advantage of the low House Edge, so you should not do this repeatedly;
Do not make equal bets on both sides in Baccarat;
Try not to change your game too frequently when wagering a bonus because of the different contributions they hold;
Please do not delay your rounds in any game, as it can be seen as abusing wagering.
It is better to consider these aspects before you start your wagering. This way, you will protect your deposits and make room for possible profits.
7. You used technical errors to your advantage
There may be times when the website displays technical issues, like a game freezing, a page not loading, a glitch somewhere, etc. If you use these mishaps to your advantage, or worse, you trigger those with the use of software, then you risk losing your bonus.
What are we talking about when we say "errors"?
When the platform logs you out while wagering a bet;
When a high-stake bet freezes, and it's irredeemable;
If a bug appears in the page code and various things glitch;
When the connection is inconsistent, and your game session is interrupted (especially Live Dealer games).
Tips: Make sure you have a steady Internet connection when you gamble online, as most issues are avoided this way.
Recommendation: If you encounter an error, you should take a screenshot and send it to the support team, so they can fix it quickly.
8. You have used VPN software
In the online casino industry, the use of VPN software is banned. This is because not all countries accept online gambling, or reversely, casinos will not accept people from certain regions. Thus, VPNs cannot be used to claim a bonus and gamble.
Be careful, as casinos have VPN-detecting software, so they can simply see if you are using one yourself. They can either see it immediately when you chat with a support agent or a tad later after they register part of your activity.
Tips: Canadian players can choose from hundreds of verified options on our website.
Now that you are more familiar with the scenarios that can make you lose your bonus and get banned, you can gamble smartly. We also hope we added an extra layer of safety to your online wagering.
Other casino issues
After presenting you the main reasons why your casino bonus was cancelled, it is time to move to related situations. This section contains such information.
Read further to gain knowledge on:
The consequences of breaking the terms of use;
How can you cancel a bonus you have;
Why your deposit got cancelled;
The status of your funds when an offer gets cancelled.
What happens when you don't respect the terms and conditions?
There are different levels to the consequences related to rule-breaking. It all depends on the casino's policies and their tolerance to abuse. However, we have identified three possibilities:
Getting your promotions cancelled, including your bonus things (which we talked about already);
Getting your casino account suspended for a short while or permanently (without options to sign up again);
Being reported to your local authorities for fraud (these are extreme cases, but not entirely impossible).
Again, rule and law-breaking are punishable if it is a single-person operation or a group activity. Please refrain from such activities, as the consequences are severe.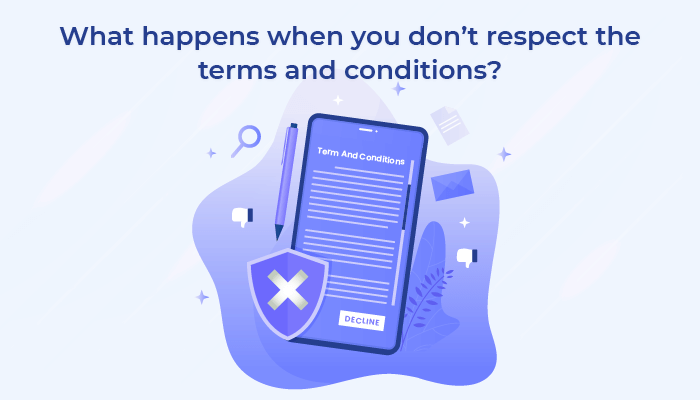 Be aware: Identity fraud, as well as any other related offence, is punishable under Canadian law. You must avoid playing as someone else or using another person's papers to do that.
How can I cancel my bonuses?
Most casinos allow you to cancel the bonus you have manually claimed or automatically received. Usually, you don't have to give a reason, but some platforms allow you to get rid of the bonus yourself; others require you to ask a support agent to do it.
You cannot request a refund for the things you have explicitly cancelled.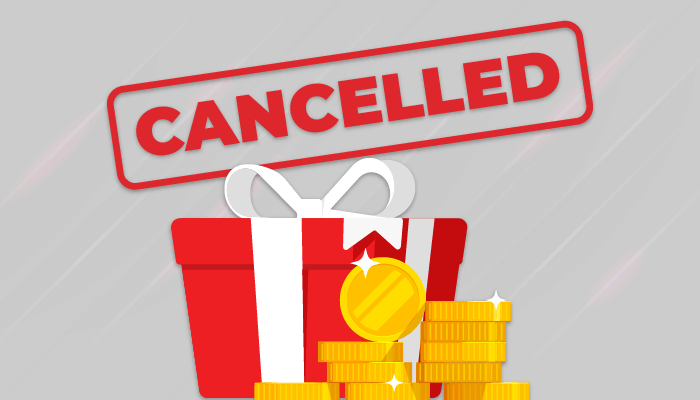 Be aware: When you cancel a bonus, your wins will also disappear, along with your deposited money and buy-ins (if those were tied to the cancelled promotion).
Tips: We recommend you only cancel no deposit bonuses or similar offers for which you have not made a payment. This way, you keep your casino funds safe.
What happens if I cancel my own bonus?
You can cancel your own bonuses, even if they are directly given to you or claimed manually. Sometimes bonuses are credited to your account automatically, especially when you're still a new customer. It may be the case that you do not wish to engage in bonus wagering yet, for whatever reason.
Note that this move will make you lose your bonus funds, and sometimes your deposited funds too. Once an offer is cancelled, all the incentives that were part of it will disappear.
Recommendation: On some casino websites, you can choose to be asked whether or not you want the bonuses. We think it's a good choice to leave that option on.
Main reasons why your deposit was declined
Deposits trigger most bonuses from online casinos. But there are cases in which your deposit is refused or has not gone through from your bank account to your gaming account. You can find the main 4 reasons why here.
KYC is not done
KYC, or Know Your Customer, is a procedure employed by most online casinos, meant to confirm you are a real person, of age, gambling with legal funds. This is done by you submitting some papers and the casino team checking them.
If your KYC is not completed, your deposits may not reach your gaming account. Not all casinos require this action to be done before you play, however. So, look into the site's terms and see what steps you need to complete and their order.
Important: The legal age of gambling in Canada is the legal drinking age of your province, 18 or 19, respectively. This goes for online wagering as well.
Validity and funds of your card
Sometimes, you may want to make a payment to a casino with a card that is either low on funds, or it has expired. It's a common mistake we all can make. This is why we always recommend that you have a plan for your virtual wagers before you start playing.
You need to make a gambling budget and be sure that the casino accepts your preferred payment method. You have sufficient funds to cover your payment and the possible fees.
Be aware: To stay away from any problems you may have, do not ever go over your gambling budget. This is how you keep your funds and your health safe!
Your self-imposed limits have been reached
Some casinos allow players to have extra control over how they will play the games and stake their money. Thus, the most common options are:
Limiting your gaming sessions;
Limiting your spending.
It may be the case that your deposit has been cancelled because you have reached your monthly or weekly limit. However, in such cases, the casino should send you a pop-up message or an email explaining the issue.
Tips: Use all the limits you are given from the start after you sign-up and confirm your identity.
Your bank has anti-gambling policies
This is a rare case in Canada, but it's not completely impossible to encounter banking institutions that decline to work with casinos and gamblers. Thus, it would be wise to consult the bank that you're a client of and see if they allow you to make gambling-related payments.
If you can't use your bank card, you might try e-wallets or other Internet banking services like Interac or iDebit. Canadians popularly use these in many cases, gambling and non-gambling included.
Tips: Internet-based options allow players to make faster withdrawals from their casino of choice. Be careful, though, as fast withdrawals may entail fees.
Ending thoughts
All in all, yes, casinos are allowed to cancel the bonuses they have given you or refuse your access to them, even if you qualify. They have autonomy over the way they conduct their business and the clientele they allow. We hope that our page gave you more insight into the possible reasons and answered your questions.
Always gamble safely!