How To Play French Roulette?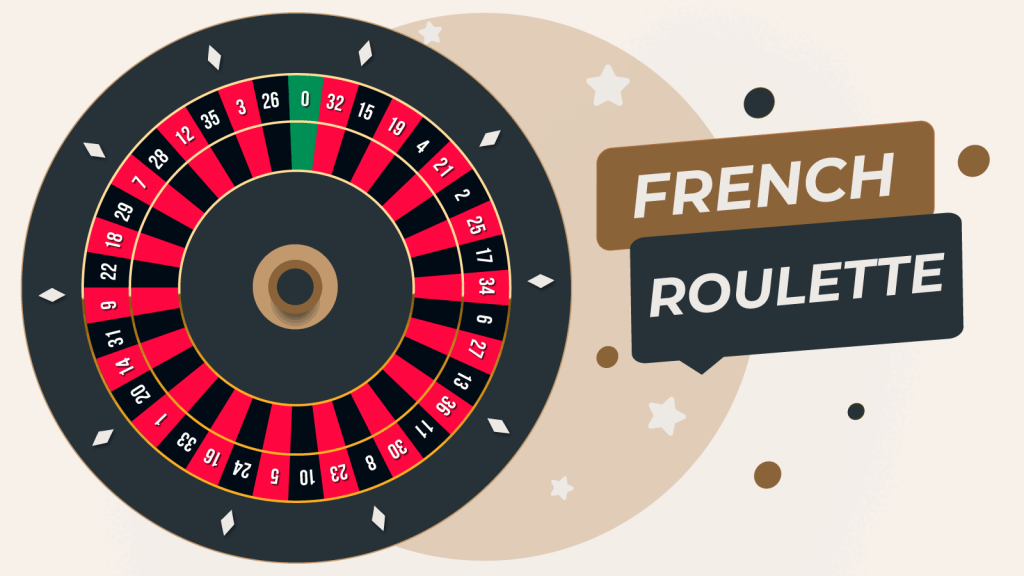 Explore this page to learn everything you need to know about French Roulette. Our complete guide explains what this version implies, how it differs from other Roulette games and how to bet on it. Shall we begin?
Roulette is one of the most well-known casino games out there. It is easy to play and has multiple versions. Although French Roulette might not be the most common one, this variant is worth trying out. Let's discover what it entails!
What Is French Roulette?
It is a Roulette version that became popular after the French Revolution. It is similar to the European version in its wheel layout and betting options. The French Roulette wheel features 37 numbers – 18 red pockets, 18 black pockets and a 0 pocket.
This variation also comes with standard wagering options like even money bets, corner stakes and more. However, the French Roulette has two vital rules that you will only find in this variation: 'La Partage' and 'En Prison'.
The special rules
The La Partage rule states that you can get 50% of your bet back if you lose an outside wager because the ball landed in the 0 pocket. The En Prison rule allows you to win back the stake you placed on an outside wager when the ball falls into the zero pocket.
The bet remains in the same position and is considered 'En prison. You will get the bet back if the next round gives you a win. However, you lose the entire bet amount if the outcome is unfavourable. These special rules may increase your chances of winning when playing Roulette. It is important to understand the game's odds before starting to place bets. In this way, you'll know exactly what to expect from every wager.
French Roulette Versus American Roulette
One of the main distinctions between the French Roulette and the American Roulette is the 0 pockets on their wheels. While the French Roulette wheel features a single 0, the American version also comes with a 00 pocket. This contributes to the wide gap between the American and the French Roulette odds.
The house edge in this variant is about 2.7% and can come down to as low as 1.35% on even money bets. However, the American version features a much higher casino advantage of 5.26%. Converted to player percentages, the French Roulette wheel offers 97.3%, while you can only win back 94.64% of your total stakes on its American counterpart.
In addition to that, unlike the French variant, the American one does not have any special rules or bets. Other differences include the numbers and position of outside betting areas on each version's wheel. The outside bets in the American variant are always at the left side of the table. In the case of French Roulette, the outside betting field is divided into two and placed along both sides of the layout.
How To Play French Roulette?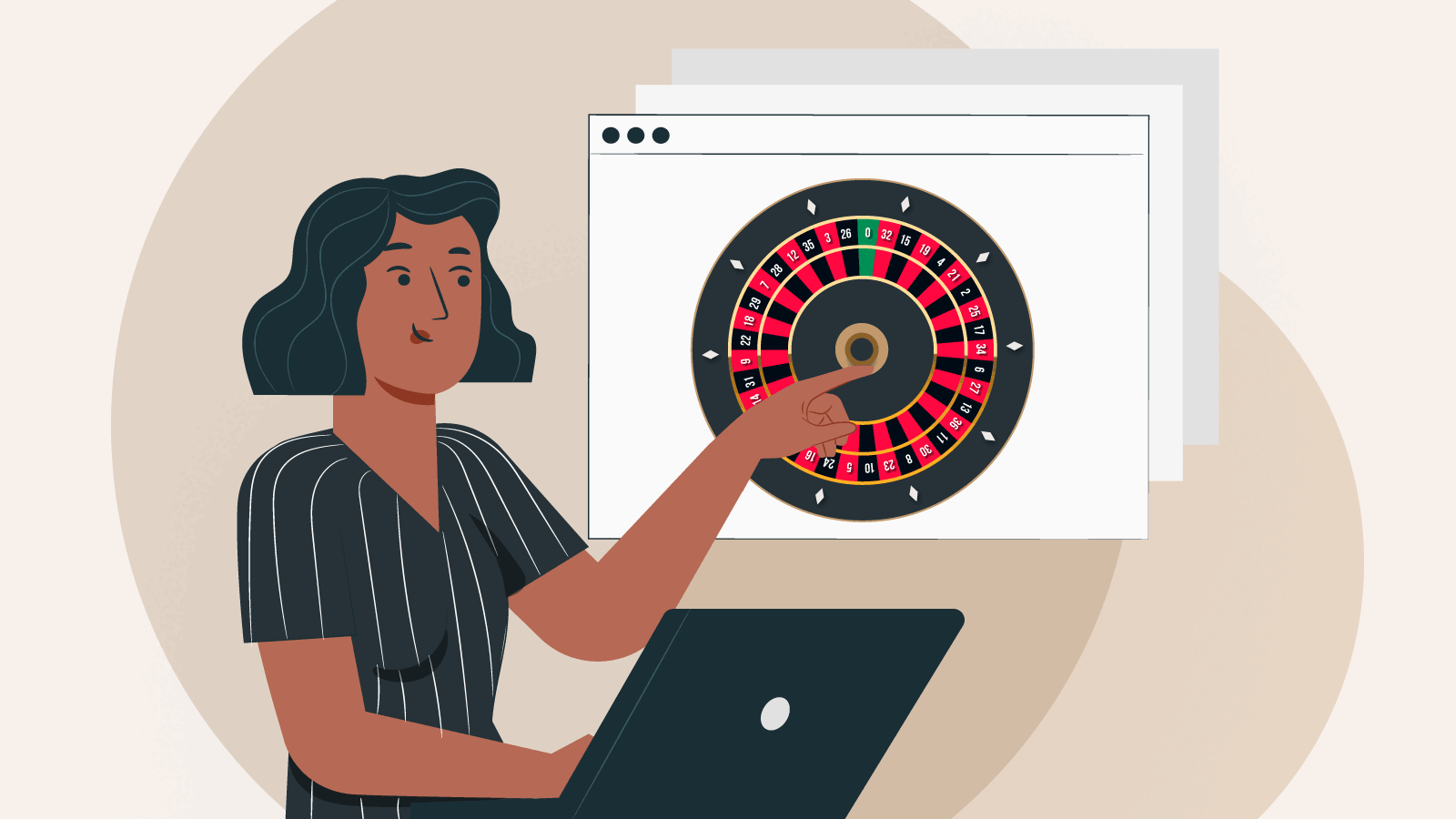 Playing French Roulette online is simple. The first thing you need to do is choose a Canadian online casino to play at. Ensure that your selection is a licensed and trustworthy casino. After signing up, make a deposit into your account.
Depending on the casino you picked, you will find multiple French Roulette variations available. There are several Canada Roulette online casinos that specialize in this game and offer numerous versions.
Select the one that fits you and place your bets. Also, remember that each French Roulette game comes with a minimum and maximum table limit. Choose your preferred chip value and select the inside, outside or special wagers to place it. After that, click the Bet button to spin the wheel.
French Roulette Types Of Bets
In French Roulette, you can wager on individual numbers or group bets. The game offers two main bets, which are called inside and outside wagers. Inside bets consist of wagers made on a single number, adjacent numbers or small groups of digits. Outside bets are represented by larger groups of numbers.
They are not recommended for players who are just starting out. Yet, if you want to test them, we suggest redeeming a casino promotion when playing for the first time. In this way, you won't have to use your real bankroll.
Outside wagers come with different winning odds as well as separate payouts. You won't find most of these bets' payouts on the game's board. So, it is essential to learn about each wager's odds and payouts before playing the game.
Inside Bets
Straight-Up – You place this bet on any single number, including '0'. The wager is directly on the number irrespective of its colour. It pays 35:1.
Street – This stake covers a row of three numbers including 0,1,2: 0,2,3. The payout is 11 to 1.
Corner – Here, you choose from a group of four numbers and wager on the corner where the four figures meet. This stake pays 8 to 1.
Split – Select two adjacent numbers and place a wager on the line between these digits. The payout is 17:1.
Line – Choose three numbers in a row and wager the line at the end of the row. Its payout is 11 to 1.
Outside Bets
On a French Roulette wheel, you'll find that its outside bets are written in French. This is another aspect that distinguishes this game from other variations.
Red/Black – Also known as Rouge/Noir bet, this is a wager on any red or black number. It pays 1:1.
Dozen – Written as Douzaine, you place this wager on 12 figures. Select from the Premier (1-12) Moyenne (13-24) or Dernière (25-26). It pays 2:1.
Odd/Even – This stake features all odd and even numbers. Place your wager on the Pair box (even numbers) or Impair box (odd numbers). It pays 1 to 1.
Low/High – Place your wager on either the 'Manque' box (figures 1 to 18) or the 'Passe' box (figures 19 to 36). This bet pays 1:1.
Announced Bets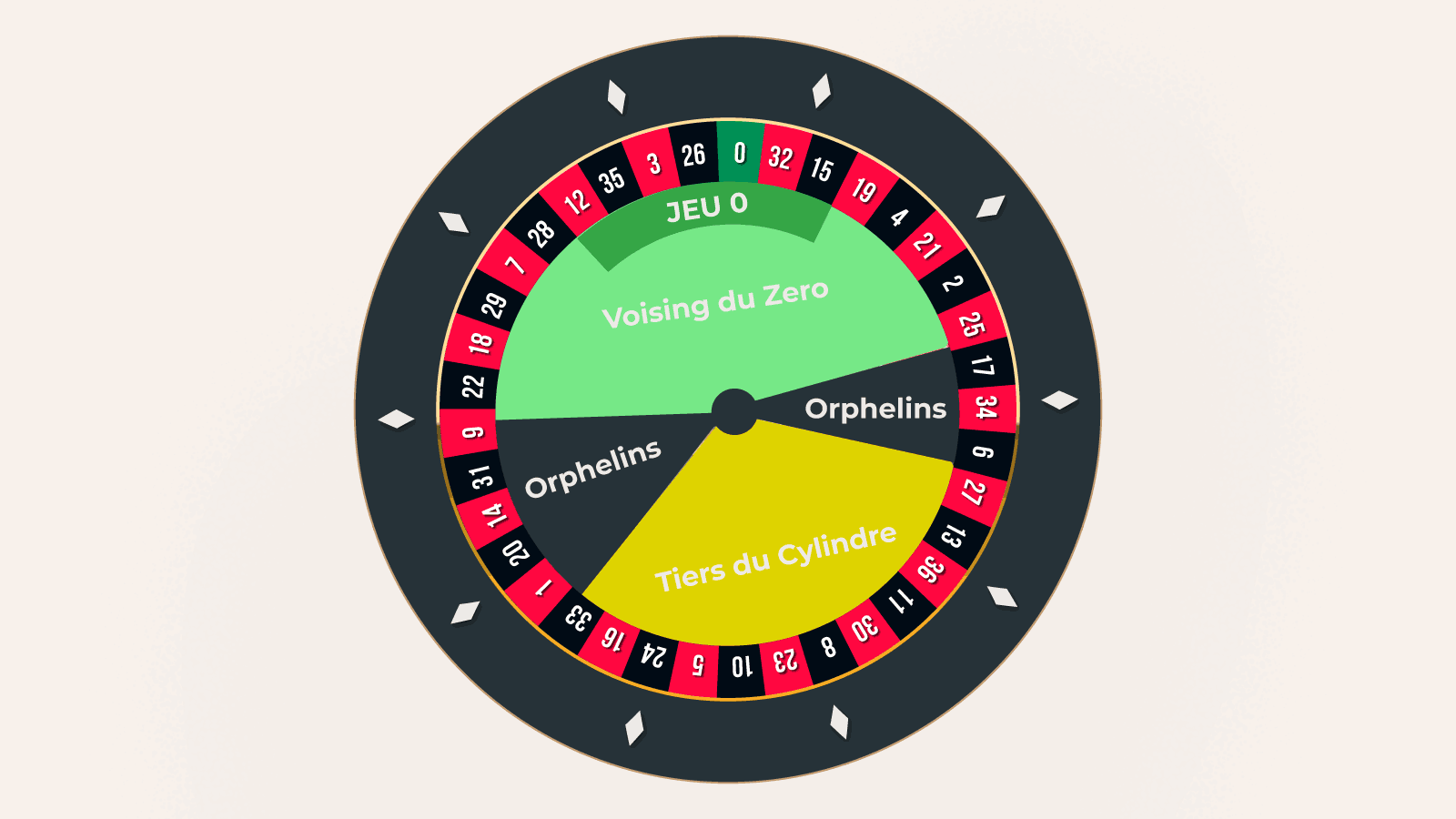 The French Roulette version also offers announced bets. These were traditionally associated with high-limit tables at land-based casinos. However, you will now find several online casinos offering French Roulette variations with announced bets. The most common ones are the live casino sites. These usually have high betting limits. When it comes to live gambling, the gameplay unfolds in the same way, but you get to interact with a real dealer and the other players.
Announced stakes cover different series of numbers on the wheel layout. Their names derive from the position of the numbers.
Before making announced wagers, you need to place enough chips on the layout to cover the bet. Here are some examples of common announced stakes in French Roulette:
Voisins du Zéro (neighbours of zero): This bet covers all figures on the wheel between 22 and 25. To play, spread nine chips between splits and corners of these numbers.
Le Tiers du Cylinder (thirds of the wheel): This type of bet covers one-third of the wheel. You divide your wager as splits on 12 numbers between 27 and 33.
Jue Zero (zero game): Covers seven numbers closest to the single 0 pocket, including 12, 35, 3, 26, 32, 15 and the 0 itself. You only need four chips to place this wager: three splits and a straight-up bet on 26.
Orphelins (orphans): Les Orphelins feature eight numbers on the two remaining layout sections outside the Tiers and Voisins. You can either play it as Orphelins en Cheval with five chips as four splits and a straight-up bet on number 1 or as Orphelins en Plein, at the price of eight chips as straight bets on each digit.
Finales: There are two variants of Finales bet, including Finales en Plein (single number) and Finales a Cheval (either of two digits). Each bet is wagered on the possibility of the numbers ending with the same digit (0, 10, 20 and 30).