In-depth Analysis of Curaçao Gambling Licenses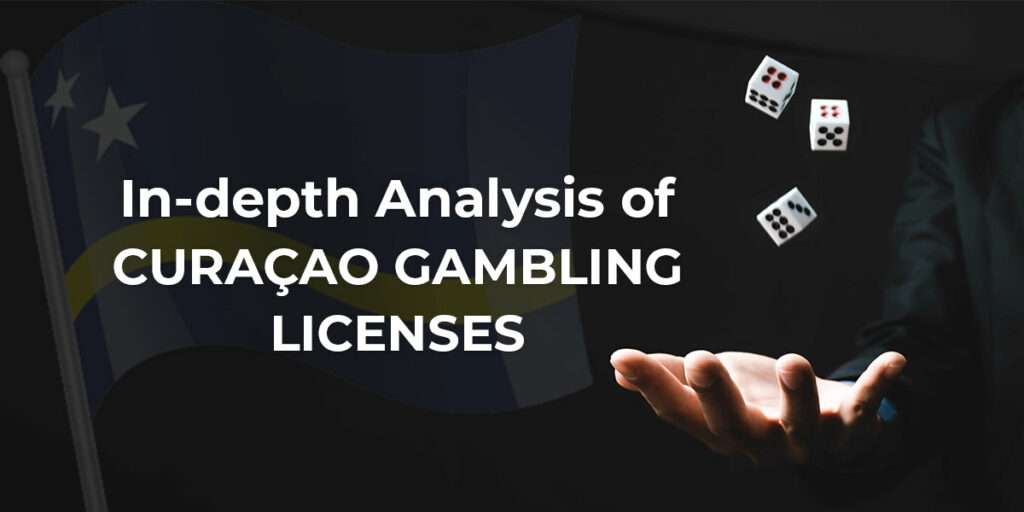 Curaçao is a Gaming Control Board that licences and regulates online casinos. It is a globally politically stable iGaming regulator, that issued over 450 licenses to operators throughout the years. Our team has carefully analyzed the advantages and disadvantages of using a Curaçao gaming license and has created this article to clarify all the aspects of playing on a casino that works with them.
The Curaçao license offers exactly what a gaming platform needs – cost-efficiency, low renewal cost, no gambling taxes, and cryptocurrency payments.
However, based on our experience, this type of license rarely adds to the trustworthiness of a casino and is considered weaker than the well-renowned Malta Gaming Authority license.
Let's jump right into the complete analysis of Curaçao gaming licenses!
History of online casinos in Curaçao
Back in 1993, the government of Curaçao enacted the first legislation in the world that was aimed at regulating the online gambling industry. In 1996, they created the Gaming License Authority, responsible for issuing licenses and supervising existing operators.
After the first license was granted to an online gambling operator, the interest in Curaçao as a casino regulator increased, and many iGaming businesses started collaborating with them. By 2001, the government created the Curaçao Internet Gaming Association, which ensured that all casino operators were compliant with the code of conduct and the regulatory framework.
The Curacao Gambling Authority in the present
Curaçao is commonly known as a tax haven, and it is qualified as an intermediary for the IRS and is compliant with the European Code of Conduct, which prevents unsafe tax practices.
It is also one of the primary regulators worldwide, mainly because of its:
Affordability

Strong financial service sector

Ease of acquisition
The government has invested time and money to develop a business-friendly environment where offshore gambling corporations would have flexible structures and zero taxes.
Why does an online casino need a license?
Any reputable online gambling operator that wants to operate internationally must hold a valid iGaming license. This way, they can provide their services to most countries, create corporate settlement accounts, register with well-known banking providers, and ultimately gain their consumers' trust.
Operators who don't choose to go for a license are essentially running their business illegally. They might get fined or even imprisoned. On top of that, most gamblers already know the risks of playing on an unregulated gaming platform, so their reputation will be stained, usually resulting in a total shut down of the business.
Five reasons for operators to get a Curaçao license
There are dozens of jurisdictions offering online gambling licenses. Still, Curaçao remains the leader and one of the most recommended regulators. Let's find out why!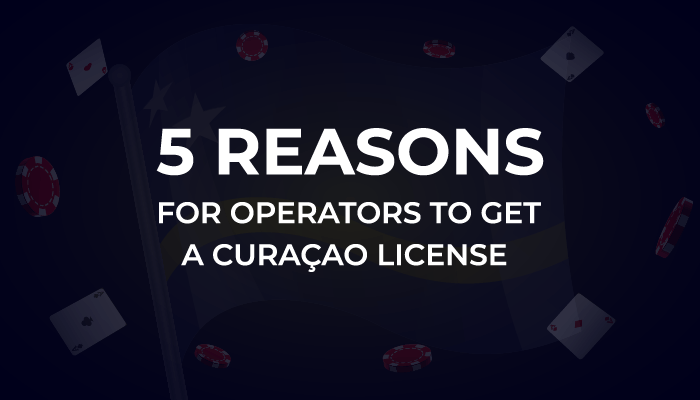 Fast and cost-effective
The acquisition process for a Curaçao license is the quickest one, as long as the applicant submits all the required documents correctly, based on our analysis.
The licensing process can take up to two business days after the papers have been compiled. Businesses with tight deadlines might find Curaçao the most efficient gambling regulator, especially since the maintenance costs are low and the setup is almost instant.  
It covers all the needs of a gambling operator
The Curaçao license covers all the existing gaming activities in a single license, compared to other regulators who require you to get a license for specific casino games or come with add-ons that must be purchased to offer additional game classes
No taxes
If the income is generated outside the country, all operators that get a Curaçao license will not pay any tax on their revenue.
Despite having a lower zero tax rate than other jurisdictions, the international rules still apply. They're fully compliant with the international taxation practices.
Easy to obtain
With Curaçao, the bureaucracy is limited, so it makes the process of getting licensed extremely simple.
Compared to the usual process of applying for a license that can be daunting since there is a lot of paperwork and supporting documents that take time and additional money to compile.
Ideal for startups and small businesses
It's relatively easy for entrepreneurs to get their hands on a Curaçao gaming license.
It is recommended for those that are just getting started to collaborate with them since you get the possibility to test the platform and acquire a client base without having to pay a lot of money in taxes or additional fees.
Which institutions can issue Curaçao licenses?
The Curaçao Minister of Justice has exclusive control in granting licenses for online casinos issued by the General Governor of Curaçao. Any operator wishing to get a gambling license needs to apply for a sublicense.
The meaning of a sublicense
A sublicense is a one-size-fits-all deal that will allow online casinos to run all types of gambling activities and get all the necessary peripheral activities.
Activities such as:
Service and software providers

Network and platform operators

Affiliate deals

Advertisers

White-label operators
Since its inception in 1996, the Curaçao Ministry of Justice granted only four Online Gaming Master Licenses to private companies, which have the right to issue the operator a sublicense.
4 Private license holders
Cyberluck Curaçao N.V.
It is found in the footer of the casino as license no. 1668/JAZ. This company was fined in the past for allowing operators to offer their players pirated games with modified odds, as well as advertising to people that were enlisted in self-exclusion programs.
This is a red flag for players willing to join online casinos licensed by Cyberluck since it shows a lack of long-term involvement with the business.
We understand how hard it can be to look for a site that will not end to be a scam, as there are tons of them. Nevertheless, we've analyzed more than 1000 gambling sites and realized a list with only the best online casinos that have proven their legitimacy through a legit gambling licence. We've made this effort so that you will have all the necessary information to make an informed decision.
Gaming Services Provider N.V.
It is identified as license no. 365/JAZ. This company doesn't make it clear whether they accept player complaints, even though their contact information is public on their site.
After a closer examination, we have identified that their official website doesn't have SSL encryption, potentially a sign of a poorly administrated company. We've found out that they have taken action against pirate casinos attempting to cheat the system.
Curaçao Interactive Licensing N.V.
It can be found in the footer as license no. 5536. This company is the least known from the list.
Unlike other license providers, Interactive Licensing doesn't offer an authenticity validator where people can check if the license is legit, which automatically minimizes the casino's trust level. Instead, the casino operator attaches the contract they sign with the company. Still, there is no way to prove its authenticity.
This shows that this license provider isn't serious about its relationship with the casino. We weren't even able to find their contact information.
Antillephone N.V.
You will find it in the footer as license no. 8048/JAZ. Antillephone N.V. is the most common private licensing provider in Curaçao, but based on our analysis, we've identified that they are also the least involved in the business.
There is no way of contacting their team or fill a complaint form, and they will issue licenses to anyone, as long as they are hosted in Curaçao, and they pay their license fee on time.
Regions where the license is valid
All jurisdictions have legislation that can potentially limit the operator's ability to run their business under the Curaçao license. Despite being one of the most popular regulators globally, the Curaçao license is not eligible in certain Curaçao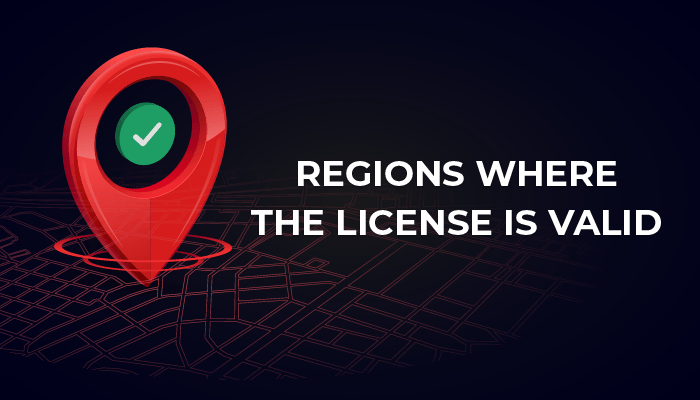 For example, in some countries, Curaçao casinos won't be able to use local payment gateways or advertise their business without a valid local license, which means that there will be additional operational costs. In general, payments are an ever-moving target, so the rules might change overnight.
Before you join a Curaçao licensed online casino, make sure you check its validity by tapping the license badge in the footer. If the license is invalid, you should avoid joining that platform.
Forbidden jurisdictions to operate under the Curaçao law
Aruba

Bonaire

Curaçao

France

Netherlands

Statia

Saba

Singapore

St. Maarten

USA
According to the official Curaçao government website, the license can be legally used in any jurisdiction, except the above ones, where it is forbidden to operate under Curaçao law.
Countries with a local gambling license
Poland

Hungary

United Kingdom

Russia

Mexico

Bulgaria

Cyprus

Slovakia

Norway
Failure to comply with the local regulations may result in the payment service providers blocking funds from these regions.
What are the requirements for getting a license?
Casino operators that are regulated by Curaçao must fulfil specific requirements before being issued a license. At CasinobonusCA, we review all the online platforms that operate under a Curaçao license. We use the government's official requirements to determine if they are appropriately regulated.
Required papers for operators to get a gaming license
Notarized copies of Passport

CV or resume

Certified copy of a utility bill

Proof of domain ownership

Original banker reference (the relationship must be longer than two years)

Certificate of no criminal record

Professional Letter of Reference from a lawyer or accountant (relationship longer than two years)

Software details, including agreements and third-party certification of RNG and fairness

Copy of the Terms and Conditions that must include responsible gaming policies, player KYC and underage gaming policy.
Please note that All the documents must be translated into English and not older than 90 days.
Additionally, before applying for the license, operators are required to have a Curaçao-based company, apply for a sublicense from a Master License holder, get approved on e-wallets and payment service providers, and purchase all the necessary hardware and hosting services.
The cost of a Curaçao license
The cost of getting regulated by Curaçao ranges between $4500 and $12500 annually and a one-time application fee of $1500.
The Curaçao gambling license costs might vary depending on the company's exact requirements and needs, there is an option for all types of budgets. The government of Curaçao understands that every company is unique and has different structures, obligations, and procedures. Thus, they created a flexible license that can be customized according to the operator's business needs.
The regulator will consider the product, the company's goals, deadlines, and the budget and will create a custom package. Of course, the operator will offer full transparency on the price and will never have additional charges for services that are not required.
Final thoughts
Even though the Curaçao gaming license is highly efficient and many operators choose it because of its accessibility, we consider that this type of regulation rarely adds to the online casinos' trustworthiness.
Our team recommends avoiding casinos that operate under Curaçao gambling license whenever possible or at least try looking for a platform regulated by multiple gambling authorities.
In case you still want to go for a Curaçao licensed casino, make sure you check their footer and verify the license's validity. If the license is not valid, you should avoid it at all costs, since an operator that couldn't even hold a Curaçao license, which is less restrictive than the others, can't be trusted at all.
Reference list