The Romanosky Roulette Strategy Explained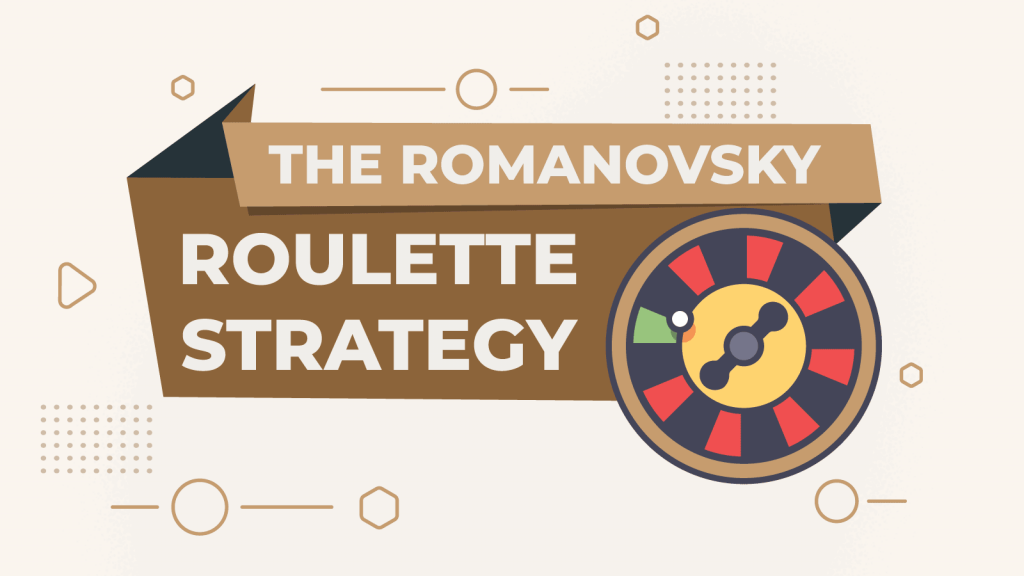 The Romanosky Roulette system is one of the renowned Roulette strategies. This expert guide shows you how to use the betting system to your advantage!
Key Aspects of the Romanosky Roulette system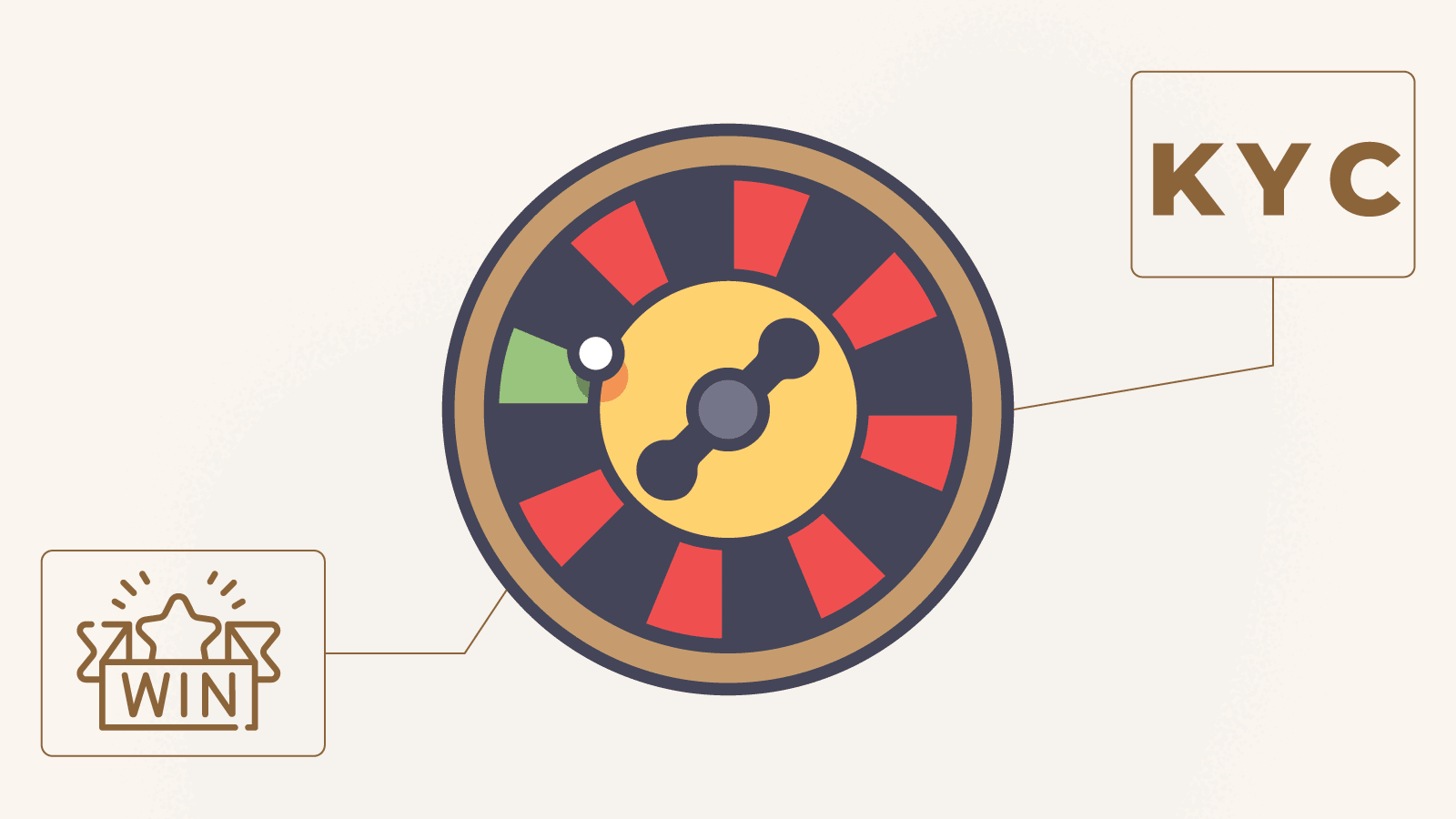 This system was developed by Russian casino gambler Igor Romanosky.
The idea behind this strategy is that you can increase your chances of receiving good results at this game type by making smarter betting choices. Basically, it involves making a series of bets on different parts of the table that reduce your chances of losing money.
The main pro of this strategy is that it is actually simple to employ and can be applied to any Roulette game and many casinos offer Roulette bonuses.
Keep in mind!
Throughout this guide, you will spot two different spelling versions of this Roulette type. This is primarily due to various translations of this system in time. We wanted to include both terms since some may know one form, while others prefer a different version.
What does this strategy imply?
Many people believe that there is no such thing as a secret strategy when playing this game, but they are wrong.
There is one strategy that professional gamblers have used for years, known as the Romanowsky Roulette Strategy.
Already familiar with it? Then, we recommend you to check out our guides with the Roulette red or black strategy and the Martingale Roulette system in order to gain more knowledge that you can apply while building your own betting system for this table game.

The Romanovsky Roulette strategy and its different types of bets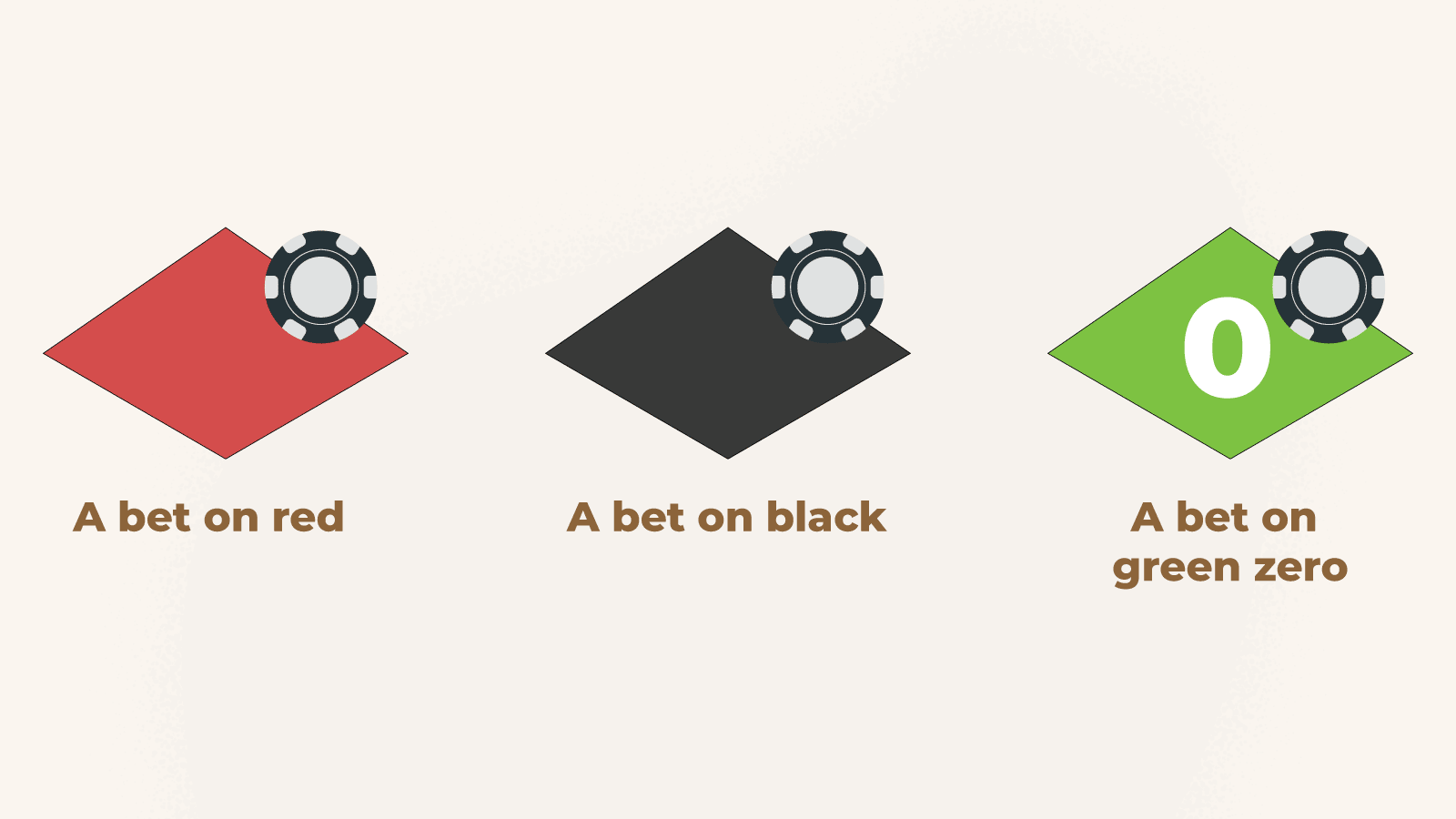 If you are playing European Roulette, you will make three bets on the following:
A bet on red;

A bet on black;

A bet on a number that is not part of either of the above two categories (for example, a bet on the green zero).
There are numerous Roulette strategies out there (apart from this one) that can be employed by both new and professional players. Our gambling experts have studied them all and gathered them into one complete guide to help you pick the one that fits you best.
Now, you are essentially covering all the possible outcomes at the Roulette table; this gives you a better chance of receiving good results. The following are examples of essential Romanosky bets.
Romanosky Bet 1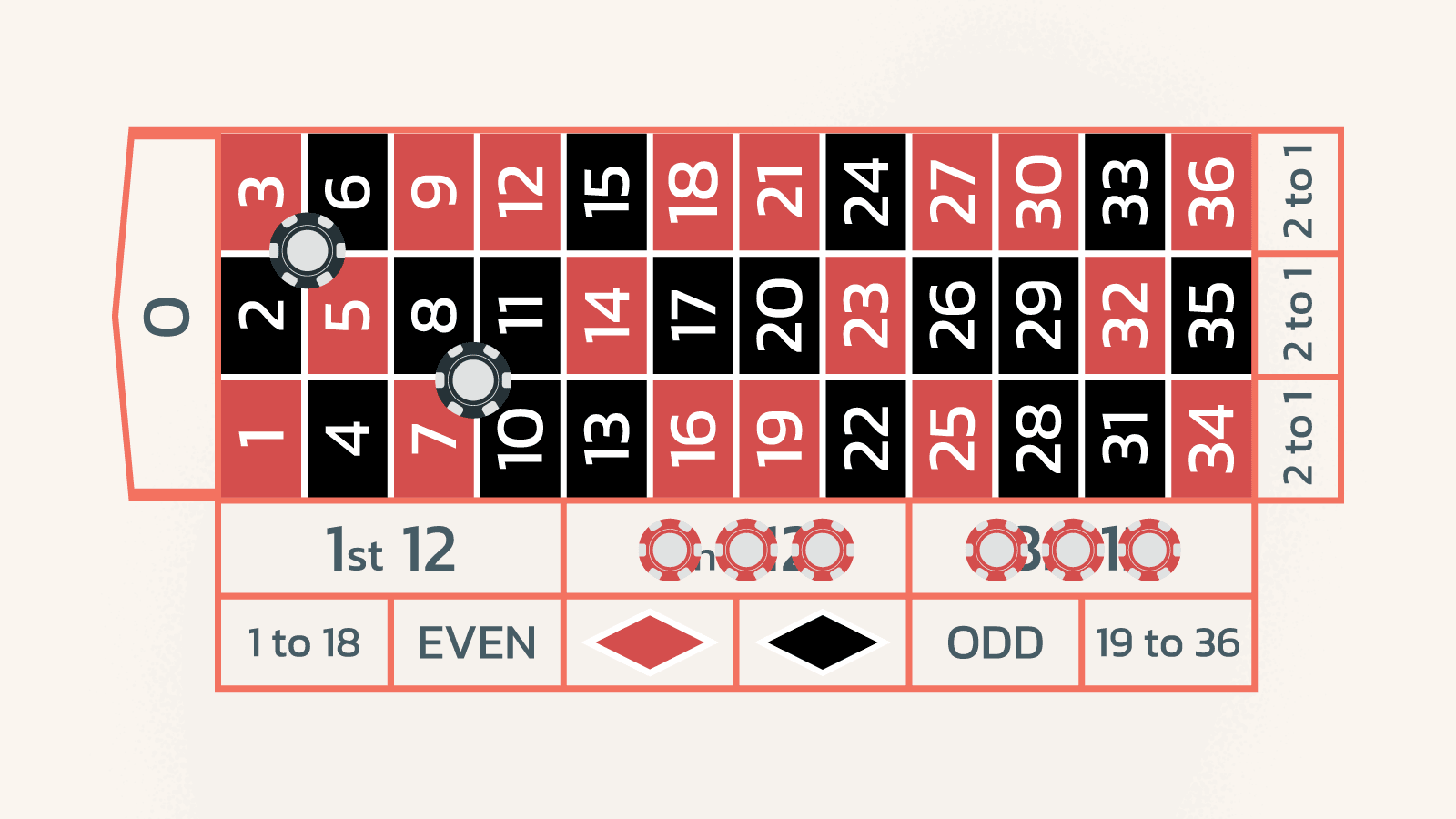 The first step of this system is to gather 8 units. Out of this total number of units, 3 of them go to dozen 2, another 3 on dozen 3 and, lastly, 1 unit on each 7-11 and 2-6 corners.
In this case, the losing numbers are 0, 1, 4, 9 and 12. At the end, the profit/good result is 1 chip, and you have an 86% chance of getting a good outcome out of this bet.
Romanosky Bet 2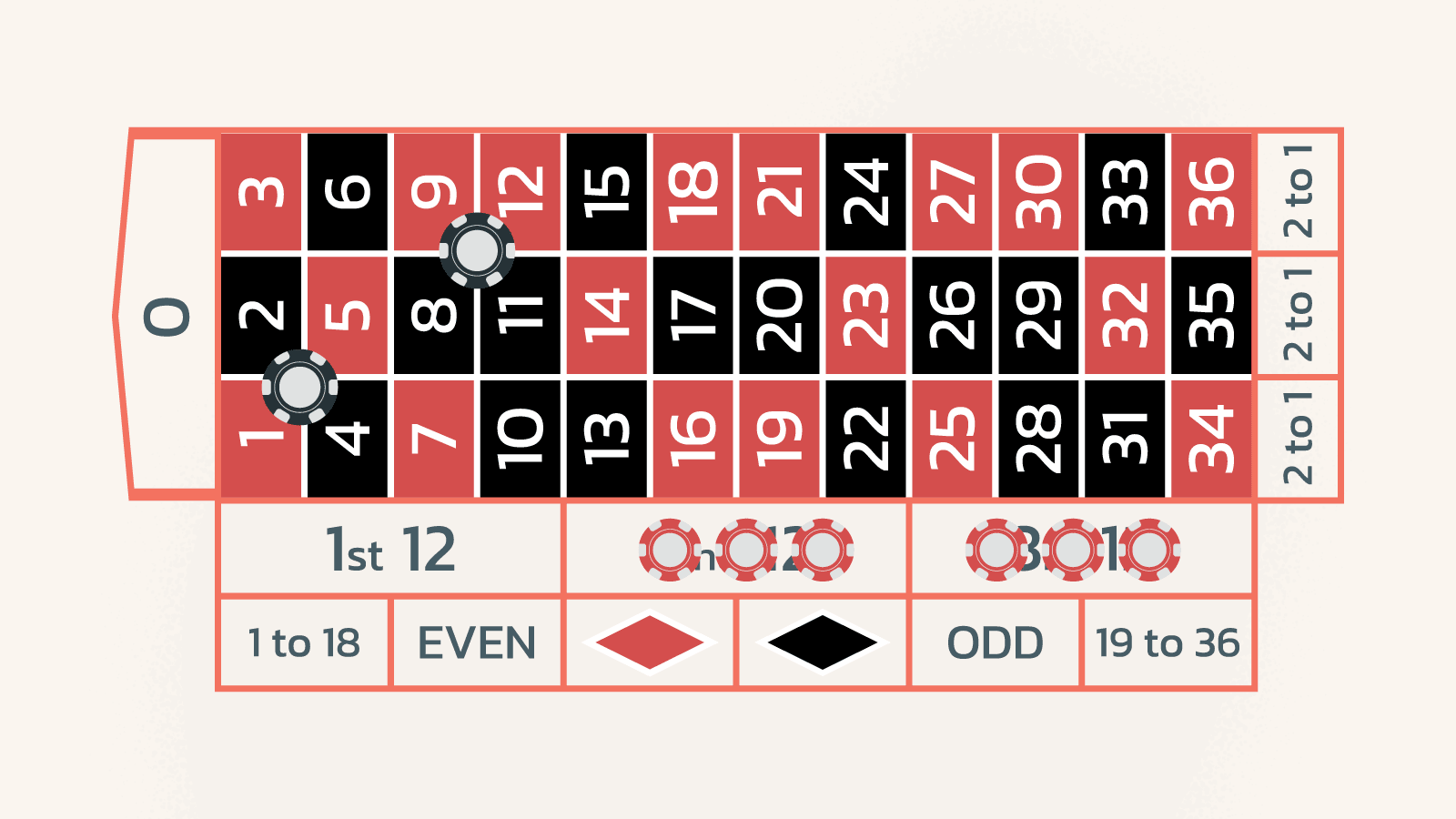 The strategy behind the second bet stays pretty much the same. Each of the 2nd and 3rd dozens gets 3 units. However, this time, you are going to cover the corners 1-5 and 8-12.
The losing numbers are 0, 3, 6, 7 and, finally, 10.
Romanosky Bet 3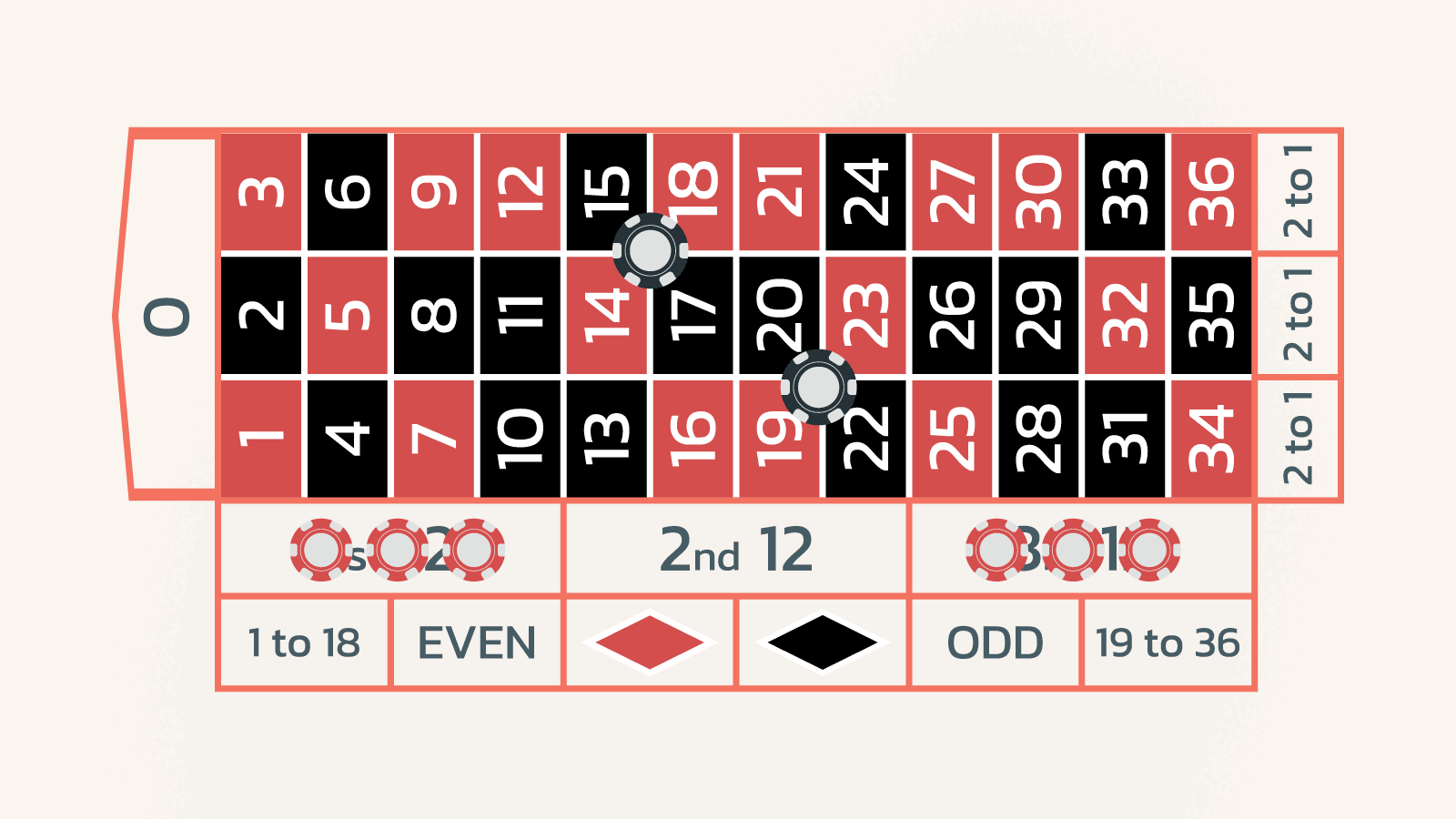 If the first two bets focused only on the 1st and 3rd dozens, the strategy changes with the third one. The initial value of 8 chips remains settled, and we split it into:
3 units on the 1st dozen and another 3 on the 3rd dozen;

1 unit on the 19-23 and 14-18 squares.
In this case, the uncovered numbers are 0, 13, 16, 21 and 24.
Romanosky Bet 4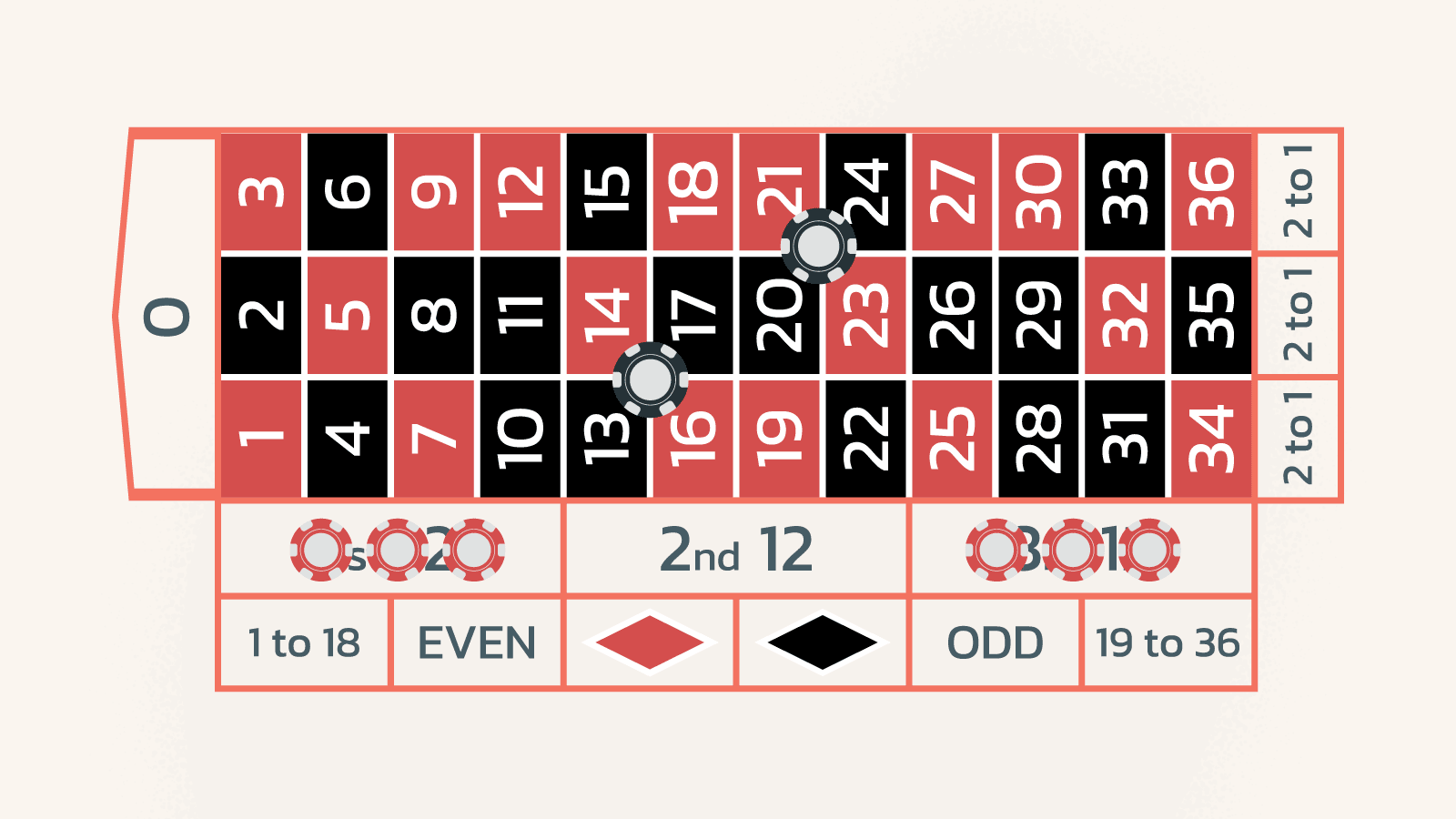 Once again, the 3-unit distribution remains the same for this bet as with the previous one. The only variables that change in this fourth betting strategy are the corners: 20-24 and 13-17.
The losing numbers include 0, 15, 18, 19 and, lastly, 22.
Romanosky Bet 5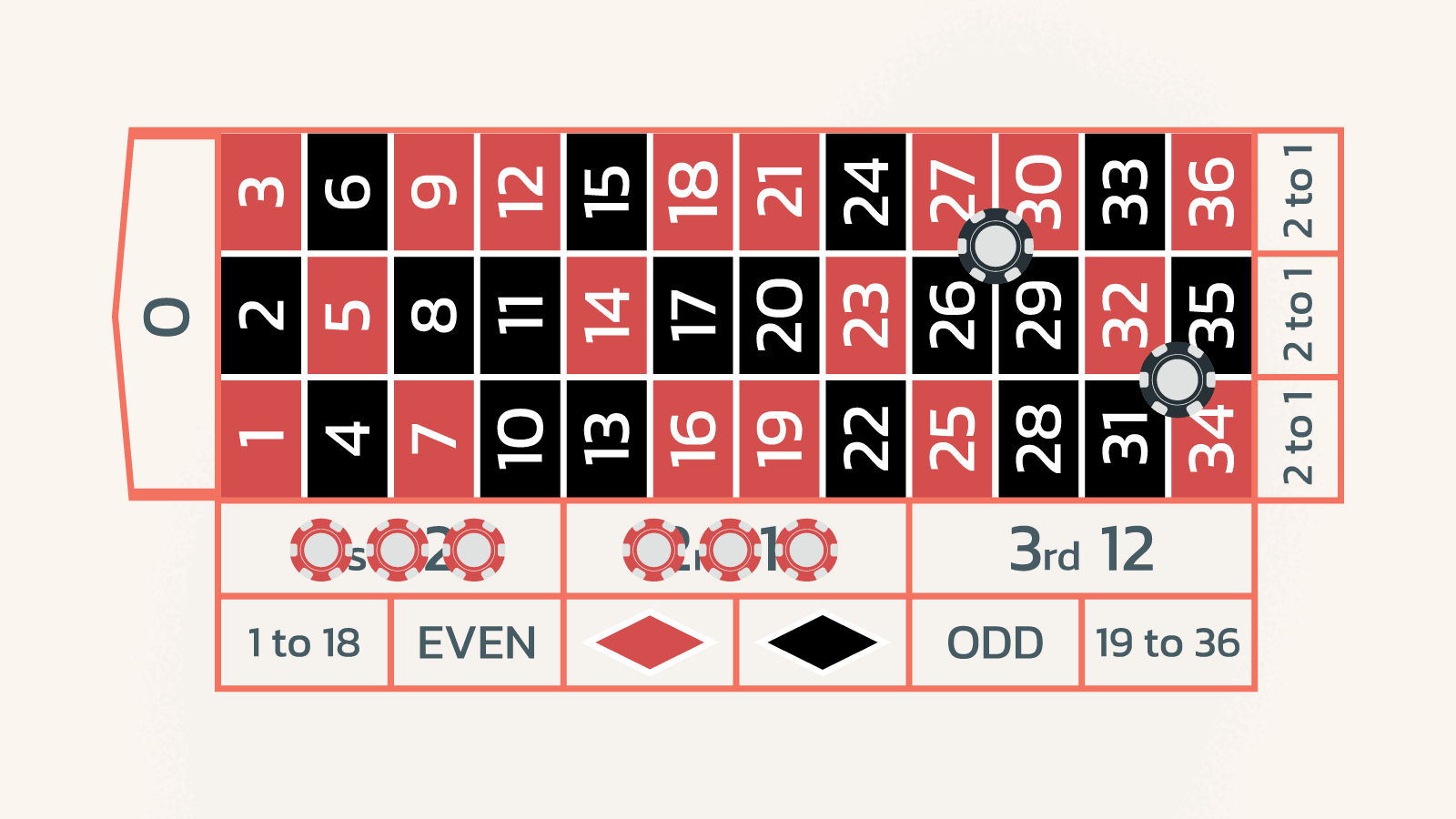 The 5th bet of the system requires the set of 3 units to be wagered on the 1st, and 2nd dozens and the remaining 2 units split and placed in the 31-35 and 26-30 corners.
Therefore, you don't have to bet on 0, 25, 28, 33 and 36.
Romanosky Bet 6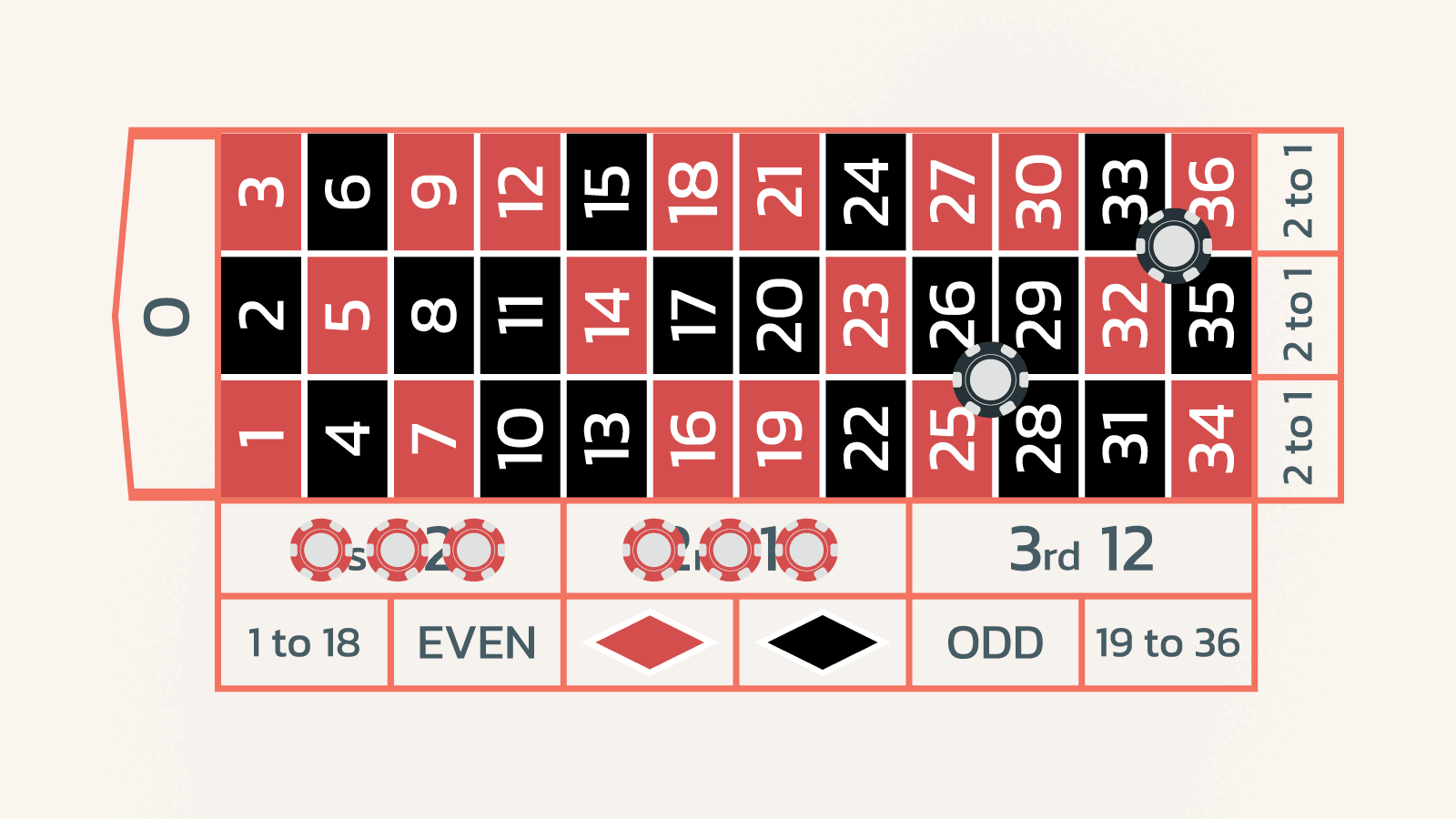 As you might have already inferred, the last bet resembles the previous ones when it comes to the 3-unit placement. Only the corners differ, and you can place your bets on squares 32-36 and 25-29.
The losing numbers are, this time, 0, 27, 30, 31 and, last but not least, 34.
As you employ this Romanovsky Roulette system, you'll notice that these bets always include a number in the middle column. Moreover, throughout the game, the chance of getting good outcomes doesn't change.
Does the Romanosky betting system have risks?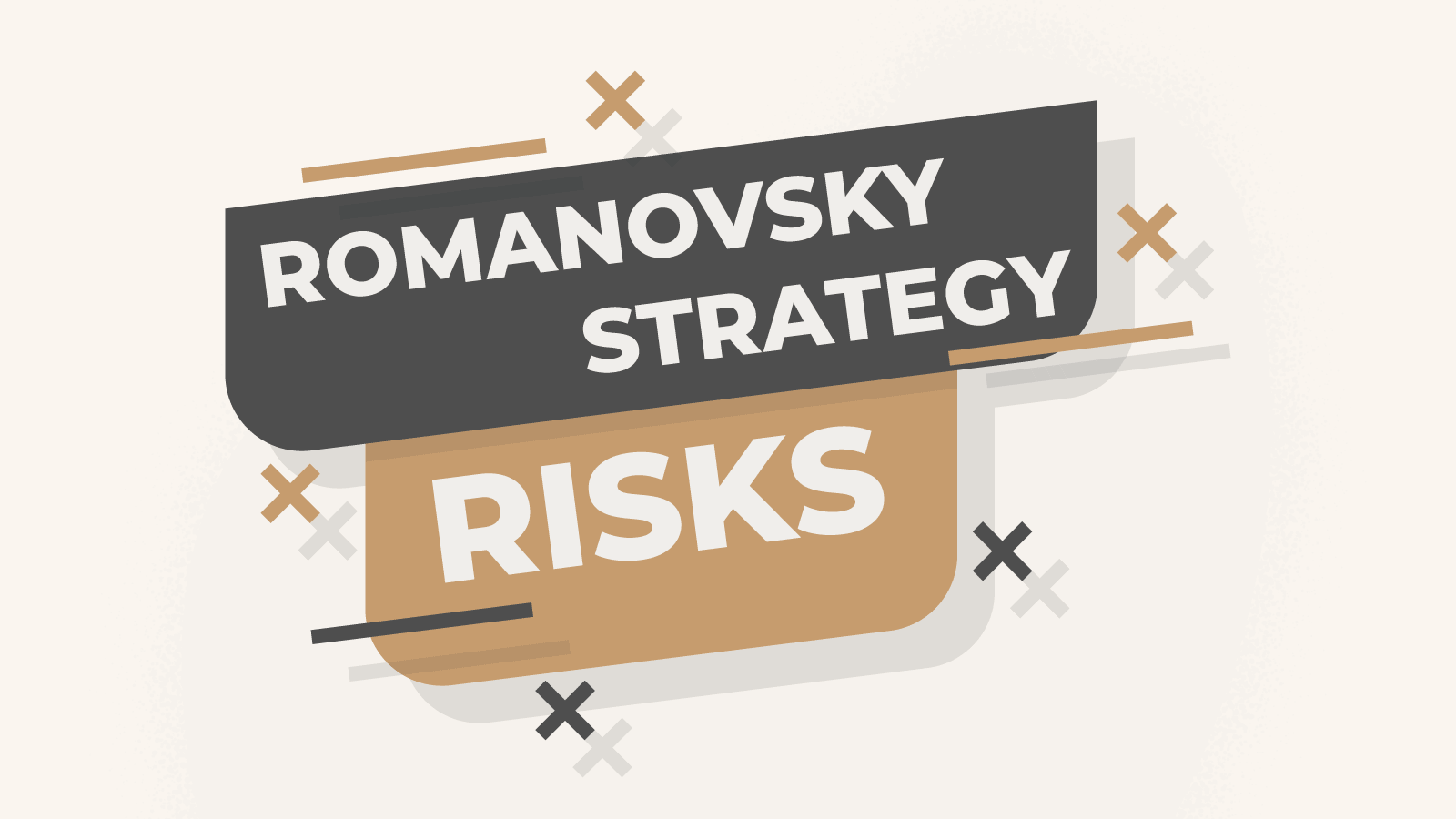 Of course, similar to any other system, this one also has its own risks:
First and foremost, a good outcome is not guaranteed. Even though the possibility of having good results is high (86%), it still leaves out 14% as possible losses;

Another variable that could possibly come as a hindrance to players when using this system is the 8 to 1 unit ratio. In other words, you wager on 8 units and receive only 1 back;

Various gamblers have criticized this strategy as too simple to influence the game significantly.
Ultimately, the one major step to take in order to make sure you play safely is to only gamble on certified and tested online casino sites. The Casinobonusca team of experts put these casinos through an intense verification and inspection process and, only then, choose the ones that they consider secure for any player.