Step-By-Step Guide to Interac Transactions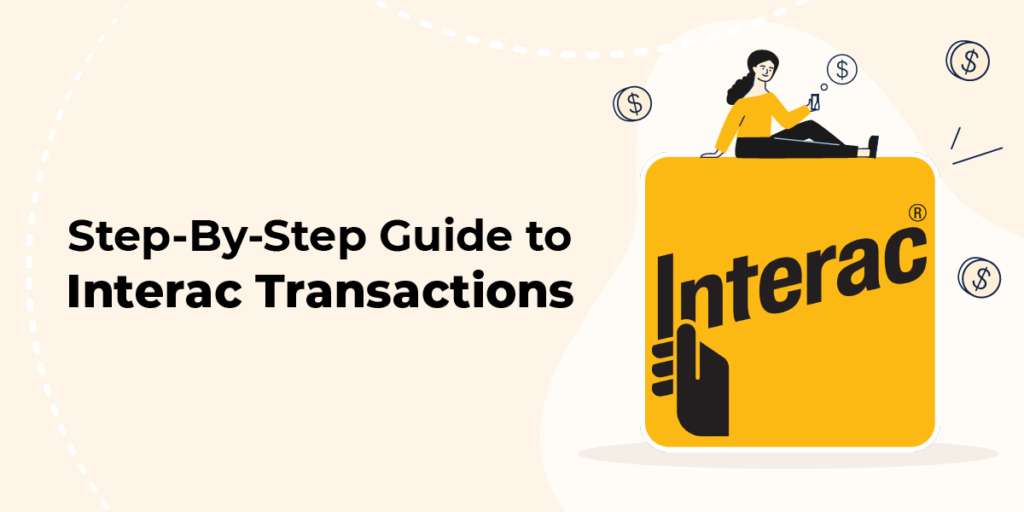 Whether depositing with Interac Online or Interac e-Transfer, our expert guide ensures you don't miss any crucial steps to make swift, safe casino transfers.
Interac Online in five simple steps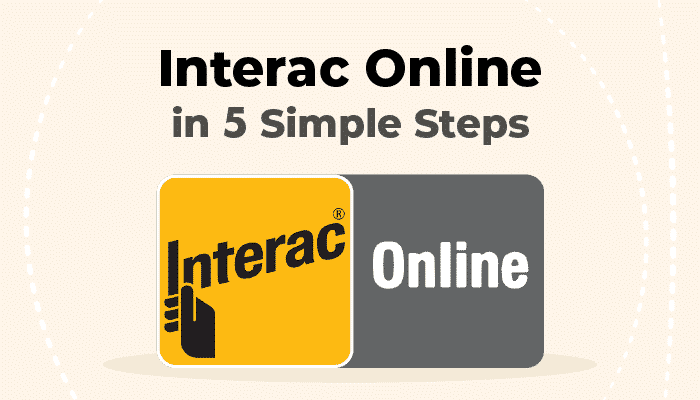 Curious about Interac Online? Learn to use it with confidence with the five simple steps our team laid out so every Canadian player can make safe transactions!
Make sure you are logged in

Most bonuses provide the possibility to sign in by introducing your e-mail or username and password in their description.

Otherwise, you could simply log in to the casino website. Here's our selection of the most trustworthy online casinos that partner with Interac.

Choose your deposit method

Simply click on the Interac Online button listed among the payment methods accepted by your online casino.

Important: Make sure that you have read through the terms and that your online casino of choice accepts Interac.

Pick the deposit amount

Type in how much you would like to deposit.

When opting for a bonus, make sure you check the minimum deposit required, so that you can access the promotion!

If you did not sign-in to specifically claim a bonus, you could do so after the deposit. At this stage, you may need to introduce a bonus code.

Important: Most online casinos do not allow claiming two or more bonuses at one time. Doing this might forfeit both your bonuses and any related winnings, so do not opt in for a bonus at this stage if, for instance, you logged in from the description of a sign-up bonus.

Confirm your deposit

At this point, you are usually redirected to a page asking you to confirm the deposit amount and the payment method. Check if all is right and click to confirm!

Finalize transaction on your online banking
A list of financial institutions will pop up at this point. Pick the bank you hold an account with, enter your online banking details, and you're ready to pay.
Be aware: Sometimes Interac Online transactions do not get processed, mainly if there is another company logo next to the Interac logo on your card.
If your transactions cannot be processed, you will be notified by the following message: "You do not have any eligible access card/accounts for this transaction."
In this case, it is safe to click the "Return to merchant website" button and switch to Interac e-Transfer.
Pay with Interac e-Transfer from the casino website
Select Interac e-Transfer from the casino payment services. Follow the next three major stages in our professional user guide for an effortless transaction:
1. Select Interac e-Transfer
After clicking on the Interac e-Transfer button, you should simply follow the steps mentioned briefly here.
Type in the funds you want to deposit;
Select your bonus and enter the bonus code (if necessary);
Click "Continue"/"Next" or equivalent and it will take you to your online banking page where you can see the details of the transfer.
Be aware: Interac e-transfer is a financial transfer done by e-mail that only allows ten minutes for completing the transaction. If you take any longer than ten minutes, the casino might not receive your deposit at all.
2. Pay attention to the recipient ID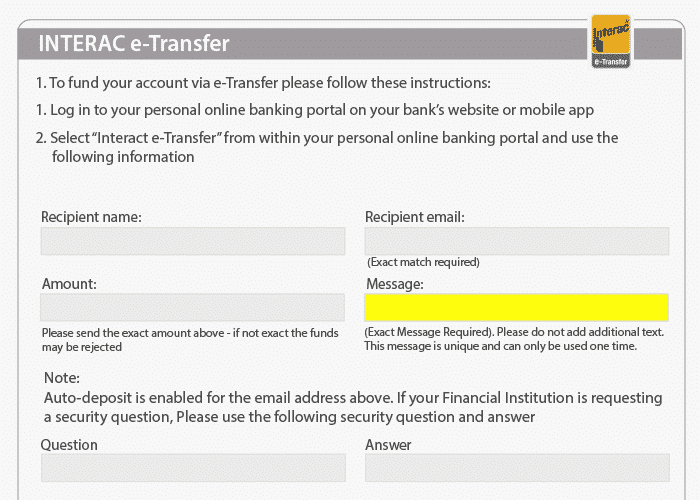 Make sure you copy the seven-character recipient ID in the "Message" field. Check out the highlighted portion in the picture below:
3. Final Online Banking Steps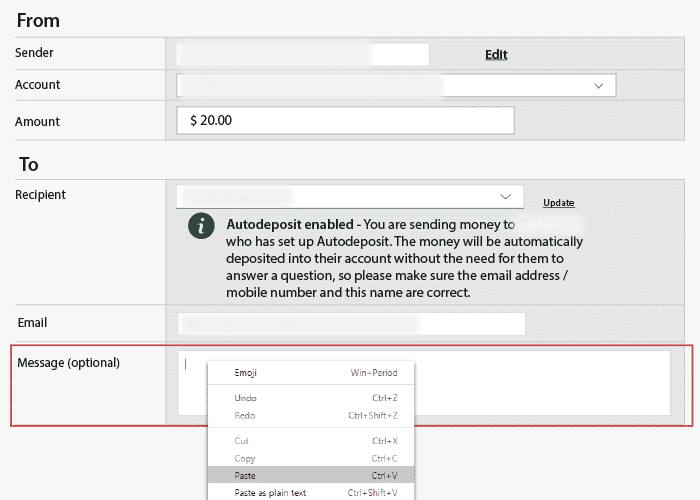 Log into your online banking account;

Select Interac e-Transfer, which will probably appear on the left side of your screen or by hovering the mouse pointer over "My Accounts";
Confirm the amount of money you are transferring to the casino, keeping in mind that usually, the maximum limit is C$100,000;
Pick the account you're sending the funds from;
Choose your recipient from your contact list;
Paste the Recipient ID you copied from the "Message" field, as shown in the images below:
In most cases, that's all you need to do before pressing "Next" and going to the Confirmation page.
This is your chance to double-check all your details.
After you've made sure you are sending the intended amount to the intended recipient, simply click on "Send money" and the funds will be transferred in less than half an hour, if not instantly.
Fun fact: Do you want to be more money efficient? Pay with your chequing account, rather than your savings. Fees on the latter will cost you more!
How to access Interac e-Transfer on your online banking
If you prefer using Interac e-Transfer directly from your Online Banking instead of depositing through a casino website, you first need to make sure that:
The casino permits online transfers and Interac e-Transfer payments;
You are set up with online banking, and your card has the Interac logo;
You have an active e-mail address and/or phone number;

You can contact the casino.
Fact: Many Canadian banks such as Toronto-Dominion Canadian Trust Bank or the Royal Bank of Canada work with Interac e-Transfer. The process of sending funds is mostly the same.
Interac Online Accepted Banks
Alterna Bank

ATB Financial

B2B Bank

BMO Bank of Montreal

Canadian Western Bank

CIBC

CTC Bank

DC Bank

Desjardins

EQ Bank

First Nations Bank of Canada

HSBC Bank Canada

ICICI Bank Canada

Laurentian Bank

Manulife Bank

Motive Financial

Motus Bank

National Bank of Canada

Neo Financial

PC Financial

Peoples Trust Company

RBC Royal Bank of Canada

SBI Canada Bank

Scotiabank

Tangerine Bank

TD Canada Trust

Wealth One Bank

Westphere Systems Inc
If everything is set, here's how you get ready to transfer 5 easy steps:
Log in to your online banking app and select your account;
Go to My Accounts and select Interac e-Transfer;
Select the transaction recipient from your list of contacts. If the recipient is not one of your contacts, type in their correct name and e-mail, confirm their e-mail, and select the preferred language for the transaction. Click add, and they are now added to your list;
Click on "Send Money" and pick the amount you want to transfer;
If requested, set the security question and answer, and click on "Next";
Double-check that all the details are right on the confirmation page and send the money.
Important: Interac e-Transfer e-mails sometimes go to the Spam folder instead of to your Inbox. If the recipient of your transfer does not receive an e-mail confirming the transfer within one hour, they're advised to check the Spam folder before contacting the bank.
Security question and answer: how they work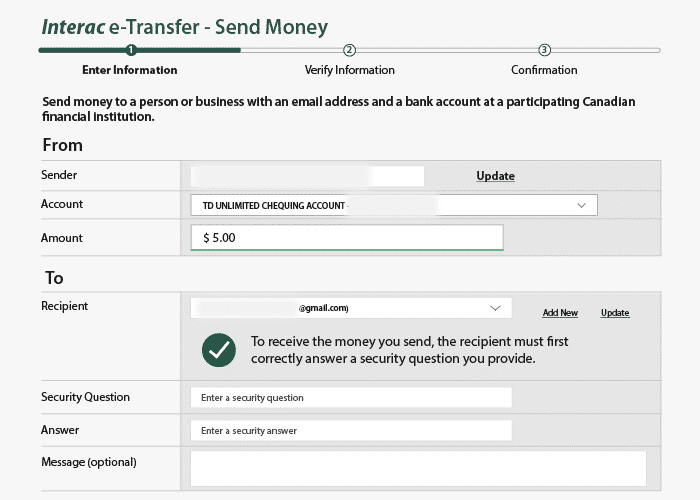 The security question and answer work like an extra security code: you need to fill in a question that the recipient will be able to answer.
Let's skim through the basic principle behind the security question and answer, in case you ever find yourself unable to proceed without it:
Think of a simple question connected to your recipient and that not everybody could guess the answer to;
Communicate the answer to your recipient via text, phone call, or another secure method.
Look at our example!
Question: What is the number I sent you?
Answer: 898970022
This is a number only your intended recipient has access to.
Completing a security question and answer is generally required if your recipient is not registered for the Interac e-Transfer Autodeposit.
The question and answer will appear after you click on the "Send Money" button, or when entering the transaction details into your online banking, right before pasting the Recipient ID as explained on Step 3, and in the image below:
Keep in mind
This guide to Interac is brought about by first-hand experience, specialist insight, and a team that tests each casino as any Canadian player would.
Interac is a safe and quick way to handle your financial transactions, as the processing time is mostly instant.
You can either use Interac Online or Interac e-Transfer, log in from the casino website, or access the service directly from your online banking platform.
Make sure you and the recipient have a working e-mail address or phone number, an account with an Interac registered bank, and the possibility for easy communication.
Our specialist guidance is by your side every payment in the game. For extra clarity on online casino financial transactions, you can always rely on our Cash-in & Cash-out Guide.
References