Century Casino Review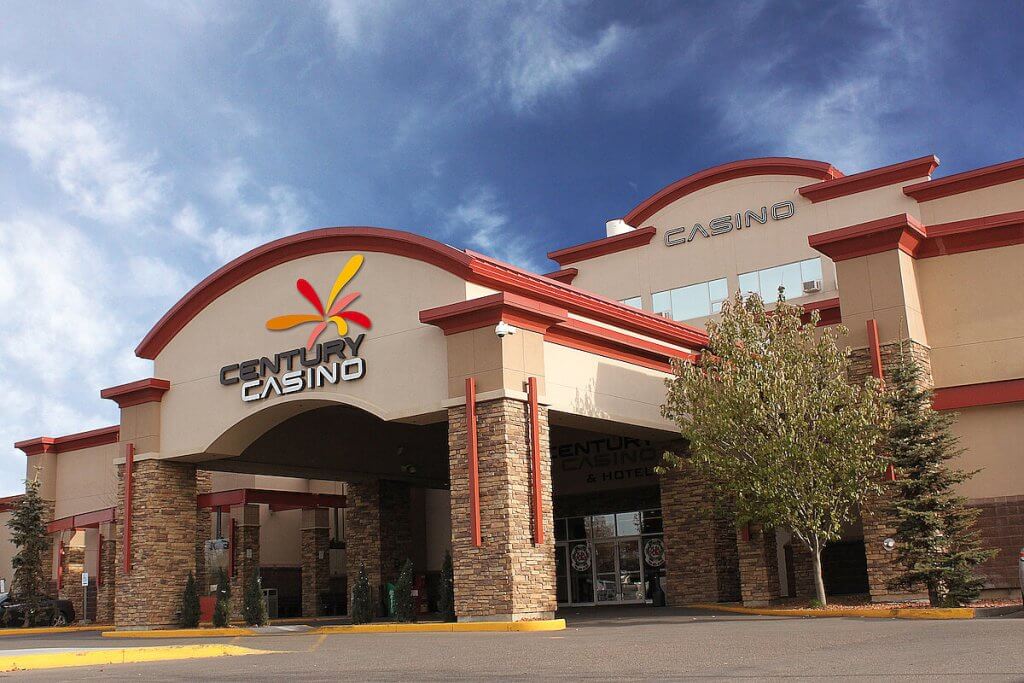 With so many casinos in Edmonton alone, choosing a casino to try out is not always easy. Thankfully, our experts have thoroughly examined and reviewed Century Casino Edmonton and have discovered plenty of reasons to choose Century Casino as your next gaming destination.
Check out our full review of Century Casino Edmonton to learn about the extensive gaming variety, what perks loyalty membership gets you, and why the atmosphere is second to none.
Century Casino Edmonton Ratings
| | |
| --- | --- |
| Overall Rating | 4.1/5 |
| Slot Machines | 5/5 |
| Casino Games | 4/5 |
| Staff & Service | 5/5 |
| Loyalty & Rewards | 3/5 |
| Casino Atmosphere | 4/5 |
| House Rules (T&Cs) | 4/5 |
| Player Feedback | 3.5/5 |
| Operator | 5/5 |
Table of Contents
Rating and Review Process for Century Casino Edmonton
Rather than just perform a quick scan of the casino homepage and present the findings, we devised a highly special specialized review system that has been expertly designed by our strong team of experts.
This unique system allows us to analyze a casino like Century Casino Edmonton from the perspective of both a brand-new player and an experienced shark. A major component of the system requires us to actually visit the casino which is how we can provide insights that no other review bothers to uncover.
How we inspected Century Casino Edmonton
Date of visit: 08/26/2023
Time of visit: 18h – 23h
Initial bankroll: C$100
What we played: Slots, Roulette
Final bankroll: C$223
Next visit: 09/29/2024
What we looked at
We thoroughly examined every square inch of the 30,000-square-foot casino. This involved playing multiple game types and checking that key games were available. We wined and dined at the restaurants and bars to check prices and service.
By making sure to spend time on the casino floor during peak hours, we could get a real feel for the atmosphere and what it feels like to actually play at Century Casino Edmonton.
What we found
Address

13103 Fort Rd NW, Edmonton, AB T5A 1C3

Open hours

9:30 AM – 4 AM

Friday/Saturday: 9:30 AM – 5 AM

Membership

Not required

Minimum age

18

ID checks

Yes

Game types

Slots, VLT, table games, poker

Tables

30+

Slot machines

830+

Gaming terminals

8+

Payment

Cash, Card, Chips

Average betting range

Slots: C$0.01 – 125

Table: C$5 – 100

High limit: C$2,000 – 12,000

Free drinks (Canada)

No

Restaurant

Yes

Hotel

Yes

Poker tournaments

Texas Hold'em
Slot Machines – 5/5
With hundreds of slots powered by multiple providers and plenty of progressive jackpots including Diamond Millions, Century Casino Edmonton is a powerhouse slot casino. You can enjoy penny slots with decent bet limits or choose to play for higher stakes in the high-limit room.
Slots we played at Century Casino Edmonton
After leaving the blackjack table with a C$55 in profit, we tried the slots behind the dealer and began with Wild Panda and Pompeii. Next, we moved on to the IGT slot Rich Girl which boasted a 96% RTP and free spins feature. We closed out the night by having a go at Diamond Millions, but we didn't win the jackpot.
How many slot machines does Century Casino Edmonton have?
Century Casino Edmonton boasts over 830 slot machines and that collection has continued to grow. It was only two years ago that the casino had just over 750 slots.
Do the slot machines accept coins?
No, the slot machines only accept banknotes and tickets.
Slot machine providers
Local progressive jackpots
All of the Alberta progressive slot games are available which include Diamond Millions, Alberta Gold, Jackpot Junction, and American Original. More than a dozen players have won a jackpot worth more than C$1 million playing Diamond Millions.
Casino Games – 4/5
Century Casino Edmonton features more than 30 tables that support a variety of roulette, blackjack, baccarat and poker games.
Bet limits start at a reasonable C$5 but several high limit tables will suit the high rollers.
Game types
Blackjack

Roulette

Baccarat
There are only three styles of casino games but over 30 tables to enjoy them on. Variants include Infinite Fortune Baccarat, Four Card Poker, and Ultimate Texas Hold'em with a progressive jackpot. You can play craps on several dedicated VLT machines located by the golden blackjack tables.
Betting limits
Table limits start at C$5, which is low for some games, like Blackjack, but a little high for others like roulette. Most tables were limited to C$100 maximum bets but we could see a C$2,000 limit on a blackjack table and C$12,000 on a high-limit baccarat table. This is as high as an Alberta casino can legally offer too.
Can anyone bet the highest limits or you need special VIP access?
No, every table is accessible to all players. If a seat is available, anyone can take it.
Century Casino Edmonton poker tournaments
Texas Hold'em poker tournaments are held every Tuesday and Thursday. There are 10 poker tables and the buy-ins can vary from C$40 to C$120.
Staff & Service – 5/5
With restaurants and bars that stay open late, loads of free and secure parking, and more than 20 non-smoking rooms for an overnight stay, Century Casino Edmonton boasts all the services you would ever need from a casino facility. It also helps that the staff during our visit were wonderfully pleasant.
Food & Drinks
Century Casino has a restaurant, a dedicated sports bar, and several smaller bars conveniently located around the casino. Mid City Grill is only open Thursday through Sunday but you can grab affordable food until midnight. The menu is full of casino favourites such as burgers, steaks, and sharable platters.
A burger sets you back about C$14 but you can also enjoy numerous food specials at a reduced cost if you're a Winner's Zone club member. The Century Sports Bar & Lounge also serves food which includes a range of meaty bites such as smoked brisket and pulled pork. You can also buy a 60oz jug of local and foreign beer.
Mid City Grill:
Thursday to Sunday: 4 PM – 12 AM
Century Sports Bar & Lounge:
Seven days a week: 9:30 AM – 2 AM
How much do you tip at Century Casino Edmonton?
15% seems to be the standard tip in Edmonton and the wait staff agreed with us. They did inform us that some regular groups will typically tip around 18%.
Does Century Casino Edmonton offer free drinks?
This casino doesn't offer complimentary drinks for players at the tables but those playing a long game can sometimes pick up a free coffee.
Is there a buffet at Century Casino Edmonton?
While some Century casinos do offer a buffet, Century Casino Edmonton does not. However, if you're staying in the hotel, you can enjoy a complimentary continental breakfast.
Parking
Century Casino looks after its driving guests with plenty of outdoor spaces surrounding the building and free secure, underground parking too.
Accommodation
Century Casino also houses a 3-star hotel with 26 air-conditioned rooms that include Queen rooms, King rooms, and King suites which include a two-person Roman tub.
An average night will cost you around C$135 and you'll be able to access the casino in seconds. We stayed overnight in a Queen room which was pleasant but the room felt like it could cost a little less.
King Room:
Queen Room:
King Suite:
Do you tip room service at Century Casino Edmonton?
Room service is not available at the hotel but feel free to tip the staff if they help bring your bags to your room.
Are there smoking areas?
Both the hotel and casino are 100% non-smoking buildings. The designated smoking area is under the cover by the entrance to the hotel and casino.
Security
Like any casino, there are a few noticeable security personnel patrolling but they're far from distracting. The casino uses high-end cameras, and it appeared every corner of the facility was well covered.
Loyalty & Rewards – 3/5
The Winner's Zone is a simple and free loyalty program that provides personalized bonuses and regular food and beverage promotions. This reward program doesn't feature any points or clear ways to earn free bets, rather you get to earn ballot entries towards various contests and prize draws.
However, you can sign up for an additional program called the Winner's Edge that is provided by Alberta Gaming, Liquor, and Cannabis. This card lets you earn points per spend that can then be used towards special promotions and more exclusive contests.
How does the Century Casino Edmonton rewards program work?
Players can sign up for a Winner's Zone club membership for free when they visit Century Casino Edmonton. You'll earn ballot entries into exciting prize draws by winning a jackpot hand or buying in at table games throughout the casino floor.
What you get
Exclusive prize draws and contests

Food and beverage promotions

Personalized offers
How to register for the program
Go to any Winner's Zone kiosk or the Guest Services desk

Ask to join the Winner's Zone

Fill out the registration form and present your ID
Casino Atmosphere – 4/5
The modern design of the décor and the exceptional materials provide a distinctly premium feel. Tables and slots are perfectly placed, and the casino floor always has a buzz without ever seeming out of control. With a dedicated comedy club and event space, there is plenty to enjoy besides casino games.
Inside Century Casino Edmonton
We observed more than just the gaming tables and slots. Our observant eyes clocked the quality of the material as we analyzed the décor and design of the building. We also spent some time around the casino to get a feel for the surroundings.
Design experience
Century Casino Edmonton is modern and stylish, but the building doesn't have any particular theme. The materials used are all of high quality and the timber around the gaming tables is regularly polished which shines under the lights, providing a luxurious feeling.
Are you allowed to take photos in Century Casino Edmonton?
Yes, but you can't take any photos when you are in or around the gaming tables.
You'll be told to put away your phone if it can be seen when you're playing at the tables too.
Location and surroundings
You won't get much of a view unless you like main roads, light rail, and residential buildings. However, you are only a 24-minute train ride or a 16-minute drive from downtown Edmonton where you can enjoy art galleries, festivals, and gorgeous modern architecture.
Do you need a passport to visit Century Casino Edmonton?
No, any form of government-issued photo ID will be acceptable. However, we do recommend using your passport if you're travelling from abroad and don't think your local ID will be accepted for any reason.
Events
The Century Showroom plays host to a variety of live events including comedy shows, popular bands, DJs, and exciting tribute acts. Local comedy can also be enjoyed at the casino's very own comedy club, Yuk Yuk.
House Rules (T&Cs) – 4/5
The house rules at Century Casino Edmonton are only briefly visible when entering the casino but that's just because the rules are fairly self-explanatory, transparent and obvious. This casino is almost open 24 hours a day and you can enter for free. Century Casinos lets you take photos in most areas except the table gaming area.
When is Century Casino Edmonton open?
The casino is open between 9:30 AM and 4 AM between Sunday and Thursday. On Friday and Saturday, the casino is open until 5 AM. Slot machines will always be ready to play but table games have restricted hours and you'll find more tables open during the late afternoon and early evening than you would in the morning.
Does Century Casino Edmonton charge entry?
No, entry into the casino is free.
Do you always need a reservation to play at Century Casino Edmonton?
A reservation is never needed unless you're entering a specific poker tournament that requires a reservation.
Is membership required at Century Casino Edmonton?
No, you can visit as many times as you like without ever becoming a member. However, membership is free and there are several perks.
Dress code
Like most Alberta casinos, Century Casino Edmonton doesn't enforce a particularly strict dress code. You can dress as smartly as you like or keep it casual – just make sure you don't wear anything that would be deemed offensive or aggressive.
Ultimately, your entry is at the discretion of the casino, so we always think it's best to dress like you would for a nice date.
Standout rules at Century Casino Edmonton
There won't be any unwanted surprises at Century Casino Edmonton as the house rules are all fairly standard and in line with those at other casinos in Canada.
Player Feedback – 3.5/5
Century Casino Edmonton has been reviewed more than 3,000 times across Google and Tripadvisor and has achieved a ranking we think is a little unfair. Reading between the lines of all the reviews, it was clear to see an overwhelming number of fraudulent bad reviews.
Thankfully, those providing positive casino reviews are far more coherent and descriptive with their thoughts.
Century Casino Edmonton player reviews
Google – 4/5
Many Google reviewers commended the newly renovated sports bar, the standard of the table game dealers, and the high quality of the food. However, others felt the hotel rooms left little to be desired for the cost.
Tripadvisor – 3/5
Numerous reviewers noted the atmosphere feels highly active and electric but somehow isn't crowded. The rating should be high as we could tell that the worst reviews were written for the sake of writing a bad review.
Most common issues
Operator – 5/5
Century Casinos is a 31-year-old gaming company that operates 10 casinos across the US and Canada while also operating several casinos for TUI Cruises and owning a share of Casinos Poland. This incredibly reputable and successful organization counts Century Casino Edmonton among its operations.
Who owns Century Casino Edmonton?
Century Casino Edmonton was opened in 2006 and has remained under the ownership and operation of Century Casinos ever since.
Other casinos by the same operator
Century Casino Central City

Century Mile Racetrack and Casino

Nugget Casino Resort

Century Casino St. Albert
Contact info
| | |
| --- | --- |
| Website | www.cnty.com/edmonton |
| Email address | |
| Telephone number | +1 (780) 643 4000 |
| Other | Facebook, Instagram, X (formerly Twitter) |
Century Casino Edmonton Competitors
There are a total of 13 casinos in Edmonton which means thousands of possible slot machines and almost 150 table games. Century Casino Edmonton certainly has competition which is a very good thing for local and visiting casino players. Of course, the online casino market will always try to cut into the Edmonton market too.
Century Casino Edmonton vs. Starlight Casino
You can enjoy hundreds of penny slots, six different table games including Ultimate Texas Hold'em with a progressive jackpot, and the Replay Arena which features 18 individual VLTs providing a casual-friendly gaming environment.
Starlight Casino is best for new players
Starlight is a great way for new players to immerse themselves in a casino that isn't too overwhelming. Players can enjoy slots that are limited to C$5 bets and the Replay Arena is a great way to learn how to play table games.
Century Casino Edmonton vs. Pure Casino Yellowhead
Pure Casino Yellowhead boasts a 24/7 poker room, a massive slot selection with numerous Diamond Million progressive jackpot slots, and a prime rib buffet. There are also regular poker tournaments to sit in on.
Pure Casino Yellowhead is the best alternative for gaming that never sleeps
This casino is genuinely open 24 hours a day, seven days a week. The opening hours extend to poker and table games, so you can play your favourite casino games at just about any time of the day.
What sets Century Casino Edmonton apart from its competitors?
Many casinos in Edmonton and all over Alberta are comparable to Century Casino in terms of gaming offerings but few can match the atmosphere of the casino floor at Century Casino Edmonton. The casino floor has a certain intangible buzz that is tough to replicate.
Century Casino Edmonton Pros and Cons
Pros
The casino floor has an amazing atmosphere and buzz

Regular poker tournaments are held twice a week

Features all of the top Alberta progressive jackpot networks

High rollers can play a variety of games with big bet limits
Cons
Underwhelming hotel rooms for the cost
Should You Gamble at Century Casino Edmonton?
Century Casino Edmonton does have just about everything a casino player would want. Over 800 slot games, numerous progressive jackpots, more than 30 table games, and a dedicated comedy club make this casino a top choice for casual gamblers, serious pros, and fans of good old-fashioned entertainment.