Club Regent Casino Review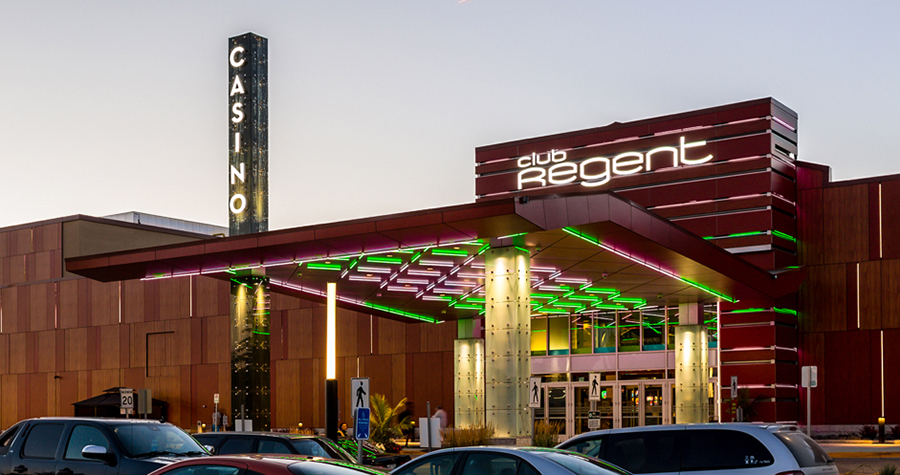 With more than 1,200 casino games to play including a C$1 million progressive jackpot slot, there are more than a few reasons to look into Club Regent Casino in Manitoba. But is this the right casino for you?
Stick around as our experts reveal all the games you can choose from, identify how you can earn Free Play as a member, and comprehensively explore the casino's atmosphere and service.
Club Regent Casino Ratings
| | |
| --- | --- |
| Overall Rating | 4.3/5 |
| Slot Machines | 5/5 |
| Casino Games | 4/5 |
| Staff & Service | 5/5 |
| Loyalty & Rewards | 5/5 |
| Casino Atmosphere | 4/5 |
| House Rules (T&Cs) | 4/5 |
| Player Feedback | 3.7/5 |
| Operator | 5/5 |
Table of Contents
Rating and Review Process for Club Regent Casino
Our experts have devised a comprehensive review system that ensures we provide insights that other reviews simply cannot. We genuinely walked through the doors of Club Regent Casino so that we could use our system to analyze every corner of this Winnipeg casino.
This allows us to see the casino through the eyes of an experienced gambler and those of a casual player. Our system is used to not only review the casino games but also the facility's additional features.
How we inspected Club Regent Casino
Date of visit: 08/05/2023
Time of visit: 7 PM – 12 AM
Initial bankroll: C$100
What we played: Slots, VLT craps, blackjack
Final bankroll: C$275
Next visit: 08/25/2024
What we looked at
Our rating is based on variety of important features that we think should be present at any casino in Canada. We look to see that certain games are available to play and check to see how many alternative entertainment and leisure options are available when you walk away from the tables.
This means we look at the restaurant, and the bars, and thoroughly examine the house rules and the overall experience you can expect when you walk through the front door.
What we found
Address

1425 Regent Avenue West

Winnipeg, Manitoba, Canada R2C 3B2

Open hours

Sunday – Thursday: 10 AM – 3 AM

Friday – Saturday: 10 AM – 5 AM

Membership

Not required

Minimum age

18

ID checks

Yes

Game types

Slots, VLT, table games

Tables

44

Slot machines

1,000+

Gaming terminals

200+

Payment

Cash, Card, Chips

Average betting range

Slots: C$0.01 – 100

Table games: C$3+

Free drinks (Canada)

Yes (Tea & Coffee only)

Restaurant

Yes

Hotel

Yes

Poker tournaments

Yes, No Limit Hold'em
Slot Machines – 5/5
With more than 1,000 slot machines, numerous progressive jackpots with huge maximum payouts, and an extensive range of themes and game types owing to multiple game providers, Club Regent Casino has everything a slot player could ever ask for.
Slots we played at Club Regent Casino
We began by heading to the Heineken Banyan Bar and played a few slots in the brightly-themed room. First, we sat at Jinse Dao Dragon which boasted a major jackpot worth over C$10,000 at the time. We didn't win the jackpot and moved on to a row of Konami slots. We finished by playing 5 Elemental Legends which features powerful Wilds.
How many slot machines does Club Regent Casino have?
Club Regent Casino has over 1,000 slot machines spread across the entire casino facility including a variety of themes such as Egyptian and fantasy-themed slots.
Do the slot machines accept coins?
No, the slot machines only accept cash and your Club Card if playing with Free Play.
Slot machine providers
Konami

IGT

Aristocrat

Bally
Local progressive jackpots
The casino floor is littered with progressive jackpot slots which include popular series such as Wheel of Fortune, Lightning Link, Dragon Link, and the C$1 Million Powerbucks progressive slot.
As we walked the floor, we noted many local progressive jackpots had top prizes ranging between C$3,000 and C$10,000 at the time.
Casino Games – 4/5
There are a total of 44 table games that cover a wide variety of casino favourites including poker, blackjack, and baccarat. Additionally, the vast collection of VLT machines also includes a Stadium Gaming experience which provides a slow-paced, digital experience of table classics.
The casino also features exciting variants including Double Deck Blackjack, Squeeze Baccarat, and EZ baccarat.
Game types
Roulette

Blackjack

Poker: 12-table poker room

Baccarat

VLT: Roulette, Blackjack, Craps, Dai Bacc, Big Six
Betting limits
The minimum table limits vary between each game. For example, the Blackjack tables range between C$3, C$10, C$15, C$25, and C$50. However, we've been told it is very rare to see a C$3 table open.
Can anyone bet the highest limits or you need special VIP access?
There is no special VIP treatment at this casino. Anyone can bet the highest limits.
Club Regent Casino poker tournaments
The poker room runs regular C$1/C$2 No-limit Texas Hold'em games and higher limits can be requested. Additionally, larger poker tournaments are also held throughout the year.
Staff & Service – 5/5
With a very affordable restaurant, numerous bars, a 100+ room hotel right next door, and plenty of free parking, the Club Regent Casino boasts excellent services.
The staff were all very pleasant during our visit and were more than happy to answer all our questions about the casino as they served us.
Food & Drinks
Club Regent boasts several bars sprawled across the casino and a dedicated Toukie's Lounge that features two menus and HD TVs. The menu features a wide variety of classic bar food such as nachos, burgers, sandwiches, and steaks. Prices are very agreeable with a burger costing less than C$20 and beer costing around C$7.
The Heineken Banyan Bar and Coors Centre Bar provide a few beers on draft and several bottled brews. You can also head to the Ice Cream Shoppe which is open until midnight and enjoy ice cream on waffle cones, buy soft drinks, and grab fudge and mini donuts.
Toukie's Lounge
Coors Centre Bar
Ice Cream Shoppe
Heineken Banyan Bar
How much do you tip at Club Regent Casino?
A customary tip of 15% is generally expected but we noted that many customers were tipping closer to 20%.
Does Club Regent Casino offer free drinks?
Free tea and coffee are available, but you'll need to make it yourself in the areas provided. There are no complimentary alcoholic drinks provided when you're playing at the tables or slots.
Is there a buffet at Club Regent Casino?
No, there is no buffet at Club Regent Casino.
Parking
Free parking is available in front of the casino and there is an additional parking area next door which is an open lot.
A project was intended to build a large 5-storey parkade but it seems like it never got off the ground.
Accommodation
The Club Regent Casino Hotel sits next to the casino facility and features 146 rooms, with costs ranging between C$80 and C$120 depending on the season and type of room. The Aaltos restaurant offers a buffet, and the Playmakers lounge provides a Vegas-like experience with VLT machines.
Do you tip room service at Club Regent Casino?
While you don't have to tip room service, it is very much expected. We would encourage you to tip at least 15% if you can.
Are there smoking areas?
Smoking indoors in public spaces is not allowed in Manitoba so you'll have to go outside if you're staying at the hotel or enjoying the casino. For casino players, there is a designated smoking area just outside the event centre entrance.
Security
Security is a little stronger than a lot of other casinos but that's largely due to making sure under-18s don't go to a concert and then find their way into the casino floor. The casino also has state-of-the-art camera surveillance.
Loyalty & Rewards – 5/5
The Casinos of Winnipeg club card provides bonuses and discounts at Club Regent Casino but also at McPhillips Station Casino and the Shark Club Gaming Centre. You'll be able to win Free Play, gain access to exclusive deals, and get presale concert announcements before the general public.
How does the Club Regent Casino rewards program work?
Players are instantly treated to a C$10 Free Play bonus as soon as they sign up. Then, you'll receive points every time you play which can eventually be redeemed for prizes including gift cards, concert tickets, Free Play, and free meals.
Points don't expire unless the card becomes inactive or is cancelled.
Each game type accumulates points at different rates – for example, C$2 at a slot machine is worth 1 point while C$4 will earn 1 point when playing a video poker machine.
What you get
Free Play

Food and merchandise discounts

Exclusive member offers

Special casino promotions
How to register for the program
Go to the Club Regent Casino homepage and click 'Join the Club'

Complete the simple web form by providing your personal details

Answer the questions and then click 'Submit'

Finally, collect your card by providing a government photo ID when you enter the casino for the first time
Casino Atmosphere – 4/5
Close to numerous local attractions, Club Regent Casino is well-situated in Manitoba. The casino looks fantastic following the last renovations and the unique ceiling art of the Mayan-themed Heineken Banyan Bar lets you play slots under the sun every day of the week.
Inside Club Regent Casino
We explored every bar, and every bathroom, and checked out the event centre. The casino boasts several rooms and sections that vary in theme. You can feel like you're outside in a tiki bar while playing slots at the Banyan Bar or sitting at the tables in a modern and sleek-looking casino floor.
The casino has undergone several renovations over the last 10 years which has improved the look each time, but the casino did lose the walkthrough aquarium a few years back.
Design experience
The casino feels luxurious, and everything feels like it is built from quality materials. Rather than veneers, much of the timber felt genuine. The unique roof art of the Heineken Banyan Bar gaming area has been designed to appear like blue skies. It looks as good in person as it does in the photos, and you'll often catch yourself feeling like you're outside by the beach.
We also loved the revolving slots cave path that led us through to the gaming section. The cave used to be an aquarium but now the glass is a light-up screen that spins the reels like a slot game.
Are you allowed to take photos in Club Regent Casino?
Yes, but you can't take photos of any of the live tables.
Location and surroundings
From the casino itself, you won't be able to see much more than the highway and a few car dealerships. However, the casino is conveniently located by plenty of local attractions including Fort Gibraltar, the Winnipeg Railway Museum, and the Manitoba Museum.
Do you need a passport to visit Club Regent Casino?
No, but it can be a good idea to use your passport as ID if you are travelling from a country outside of North America and your local ID might be difficult for security to analyze.
Events
The casino is home to the Club Regent Event Centre which regularly hosts fairly big concerts ranging from aging rockers like Collective Soul, Crash Test Dummies and Big Wreck to classic tribute acts such as Frankie Vallie. You can also see comedy shows and musicals too.
House Rules (T&Cs) – 4/5
The casino is open until very late and entry is completely free. You can take photos at events, while enjoying a drink, or while playing slots but you won't be able to take photos at the live tables.
Club Regent Casino's opening hours
Club Regent Casino is open every day from 10 AM and closes at 1 AM except Friday and Saturday when the casino closes at 5 AM.
Opening hours:
Sunday – Thursday: 10 AM – 1 AM

Friday – Saturday: 10 AM – 5 AM
Does Club Regent Casino charge entry?
No, entry to the casino is free.
Do you always need a reservation to play at Club Regent Casino?
You don't need a reservation to play any of the games at Club Regent Casino as the games are provided on a first-come, first-serve basis.
Is membership required at Club Regent Casino?
While membership is not required to play at Club Regent Casino, many perks can be enjoyed by becoming a member. Membership is free and it is simple to sign up.
Dress code
There isn't a strict dress code at Club Regent Casino. As a general rule, this means don't wear anything offensive and try to dress smart/casual if you can.
Standout rules at Club Regent Casino
You won't see any surprising or extraordinary rules at Club Regent Casino.
Player Feedback – 3.75/5
Almost 3,000 patrons have reviewed Club Regent Casino on Google and Tripadvisor. Most commended the staff and the overall experience during big events but the limited number of gaming tables compared to VLT machines was duly noted.
Club Regent Casino player reviews
Google – 4/5
Google reviewers had great things to say about the event space, the staff, and the big screens that are visible from the casino floor. However, the reviewers would have liked to see more gaming tables than VLT machines.
Tripadvisor – 3.5/5
The casino received mixed reviews with many praising the staff but disappointed by the small number of gaming tables available.
Most common issues
Operator – 5/5
The casino is operated by the Manitoba Liquor & Lotteries Corporation which is responsible for providing legal gambling, distribution and selling of liquor, and the sourcing of legal non-medical cannabis in Manitoba. The corporation is a branch of the Government of Manitoba and is the only non-tribal operator of casinos in Winnipeg.
Who owns Club Regent Casino?
Club Regent Casino falls under the "Casinos of Winnipeg" services owned and operated by the Manitoba Liquor & Lotteries Corporation. Essentially, the casino is owned and operated by the Manitoba government.
Other casinos by the same operator
McPhillips Station Casino

Shark Club Gaming Centre
Contact info
Website

https://www.casinosofwinnipeg.com

Email address

Web Form at https://www.mbll.ca/content/contact-us

Telephone number

204-957-2500

TOLL-FREE 1-800-265-3912

Other

Facebook, Twitter, Instagram
Club Regent Casino Competitors
Besides Club Regent Casino, there are another seven casinos to choose from. Six of those are tribal operations while the other is another Manitoba Liquor & Lotteries Corporation casino. Each casino varies in size, and some are closer to casino lounges than actual casinos.
Club Regent Casino vs McPhillips Station Casino
McPhillips Station Casino shares the same operator and is very similar in size. You can enjoy a similar range of slots, live table games, and VLTs. Additionally, Loft180 has a great selection of local craft beers and cocktails.
McPhillips Station Casino is best for slot jackpots
According to the casino's statistics published on their website, McPhillips Station Casino has recently paid out more jackpots than Club Regent Casino.
Club Regent Casino vs South Beach Casino & Resort
South Beach Casino & Resort looks like it has been ripped directly out of an episode of Miami Vice with its bright pastel colours and Arquitectonica stylings. The casino also has over 500 slots and several major progressive jackpots to be won.
South Beach Casino & Resort is the best alternative for progressive jackpots
There are dozens of different progressive jackpot slots including Ultra Hot Mega Link, Wheel of Fortune, and Bier Haus Oktoberfest.
What sets Club Regent Casino apart from its competitors?
Club Regent Casino is the complete package. The casino has more than double the number of slots that South Beach Casino & Resort offers and hosts the bigger musical acts that you won't see at McPhillips Station Casino.
Club Regent Casino Pros and Cons
Pros
More than 1,200 casino games including table, VLT, and slots

Multiple bars with different themes and drink menus

Event Centre hosts concerts from big-name artists
Cons
Significantly more VLT machines than table games
Should You Hit or Stand at Club Regent Casino?
With an abundance of gaming options, a jam-packed schedule of music and entertainment events, several distinctive bars, and easy access to a reasonably priced 3-star hotel, Club Regent Casino is a standout gambling and entertainment facility in Manitoba.