13 Gambling Addiction Stories: Learn the after-effects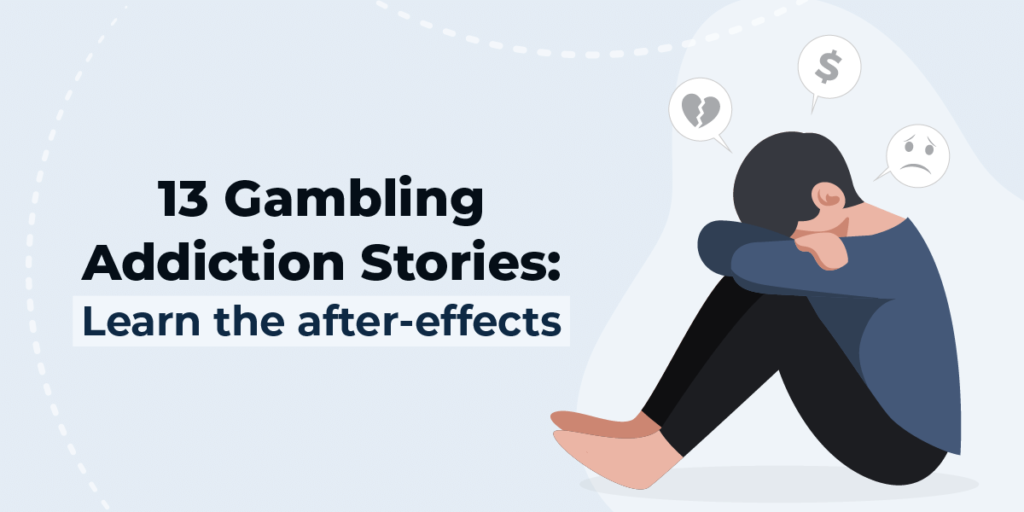 Learn the true effects of gambling addiction with us! We investigated 13 life stories from around the world. So, let us share the reality and how harmful it can be!
Disclaimer: CasinoBonusCA does not promote gambling addiction! The purpose of this compilation of stories from around the world is to raise awareness of the consequences problem gambling can have. Gambling addiction is not like a typical addiction. You cannot easily recognize it, and it can strike anyone.
1.    The sad story of the Warners
The story behind?
Parents are inhumanly beaten, suffocated, and stabbed by their son, who stole their money to gamble.
The vice?
Blackjack Tables
October 2019, Washington Township, New Jersey
Todd Warner was born into a happy family of two high school sweethearts, Frank and Joyanne.
Who were Frank and Joyanne?
The couple, both at the age of 73 years old, was adored by their community. They owned a successful barbers business and also won awards for their management. They indeed were a generous couple, sharing their time with those in need and doing charity work.
You might think that nothing could have ever gone wrong, especially since Todd was an outstanding baseball and football player in high school. That could've been true.
Unfortunately, that wasn't the case
The bright future Todd had ahead of him gradually disappeared. With two failed marriages, drinking problems, and gambling addiction taking over his life, Todd reached 50 with a dark obsession with playing blackjack at land-based casinos, which eventually also led to bankruptcy.
Still, even though Todd's life seemed to go on the wrong track, his kind parents took him into their home and offered him the necessary support when he needed it the most. Any parent would go miles for their children, and that's what the Warners did.
Todd reached his breaking point
But, hitting bankruptcy and having the compulsive need to gamble made Todd go out of control. All was good until one day when the happy couple, Frank and Joyanne, were found dead in their homes.
The ones who found their bodies were their daughter and her husband. The image impregnated in their minds was horrifying. Frank's body was discovered tied to a chair with his head covered in a plastic bag and blood covering his head and chest. His beautiful wife, Joyanne, was found in their bedrooms, also brutally beaten.
The primary suspect?
Todd.
Now, when someone with a problem gambling loses control, they will do anything to continue their gambling activity when they don't have the financial needs.
What Todd did was barbarically beat, suffocate, stab his parents, and steal their car and money.
Where did he go?
To the casino.
Using his late father's credit cards and his mother's car, he drove 20 miles southwest from their home and gambled away their stolen money.
Would his story be different if we asked for help?
Probably, yes. This is why it's important to get in contact with institutions specialized in gambling addiction when you sense that things are going South. We've collected over 90 such facilities to come as an aid for those who don't know where to start searching and how to ask for help.
2.    Gambling Granny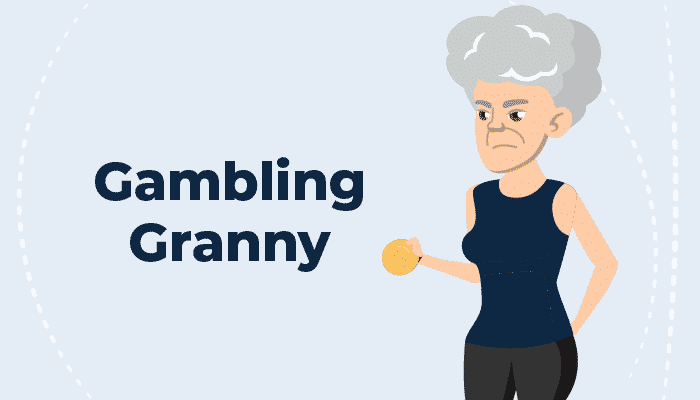 The Story Behind?
The average friendly grandma is actually a cold-blooded murderer.
The vice?
Slots
Blooming Prairie, Minnesota, March 2018
The lovely couple, Dave and Louis Riess married in 1982 and had three beautiful children, two boys and a girl.
The mother, Louis, was a kind woman who always put her kids first. Afterwards, when she became a grandmother, she would always shower her grandkids with lavishing gifts, spoiling them, as any grandmother does.
When did she become a gambling addict and afterwards a murderer?
Louis always had a thing for casino games, especially slots. Not only did she gamble away the inheritance from her father (around $500.000), but she also used the savings which the couple set aside for a new vehicle. Her husband was aware of her gambling addiction, but the last straw was when she used those savings to fill her addiction.
After shooting her husband twice with a .22 handgun, Louis hit the road. Finally arriving in Iowa at Diamond Jo Casino, where she lost thousands playing blackjack.
Being obsessed with games of chance, she approached Pamela Hutchinson in Florida with the purpose of stealing her identity and funds. Pamela resembled Louis very much. Same build, same blond hair, similar age, the high-stakes gambit.
From 1 to 2 horrific gambling stories
She befriended Pamela Hutchinson, showed her a nice and sweet side, shot her to death, and stole everything from her.
"Time is of the essence. She is a gambling addict, and when she runs out of money, we have no doubt she will kill again." – one detective stated.
Fortunately, the police managed to capture her before the urge of gambling, money, and delusion took over her mind.
3.    Mother feeds the urge to gamble with a web of lies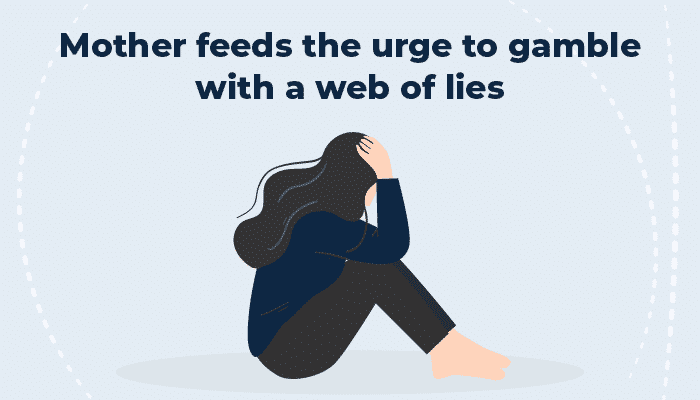 The story behind?
Mother sells the family house to feed her gambling desire.
The vice?
Online Bingo & Slots
At the age of 53, Michelle Singlehurst's gambling sessions spiraled out of control and almost cost her family.
The cause?
To escape reality and soothe herself.
Michelle Singlehurst said she always had a thing for video games. In childhood, she would always turn to Nintendo, GameCube, Super Mario to numb emotions and shut out the world.
However, from video games, she started playing National Lottery online, then scratchcards, and, not before long, online betting games started to hook her.
The road to addiction
Still, her downfall was when she struggled to juggle her job as a financial adviser and look after her elderly mother and the 9 years old daughter. Her life became so packed that the only time she had to engage in online betting activities was at night, staying up until two or three in the morning.
Gradually, those games started to become like sleeping pills to her.  To continue and satisfy her urge, she began taking loans without consulting her partner. Besides this, she also borrowed from her close ones tens of thousands of pounds by using tax bills as an excuse.
"Gambling ruined my life" – she'd say
That's how the web of lies started to grow. But, the decline was when the couple decided to sell their house in Ash Vale, Surrey. Her partner, Chris, entrusted Michelle with the family account and house sale, trusting his partner of more than 30 years.
However, when Michelle finally manage to sell the house for £440,000, she didn't tell her partner. She used those funds over five months on online slots, giving away every penny on gambling activities.
Her mental health was declining
With her mind in a fog, because her mother died during that time, never once did Michelle realize that she was in trouble. Chris, her husband, found out about the sold house from a friend, which made him leave Michelle with their daughter.
Afterwards, the drinking started, and overdosed. These two addictions combined left her hospitalized due to hepatitis, her liver being severely damaged. Even in that state, she still managed to gamble from her hospital bed.
She made her story into a mission to stop gambling addiction
Despite all the lies, the drinking, the gambling, and the overdose, Chris returned to the love of his life and picked up the broken pieces.
Now, Michelle recovered successfully from the gambling disorder and the turmoil that gambling left her with, and she involves in raising awareness of this addiction.
4.    Gambling Addiction, Crime, £500K Debt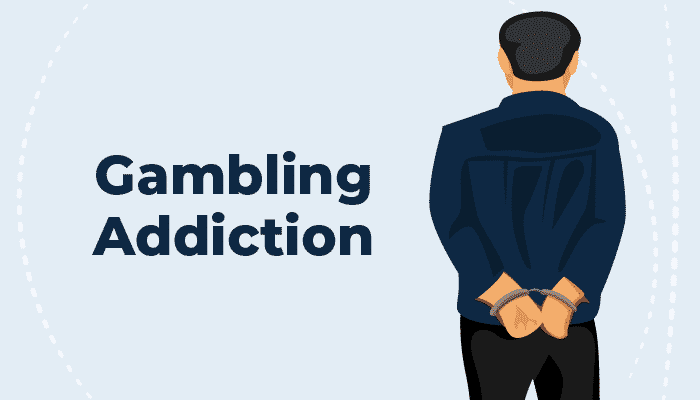 The story behind?
Husband hides for 30 years of gambling addiction, but the law caught up with the lies.
The vice?
Gambling
This is the story of Denise and David Bradford. The happy couple married in 1979 and have three boys.
David was a respected accountant with a good salary. Like any other father, he had the need to escape the busy home life. Nothing wrong with having some time for yourself!
However, what Denise didn't know is that her faithful husband used to escape in gambling activities. An escape that has been hidden for 30 years of their 35 years of marriage life.
How did the lie come to the surface?
With a single phone call.
One day in April 2014, Denise received a phone call from a solicitor who only said that her beloved husband had been given a two-year sentence in prison. That was all!
The crime?
Theft and fraud.
David stole from his employer £53,690 to pay his gambling debts.
Added to that, the husband secretly remortgaged their house, was late with interest payments, utility and council tax bills, and owed £1,000 for the mobile phone contract. In total, the debt reached the amount of £500,000 from 21 loans.
Gamblers Anonymous Stories with a happy outcome
Still, while in prison, David joined a gambling support group and afterwards Gamblers Anonymous. Even though at first, Denise wanted to divorce him as he destroyed not only his life but also the life of their sons, she stood by his side.
You might be wondering: why?
That is because she understood what gambling addiction did to him. Even though she felt like she didn't know her husband anymore, she saw that he wanted to change for the better.
In the end, David managed to put his life back on track and set up a charity with their older son for other addicts, the Safer Online Gambling Group.
5.    An anonymous gambler story
The story behind?
The downfall of a young man.
The vice?
Gambling
This is a problem gambler story.
Like most addicts, he started playing as a small boy, around the age of 8. It all began with innocent bets between brothers as to who will do the chores in the house or on the outcomes of sports and video games.
And, so, the addiction began
However, he felt the exhilaration and excitement of the bets from a young age. From then on, the size of wagers increased. He started to go to land-based casinos, and the itch to gamble more started.
After marriage, the need to feel that excitement again still remained. Therefore, the lies have started, and to hide them, the debts have also started.
He won his first jackpot – He went from bad to worse
Thanks to the money he won, he could've played undetected. He played, won some, lost some, and then he also lost the rent money. Soon after, his marriage ended.
All of this in his early 20's.
Afterwards, heavy doses of cocaine, beer, pot, and ecstasy also came along. But he managed to stop and put his life on the right track. He got a good job which he paid well, and remarried an intelligent and incredible woman. Everything was back to normal.
The problems reappeared
However, because he had a bigger salary, he had the opportunity to often go to casinos in Vegas and make higher bets. To fuel his desire he convinced his then-pregnant wife to move together to Las Vegas.
That was the biggest mistake. He would lie to his wife that he would go to the store. Instead, he would play at the casino. When he realized the state he was in, he moved from Las Vegas to Los Angeles and started attending GTA meetings.
Still, his obsession was bigger. Again, the drugs have started. Then, he lost his new home.
What came next?
The suicidal thoughts.
Even so, with the help of his family and friends, he managed to recover.
6.    Women hangs herself and leaves £300 in her bank account
The story behind?
A woman with a bright future ahead dies by suicide with only £300 in her bank account
The vice?
Online Gambling Sites
This is one of those casino addiction stories that leave you baffled!
Natasha White was a bright woman of 34 years old. She had a stable job and loving parents who supported her.
However, even though her life was normal, she discovered online gambling sites. That's how her addiction started. It was stated that she had no interest in going to land-based casinos in person. No, the apps and online betting websites were perfect as she could've played at home, undetected.
Small bets made her lose a lot of money
She wasn't a high roller. She would just make stakes of £30 or £40. It seems innocent, right?
With such small bets, she started to spend more than £1,000 of her £ 1,900-month wage. All in a little over 24 hours.
She attended Gambling Anonymous meetings, but they weren't enough. She still couldn't cope with her addiction and depression.
Eventually, she spiraled down into oblivion
In August 2018, she was found hanged in her home. When investigations have been made to understand the reason she resorted to suicide, it was discovered that right before her death, she spent £340 in two days on online casinos. Shortly before that, she lost more than £2,000 in a week.
When she died, she only had left as little as £300 in her account.
7.    Gambling addict stabs wife after losing a bet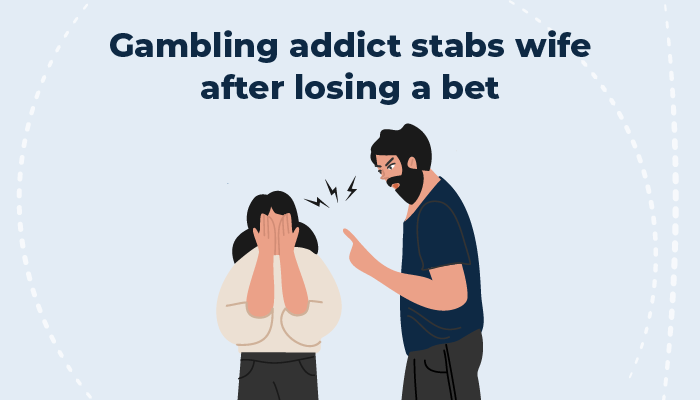 The story behind?
The rage of a losing bet made the husband stab 58 times his wife of 31 years.
The vice?
Betting
Canning Town, East London
Jalal Uddin, 47 years old, was known by Willam Hill bookmakers as the "Angry Indian." Why? Because he had a habit of hitting the gaming machines when losing.
However, that rage from smashing the gaming machines to slashing, and chopping 58 times the head, face, neck, and back of his wife is a long way.
What made the vicious husband resort to such a thing?
Between Jalal Uddin and his wife, Asma Begum, there were constant fights regarding gambling. He had the habit of hitting her when she refused to give him money to fuel his addiction, leaving her with just little to sustain the family.
It was stated that she would prefer to give him money to make him stop hitting her.
His addiction increased as his reason came to a halt
On the day of the brutal killing, Mrs. Begum sent her husband to take £200 for food and family expenses. So, he did.
But he didn't come back straight home. No, he stopped by the betting shop. When he returned with around £20 worth of shopping and no money, the fight started, which led to Mrs. Begun being violently stabbed.
Now, Jalal Udin must serve 19 years behind bars. This is truly one of the most gruesome gambling addiction stories we have ever encountered!
8.    Gambling debts made husband shoot his wife to death
The story behind?
The typical neighbor shoots wife due to gambling finances
The vice?
Gambling
Blaine, Minnesota, July 2007
Gary Howards Tomassoni, age 47, and his wife, Helen Rose, age 45, were average-looking neighbours. The wife, a pleasant woman who never complained about having a bad day, and the husband, retired and on disability. Together they had two boys.
When and how the husband's gambling addiction started is not known. But what is indeed known is that he managed to gain a debt of as much as $40,000 and $50,000 in just a year.
Still, the question is:
Why did Gary Howards Tomassoni shoot his wife?
After the killing, the police made investigations. Besides the fact that they have discovered the financial issues due to gambling activities, they also found a $500,000 life insurance policy for his wife in the house lockbox.
Life insurance which the husband was the beneficiary.
9.    Family massacre over gambling debts
The story behind?
Father kills the entire family over gambling debts after returning from a trip to Las Vegas.
The vice?
Gambling
Farmington Hills, Michigan, November 2000
Jihad Hassan Moukalled, age 42, owned a small business in Farmington Hills. He was known as a gentleman who cared deeply for his wife and three kids. "He can't even harm a fish" that's how a long-time friend of his described him.
But what made this man massacre his entire family and kill himself afterward?
Gambling took a heavy financial toll on his life. Over the course of two years, he would constantly visit casinos in Las Vegas and Atlantic City and wager large amounts of money, always with cash.
This eventually led to gambling debts which amassed to as much as $500.000. Added to this amount, an additional amount of $60,000 from credit cards was discovered. This surely makes the top of our gambling debt stories!
Why is this one of the worst gambling addiction stories?
The focal point was when he went on a three-day trip to Las Vegas. When he returned home, the small business owner shot his pregnant wife and suffocated his three children the ages of 7, 5, and almost 3.
Before he shot himself, he left a suicide note where he claimed that he didn't see another way of escaping.
10.    Gambling, misery, and destruction
The story behind?
Gambler addict kills his wife in front of their child
The vice?
Gambling
Bomley-by-Bow, East London, May 2011
This is the story of the 27 year old Rushna Begum and her husband Sheik Shahidul Ismal of 35 years old. The couple has been married 10 years, had two young boys and a small takeaway shop.
Over this course, the pair regularly had arguments regarding money financials which led the wife to be extremely worried about her children's safety.
When did the problems begin?
In 2009 when the husband started to have gambling problems.
Even so, their 10-year marriage began to break when she discovered that her partner had lost due to gambling as much as £90,000 over the years.
And the debt started!
To fuel the desire to gamble, Sheik Shahidul Ismal not only did he took the sales from their shop but also used his partner's jewelry and car to gain more funds.
In 2011 the pair were summoned to court by creditors as they had over £30,000 worth of debt.
The catalyst of their arguments
One day, after a misunderstanding in an argument, the husband stabbed his wife, not knowing his two years old child was at home.
Now, Sheikh Shahidul Islam is in prison, as he was sentenced to at least 14 and a half years.
11.    Gambling debts destroy a family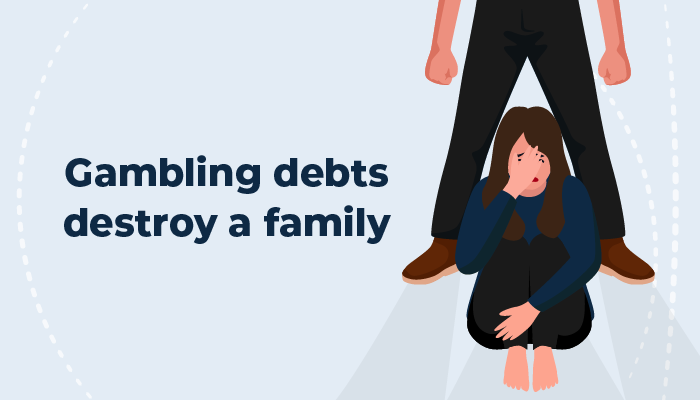 The story behind?
Husband crippling with gambling debts suffocates his wife & daughter
The vice?
Gambling
Woodland, Singapore, January 2017
When someone is buried in gambling debts, things take another turn. You lose sight of everything.
That is what happened to Teo Ghim Heng.
The beginning of the end
In 2015 the family started having financial problems, most of it due to its gambling debts. As a solution, he stated borrowing from colleagues, financial institutions, and friends. Plus, because his wife was a homemaker, she wasn't able to contribute to the family finances.
At the end of 2016, he tries to sell his flat as he becomes unable to support the family's daily expenses.
In 2017, things started to get from bad to worse. The couple began to have arguments over the financial problems.
What triggered Teo Ghim Heng to kill his family?
School fees.
One morning the pair fight over the fact that the husband cannot pay his daughter's school fees, as he owed debtors S$70,000.
Infuriated, he strangles his wife and daughter.
12.    The secret addiction that led to suicide
The story behind?
Son hides his gambling addiction and kills himself to escape addiction.
The vice?
Gambling
Lewis Keogh was a bright man of 34 years old. He had an excellent job as a facilities manager, drove a company BMW, had a flat in the smart city centre, and came from a good family. Everything was normal, and he had a bright future ahead.
Still, what his parents and friends didn't know is that he had a secret.
When did the addiction start?
Since childhood.
He started playing machines around 11 or 12 years old, and from then on, the stakes games got higher as he grew older.
He had gained debts that amounted to £55,000. His parents stated that it wasn't the debts that lead him to take his life, but rather the addiction itself.
He wanted to find peace, to escape the addiction, and the only thing he could think of was to take his own life.
Protect your child from gambling!
Many children and youngsters are subjected to games of chance at an early age, either by virtue of their family and friends or as a wish to escape the harsh reality. It's crucial to shield the young from gambling, since it can have a devastating effect on their personal development that can last a lifetime.
CasinoBonusCA explains the various measures you can take to prevent the access to this types of games and, ultimately, stop addiction.
13.    Gambling addiction, a constant struggle
The story behind?
Fun-loving owner of a Broadway café killed herself due to gambling addiction.
The vice?
Gambling
Vancouver, 2012
Yoo Choi was the owner of the once-known Velvet Cade on Broadway. The community knew the young Korean-Canadian as a fun-loving woman.
What most did not know was that she struggled with gambling addiction for years. Her husband was the only one who knew her secret battle.
She tried to save herself
However, when Choi realized she had a gambling problem, she voluntarily asked for the casino's exclusion program. That was when she managed to amount up to $150,000 in debt.
She got counselling, and everything seemed fine. That was what her dear husband said.
Her thoughts crippled her state of mind
But, the addiction was stronger, and Yoo Choi began to gamble once again. She called her husband to apologize, and that was all.
26 days have passed since that last phone call. After those 26 days, her body was discovered floating in Lynn Canyon on Vancouver's North Shore.
Our final remarks
Gambling addiction must be taken seriously!
Therefore, we at CasinoBonusCA will do everything in our power to promote the consequences it can have and how it can take over one's life. We must also emphasize that the effects don't affect only a person's mental health but also the ones around him. This is the reason why it's crucial to get treatment as fast as possible and know when to resort to medical and physchological aid.
Remember: Know when to ask for help, and never keep it hidden!
References: