Seven Funny & Relatable Gambling Memes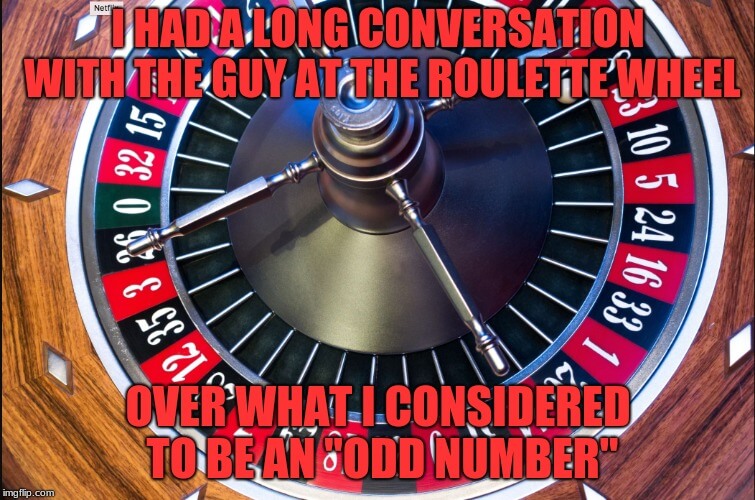 Sometimes, it's good to share a laugh with your fellow players in the online gambling community. With that in mind, let's take a break from our more serious guides and have a little fun. In this article, we will take a look at seven funny gambling memes that every online casino and poker player should be able to relate to.
Memes and Gambling: A Rich Vein of Subject Matter
The word "meme" has actually been used frequently since the 1940s, and has even appeared in the New York Times crossword in the pre-internet era. However, the online memes that we all know and love today can be loosely defined as small chunks of media that have been repurposed for humor.
Usually, the humor of a meme is related to some form of social or political context, which can include online gambling. For instance, there are many blackjack movies, such as Rain Man, that could be used to make a gambling meme.
By the same token, online casinos have also picked up on meme culture, which is why you will find plenty of top TV-themed slots on most gambling sites. Casinos and gambling have been prominent themes in TV and film for years, and online gamers tend to love viewing and creating memes. It's therefore only logical that gambling and casino memes are very common.
7. Kim Kardashian Played Poker With Reflective Glasses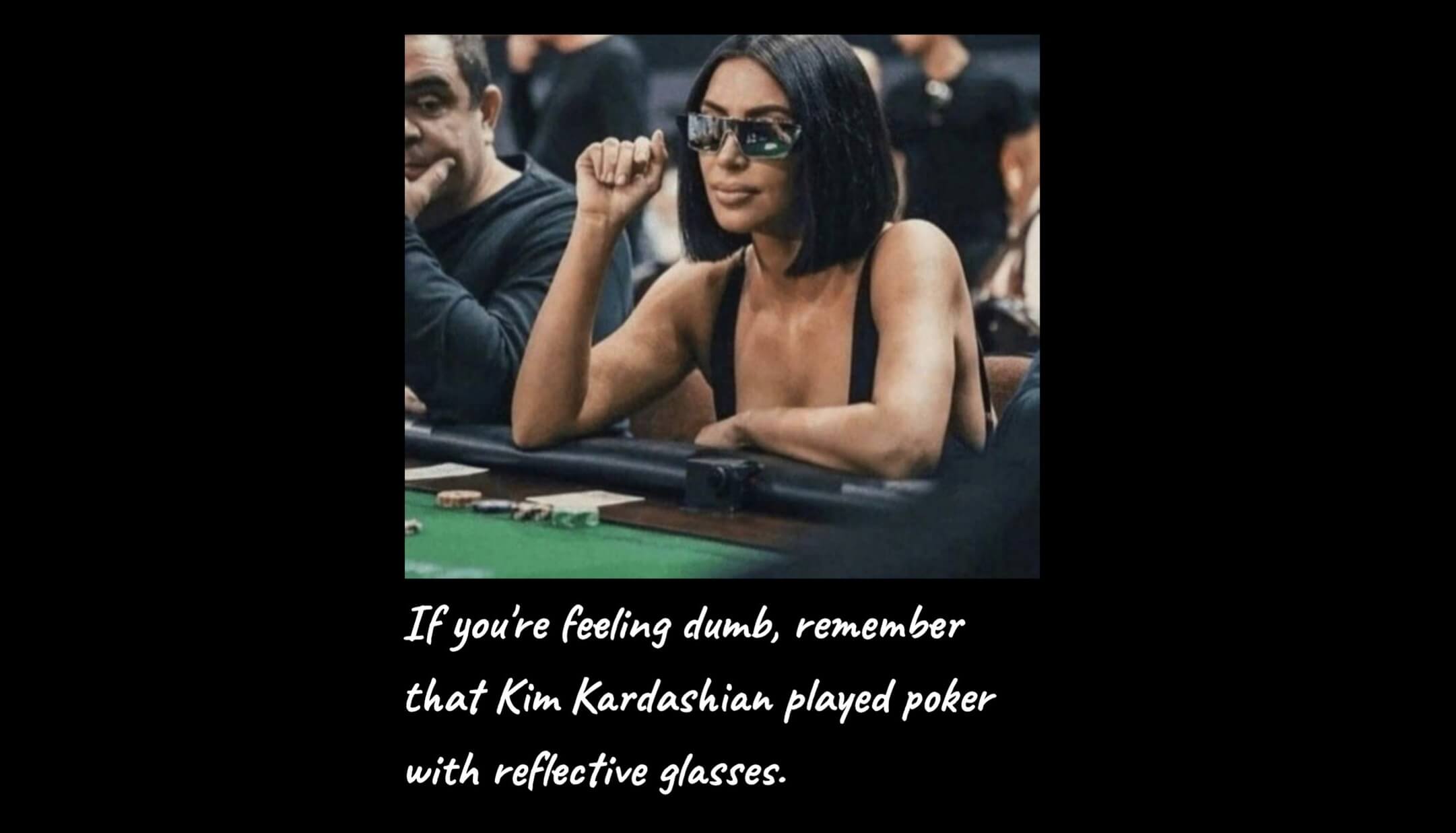 This is a classic meme that uses a photograph of Kim Kardashian at a poker table in a casino wearing mirrored sunglasses. Basic logic would suggest that mirrored sunglasses would allow opposing players to see your cards.
However, with this gambler meme, the joke is actually on the creator.
Many professional poker players actually wear mirrored sunglasses to hide their eyes. Also, most players just look at the corner of their cards, and never actually pick them up, which is exactly how Kim Kardashian was playing when the photo was taken.
6. One Does Not Simply Remain Claim When the Dealer Reveals an 11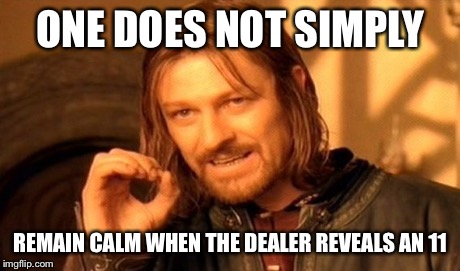 As all of you blackjack players out there will know, there's nothing that sets the heart racing more than the dealer revealing an 11. This gambling meme depicts that feeling perfectly using one of the most popular images there is; Boromir from Lord of the Rings.
The tagline reads "One does not simply… remain calm when the dealer reveals an 11".  This is a play on the line that is originally spoken by Boromir in the film: "One does not simply walk into Mordor". It may be a meme that has been re-done time and time again, but it never gets old.
5. Math Lady: Bonus Wagering Requirements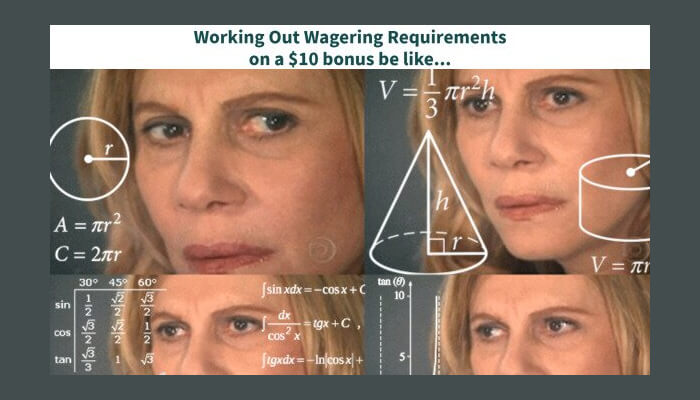 Many of you will have come across an online casino bonus with wagering requirements that seem convoluted and complicated to calculate. This incarnation of the famous "Math Lady" gambler meme accurately depicts how many of us feel when trying to calculate the wagering requirements for a $10 bonus.
However, we should point out that bonus wagering requirements aren't actually always that complex, and are often quite reasonable. You can check out the best C$10 bonus offers in Canada and see how you fare calculating the wagering requirements yourself!
4. It Appears Your Hippos Are Not as Famished as You Claimed, Mr. Bond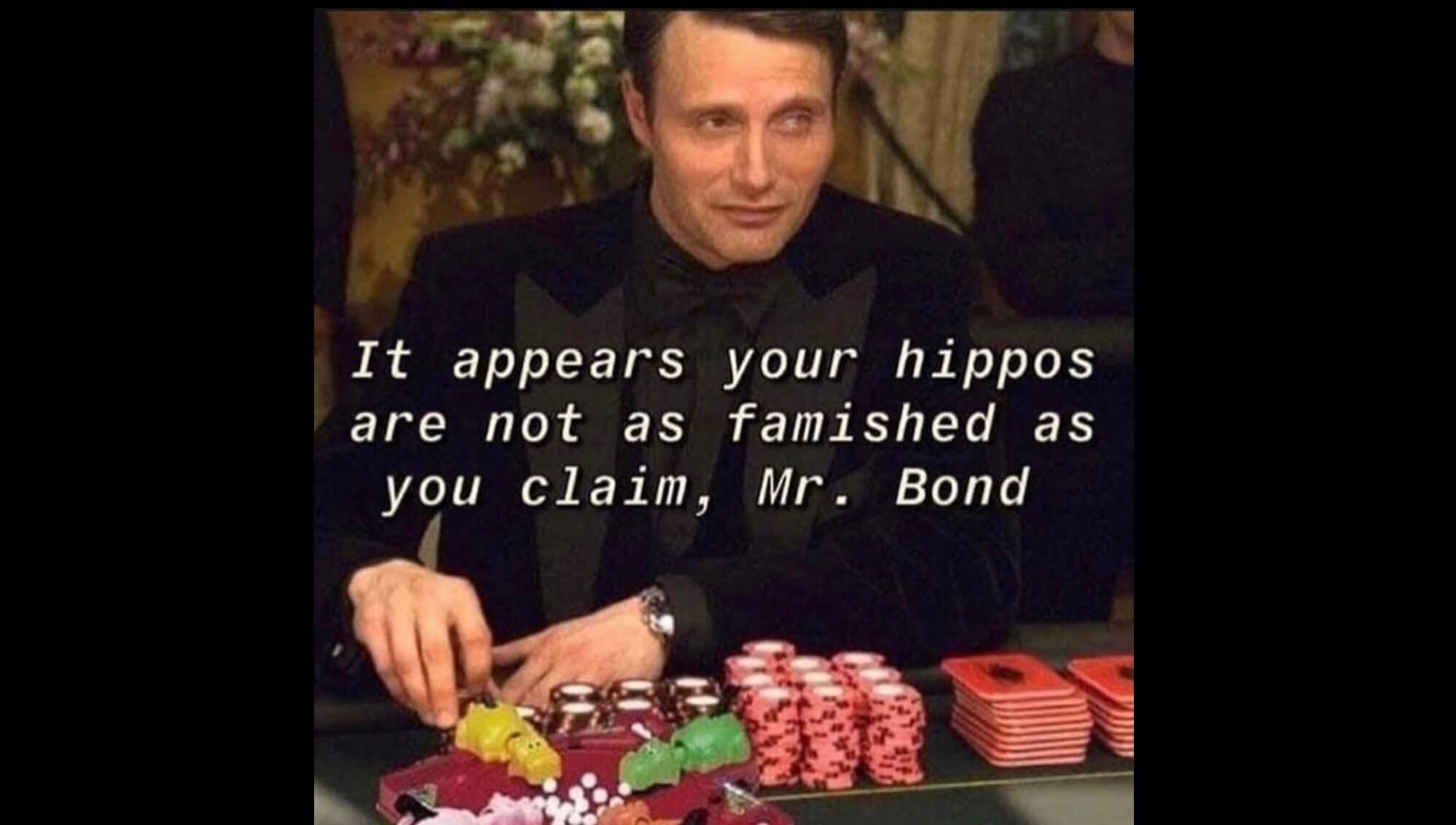 This casino meme combines a little bit of everything; popular culture, gambling, and millennial nostalgia. The meme uses a classic still of Le Chiffre addressing Bond at the poker table in the film, Casino Royale. However, instead of poker cards, the 90s kids game Hungry Hippos has been imposed on the image.
The original poker-related line has been replaced with a Hungry Hippos reference, written in the style of Le Chiffre, reading: "It appears your hippos are not as famished as you claimed, Mr. Bond". If you like your Bond movies and are of the right age demographic to get the 90s reference, this meme is hilarious.
3. When You Help a Newbie Understand the Game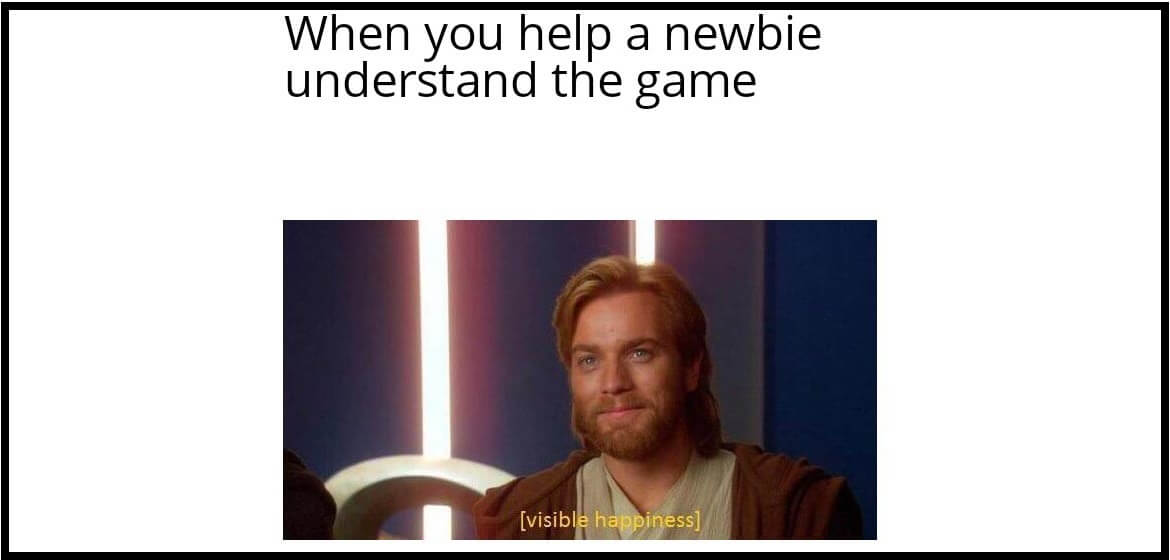 Anyone who has ever helped teach their friend who is new to a game will understand this gambling meme. You always get a subtle yet visible feeling of happiness when you have spent time teaching someone the rules of blackjack or Texas Hold'em and you finally see that they have fully grasped them.
The picture that the meme uses is a still of Ewan McGregor as Obi-Wan Kenobi in Star Wars, with the "visible happiness" line coming from the subtitles. Using screenshots with subtitles from films has become hugely popular in meme culture in general over the past decade or so.
2. What I Consider to Be an Odd Number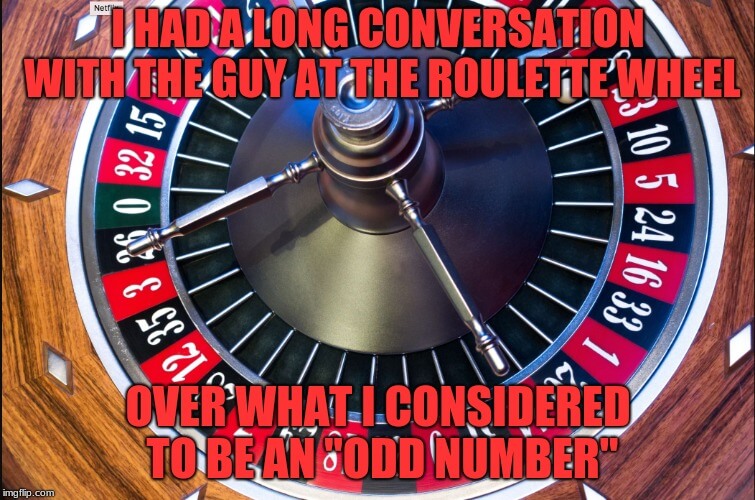 If you like a bit of philosophical debate to provide humour in your gambling memes, then you should find this one pretty funny. As you can see, the subject matter of this meme centres around the definition of what an "odd number" really is.
In roulette and mathematical terms, odd numbers are of course 1,3,5,7, etc. However,  in this meme, the player is arguing with the dealer by alluding to the fact that an odd number could be something more subjective. He does so using the definition of odds as meaning "strange" or "peculiar".
1. That Thing Does Not Obey the Laws of Physics at All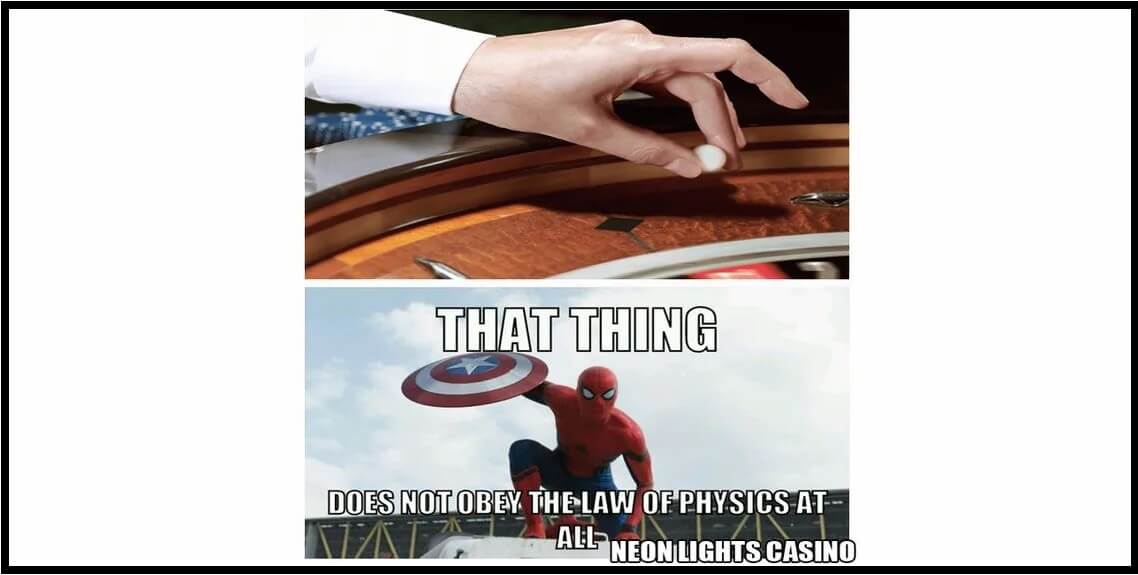 Of course, the way that both real roulette and online roulette balls work is very logical and works exactly according to physics. However, the frustration that you feel when you lose can sometimes make you feel as though the opposite is true.
This gambler meme represents that feeling of science-defying roulette balls using Captain America: Civil War as a reference. When Spider-Man takes a shot of Captain America's shield in the film, he makes this remark about it not working with the realms of physics or logic.
Play at the Best Online Casinos in Canada
At the end of the day, gambling memes are a bit of fun that can provide you with a good laugh. More than that, they can also help to bring you closer together with other players and members of the wider online gambling community.
Nothing brings a community together better than being able to have a laugh about experiences that we've all shared when gambling online. Speaking of online gambling, you can check out the best online casinos in Canada right here to enjoy some real-life experiences referenced in the memes mentioned in this article.