Top List of Blackjack Movies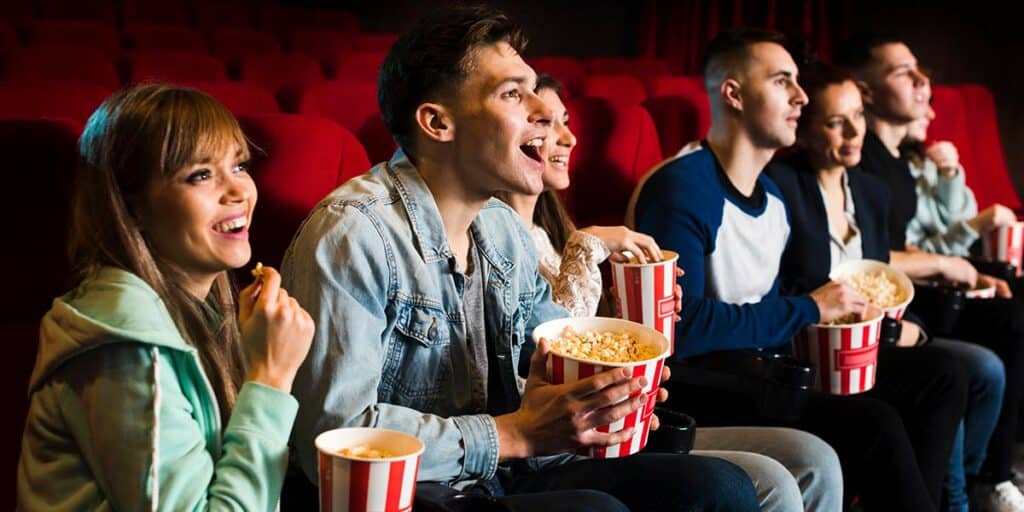 Blackjack movies use gambling activities as a vehicle for character development, story advancement, and a way to add suspense and drama to the story.
We've compiled a selection of ten casino blackjack movies that you may watch at your leisure.
What Are Blackjack Movies?
Blackjack movies are entertaining media pieces that could also inform your game strategy. Some will demonstrate by example how to improve your tactics while also warning about risks you should avoid.
Why Are Blackjack Movies a Favorite for Gamblers?
Blackjack movies have become favourites for gamblers and moviegoers alike thanks to the game's dynamism, simplicity, and excitement. The spectator does not need to master complicated rules or sophisticated strategies, to tell who is winning in any round.
Events Are Easily Communicated
All the information you require is telling who is closest to having a 21 hand. Treating more complex games, like poker alike proves more difficult, as was shown by Molly's Game (Aaron Sorkin, 2018). Amateurs and novice players had a difficult time following the game, even with film cues trying their best to communicate its ongoing state.
The Man Versus Casino Angle
Given that casino blackjack is played against the house adds to the attractiveness of the game. Blackjack movies can utilize the proverbial worldly underdog versus casino institution to its fullest extent in its story structure.
Lastly, recent cinematographic developments have shown that games, especially those that imply chance and the opportunity of a win, are a scriptwriter's dream. Add the "based on a true story" aspect to a blackjack film, and you have a recipe for box office success.
Agent 007 – Licence to Kill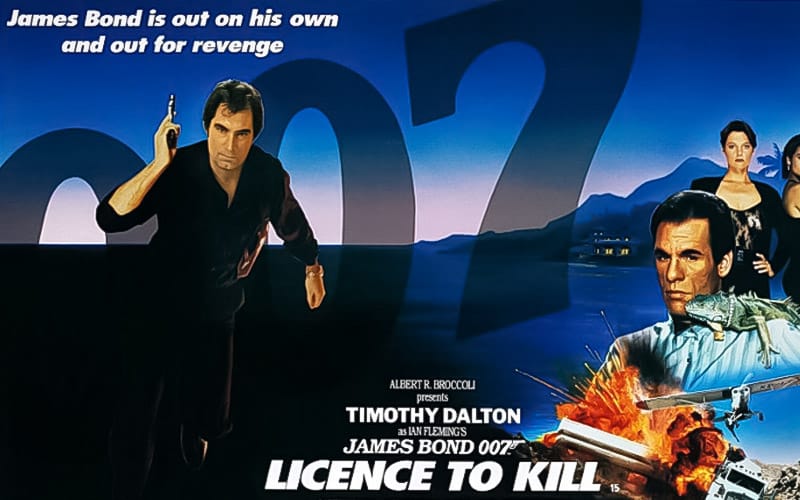 | Director | John Glen |
| --- | --- |
| Year | 1989 |
| IMDB Rating | 6.6/10 |
| Based on True Story | No |
|  Genre |  Action, Adventure, Thriller |
|  Box office |  $156,167,015 |
When it comes to blackjack movies, there is no better backdrop for an exciting story than a Las Vegas casino.
In License to Kill, viewers can see James Bond (Timothy Dalton), in its sixteenth fictional appearance on screen, trying his luck at casino blackjack. 

There is a certain appeal in the overlap of 007's old-timey style and one of the classic gambling games and environments. License to Kill has its fans, with some critics praising it for the harder edge when compared to its predecessors.
Other writers, such as Canadian newspaper The Globe and Mail's Rick Groen, saw in it the Americanisation of the franchise, decrying that the film is "essentially Bond-less."
As for blackjack movies, the sixteenth Bond flick clearly deserves a mention.
Croupier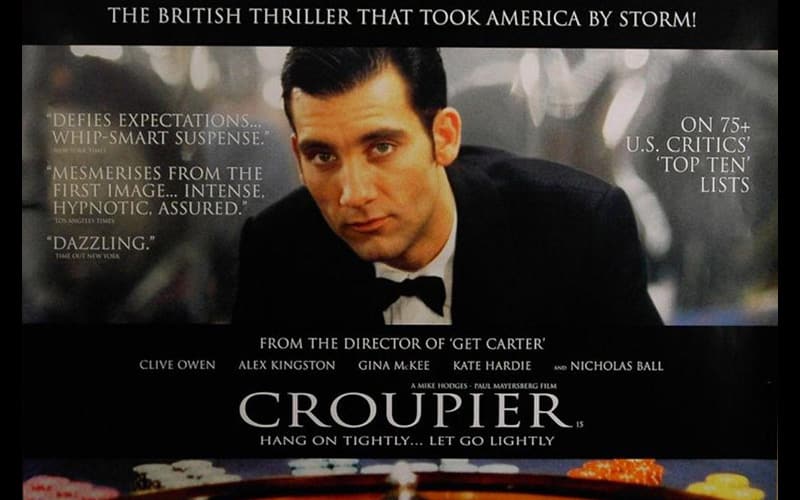 | Director | Mike Hodges |
| --- | --- |
| Year | 1998 |
| IMDB Rating | 7.1/10 |
| Based on True Story | No |
| Genre |  Crime, Drama |
|  Box Office |  $7,120,568 |
Croupier follows the story of dead-beat writer Jack Manfred (Clive Owen), that becomes a blackjack dealer to make ends meet.
The British neo-noir provides the audience with a peek behind the curtains of casino dealing. While stories of problematic gamblers are a dime a dozen, a harrowing tale of a croupier's obsessive downfall is novel.
The viewer watches on as Jack Manfred becomes lost in his new life, which takes him down winding roads. He ruins his relationship with his long-term girlfriend Marion (Gina McKee), in favour of fellow croupier Bella (Katie Hardie), and in breach of casino rules. The film culminates with a botched robbery attempt and a hell of a plot twist.
Croupier is a blackjack movie like no other: a moody neo-noir mired in cynicism, but with a heart nonetheless. Mark this as a must-watch.
Casino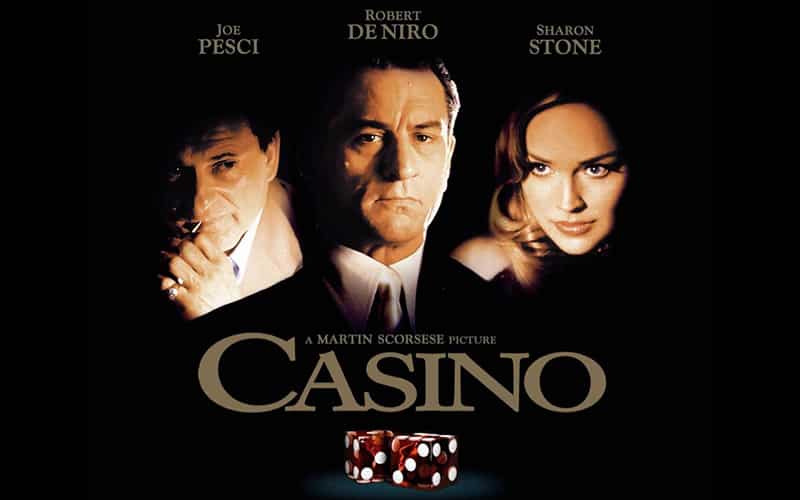 | Director | Martin Scorsese |
| --- | --- |
| Year | 1995 |
| IMDB Rating | 8.2/10 |
| Based on True Story | Yes |
|  Genre | Crime, Drama  |
|  Box Office |  $116,112,375 |
Marting Scorsese brought together great talent, in the form of Robert DeNiro, Joe Pesci, and Sharron Stone, combined it with an impeccable screenplay, and directed an all-time casino and by extension blackjack movie.
Sam "Ace" Rothstein (Robert DeNiro), sports handicapper and Chicago Mafia associate is sent to Las Vegas to take over a casino's operations. There you have a classic setup for a Scorsese Mob flick. As to where the director takes, and actors carry, the plot, we would make it a disservice to summarise it.
There is no better representation of the casino milieu during its more contentious period. Do yourself the favour to watch it, as a blackjack movie, and a masterpiece of American cinema.
We have met arthouse aficionado film studies graduates that still rank this crime drama in their top five.
The Gambler
| Director | Dick Lowry |
| --- | --- |
| Year | 2014 |
| IMDB Rating | 6/10 |
| Based on True Story | Yes |
|  Genre |  Crime, Drama, Thriller  |
|  Box Office |  $39,280,992 |
The Gambler (Dick Lowry, 2014) starring Mark Wahlberg, John Goodman, Brie Larson, and the late Michael K. Williams of The Wire fame, is a remake of the 1974 eponymous film directed by written by James Toback and directed by Karel Reisz. The original itself is an adaptation of Dostoyevsky's novel The Gambler, published in 1866.
The blackjack movie retells the story of the original novel, from a first-person perspective, while also adapting it to a modern environment.
More than its own mediocre artistic achievement, Dick Lowry's blackjack movie manages to show the universality and timelessness of Dostoyevsky's work, as well as gambling's long tie with art.
Rain man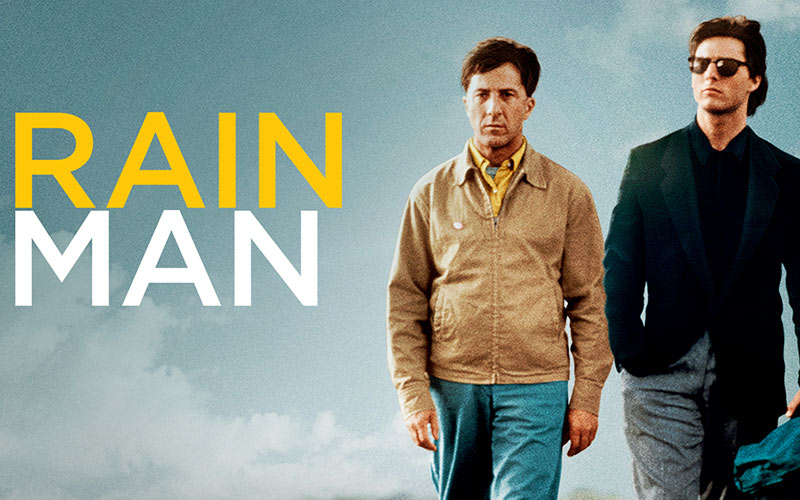 | Director | Barry Levinson |
| --- | --- |
| Year | 1988 |
| IMDB Rating | 8/10 |
| Based on True Story | Yes |
|  Genre |  Drama |
|  Box Office |  $354,825,435 |
Rain Man is another well-ranked blackjack 21 film starring Tom Cruise and Dustin Hoffman.
Charlie Babbitt (Tom Cruise) travels the US to settle the family inheritance, following his father's death. Upon arrival, he finds out that his inheritance amounts to a 1949 classic car and a couple of rosebushes, while the $3 million going to an unnamed trustee.
Charlie tracks down the address to a mental institution, where he finds out about his previously unknown brother Raymond (Dustin Hoffman). Raymond has autism, savant syndrome and impeccable recall, aspects which the two will utilize fully in Las Vegas, making this a classic blackjack movie.
Additionally, Charlie figures out that Raymond has been Rain Man, his supposed imaginary friend from childhood. Raymond had protected baby Charlie from charring bathwater, an event interpreted by their father as an attempt by the older sibling to hurt his youngest, hence resulting in his institutionalization. Rain Man is an impeccable drama and a classic blackjack movie.
Hangover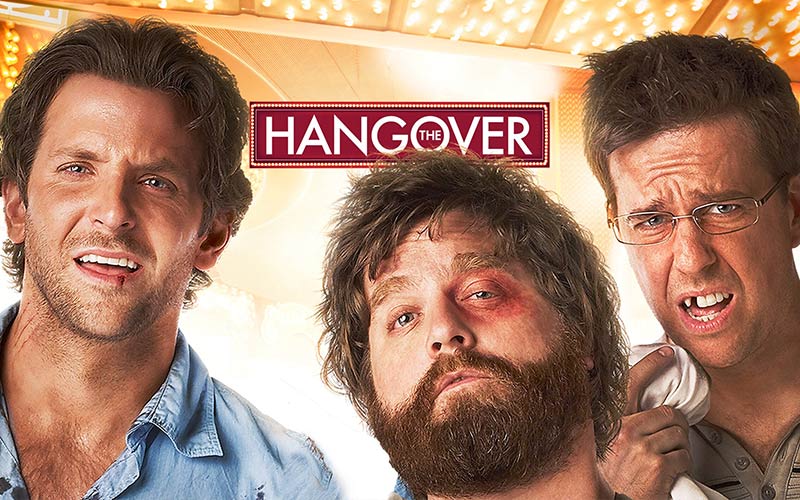 | Director | Todd Phillips |
| --- | --- |
| Year | 2009 |
| IMDB Rating | 7.7/10 |
| Based on True Story | Yes |
|  Genre |  Comedy |
|  Box Office |  $469,310,836 |
In this blackjack movie, three college friends have an unforgettable bachelor party that turns into a whirlwind of amnesia, bad decisions, and certified 2000's edgy fun.
The Hangover introduces its now-famed Memento (Christopher Nolan, 2000) like back threading, but with a comedic twist.
Its place among the most notable blackjack 21 movies, is guaranteed by a scene in a Las Vegas casino. Alan (Zack Galifianakis), who has been the comedic relief due to his childish and downright naive attitude, now proves his chops with a series of wins in a blackjack game.
The legacy? A happy end, a successful, but plummeting-in-quality franchise, and an oft-used meme gif of Alan sorting out floating formulae while counting cards.
Ocean's Thirteen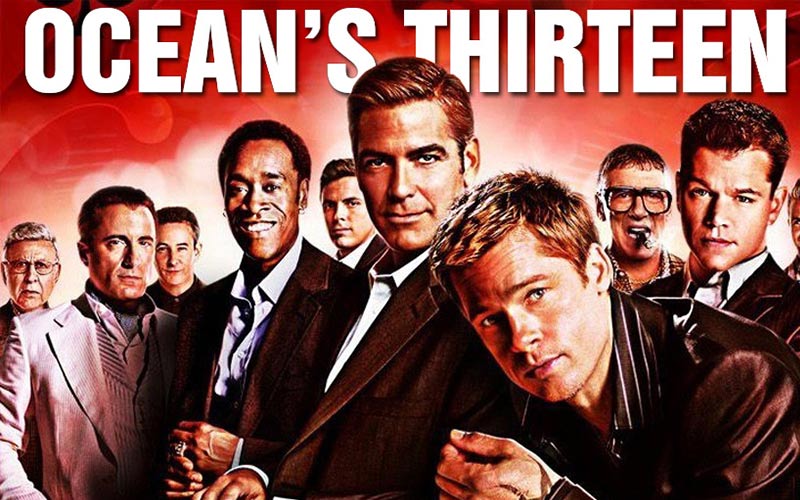 | Director | Steven Soderbergh |
| --- | --- |
| Year | 2009 |
| IMDB Rating | 6.9/10 |
| Based on True Story | No |
|  Genre |  Action, Heist, Comedy |
|  Box Office |  $311,312,624 |
Where there is money there will be those that want to have it all, fairly or not. While Ocean's Thirteen (Soderbergh, 2009) is by no means the low and poor underdog sticking it to the Man story, it still proves to be good fodder for wild heist fantasies.
The plot starts with the building of a Las Vegas casino, an enterprise backed by the investments of Reuben Thiskoff (Elliott Gould) and Danny Ocean (George Clooney), the recurring main character from Soderbergh's Ocean's trilogy.
Following the latter's involvement with casino mogul Willy Bank (Al Pacino) and subsequent heart attack, Danny loses his hold over the newly developing casino, now renamed "The Bank". In a feat to avenge his friend's death and his own loss of the stake, Ocean gathers his team of former partners in crime. Their objective: ruin the opening night of "The Bank".
The film simulates a kind of asymmetric relationship, hence the new name given to the casino, the bank, a formulation that seasoned gamblers will surely recognize. However, we find it hard not to see Ocean's Thirteen as a toothless wronged (good) businessman against the wrongdoer businessman flick.
Nonetheless, as a blackjack movie, it is worthy of note, and will surely be exciting for casino enthusiasts.
The Cooler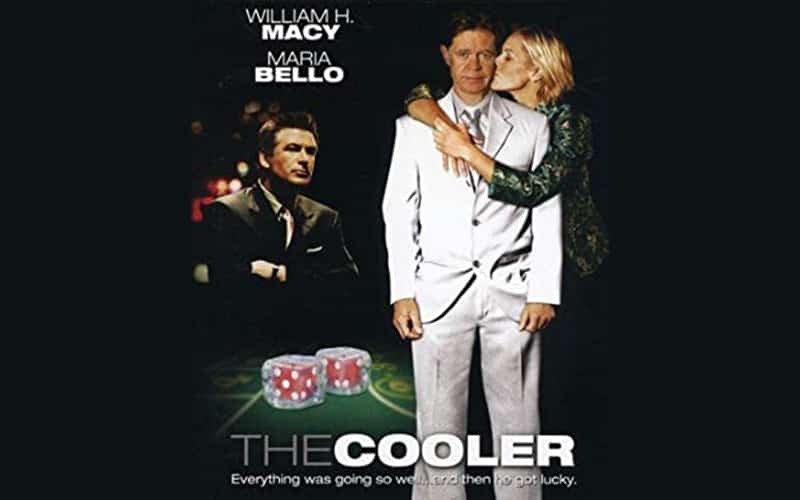 | Director | Wayne Kramer |
| --- | --- |
| Year | 2003 |
| IMDB Rating | 6.9/10 |
| Based on True Story | No |
|  Genre |  Drama, Romance |
|  Box Office |  $10,464,788 |
This is one of the best blackjack movies ever made. It depicts the life of Bernie Lootz (William H. Macy) who is employed by a casino to bring bad luck to its customers. While his job brings in the money, Bernie finds himself unhappy and unsatisfied.
His luck takes a turn when he finds love, in the form of cocktail waitress Natalie (Maria Bello). However, his change in tune shifts the odds of the Shangri-La casino, as its customers start winning considerably.
Is Bernie ready to leave the blackjack tables and start a new life? You will find out in this dramatic blackjack movie.
The figure of 'the cooler', i.e., a person who is employed by casino operators to bring bad luck to customers is one of the many examples of gambling superstitions, rituals, and lucky charms found around the world. As such, the blackjack movie doubles as an exploration of such casino myths, and it certainly is worth your time and dime.
21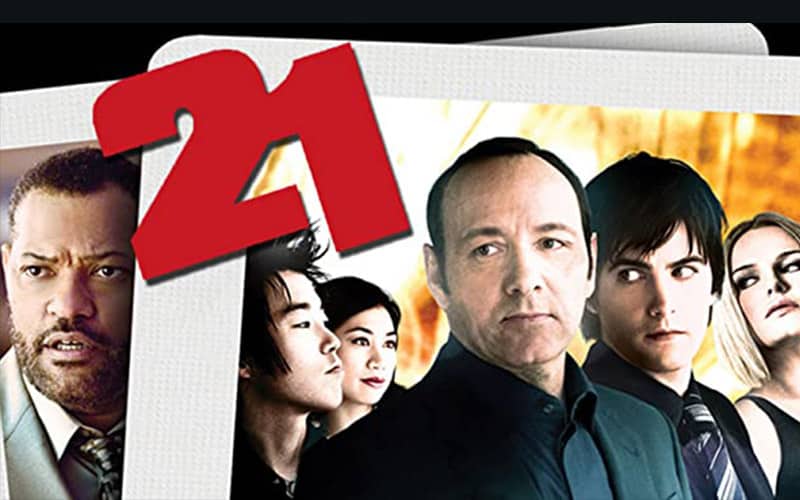 | Director | Robert Luketic |
| --- | --- |
| Box office | 2008 |
| IMDB Rating | 6.9/10 |
| Based on True Story | Yes |
|  Genre |  Drama, Romance |
|  Box Office |   $10,464,788 |
No discussion around blackjack 21 movies could ever miss the all-too classic 21 (Luketic, 2008). The film tells the story of six MIT students who want to beat the bank via a mix of crime, drama, and the best live blackjack strategies. 21 started the trend among blackjack movies, that hinges on the fantasy of beating the house using cunning and skill.
If you're a fan of movies and gambling, you should certainly check out this film. It shows you another facet of the gaming industry that you might ponder and dwell on.
Las Vegas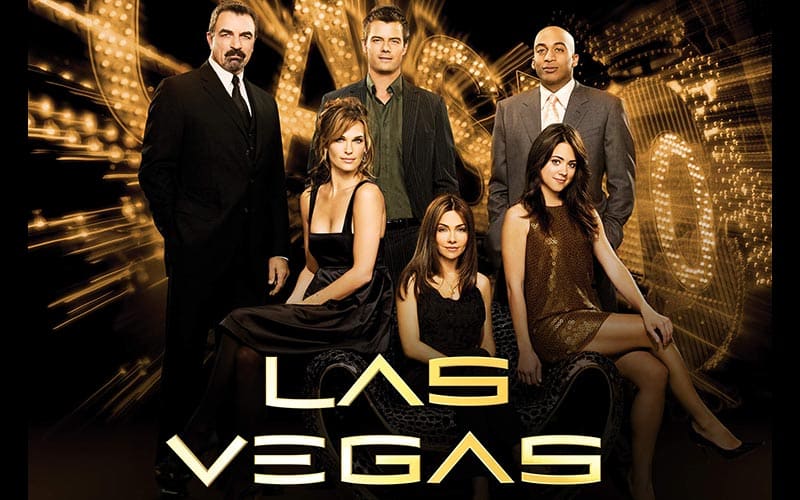 | Created By | Gary Scott Thompson |
| --- | --- |
| Aired Between | 2003-2008 |
| IMDB Rating | 7.4/10 |
| Based on True Story | No |
|  Genre |  Crime, Drama |
|  Box Office |  N/A |
There are three reasons why Las Vegas is on our list of the best blackjack movies. Since so many of its episodes include tables and games from the TV series, it's almost like a lesson plan. More so, the TV series depicted the world of gambling vividly and relatably both for novices and high-rollers.
No longer did you have to visit one of the top 5 gambling destinations, as you could watch along, from the comfort of your home.
Las Vegas is a fantastic blackjack movie series that every casino player from Los Angeles to New Jersey to the rest of the globe will enjoy.
The Last Casino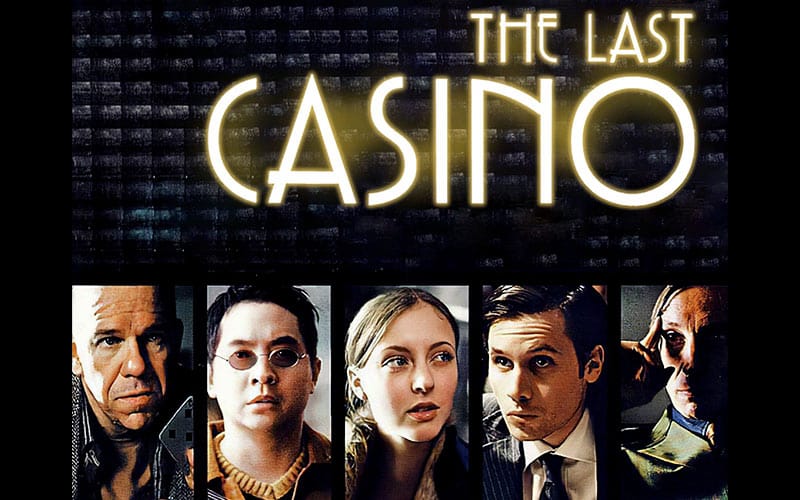 | Director | Pierre Gill |
| --- | --- |
| Year | 2004 |
| IMDB Note | 7.1/10 |
| Based on True Story | No |
|  Genre |  Comedy, Drama |
|  Box Office |  $5 Million |
La Mise Finale is a classic blackjack movie that should be regarded as one of the finest blackjack movies of all time.
The Last Casino is the anglicized title for this French Canadian production.
Doug Barnes (Charlie Martin Smith) is a math professor who engages in the controversial card counting strategy to beat the house. However, Wilson (Normand D'Amour), the casino manager snaps a picture of Barnes and blacklists him from the establishment. The banned professor then meets with Orr (Julian Richings) who wants to know how he plans to recoup the money he lost.
They discuss teaching a team of students card counting and forming a kind of casino task team. The three main candidates he came up with were George (Albert Chung), Scott (Kris Lemche), and Elyse (Katharine Isabelle), all of whom possessed remarkable minds.
The film is an intricate exploration of one of the many ways to win at gambling. Both informative and emboldening, La Mise Finale is a must-watch, if not necessarily a must-follow.
Blackjack Movie Sequences
We reviewed all films containing blackjack sequences and selected the ones that may teach us anything about the game or the casino lifestyle. 
This is a list of the finest sequences of blackjack movies that we compiled by combining our own selections with the opinions of our readers. One of your favourite blackjack movies is almost certainly included on this list.
The House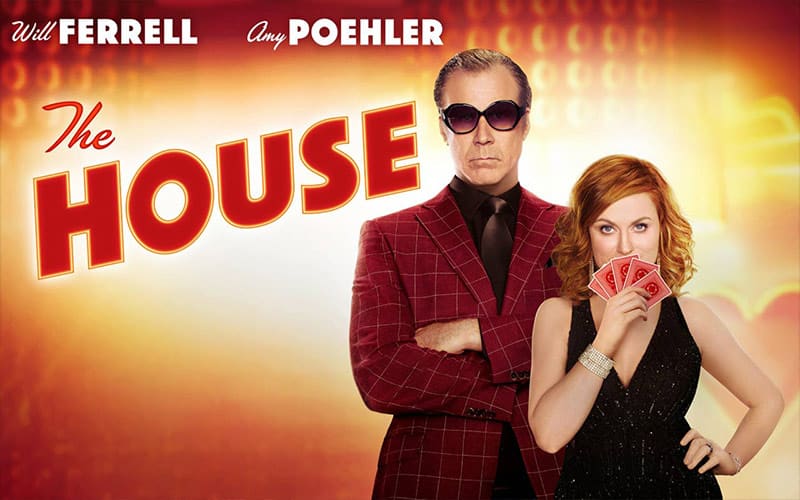 | Director | Andrew J Cohen |
| --- | --- |
| Year | 2017 |
| IMDB Note | 5.6/10 |
| Based on True Story | No |
|  Genre | Comedy, Crime |
|  Box Office |  $34,184,504 |
When it comes to gambling, most people think of it as a sensitive issue. However, The House is a light-hearted comedy that follows a seemingly regular American family on an astonishing trip.
In the film, Scott (Will Ferrell) and Kate Johanssen (Amy Poehler) are a couple who lost their daughter's college scholarship and are now trying to make it right by any means possible.
Ocean's Eleven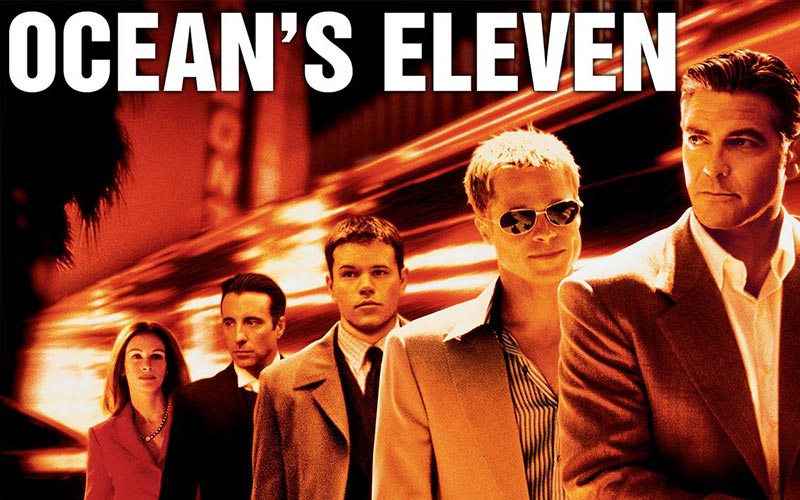 | Director | Steven Soderbergh |
| --- | --- |
| Year | 2001 |
| IMDB Note | 7.7/10 |
| Based on True Story | No |
|  Genre |  Crime, Thriller |
|  Box Office |  $450,717,150 |
This blackjack movie is the first from Soderbergh's Ocean's trilogy. The film itself is a remake of the classic Rat Pack flick Ocean's 11 (dir. Lewis Milestone, 1960).
The Rat Pack was an informal group of A-listers who met casually at Humphrey Bogart's Los Angeles suite, became close friends, starred in films, and appeared together in Las Vegas gambling venues. The Rat Pack may be one of the many memorable worldwide gambling stories. The group included Frank Sinatra, who is referred to in the new trilogy too, Dean Martin, 'The King of Cool', Sammy Davis Jr., and Joey Bishop.
Going back to the 2001 blackjack movie, it follows Danny Ocean (George Clooney) and his team taking on three Las Vegas casinos.
The plot is full of blackjack sequences from beginning to end. While they start at a poker table, things take a turn for the worst from thereon. Ocean's Eleven is a movie that accepts a universal audience, regardless of whether or not viewers are fans of card counting movies.
It remains one of the most entertaining gambling films ever made given its stellar casting, action, and brilliant humour.