The history and evolution of slot machines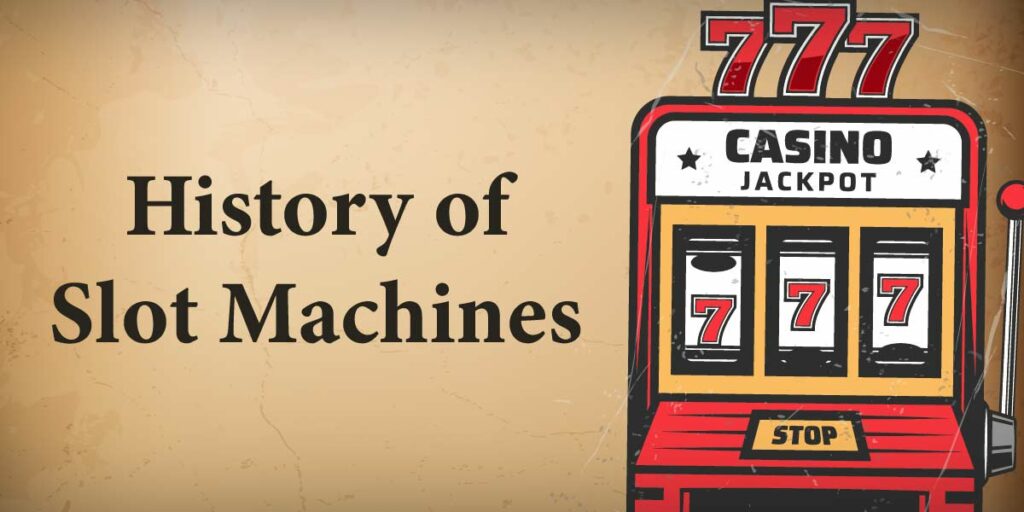 Gambling has become part of popular culture. With the industry at an-all time high, we have to admit that slots played a major role in its growth. Let's explore this game-changing phenomenon in more detail and lay out the main stages of its history!
The inner workings of slot machines
Although it seems quite complex, the mechanism behind a slot machine is rather uncomplicated. Back in the day, mechanical slot machines worked on a configuration of gears and levers. Later, technological advancement allowed the introduction of electrical machines working on similar principles, but employing more sophisticated systems.
A standard feature of any slot machine is the screen, displaying three or more reels that spin when the game is activated. With each spin, the symbols' ordering is randomized.
To make the reels spin, one had to pull a lever. Eventually, the lever has been replaced with a button. When the reels stop spinning, the machine pays out according to the pattern displayed on the screen. Far from the elaborate themes and designs of today, traditional slot machines displayed only five symbols: diamonds, spades, hearts, horseshoes and bells.
They also included currency detectors to validate certain payment methods such as cash, coins, vouchers, tokens or tickets.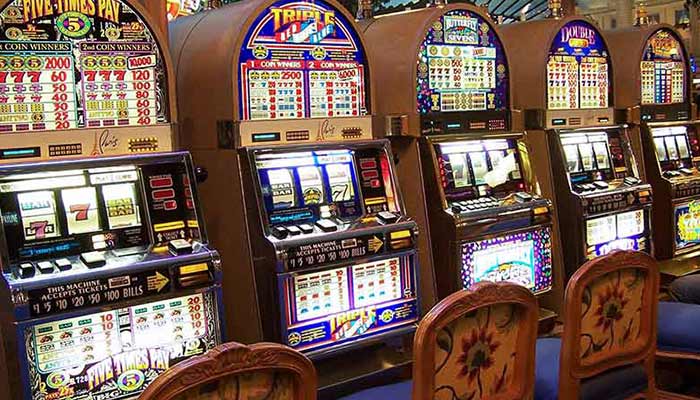 How did it all begin? (1891-1899)
Let's dive down to the roots of slot machines. Their origins can be traced back to the 19th century when their 'relative' was born. In 1891, a New York-based company, called 'Sittman and Pitt', developed the first gambling machine.
You would have found it in bars and you'd notice that it was based upon Poker, as it lined up random cards across five drums. The downside was that it didn't have a direct payout mechanism. Winnings were usually non-monetary and were granted at the bar in the form of free drinks and cigars. And that's how it all started!
Fey's automatic payout slot: The Liberty Bell
Fast forward a few years, somewhere between 1894 and 1899, Charles August Fey, a San Francisco mechanic, created the first slot machine with an automatic payout mechanism.
Despite similar technologies were used in previous gambling devices, Fey's coin-operated machine is considered the first real slot machine. He replaced the drums with three reels and the Poker cards with five symbols. One of these was a bell, which also inspired him to name the machine "Liberty Bell."
Once they became more and more popular, the devices were banned in California, but the demand increased in other states. You guessed it right! One of these states was Nevada. And that's probably how Las Vegas gained the title of 'gambling capital of the world'.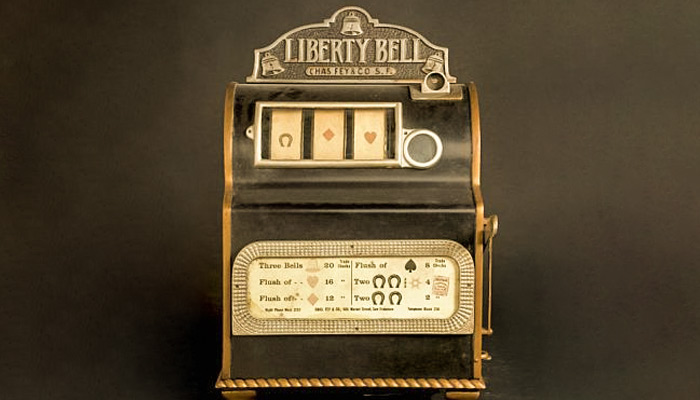 The evolution of slot machines (1907-1976)
Due to Liberty Bell's increased popularity, the slot-machine manufacturer Herbert Mills started the mass production of a replica in 1907. And by 1908, most cigar stores, saloons, brothels and barber shops were equipped with one of these devices.
Introducing the 'Operator Bell'
The same manufacturer has later produced another machine called the "Operator Bell." This one had a gum-vending attachment as a special feature. As the gum was fruit-flavoured, the manufacturer thought symbols like lemons, cherries, oranges and plums would fit well on the machine's reels.
Later, this widely recognized set of symbols started to be used by other companies such as Watling, Jennings and Pace, and it remained popular until today. Even the newest online casinos have dozens of fruity-themed games, some designed classically and others with modern 3D graphics.
In the early 1930s, Mills made a series of adjustments to their originals models, revolutionizing the industry. As slot machines were pretty noisy at that time, the company implemented a technology that made them much quieter. Then, it gradually started to introduce themed slots and the 'double jackpot' feature.
The first electronic and video slots
After several decades of technological progress, in 1963, Bally created the first fully electromechanical slot machine. It was called "Money Honey" and was able to automatically payout up to 500 coins. As it enjoyed plenty of success, it is believed to have led to an increase in the number of electronic games.
Not long after that, a ground-breaking invention was just around the corner, the first video slot machine. It was developed in 1976 by the Las-Vegas-based company Fortune Coin. The machine's display was a 19-inch Sony Trinitron colour receiver, with functions operated by logic boards.
The first production units were displayed at the Las Vegas Hilton Hotel. After some modifications, the machines were approved by the Nevada State Gaming Commission. Eventually, they were introduced everywhere on the Las Vegas Strip and in downtown casinos. Two years later, IGT acquired Fortune Coin along with its video slot-machine technology.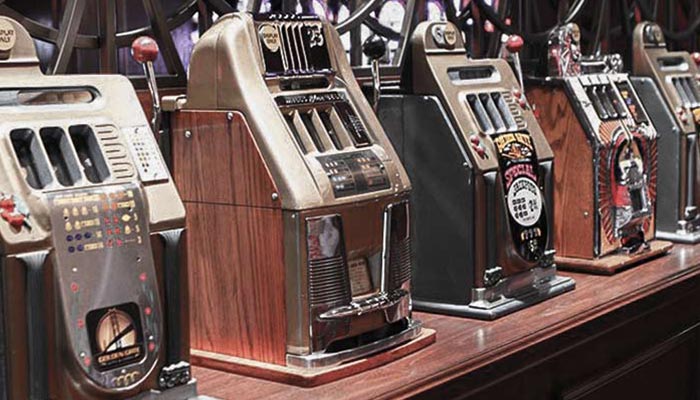 Why are slot machines so popular?
A 2018 study published by Harvard University shows that most gamblers prefer slots over other casino games. Also, according to Statista, 38% of Canadian punters state that they always play on slot machines when visiting a casino.
So why do players choose slots in favour of gambling forms with much more complex structures, like Poker or Blackjack? The answer is simple! Unlike those traditional games, slot machines do not require any gambling knowledge. There are no specific strategies, tactics or hidden patterns involved. Therefore, anyone can try them out.
In addition to that, research conducted in 1948 by Burrhus Frederic Skinner shows that operant responses are strengthened by reinforcement. But what does this mean in a gambling context?
Winnings generated as a result of a playing decision enhance the punter's level of adrenaline, which determines him to play again, in order to receive additional rewards. In other words, the more times one wins (regardless of the amount won), the more he will be motivated to play.
Are regular slot machines going downhill?
Over the years, RNG (Random Number Generator) systems have been embedded in slot machines' microprocessors to guarantee that the game's outcome is completely random.
The launch of video slots brought another innovation in 1993, when the idea of online slots was conceived. However, they were fully implemented a year later. Soon after, in 1996, WMS launched the first slot with a separate bonus screen.
The online versions use similar RNG technology as their land-based counterparts to ensure fair play.
If we were to compare the prevalence of slots nowadays to the situation of 20 years ago, we can safely say that online slots are taking over the gambling industry. Online slots provide a more convenient experience, and higher Return to Player rates.
Moreover, you can now enjoy slots anytime and anywhere on your smartphone, by simply accessing a mobile casino and downloading its app. These on-the-go products come with ground-breaking graphics and offer just the same features as their desktop versions.
The rapid advancement of online slots may have had a sensible effect on the gambling industry, but that doesn't necessarily mean traditional slot machines have become extinct. At least not yet.
Are online slots better?
Those who are hesitant about joining the online gambling environment will likely reconsider their decision when confronted with the facts.
Online slot machines have numerous benefits compared to traditional slot machines. First and foremost, you get to try free slots online without spending anything. This way, you can get accustomed to a game and its payout frequency. You're not offered demo modes in land-based casinos. Truth is, you don't even get the same game variety when playing on physical slot machines. Even the most recent ones have a limited selection of titles.
Online slots bring the additional benefit of being tied to promotions with no strings attached. Casinos attract new players by giving out free trial rounds on popular games. The big studios release new titles every month, adding to the almost endless variety of gaming products.
If you want to keep up with the evolution of slot machines, you may pay a visit to one of the best online casinos in Canada. We highly recommend playing only at legit websites, so take the time to carefully analyze every option! After a few rounds, you'll be able to decide for yourself whether you prefer online gaming over traditional slot machines.  
References: