How The UKGC Casino License Affects Canadian Gambling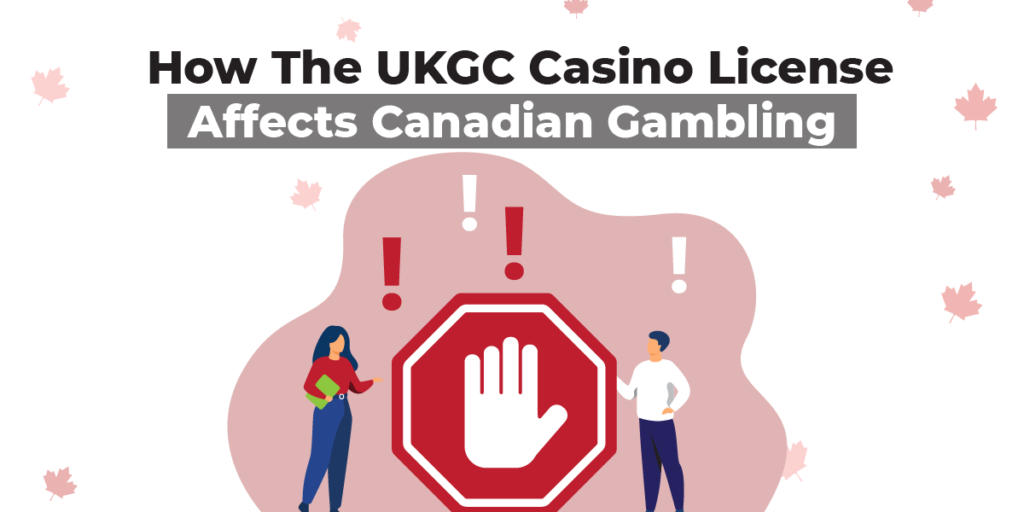 What's the deal with the UKGC casino license? What does that mean for Canadia players? Experts lay all the answers on the table for you!
Stick around to find them all!
UKGC introduction & basics for Canadians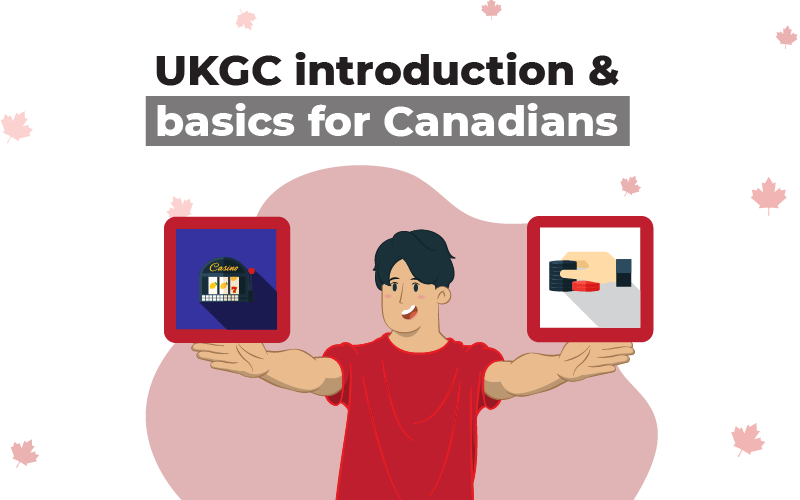 The United Kingdom Gambling Commission, also know as UKGC, is part of the United Kingdom's government and has become the top licensing authority globally.
The legal background
Over time, it has become independent and checks both local casinos and foreign ones, especially the greatest brands out there, on which Canadians like you play.
It operates under the statements of the 2005 Gambling Act, put forth by the legislature to regulate gaming and sports betting across the pond.
How did it rise to the top?
The way they assess gambling businesses is based on Codes of Practice, publicly available online to any curious Canadian. They are crafted in such a way so you can play safely and have easy access to stopping your gambling whenever you feel like it.
Important: The strategies employed by the UKGC when it comes to minor protection are, up until now, unmatched.
6 seals of approval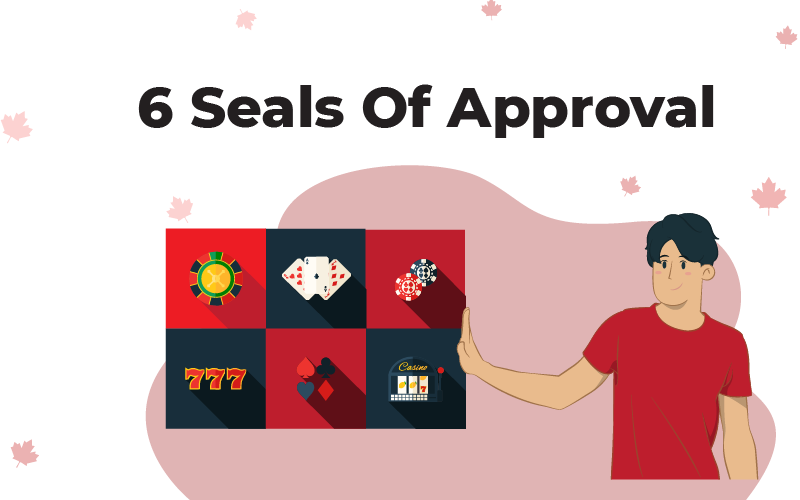 Each main type of real-money gambling is separately assessed, granted or vetoed by the commission:
Lotteries draws & similar games (offline and online);

Online software that includes in-game bets;

Physical slots or video poker machines;

Betting (sports or otherwise);

Bingo draws;

Casino games of all types (offline and online).
Recommendation: Does anything from that list catch your eye? We've got almost all options in our collection of Canadian online casinos. Rest assured that you'll find detailed reviews and promotions galore ranked in your favour.
A UKGC license: 7 effects that concern Canadian players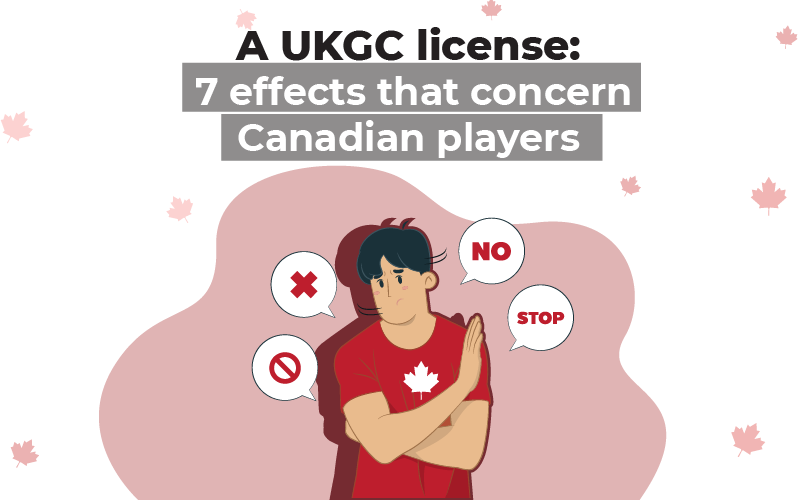 If you've never really got the fuss of a UK-based license at your favourite online casino, stick around to see the beneficial results it offers you!
Please keep in mind that our present analysis is focus on the Canadian gambling market, our area of expertise.
Licensees are constantly monitored

The process a casino has to undertake to be accepted by the Brits is time-consuming and expensive.

Why does it take so long?

UKGC checks all the elements of a gambling site: encryption, software, games, tournaments, rules, terms, staff, financial statements, and more.

For a satisfactory assessment, it is only natural that it takes several months, short of a year.

Why does it require so much money?

A tedious process comes with a lot of labour from the members and many legal procedures; all come at a cost. Also, being able to afford this trial means that the online casino is a seriously run business, and they know how to handle their financial statements.

The good news is that the tracking never stops!

Indeed, once an online casino has the seal of approval, that does not mean they can act out of the Codes of Practice.

In fact, UKGC representatives always check sites randomly for all kinds of issues to see if the standards are kept right and high. Any misconduct is fined immediately, and the sum varies by the gravity of the case.

You can be sure that the casino you're playing at sticks by the rules at all times, making a safe Canadian platform!

The gambling joint will be transparent with you

UKGC-approved casinos create their terms, content, and messages in such a way that misunderstandings rarely occur.

How and why is this happening?

Most times, terms of use are written in difficult English, usually to make it hard for you, the gambler, to understand the risks. That would not be the case if the British authority checked this casino.

You will be able to understand what is offered and what is asked from you, as well as the gambling risks at hand.

Tips: Every time the rules or terms change, you have to be announced in time, via e-mail or otherwise.

Did you know that the Malta Gaming Authority has the same approach to casino transparency? All the effects of the MGA on Canadian players are presented by us, swiftly and usefully.

Generally secure gambling environment

A plethora of aspects is protected by the UKGC. It includes how your cash is handled both by deposits and cash-out procedures, your data (through KYC and otherwise), your right to privacy, and your health.

Do you feel like gambling is taking a toll on your mental health? Answer our 111-question quiz and start getting better! You can use it for yourself, your loved ones, and even minors in your care. Caring for Canadian residents is a top priority for our team.

Software shields that protect you from malware are also employed by casinos that passed the check.

Your money is free from danger

Inside every gaming account, you have something similar to a wallet. It pays for the sessions or receives the winnings.

How does the UKGC ensure your fund's safety?

On UKGC casinos, players' funds are held in a separate account from the company's revenues. The usual procedure means a different bank altogether and a different team of specialists.

What does that mean for Canadians?

In case you want to withdraw your funds, the process is simple. In grave cases where the online casino has money problems, or even worse, it files for insolvency, then your funds are safe.

If you want to try out a way to cut your losses when spinning the slot reels, we've got a fund strategy for you. Know pro-insiders about how to keep your money locked…literally!

Impartial game results

All online casino games that you play, especially the ones that involved real-cash stakes, are coded in such a way to mimic a real-life session as you'd play in brick-and-mortar casinos.

These are called RNGs, or Random Numbers Generators, creating millions of variants for the same hand/spin every time you play; you'll eventually land on one.

UK Gambling Commission-approved sites all use RNGs. How can we be so sure? The majority of them are also checked by the agency known as eCOGRA. We have explained its usual to-do list, its experience and usage in the industry for Canadians!

Tips: If the UKGC and eCOGRA check a site, you can safely enter their tournaments or work your way to the top of their VIP schemes.

Your gambling is not funding illicit activities

Considering the lengthy checks done by the UKGC, there is virtually no option for casinos to engage in shady business.

The same goes for the money that Canadian players invest in casino sites. During the KYC procedures, customers of UKGC casinos are asked to prove that the money is legally theirs; sometimes, they have to confirm the cash source.

Why is this necessary?

Small e-payments may be used to launder money and change their status from "blood money" to clean-cut cash. Thus, the methods counteract that.

Do you believe you have been wronged by a casino while being their customer?

Canadian citizens need to follow a specific road to make sure their dispute is solved correctly and in due time. In essence, what you'll need to do is be very aware of what the T&Cs state and follow our advice when it comes to other actions.

Proper advertisement & child protection
Online ads are anything short of irritating. That is why you will not be bothered with insistent pop-ups or flashes from cookie-trackers from online casinos checked by the UKGC.
This strategy of decent size advertising first started as a problem of TV ads and slowly moved online over the years.
On the same matter of protection from ad-overexposure, UKGC casinos are required to not cater to Canadian minors in any way. This includes having a cartoon-like interface, targeting young age groups, or allowing minors access to their services.
Important: Gambling addiction is a serious issue among youngsters, as well as adults. If you want your child away from such aspects, use blocking software. If you want to distance yourself from them, use the self-exclusion methods available at all UKGC gambling websites.
Other UKGC details: upsides, history, and contact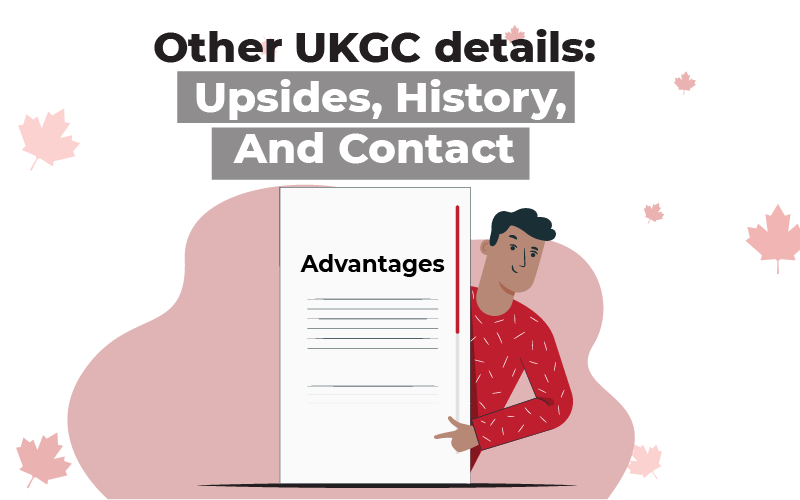 In this section, we go in-depth about other advantages tied to UK licensing, so you get a clearer picture.
We finish with a small overview of their beginnings and show you ways to get in touch with them!
The strictest agency = One of the best licenses
We know that the process following the Codes of Practice is:
Lengthy;

Tedious;

Strict;

Never stops.
That is why it is safe to assume that an online casino with a UKGC license has the best authentication currently available on the Canadian and international market.
Tips: If you have picked a casino with a UK license, you can be sure they have sufficient funds and a good legal team, all pro aspects when it comes to your play.
Highest standards of the industry
The UKGC cuts no corners when it comes to analyzing and verifying gambling spaces for you.
Canadian gamblers can use this to their advantage and know that out of the entire pool of casino sites out there, their UKGC pick sits on the podium of quality.
Both them and other partnering agencies work around the clock to ensure that the practices are up-to-date and correctly imposed.
Even things as basic as site encryption are sanctioned if they are too old, representing a potential danger.
Important: In situations of conflict between casinos and gamblers, they aid in the investigation and settlement.
4 stages in The Commission's development
See how a legislative project turned into a leading gambling authority in 2021!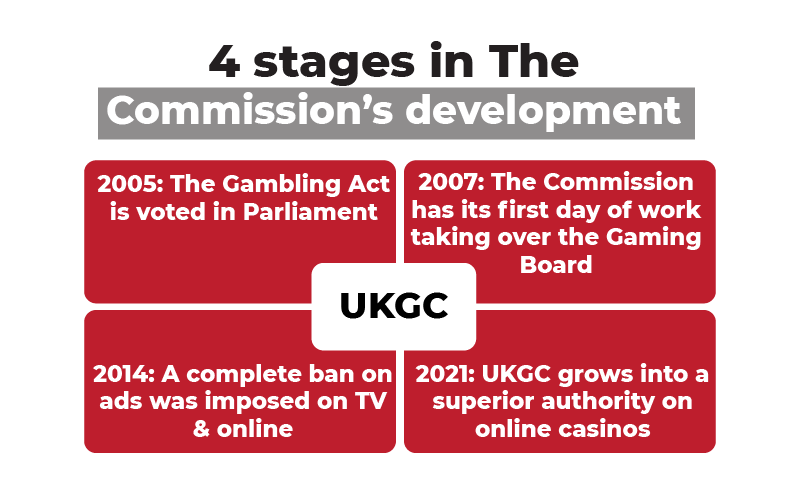 Get in touch from Canada!
Are you curious to find out more information about this British governmental institution?
Or, do you want to know more about a casino? Or maybe find a solution to a casino problem?
Talk to the UKGC support agents via:
E-mail at info@gamblingcommission.gov.uk;
Phone at 0121 230 6666.
Leave with this in mind
Here are our main guide ideas you need to remember, in a nutshell:
The UKGC is currently unsurpassed when it comes to their standards;

There are 7 ways in which the UKGC positively affects your gameplay;

It is easy to know more about them through us or their own support!
And if we've learned anything from studying them for so long, we have to let you go by saying that you must always play safely and responsibly! Canadian gambling is nothing if not done safely!
Methodology: