Casino du Lac Leamy Review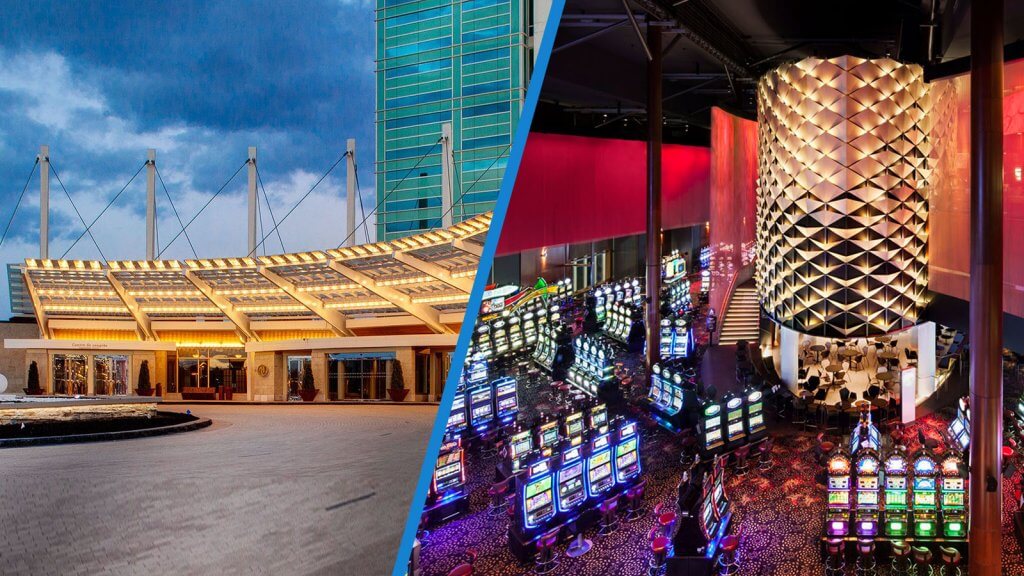 If you thought Casino du Lac Leamy is a place for the rich, we found many options to gamble on a budget. Check our expert analysis and compare the venue with other casinos in Quebec.
Casino du Lac Leamy Ratings
| | |
| --- | --- |
| Overall Rating | 3.9/5 |
| Slot Machines | 5/5 |
| Table Games | 5/5 |
| Hospitality | 3.5/5 |
| Loyalty Club | 2.5/5 |
| Design & Attractions | 5/5 |
| Casino Rules | 4.9/5 |
| Players Reviews | 4.1/5 |
| Integrity | 4/5 |
Table of Contents
How We Review Casino du Lac Leamy Montreal
Date of visit: 03/02/2023
Time of visit: 5h
Initial bankroll: $200
What we played: Roulette, blackjack, slots
Final bankroll: £0
Next visit: 06/29/2023
Why the 4.42/5 rating?
During our visit at this Montreal Casino we tried various games and checked whether the facility is equipped with everything a proper casino needs.
Our report is structured in eight chapters to walk you through everything you need to know about Casino du Lac Leamy. We also provide a comparison and local Quebec casino alternatives if you decide this casino is not for you.
What we found
| | |
| --- | --- |
| Address | 1 Bd du Casino, Gatineau, QC J8Y 6W3 |
| Open hours | 24/7 |
| Membership | Not required |
| Minimum age | 18 |
| ID checks | Yes, if you look under 30. |
| Tables | 65+ |
| Slot machines and e-tables | 1800+ |
| Poker room | Yes |
| Payment | Cash, Card, Chips |
| Slots betting range | $0.1 – $5 |
| Table games betting range | $5 – $5,000 |
| Restaurant | Yes |
| Free drinks | Yes |
| Free parking | Yes |
| Hotel rooms | 350 |
Slots at Casino du Lac Leamy – 5/5
We found many rare titles here, and with over 1700 slots to play, the casino has to receive maximum points from us.
Slots to play at Casino du Lac Leamy – 5/5
| Slot machine | Payout rate | Minimum bet | Provider |
| --- | --- | --- | --- |
| Family Guy | 94.2% | $0.1 | IGT |
| Sakura Lady | 93.60% | $0.2 | Quickspin |
| Jeopardy! | 93.20% | $0.2 | IGT |
| 7s on Fire | 90.53%-94% | $0.2 | Scientific Games |
Access the official casino site and you'll find a nice quiz that can match you with the right slot machine to play.
Slot providers – 5/5
IGT

WMS

Bally

Everi

Quickspin

Scientific Games + others
Slots tournaments and jackpots – 5/5
Since Casino du Lac Leamy is owned by Loto Quebec, you'll find the same promotions across all sister venues. Everything comes in plentiful supply at this casino, except for progressive jackpots. You only have IGT's Powerbucks' jackpots to participate in.
Mystery prize draws valued at $25,000 and the chance to win $1,000 per week for the rest of your life surely seem appealing to any slot player.
Best progressive jackpot slots
| Jackpot slots | Payout rate | Min. bet | Max. jackpot |
| --- | --- | --- | --- |
| Powerbucks Wheel of Fortune: Hawaiian Getaways | 93.32%-96.15% | $0.5 | +$1 million |
| Powerbucks Wheel of Fortune:  Latin Getaways | 90.33%-96.00% | $0.75 | +$1 million |
| Powerbucks Wheel of Fortune Ruby RichesTM | 90.33%-96.00% | $0.75 | +$1 million |
Verdict on slots variety
In our view, the most attractive slot machine at Casino du Lac Leamy is Wicked Wheel Series: Panda and Fire Phoenix, as it comes with a nice promotion attached. Still, it doesn't beat the best bonuses for penny slots our recommended gambling sites provide.
Table Games at Casino du Lac Leamy – 5/5
Normally, we would have lowered the rating because, contrary to online reports, we couldn't find a live craps table. Still, the casino provides a viable alternative, interactive gaming machines.
Types of gaming tables – 5/5
Roulette

Blackjack

Baccarat, EZ Baccarat

Blackjack, Free Bet Blackjack, Blackjack Switch

Texas Hold'em Poker, Three-Card Poker, Ultimate Texas Hold'em

Roulette, interactive roulette
The Fun Zone includes craps
A special place to play inside Casino du Lac Leamy is the Fun Zone, a gaming hall complete with touchpad betting machines and all the equipment for a great interactive experience. The best part is that stakes start really low here:
Slots: $0.01

Video poker: $0.25

American roulette: $1

Craps: $1

Sic bo: $1

English anglaise:$2

Baccarat: $5

Blackjack: $5
Table limits – 3/5
| Game | Minimum bet | Max no. of players at table |
| --- | --- | --- |
| Roulette | $5 | 9 |
| Interactive roulette | $2 | 12 |
| Free bet blackjack | $20 | 6 |
| Blackjack | $25 | 6 |
| Baccarat | $100 | 9 |
| Texas Hold'em | $1/$2 | 6 |
| Three card poker | $15 | 7 |
Poker room – 5/5
You'll find 9 tables with professional and friendly dealers ready to show you the ropes, and the waitstaff are always on hand to bring dedicated players non-alcoholic drinks.
No-limit Texas Hold'em and Ultimate Texas Hold'em are the variations we played with a $10 minimum bet.
Poker tournament prizes come in different shapes, from $20,000 local jackpots to +$1 million progressive jackpots in some cases.
Opening hours
Monday to Thursday: 10:00 – 04:00
Friday, Saturday, Sunday and holidays: Open 24 hours.
Our verdict on the gaming tables
What we like most about the Gatineau casino is the multiple gaming tables offered. The poker hall is spacious, well-lit and the table limits suit all budgets. Still, not the same can be said about the card game tables.
Hospitality at Casino du Lac Leamy – 4.9/5
In terms of customer service, our 4.9 rating suggests this casino is stainless.
The staff – 5/5
Our interactions with the staff all around Casino du Lac Leamy showed why this is considered a five-star establishment. Everyone keeps a smile on their face and does their best to make you feel welcomed.
Restaurant & Bar – 5/5
We ate at the Banco Bistro for this review, but you also have the opportunity to try a seafood menu at the Arome restaurant.
Banco Bistro Lac-Leamy restaurant and wines menu
Crispy chicken: $15.95;

Bacon cheeseburger: $17.95;

Pizza: $15.95;

Oven-roasted salmon: $26.95;

Sauvignon blanc: $34 (per bottle);

Riesling-Pinot Gris: $47;

Champagne Dom Perignon: $450.
You can have a tasty burger and a glass of wine for less than $25, so you're not breaking the bank for a meal. The quality of the food is undeniable, and the prices are not for high-rollers only.
Opening hours
Sunday to Thursday: 11:30 – 22:00;
Friday and Saturday: 11:30 – 00:00.

Do you get free drinks and food at Casino du Lac Leamy?
Some complimentary beverages and snacks are provided to members in the Casino Privileges loyalty program.
Parking – 5/5
One of the best features of Casino du Lac Leamy is its free parking facility, open 24 hours. There's ample parking space, making it easy for players to arrive by car. The parking lot is well-maintained.
We had no issues finding a spot during our visit, but we went there on a Thursday evening. You'd expect the place to get more crowded on weekends.
Hilton Hotel – 4.5/5
Players at Casino du Lac Leamy can stay at the Hilton Hotel, a top-notch 5-star facility with 349 luxurious rooms.
Lodging prices overview
The cheapest 2-nights stay for two in a king-bed room is almost $400. However, you get a nice view over the lake, room service, a spa, indoor pool and impeccable cleanliness in exchange for your investment.
In terms of upward limits, the Executive Presidential Suite starts at $1,900 for 2 nights, but the luxury is exponentially higher.
Cheaper hotel alternatives near Casino du Lac Leamy
Ramada Plaza by Wyndham Gatineau: 4 stars, 11 minute walk;

Four Points by Sheraton Hotel: 3 stars, 7 minute drive;

Auberge de la Gare: 3 stars, 7 minute drive.
Security – 5/5
CCTV surveillance

Metal detectors

Friendly bouncers

Specialized security staff
Overall, Casino du Lac Leamy felt secure with all these measures in place.
However, we found that you shouldn't count on the CCTV cameras in case of theft.
Loyalty Club – 2.5/5
Casino Privileges is a rewards program shared across multiple sister casino venues in Quebec. Therefore, our rating will be similar unless one specific casino provides different perks to players
Casino Privilège rewards – 4/5
The Charlevoix Casino Privilège loyalty club follows the structure of other programs you may have played in. It has 4 tiers with different benefits.
What you get with a Casino Privilège card
Welcome offer;

50% off parking (first 2 levels);

Free parking (highest 2 levels);

Birthday and Christmas gifts;

Slot machine reservations;

Exclusive promotions;

Increasingly better point earning rate;

Presale tickets to shows and events;

15% discount for treatments at Amerispa and Moment Spa (all levels);

5%, 10%, 15% and 20% hotel discounts;

Access to the High Limit Lounge (only Prestige Plus).
Loyalty points earning rate – 1/5
You earn Privilège points by playing table games and slots.
In order to keep your benefits or progress to the next VIP level, you must earn a certain number of points specific for that tier. We could find no information about the earning rate, which explains our rating.
Be aware that the loyalty club was suspended during our visit. We will update the review when this changes. Ask for more details at the desk if you decide to visit soon.
Design & Attractions – 5/5
The casino and hotel are situated in an imposing and stylish 35,000 square feet building with an aquatic architectural theme.
Inside of Casino du Lac Leamy – 5/5
Unique elements such as the suspended ceiling sculptures make for a pleasant and fluid visual atmosphere. We felt that the modern touches complement the lake view perfectly and match the high-end vibe of the casino.
Events – 5/5
Casino Lac Leamy regularly hosts live music comedy shows and parties and has its own theater inside for large scale events.
It's a place where you can find popular rock bands and other entertainers performing, but you can just as well organize a private event. You can reserve the perfect hall or room for your needs:
Conference Center: 14 reception rooms which can hold up to 1100 guests:

L'Executif: elegant reception room for 22 persons;

Théâtre du Casino: in-house theater for up to 1,100 spectators;

Le Baccara: the restaurant can be booked on Mondays and Tuesdays for up to 70 guests;

ALÉA nightclub: the club has a capacity of 250.
Attractions outside of the casino – 4/5
Canadian Museum of History;

Jacques Cartier Park;

Many restaurants and cafes.
Casino Rules – 4.9/5
Our casino experts analyzed the rules in operation at Casino du Lac Leamy and the result is an exceptional rating. Check out our analysis of the rules' fairness and convenience.
Casino Lac-Leamy schedule – 5/5
The casino is open 24/7, providing you with ample gaming options at any hour or day.
Is there an entry fee?
Entry is free for anyone of 18 or older, but remains at the discretion of the door staff.
Casino rules – 4.5/5
Some clothing items are forbidden. A cowboy hat might not be appropriate;

Using your smartphone is not permitted at the tables or slots;

Bringing alcohol or cannabis inside the premises is forbidden;

The casino must not be held liable for lost items.
Photos policy at Casino Lac Leamy – 5/5
Casino du Lac Leamy allows taking photographs as long as you don't disrupt other patrons. If you see a celebrity, ask before taking a picture.
Casino du Lac Leamy Dress code – 4.5/5
There are not many instructions on what to wear in the casino's Terms. Still, a smart casual dress code is the norm in Quebec local casinos. Just make sure you're dressed up appropriately. If you're not sure, you can always ask the bouncer at the door for some tips.
Our take on the house rules
Overall, the rules are nothing out of the ordinary, and they only regulate activities in a manner that improves the safety and enjoyment of all players.
Player Reviews – 4.1/5
This rating is an average of the Google reviews and Tripadvisor rating. We studied what other visitors and reviewers have to compare how Casino du Lac Leamy has improved its services up until our visit.
Casino du Lac Leamy  player reviews
Google – 4.3/5
The rating on Google seems reliable, as over 6497 people have contributed to it. Most players who left a review were impressed with the massive slots collection that beats even some online casinos.
Tripadvisor – 4/5
504 reviewers Tripadvisor have had a positive experience at Casino du Lac Leamy. We noticed a significant portion of the poor ratings were due to understaffing.
Possible issues
Understaffing (confirmed);

Rigged games (unconfirmed);

Rude security staff (unconfirmed);

Unreliable security protocols (unconfirmed).
Integrity – 4/5
As a government-run establishment, the Gatineau casino should raise no doubts in terms of integrity. However, as casino experts, we have a few things to point out in this regard.
Casino du Lac Leamy Operator – 5/5
The Société des casinos du Québec is the operator of this and other Quebec casinos. It is a subsidiary of Loto Quebec, the government-owned corporation responsible for providing regulated local gambling.
Other casinos operated by Loto Quebec
Transparency – 3/5
Despite their best intentions, the operator of this casino fails in one important respect. We could not find clear information about the odds to win at every slot machine and gaming table. As experts in the field, we consider it necessary that players are informed about their chances.
Contact methods – 5/5
| | |
| --- | --- |
| Website | casinos.lotoquebec.com/en/lacleamy/ |
| Email address | |
| Telephone number | 819 790-6444 |
| Toll-free telephone | 1 866 488-7888 |
| Hotel phone number | 819 790-6444 |
| Fax | 819 790-6408 |
Casino du Lac Leamy Versus Alternatives
Gambling with real money involves risks, so you shouldn't choose your casino blindly. Compare Casino du Lac Leamy with other Quebec casinos in a glance.
Casino du Lac Leamy vs Playground Poker Casino
Playground Poker has 5 times the number of poker tables at the Gatineau casino;

Casino du Lac Leamy is better in the slots department with +1700 vs around 350;

Both casinos allow similar payment options;

The Gatineau casino has its own hotel rooms, while players at Playground receive better rates at partnering hotels;

In terms of lodging prices, a night for one will start at $150 at both venues.
Playground Casino is the better option for poker players
If you're interested in elite poke tournaments, the Playground is Canada's best live destination, a place notorious for its daily and weekly prizes. Still, it might not be the best place for newbies to learn the game, given the minimum buy-in starts at around $50.
We advise beginners to start with a welcome bonus from PokerStars Casino and play with lower stakes first. You can organize a whole online poker evening with $50 at tables with $1 or $2 buy-ins.
Casino du Lac Leamy vs Casino de Charlevoix
In terms of slot options, only the most dedicated players will notice the 700 extra slots at Casino du Lac Leamy;

However, you might feel that the Charlevoix is not as imposing as Lac Leamy in terms of luxury, even though both are 5-star-rated;

The poker room is larger in Gatineau;

Both casinos have similar game categories, but the Lac Leamy casino in Gatineau also provides special versions like Free Bet Blackjack or Sic Bo.
Casino de Charlevoix is the best alternative for beginners
The size of the casino in Gatineau might be intimidating for the inexperienced, so the reduced size of the Charlevoix Casino can actually be an advantage for new players. During our review, we found that the Charlevoix Casino staff is more attentive, and naturally so, with fewer patrons around.
What Does Casino du Lac Leamy Do Best?
Our review data suggests the Casino du Lac Leamy does more than one thing best. First, it has one of the largest slot collections in Quebec. It outclasses some online casino operators in this respect. The 62 gaming tables can accommodate many players, but be aware that the betting limits are not for all budgets.
Pros and Cons of Playing at Casino du Lac Leamy
Pros
Best game variety in Quebec with over 1700 slots and 60+ tables;

Professional dealers and serving;

Spacious hotel with over 300 rooms;

Free parking to visitors;
Cons
Restricted use of smartphones;

High table limits.
Is Casino du Lac Leamy your best place to play?
If we combine all the data gathered during this review, the ideal player profile to gamble at this casino would be the responsible high-roller. Still, if you know how to play slots responsibly, you can have a great time with less than $100. We recommend the interactive games room (the Fun Zone) for low-stakes players.