Playground Poker Casino Review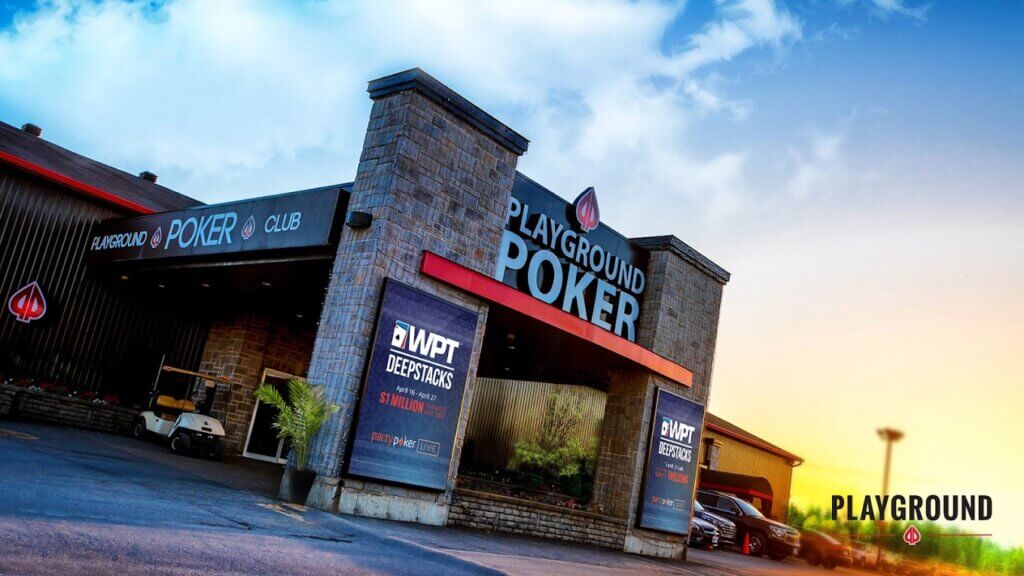 Poker players will be delighted at Playground Poker. Find if this is the best venue for you to play from our expert review of PlayGround Poker!
Playground Poker Casino Ratings
| | |
| --- | --- |
| Overall Rating | 4.5/5 |
| Slot Machines | 2/5 |
| Table Games | 4/5 |
| Hospitality | 4.2/5 |
| Loyalty Club | 4.5/5 |
| Design & Attractions | 3.5/5 |
| Casino Rules | 5/5 |
| Players Reviews | 4.3/5 |
| Integrity | 5/5 |
Casinobonusca rating for Playground Poker – 4.5/5
We visited the casino on March 13th to get a first-hand experience of what the world-famous Playground Poker venue has to offer. We participated in one of the daily March poker tournaments to evaluate objectively.
While we could only keep $50 at the end, we got free food and drinks during the game, allowing us to keep most of the budget for services.
Table of Contents
Casinobonusca Experts Review Playground Poker Casino Montreal
At CasinoBonusCA, we are dedicated to providing objective and comprehensive reviews, so we adapt how we review online casinos to our methodology for local Canadian casinos.
Our visit to Playground Poker Casino
Date of visit: 03/13/2022
Initial gaming bankroll: $300
What we played: Poker, slots
Final bankroll: $50
Budget for services: $300
Next visit: 05/29/2023
Summary of our findings
| | |
| --- | --- |
| Address | 1500 QC-138 Unit C, Kahnawake, QC J0L 1B0 |
| Year opened | 2010 |
| Open hours | 24/7 |
| Membership | Not required |
| Minimum age | 19 |
| ID checks | Yes, if you appear under 30 |
| Tables | 42+ |
| Slot machines and e-tables | 600+ |
| Poker room | Yes |
| Payment | Cash, card, bank transfer |
| Slots betting range | $0.1 – $5 |
| Table games minimum bet | $1 |
| Free drinks | Yes |
| Restaurant | Yes |
| Hotel rooms | 0 |
| Events | Various shows and events, Poker tournaments |
Slots at Playground Poker Casino – 3.7/5
CasinoBonusCA experts rated Playground Poker Casino Montreal with a 3.7/5 rating for slots. Here's how we unpack our reasons.
Slots variety at Playground Poker Casino – 4/5
| Slot machine | Special feature | Provider | Minimum bet |
| --- | --- | --- | --- |
| Wonder Wizard | 10 free games feature with retriggers | Merkur Gaming | $0.2 |
| Money Heat | Bonus spins, wilds | Ainsworth | $0.2 |
| Book of Ra Deluxe 6 | 50,000 max payout | Novomatic | $0.1 |
| Lucky Lady's Charm Deluxe | 95% RTP | Novomatic | $0.1 |
How many slots are there at Playground Poker Canada?
The Electronic Gaming Space at Playground Poker includes over 600 machines in its generous 30,000 square feet area.
You get enough variety to feed your curiosity as a new player, but if you're more experienced you'll notice the limited collection compared to the 1000 average in Canada's local casinos.
Slot machine providers – 5/5
Ainsworth

Merkur

Wizard Games

Wazdan

EGT

Shufflemaster and more
The newest 2023 slots sites we recommend feature most of these software providers and usually add 20+ more to the roster for a variety of 3000+ games.
Slots tournaments and jackpots – 2/5
We could only find two slot tournaments at Playground Poker and no progressive slots. While prizes may reach low sums or as high as $25,000, these promotions are not jackpots in the classic sense.
Casinobonusca verdict on Playground slots
Playground Casino offers a decent selection of slots with some exciting features, but falls short in terms of progressive jackpots. Playing real money slots online can be a better option  especially if you're an experienced player looking for particular jackpots like Mega Moolah or Wheel of Fortune.
Table Games at Playground Poker Casino – 4/5
We lowered Playground's rating because it misses important game tables like blackjack and roulette.
Live tables available – 3/5
No Limit Hold'em

Pot Limit Omaha

Other poker games
While Playground Casino is renowned nationally for its poker tables, it doesn't have any gaming tables like blackjack or roulette. It's predominantly focused on poker, with the option to play virtual table games for low stakes at one of the EGDs available.
Betting limits – 4/5
| Game | Minimum bet |
| --- | --- |
| Poker | $5/$25/$75 |
| Slots | $0.1 |
| EGD | $0.1 |
Does Playground Poker Casino have blackjack tables?
No, Playground does not have blackjack with live dealers, only electronic games.
Playground poker tournaments – 5/5
Playground's daily poker tournaments are top-notch. What makes them deserving of a 5/5 rating is the sheer variety of cash games available for intermediate and advanced poker players.
How many poker tables does Playground Montreal have?
Currently, there are 42 poker tables at the Playground.
Playground Poker rake information
You should prepare with $500 if you want to enjoy a pleasant experience. Remember to book your spot in the tournament well in advance, preferably 24 hours before the game.
What is the Bad Beat Record at Playground Poker?
The Bad Beat jackpot at Playground Poker reached a record $1,375,000 in August 2017.
Where can you find the latest Playground Poker tournament results?
Check the latest tournament results and book your spot for the next ones on the official Playgrund.ca website.
Casinobonusca verdict on table games
we were impressed with the information Playground Casino provides about all its games. While the lack of blackjack and roulette tables is a clear drawback, the operator tries to compensate the limited experience with electronic table games.
Hospitality at Playground Poker Casino – 4.2/5
Despite not being a resort in the classic sense, Playground Poker ticks all the boxes for us in terms of hospitality with free parking, free food and drinks and preferential stays in top hotels.
The staff at Playground Montreal – 5/5
We found the staff to be friendly, polite, and professional during our visit to Playground Poker. Whether we were asking for a refill or poker tips, the casino's team made us feel felt well taken care of at all times.
Restaurant & Bar – 4/5
The Rail Coal Fire Bistro has a great selection of food and the best part is that it's open 24/7.
Best dishes to grab at the Rail Coal Fire Bistro
| Breakfast | Lunch | Dinner |
| --- | --- | --- |
| Plain – $10.50 | Club sandwich – $17 | Meat lovers pizza: $19 |
| Vegetarian: $14.75 | Cajun blackened salmon – $26 | General Tao: $17 |
| Three Cheese: $14.75 | Filet Mignon – $40 | Indian Taco: $17 |
The Cash Game Menu
Salads

Burgers

French fries
Do you get free drinks and food at Playground Poker Casino?

Yes, Playground Poker serves its players free food and drinks right at $2/$5 tables or higher. We have to point out that getting free food is rare in Canada casinos. Still, poker players tend to spend a lot so free food comes naturally in this venue.
Parking – 5/5
A great benefit for poker players from Kahnawake or Quebec is that Playground Poker provides free parking and valet services 24/7.
We found the valet service efficient and convenient, but if you don't trust anyone else in your car, you can choose to park your car yourself.
Hotel & lodging – 2/5
Playground Poker does not offer on-site lodging facilities, which explains our low rating. However, we have to somehow show that they strive to keep their players happy.
If you register for a membership and play, check the preferential rates Playground provides. We got a nice room at Hotel Vogue, but you can choose the Fairfield Inn & Suites if you like it better.
Security – 5/5
The security measures provided make you feel safe and comfortable enough while enjoying your time playing poker. Remember! Don't try to cheat, as there are CCTV cameras and attentive watchmen everywhere.
Design & Attractions – 3/5
Playing at the Playground is enhanced by the modern design, but the venue is not the greatest entertainment hub for events outside poker.
Inside Playground Poker Casino
The place was clean and tidy during our visit, and we already pointed out how well-treated we felt throughout. However, the casino's looks are not that spectacular. There are no outstanding architectural features, but the venue provides plenty of room and amenities for its target audience.
Can you take photos at Playground Poker?
Yes, you are allowed to take photos as long as you don't impinge on other players' privacy. This applies to famous poker players as well.
Events – 2/5
Poker tournaments are the only type of events held at the Playground Casino. Normally, we would not consider this enough for a 2/5 rating, but we're talking about poker tournaments of global notoriety.
Attractions outside Playground casino
Robbie's Smokehouse & Burger Bar – top alternative to the Rail Coal Fire Bistro;

Lachine Fur Trade Museum – if you want to learn more about the local fur trade;

Maison LePailleur – fascinating art gallery.
The casino is situated in the small town of Kahnawake, and it's arguably the greatest attraction here. The town becomes most vibrant when worldwide tournaments are held at the Playground.
Playground Rewards Loyalty Club – 4/5
The loyalty program at Playground is attractive in terms of benefits. There are actually two separate programs for slots/electronic machines and poker.
Playground Rewards benefits – 4/5
| Benefits for poker players | Silver | Gold | Red | Black |
| --- | --- | --- | --- | --- |
| Free food at all cash games | Yes | Yes | Yes | Yes |
| Free drinks at cash games and tournaments | Yes | Yes | Yes | Yes |
| Earn Status points while playing | Yes | Yes | Yes | Yes |
| Restaurant discounts during tournaments | Yes | Yes | Yes | Yes |
| Dedicated host | No | No | No | Yes |
Playground Rewards program value analysis

We found it strange that the benefits coincide across all tiers except Black. Players in this tier get a dedicated host, but it's unclear why you would want to advance through the program only for that.
What you get if you play EGDs
Free drinks

Redeem points for EGD promotions

Redeem points for merch

Exclusive promos (Gold and up)

Redeem points for EGD free play (Gold and up)

Better point earning rates (Red and up)

Free premium drinks (Black only)
Rewards program earning rate – 4/5
EGD earning rate
You earn 1 point for every $1 gambled on electronic gaming machines and slots.
Poker earning rate
300/points per hour for $1/$1 to $1/$3 stakes;

500/points per hour for $2/$2 to $5/$5 stakes;

700/points per hour for $10/$20 to $5/$10 PLO stakes.
Overall, the earning rate is excellent for poker games, but not so great for EGDs when you consider how much you have to gamble to advance to the next tier.
Casino Rules – 5/5
Our experts found nothing unruly about Playground Poker's Terms and Conditions. The venue is licensed by the Kahnawake Gaming Commission, which makes it a trustworthy and reliable choice.
Playground Poker Casino schedule – 5/5
Playground Poker is open 24/7, hosting at least one or two poker tournaments daily.
Do you need a passport to go to Playground Poker Casino?
Yes, a passport or any other photographic ID might be required to confirm your identity and participate in the games.
Do you have to pay for entry?
No, entry is free at Playground Poker.
Are all the poker tables reservation-only?
No, but all tables might get reserved. If you want to make a reservation, make sure you do it 24 hours in advance.
Membership – 5/5
Go to the Player Rewards center to register if you're going to play slots.

If you're here for poker cash games, head over to the Player Services desk.

You'll find the counter on your left as you walk in.

Ensure you have at least 2 photo ID documents.

Complete the registration form accurately and you'll be good to go.

Now, head over to the cashier to get some chips and start playing!
Playground Poker dress code – 5/5
This venue is home to the world's biggest poker tournaments. Participating players can be very eccentric people. One player at a table we played was wearing a purple top hat with a feather sticking on it and striped pants that were not in the least elegant.
Verdict on the rules
The casino is subject to the Kahnawake Gaming Commission and our expert analysis shows it successfully keeps its regulations. Staff members won't seem very strict, but you shouldn't try to cheat in any way.
If you want to get in-depth on the rules of playing at a licensed poker table, we recommend visiting the licenser's website.
Playground Poker Player Reviews – 4.3/5
The rating is the average of the Google reviews and Tripadvisor rating.
Google reviews rating – 4.6/5
Over 2100 users contributed to the 4.6/5 rating. Our analysis of their reviews shows most players to be happy with the rake price and friendly serving.
Tripadvisor reviews rating – 4/5
The rating on Tripadvisor is not so reliable with only 20 user reviews, however it is not so far from the truth.
Possible issues
Bully staffpeople (unconfirmed)

Food not actually free (confirmed for non-players)

Poor room rates (confirmed)
Integrity – 5/5
We rate Playground's integrity with maximum points because it's operated by the Mohawk Council of Kahnawake.
Playground Poker Casino Operator – 5/5
The Mohawk Council of Kahnawake is the operator and de facto owner of the Playground Casino.
The operator is reliable because it holds a Kahnawake Gaming License, which enforces strict adherence to rules in poker rooms. Remember that Kahnawake has been pioneering online gaming since 1999 through its own casino license.
Who is the CEO of Playground Poker?
Mackenzie Kirby is the current CEO of the Playground.
Playground Poker casino transparency – 5/5
Our experts rate with 5/5 for transparent Terms and straightforward poker tournament info etc add more
Is Playground Poker a legal casino?
Yes, it is a legal casino according to the Kahnawake Gaming Legislation.
Contact methods – 5/5
| | |
| --- | --- |
| Website | https://www.playground.ca/ |
| Email address | |
| Telephone number | +1-450-635-7653 |
| Telephone 2 | +1-855-MTL-POKER |
| Telephone 3 | +1-855-685-7653 |
Playground Poker Casino Versus Competition
Our experts compare the available features with best alternatives nearby in case you're not satisfied with what you get at Playground Poker.
Playground Poker Casino vs Casino de Mont-Tremblant
Playground Poker has no other gaming tables besides poker, while Casino de Mont-Tremblant is an all-inclusive venue.

The Kahnawake poker venue is situated in an urban setting, while Casino de Mont-Tremblant features high-altitude mountain scenes.

Both offer preferential hotel room rates, but no rooms inside.
Casino de Mont-Tremblant provides a completely different experience
If you seek an escape from the urban, Casino de Mont-Tremblant is ideal with beautiful views and a rich nightlife that feels like fresh air. The venue provides more diverse gaming options, with blackjack or roulette tables, plus additional entertainment options around-the-clock that are worth considering.
Playground Poker Casino vs Casino de Montreal
Casino de Montreal is one of the largest and most inclusive gaming venues in Canada;

Playground has 42 poker tables, few when compared with the Montreal Casino which hosts 115 variety game tables and a 26-table poker room.
Montreal Casino is the best alternative for slots and blackjack
If you're looking for a grandiose casino with a capacity of up to 4,000 people and thousands of slots and tables to play, you should opt for the Montreal Casino. The venue rests in a historic building on the Notre Dame island, adding to the mystery of one the chief gambling options in Quebec.
What is the Best Feature of Playground Poker?
Without a doubt, the venue formerly known as the Poker Palace remains the best poker hotspot for players in all North America. Stil, its newly-added electronic casino tables and slots make it an all-round gambling destination.
Pros and Cons
Pros
Rewarding membership

The best local and international poker tournaments

Relatively low buy-ins

Preferential rates to high-quality hotels

Free parking

Free food and drinks for players
Cons
Relatively small casino

400 electronic machines to play are few

No table games

No hotel rooms
Is Playground Poker Casino Your Best Place to Play?
Playground Casino is the ideal playground for both new and expert poker players. However, if you're a beginner, we recommend practicing your poker strategies in Canadian online casinos first, because you get to play with lower stakes.