Casino de Mont-Tremblant Review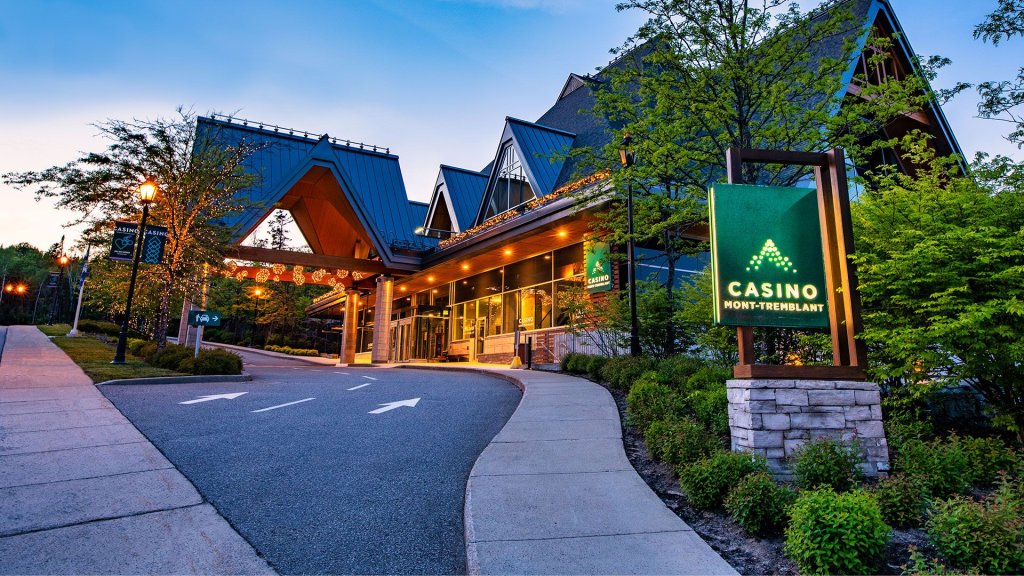 With a major labour dispute between casinos and their staff that has significantly neutered casinos across Quebec, it is a good idea to do your due diligence and read our expert-driven review of Casino de Mont-Tremblant.
Read on as we reveal what you can and can't do at this popular Quebec casino and identify the special perks of the thrilling VIP program.
Casino de Mont-Tremblant Ratings
| | |
| --- | --- |
| Overall Rating | 3.9/5 |
| Slot Machines | 5/5 |
| Casino Games | 3/5 |
| Staff & Service | 2/5 |
| Loyalty & Rewards | 5/5 |
| Casino Atmosphere | 4/5 |
| House Rules (T&Cs) | 3.5/5 |
| Player Feedback | 3.7/5 |
| Operator | 5/5 |
Table of Contents
Rating and Review Process for Casino de Mont-Tremblant
We don't think it's good enough to just do a basic level of research and call it a review. Rather we use the specialized review system developed by our experts that allows us to properly analyze every corner of a casino facility.
We can see a casino from the perspective of both an experienced gambler and a complete novice. Additionally, we actually visited Casino de Mont-Tremblant rather than just read about it online. This allowed us to test numerous slots, have a drink in the bar, and chat with staff members.
How we inspected Casino de Mont-Tremblant
Date of visit: 07/29/2023
Time of visit: 8 PM – 12 AM
Initial bankroll: C$100
What we played: Slots
Final bankroll: C$155
Next visit: 07/26/2024
What we looked at
With so much going on in Quebec affecting the casino industry we wanted to make sure our review covered every base. Not only did we test which games are available to play, but we also determined which musical events were going ahead, how the atmosphere feels, and confirmed where you can grab a drink and some food between sessions.
What we found
Address

300, Chemin des Pléiades

Mont-Tremblant, QC J8E 0A7

Open hours

Thurs – Sunday: 2 PM – 12 AM

Membership

Not required

Minimum age

18

ID checks

Yes

Game types

Slots, table, poker

Tables

13 – temporarily closed.

Slot machines

425

Gaming terminals

16

Payment

Cash, Card, Chips

Average betting range

Slots: C$0.01+

Table games: C$5+

Free drinks (Canada)

No

Restaurant

Yes

Hotel

No
Slot Machines – 5/5
With hundreds of slot machines from a vast array of experienced machine providers, Casino de Mont-Tremblant has plenty to offer. Boasting both high limit and penny slots, these machines are accessible to all experience levels.
Slots we played at Casino de Mont-Tremblant
We made a beeline for a row of The Cheshire Cat slots since we knew about the Bonus Guarantee feature that pays out a minimum of 10x the stake when the free spins can't be retriggered.
Next, we went on the hunt for some summer slots but ended up on Blazing 777 2x3x5 because we loved that it still featured an old-school physical lever. After a few more of our favourite slots, we looked for something new to end on and played Hexbreak3r which featured both free games and a progressive jackpot.
How many slot machines does Casino de Mont-Tremblant have?
Casino de Mont-Tremblant currently offers 425 advanced slot machines which include very affordable C$0.01 machines and a variety of local and network progressive jackpot slots.
Do the slot machines accept coins?
No, the slot machines only accept cash, tickets, and free-play credits from the VIP program.
Slot machine providers
Konami

IGT

WMS

Aristocrat
Local progressive jackpots
There are progressive jackpots around every corner at Casino de Mont-Tremblant.
The Power Bucks jackpot passed C$1 million during our visit. We also saw loads of local progressive jackpots including Lightning Dragon – Thunder Festival and Dragon and Panda – Fu Dai Lian Lian.
Casino Games – 3/5
Casino de Mont-Tremblant missed out on a higher ranking simply because of the labour dispute. The gaming tables were closed during our visit and we were disappointedly informed that the tables would remain closed until the dispute is resolved.
Game types
Roulette

Blackjack

Poker

Baccarat
Betting limits
While we couldn't play table games during our visit we spoke to some staff members who informed us that the bet limits varied between the games. We confirmed that the minimum bet requirements ranged from C$5 to C$20. Unfortunately, we could not confirm the maximum bet limits.
Can anyone bet the highest limits or do you need special VIP access?
No. If you can afford the maximum bet, Casino de Mont-Tremblant is happy for you to play.
Staff & Service – 2/5
While Casino de Mont-Tremblant does offer a restaurant and bar, they have both been affected by the ongoing labour disputes. Parking is free at the casino and a free shuttle service removes the need to drive altogether if you're staying in the nearby village. The staff were incredibly friendly during our visit.
Food & Drinks
The labour disputes have hit the casino's only restaurant. Altitude Restaurant was closed during our visit, and we confirmed that the restaurant will remain closed until the labour disputes are resolved. Bar Central is still open and offers a selection of tapas and fast-food options. However, when we chose to eat at 9 PM, the kitchen was closed.
Altitude Restaurant
Bar Central
Kitchen open between 4 PM and 9 PM
How much do you tip at Casino de Mont-Tremblant?
There is no set rule but 15 to 20% is commonplace in Mont-Tremblant.
Does Casino de Mont-Tremblant offer free drinks?
No, unlike many other casinos in Quebec, Casino de Mont-Tremblant does not offer complimentary drinks to players at the tables or playing slot machines.
Is there a buffet at Casino de Mont-Tremblant?
No, in fact, there are very few food options at this time.
Parking
There is a free outdoor parking lot located outside the casino and it does not offer any valet services. Additionally, Casio de Mont-Tremblant provides a free shuttle service that runs between the casino and the pedestrian village which includes stops at the P2, P3, and P4 parking lots.
Accommodation
Casino de Mont-Tremblant does not offer any accommodation but there are numerous options close by. Almost next door is the Etolie du Martin apartment complex and it is just a 20-minute walk down Chemin Duplessis to find an abundance of hotels and condo rentals.
Are there smoking areas?
You can't smoke anywhere inside the casino or the terraces, and there are no longer designated outdoor smoking areas. Players must go outside the facility to smoke.
Security
Security personnel are clearly posted both outside and inside the premises while CC-TV cameras can be found in just about every corner. The surveillance systems are very advanced but they never catch your gaze when playing at the tables.
Loyalty & Rewards – 5/5
It only takes a few minutes to sign up for Casino Privilèges and it is entirely free too. New players are treated to several bet credit bonuses and there is a vast range of perks to claim as you move up the membership levels. You will also earn points for playing games which can then be redeemed for cash.
How does the Casino de Mont-Tremblant rewards program work?
Privilèges Points are earned as you play slots, table games, and make restaurant purchases.
For every 300 Privilèges Points earned, you'll receive C$1. Points are calculated at 1 point per C$1 spent on slots, a calculation of time and bet spend on table games, and five points for every C$1 spent at the restaurant.
You can increase your membership ranking by racking up points which can lead to earning points at an even faster rate.
What you get
C$15 new player bet credit bonus

Earn points towards cash prizes

Personalized and exclusive offers
How to register for Casino Privilèges
Head to the Casino Privilèges counter at Casino de Mont-Tremblant

Provide your government-issued ID and fill out the short forms

Receive your new personal identification number
Casino Atmosphere – 4/5
With a classy, high-end designed interior set against the utterly stunning backdrop of Mont-Tremblant, this casino feels like no other in Quebec. We detail the extraordinary aesthetic and setting of this casino nestled deep within the mountains.
Inside Casino de Mont-Tremblant
While it's the chalet exterior and fairytale setting that provides the majority of Casino de Mont-Tremblant's visual appeal, the interior shouldn't be ignored. The golden colour schemes ooze premium and the diverse and exotic art adorning the walls of the table gaming section certainly adds an essence of VIP to the casino experience.
Design experience
Most players will walk away remembering Casino de Mont-Tremblant. The exquisite design and quality materials ensure this is not your run-of-the-mill casino. Our experience was luxurious despite not being able to play any table games as it was clear to see what the table gaming area would have felt like on a busy Saturday night.
Are you allowed to take photos in Casino de Mont-Tremblant?
Yes, you can take photos in the casino but not while playing or watching table games.
Location and surroundings
Honestly, you couldn't get more of a picturesque setting for a small Canadian casino. The views of the mountains are truly breathtaking, and, in the winter, the casino looks particularly special when it snows. You can take a panoramic gondola for even more extreme views and Mont-Tremblant is widely considered to be one of the best skiing destinations in North America.
Do you need a passport to visit Casino de Mont-Tremblant?
The house rules state that adequate photo identification is required.
If you reside outside North America, it is usually a good idea to use your passport rather than your national driver's license or proof of age card, just in case the security team is unfamiliar with your form of ID.
Events
There are live DJ performances every Friday and Saturday night from 7 PM at Bar Central. The bar also has giant screens for watching big sporting events. Some larger events will not be going ahead due to the labour disputes.
House Rules (T&Cs) – 3.5/5
The house rules at Casino de Mont-Tremblant are very clear and very accessible from the casino homepage. Staff shortages due to the ongoing labour strike have substantially limited the casino's schedule. You can take photos just about anywhere in the casino except at the table games.
When is Casino de Mont-Tremblant open?
Casino de Mont-Tremblant has been forced to severely shorten its opening hours due to an ongoing labour dispute which saw 1,700 casino employees across multiple facilities walk off the job in an attempt to win a wage increase. Therefore, the casino is only open between Thursday and Sunday from 2 PM to midnight.
Does Casino de Mont-Tremblant charge entry?
No, it is free to enter Casino de Mont-Tremblant.
Do you always need a reservation to play at Casino de Mont-Tremblant?
You do not need a reservation to play. Just turn up and enjoy.
Is membership required at Casino de Mont-Tremblant?
Not at all. Anyone aged 18 or older can enter Casino de Mont-Tremblant so long as they can provide some form of acceptable photo ID.
Dress code
The dress code states "appropriate attire" which simply means smart-casual or better. You can't wear anything offensive, violent, or gang-related and you may get turned away if you're too dressed down – think men's sandals and sleeveless tops. Dress like you're going out for a nice dinner and you'll be fine.
Standout rules at Casino de Mont-Tremblant
You can leave gaming tables with your chips

Security will check the IDs of anyone looking under 25 years of age

The Casino will exchange USD and EURO for Canadian Dollars
Player Feedback – 3.7/5
Casino de Mont-Tremblant has received more than 3,000 combined reviews on TripAdvisor and Google.
With most customers incredibly pleased with their visits, the casino is well regarded and the reviewers' comments are consistent across both platforms.
Casino de Mont-Tremblant player reviews
Google – 4.0/5
The friendly staff are highly regarded but Google reviewers have also complained about how much the labor disputes have affected the casino's services and products.
Tripadvisor – 3.5/5
Tripadvisor users consistently praised the friendliness of the casino staff and were big fans of the Altitude restaurant. However, several did note that the gaming tables can be far too busy, and it can be difficult to find a seat.
Most common issues
Few table games leading to long waits

Frustration with the fallout from labour disputes
Operator – 5/5
Loto-Québec has been around since 1969 and has launched many famous casino facilities including Casino de Montréal. The company has a strategic organizational structure and has contributed more than C$581 million to the GDP of Québec
Who owns Casino de Mont-Tremblant?
Casino de Mont-Tremblant is owned and operated by Loto-Québec. As a crown corporation, Loto-Québec is owned by the province of Québec and also operates the province's lottery.
Other casinos by the same operator
Contact info
| | |
| --- | --- |
| Website | https://casinos.lotoquebec.com/en/monttremblant/home |
| Email address | |
| Telephone number | 819-429-4150 |
| Other | Facebook, Instagram, YouTube |
Casino de Mont-Tremblant Competitors
There isn't any competition in Mont-Tremblant but there is extensive stiff competition across Québec with renowned casinos in Montréal, La Malbaie, and Trois-Rivières.
Casino de Mont-Tremblant vs Casino de Montréal
The Casino de Mont-Tremblant looks tiny when compared to Casino de Montréal which is still the largest casino in Canada. Casino de Montréal also boasts more than 3,200 slots and over 100 gaming tables.
Casino de Montréal is best for diverse table gaming
You can enjoy a greater variety of table games at Casino de Montréal than at most other Canadian casinos with four different poker games and four variations of blackjack.
Casino de Mont-Tremblant vs Casino du Lac-Leamy
Located about 70 miles from Mont-Tremblant, Casino du Lac-Leamy is the closest competition after Casino Montreal. This casino provides a gorgeous Hilton hotel to stay overnight in with suites and some seriously premium guest services.
Casino du Lac-Leamy is the best alternative for staying overnight
Rather than heading back into the village like you would have to at Casino de Mont-Tremblant, players at Casino du Lac-Leamy can stay in the Hilton hotel which provides fast access to the casino floor.
What sets Casino de Mont-Tremblant apart from its competitors?
Nothing compares to entering a gorgeous chalet in the mountains to play some of your favourite casino games. The number of games is strong while certainly not the largest or most diverse, but the look and feel is what sets the casino experience apart at Casino de Mont-Tremblant from any other casino in Quebec.
Casino de Mont-Tremblant Pros and Cons
Pros
Numerous progressive jackpot slot games

Incredibly unique locale and setting

Rewards program boasts cash prizes
Cons
Currently severely hindered by a labour dispute
Should You Go All-In at Casino de Mont-Tremblant?
Yes, but not right now. Casino de Mont-Tremblant is a casino experience like no other owing to its amazing setting and fantastic design. However, the ongoing labour shortage has impacted what this casino can offer and that has included closing all table games, opening only a few days a week, and closing the only proper restaurant.
Wait a few months to see if these issues are resolved and then visit in the winter. This is when the casino truly sets a mood, and you'll likely have a casino experience that will be truly memorable.