Dakota Dunes Casino Review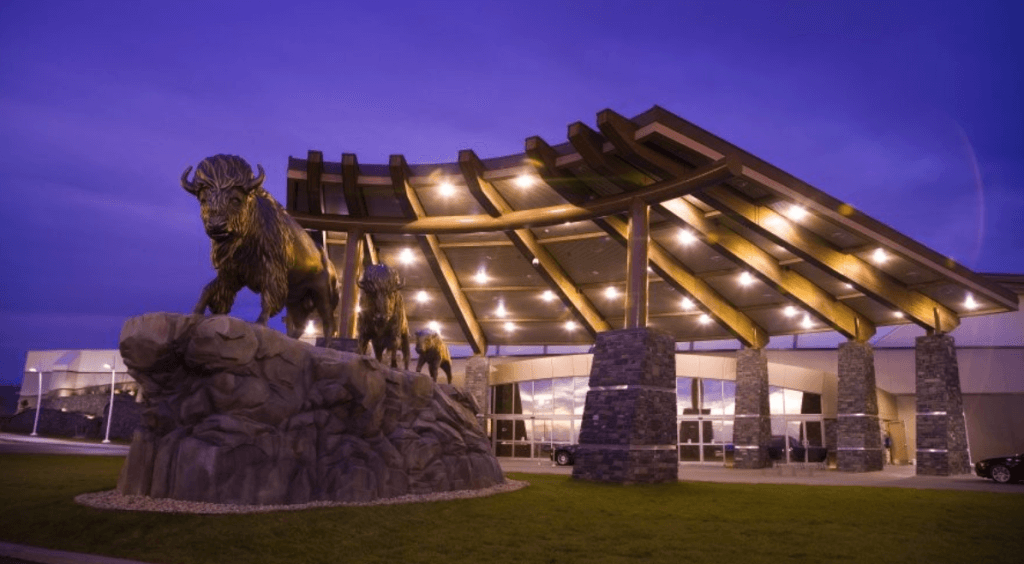 Located atop the hills of Whitecap on a rather unassuming road, you could be forgiven for driving right past Dakota Dunes Casino. However, our expert-driven review reveals that this Saskatchewan casino is certainly worth a stop.
Read on as we reveal the full extent of the gaming offering, show you how to get free-play with a rewards card, and learn more about the full entertainment and casino experience at Dakota Dunes Casino.
Dakota Dunes Casino Ratings
| Overall Rating | 4.2/5 |
| --- | --- |
| Slot Machines | 5/5 |
| Casino Games | 3.5/5 |
| Staff & Service | 5/5 |
| Loyalty & Rewards | 5/5 |
| Casino Atmosphere | 3/5 |
| House Rules (T&Cs) | 4/5 |
| Player Feedback | 3.8/5 |
| Operator | 5/5 |
Table of Contents
Rating and Review Process for Dakota Dunes Casino
Our experts are comprised of people who have collectively worked across just about every job the casino industry requires. This makes our team uniquely qualified to provide insights that other reviewers can't and reveal features of a casino that others would miss.
We visited Dakota Dunes Casino to ensure our review and rating are based on firsthand experience and not just a quick search on Google.
How we inspected Dakota Dunes Casino
Date of visit: 11/04/2023
Time of visit: 7 PM – 1 AM
Initial bankroll: C$100
What we played: Slots, roulette
Final bankroll: C$166
Next visit: 11/24/2024
What we looked at
We considered both objective and subjective criteria to represent our findings best. This included checking the quality of the gaming offering and that certain games are present such as progressive jackpots. Important subjective considerations include the overall atmosphere and the transparency of the house rules.
What we found
Address

204 Dakota Dunes Way

Whitecap, SK, Canada

S7K 2L2

Open hours

10 AM – 4 AM daily

Membership

Not required

Minimum age

19

ID checks

Yes

Game types

Slots, table, VLT

Tables

15+

Slot machines

600+

Gaming terminals

20+

Payment

Cash, Card, Chips

Average betting range

Slots: C$0.01+

Table: C$5+

High Limit: C$25 – 25,000

VLT: C$2+

Poker buy-in fees: C$50 – C$1,000

Free drinks (Canada)

No

Restaurant

Yes

Hotel

Yes

Poker tournaments

Yes, Texas Hold'em
Slot Machines – 5/5
Dakota Dunes Casino boasts hundreds of slot machines from more than 3 different gaming providers which include a mixture of Selextion machines, standard slots, and progressive jackpot machines. The slot gaming variety includes everything from classic fantasy slots and fruit machines to modern titles with storylines.
Slots we played at Dakota Dunes Casino
We kickstarted our visit with a few spins of Rider Nation to try and win the progressive jackpot which was well over C$100K. After picking up some much smaller wins, we moved on to a Konami Selextion machine which features numerous slots in a single machine. We played China Shores, Mayan Chief, and Pharaoh's Fury.
How many slot machines does Dakota Dunes Casino have?
We confirmed more than 600 slot machines are currently active at Dakota Dunes Casino.
Do the slot machines accept coins?
No, none of the slot machines at Dakota Dunes Casino accepts coins. You can use cash notes or free play with a Players Rewards card.
Slot machine providers
IGT

Aristocrat Gaming

Bally

Konami
Local progressive jackpots
You'll find some common progressive jackpots like Buffalo Grand Deluxe at Dakota Dunes Casino, but also SIGA-exclusive progressive jackpot slots like Smoke Signals Jackpot that boast a starting prize of C$1 million.
Casino Games – 3.5/5
Dakota Dunes Casino only offers three table games at the moment, but you can play a few more using the Circuit VLT machines. The casino also features a dedicated poker and high-limit room.
Game types
Roulette (VLT only)

Blackjack

Poker

Craps (VLT only)

Baccarat
Betting limits
Table limits will vary from table to table and depend on the game. We noted a blackjack table that had a low bet of C$5 but the high-limit baccarat games feature limits of C$25 to C$25,000.
Can anyone bet the highest limits or you need special VIP access?
Yes, there is no restriction on who can bet the table limits. Dakota Dunes Casino has a dedicated high-limit room that is open from 12 PM.
Dakota Dunes Casino poker tournaments
The poker room is open every day from 5 PM and you can just sit in on any game that has a free seat.
Buy-in's for C$1-2 games are usually between C$50 and C$400, while the buy in's for C$2-4 games are between C$200 and C$1,000
Additionally, Texas Hold'em tournaments are held too. Unfortunately, none were available during our visit, so we couldn't get any concrete details on buy-in fees, but a few locals reliably informed us that a C$120 entry fee is usually charged.
Staff & Service – 5/5
Food & Drinks
You'll find several dining and drinking options at Dakota Dunes Casino. Sevens Sports Bar offers a typical casino menu with moderately priced sandwiches, burgers, salads, and appetizers. There is also a range of frozen cocktails too.
Kookum's Kitchen is a slightly expensive chicken restaurant serving wedges, sides, and various buckets of chicken. Additionally, the Deli & Bar serves up snacks and alcohol while a convenient Tim Hortons is great for pastry snacks and coffee.
Sevens Sports Bar
Kookum's Kitchen
Deli & Bar
Tim Hortons
Mon – Wed: 10 AM – 11 PM

Thurs: 10 AM – 2 AM

Fri and Sat: 7 AM – 2 AM

Sun: 7 am – 11 PM
How much do you tip at Dakota Dunes Casino?
The standard tip in Saskatchewan is between 15 and 20%.
Does Dakota Dunes Casino offer free drinks?
Dakota Dunes Casino does not provide free drinks for customers at the tables but there is a waiting service.
Is there a buffet at Dakota Dunes Casino?
Dakota Dunes Casino does not offer a buffet at this time.
Parking
Free parking is located outside and there are enough spaces for hundreds of vehicles. There are even RV parking spaces that can be registered ahead of time where you can stay for 14 days.
Accommodation
Located next door is the Dakota Dunes Resort which has 155 rooms and suites. The rooms are expensive, averaging around C$150 in the winter but you do get a golf course, dining options, a rooftop pool, and plenty of opportunities to witness how this casino reflects its First Nations community.
Do you tip room service at Dakota Dunes Casino?
Dakota Dunes Resort does not offer room service.
Are there smoking areas?
You'll find an outdoor smoking area by the entrance to Dakota Dunes Resort and there is a dedicated smoking room inside Dakota Dunes Casino.
Security
The security team checked our IDs despite looking well over 25 which is a great sign.
CCTV cameras a located in most corners of the casino and a security guard can easily see multiple angles of most areas from a single point.
Loyalty & Rewards – 5/5
How does the Dakota Dunes Casino rewards program work?
The Players Club rewards card provides access to a rewards program that can also be used at any other SIGA casino. You earn points by playing slots or VLT games with every 1,000 points earning you C$5 in free play. Additionally, the card can also be used to receive discounts on dining and events.
What you get
Free slot play

Exclusive promos

10% off entertainment & dining
How to register in the program
Head to the Player's Club desk at Dakota Dunes Casino

Request and complete a sign-up form

Provide your government-issued ID

Enjoy your new Players Club rewards card
Casino Atmosphere – 3/5
Inside Dakota Dunes Casino
We took in our surroundings, both inside and outside the casino to provide insights into the overall feel and atmosphere at Dakota Dune Casino. This included checking out the local area and examining the décor and interior design of the facility.
Design experience
Dakota Dunes Casino is modern, clean, and spacious but the décor still has a slightly dated, retro feel. The carpets and much of the design pay tribute to the Whitecap First Nations people.
Are you allowed to take photos in Dakota Dunes Casino?
You'll be able to take photos of you and your friends playing slots, enjoying a meal, or having a drink.
However, you cannot take photos when near or playing at the live gaming tables.
Location and surroundings
If you're looking for shops, bars, restaurants, and popular activities, Whitecap really isn't the place to be. Whitecap hasn't seen any developments, besides Dakota Dunes but it is only a 20-minute drive to Saskatoon. The Dakota Dunes Casino and Resort does boast a stellar view of the golf course though.
Do you need a passport to visit Dakota Dunes Casino?
A passport is just one of the acceptable forms of government-issued IDs required to prove you are 19 years of age or older.
Events
Dakota Dunes Casino is always good for a few tribute bands each month and regular comedy nights. The resort also hosts cultural experiences.
House Rules (T&Cs) – 4/5
When is Dakota Dunes Casino open?
The casino is open every day between 10 AM and 4 AM. Slot games are always available during these hours but live gaming opens at 12/5 PM depending on the day and closes at 3 AM each night.
Does Dakota Dunes Casino charge entry?
No, entry into Dakota Dunes Casino is free.
Do you always need a reservation to play at Dakota Dunes Casino?
No, you can't reserve the gaming tables or slots at Dakota Dunes Casino.
Is membership required at Dakota Dunes Casino?
No, you do not need a membership to play at Dakota Dunes Casino.
Dress code
The staff informed us that there is no strict dress code to adhere to and that customers will be fine so long as they don't wear anything offensive or gang-related. Staff did mention it is always preferential to see customers dress up a little bit.
Standout rules at Dakota Dunes Casino
We didn't find any rules that would be considered out of the ordinary or stand out.
Player Feedback – 3.8/5
Over 1,700 customers have reviewed Dakota Dune Casino on Tripadvisor and Google. The facility maintains a strong rating with many customers agreeing about the excellence of service and quality of the hotel.
Dakota Dunes Casino player reviews
Google – 4.2/5
Many Google reviewers enjoyed the overall experience which included staying at the resort next door and several other reviewers noted the excellent customer service. However, several customers did find the experience to be a little pricey.
Tripadvisor – 3.5/5
Tripadvisor reviewers also enjoyed the hotel and the quality of customer service. However, the casino was described as "serious" with a lack of music being played on the gaming floor.
Most common issues
Lack of music on the casino floor

Expensive hotel
Operator – 5/5
Who owns Dakota Dunes Casino?
Dakota Dunes Casino is owned and operated by the Saskatchewan Indian Gaming Authority (SIGA), which is a First Nation's non-profit organization.
Formed in 1995, SIGA is the oldest First Nation gaming authority in Canada, and donates all of the casino's profits to local communities such as Whitecap.
Other casinos by the same operator
Bear Claw Casino

Gold Eagle Casino

Gold Horse Casino

Painted Hand Casino
Contact info
| | |
| --- | --- |
| Website | https://www.dakotadunescasino.com/ |
| Email address | |
| Telephone number | (306)-667-6400 |
| Other | Facebook, X, Instagram, YouTube |
Dakota Dunes Casino Competitors
Dakota Dunes will always face competition from the myriad of online casinos in Canada which let you gamble from the comfort of your home. Several land-based options are within a reasonable distance of Whitecap including Gold Eagle Casino in North Battleford and Casino Regina by the SIGA headquarters in Regina.
Dakota Dunes Casino vs Gold Eagle Casino
Gold Eagle offers a similar range of games to Dakota Dunes Casino, but the opening hours are slightly shorter. However, there is no high-limit room for the high rollers. The atmosphere at The Circuit is electric though.
Gold Eagle Casino is best for a VLT gaming atmosphere
The layout, design, and dealers that run The Circuit VLT machines create an electric atmosphere that few casinos have managed to rival, according to our experts.
Dakota Dunes Casino vs Casino Regina
You can enjoy slots and table gaming at Casino Regina, but the poker tournaments have helped grow the casino's reputation. There are weekly tournaments to join. The casino plays host to great musical acts throughout the year and there are always plenty of promotions on offer.
Casino Regina is the best alternative for prizes, giveaways, and entertainment
Casino Regina offers numerous tournaments, giveaways, prize draws and contests throughout the year. Many of these will require a Players Club card but the prizes have historically been pretty exciting – such as vacations, cash, and hotel retreats.
What sets Dakota Dunes Casino apart from its competitors?
Firstly, Dakota Dunes Casino provides numerous avenues to learn about the White Cap people's history. Northern Lights has a great indigenous feel, but Dakota Dunes has far more substance when it comes to educating players about their history. Secondly, Dakota Dunes offers a high-limit room while alternatives do not.
Dakota Dunes Casino Pros and Cons
Pros
Progressive jackpots worth C$1 million or more

Great rewards system offering free play and discounts

Provides a poker room with affordable buy-ins

High rollers can enjoy a dedicated high-limit room
Cons
The casino is quite far from major towns

No live roulette or craps tables
Is Dakota Dunes Casino Worth a Bet?
With over 600 slots, numerous gaming tables, and year-round entertainment, we think Dakota Dunes Casino is worth a bet. Casual players will enjoy a genuine casino experience and there is enough entertainment to ensure Dakota Dunes is a night out, not just a casino. High rollovers can enjoy a high-limit room while poker players can enter a daily dedicated poker room.
However, the live gaming tables are limited to poker, blackjack, and baccarat. Roulette and craps are available on the VLT machines, but we can understand that serious gamers may prefer a genuine table instead.