Northern Lights Casino Review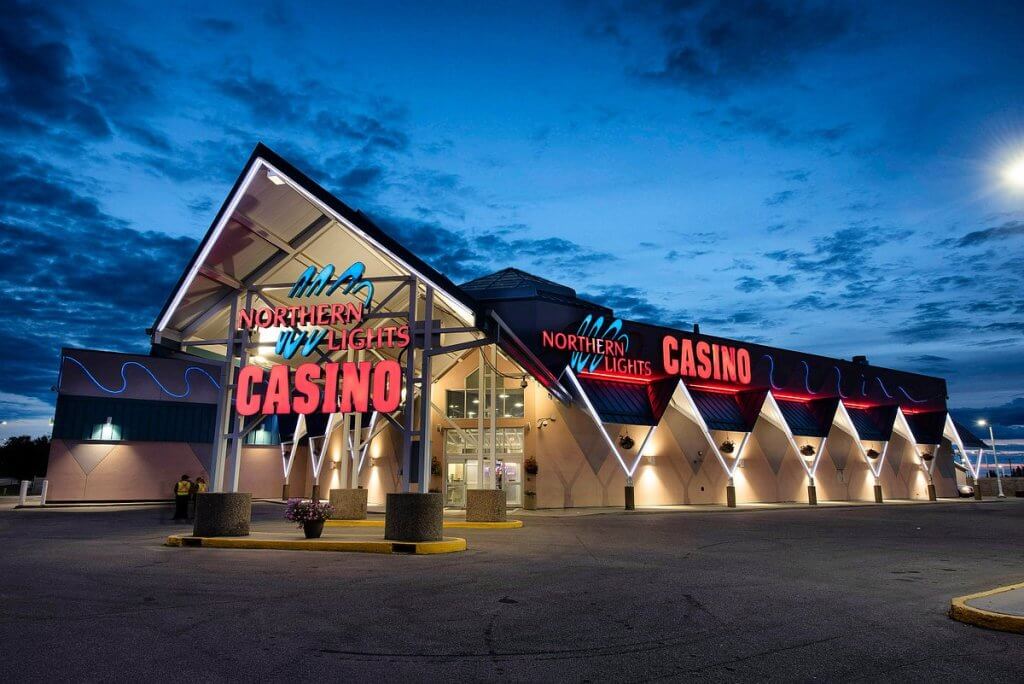 With six other SIGA casinos to contend with in Saskatchewan, we decided it was high time to see where Northern Lights Casino sits among these illustrious facilities. As one of the more First Nations themed establishments, we needed to find out if the gaming is up to par.
Read on as we reveal the massive gaming options available to you, reveal the various rewards card perks up for grabs, and provide our honest and expert-driven opinion on our first visit to Northern Lights Casino in Saskatchewan, Canada.
Northern Lights Casino Ratings
| Overall Rating | 4/5 |
| --- | --- |
| Slot Machines | 5/5 |
| Casino Games | 2.5/5 |
| Staff & Service | 4/5 |
| Loyalty & Rewards | 5/5 |
| Casino Atmosphere | 3.5/5 |
| House Rules (T&Cs) | 4/5 |
| Player Feedback | 3.7/5 |
| Operator | 5/5 |
Table of Contents
Rating and Review Process for Northern Lights Casino
Our rating and review system has been developed by our team of expert reviewers with a collective casino experience spanning decades. A major factor in our system is that we will always visit every land-based casino that we test, analyze, and review.
This is why we provide details and insights that other reviews cannot. For example, we can rate the atmosphere and quality of service because we interacted with the staff at Northern Lights Casino and spent time on the casino floor.
How we inspected Northern Lights Casino
Date of visit: 10/21/2023
Time of visit: 7 PM – 1 AM
Initial bankroll: C$100
What we played: VLT roulette, slots, blackjack
Final bankroll: C$184
Next visit: 10/30/2023
What we looked at
Our rating is based on numerous factors. We consider highly objective factors such as the gaming variety, types of games, and the presence of progressive jackpots. However, we also base our rating on more subjective factors including the overall atmosphere, the locale, and the house rules.
What we found
Address

44 Marquis Road, Prince Albert SK, S6V 7Y5

Open hours

9 AM – 4 AM

Membership

Not required

Minimum age

19

ID checks

Yes

Game types

Slots, live tables, VLT

Tables

5

Slot machines

590+

Gaming terminals

The Circuit

Payment

Cash, Card, Chips

Average betting range

Slots: C$0.01 – 100

Tables: C$2.00 – 300

Free drinks (Canada)

No

Restaurant

Yes

Hotel

No
Slot Machines – 5/5
Boasting hundreds of slot games from numerous game providers – which includes massive progressive jackpot slots – Northern Lights Casino more than holds its own in the competitive Saskatchewan casino market.
Slots we played at Northern Lights Casino
We got started by playing Jinse Dao as we were immediately attracted to some fantastic colours and animations. Naturally, we took a stab at the millions playing Smoke Signals Jackpot but were unsuccessful. After a few different fantasy-themed slots, we finished up on Crown Egypt for our Egyptian slot fix.
How many slot machines does Northern Lights Casino have?
Northern Lights Casino has around 600 slot machines that can be played in denominations ranging from 0.01 to 1.00. The Smoking Room houses around 200 machines.
Do slot machines accept coins?
No, Northern Lights Casino's slot machines only accept cash notes and rewards card.
Slot machine providers
Local progressive jackpots
We found loads of progressive jackpot slots that include the Smoke Signals Jackpot which is exclusive to SIGA casinos and starts at a massive C$1 million. A lot of players during our visit were attempting to win the C$50K+ jackpot on Rider Nation.
Casino Games – 2.5/5
Northern Lights Casino doesn't offer much in the way of table gaming. There are only poker and blackjack live tables while roulette players need to play a VLT machine, which is found in a section of the casino called The Circuit.
Game types
Roulette
Blackjack
VLT machines: Blackjack, roulette, poker
Betting limits
VLT machines start at a reasonably low C$2.00. While live tables range from C$5 to C$15 minimum bets. The table limits are capped at either C$100 or C$300.
Can anyone bet the highest limits or you need special VIP access?
Yes, the table limits are accessible to any player.
Staff & Service – 4/5
Food & Drinks
There are three dining options at Northern Lights Casino. Northstar Restaurant is a typical casino eatery with a mix of snacks, proper mains, and a small selection of beers and wines.
Prices are reasonable with a huge burger costing C$18 and a steak is the only item over C$20 at the time of writing.
Kookum's Kitchen serves chicken, wedges, and a few sides like Bannock and potato salad. The food is a little pricey with 2 pieces of chicken costing C$8.50 and a 10-piece order setting you back a hefty C$39. The Deli & Bar serves plenty of different drinks and fun snacks like Jello, Pies, and Hot Dogs.
Northstar Restaurant
Sun – Wed: 9 AM – 8 PM

Thurs – Sat: 9 AM – 9 PM
Northstar Restaurant Buffet
Kookum's Kitchen
Deli & Bar
How much do you tip at Northern Lights Casino?
10% is a minimum but 15 – 20% is typical.
Does Northern Lights Casino offer free drinks?
No, complimentary drinks are not provided by the casino when playing table games or slots.
Is there a buffet at Northern Lights Casino?
Yes, Northstar Restaurant also holds an affordable buffet between Thursday and Saturday that only costs C$24 per person. The buffet is available between 5 PM and 8 PM.
Parking
There are loads of free parking spots located in front of the casino. We counted hundreds of spaces and a nearby overflow has even more. Northern Lights offers RV parking permits too which are valid for a three-day visit – these can also be extended.
Accommodation
Northern Lights Casino doesn't have a hotel but there is a Holiday Inn Express next door. It's a 2-star hotel and will cost around about C$90 a night. The rooms are modern, and you can grab a complimentary breakfast.
Are there smoking areas?
Yes, you can smoke outdoors or head into the Smoking Room which happens to be the home of hundreds of slot games too.
Security
Security was as expected from a reputable SIGA casino.
We were asked for ID upon entry, and the casino floor had CC-TV in the corners of the rooms, and we certainly felt safe throughout our visit.
Loyalty & Rewards – 5/5
How does the Northern Lights Casino rewards program work?
The Players Club rewards card is free and lets you earn points that can be redeemed for free play at the casino. For every 1,000 points earned, you'll get C$5 in free play. This card will also be valid at any other casino operated by the Saskatchewan Indian Gaming Authority.
What you get
Free slot play

Member-only promos

10% off entertainment

10% off dining
How to register in the program
Go to the Player's Club desk at Northern Lights Casino

Ask to sign up for a players reward card

Fill out a registration form and provide your ID

Receive your Players Club rewards card
Casino Atmosphere – 3.5/5
Inside Northern Lights Casino
Northern Lights has a distinctive theme and goes above and beyond to pay tribute to the casino's tribal roots.
Design experience
Northern Lights Casino is native-themed with loads of timber, several teepees, walls that appear like the Saskatchewan wilderness, and even the dining areas incorporate old-world designs that mimic tribal buildings.
Are you allowed to take photos in Northern Lights Casino?
You'll be able to take photos of your dining experience and when you're attending a concert, but you can't take photos at the live tables.
Location and surroundings
The North Saskatchewan River is only a 5-minute drive north of the casino and the river is quite pretty in the winter. You can also find several gorgeous golf courses and a few amenities here and there. However, there isn't much else to see or do and the immediate area is mostly made up of car dealerships and auto shops.
Do you need a passport to visit Northern Lights Casino?
No, you do not. Any form of government-issued ID will be acceptable. If you are travelling from abroad, it might be a good idea to use your passport if you think the authenticity of your national ID will be difficult to confirm.
Events
Northern Lights Casino has a renowned concert hall that has played host to some big-name acts including international comedy star Gabriel Iglesias, Australian singer-songwriter Colin Hay, hair metal icons Warrant and Winger, and a variety of hip hop, country, and hard rock bands.
House Rules (T&Cs) – 4/5
When is Northern Lights Casino open?
Northern Lights Casino is open every day between 9 AM and 4 AM.
Does Northern Lights Casino charge entry?
No, entry into the casino is free.
Do you always need a reservation to play at Northern Lights Casino?
No, you can just turn up and play.
Is membership required at Northern Lights Casino?
No, there is no membership at Northern Lights Casino, other than the rewards card. You don't need to have a rewards card to play.
Dress code
Northern Lights Casino does not have a set dress code and the acceptance of attire is pretty casual. You can get away with a T-shirt, shorts, jeans, and open-toed shoes. Naturally, you must avoid any attire that may be deemed offensive, violent, illegal, or gang related.
Standout rules at Northern Lights Casino
We couldn't find any strange or noteworthy rules at this casino.
Player Feedback – 3.7/5
There are more than 1,100 reviews of Northern Lights Casino across Tripadvisor and Google.
Reviews are very strong and focus mostly on customer service and dining experiences.
Northern Lights Casino player reviews
Google – 4/5
Several new casino players found the staff to be incredibly helpful and the buffet appears to be a hit. Most of the poor reviews were from around five years ago and frankly were no longer relevant.
Tripadvisor – 3.5/5
Once again, many customers were pleased with the level of service and most buffet experiences were positive. However, some felt the casino was a little small and slot-centric.
Most common issues
High slot-to-table game ratio
Operator – 5/5
Who owns Northern Lights Casino?
The casino is owned and operated by the Saskatchewan Indian Gaming Authority (SIGA). SIGA is entirely non-profit and donates 100% of the profits of its casinos back into the Saskatchewan community. The authority is highly reputable and SIGA has been incorporated as a non-profit under the Non-Profit Corporation Act 1995 and has been around since 1995.
Other casinos by the same operator
Bear Claw Casino

Gold Eagle Casino

Gold Horse Casino

Painted Hand Casino
Contact info
| | |
| --- | --- |
| Website | www.northernlightscasino.ca |
| Email address | |
| Telephone number | +1 (306) 764-4777 |
| Other | Facebook, X, Instagram |
Northern Lights Casino Competitors
Firstly, Northern Lights continues to compete against online casinos in Canada. There are seven casinos in total across Saskatchewan but they're all quite well spaced apart. The two nearest casinos to Northern Lights are both over 160km away.
Northern Lights Casino vs Dakota Dunes Casino
Dakota Dunes is quite similar to Northern Lights Casino with a similar number of slots. However, Dakota Dunes Casino boasts a high-limit room which includes numerous live tables that can be reserved for private games. The casino facility will also wow you with its impressive "Teepee of Light" display.
Dakota Dunes Casino is best for playing high limit table games
This casino has a high-limit table room that includes four baccarat and two blackjack tables but a private room for EZ Baccarat and a semi-private room for blackjack and Squeeze EZ Baccarat.
Northern Lights Casino vs Gold Eagle Casino
Gold Eagle Casino opened its doors at the same time in 1996. Both casinos are also incredibly similar with largely the same games on offer. However, Gold Eagle has a more modern feel and the smaller casino floor provides a different atmosphere.
Gold Eagle Casino is the best alternative for a modern experience
The décor, the colours, the lights – everything about Gold Eagle Casino looks and feels like a modern casino. This isn't necessarily better than Northern Lights Casino, but it certainly provides an entirely different atmosphere.
What sets Northern Lights Casino apart from its competitors?
Northern Lights Casino is one of the best tribal casinos in Canada and one that still looks like a First Nations casino, rather than a modern facility. Many casinos are moving away from these traditional and themed looks. It's great to be able to play quality casino games in a unique and authentic Saskatchewan setting that truly reflects their First Nations community.
Northern Lights Casino Pros and Cons
Pros
Massive progressive jackpot prizes to be won

Has a dedicated smoking gaming area

Low minimum bets on VLT machines

Concert venue features huge big-name artists
Cons
Very few live table games to play

Minimum table bet can be C$15
Should You Visit Northern Lights Casino?
Northern Lights Casino maintains the excellent reputation of SIGA and is yet another fantastic gambling experience in Saskatchewan. However, it won't suit all players. If you're into slots, a good meal, and a casual casino experience, Northern Lights Casino has everything you'll ever need.
However, if you're a serious table gaming player, a high roller, or just want to push the table limits, Northern Lights Casino is unlikely to satisfy. With that being said, the poker and blackjack tables are still exciting and the atmosphere on the casino floor is always stellar.