Elements Casino Victoria Review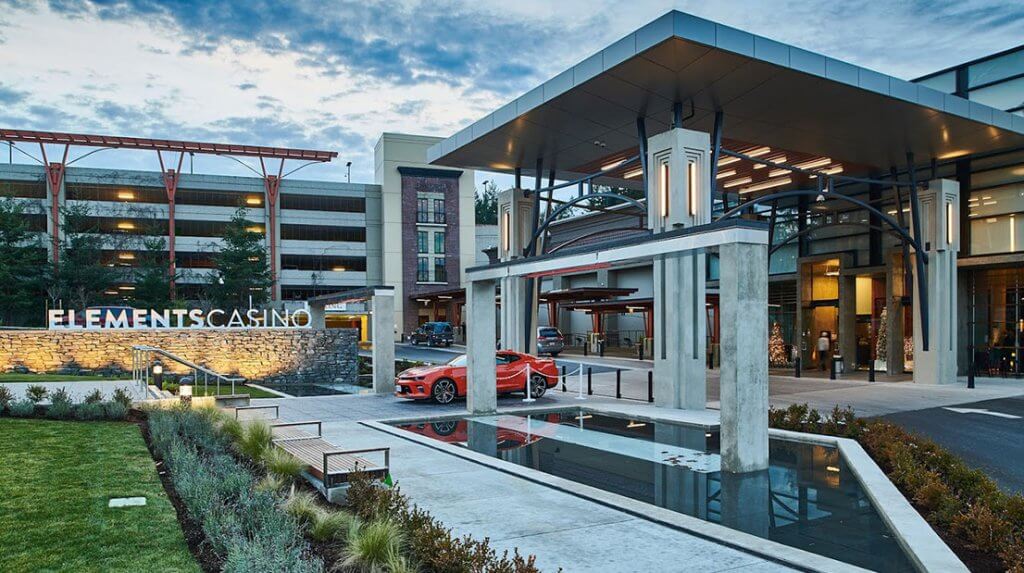 Whether you dream about the perfect poker hand or just like a casual flutter on the slots, there is only one casino option for anyone living in Victoria. Our review of Elements Victoria reveals why you should try this casino before you ever consider the long drive to Nanaimo.
We examine the range of games on offer, thoroughly test each dining option, and identify all the features that make Elements Victoria one of the most frequented casinos on Vancouver Island.
Elements Victoria Ratings
| Overall Rating | 4.2/5 |
| --- | --- |
| Slot Machines | 5/5 |
| Casino Games | 4/5 |
| Staff & Service | 4/5 |
| Loyalty & Rewards | 5/5 |
| Casino Atmosphere | 4/5 |
| House Rules (T&Cs) | 4/5 |
| Player Feedback | 3.1/5 |
| Operator | 5/5 |
Table of Contents
Rating and Review Process for Elements Victoria
Our reviews are conducted by some of the most experienced casino aficionados who each have a wide variety of industry knowledge and experience. They use our trusted and unique review system that ensures we can reliably test every casino our experts step foot in.
Our experts genuinely walk through the front door of every casino we test and sit down at the slots, try a few hands of a variety of table games, and eat at the restaurants, all while taking notes about the smallest details that other reviews simply miss.
How we inspected Elements Victoria
Date of visit: 09/09/2023
Time of visit: 18h – 23h
Initial bankroll: C$100
What we played: Slots and blackjack
Final bankroll: C$158
Next visit: 09/29/2024
What we looked at
We look for many common factors that all top casinos should have. This includes checking for specific game types, and the presence of certain progressive jackpots, and we make sure the casino offers some alternative forms of entertainment such as live music.
Additionally, we get a feel for the casino floor and analyze the atmosphere. We thoroughly examine the house rules and check for any unfair requirements or noteworthy rules. In the end, we'll rate Elements Victoria based on how well the casino performs against these metrics and more.
What we found
Address

1708 Island Highway Victoria, BC, V9B 1H8

Open hours

Sun – Thurs: 9 AM – 2 AM

Fri – Sat: 9 AM – 4 AM

Membership

Not required

Minimum age

19

ID checks

Yes

Game types

Slots, table games, VLT

Tables

25

Slot machines

770

Gaming terminals

5+

Payment

Cash, Card, Chips

Average betting range

Slots: C$0.01 – C$5

Table: C$1+

Free drinks (Canada)

Yes, but no alcoholic beverages

Restaurant

Yes

Hotel

No

Poker tournaments

Daily No Limit Hold'em
Slot Machines – 5/5
With hundreds of slot machines, multiple high-end software providers, and a wide variety of progressive jackpot machines, Elements Victoria has almost every conceivable theme and game feature covered.
Slots we played at Elements Victoria
We could immediately see that Elements Victoria offered a wide range of games from modern fantasy-themed slots to simple penny slots. The first slot we played was Treasure Ball since the grand jackpot was sitting at several thousand dollars.
We tried one of the Everi slots next since the provider often makes old-school slots that feel nostalgic. Finally, we ended up on Fort Knox and we landed a decent payout from the Trigger Zone feature.
How many slot machines does Elements Victoria have?
You can choose from 770 slot machines that range from C$0.01 to C$5 slots.
Do the slot machines accept coins?
No, the machines only accept cash notes and free play using your rewards card.
Slot machine providers
Local progressive jackpots
Hundreds of the machines we walked past were progressive jackpot slots with minor, mega, and grand prizes. These machines included big favourites Wheel of Fortune, Blazing Sevens, 88 Fortune, and Powerbucks.
Let's not forget that a player did win C$1.15 million on Powerbucks at an Elements Casino.
Casino Games – 4/5
Depending on the time of day, there can be up to 25 active tables offering nine different games including roulette, blackjack, and roulette. Table minimums are quite low and you can enjoy the highest bet limits in the Privé tables room which features blackjack and baccarat.
The Action Arena showcases several VLT machines. This does come in handy since many live tables are closed, especially during quieter hours.
Game types Roulette (Table & VLT)
Blackjack (Table & VLT)

Poker (Table & VLT)

Baccarat (Table & VLT)

Craps (VLT)
Betting limits
Most table minimums start at either C$1 and C$5 and one blackjack game has a C$5 maximum bet. The high-limit tables start at C$15 – C$50.
Can anyone bet the highest limits or you need special VIP access?
On the regular tables, anyone can play the highest limits. But you will need to be a member to access the Privé tables room which features tables boasting the highest limits.
Elements Victoria poker tournaments
No Limit Poker games are played between 11 AM and 1 AM, Sunday to Thursday and 11 AM to 3 AM on Friday and Saturday. Games vary from C$1/C$3 and $2/C$5 games with the highest possible bet ranging from C$400 to C$800.
Staff & Service – 4/5
You can drink local and imported brews, and try fancy cocktails and a variety of dishes at the casino's three restaurants. Parking is entirely free but there is no on-site hotel.
The staff were friendly during our visit and had no problem answering a few questions for our review.
Food & Drinks
Elements Victoria offers three different eateries that provide very distinct menus. 1708 Quick Bites is your typical snacking experience with reasonably priced hot dogs, sandwiches, chips, and chilli.
The Wells Public House is a chain of casino restaurants and provides a wide-ranging menu. It can get a little expensive with steaks over C$30 and many mains over C$22, but the specials offer some really interesting dishes such as a souvlaki platter.
You can also take in some authentic oriental dishes including noodle soup and Chop Suey at Chi Express. The Chinese restaurant has a small menu with prices between C$12-16.
Chi Express
The Wells Public House
Mon – Thurs: 10 AM – 10 PM

Fri: 10 AM – 12 AM

Sat: 9 AM – 12 AM

Sun: 9 AM – 10 PM
1708 Quick Bites
How much do you tip at Elements Victoria?
10-15% is the standard tip in British Columbia and this is no different at Elements Victoria.
Does Elements Victoria offer free drinks?
Yes, but only tea and coffee for players at the tables.
Is there a buffet at Elements Victoria?
Not anymore. Unfortunately, Elements' renowned themed buffet, Diamond Buffet has permanently closed.
Parking
There are over 500 free parking spaces located in front of the casino and a multi-story parking garage next to the casino. The multi-story even features a few EV charging points.
Accommodation
Elements Victoria does not offer any on-site accommodation but your nearest hotel option is a Holiday Inn located 1km down the road. That's only 15 minutes on foot or a two-minute drive. The Holiday Inn is a little expensive though with a single night costing between C$150 and C$220 depending on the dates and room type.
Are there smoking areas?
No, British Columbia is pretty strict on indoor smoking and "smoking areas" are hard to come by. You'll just need to step outside if you wish to smoke.
Security
We noted security at the main entrance, cameras are visible in all sections of the facility and the odd security guard wearing suits will be seen walking a lap if you keep your eyes peeled.
Loyalty & Rewards – 5/5
You can easily join the free rewards program provided by BC Casinos which lets you earn points by playing casino games. Redeem your points for bonuses, free play, and discounts.
The rewards card can even be used at other casinos in British Columbia.
How does the Elements Victoria rewards program work?
Firstly, you must sign up for free and receive your rewards card. It can then be swiped at slot machines and handed over to dealers at table games so your points can be recorded. For every 1,000 points you earn, you'll gain C$5 in free play which can be used at the tables or on slot machines.
More rewards are provided by BC Casinos and your points can be redeemed for discounts at the three restaurants.
What you get
VIP contests

Exclusive offers

Points to spend on dining

C$10 free play sign-up bonus
How to register for the program
Go to https://www.casinosbc.com/register.html

Complete the simple web form by providing your personal details

Visit Guest Services when you go to Elements Victoria and show your government-issued ID

Immediately receive your rewards card topped with a C$10 free play bonus
Casino Atmosphere – 4/5
The Elements Victoria's overall design is modern yet familiar. You haven't got much in the way of scenery or other things to do but the casino does regularly host live music nights featuring talented local artists.
Inside Elements Victoria
We paid close attention to every wall, ceiling, and carpet fibre while we played casino games. This allowed us to take in the atmosphere and gave us the time to fully explore the other entertainment opportunities provided by this casino.
Design experience
Elements Victoria looks bigger than it is, and the sharp, dark colours and high ceilings help create a load of space. The slots are well-spaced, and you get the feeling of a massive facility, even though the casino is on the smaller side.
Overall, the general aesthetic is nothing unique but the design is modern. We did like the cashier section that is housed in a cage behind Roman pillars a la Caesars Palace.
Are you allowed to take photos in Elements Victoria?
Yes, but not if you're playing at the live gaming tables or are standing anywhere near the live gaming tables.
Location and surroundings
Take a bit of a walk down Old Island Highway and you can find a nice view of the bay. Otherwise, there isn't a great deal to look at since you're located on the highway and your neighbours are car dealerships, an Urban Outfitters, and several empty lots. However, there is still plenty of greenery to enjoy and Thetis Lake Regional Park is only a 24-minute walk away.
Do you need a passport to visit Elements Victoria?
No, any form of government-issued photo ID is acceptable. Feel free to use your passport if you are visiting from another country and feel your country's local ID might not be acceptable.
Events
The Wells Public House plays host to numerous local acts from Victoria, Vancouver Island, and elsewhere in the country. Most events are musicians and there is rarely a cover charge.
House Rules (T&Cs) – 4/5
Elements Victoria has very loose and casual house rules, fairly late gaming hours, and you can take photos anywhere other than the casino floor. With no membership requirements, Elements Victoria has very friendly rules.
Elements Victoria's opening hours
The casino is open from 9 AM to 2 AM between Sunday and Thursday. But on Friday and Saturday, the casino stays open until 4 AM. Only slot games are available at all hours with table gaming operating between 11 AM to 2 or 4 AM.
Does Elements Victoria charge entry?
No, entry into Elements Victoria is free.
Do you always need a reservation to play at Elements Victoria?
No, a reservation is not required to play at Elements Victoria.
Is membership required at Elements Victoria?
Membership is not required but the rewards card does boast many benefits.
Dress code
The dress code at Elements Victoria is pretty loose and that means you can dress fairly casually. Just don't wear any gang-related, offensive, or unreasonable clothing. We always recommend smart-casual clothing, like you were going out for dinner.
Standout rules at Elements Victoria
There isn't anything you wouldn't expect at any other casino in Canada.
Player Feedback – 3.1/5
We counted over 1,700 reviews on Google and TripAdvisor with mostly positive reviews in recent months. The score was brought down on TripAdvisor but this was for issues and thoughts from several years ago.
Elements Victoria player reviews
Google – 3.8/5
Numerous reviewers praised the staff for their friendliness and responsible approach to gambling. One commenter even identified how staff helped a drunk player keep his winnings and go home rather than keeping him playing. However, many players also noted that table gaming is limited.
Tripadvisor – 2.5/5
Just like the Google reviewers, players were singing the praises of the staff. But a few did mention the dining areas can look a little like a cafeteria.
Most common issues
Operator – 5/5
Great Canadian Entertainment is a gaming and hospitality company that was acquired by Apollo Global Management. The company was once listed on the Toronto Stock Exchange and currently owns and operates 24 casinos.
Who owns Elements Victoria?
Elements Victoria is owned and operated by Great Canadian Entertainment which also owns several other "Elements" branded casinos across Canada.
Other casinos by the same operator
Elements Chilliwack

Casino Ajax
Contact info
| | |
| --- | --- |
| Website | https://elementscasinovictoria.com/ |
| Email address | |
| Telephone number | +1 250 391 0311 |
| Other | Facebook |
Elements Victoria Competitors
Elements Victoria doesn't have any land-based competitors because it is the only casino in Victoria and the nearest competitors are located in Nanaimo – a one-and-a-half-hour drive or near-three-hour bus.
However, Elements Victoria is competing for players with modern and exciting online casinos in Canada. These platforms let you play slots, table games, and live dealer games from the comfort of your own home.
Elements Victoria Pros and Cons
Pros
Large range of progressive jackpot slot machines

Free rewards program with a C$10 free play sign up bonus

Three different restaurants offering a variety of cuisines

Good mixture of VLT and tables with live dealers
Cons
No hotel and many tables are often closed
Should You Hold or Spin at Elements Victoria?
As the only casino in Victoria, it could be easy to just say Elements is all you've got. But despite the stiff competition that online casino gaming provides, Elements Victoria is still an exciting, modern, and worthy Canadian casino.
You've got over 800 games to play including poker tournaments, progressive jackpots, and real dealers. Multiple dining cuisines mean you can come back again and again to eat something unique while regular live music proves Elements is more than just a casino.
We think it's pretty clear that Elements Victoria is more than just the name in town and we would highly recommend vacationers to Vancouver Island make sure to plan a stop in Victoria to experience Elements.