How to Read Casino T&Cs: Key Terms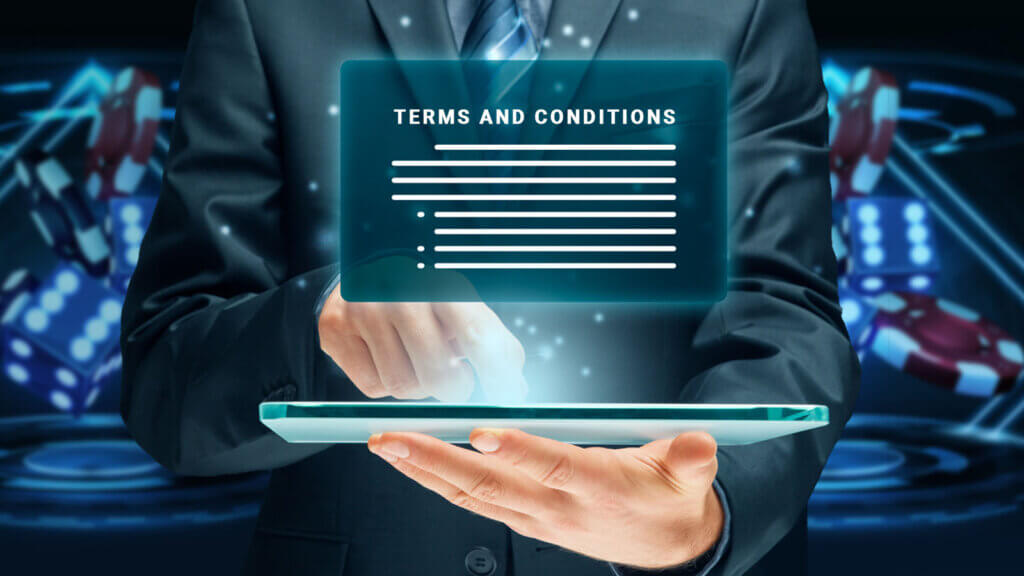 Casino bonus terms & conditions can be hard to read and can cost you your bonus. Use our guide to learn how to read them & raise your winning odds by 70%.
The Key Elements of Bonus Terms Explained
Our experts created a list of elements you will find in all bonus terms that affect you the most. You can return to this glossary whenever you need a quick checklist:
Minimum deposit

Wagering requirements

Restricted games

Game contributions

Cash-out restrictions
Let's go through each of them, so you can get the full picture:
Minimum deposit
The minimum deposit of a bonus is the lowest sum you can pay into your casino account to receive the bonus.
The minimum amount you must pay for a bonus is essential because it gives you an idea of how profitable the bonus is.
In theory, the lower the minimum deposit value, the better it is for your budget, as you won't have to invest a lot of your own money. However, promotions with high minimum deposits should provide you with considerably more bonus funds, so you get to play more.
It all depends on the bonus type you prefer.
Bonus types: deposit vs no deposit
Deposit bonuses require a minimum payment for bonus funds, while no deposit promotions offer fewer bonus funds and/or free spins without you having to pay any sum at all.
Wagering requirements
Wagering, or playthrough conditions, represent the sum you must stake before proceeding to payout. Generally, the rollover conditions of a casino bonus are between 35 and 50 times the bonus amount.
The higher the wagering requirements, the more you must wager from your bonus money. This increases the chance of you losing any winnings accumulated in the process by having to bet again.
So, even if your initial bonus value is high, if the promotion has high wagering requirements, the true bonus value drops.
Betting limits
The limits imposed on your bets in a promotion's terms are the minimum and maximum amounts you can wager on a single game or bet while completing the bonus wagering requirements.
These limits affect bonus play because they limit the amount of the bonus that you can use in one stake. Look at the betting limits and at the wagering requirements, to see how many game sessions you should play before cashing out.
Not respecting these limits may cost you your bonus and winnings.
Restricted games
Online casinos prevent bonus abuse by restricting bonus play on high RTP games.
If you play your bonus funds on restricted games, you risk losing the offer entirely and may get banned for bonus abuse.
Find out which games are restricted by checking the promotional terms for "Excluded" or "Restricted" games.
Such details can also appear on the casino operator's website, when you search the Bonus Terms section.
Otherwise, contact the live chat and give them your account details and a specific description of your bonus. Inquire about the full list of restricted games.
Game contributions
Many casinos assign lower contributions to game types or titles with high payout rates that make the wagering requirements too easy to meet
If you use your promotional funds on lower contribution games, you will need to wager more than the bonus wagering requirement, which is a significant disadvantage.
For example, if you play a bonus on a game that has a 10% contribution to your playthrough, you need to stake 10 times the amount you would wager on a game that contributes 100% to the playthrough.
It's important to know this before you start wagering. Otherwise, you may think you've completed the rollover and discover much later that you've been playing a low-contribution game and have still a long way to wager ahead.
Or, the game contribution could go unnoticed until you cash out and lose your bonus for not completing the playthrough.
Cash out restrictions
Most casino bonus terms and conditions mention cash-out restrictions, which you have to ensure you've met before you send in a withdrawal request for your bonus winnings.
The most common cash-out restrictions are:
Completing the KYC procedure;

Making a minimum deposit;

Completing the playthrough before the bonus expires.
There may be others, depending on the promotion, so be sure to check the bonus terms.
Cashable vs Non-Cashable Bonuses
Cashable bonuses are bonuses that can be cashed out once the cash-out restrictions have been met.
Non-cashable bonuses, also known as sticky bonuses, are bonuses that cannot be cashed out and are removed from the player's account once the wagering requirements have been met. In this case, the player can only withdraw the winnings they have accumulated while playing with the bonus.
For example, you receive a $100 bonus with a 20x wagering requirement as a cash-out restriction. So, you need to wager a total of $2000 before you can withdraw any winnings.
With a cashable bonus, you can withdraw the remaining bonus and any winnings after wagering $2000. With a non-cashable bonus, the remaining offer is deducted from your account and only winnings can be withdrawn.
Time limits and expiration dates
It's important to look for the bonus time limits and expiration dates in the bonus terms and conditions, so that you don't lose your bonus and winnings.
Here are the most common types of time limits and the consequences of not meeting them:
Claiming time limit: you may need to claim a bonus several days after receiving it or after registering with the casino, or after your last deposit. Not doing so causes you to lose access to the bonus altogether.

Time limit for specific actions: to get the bonus, you may need to meet specific terms and conditions like entering a bonus code or making a payment within a specific timeframe. Missing this deadline will cost you access to the offer.

Expiry dates: Bonuses may only be available for a few days or several weeks, and then expire. Failing to complete any cash out conditions before the expiry date means that you give up your winnings.
Why Bonus Terms and Conditions Matter
Bonus terms and conditions define you gameplay experience. They are crucial in the gambling industry, because they:
Lay out the rules of the game

Help you balance the bonus value with other important factors

Assist you in your comparison of the different values of casino bonuses
Laying out the rules of the game
By reading the bonus terms and conditions, you understand which rules to follow so as not to lose your bonus. As long as you follow the rules, you are less likely to lose more than you can afford.
At the same time, you are aware that all other players must meet the same wagering requirements, eligibility criteria, maximum cashout, expiry dates, and fairness rules.
Nobody has an advantage over you as long as you've read the terms.
Balancing bonus value with other factors
It's easy to decide that a bonus is profitable if it provides a large amount of bonus funds. However, that can prove to not bring true value to the bonus, if the wagering requirements are very high or the eligible games have low RTPs.
Use the bonus terms and conditions to choose a bonus that ticks all your boxes. You have all the information you need in the T&Cs.
Comparing the value of different casino bonuses
Analyse the terms and conditions of several promotions to find the one that provides a better value for your gameplay. Make sure you pick the bonuses with:
Low or no wagering requirements, because these allow you to cash out your winnings as soon as you achieve them;

No maximum cash out limit, so you don't lose large wins to payout restrictions;

No game restrictions, so you can choose high RTP titles that increase your odds.
Reading Between the Lines: Commonly Misunderstood Terms
Many bonus terms are not as self-explanatory as they appear. Some of the most commonly misunderstood terms are:
Minimum deposit

No deposit bonus

Wagering requirements
Our experts help you read between the lines to make the most of your casino bonuses:
Hidden fees and transaction costs
The minimum deposit is not always the amount specified in the bonus terms. Some casinos perceive fees for deposits made with specific payment services.
Therefore, accessing the reward implies that, you have to pay both the minimum amount stated in the promotional policy and the payment service's specific fee.
Expert tip: check the online casino's payment policies for hidden fees or transaction costs that are not mentioned in the bonus terms.
Deposit to withdraw bonuses
Some bonuses that classify as a no deposit are not entirely usable without payment.
A no deposit bonus indeed doesn't require you to pay in order to get access to it. However, you are in many cases required to transfer the minimum deposit sum in your player account to before proceeding to payout.
Let's assume you opted for a $5 no deposit bonus just by registering with the casino, you played with the $5, finished the required rollover, and won $20. You will not be able to withdraw until you make the minimum deposit required by the casino, which is generally between $10 and $50.
Expert tip: Check the bonus terms and conditions for withdrawal rules. You can also check the casino's withdrawal policy, which should mention such cases.
Excessive wagering requirements
Wagering requirements are commonly misunderstood because they are generally represented in the bonus terms as the number of times you have to wager you bonus.
This usually appears as a small number, but the sum you must stake might actually be higher than you expect.
Here's how to identify excessive wagering requirements:
A playthrough of over 50x the promotional amount is considered to be quite high.

Check if the bonus availability is long enough for you to complete the playthrough.

Do the maths. Check the multiplication between the wagering requirement and the minimum funds you can get with your bonus. If the result is much higher than the maximum bonus amount, the wagering is also too high.

Check the games contribution for your bonus. Even if the playthrough appears to be low, it will take a long time to complete it if it applies to games that do not contribute 100% to the bonus.

Look at the sum that the wagering applies to. Even if the playthrough looks small, such as 20x, if it applies to your bonus and deposit funds, you are wagering an already large sum 20 times. Such wagering requirements are not less than, say 50x bonus amount.
What to Do if You Encounter Problems
Contact the casino operators directly through live chat support, email or phone;

Check gambling forums to see how other users who dealt with your issue may have resolved it;

If your issues are not addressed and you feel unfairly treated, make a complaint to the licensing authority that regulates the casino.
Conclusion: Putting Your Knowledge to the Test
This guide has offered you expert insight about:
The bonus terms that most affect your game play;

How each element in a bonus affects you;

How to understand commonly misused bonus terms;

How to resolve tricky situations concerning bonus terms and conditions.
Practice is the most effective way to test your knowledge. Browse through our secure lists of best bonuses and read through their descriptions and terms. Then, see if you can spot the one that best meets your gambling needs!