How to Win at Slots – A Definitive Guide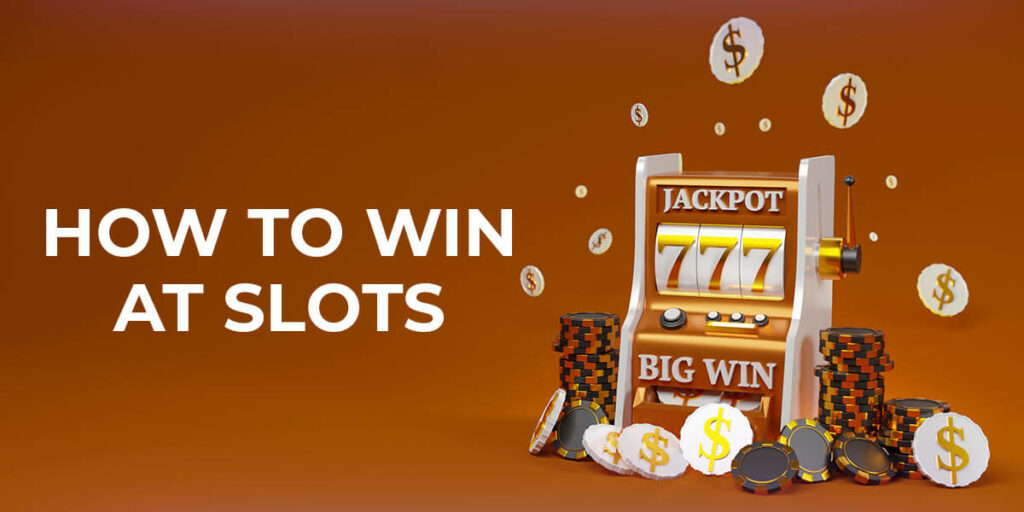 The greatest achievement for any gambler out there is knowing how to win at slots. The payout system is entirely random; your skill level will not increase the odds. But how can slot machine pros generate consistent winnings?
Well, there are certain tricks to winning on slot machines that you can apply today, which can help you get the most out of your gambling sessions.
Read our in-depth slot machine guide and find out the exact method other gamblers use to enhance their casino experience. We recommend you bookmark this article and use it as a future reference when picking online slots that you want to play.
Table of Contents
How does a slot machine work?
Slots are among the most popular games globally, in both online and ground-based casinos. However, getting consistent wins from spinning the reels is more difficult to achieve compared to table games like poker or blackjack.
Winning at slots is harder because they're based only on chance, meaning that everyone has the same odds, and there aren't many strategies available. In terms of gameplay, all you need to do is choose a bet value and press the Spin button, hoping that you will match symbols on adjacent reels.
Keep in mind when choosing a slot
The most crucial step in learning how to win at slots is knowing what game is better and why. While choosing a slot depends on several factors, including your personality or gameplay style, these general tips will allow you to make a better decision:
Analyze the paytable – every slot has its unique paytable, where you can find all the details regarding the game's symbols and bonus rounds;
Test the game – it is always a great idea to try the game in demo mode, to make sure that it's enjoyable and everything runs smoothly;
Understand the game's features – slots come in different shapes and sizes, so it is essential to know how the special features (multipliers, free spins, etc.) work;
Go for a high RTP slot – the best strategy for slots is to go for a title that has an RTP rate higher than 96%;
Remember to stop – if you ever feel overwhelmed and no longer enjoying the game, it's a great idea to take a break, relax, and return to the game later.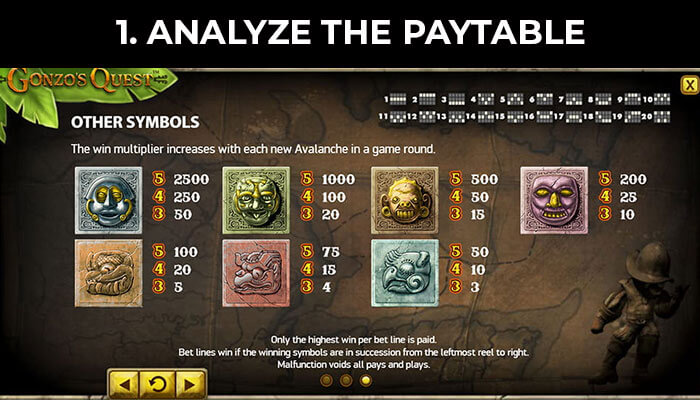 Always check the slot's RTP
RTP stands from Return to Player, and it represents the advantage the house has over the players. The RTP is used to measure the percentage that the game returns to players over time(usually between 92-97%). Most gamblers use this percentage as a guide to determine a slot's performance.
For example, if a slot has an RTP of 94.5% means that players can expect the game to return £9.45 for every £10 wagered.
High RTP slots
Below we've curated a list of the highest RTP slots available:
Jokerizer (Ygdrassil) – 98%;
BloodSuckers (NetEnt) – 98%;
Joker Strike (Quickspin) – 98.11%;
1429 Uncharted Seas (Thunderkick) – 98.5%;
Mega Joker (NetEnt) – 99%.
Be advised that some slot machines require you to make specific bets to activate the maximum available RTP rate. For example, Mega Joker starts with an 85% RTP, but it goes to 99% when you activate the Supermeter feature (which is essentially a secondary game).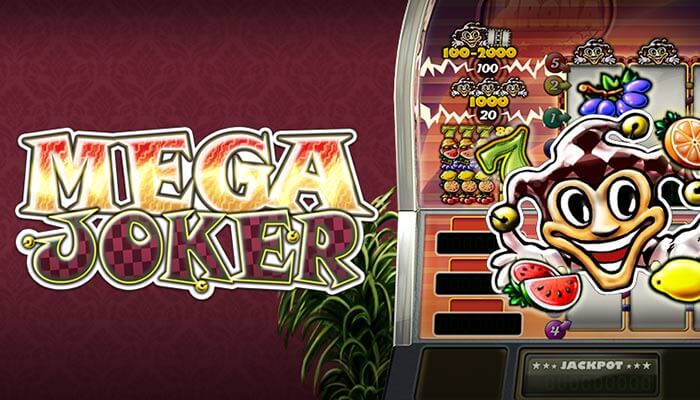 Play Higher Denomination
Going for slots with higher denomination bets available will give you a higher chance of hitting a winning combination. This type of slot is better because the payout percentages are relative to the coin denomination or the bet per spin. So, the higher the denomination, the better chance of getting a payout.
On top of that, wouldn't it be better to land a winning combo on a £20 bet, compared to a 0.1p bet? The chances you get a great combo are low anyway, so why not risk a higher amount for the possibility of cashing out on a significant amount.
Bet the Maximum
It's always a great idea to bet the maximum, as it allows you to bet on all the available lines. Certain slot machines features, like progressive jackpots or bonuses, require a specific bet amount to activate them, so choosing to go for the max bet is just as good.
We recommend you go for the maximum bet whenever it is possible. By doing so, you will increase your payout potential and unlock all the available slot features.
Choose a slot based on your personality and playstyle
Picking a slot ultimately depends on the player's personal preferences. However, there are some guidelines that can help you  choose your favourite title:
Three-reel games – They have a lower hit frequency and usually focus on the top jackpot. This slot type gives you the best payout potential, but also the highest chance to lose everything quickly.
Pick'em Bonus Slots – If you like mini-games where you need to choose the winning item from a list and high hit frequency slots, then this category is for you.
Free Spin Slot Machines – titles that have free spins as their main bonus usually fall between the 3-reel and pick'em bonus games in terms of odds and volatility.     
Now that you know the big slot categories, it's up to you to pick the one you like most. Once that's done, it's time to pick a title that has an appealing theme. Don't worry; there are millions of games available out there, so there must be one title that resonates with your personality and playstyle.
Do not pick the obvious options
Before choosing an online slot, it is always important to do some research and make sure the game comes from a trusted source. Some casinos will try to attract users with unbelievable deals, but in reality, many of them aren't even licensed by any legal institution.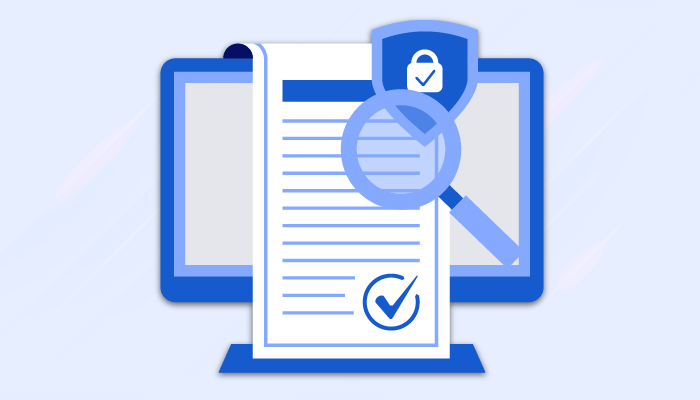 Since gambling requires a credit card or e-wallet for funding your account, you need to check if the casino is regulated by top authorities in the industry, like Malta Gaming Authority(MGA) or the United Kingdom Gambling Commission(UKGC).
How to verify the credentials
To verify if an operator is holding a gambling license, you need to scroll to the footer of their landing page and check if they have the regulators disclosed. Additionally, we recommend you check the Terms and Conditions of that specific online casino to ensure that all the legal agreements are in order.

Whenever you're picking an online casino to play your favourite slots on, it's important to remember that if something is too good to be true, it probably is. Therefore, you should never fall into the trap of pirate casinos that lure you with attractive bonuses, but all they want is your credit card info.
Not sure where to start? Check out this page and choose one of the licensed casino operators available. Picking a gambling platform from our list guarantees that your personal and financial details are secured, and the games are entirely random, not rigged in favour of the house.
Avoid Branded slot
While we agree that branded slots are impressive in terms of design, online casinos mostly use them as "bait" to attract newcomers that aren't necessarily gamblers.
We know that playing a game that features your favourite singer or TV show can be satisfying. Still, the truth is that the developer paid good money for the copyrights. Thus, the games won't allow you to make low bets, and the odds aren't the best either.
The main reason why we don't recommend you play a branded slot is not related to the weaker overall performance. The main issue with this type of game is that it is used as a psychological trigger to attract specific audiences. But how?
Branded slots attract new players
Well, it is quite simple. Imagine you are a newbie to the gambling world, and you love the TV show Vikings.  While scrolling through the list of available games on a casino, if you happen to come across the Vikings branded slot, you are very likely to go for that one.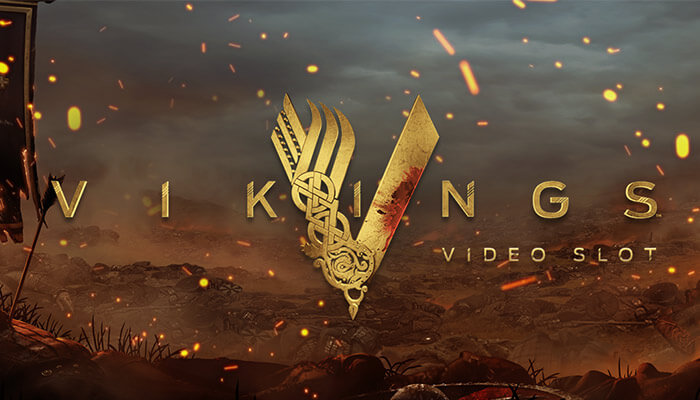 While we don't suggest that this particular slot is either good or bad, the theme shouldn't be the main factor in your decision-making process. Thus, it is better to choose your slots based on the factors we've mentioned in this article. It can help you get the most out of your casino experience.
Test the game in free mode
If you want to find out how to win at slots, we recommend trying the game in free mode before betting with real money.
The majority of games offer a demo version, which allows players to try out the features and payouts before making a deposit. Free play is a great practice tool, and most gamblers use it to find out if a slot is worth their time.
Never waste a single penny playing a game that you dislike. Practice in advance until you develop a thorough strategy. Once you're familiarized with the slot machine, you can deposit and start spinning the reels with real cash.
Take advantage of casino bonuses
One of the most significant advantages of online casinos is the addition of slots bonuses. Players can easily claim them and start their gambling journey with extra perks, like free spins, match promotions, or cashback.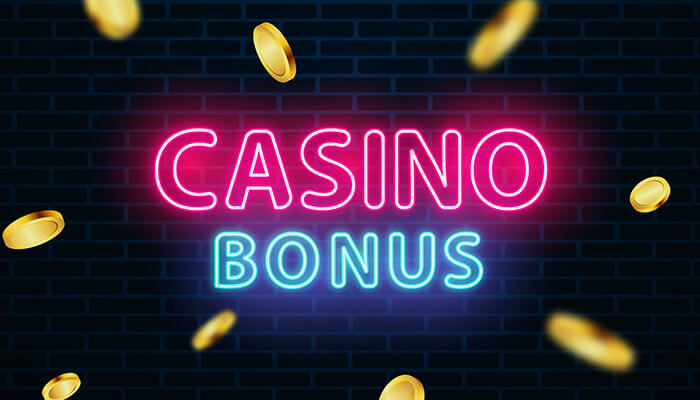 While these offers usually come with certain strings attached, they are still a great addition to your gambling arsenal. Who wouldn't want to play slots with bonus cash that can later be converted to real money?
Bonuses are convenient
Claiming bonus codes is one of the most excellent tricks to winning on slot machines, as it increases your balance and allows you to test games before using your real money.
The difference between bonuses and demo play is that you can actually withdraw money from the bonus balance if you complete the wagering requirement.
Know when it is time to Stop
Slots have their fair share of entertainment, but if you want it to stay that way, you must know when to stop. Never jump into a gambling session without having a goal set in mind.
Set a budget and decide how much time you want to dedicate to reel spinning. By doing that, you will avoid spending more than you can afford and risk losing everything.                      
Playing responsible is the key to being a great gambler. If you understand your limits and the fact that you can't win them all, you will have some memorable casino sessions.
However, falling into the trap of excessive spending, attempting to recover the amount you've lost is a red flag. This practice should be avoided, as it could leave a hole in your budget and make you feel like the casino cheated you.
Strategy and discipline are the best routes
You must understand that slot machines are entirely random, so there is no way to predict if you're going to hit the jackpot any time soon. Therefore, if you want to enjoy your time in the casino, it is essential to be calculated and gamble responsibly.
This advice could save you a lot of money. Instead of randomly betting whatever amount you've got, you can develop your personal betting strategy.
Do not try to cheat the casino
Since gambling is a business with lots of cash coming in, there will always be people who try to cheat the system and take advantage of the vulnerabilities. Since there have been reported cases where people figured how to recognize a winning lottery ticket before scratching it, it's to be expected some inventive players have successfully landed illegal winnings when playing slot games.
However, you should bear in mind that attempting to scam a licensed casino is a felony, and the punishment is usually prison. Luckily, it has become increasingly challenging to scam slot machines, especially online ones.
However, some people managed to steal from land-based casinos, through various methods, like slugging (fake coins), strings attached to the quarter, chip cheating or magnetic force. 
One might still work
While these techniques worked back in the day when casino software was in its early days, there is still a common practice that works – the inside job.
Cash attendants can add as many credits as they want to the machines, so they can add a different amount than what the player has paid. Due to technological advances in security software, it has become harder for employees to pull off this scam.
We highly advise you against using these harmful practices, especially if you don't like going to jail for a couple of hundred dollars. Slots are a game of chance, so if you're lucky enough, you can win big without cheating.
Our Recommendation
While the tips and tricks mentioned in our guide on how to win at slots might not be foul-proof strategies, they should help you on the right track and get the most out of your gambling session.
These are the most significant tricks to winning on slot machines that you can use right away:
Pick the slot machines with high payouts;

Pick a slot with an RTP higher than 96%;

Try the slot in demo mode;

Choose a tailor-made casino bonus;

Only play on regulated casinos.
But the most important advice is to enjoy your time spinning the reels! Remember, gambling is a form of entertainment, so you should not perceive it as a stable source of income. Fun should always be your primary objective when playing slots.