PURE Casino Yellowhead Review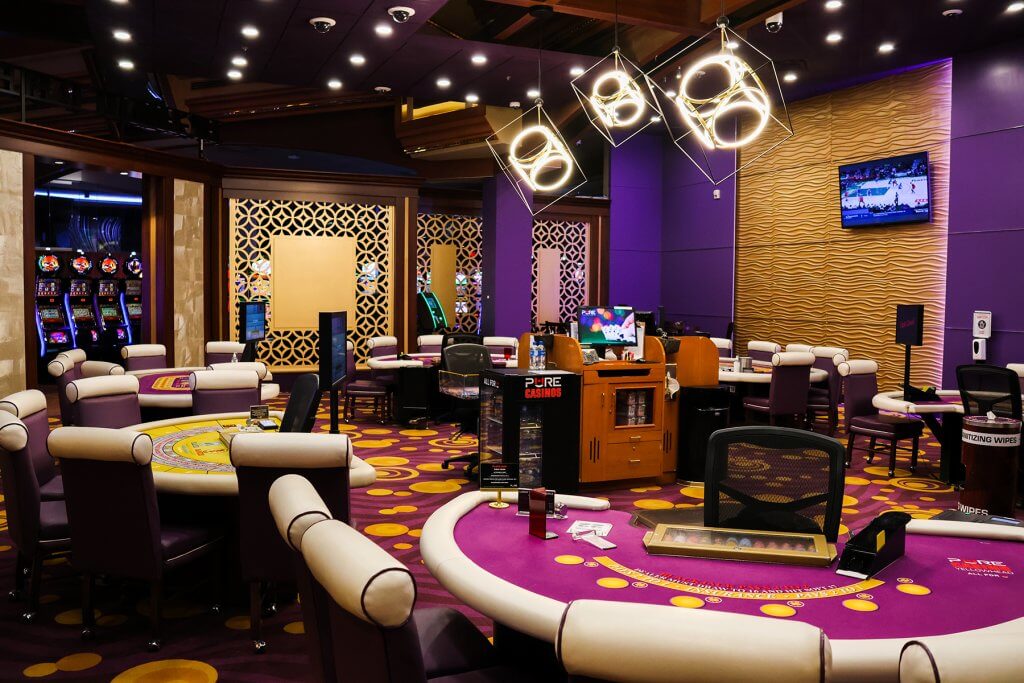 With several PURE Casinos in Alberta, we decided to find out if PURE Casino Yellowhead is worth parting with your bankroll. We knew we would find hundreds of games and plenty of entertainment, but our expert reviewers uncovered much more.
Read on to find out the full range of games you can play, gain insights into the lucrative rewards program, and learn about the numerous forms of entertainment that PURE Casino Yellowhead offers every single night.
PURE Casino Yellowhead Ratings
| Overall Rating | 3.9/5 |
| --- | --- |
| Slot Machines | 5/5 |
| Casino Games | 4/5 |
| Staff & Service | 3/5 |
| Loyalty & Rewards | 3.5/5 |
| Casino Atmosphere | 3.5/5 |
| House Rules (T&Cs) | 4/5 |
| Player Feedback | 3.4/5 |
| Operator | 5/5 |
Table of Contents
Rating and Review Process for PURE Casino Yellowhead
Our team of experts uses their collective experience earned by working in numerous sectors of the gambling industry in Canada and abroad. They have developed a special review system that requires our team members to actually visit each casino that we test.
This is why our reviews always provide unique insights and genuine observations. Our teams sit at the tables, have a drink at the bars, chat with staff and players alike to gain a firsthand experience of the atmosphere and overall experience at PURE Casino Yellowhead.
How we inspected PURE Casino Yellowhead
Date of visit: 10/14/2023
Time of visit: 6 PM – 1 AM
Initial bankroll: C$100
What we played: Roulette, blackjack, slots
Final bankroll: C$142
Next visit: 11/29/2024
What we looked at
Our team checked out the casino gaming tables, tasted the food, and experienced the bars to ensure that the casino provided the products we expect from a casino in Canada. However, we also looked at more subjective characteristics such as the vibe and atmosphere you are likely to experience when you start playing games on the casino floor.
What we found
Address

12464 153 St NW, Edmonton, AB T5V 1S5

Open hours

24/7

Membership

Not required

Minimum age

18

ID checks

Yes

Game types

Slots, table games, VLT, poker

Tables

26

Slot machines

770+

Gaming terminals

10 VLT machines

Payment

Cash, Card, Chips

Average betting range

Slots: C$0.01 – 100

Tables: C$2 – 500

Free drinks (Canada)

No

Restaurant

Yes

Hotel

No

Poker tournaments

Yes, regular C$100 buy-in tournaments
Slot Machines – 5/5
With more than five providers offering over 700 slot machines including fantasy slots, progressive jackpots, and a wide variety of game features, PURE Casino Yellowhead is a slot player's dream – plus the slots are available 24/7.
Slots we played at PURE Casino Yellowhead
Our slot journey began at Diamond Millions as we attempted to win the jackpot that was sitting at more than C$1.2 million during our visit. We didn't win so we moved on to Brazilian Beauty as it was positioned all on its own. After winning a few of our last spins we played Pompeii before heading to the tables.
How many slot machines does PURE Casino Yellowhead have?
A casino manager was happy to confirm that Pure Casino Yellowhead features 773 individual slot machines.
Do slot machines accept coins?
The days of coin-fed machines are gone. Machines will only accept cash notes or free-play activated by swiping a rewards card.
Slot machine providers
IGT

Light & Wonder

Konami

Ainsworth Game Technology

Aristocrat

WMS
Local progressive jackpots
As an Alberta casino, PURE Casino Yellowhead boasts loads of progressive jackpot networks that are linked to casinos all over the province. You can play Conan, Fu Dao Le, and Diamond Millions, which boasts a top prize of a million dollars.
Casino Games – 4/5
PURE Casino Yellowhead offers every table game that we expect from a Canadian casino. Furthermore, there is a 24-hour poker room, very low minimum bet requirements and maximum bet limits that are reasonably high.
Game types
Roulette: 2 tables
Blackjack: 12 tables
Poker: 24-hour poker room
Craps: 1 table
Baccarat: 7 tables
Betting limits
The lowest limits we saw were the roulette tables with C$2 straight bets. Blackjack tables seemed to have a minimum bet of C$5 which is very reasonable. The biggest bet we could see was C$500.
Can anyone bet the highest limits or you need special VIP access?
Anyone can play the highest limits and anyone can call a casino host to request a personalized experience.
PURE Casino Yellowhead poker tournaments
The 24-hour poker room is always open and there are events and tournaments held almost every day of the week. A C$100 buy-in is the usual minimum entry and the games are usually Texas Hold'em. Prize pools for tournaments will always be C$10,000 or more.
Staff & Service – 3/5
Food & Drinks
PURE Casino Yellowhead boasts three dining options. SNAX Pantry & Wok offers the widest range of dining experiences with Asian dishes, pizza, and casino classics like a Nathan's hot dog and chicken wings. Prices are reasonable at times, such as the C$8 sandwiches, but many mains push past the C$15 mark.
The Retro Kitchen & Bar offers breakfast and brunch but it's a little pricey with small desserts costing around C$9. Finally, you can head to the Social Bar & Lounge to enjoy some snacks and drinks which include signature cocktails, wine, spirits, and both local and important beers.
SNAX Pantry & Wok
Retro Kitchen & Bar
Sun – Thu: 9:30 AM – 10 PM
Social Bar & Lounge
Sun – Thu: 9:30 AM – 5:30 PM
Fri – Sat: 9:30 AM – 2 AM
How much do you tip at PURE Casino Yellowhead?
It's customary to tip between 15 – 20% in Edmonton.
This may feel a little high for some European or Australian visitors and you'll often be fine with 10% if the service wasn't above and beyond.
Does PURE Casino Yellowhead offer free drinks?
No complimentary drinks are on offer when playing at the tables.
Is there a buffet at PURE Casino Yellowhead?
Yes, Pure Casino Yellowhead often hosts buffets which have previously included all-you-can-eat prime ribs and surf & turf.
Parking
There is ample free parking outside the casino. We noted about a hundred spots right outside the casino and a further thousand in the lot next to the casino.
Furthermore, the eastern side of the extended lot has RV and large vehicle parking. When we left at night, we noticed that the lot was poorly lit with essentially no security.
Accommodation
Like PURE Casino Edmonton, Yellowhead doesn't offer a hotel either. Thankfully though, you're not far from numerous options with an affordable Super 8 and a Chateau Nova within walking distance. We popped into the Chateau Nova Yellowhead and a night's stay on Saturday was only C$78.
Are there smoking areas?
You'll simply need to exit the casino to smoke. There are two smoking huts located outside the main entrance and one around the eastern side.
Security
We noted a fairly standard security presence. This includes security at the entryways, and cameras in most corners, and we saw the odd guard wandering the floor on occasion. Security in the parking area would have been nice to see though.
Loyalty & Rewards – 3.5/5
How does the PURE Casino Yellowhead rewards program work?
There are two rewards programs to take advantage of at PURE Casino Yellowhead. Firstly, Winner's Edge is an Alberta-wide rewards program that can be used at any casino in Alberta. Secondly, the PURE rewards program works at any PURE Casino.
You simply need to swipe your card when playing slots or VLT machines and you'll earn points.
As points are accumulated, you'll be able to convert them into "free play" which can be used on any slot game or VLT game. You can also present your card to receive dining discounts.
What you get
C$1,000 free-play welcome bonus

Further free play

10% drink & dining discounts

Promotional draws

Exclusive rewards & contests
How to register in the program
PURE Rewards
Head to Guest Services when you're at the casino

Finish the simple registration forms

Provide your government-issued ID

Collect your rewards card
Winner's Edge
Access winnersedge.ca using any mobile or desktop browser

Fill out the signup forms

Go to PURE Casino Yellowhead and head to Guest Services

Receive your card when you provide your government-issued ID
Casino Atmosphere – 3.5/5
Inside PURE Casino Yellowhead
We wanted to ascertain the full scale of the atmosphere you can expect to experience when you're by the casino floor at PURE Casino Yellowhead. To reveal these insights, we reviewed the overall design of the interior, considered the surrounding area, and determined what additional entertainment you can enjoy.
Design experience
PURE Casino Yellowhead looks very modern. The gaming tables utilize a regal colour scheme and the casino uses its space very well. Every area of the casino is clearly defined but an open-planned design is maintained throughout the facility. This gives the casino room to breathe but also feels like the action is around you at all times.
Are you allowed to take photos in PURE Casino Yellowhead?
Yes, but keep away from the gaming tables where photography is not allowed.
Location and surroundings
The location of PURE Casino Yellowhead is far from scenic. You are mostly surrounded by industrial lots and wholesaler businesses. However, downtown Edmonton is only 18 minutes away by car. You can enjoy such sites and landmarks as the Alberta Royal Museum, and the Art Gallery of Alberta, and check out the fantastic nightlife.
Do you need a passport to visit PURE Casino Yellowhead?
No, any photo government-issued ID should be just fine. We always recommend anyone who feels their ID might not be easily understood or accepted that they use their passport – this mostly applies to foreign visitors from abroad.
Events
The Pearl Showroom at PURE Casino Yellowhead regularly plays host to a variety of entertainment that often includes dinner and drinks. Events include cover bands, original musicians, comedians, psychics, mentalists, burlesque and more.
House Rules (T&Cs) – 4/5
When is PURE Casino Yellowhead open?
PURE Casino Yellowhead is always open. You can enter 24 hours a day, seven days a week. The slots will always be on and available to play, as will the poker room, but table games are only available between 10 AM and 3 AM.
Does PURE Casino Yellowhead charge entry?
No, entry is always free.
Do you always need a reservation to play at PURE Casino Yellowhead?
No, you can't reserve a table and anyone is free to take up a seat at the table or slot machine.
Is membership required at PURE Casino Yellowhead?
No, membership is not required but there are numerous perks for using a membership card at the slots or when playing VLT games.
Dress code
PURE Casino Yellowhead doesn't push a strict dress code and we couldn't even find one located by the entrance of the casino. It's getting colder, so we didn't see anyone in shorts but it certainly appeared like khakis and t-shirt is more than acceptable.
However, you can't wear anything offensive or gang-related.
We always recommend dressing up just a little bit when heading to the casino.
Standout rules at PURE Casino Yellowhead
We couldn't find any strange, unique, or particularly noteworthy rules that you wouldn't find at any other casino in Canada.
Player Feedback – 3.4/5
More than 1,800 reviews were made across Google and Tripadvisor with favorable responses from most guests.
PURE Casino Yellowhead player reviews
Google – 3.9/5
Reviews were very favourable with many commenters agreeing on the professionalism of the staff, the cleanliness of the dining areas, and their overall experience. However, numerous customers also commented on the poor quality of the buffets.
Tripadvisor – 3.5/5
Most Tripadvisor reviews rate PURE Casino Yellowhead as "very good" with plenty of comments about the modern feel of the casino and the easy access from the highway. However, one customer also noted that the parking lot is poorly lit and unsecured.
Most common issues
Poor quality food at buffets

Unsecure parking
Operator – 5/5
Who owns PURE Casino Yellowhead?
PURE Canadian Gaming owns and operates the casino. Despite only being around since 2013, they're the oldest casino operator in Canada as the company was originally Casino ABS which launched in 1973. This makes PURE Canadian Gaming a very trustworthy and legitimate operator.
Other casinos by the same operator
PURE Casino Calgary

Lethbridge
Contact info
| | |
| --- | --- |
| Website | https://www.purecasinoyellowhead.com |
| Email address | |
| Telephone number | +1 (780) 424-9467 |
| Other | Facebook, Instagram |
PURE Casino Yellowhead Competitors
If ever there was a province to plan a successful casino road trip it could be Alberta. So, we counted a total of 13 casinos in Edmonton and countless online casinos in Canada that rival land-based facilities. However, two casinos are located quite close to PURE Casino Yellowhead.
PURE Casino Yellowhead vs Grand Villa Casino
Grand Villa Casino offers hundreds of slots and four different types of table games but does not feature a poker room nor is the casino open 24/7 like PURE Casino Yellowhead. However, the Luxe Private Room offers a totally customizable experience for you, your clients, or your friends.
Grand Villa Casino is best for a private experience
The Luxe Private Room is such a unique prospect, the idea of getting friends or clients together for a personalized and customizable casino experience. You can choose the tables, the games, and select a special menu with drinks.
PURE Casino Yellowhead vs Century Casino & Hotel Edmonton
Century Casino & Hotel Edmonton is about 12km down the Yellowhead highway from PURE Casino Yellowhead. While it does offer an impressive array of gaming, the casino doesn't stay open like Yellowhead does and there is no poker room. But Century Casino does have a hotel and off-track betting.
Century Casino & Hotel Edmonton is the best alternative for horse racing betting
With simulcasting coverage of local and international racetracks, 14 huge HD TVs to watch the action, and an incredibly slick bar, Century Casino boasts off-track betting which PURE Casino Yellowhead does not.
What sets PURE Casino Yellowhead apart from its competitors?
PURE Casino Yellowhead offers a modern and exciting casino experience where most others still feel like an "old local casino". You'll get the feeling that PURE Casino Yellowhead is much bigger than it really is and the slick lighting and interior design really sets a thrilling mood.
PURE Casino Yellowhead Pros and Cons
Pros
The 24-hour poker room offers tournaments with a low C$100 buy-in

Numerous progressive jackpot slots with massive potential prizes

Tons of entertainment including live music and magic acts

Table games feature low minimum bet sizes
Cons
Unsecure parking lot that is poorly lit at night

No hotel or accommodation
Should You Ante at PURE Casino Yellowhead?
Pure Casino Yellowhead quite literally has everything any type of casino player is looking for. Casual players can enjoy hundreds of penny slots and table games with very low minimum bet requirements. Serious gamblers can still chase bigger wins with reasonable bet limits and a wide variety of table games.
You can also enjoy a reasonably priced meal, park for free, and entertainment is abundant including live bands. We think PURE Casino Yellowhead can be enjoyed as a casino and a venue for a fun night out.