Skrill & Skrill 1-Tap Full Casino Guide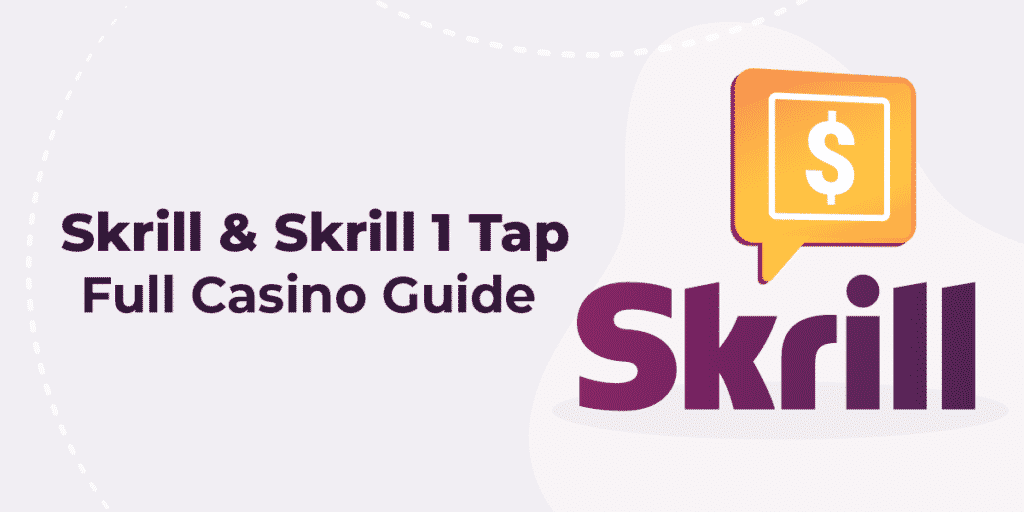 Curious about Skrill-fast online gambling? This is your complete guide to play right, set up your account, and get all from the Skrill and Skrill 1-Tap.
How to set up your account
Your Skrill account can be up and running in five simple steps:
Access the Skrill log in page or type in laptoplifepro.com/skrill in the search bar of your browser;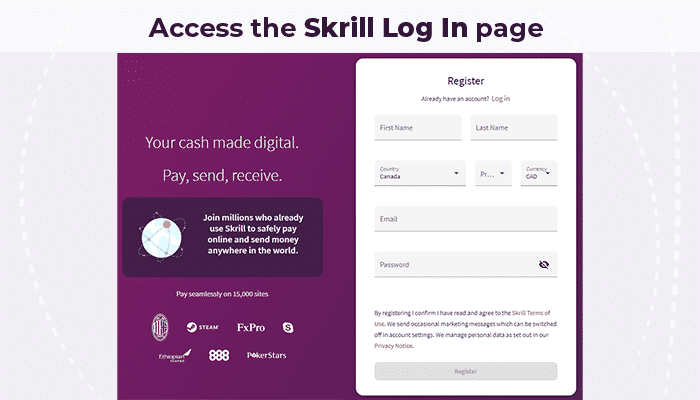 Enter your name, province, email address, and create a secure password
Select your preferred currency
Click the "Register" button and enter your details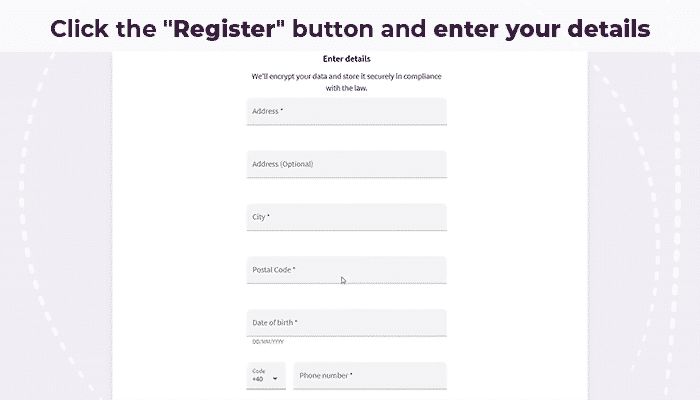 Click "Next" and log in with your email and password, which will send you directly to your dashboard
Confirm your account by SMS.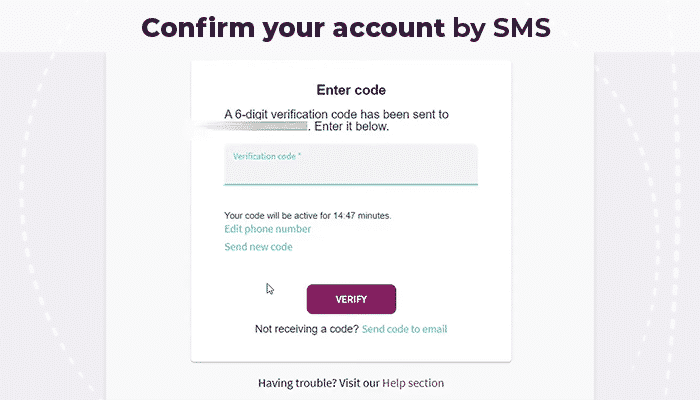 And you're in!
Your next move: fund the Skrill account
After setting up your account, make sure you choose the most suitable method for you to fund it.
Go to your account tab and select "Settings";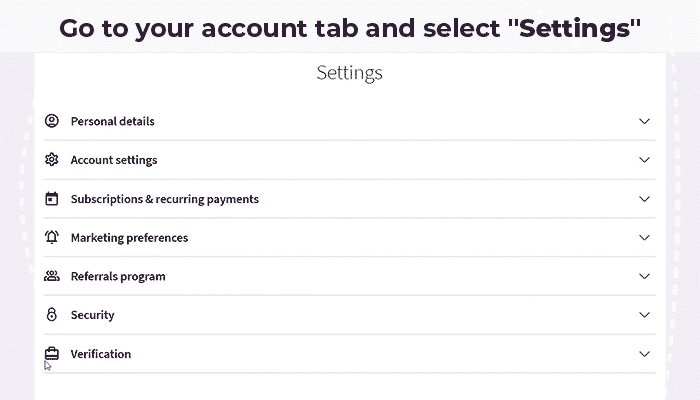 Click on the "Verification" tab and select "Verify".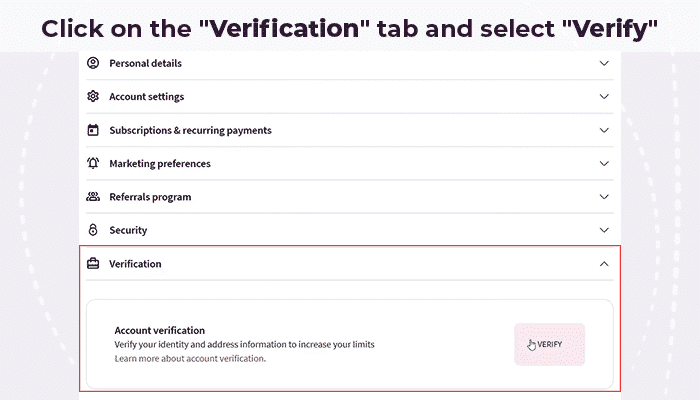 The main ways to fund your account, although not exclusively, are by done using a credit card or bank account. You can easily enter the necessary details at the "Add money" stage by following the Skrill platform's instructions.
Important: Skrill really makes a point of knowing their customer. By providing KYC (Know Your Customer) information such as a valid photo of your ID or passport and proof of address, you increase your deposit and withdrawal limits and increase your account's security.
Can you use Skrill for online casino transactions?
Absolutely! Skrill is a payment method rapidly growing in popularity with online casino websites.
Not all casinos allow Skrill payments!
Check the casino payment processing services and terms and ensure that Skrill deposits are allowed and qualify for bonuses. A great casino rarely disappoints in terms of the payment services it permits, so pick your favourite from our list of top Canadian online casinos in 2021.
How to deposit at an online casino with Skrill
For most online casinos, you can make a Skrill payment with six smooth moves:
Be aware of the minimum and maximum deposit before you begin. You will generally find this information in the casino terms, or you may ask the casino customer support for this information;
Access the cashier or deposit section on the casino website and opt for making a deposit;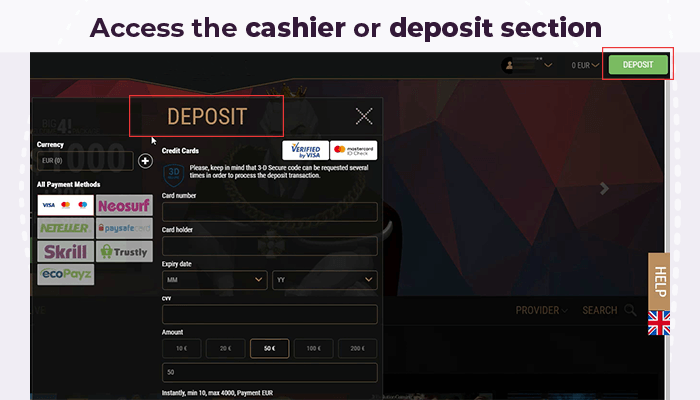 Choose your preferred currency, if the casino allows it;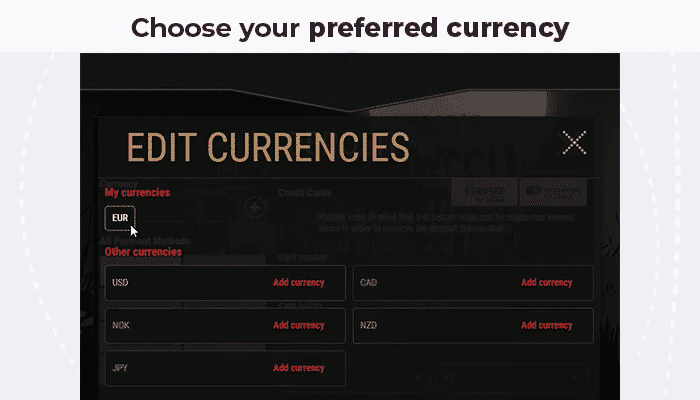 Type in the amount you'd like to deposit and choose Skrill as your payment method;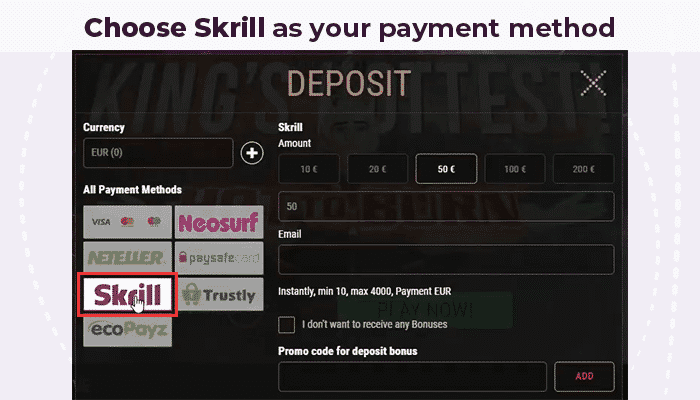 Enter your email and, if necessary, opt-in for a bonus. If the offer you choose requires a bonus code, this is typically when you should use it;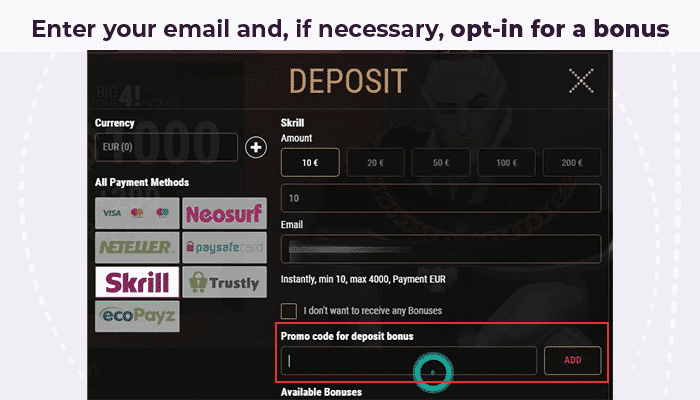 Click on deposit and confirm the payment from your Skrill account.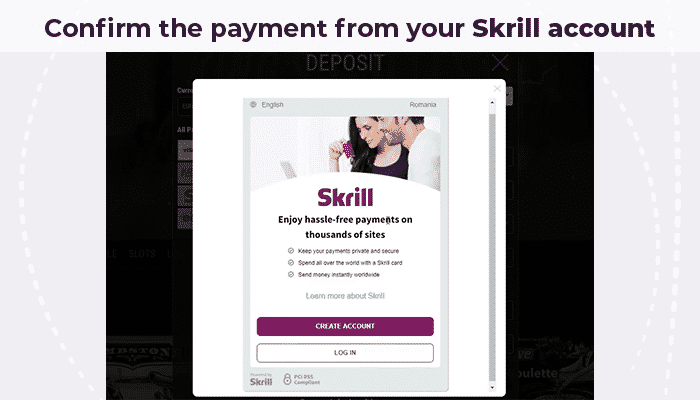 The last step is elementary.
Once you click on "Deposit" or any button on the casino website that confirms your transaction, a pop-up will appear on your screen. That's where you need to enter your Skrill log-in details.
Choose whether you'd like to pay from your Skrill balance. Once you are sure of the amount you'd like to deposit, choose "Pay Now," and you're good to go.
How to deposit on a mobile online casino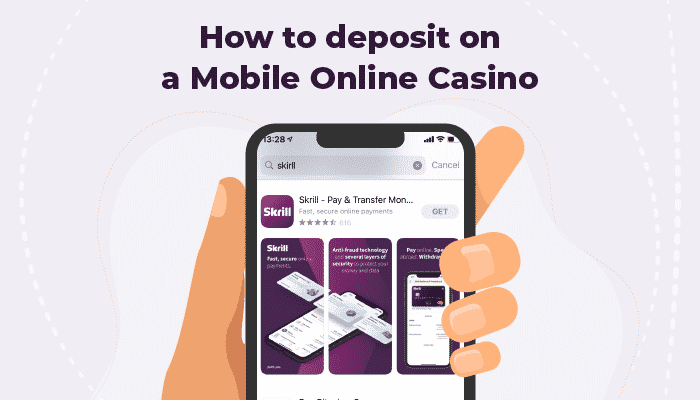 Funding your mobile casino cash balance via Skrill follows approximately the same steps as the process of depositing to a desktop online casino.
Here are the main differences:
Find the app store on your mobile device and get the official Skrill app: Skrill – Pay & Transfer Money;
Install the Skrill app and create your account or log in if you are already registered;
Access your preferred mobile casino, either via browser or by installing the official mobile app. If you access via your browser, make sure you register with the casino or log in before proceeding.
Afterwards, the process is the same as with desktop casinos: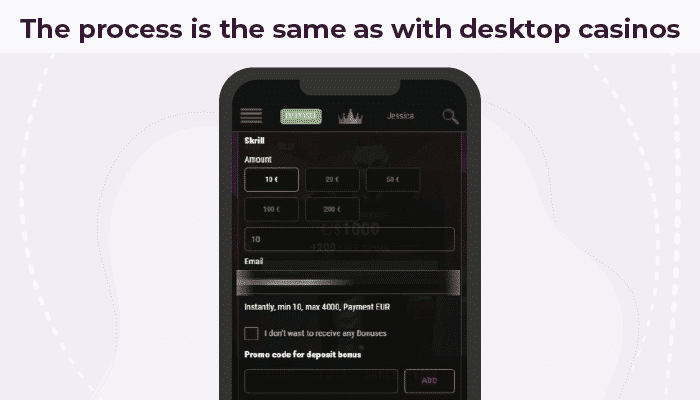 Go to the deposits section;
Choose your currency and the sum you intend to transfer;
Pick Skrill from the list of payment services;
Write your email address.
Pay attention to any promotions and requested bonus codes!
Then, simply click on deposit and go to your Skrill app to confirm the payment. Depending on the rules of your casino of choice, the money may get to your casino balance almost immediately.
Recommendations:
Getting the Skrill mobile app is a smart move when you're gambling on the go, as it helps to keep a constant eye on your transactions.
After you enter the necessary card/account details on your Skrill mobile app, you may want to save them before you click "Pay Now" to ease further payments.
Does your phone type matter?
It really doesn't matter if you are playing on Android or iOS. These steps do not change.
However, if you choose to download a casino app on your mobile, we recommend going for a casino listed among the top verified mobile casino apps in Canada in 2021. Read through the specifics to ensure it is the right one for you. 
Withdraw via Skrill
The simplest way to cash-out your online casino balance via Skrill should abide by these four basic rules:
Access the withdrawal section on the online gambling website;
Write the amount you wish to cash out;
Select Skrill as your withdrawal method;
Proceed to cash-out.
Disclaimer: It is up to the online casino you access to offer the possibility for players to deposit or withdraw via Skrill. Keep an eye on our online casino reviews to spot the online gambling platforms that allows Skrill transactions.
Keep in mind that a wide range of Canadian casinos operates on the principle that players may withdraw only via the service they used to deposit!
Therefore, your chances to successfully withdraw via Skrill are much higher if you choose to pay via Skrill in the first place.
The general processing time for Skrill cash-outs is instant.
We have a few pro recommendations for users looking for safe and swift transactions when playing at a Canadian online casino:
Do not forget the verification process: the most reliable Canadian online casinos practice thorough identity checks, especially when dealing with withdrawal requests. This is an excellent sign that the casino is concerned with sending the money to the right person and is taking your transactions seriously;
Although instant withdrawals are ideal, it is still reasonable to wait between one day and one week for your withdrawal to be processed. This happens due to the processing time every online gambling platform allows to process withdrawals.
If you stumble across any problems with getting your funds, the cash-out method may not always be the issue. Regardless of the withdrawal service you choose, keep in mind to complete the wagering requirements and any other terms the casino imposes before proceeding to withdraw.
How to deposit and withdraw using Skrill 1-Tap?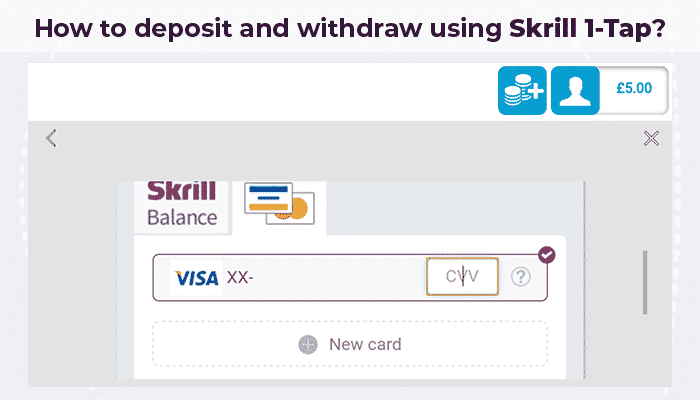 Depositing with Skrill 1-Tap is much like paying with Skrill for mobile. These are the details you should pay extra attention to:
Choose Skrill 1-Tap from the list of casino payment options;
Enter your Skrill email and password;
Input the payment amount and choose your Skrill balance;
Make sure there are enough funds transferred into your Skrill 1-Tap.
You are only requested to sign in with your details on your very first payment. After that, once you select Skrill 1-Tap from the deposit methods provided by the online casino, all you need to confirm your deposit is one tap, literally.
Just go to your Skrill 1-Tap, enter the amount you wish to pay, and tap "Pay Now" to send the payment into your online casino balance.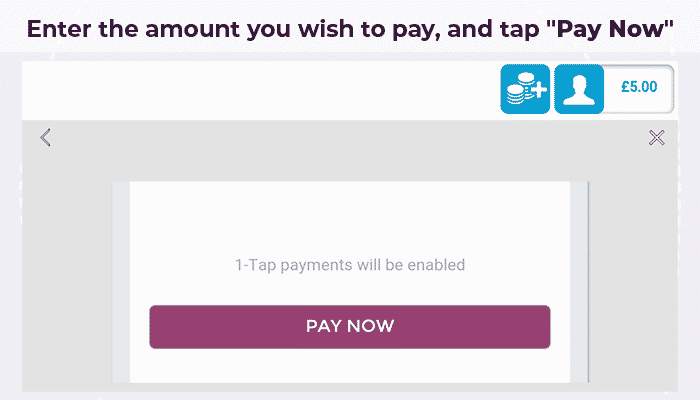 The best part is that most casinos that accept Skrill and Skrill 1-Tap payments offer an instant processing time for such transactions.
Skrill 1-Tap remains the simplest way to withdraw!
Here's what you need to do:
Access the banking section on the online casino website;
Choose to withdraw and select Skrill 1-Tap as your withdrawal method;
Decide on the sum you would like to withdraw.
Tap! That's all!
Tips:
When you cash out with Skrill 1-Tap, your funds take between one and three days to arrive in your account, depending on your country.
Check the terms and conditions of the online casino to determine the minimum and maximum amounts allowed for your transaction.  
Why should you get a Skrill account?
It's a given! Skrill payments are much better for online casino play than bank transfer due to their superior processing speed, discretion and exclusive perks:
An online payment solution for when legislation permits banks to restrict gambling-related transfers;
Monitor financial transactions on the go, and play on PCs and mobile devices without making public your payment information;

Use funds from your bank accounts, vouchers or cards immediately, and don't miss your lucky strike on red tape;

Decide on the currency that best suits your transactions.
With Skrill, you have control over your funds 24/7, all over the world.
How to get your Skrill VIP benefits
When you use Skrill, you collect points with every transaction you make, which will bring you bonuses, cash rewards, and Skrill VIP perks.
It makes sense that customers who make transactions with many merchants benefit from smaller fees, and they are allowed to spend more significant amounts daily.
You can create your Skrill account through E-Wallet VIP, which offers lower spending requirements to access Skrill Silver VIP and get a free extra Skrill account, as well as free P2P transfers.
Skrill users access so many benefits due to Skrill and other companies' ongoing partnerships, such as ACM Global Payments Solution and Vivaticket.
How can you manage your Skrill funds?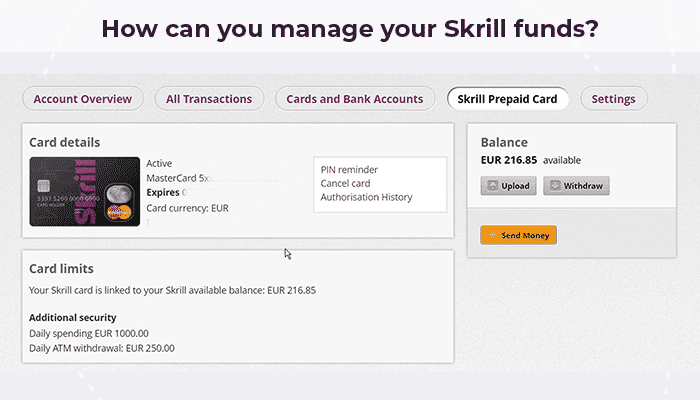 You can easily fund your Skrill account and withdraw from it by using your Skrill Prepaid Card as you would use any bank card.
As a Skrill user, you get a Skrill Prepaid Card that allows you to spend whatever you load into your Skrill balance. It works like a debit card; only your bank funds are safe since you can only access the money transferred into your Skrill balance.
Alternatively, you may fund your account via Visa or bank transfer in the following way:
Go to your Skrill account and select "Upload" from the dashboard;
Select the card option instant bank transfer;
Verify and confirm transaction details.
If you choose manual bank transfer, you need to: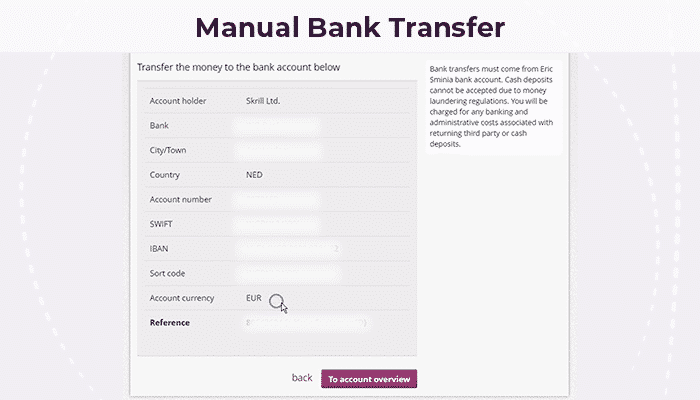 Log in to your bank account;
Introduce the reference number given in your transaction details;
Proceed as you would with any regular bank transfer.
With Skrill, there is no minimum withdrawal amount, and you can cash out any time you like. However, there are maximum withdrawal limits according to the method you use and the verification level on your account.
| Withdrawal Option | Maximum Limit |
| --- | --- |
| Skrill Mastercard | $7,000 per day |
| Bank account, card, other | $135 – $25,000 per month |
Verify that you have enough money in the Skrill account to support any additional withdrawal or currency fee.
What should you remember?
Decided to use Skrill for your online gambling? Here's what you should take away from our guide and consider any time you make a transaction:
Check the applicable fees for your specific transaction, whether they are Skrill-related or imposed by your bank or casino;
Use the Skrill prepaid card to be able to spend more daily;
With consistent use, you can become a Skrill VIP;
Create your account through E-Wallet VIP to get easier access to the Silver rank and all the perks that come with it;
Many online casinos offer Skrill-specific bonuses. Check that your casino allows Skrill as a payment and withdrawal method, and check your casino promotions for Skrill rewards.
Skrill and Skrill 1-Tap are perfect for speedy online casino transactions, and you never have to fear that financial institutions will block your transfers.
When you use Skrill and Skrill 1-Tap digital wallets, you are trusting some of the most popular payment solutions worldwide to manage your money. The Skrill e-wallet is accepted in over 200 countries and by more than 140,000 retailers online. You can choose your favourite out of 40 currencies and gain access to your funds 24/7!
Consulted sources: