Use Neteller on Casinos Like a Pro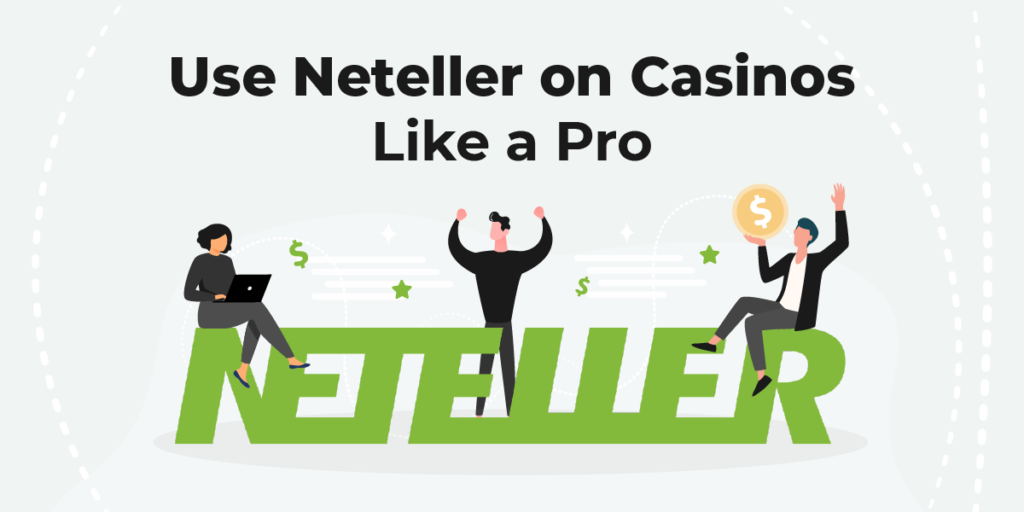 We know you want your casino profits back instantly. Yet, you can't sacrifice safety when making transactions. Neteller has you covered on all fronts!
Is your Neteller account ready?
Many Canadian gamblers use Neteller to fund their gaming accounts. But there are steps to this process. If they're unfamiliar to you, this is your player guide!
Step 1: Create a Neteller account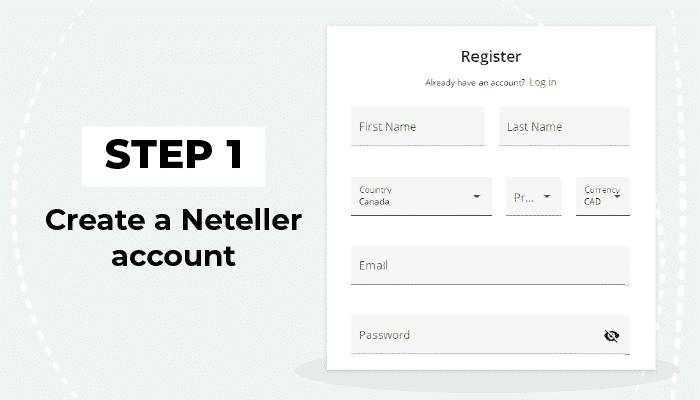 You first need to become a customer on the Neteller site. The first part of the registration requires your full name, e-mail address, and choose a password.
By signing up, you verify that you have read, understood, and agreed to the site's terms of use, as well as their Privacy Policy.
The next move is to pick one of the 28 currencies available for your account. Once selected, your choice is permanent and cannot be edited.
To comply with legal issues, you need to add personal details to your user account:
Birthdate;

Gender;

Full address (including postal code);

Phone number.
Step 2: Verify your account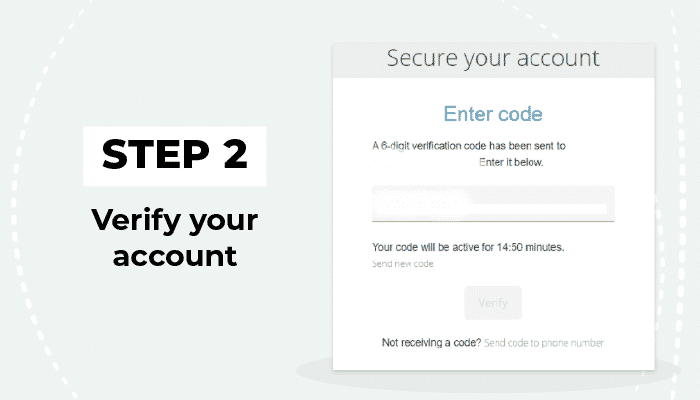 The last step of the initial process is to enter the security code sent to you via e-mail/SMS.
Important:
The secure code has a limited time of functionality, after which it expires and remains useless.
The code sent to you via e-mail or SMS is not the same as your unique Neteller ID.
After completing these steps, you will need to create or let the site auto-generate a secure ID. You will use it whenever you log in or want to perform any transaction.
Step 3: Add cash to your new Neteller account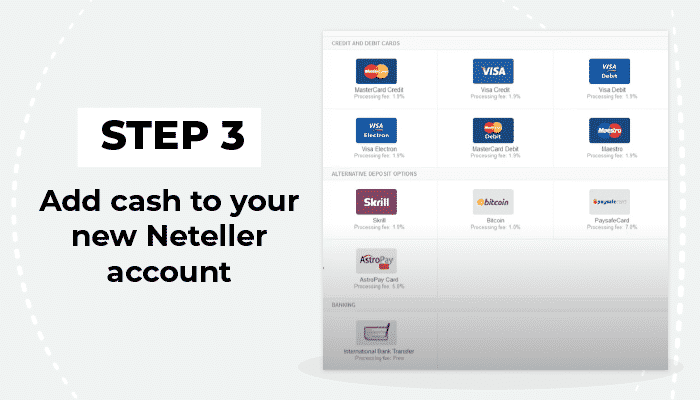 Click on the Money In tab and select one of the options pre-set there, depending on the source you use to transfer funds to Neteller.
There are 11 pre-set options containing all worldwide popular partnered services.
Once you have clicked on the service you prefer/have set up already, a form pops up. There, you write in: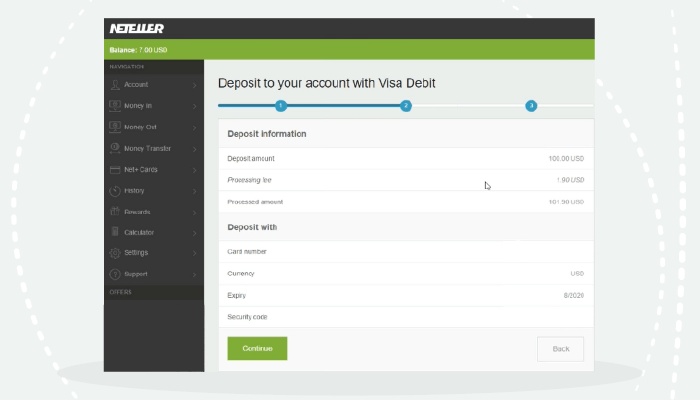 The amount you want to send;
The currency of that amount;
The details of your card.
Please note that deposit fees exist for all Neteller Money In payments!
Neteller fees in Canada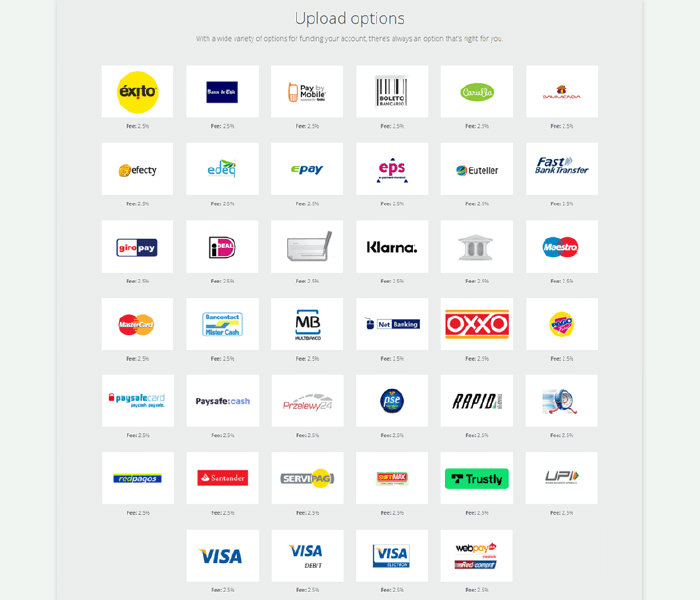 Each of the 40 partnered services you can fund your Neteller account come with a fixed fee. These sums vary by country but rest assured, we present only the ones relevant in Canada to you.
In Canada, all the Money In alternatives, all the fees are capped at 2.5% out of the transferred sum. This only changes in case you have high VIP status.
Step 4: Confirm the payment via SMS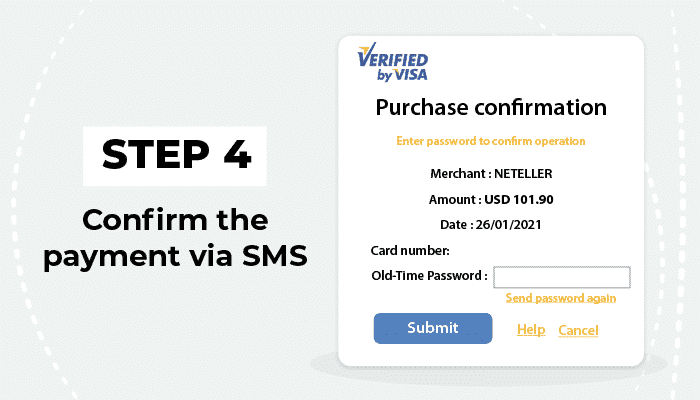 Just like with any account-to-account move, you will need to confirm your payment via SMS.
You're all set to go! Funding Neteller accounts happens instantly.
Details you should be aware of!
Neteller has a specific course of action when it comes to dealing with your money. Two scenarios can take place, depending on how much money you transfer.
1.     Your first transaction is small in size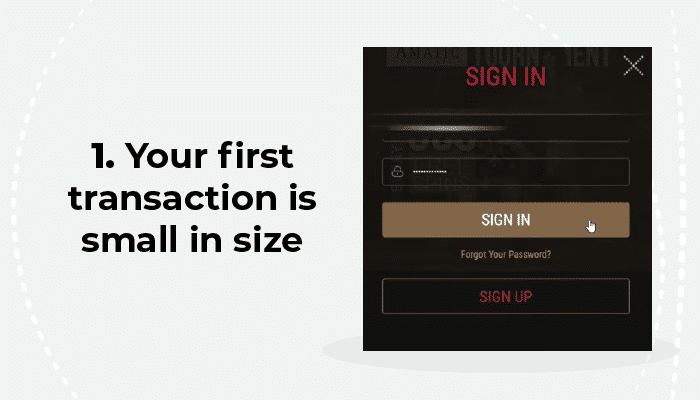 If you want to transfer a small amount to your casino account, then there's no extra step you need to take.
Just log into the casino, proceed to make the payment, log into the Neteller platform, and you're done!
Tips: It is best to start with small amounts for your betting, whether you are a fresh player or a veteran. You need to test all the casino's aspects with minimal financial risk.
Important: Your first Neteller payment, casino-related or not, will follow this pattern. Once completed, you will be able to make bigger trades.
2.     Your transactions have a high value
Neteller only allows sending of high sums after you have confirmed your account with a smaller transaction.
How does that work?
When a small payment has been completed with Neteller, a digital form appears on your screen. This is when the KYC (Know Your Customer) procedure begins.
What do you have to do?
You have to confirm your identity and the possession of the other cards linked to your Neteller profile. You submit details and photos of yourself and your papers to the site's team. In a few hours, around 7 or less, the team manually reviews it, and you're completely set up.
Important: When completing the KYC, you can go into your account settings (from the Overview tab) and see your 6-digit sequence representing your secure ID. You can reset that at any time if you'd like.
Fund online wagers with Neteller
Here's how your Neteller payments on Canadian online casinos will go. It is a surprisingly simple procedure, not complicated in the slightest bit.
1.     Log in to your online casino account
You cannot fund your gaming sessions unless you are logged in to your casino account. Make sure that you use a safe browser and have antivirus software installed.
Recommendation: Still undecided on a casino that suits you? Trust our team of experts and their choices when it comes to top online casinos in Canada.
2.     Select Neteller from casino payments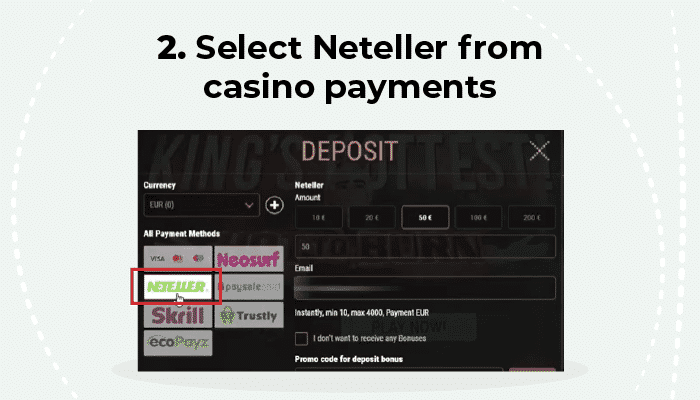 Before completing this stage, you have to make sure that the casino site is partnered with Neteller; otherwise, you won't be able to choose it as a payment option.
Each casino has a different name for this section; it is either labelled as "Deposit", "Payments", "Wallet", "Balance", or any other expression of that sort.
Whatever the name of the page, go to it, find Neteller, and click it. A tab like this should appear on your screen.
3.     Enter your preferred currency and a fixed amount
Unless you add these details, your payment will not go through. All Canadian casinos we present to you accept CAD, except for those solely functioning with crypto-currencies.
Tips: Each casino has a minimum payment mark. If you don't respect it, your payment will be void. Inform yourself of this limit before you start this process.
4.     Enter your Neteller info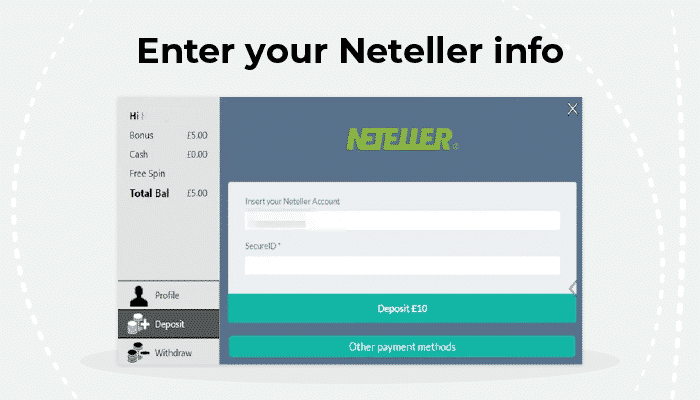 This can come in two ways, depending on the casino's interface and policies:
You will have to add the e-mail address of your Neteller account and its Secure ID on the casino's page.
You will be redirected to the Neteller's site and complete your address and secure ID there.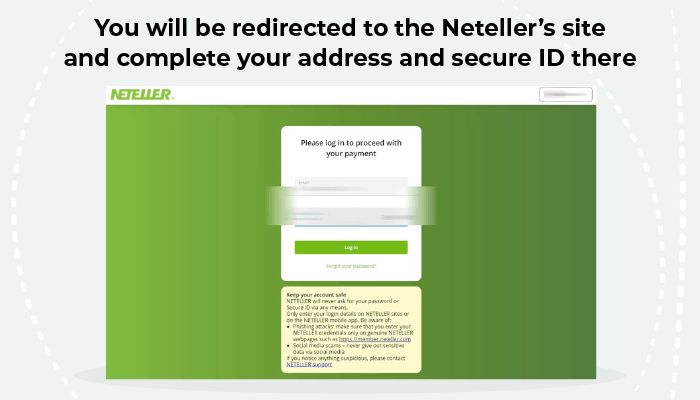 5.     Your gaming balance is funded instantly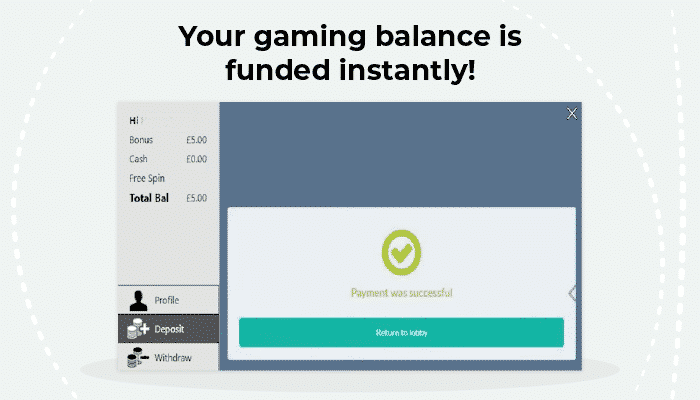 Yes, that's true! You don't need to wait before starting your bets. This is because the speed of their transactions defines Neteller.
This is one of the main reasons why Neteller is so popular, especially in the e-gaming world.
Casino cashouts using Neteller
Here's what to do if you got lucky with your online wagers and want to make withdrawals from your gaming account using Neteller. The procedure is standard.
1.     Make sure you have no turnover left to do
Your bonuses and general casino sessions may be tied to wagering requirements that, if left incomplete, will clash with your withdrawal request.
What could happen?
Depending on the online casino policy, you will either lose your bonus (it will disappear from your account along with your derived profits), or the cashout request will be blocked.
So, before proceeding with a Neteller withdrawal, be wary of this aspect!
2.     Select Neteller from your withdrawal options
Either in your payments tab or in a different, special one, your withdrawal options must be listed. There is the place you will pick Neteller.
Disclaimer: Casinobonusca cannot guarantee that this step will be available to you. It varies from one online casino to another on a case-to-case basis. Your online casino must allow Neteller to perform withdrawals. You can find this information in the site's terms of use.
After you have selected this e-wallet, you need to choose a sum of money. You can either take out all you have or just a part of it while keeping the rest for future sessions.
Be aware: From our experience so far, no Canadian online casino will allow you to make any kind of withdrawals unless you have submitted documents to prove your identity and your funds' sources through KYC. We recommend you do it before requesting a cashout since that is more time-efficient.
3.     Add your personal Neteller data
Just like in the case of the deposits, you need to write in two things:
The e-mail address you have set up for your e-wallet service;

Your Secure ID.
You complete these things either on the casino's payout page or on a page you will be redirected to.
Since we all know the instant nature of these e-wallet proceedings, usually, there is no processing time attached. Your money should appear in your Neteller account right away!
What's the process that gets the money out of your e-wallet into your pocket?
Transactions out of your Neteller wallet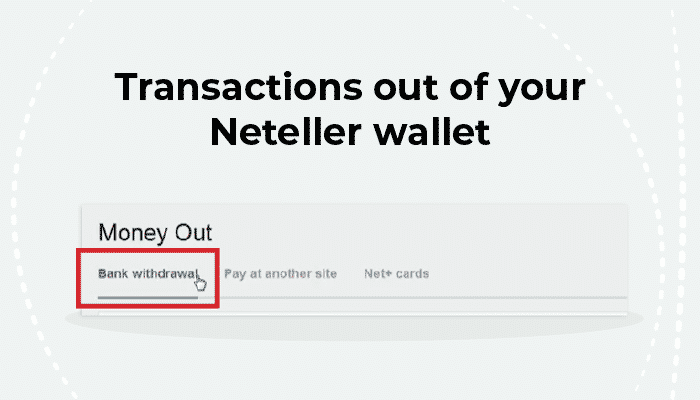 The Money Out feature, accessible from the first page of your Neteller profile, allows you to withdraw money, make online payments, or use the Net+ cards, Neteller specific cards.
Like any other cash movement from one place to another involving Neteller, you need to enter your Secure ID every time for the money to go through.
What about the fees tied to Money Out?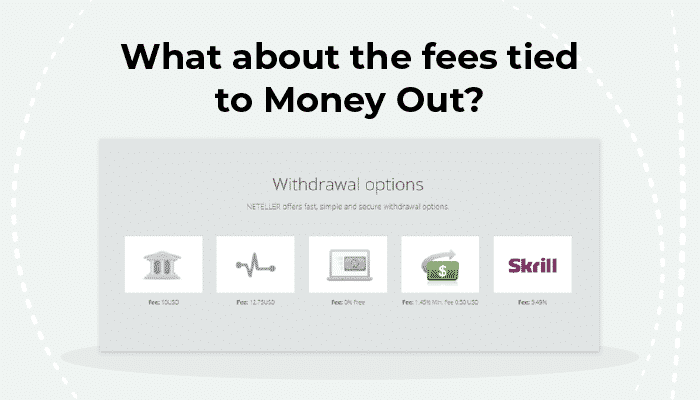 When we were creating this Neteller casino guide for you, we found 6 services for withdrawals.
| Service name | Fee amount |
| --- | --- |
| Bank Transfer | C$10 |
| Member Wire | C$12.75 |
| Merchant sites | No fee |
| Money Transfer | 1.45% of your sum (starting from a minimum of C$0.5) |
| Net+ Mastercard | Anywhere between 0% to 1.75% |
| Skrill | 3.49% |
More things you can do on Neteller
It is time we show you other transactions and features that this e-money site has. Learn more with our Casinobonusca Neteller guide!
Fun fact:
This service was initially funded in 1999, rendering them over 22 years of experience.
You are able to use the platform in 15 different languages.
Useful Neteller tools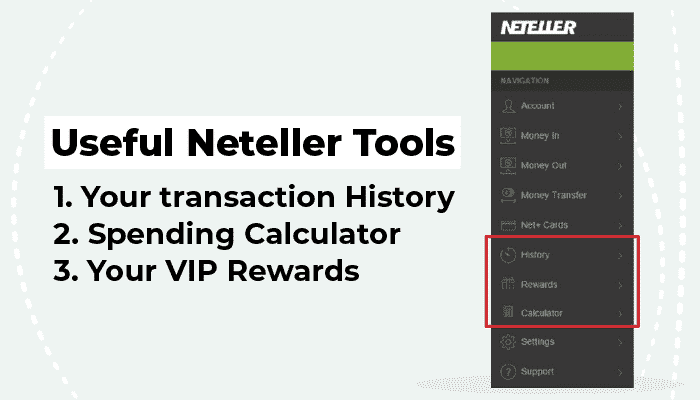 On the left-hand side of your profile, there are 10 options. We believe that three of them are handy for you:
Your transaction history;
Spending calculator;
Your VIP rewards.
VIP details
Starting from C$15,000 per annual quarter, you enter the VIP club in the Silver "league", going up to Gold, Diamond, and Exclusive. Many and considerable crypto-transactions are another way to amp your status.
The limited advantages mainly mean smaller fees, a dedicated support agent acting as your account manager, free transactions, and better crypto-handling rates.
Net+ cards
After you add and confirm your home address, you can request a special, physical Neteller card. These are different from your virtual cards.
Important: Any user can have up to 5 virtual cards. The first one is free and the latter 4 come at a price. You can personalize each virtual card with different currencies.
To request and get your physical card, you need to add, besides your data, a lifetime limit. This means you cannot go over that sum throughout your full use. Once chosen, users cannot change this sum.
If you want to give a memorable gift to someone, you can also give them virtual Neteller gift cards that they can, in turn, use as they please, within the terms.
Worried about Neteller crypto fees?
We have the answers you're looking for!
| Type of transaction | Fee amount |
| --- | --- |
| Less than the C$19.99 equivalent | C$0.99 |
| Between C$20 to C$99.99 equivalent | C$1.99 |
| More than C$100 equivalent | 1.5% of the sum |
| Peer to peer | 0.5% of the sum |
Other situations to avoid, as they bring forth fees
As with any service, some moves are taxed, so you should pay attention to the situations we describe and avoid them as best as you can.
If you provide inaccurate information or if you do not cooperate with the support agents, you will receive a fee of C$150.
Reversing transactions will incur a fee of C$25.
Chargebacks will bring fees in GBP of at least £25.
Transactions that violate the terms of use will be taxed with C$150.
Why use Neteller on casinos?
Ending thoughts
All in all, Neteller is one of the most advantageous services to use when playing on online casinos. This is backed up by our vast experience in the online wagering world and our personal Neteller experience.
It is definitely one of the better uses of e-wallets for a usual Canadian gambler!
Both the platform itself and the way it pairs with casinos are intuitive and time-saving. On the other hand, there are any Neteller fees you need to consider, and some to avoid, if possible.
As always, you can lean on us for the best answers and guidance on Canadian casinos.
Gamble responsibly and safely!
Further reads